We've picked the best vegan Instant Pot recipes that will please and delight on any occasion, including healthy stews, soups, grains, legumes and even desserts. If you're following a plant-based diet or simply trying to eat less meat, these vegan pressure cooker dishes are for you!
---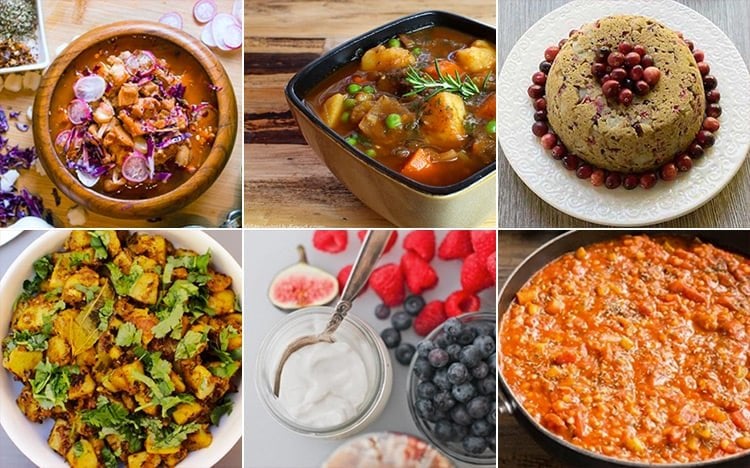 The Instant Pot is wildly versatile, and there are hardly recipes that are off-limits. For the vegan crowd, the pressure cooker is an irreplaceable kitchen tool. If rice, beans and lentils are staples in your meals, you probably know just how long it can take to make those things! This is doubly true if you're soaking or sprouting your grains and legumes beforehand. Overall, it's a whole lot of waiting.
So, enter the Instant Pot. You've got your staples cooked – potentially in bulk – at the beginning of the week which offers you a blank canvas and some plant-powered protein to work with. Here are some of our favourite ideas for vegan-friendly pressure cooking. whether you follow a vegan diet, are trying to cut back on meat a little, or just want to please a crowd. These are dishes even the omnivores will eat up!
Also on Instant Pot Eats:
Best Vegan Stew Recipes Using An Instant Pot
21+ Instant Pot Vegan Recipes for Thanksgiving
Instant Pot 101: How To Cook Legumes
Instant Pot 101: How To Cook Grains
Quick & Easy Instant Pot Hummus
Find all of our vegan Instant Pot recipes here.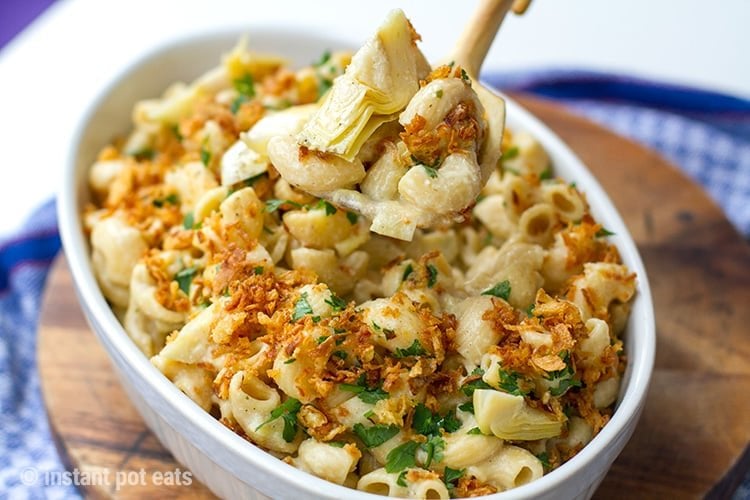 This vegan Instant Pot mac and cheese is made with dairy-free cashew sauce and artichokes and is velvety, creamy and full of flavour. Enjoy this healthier, lighter version in about 35 minutes.
---
WATCH OUR TOP 10 VEGETARIAN VIDEO RECIPES
---
This vegan and gluten-free friendly Instant Pot chickpea stew is a delicious main meal full of Moroccan-influenced spices and flavors. Serve it over rice, couscous or with some crusty bread.
This gorgeous Instant Pot quinoa dish is perfect for a lazy, nutritious dinner. It's suitable for vegans, vegetarians, and omnivores alike, and can be served as-is with a salad or some greens, or as a side dish.
If you love homemade Italian cuisine, you must try this vegan bolognese recipe. This meat-free version is made with red lentils and mushrooms, pressure cooked in a gorgeous, rich tomato sauce. You'll be surprised by how satiating and hearty this dish is, making it a worthy rival to its traditional meaty cousin.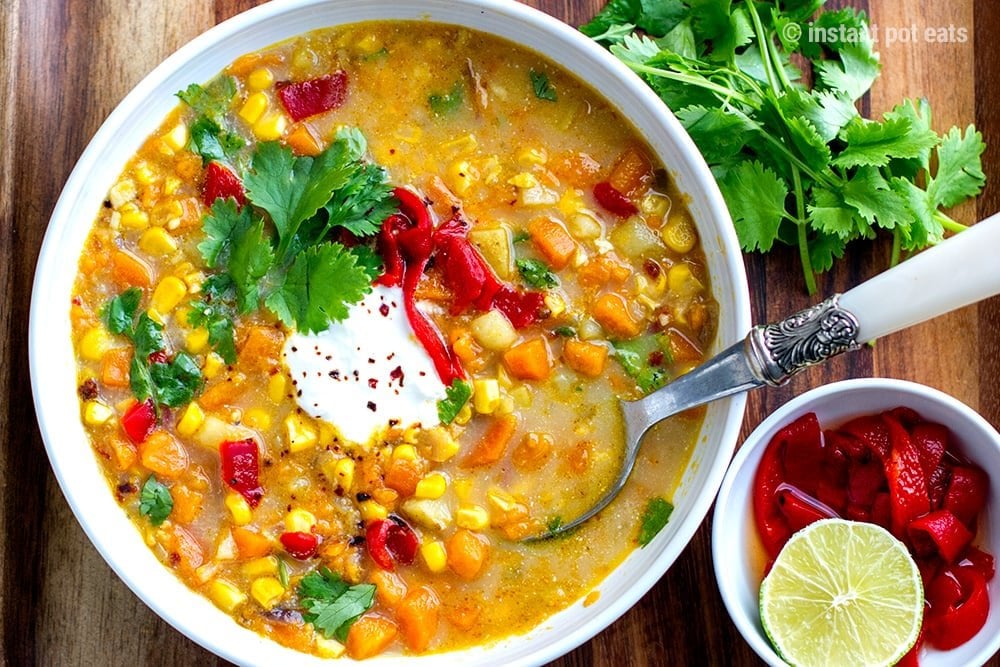 This Mexican-inspired Instant Pot corn soup is made with healthy ingredients, flavourful spices, lime and a little chipotle for a smoky, chilli kick. It's gluten-free, vegan-friendly, and super quick and easy to make.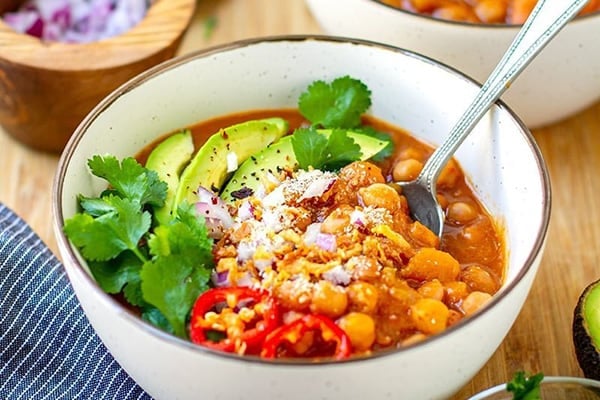 Made with butternut squash pumpkin and garbanzo beans (or chickpeas), this Instant Pot chili is comforting and hearty, perfect for a fall or winter dinner. Served with diced avocado and cilantro, this is a must-go gluten-free, vegetarian, and vegan chili for your pressure cooker. This is a great make-ahead, freezer-friendly recipe.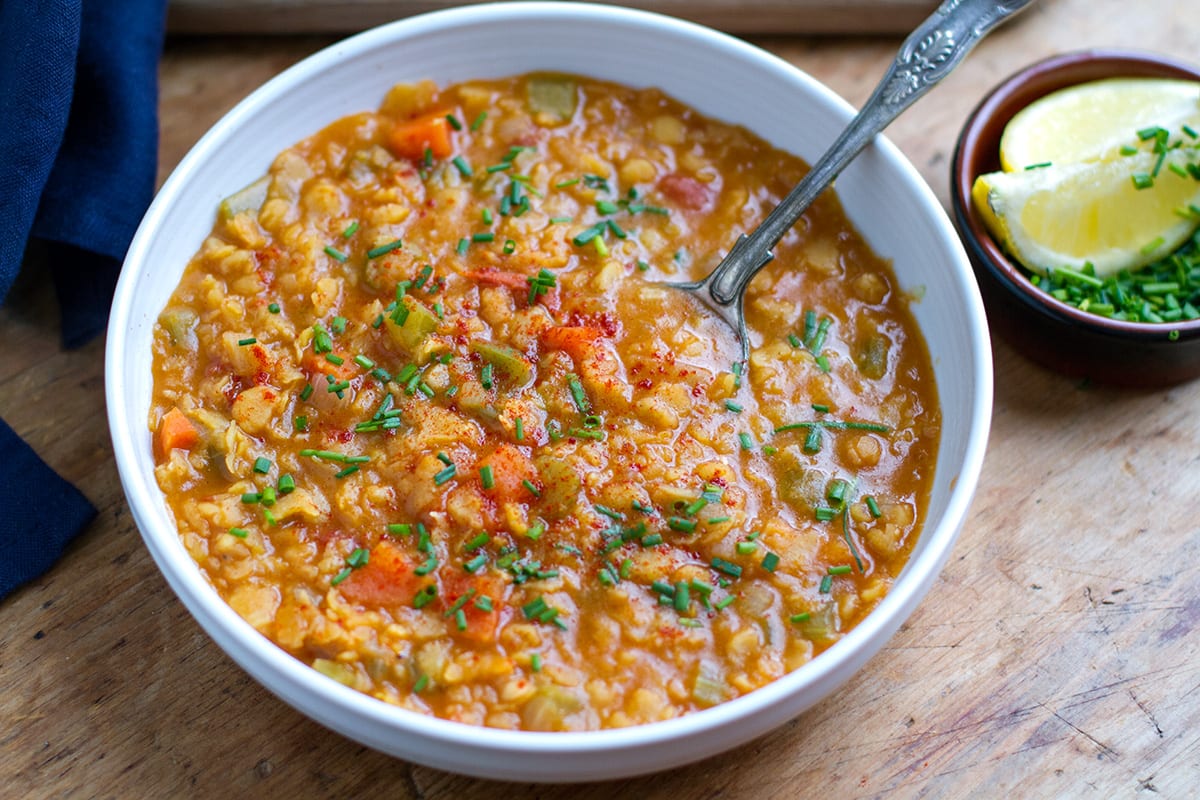 This gorgeous split pea stew (or thick soup) is adapted from a classic Turkish lentil soup, also known as Mercimek Çorbası. It's simple, rich and nutritious stew is full of warm, aromatic spices and flavours that will get you asking for seconds. Get this recipe on our blog.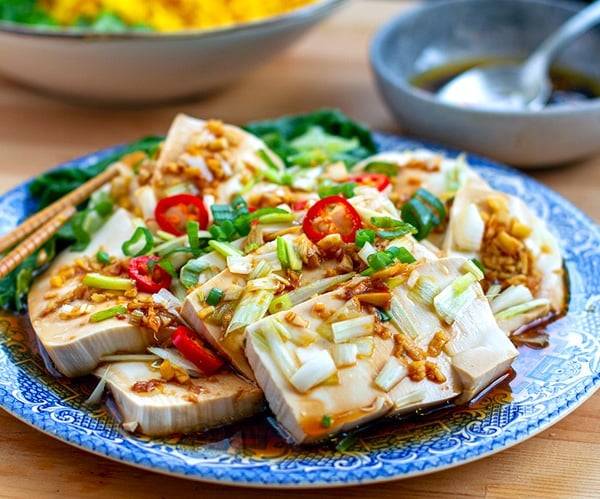 Tofu and bok choy steamed together with savoury sesame soy sauce, fresh ginger and garlic is a simple Japanese-inspired dish that is very healthy and delicious. Pressure cooker steam locks in all the nutrients and the whole recipe is made in 20 minutes. Recipe from Instant Pot Eats.
At first glance, you'd never guess it doesn't have any beef, and you won't be missing out on much. Hearty mushrooms, potatoes, carrots and celery give it all the texture and substance you need. Plus, it's grain-free. Topped with parsley, lemon gremolata for the best taste. Get the recipe from Instant Pot Eats.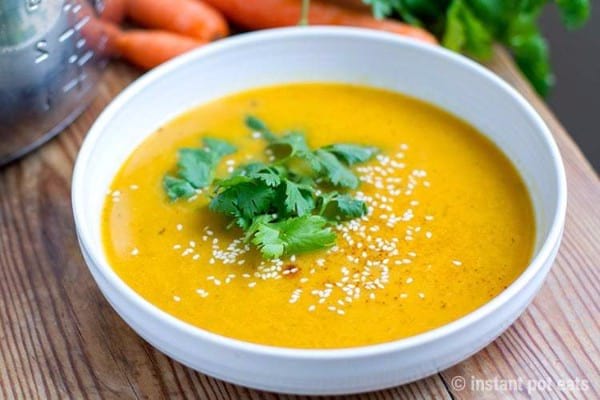 Bright, zesty, and unique, this soup is the perfect pick-me-up. It makes a lovely creamy soup without the addition of dairy, you can easily freeze it, and the leftovers are especially good after the flavours have sunk in a bit. Get the recipe on our blog.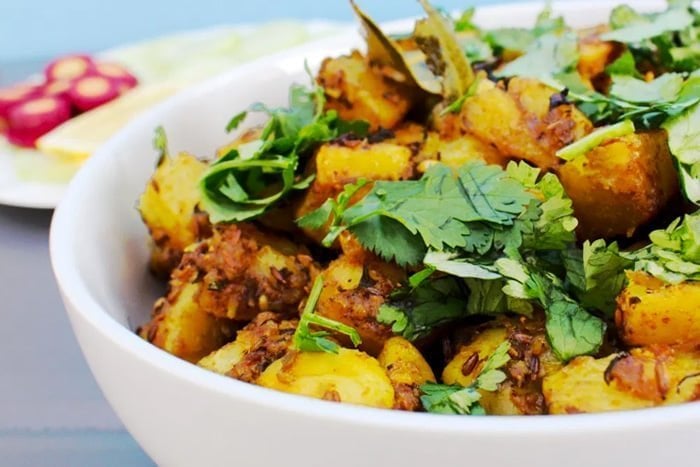 These potatoes are unique, and they make a great alternative to regular ol' roasted potatoes (but nobody is complaining about those!). It's all about the spices in this recipe, and the rest falls into place. They take just fifteen minutes from start to finish! Get the recipe from Cooking You Love.
Hearty, deliciously spiced, and a little smokey, this vegan-friendly Instant Pot lentil stew is super easy to make and will quickly become a favorite plant-based dinner recipe. Serve it with rice, potatoes, or a side of toasted bread rolls or baguette. Recipe from Instant Pot Eats.
This posole is made "meaty" with a secret ingredient – jackfruit! It lends its beautiful texture and sweet flavour to this Mexican-inspired dish usually made with pork. You can top yours how you like, but we love the fresh tastes and vibrant colours coming in here. Get the recipe from Tried & True.

We're swapping bacon for sun-dried tomatoes to add saltiness (and sweetness) in this vegetarian-friendly versions of Instant Pot collard greens. This delicious side dish is also gluten-free, Whole30 and paleo-friendly. It's a lovely twist that turns this classic dish into a plant-based version and we think it can give the bacon version a run for its money.
One of the most brilliant functions that the Instant Pot possesses is the 'yoghurt' button. It's pretty much as simple as that! You just need a few ingredients to get started, and dairy isn't necessarily one of them. Plus, it's super affordable, and you can avoid the additives and sweeteners found in store-bought products. Get the recipe for this coconut milk yoghurt from Detoxinista.
Whether or not it's a holiday, this is a fantastic vegan dessert that you can make in your Instant Pot. It can be tough to find a recipe for a moist cake that's dairy-free and egg-free to make in your IP, but this one fits the bill. Plus, it's not too sweet. Get the recipe on our blog.
Refried beans are easy enough to buy in a can, but homemade trumps all when it comes to this tasty appetiser. This recipe has vegan adaptations, and even includes a bonus grain-free and vegan tortilla recipe for wrapping or dipping with whatever else your heart desires. Get the recipe from Allergy-Free Alaska.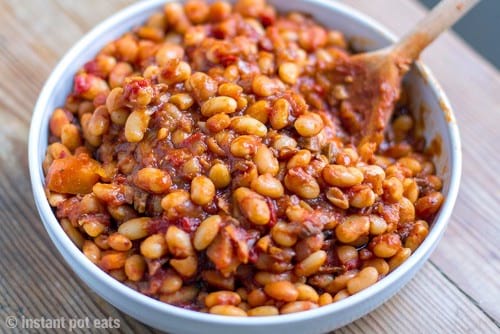 These beans are truly scrumptious. Dip your toast in them or serve them underneath your favourite vegan sausages. These are a BBQ and meal prep staple with a secret ingredient – dried mushrooms! Sweet and savoury, this is the only recipe for baked beans you'll ever need.
A cake is always, always welcomed. Especially when it's vegan and you can make it in the Instant Pot. Just when you thought you'd seen it all, the pressure cooker stepped up its game! Even if you're not so skilled at baking, this fruity and refined sugar-free recipe is bound to be a success. Get the recipe from Healthy Slow Cooking.
Packed with vitamin A-rich sweet potatoes, protein-rich black beans, and warm spices, you won't be able to get enough of this comforting bowl. Top it off with your favourite garnishes – fresh cilantro, chopped avocado, some raw onion, a spoon of vegan sour cream or a sprinkle of nutritional yeast. Oh, and don't forget the tortilla chips!
Who doesn't love a piping hot bowl of porridge on a cool morning? Using rolled oats, an oven-proof round dish, and a trivet, this is a simple and hands-off way to make a nourishing oatmeal breakfast while you can get on with getting ready in the morning. Kids-approved! Recipe from Instant Pot Eats.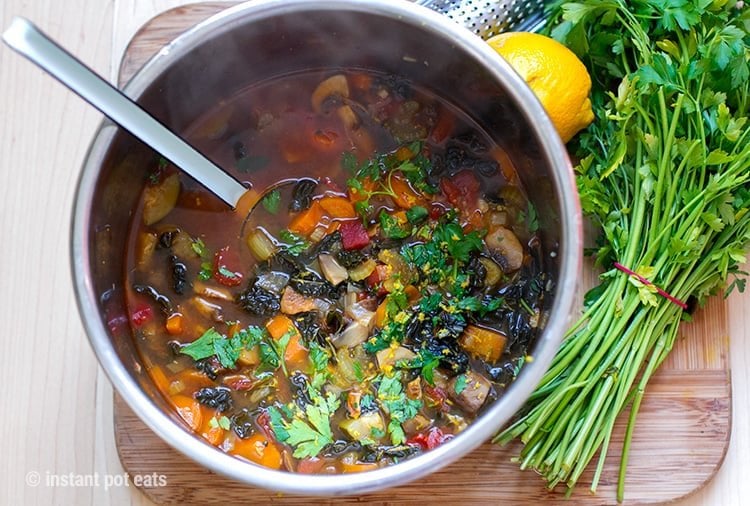 Want a quick and easy soup that is hearty and nutritious? This Italian-inspired farmhouse soup is just the thing. It's a tasty vegan vegetable soup for those nights when you want to give your digestion a break or if you feel like a need a lighter meal. You know those times, right?
Eat your beets! This vibrant borscht is a wonderful way to pack in veggies on the side. You can add beans or omit them, and it's perfectly vegan if you replace a dollop of sour cream to serve with a scoop of coconut or soy yoghurt instead.

Instant Pot chickpeas in a spicy tomato sauce, also known as chana masala, is super easy, nutritious, vegetarian, and vegan dinner. Plus, you get to cook the accompanying brown rice at the same time. This recipe is from the Instant Pot Miracle Vegetarian Cookbook © 2020 by Urvashi Pitre (of Two Sleevers blog). Get the recipe here.
This dish is perfect in any season with zesty lime, perfectly fried onions thanks to the Instant Pot's handy saute function and tons of spices. These are a great side dish or addition to burritos and burrito bowls.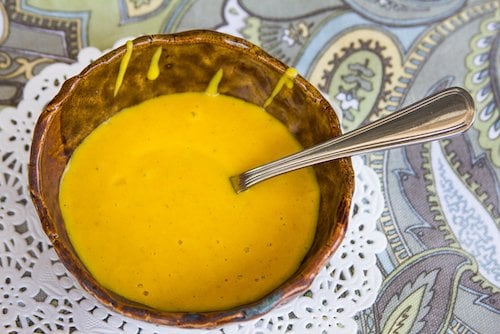 Cheese without the cheese? You got it. This is the perfect way to dress up steamed veggies, plain rice, pasta dishes or anything you can think of, because what isn't better with cheese? Better yet – it's made almost entirely of vegetables and only takes five minutes! Get the recipe from Clean Food, Dirty Girl.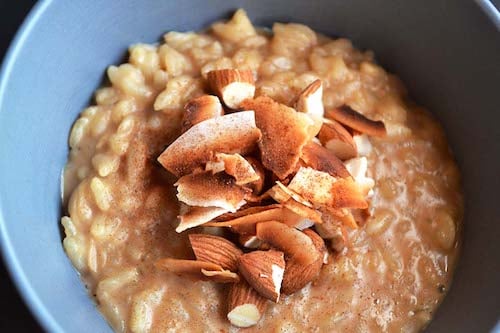 Here's another sweet recipe for you! Whether you'd like a bite for dessert or an alternative to oats in the A.M., this coconut and almond risotto packs in the healthy fats and it's gluten-free to boot. Get the recipe from Make Real Food.
Of course, we had to send you off with a savoury risotto too! Risotto is undeniably delicious but a little time-intensive from scratch which is why we love it in the Instant Pot. This dish is perfect for autumn. Get the recipe from Hip Pressure Cooking.
This meal is the definition of budget-friendly, and it hardly even feels like it. Infused with flavour, colour, and beautiful texture from a blend of rice, peas, and corn, this vegan meal is nutrient-dense, anti-inflammatory, and without all the additives found in traditional yellow rice.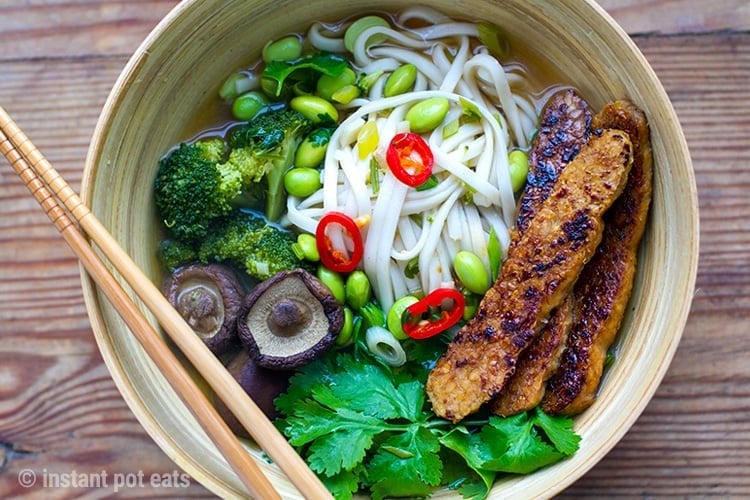 This healthy and light vegan Instant Pot udon soup is made with mushrooms and soy sauce infused broth and is served with protein-rich edamame and crispy tempeh. It's quick, easy, and perfect for a weeknight meal.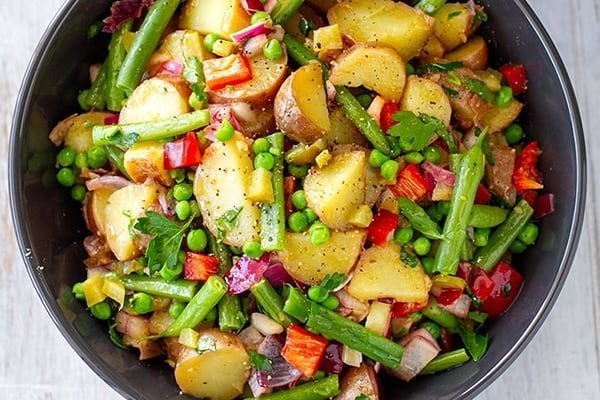 This Instant Pot potato salad is a great example of using the pressure cooker for spring and summer dishes. It's a fantastic salad to bring to a barbecue party, picnic in the park or to enjoy as a nutritious, balanced meal at home. Mixed with lovely green beans, peas, pickles, and zesty shallot vinaigrette, it's vegan, gluten-free and Whole30 friendly.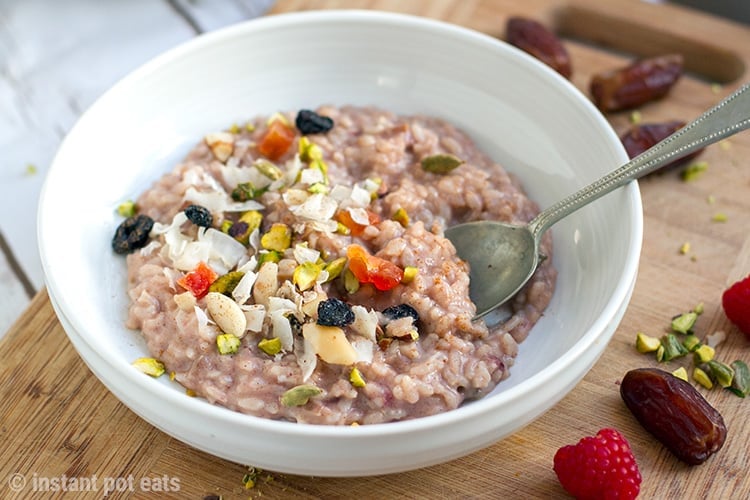 Whether you like it for dessert or breakfast, this rice pudding is truly divine. It's layered with chai spice and warm tones with a tiny caffeine boost to wake you up. Plus, it's dairy-free and gluten-free. Indulge wisely with this creamy, dreamy treat.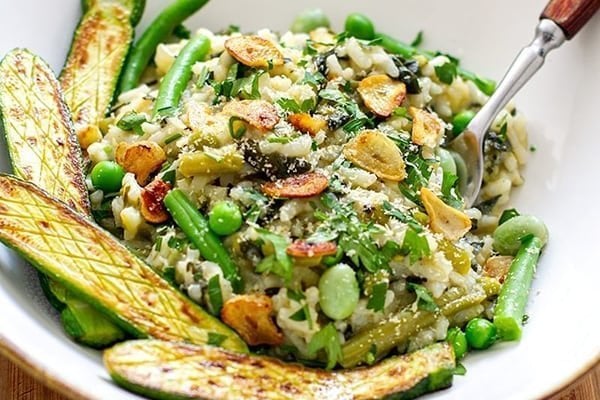 If you think all risotto recipes are heavy and full of butter and cheese, wait till you try this Instant Pot version. This dish is filling and nutritious yet it won't leave you feeling stuffed and bloated. There are a few sneaky ingredients that will make it taste like the classic version.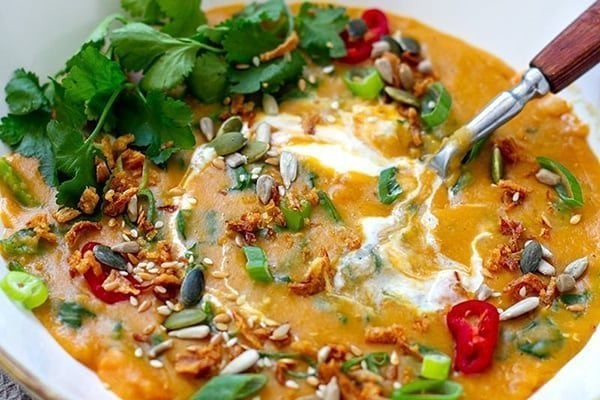 If you love aromas of Thai cuisine – think zesty lime, fresh cilantro, fragrant curry, ginger, garlic, and coconut – you will really enjoy this creamy, hearty Instant Pot red lentil soup. It is packed with veggies, plant-based protein, and creamy coconut milk. This soup is gluten-free, dairy-free and vegan-friendly. Recipe from Instant Pot Eats.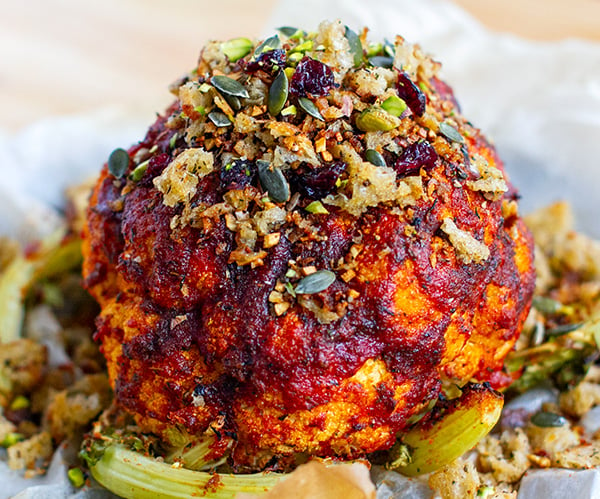 A whole head of cauliflower is perfectly pressure cooked with a delicious spice rub, then finished with a sweetened glaze and garlic, thyme bread crumbs. It's beautiful, impressive, festive, and easy to make. Serve it as a plant-based, vegetarian main or as a side for Christmas. Recipe from Instant Pot Eats.
Hearty, thick, and full of flavor and veggies, this Instant Pot Minestrone will leave you feeling satiated and nourished. Making this classic Italian tomato broth-based soup with pasta, potatoes, and beans gives you plenty of fibre and protein and you will be getting a ton of antioxidants and vitamins from all the veggies. Recipe from Instant Pot Eats.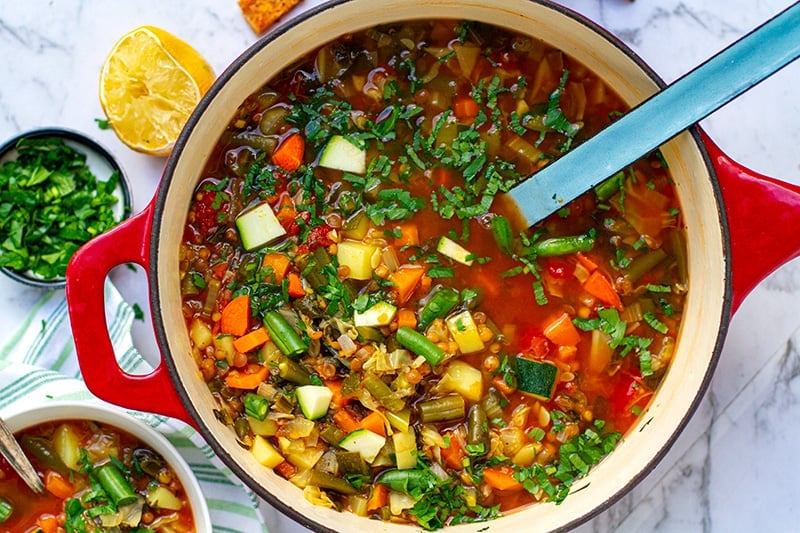 This soup is loaded with vegetables and lentils. It's naturally low in calories and full of nutrients and flavor without added oil or sugar. Perfect for healthy eating. Get the recipe here.
Which recipe are you most looking forward to trying? SSavoryor sweet? Let us know in the comments below, and share this roundup with your plant-powered friends!
---
SAVE VEGAN INSTANT POT RECIPES TO PINTEREST