We are continuing our Instant Pot Meal Plan series with the ninth edition! This week's Instant Pot menu is Vegan-friendly. It features 5 dinner meals, 2 lunch dishes, and 1 breakfast. We've got a variety of nutritious, balanced meals with different protein options and plenty of veggies. Downloadable PDF with shopping list included.
---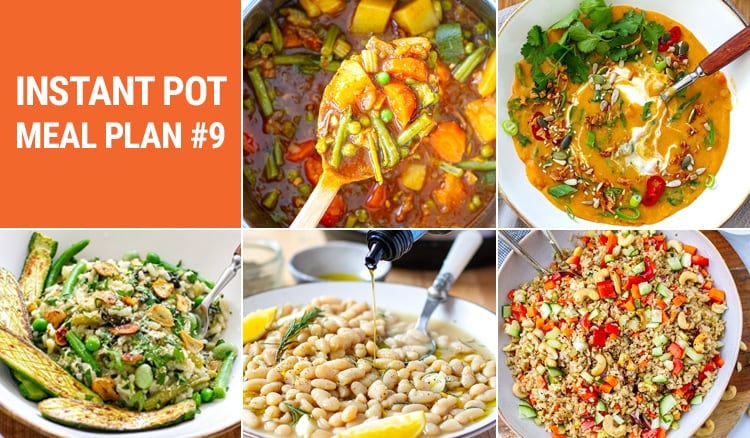 Whether you've decided to go 100% plant-based or you're following a vegan diet as part of the Veganuary challenge, today's animal product-free Instant Pot meal plan is for you. We've to 5 delicious, balanced dinners, 2 lunches, and 1 breakfast all packed with nutrients and protein to keep you satiated.
What is a plant-based or vegan diet?
A plant-based diet features mostly foods from plant sources, such as fruits, vegetables, whole grains, seeds, nuts, legumes, beans, and oils. ​This eating pattern may include small amounts of animal products, such as meat, fish/seafood, eggs, and dairy.
A vegan diet is pretty much the same except it is completely free of animal products, including eggs, dairy, and honey.
Many people choose a plant-based diet for its health benefits but there are other reasons why people go vegan or vegetarian such as animal cruelty and environmental concerns.
The vegan diet is nutritious as it's rich in many healthy foods but it does lack or is low in some essential nutrients like B12 vitamin, iron, and essential fatty acids. As well as careful planning and balancing meals with a variety of grains, legumes, nuts, and seeds, as well as basic supplementation, you can easily meet all nutritional needs.
About This Vegan Instant Pot Meal Plan
We worked with a nutrition coach to choose a variety of plant-based recipes that would give you a balanced menu for the week. Our dinners are focused on giving your body a spectrum of foods and ingredients that will meet protein, fiber, and essential nutrient needs. Lunches and breakfast are satiating and protein-rich to keep you full through the day.
You can choose to cook all the meals or go for the ones that tickle your fancy the most. Many of the recipes will have leftovers that you can have for lunch or freeze for later.
We hope you enjoy this plant-based Instant Pot meal plan, whether you're new to a vegan diet or a convert for life.
You can download this meal plan with the shopping list here.
You can find other Meal Plans here and our Vegetarian Meal Plan #3.
PS. If you make one of our recipes, take a picture and share it on Instagram. Use the hashtag #instantpoteats! We want to see what you are making in your kitchen. And don't forget to follow us on Instagram!
---
VEGAN INSTANT POT MEAL PLAN
Made with almost 10 veggies and healthy ingredients, this nutritious stew is great for batch cooking and meal prepping as it keeps well and can be used over a few days. You can add a can of chickpeas or diced tofu for extra protein. Get the recipe here.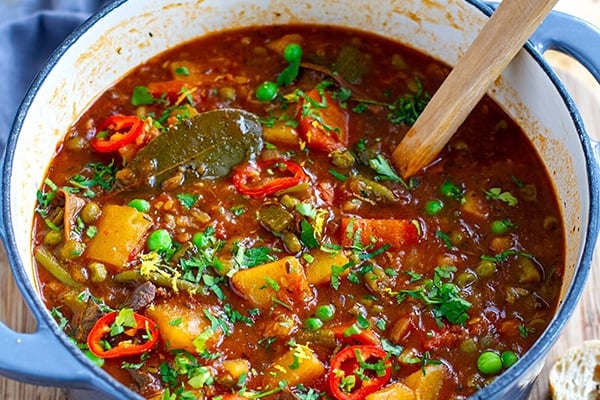 Shopping list: 2 tbsp olive oil, 1 onion, 4 cloves garlic, 1 oz / 25 g dried porcini mushrooms, 2 carrots, 1 celery stick, 3 potatoes (1.5 lb/700 g), 1/2 sweet potato, 1 zucchini, 4 oz /120 g fine green beans, 2/3 to 1 cup frozen baby peas, 1 tbsp ketchup, 2 tbsp soy sauce or Tamari, 1 tsp dried thyme, 2 bay leaves, 1 tsp paprika powder, 1 tsp cumin powder, 1 cup tomato passata or chopped canned tomatoes, 500 ml / 2 cups vegetable stock, 1 vegetable stock cube (for extra flavor), A pinch of pepper or chili (optional), 3 tbsp tapioca flour or other fine flour or starch, 1/4 cup finely diced parsley, and zest of 1 lemon.
Prep tips/make-ahead: The key vegetables are onions, celery, carrots, and potatoes but the rest is really up to you. We wanted to load up this dish with as many veggies as possible so we used green beans, zucchini, dried mushrooms, peas, etc. You can add peppers, cauliflower, broccoli, and both frozen and fresh veggies will work. Feel free to experiment with herbs and spices like rosemary. Soy sauce can be swapped with gluten-free Tamari or coconut aminos for Whole30. The broth in the stew will thicken with some of the potato starch that will dissolve during cooking, however, you can give it more body by adding a little flour right at the end.
Serving suggestions: This vegetable stew is pretty hearty so it can be served as the main dish. You can, of course, also serve it as a side dish with some protein of choice. Toasted bread or rolls are great to soak up the liquid, and you can go a step further by making some garlic bread. The stew is topped with gremolata – a mixture of chopped fresh parsley and lemons zest – which adds a nice fresh touch and aroma to the dish.
---
Using pantry staples like rice, beans, and sweet corn, this Instant Pot burrito bowl is filled with nutritious ingredients and classic Tex-Mex flavors. Paired with grilled sweet red peppers, fresh tomatoes, and delicious cilantro avocado crema, this dish is a total crowd-pleaser. Top with vegan-friendly cheese. Get the recipe here.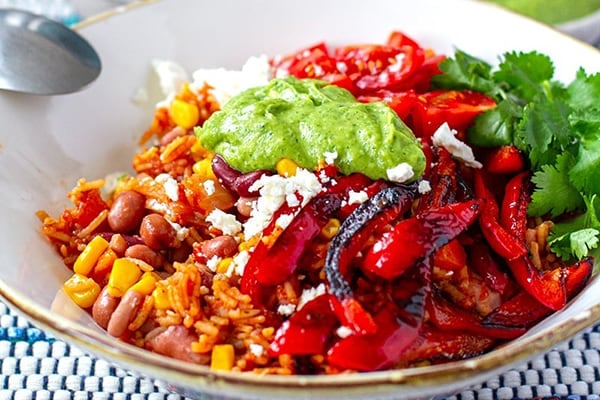 Shopping list: 4 tbsp olive oil, 1 onion, 1 carrot, 1/2 tsp chipotle chili flakes, 1 tsp ground cumin, 1 tsp paprika powder, 1 tsp ground coriander seed powder, 1/2 tsp dried oregano, 1.5 cups long-grain rice (Basmati), 2 cups vegetable stock (you can use 1 vegetable stock cube + 2 cups water), 1 x 400 ml can chopped tinned tomatoes, 1 x 400 g can mixed cooked beans, 1 x 350 g sweet corn, 1 avocado, 2 cloves garlic, 1/4 cup chopped cilantro leaves, 2 tbsp lime juice (lemon is also fine), 1 red pepper (optional), 2 cups cherry tomatoes or 2 medium tomatoes (optional), and salsa (optional).
Prep tips/make-ahead: You can make all of the elements in this burrito bowl ahead of time. The rice, corn, and beans base can be stored in the refrigerator for up to 3 days. Avocado crema should be kept in an airtight container and stored for up to 2-3 days. When you open it, the top layer might discolor, so skim it off and mix the rest to freshen it up. Grilled red peppers can be stored for up to 3-4 days in an airtight container. Reheat the rice and red peppers and dice some fresh tomatoes and extra cilantro if using.
Serving suggestions: Ready-made guacamole can be used instead of freshly made avocado cream. Tomato salsa, sour cream or yogurt, pickled jalapenos, corn chips can all be added as toppings.
---
Light and refreshing, this quick and easy Instant Pot Pasta Primavera brings your favorite seasonal veggies to the table in less than 30 minutes. Top with nutritional yeast flakes or vegan-friendly cheese if you like. Get the recipe here.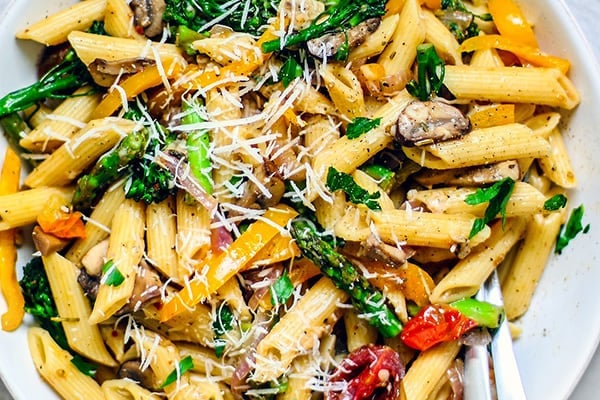 Shopping list: 2 tbsp olive oil, broccoli, 1 red onion, sweet bell pepper, asparagus, cremini or baby Bella mushrooms, 1 cup cherry tomatoes, 3 garlic cloves, 1 tbsp good Italian seasoning, 8 oz penne, rotini or rigatoni, 4 cups vegetable broth, parmesan or vegan cheese, and basil or parsley for garnish.
Prep tips/make-ahead: Italian Seasoning comes in many varieties. Use a good gourmet blend (like Nomu's blend) that includes salt and extra flavorings like sun-dried tomato, etc. If you use a herb-only blend, be sure to salt your veggies to taste.
Serving suggestions: Top with dairy-free cheese if you wish or use some nutritional yeast flakes to add a little cheesy, umami sprinkle.
---
This warm and spicy Thai-inspired Instant Pot red lentil soup is the perfect weeknight meal. It is packed with veggies, plant-based protein, creamy coconut milk, and a ton of flavor! Get the recipe here.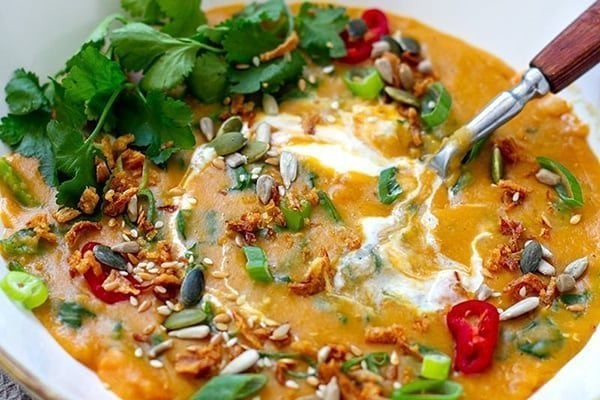 Shopping list: 1 tbsp coconut oil, 1/2 large onion, 1 carrot, A knob of ginger, 1 clove garlic, fresh cilantro, 1.25 cup red split lentils (dry), 2 tbsp red curry paste, 1 vegetable stock cube, 1 tbsp soy sauce (for gluten-free, use Tamari or fish sauce), 1 cup coconut milk (not the diluted drink), 3-4 cups spinach leaves, lime juice, fried shallots (garnish), seeds (garnish), fresh cilantro/coriander (garnish), and scallions/spring onions (garnish).
Prep tips/make-ahead: Please note that the split lentils will cook quicker than whole lentils. If cooking larger lentils, add 5 more minutes to the cooking time. You can add fresh spinach or defrosted frozen spinach to the soup. Use full-fat canned coconut milk (not diluted coconut milk drink); either shake the can really well or use the thickened part of the coconut milk and discard the really watery liquid.
Recommended sides: Top it off with extra cilantro and a drizzle of coconut milk. You can add pumpkin seeds or crushed nuts and fried shallots for a lovely texture. Serve with crusty bread or toasted rice cakes, or stir in a little cooked rice for a complete protein combination.
---
A creamy, velvety risotto that is much lighter and is made without butter or cheese? You got it! Our Instant Pot vegan risotto is loaded with green vegetables like kale, green beans, and zucchini and is topped with fried garlic for amazing aroma and flavor. Get the recipe here.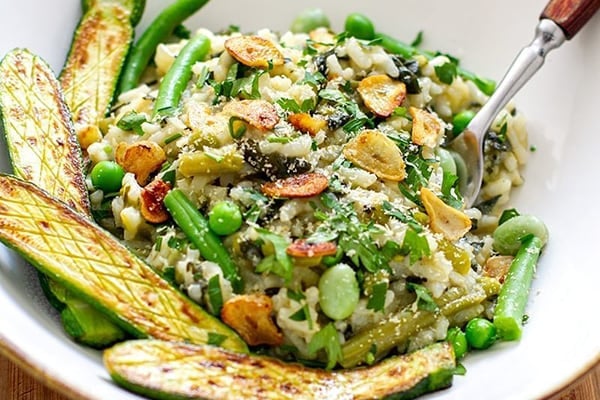 Shopping list: 4 tablespoons olive oil, 1/2 onion, 1 celery stick, 2 cloves of garlic, 1/2 jalapeño green chili (optional: chili powder), 1.25 cups dry Arborio rice, 1 cup leafy greens (kale, chard, collards, cavolo nero), 1.5 cups frozen peas, beans, and broad beans, 1 vegetable stock cube (or 3 cups of vegetable stock), zest of 1/2 lemon, 2 tbsp lemon juice (about a third of a lemon), 2 tbsp nutritional yeast flakes, 1 tsp miso paste, zucchinis, 4 large garlic cloves, and 2 tbsp chopped fresh parsley.
Prep tips/make-ahead: Ready-made fried garlic and fried shallots from Asian grocers can be used instead of frying the garlic. They add a lovely crunch and flavor.
Recommended sides: Serve with fried garlic and grilled zucchini on top. This dish can be enjoyed by itself or with a side salad.
---
Made with brown rice and cashew nuts, this vegan-friendly salad has an almost complete protein profile (just missing one amino acid – lysine) and is a good source of fiber, minerals, and vitamins. It's great for making ahead as it keeps well in the fridge for up to 4 days. Get the recipe here.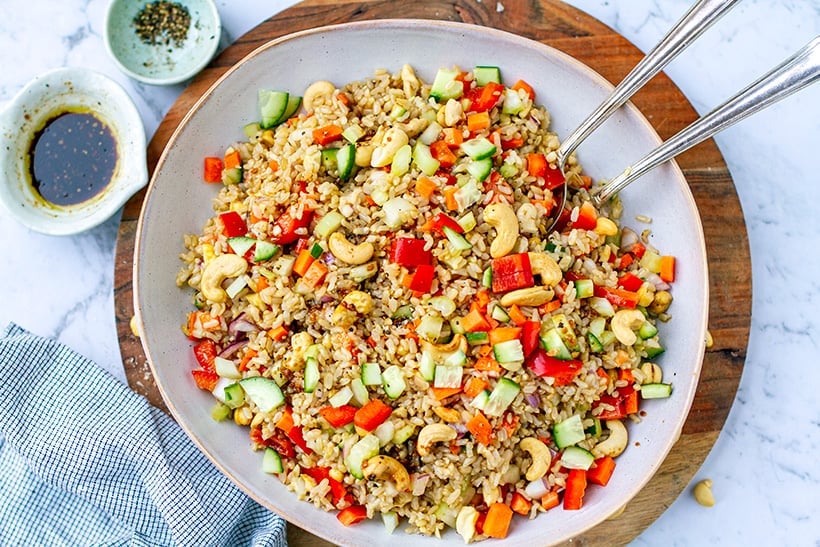 Shopping list: 1/4 cup olive oil, 2 cups uncooked brown rice, 1 cube of vegetable stock, 1 carrot, 1 stick celery, 1 red bell pepper, 1 cucumber, 1 red onion, 1 cup cashew nuts (roasted, ideally), 1/4 cup soy sauce or Tamari soy sauce, 1/4 cup Balsamic vinegar, 1.5 tbsp maple syrup, and 1 clove of garlic.
Prep tips/make-ahead: Long-grain brown rice will require the same cooking time, while brown Jasmine or brown Basmati rice will 15 minutes instead of 25 minutes. We find that medium-grain or long-grain brown rice is best for this salad recipe.
Serving suggestions: This rice salad can be served as a main meal – it's a good source of protein, carbs, and healthy fats in one dish. If you want extra protein, you can serve it with a side of grilled tofu. It's also great with a side of greens like a leafy salad or some steamed broccoli. We always make it for a picnic or as a barbecue side salad. It keeps well with the dressing on but to ensure extra freshness, store the salad and the dressing separately until serving.
Beans and bread make for a complete source of protein, plus this Italian recipe is so delicious that you will mop up every last drop of that garlicky, herby sauce with that piece of toasted sourdough or crispy baguette. Get the recipe here.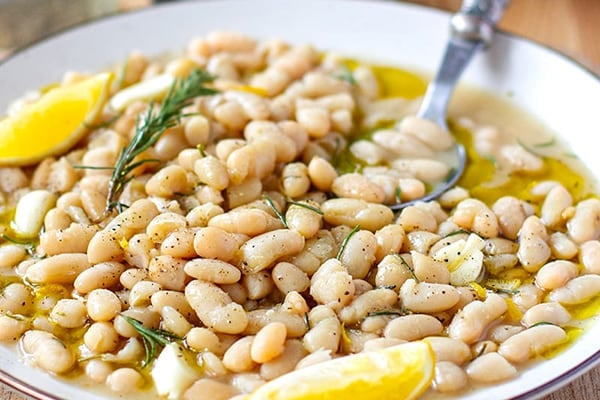 Shopping list: 2 tbsp olive oil,2 cups dry white beans such as cannellini, Great Northern or Haricot, 1 tsp bicarb/baking soda, 1 cube of vegetable stock, 5 cloves garlic, 3 sprigs of rosemary, onion, and a lemon.
Prep tips/make-ahead: Pre-soaking the beans overnight with a little added bicarb/baking soda (optional) will rehydrate the dried beans and will soften the fibers, making them easier to digest. Pre-soaked white beans take less time to cook and by using the Instant Pot, you're looking at about 34-40 minutes from start to finish. You will need 8-12 hours for soaking, so do it overnight or in the morning if you plan to cook these at dinner time.
Recommended sides: These rustic beans can be eaten as a stew as a main dish or you can have them as a side dish with some pasta, rice, green vegetables or a salad to complete this meal. Try these braised beans on some toasted bread for lunch or breakfast with some lovely cherry tomatoes or sliced avocado.
---
Cinnamon and banana Instant Pot oats make a quick, easy and nutritious breakfast. You can use it as a template recipe and choose your favorite toppings. Get the recipe here.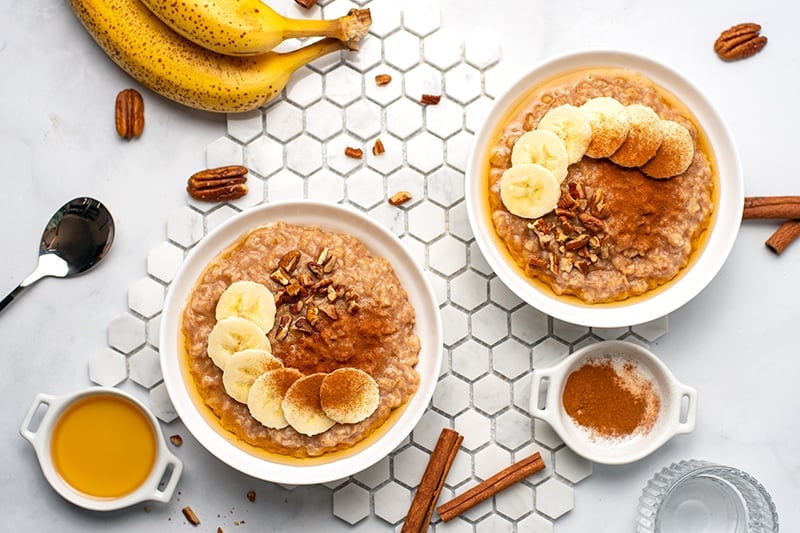 Shopping list: 2.5 cups old-fashioned rolled oats, 1 tsp cinnamon, 1/4 cup pure maple syrup, 2 bananas, and garnish with pecans.
Prep tips/make-ahead: We are using traditional rolled oats (not the instant, quick-cooking kind). You can also use brown sugar or honey instead of maple syrup.
Serving suggestions: Finish with the toppings of sliced banana, extra sweetener to taste, some pecans or other nuts of choice, and a little dash of cinnamon for presentation.
This other recipe for blueberry oatmeal uses the pot-in-pot method and takes a bit longer but offers easier clean-up afterwards, in case you're interested.
Download this MEAL PLAN & COMPLETE THE SHOPPING LIST here.
---
MORE VEGAN-FRIENDLY RECIPES TO CHECK OUT
---
---
SAVE INSTANT POT Meal Plan #9 TO PINTEREST