Chicken is a protein staple and one of the easiest things to pressure cook, even from frozen! Here are 20+ tasty Instant Pot chicken breast recipes for you to try.
---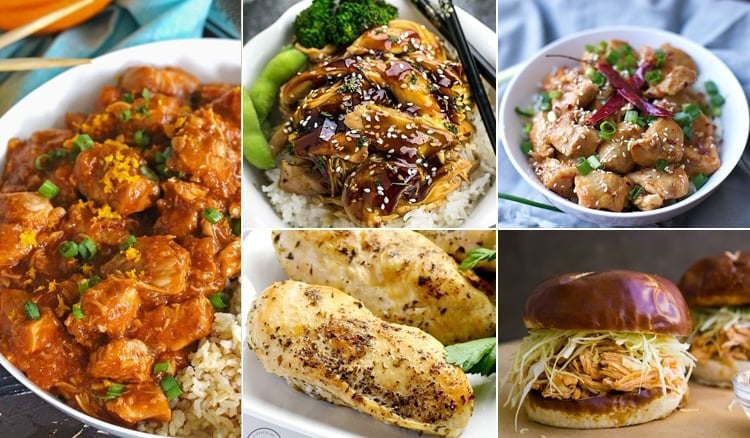 Take a peek into the fridge or the freezer, and chances are, you're going to find some chicken breasts. It's a protein staple in any omnivorous house, and of course, it's one of the easiest things to pressure cook – even from frozen! It goes with just about everything. Citrus and fresh herbs bring it to life. You can stir it into soup. You can recreate takeaway poultry dishes with it. You can prep it plain at the beginning of the week to dip, toss on a salad, or toss into a taco or burrito during the week when you need dinner fast.
Chicken breasts can be known as "boring" food, but it's only boring if you make it boring. Thus, it's only exciting if you make it so! The pressure cooker makes it simple. Here are some of our favourite Instant Pot chicken breast recipes. Want more? Find all of our Instant Pot chicken recipes here.
---
Orange chicken is commonly found on the Chinese takeout menu, but why not make it at home? You can whip this dish up in just around a half an hour. It's healthier than takeout, and it requires just one pot. Plus, it makes delectable leftover material to use throughout the week. Orange juice and soy sauce are the magic umami in this dish.
There's something about a bowl meal that's just so satisfying. You can really pile it up and dig right in. This recipe is chock full of Thai flavour with sweet chili sauce galore, and you can cook the meat and rice at the same time in the Instant Pot. Score!
What's beer got to do with it? If you've ever made a beer can chicken, standing in the oven, then you probably know what this recipe is talking about. The good news? You don't have to stick a beer can in a chicken! It's also totally safe to stick it in your Instant Pot instead. Perhaps the cherry on top with this dish is the bacon tossed throughout. Mmm… bacon!
When you think of comfort food, chicken and dumplings may very well make the top of the list. It's rich, creamy, and warming. It's that rib-sticking food that just does the body good sometimes. This pressure cooker recipe eliminates the need for all the work to create this classic from scratch. You can use refrigerated biscuits from the store to cut back on the effort, too.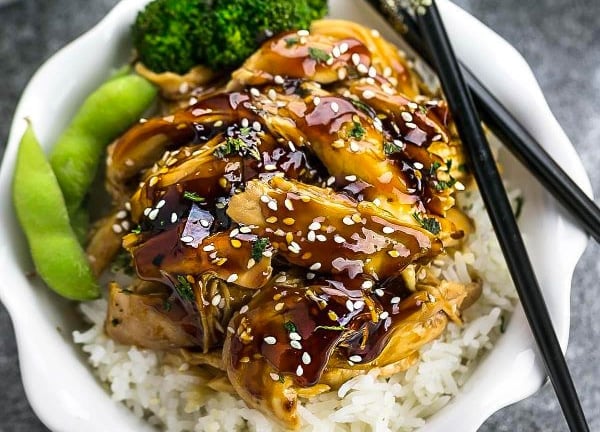 Are you ready to meal prep? If you weren't before, now you are! This recipe makes a nutritious, protein-packed meal to take with you on the go. Teriyaki flavour brings that sweet and savoury balance to the mix. You can easily pair it with steamed veggies and rice from the IP, too. This recipe includes substitutes for a paleo version as well.
This low-carb recipe is perfect whether or not you're on the keto diet! Lettuce wraps are easy to assemble at lunch if you have the fillings made up. Simply chop up some veggies, make some ranch dressing to have handy, and load it with this easy-to-make buffalo chicken.
Skip the line at Chipotle! This burrito bowl skips the tortillas in favour of a simple yet satisfying mixture of spicy, tender chicken breast, black beans, and white rice. You can toss in some grilled veggies, top with salsa, sprinkle some cheese on it, load it with guac, or top off some fresh leafy greens with the blend. Whatever way you dress it up, it's bound to be good.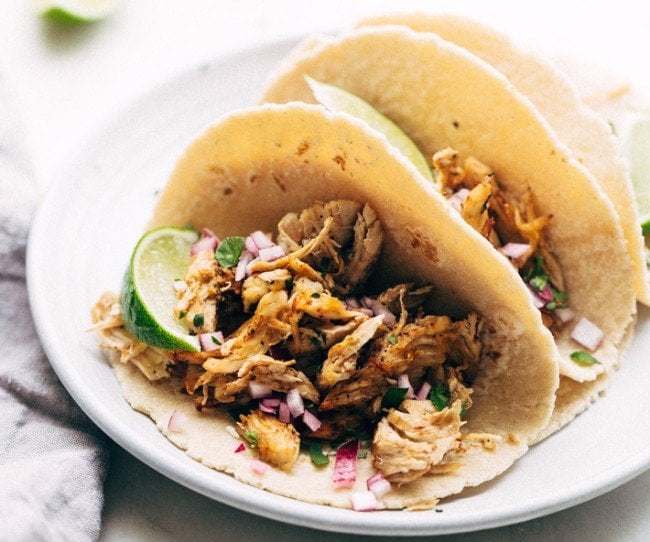 Usually, carnitas are reserved for pork. This recipe is changing the game though. Chicken is delicious piled into tacos carnitas-style. The only effort you have to put in is fruitful – browning that plate of meat in the oven! The mouthwatering crisp is totally worth a few extra minutes.
If you want to keep things simple, or you just have a hankering for plain chicken breasts, it's a good skill to have knowing how to make 'em in the Instant Pot. These are great for pairing up with meals throughout the week. You can slice them or warm them up in the oven for easy dinners alongside steamed veggies. The seasoning on these is versatile.
If you're looking to get your Indian food fix, look no further. This is tandoori-style in all of its glory, except this chicken is pulled. It's a great contender for cauliflower rice, a bed of steamed rice, a side of steamed veggies, or in a wrap. You could even serve it cold over some fresh slaw. The possibilities are endless with flavour this big.
Peanut chicken is fine and dandy, but the addition of cashew butter in this one takes it to the next level. It also makes it suitable for those with a peanut allergy, so you could send some off to school with the kiddos for lunch! The salty, spicy Asian kick in this makes for a fabulous weeknight dinner while mostly utilising pantry items and staples you likely already have.
This shredded chicken is best served with a slice of cool avocado and a garnish of cilantro. Chili and lime are the perfect fresh and zingy blend to get you excited about leftovers. This would be tasty in grilled burritos, rice bowls, or over a big bed of shredded cabbage and carrots.
You know we couldn't leave you without a solid Instant Pot chicken tikka masala recipe. Skip your favourite lunch buffet in favour of this light and healthy adaptation you can make at home quicker than you can order takeout. You can also try our Instant Pot butter chicken recipe here.
Lemon and garlic just belong with chicken. They're the dynamic duo when it comes to cooking chicken. Even the most novice cook could make this one work, and those chances of success just about double with the Instant Pot. Check out this recipe for your lemon-garlic needs. These are fantastic for slicing over a salad or pairing with roasted broccoli sprinkled in Parmesan.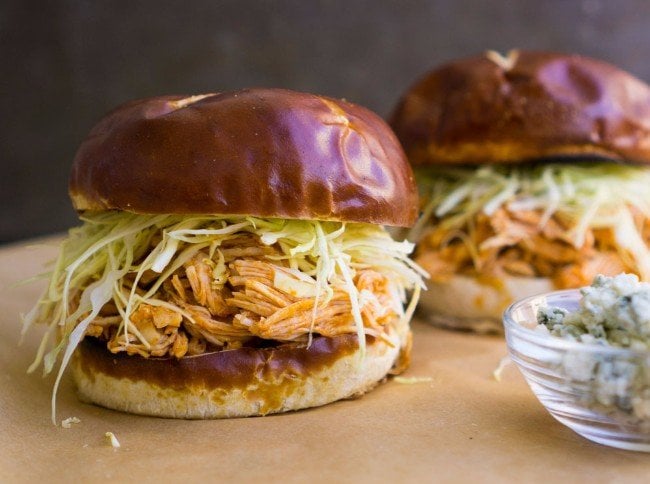 Just check these stacks out! Gorgeous, warm buns are ready to take on this buffalo chicken hot out of the Instant Pot. The spicy zest is cooled down with thin, shredded cabbage for a nice bite and crunch, plus the obligatory bleu cheese. Fresh is best! If you don't love it, add some ranch to the mix instead. Either way, this buffalo chicken will disappear fast.
General Tso's would be hard pressed for anyone to consider it a "health food." This dish, though? Well, it counts in our book. It's grain-free, soy-free, and refined sugar-free, but it still encompasses everything you love about this Chinese cuisine staple!
17. Adobo chicken from Cooking With Curls
Adobo is made possible with a spicy blend of ingredients. Trust us – this recipe isn't for the faint of heart! You get your adobo seasoning which features turmeric, oregano, cumin, garlic, and chili powder. Then you add some green chiles and fire-roasted tomatoes to the mix. The flavour is on point with this one.
This recipe for the Instant Pot takes the tough work and labour out of making enchiladas. Of course, you'll have to do some assembly and baking, but for enchiladas… what wouldn't you do?! You can make the perfectly cooked chicken for the filling easily for this dish, and enchiladas tend to freeze beautifully for simple, thaw-it-out leftovers later.
Sugar, spice, and everything nice – that's what curry is made of! This honey curry is unique using mustard, butter, honey, and curry powder for a humble and minimalist blend that really bursts with every bite. This one's a party for your taste buds.
This Italian dish is a spin on the traditional chicken cacciatore. Instead, this recipe uses zoodles making it grain-free, paleo-friendly, and Whole30-compliant. Don't worry – it's not slacking on that standard flavour though! The braised chicken is the star in this dish amongst the tender mushrooms and green peppers. The Italian herbs really bring it all together.
BONUS
Here are a few more Instant Pot chicken breast recipes…
This dump and cook Instant Pot savory chicken recipe is super simple and delicious. It's great for meal prep and batch cooking, it's Whole30, gluten-free and paleo friendly and you can serve it in a variety of ways.
Tacos night, anyone? These Instant Pot BBQ chicken tacos are both healthy and delicious. Made with shredded, saucy meat and topped with zesty and sweet pineapple salsa for that unforgettable tropical twist.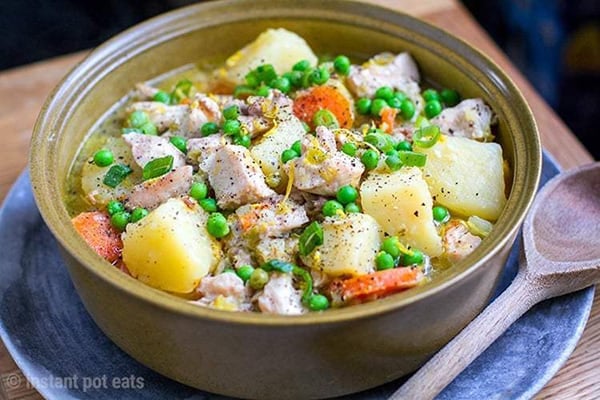 Don't you love a good one-pot meal and with the Instant Pot, you can make this tasty and rustic meal of chicken and potatoes with minimal cleanup. Plus, cooking the potatoes and chicken at the same time allows for the flavors of the poultry, leeks and vegetables to infuse the spuds, while the starch in them thickens the broth and makes it rich and hearty. It also happens to be gluten-free and can be dairy-free (minus the butter), making it a great all-rounder for those with dietary restrictions.
Let us know which chicken recipe you're most excited to try! We hope you liked this roundup. If you did, feel free to share it on social media!