In this post, we share 15+ meal ideas and recipes using shredded chicken. Whether you've got leftovers or you made a big batch of Instant Pot shredded chicken, this roundup will inspire you with many delicious meals including braises, casseroles, sandwiches and salads. You will never have to wonder what to do with shredded chicken again! This post has recently been updated.
---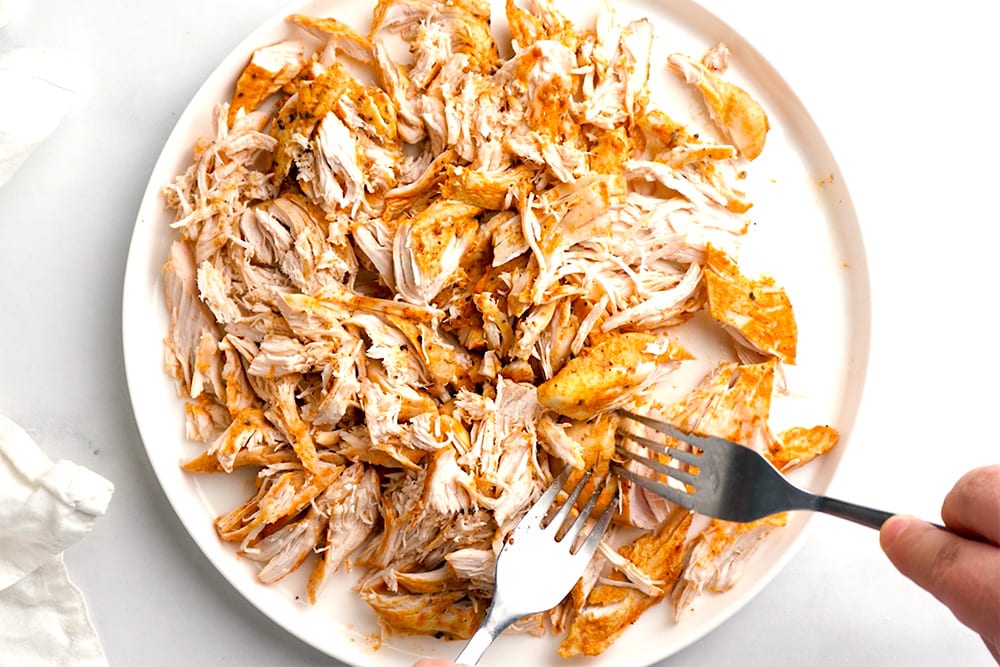 Why We Love Shredded Chicken
Shredded chicken is one of the most versatile foods to have on hand. It's great as a grab-and-go protein option for putting together healthy meals on the fly, for packing lunch or a picnic, or for those emergencies when you're just hungry and you need something tasty to chow down on stat.
It's a fantastic food to make batches of throughout the summer. It tastes good hot or cold and lends itself well to so many gorgeous, warm-weather dishes (which we'll get into later – don't worry!).
Unsurprisingly, the Instant Pot shredded chicken is super easy to make. We'll cover the basic method for fail-proof, tender, juicy shredded chicken every single time. If you're getting bored of having it plain and need a creative spark, or you're brand new to pressure cooking and want the rundown on all things poultry, you're in the right place!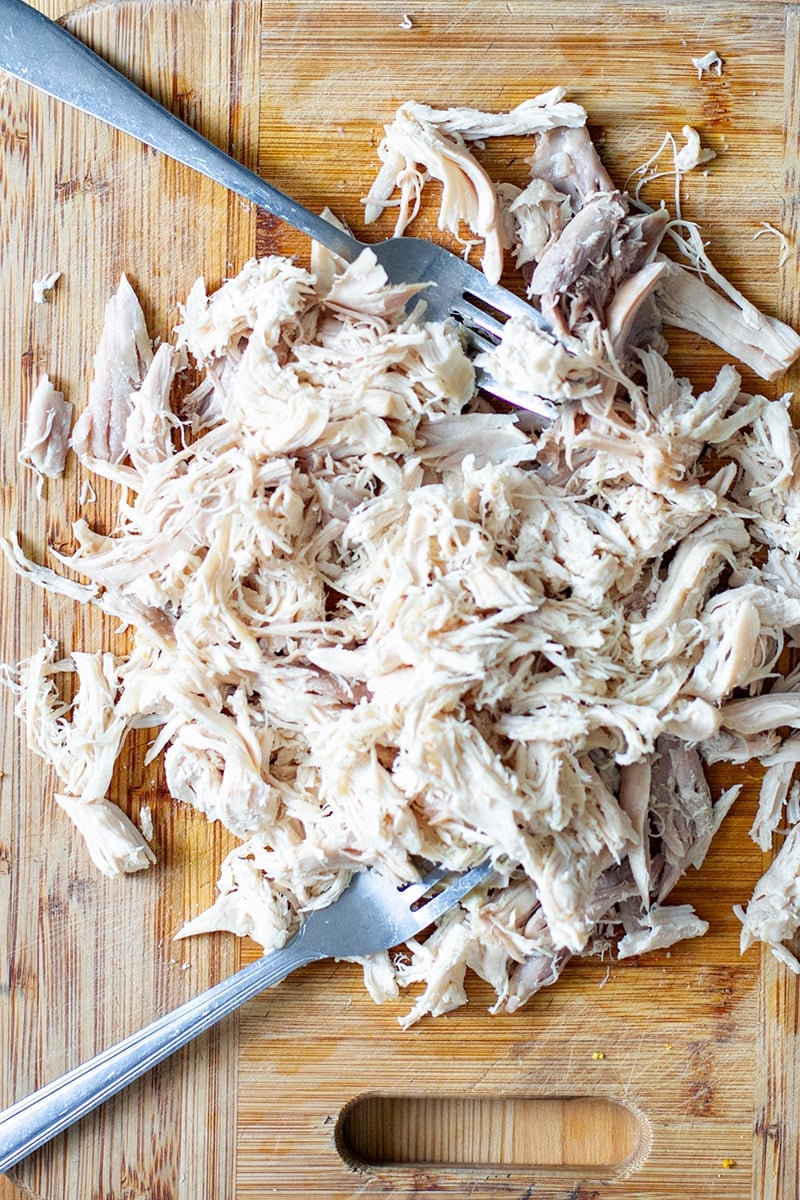 Making Shredded Chicken
It's a staple dish with big potential to land on the prep menu each week, as it's diverse and saves so much time on cooking throughout the week. This guide ensures your method yields a bounty of juicy, moist chicken, too. If you've ever overcooked chicken, you know what can happen! The pressure cooker can be a delicate balance, but we've got the hard parts covered for you.
Ingredients:
4 lbs. /1.8kg of chicken breast – more or less if you like
1 cup water or bone broth – stock is fine, too (chicken will release its own juices while cooking too)
Salt, pepper and some dried herbs of choice to taste (optional but infuses the meat with some flavour)
Instructions:
Add all ingredients to the inner pot.
Press "Manual" or "Pressure Cook" and set to 12 minutes at HIGH pressure.
Use the quick-release method when cooking time is up, turning the valve to release the pressure.
Let cool before using two forks or tongs to shred the chicken. You can do this in the pot, in a more shallow bowl for easier handling, or on a large cutting board. If you transfer the chicken, drain the liquid if there's any left.
How to store shredded chicken
Fridge: Store in an airtight container or bag for 4-5 days.
Freezer: Store in an airtight container or bag for up to 6 months. Defrost before using in the fridge.
Tip #1: Use some of the cooking broth to store with the chicken to keep it moist.
Tip #2: It can be handy to store shredded chicken in individual portions for easy use, especially in the freezer so you only have to thaw out what you need.
Learn how to make versatile shredded beef here and how to use up leftover pulled pork here.
---
What To Do With Shredded Chicken: Meal Ideas & Recipes
All right… now, what do you do with those pounds upon pounds of shredded chicken? Toss half in the fridge and half in the freezer. Either way, you're going to put it to good use! Here are some of our favorite leftover shredded chicken recipes.
Simple Shredded Chicken Wrap
You can use bread or wraps to make a quick and easy lunch with shredded chicken, mayonnaise, lettuce, cheese, tomatoes and whatever else you like. Try adding some Caesar dressing and Parmesan cheese or Buffalo sauce and blue cheese.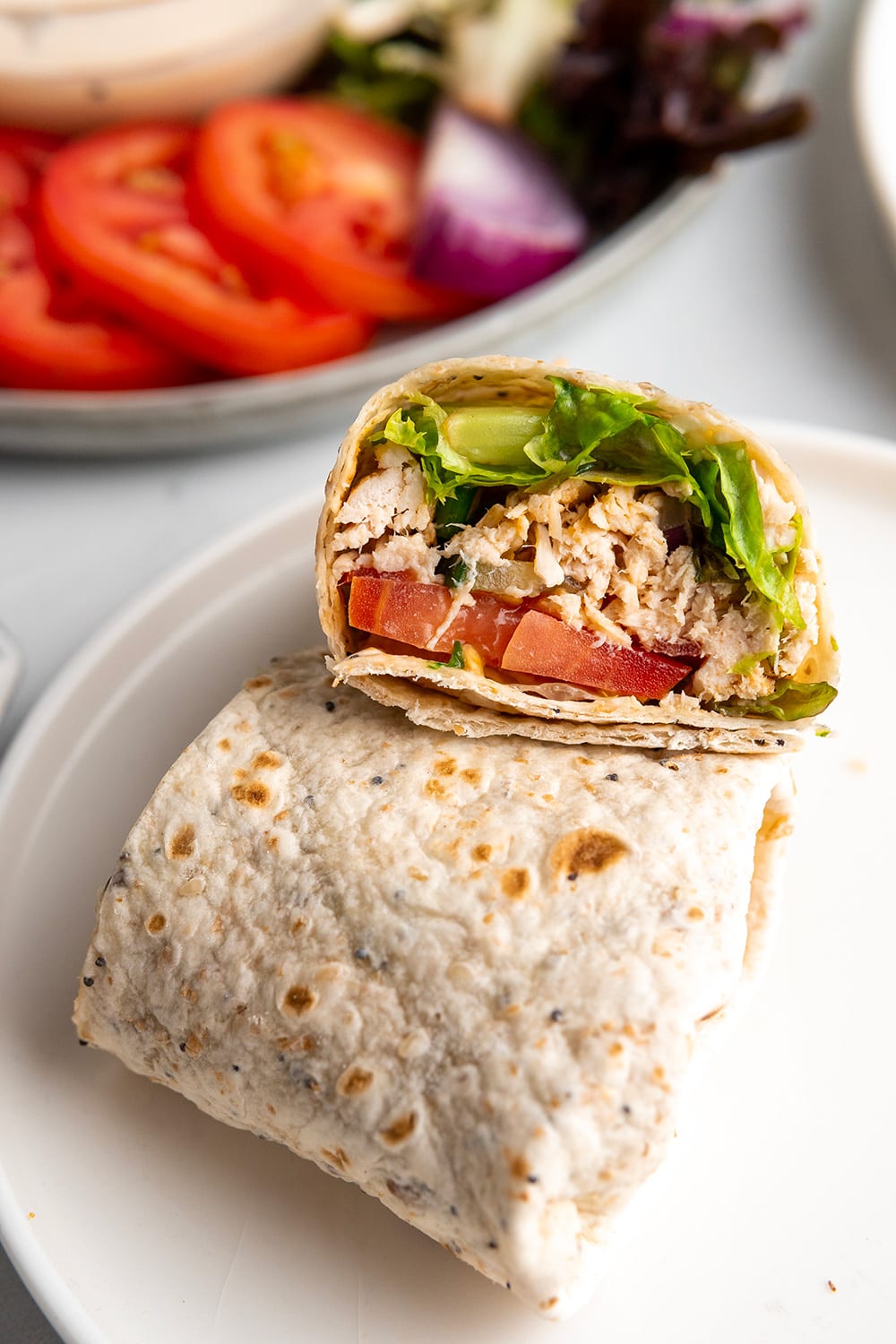 Speedy Salad With Chicken & Feta
You don't need any fancy ingredients to make a healthy and delicious chicken salad. Start with a lettuce or leafy salad base, and add seasonal crunchy vegetables like cucumbers, celery, bell peppers, radishes, or tomatoes. Finish with shredded chicken and your favorite salad dressing.
Ramen Noodles With Shredded Chicken
Pimp up those lazy ramen noodles with shredded chicken for extra protein. This will make the meal more satiating and nutritious.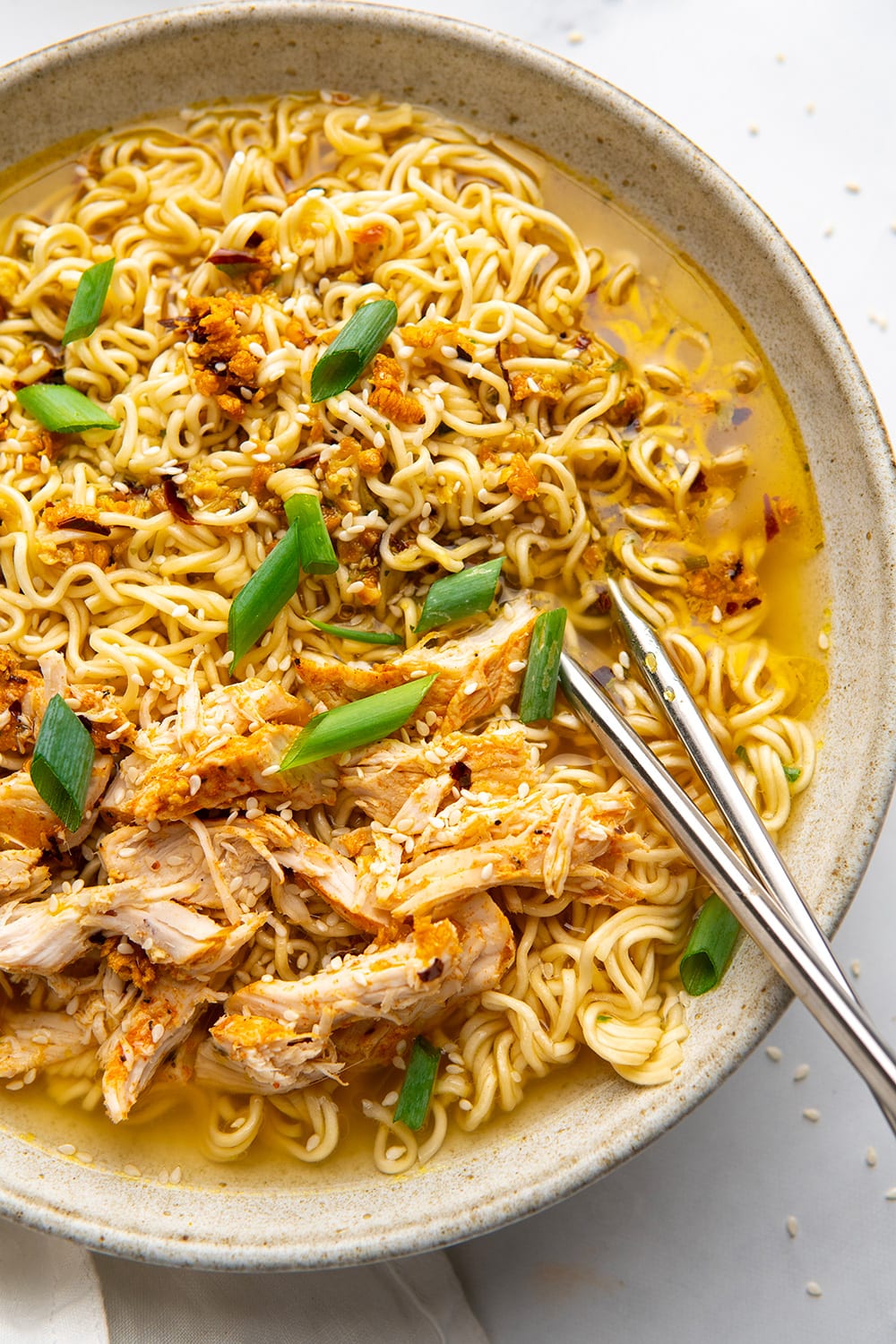 Try our recipe using tasty shredded chicken meat for a classic, American-style salad. It's deliciously creamy, savory and tangy with a hint of sweetness from the fruit. Serve it in a bowl, in a sandwich or in a wrap. Get the recipe on the blog here.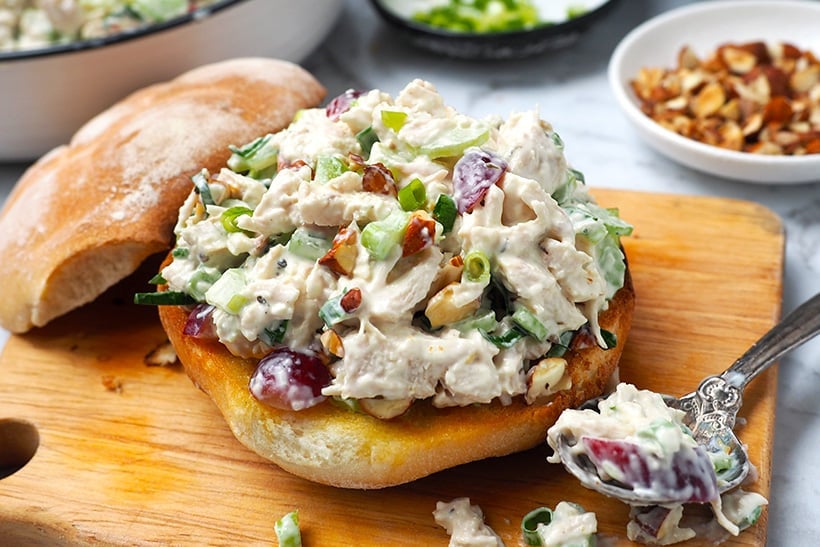 The beauty of prepping food ahead of time is having easy breakfast options. Another fantastic meal prep hack is to whip up some potato cubes, or sweet potato cubes – either or will work for a tasty breakfast hash. You can toss in quick-to-cook veggies like onion and pepper while you heat up the spuds and chicken or keep it simple.
Pro-tip: dice up some bacon, fry it in a hot pan, and heat up the leftover chicken in the grease. Yum.
Try this shredded chicken and sweet potato hash with a poached egg from Clean Eating Mag.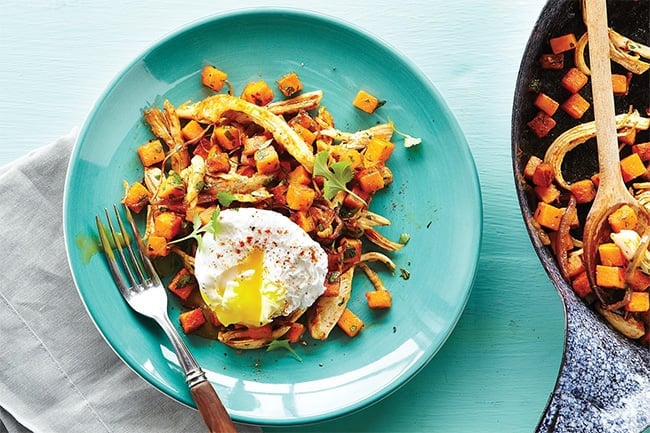 Homemade nachos are a great go-to weeknight meal that can be ready in minutes. In this recipe, you get easy sheet pan shredded chicken nachos with all the fixings! Recipe from The Kitchn.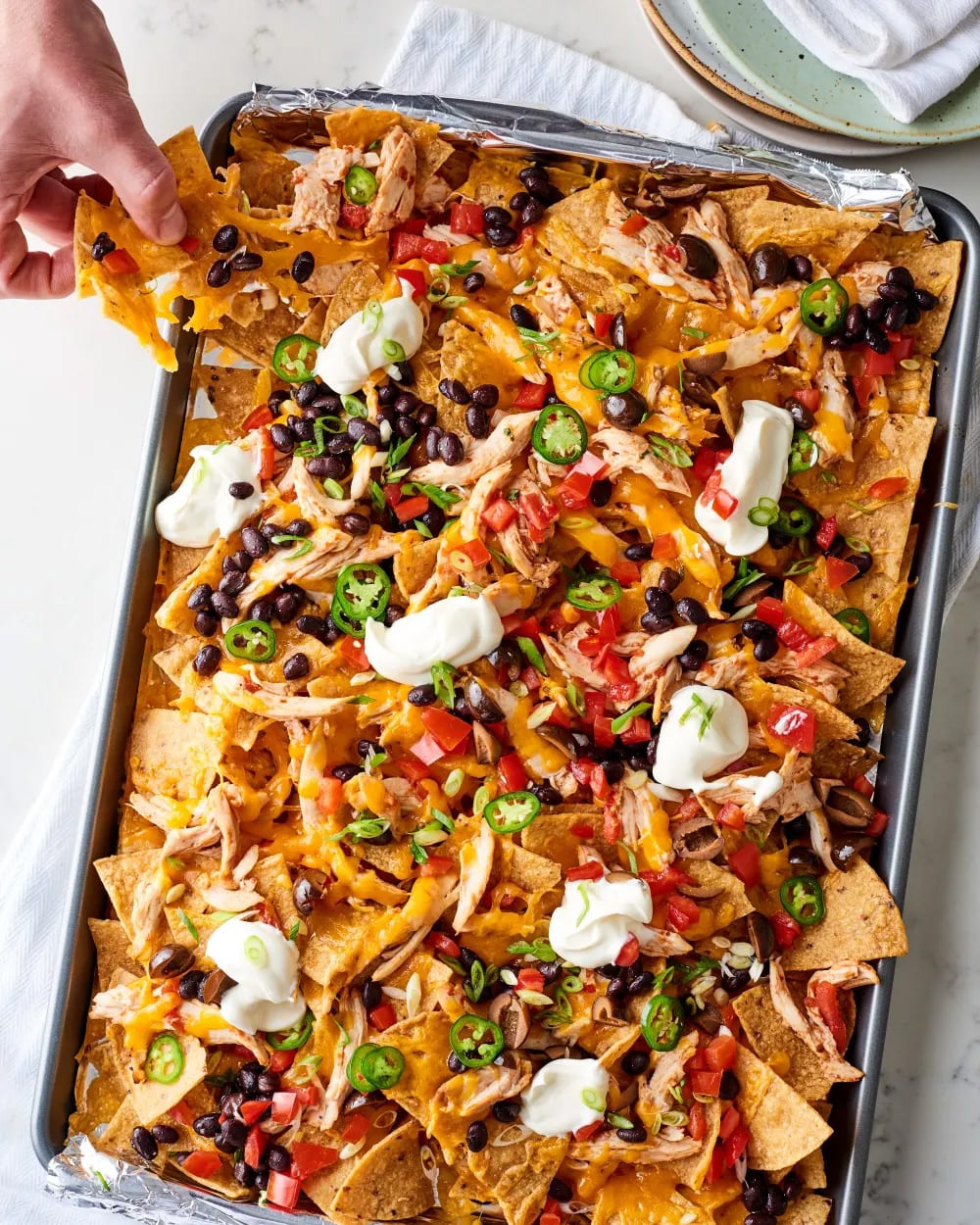 Braised Shredded Chicken
Braising is your one-stop shop to injecting flavour and moisture into the pre-made chicken. Toss your chicken in a casserole dish or the Instant Pot and pour over a tomato sauce, salsa, or BBQ sauce. You can just put it in the oven for a quick dinner or cook on Saute while you tend to a side dish instead.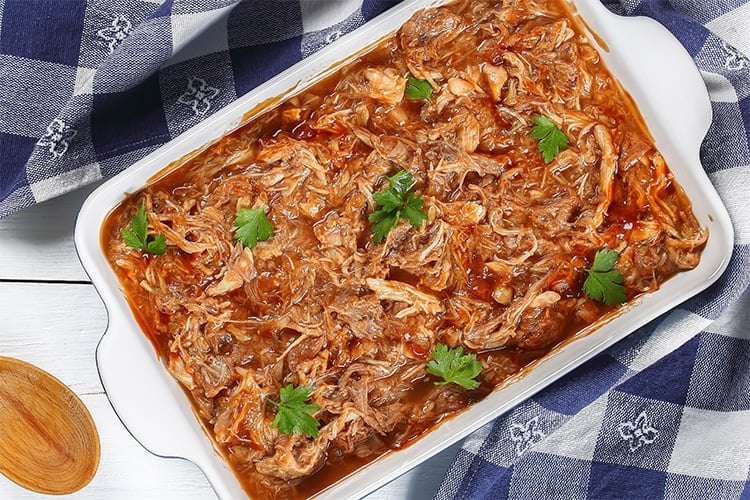 Put An Egg On It
Breakfast is still on the brain! If you're not a morning person, you know how tough getting something filling and satisfying on the table. Crack an egg over top a pile of chicken and potato hash, shredded chicken with some greens tossed in – wilted or raw, or crack a few eggs over top of some chicken in a skillet and scramble. That's a 5-minute breakfast you can't beat. If you're feeling fancy, make it poached.
Shredded Chicken Burgers
Sometimes, there's more to it than beef or pork. Shredded chicken burgers are a fabulous idea that the kids will love. On the other hand, they're also simple enough to make big batches of whether you opt for sliders or full-size in case you're entertaining.
You can mix the chicken with BBQ sauce from scratch or from the store, and top of with your favourite sauces and condiments. These will be tasty hot, but they'll also make a good cold sandwich to pack.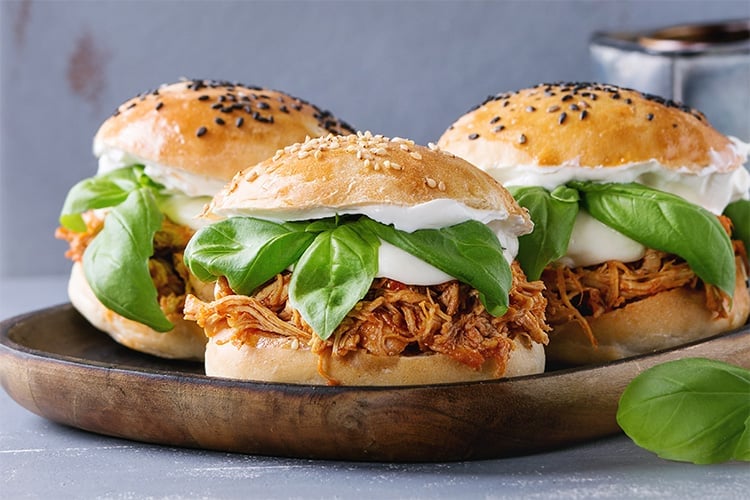 Chicken Pot Pie
There's nothing quite like when you press down into that buttery, flaky crust with your fork into the gooey centre, boasting tender chicken all the way throughout, with carrots and peas in every bite.
Check out this classic pot pie recipe from Two Peas and Their Pod. This recipe from The Curious Coconut is both paleo and AIP-friendly, for those avoiding grains and dairy.
How didn't we mention this first? Shredded chicken is perfect for packing up corn or wheat tortillas with, whether you're rollin' or foldin'. Pile up some slaw on top, or keep it simple with a scoop of salsa.
This is another 5-minute meal that you could prep ingredients for easily ahead of time. Skip the line at Chipotle and DIY. Check out these hoisin-blackberry chicken tacos from Floating Kitchen for some inspiration. Speaking of…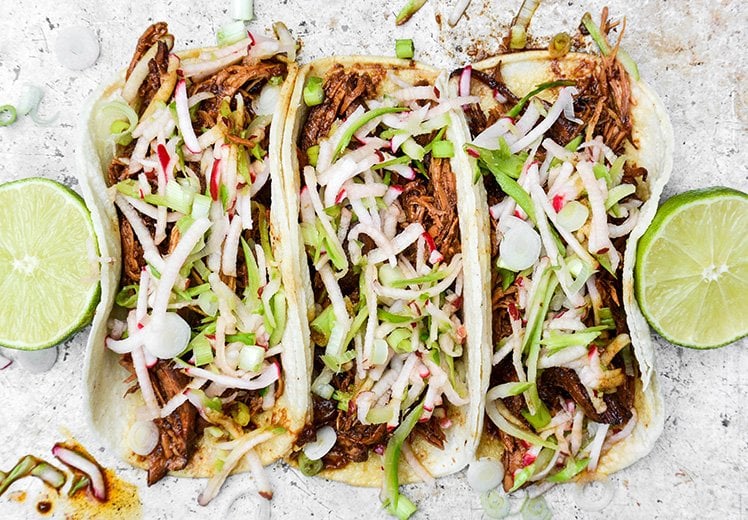 Bean & Rice Bowls
Talk about budget-friendly. Another Chipotle speciality is the bean and rice bowl or the salad. Bring in ALL the things here. The veggies, the pico, the corn. The only tough choice is black beans or pinto. If you make it at home, you can have both.
If you tend to avoid grains and legumes altogether, you can opt for a simple taco bowl using shredded chicken as the protein.
Toss it with some salsa or sour cream to give it that Mexican flavour you're after, and top off with avocado slices and fresh cilantro. Try our rice bean burrito bowl as a base for shredded chicken.
Creamy Chicken Salad
Try our Brazilian-inspired curry chicken salad above. Or, chop up some celery and onions, and add some salt and pepper to the mix. Make a mayo or yoghurt based dressing or an Asian sauce.
Other fun additions might be adding some crunch with chopped walnuts or sunflower seeds, or adding a touch of sweetness with sliced grapes, chopped dates, or dried cranberries. You can really customise your salad once you find your element which makes it a fun recipe you'll look forward to experimenting with.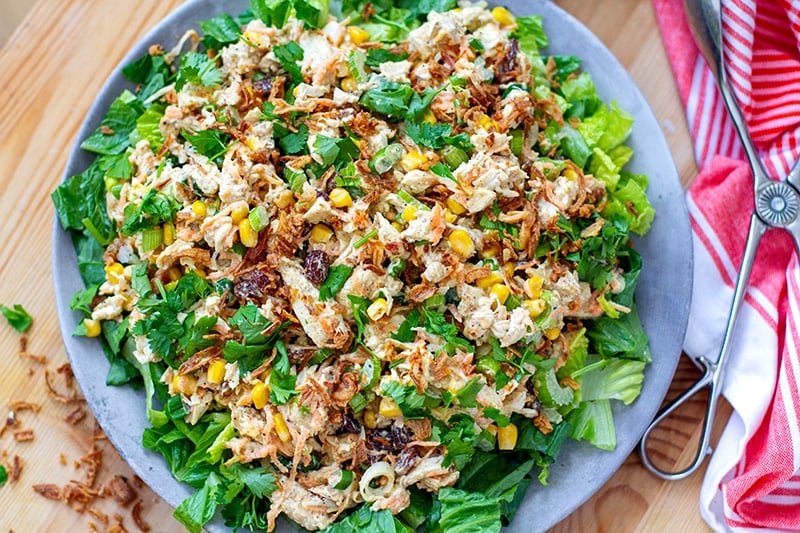 Chicken Fried Rice
If takeaway is your jam, you can't beat the ease of a quick fried rice dish. If you prep the rice ahead of time, or simply use cauliflower rice instead, the hardest part is waiting for the skillet to get hot.
Simply toss your chicken, rice, and preferred veggies around in a bit of oil, soy sauce or Tamari for gluten-free, and perhaps some fresh ginger and garlic. Garnish with scallions and maybe drizzle some Sriracha on top. You know how you like your fried rice – we don't have to tell you!
Add Shredded Chicken As Extra Protein To Soups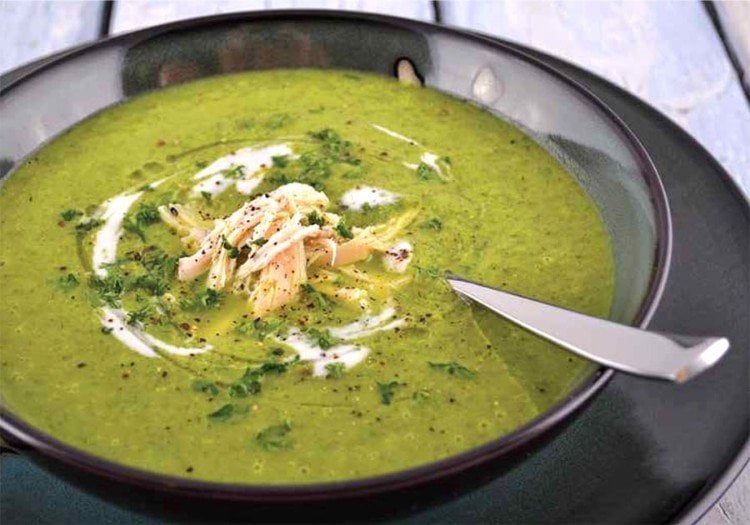 Hot or cold, blended or chunky, summer or fall… soup is always on the menu if you ask us. There's so much versatility with a simple veggie base when you pre-cook your protein instead. Shredded chicken is the perfect way to add protein to the mix when you need a full, hearty meal. Check out this cleansing spinach and leek soup.
Vietnamese Chicken Spring Rolls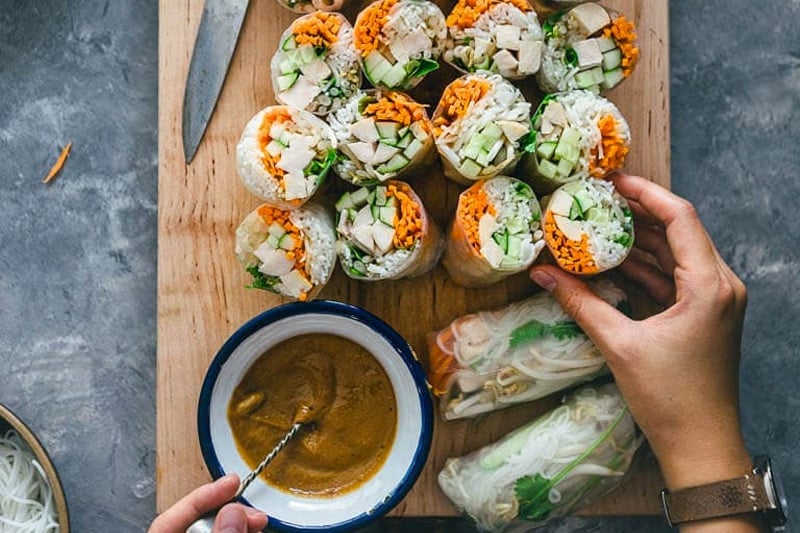 Spring rolls aren't just delicious, but they're super fun to make! Once you get into the swing of things, you'll love building your roll as much as you love eating it. This is a great way to use chicken as a way to serve guests.
Set up a spring roll bar for a fun potluck or dinner alongside shredded and julienned veggies, cooked rice noodles, dips like a homemade peanut or almond sauce, fresh herbs for garnish, and some sesame seeds.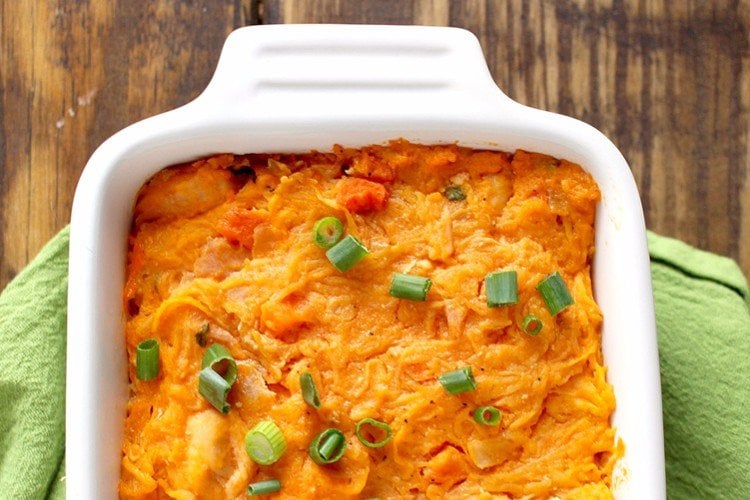 Casseroles are a blank canvas. They lend themselves well to odd combinations of ingredients, especially if you add cheese to the mix (not a requirement, but a solid recommendation). You can pick a flavour profile like this buffalo chicken spaghetti squash casserole from Jay's Baking Me Crazy, or you could even go all breakfast on it with a tasty frittata, mixing and matching veggies and greens.
This chicken casserole from the Comforting Eats blog takes just 10 minutes of prep time and is on your table in 30 minutes. Using pre-cooked ingredients like rice and shredded chicken makes it simple to make and has a satisfying crunchy topping that the whole family will love.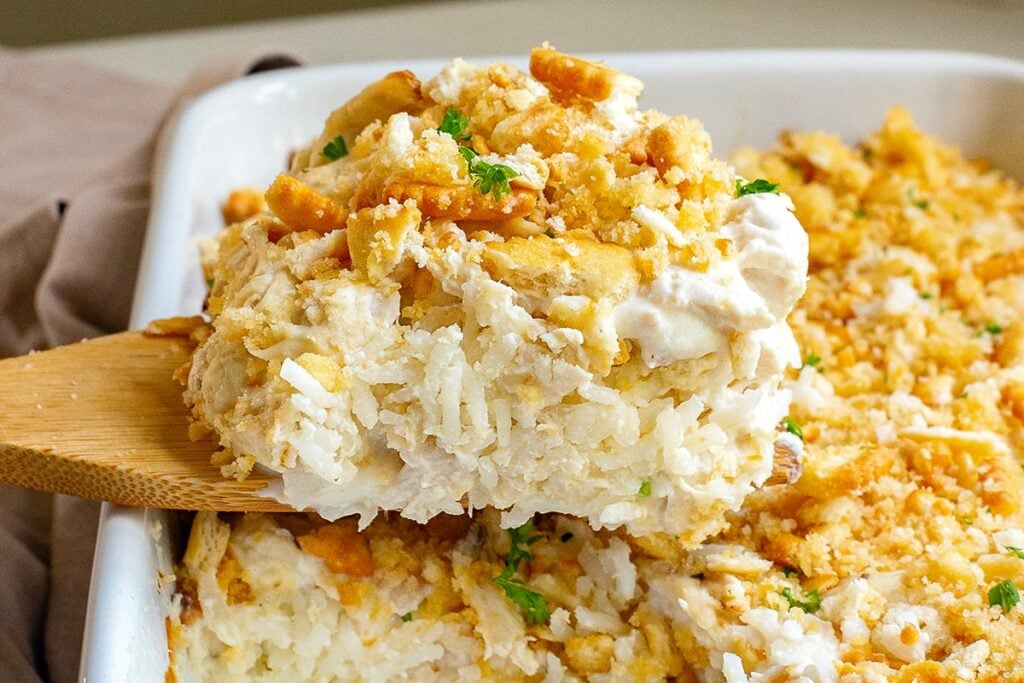 Thai Chicken Salad
Asian-inspired salads are delicious, and shredded chicken, in particular, lends itself well to the plate. A Thai salad is often chopped, so when the chicken is shredded, you can toss the salad so there's some of that awesomeness in every single bite. Here's a delicious Asian chicken salad from Cooked & Loved.
Chicken Soup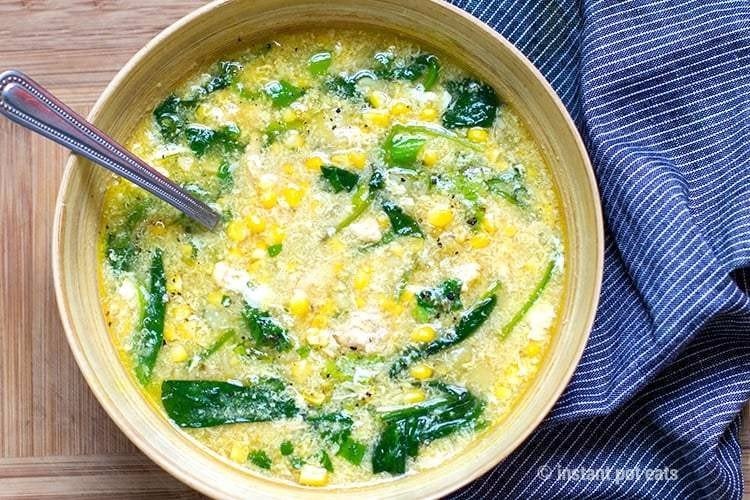 Whether you're coming down with a cold or not, chicken soup is the quintessential comfort food. Having the chicken already cooked gives you a leg up on making something that tastes like it's been cooking ALL day in just 20-30 minutes. Sometimes, you need something hot and hearty… fast. Try our pressure cooker chicken and corn soup with spinach for a full Instant Pot meal from start to finish – a unique spin on classic chicken soup.
Or, how about this delicious Greek chicken lemon and rice or orzo soup called avgolemono.
Stuffed Veggies With Shredded Chicken
Zucchini? Sure! Peppers? Why not? Sweet potatoes? Definitely.
Hollow it out or cut it open. Shredded chicken works well as a cold lunch stuffed into bell pepper halves, or can easily be baked with some other filling suggestions. You can scoop out the innards of zucchini and bake them, adding in the chicken.
Go with enchilada flavour using this recipe from Skinnytaste. You could also bake a sweet potato (in the Instant Pot, even…) and use it as a vessel for more food – comforting and cosy!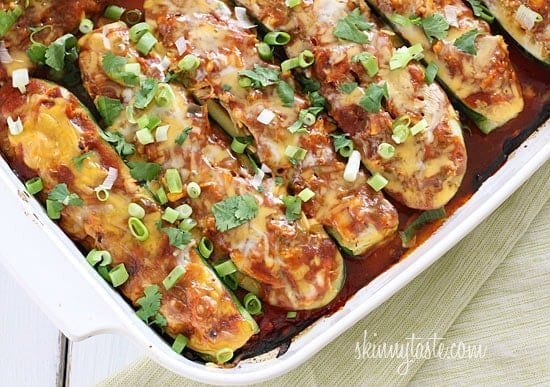 ---
There's no doubt now that shredded chicken might just be the most versatile meal ever! Share this with your pressure cooking pals who could use some recipe inspiration, and let us know how you use yours.
Save These Shredded Chicken Ideas To Pinterest