Organic Instant Pot bone broth with chicken, herbs and veggies made in 3 hours instead of 12? Yes, please! Here is how to make this nutritious food in your pressure cooker!
---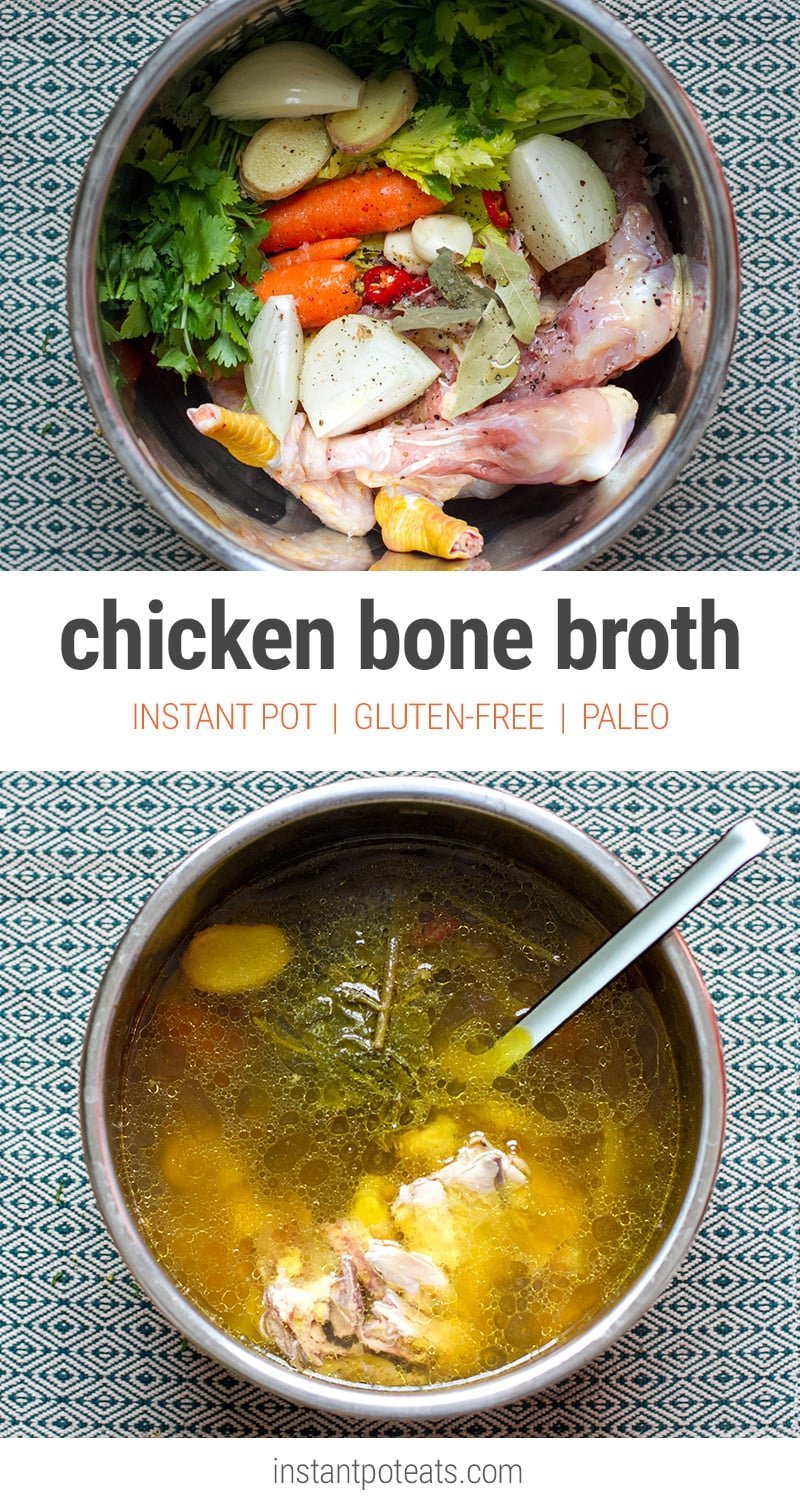 When it comes to bone broth, the chicken version is probably my favourite. In fact, I love it so much that I almost always have a batch of organic chicken bone broth in the fridge and it should be a part of everyone's weekly meal prep. While making bone broth on a stove or using a slow cooker can take anywhere between 6-12 hours, or even more for larger meat bones, using an Instant Pot pressure cooker reduces that time to under 3 hours!
WHY MAKE INSTANT POT BONE BROTH?
Besides the obvious reason that it tastes so damn good and comforting, making bone broth has multiple benefits. It's very nourishing and healing for the gut. It contains beneficial collagen, glycine and minerals.
It's a great way to use up leftover chicken bones and carcass, thus turning you into a sustainable kitchen goddess (or god). Bone broth can be used in many ways: using it as a base for soups and stews, braising vegetables in it, cooking rice with it, adding it to scramble eggs and so on.
Personally, I like to keep it simple and have a bowl of chicken bone broth with some fresh herbs, maybe a little garlic, lemon juice and some shredded chicken meat off the bone (if there is any).
DISHES TO USE INSTANT POT CHICKEN BONE BROTH IN
Add homemade chicken broth to any of these Instant Pot risotto dishes or as tasty liquid in your Instant Pot pasta recipes. Try this creamy chicken and noodle pasta dish.
Use it as a base in any Instant Pot soups or stovetop versions you make where a chicken stock or broth is required. I also use it in curries or any stock-based stews. This bone broth is an excellent base for this chicken and potatoes dish, and I use it to make my savoury chicken. and my chicken pot pie.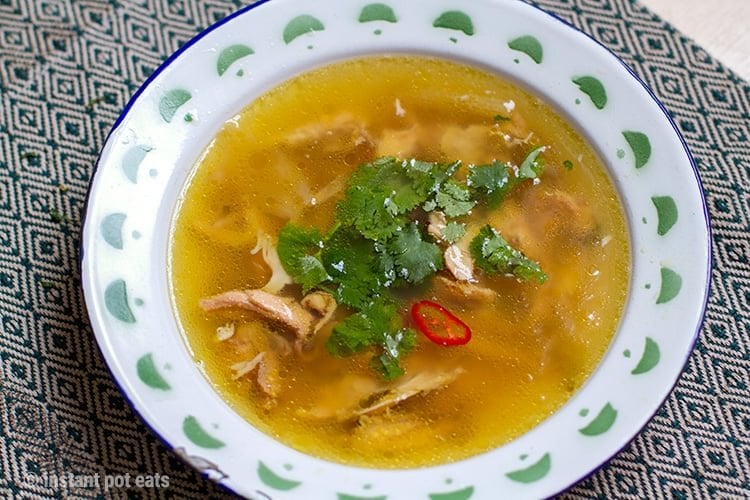 WHAT YOU NEED FOR THIS INSTANT POT BONE BROTH
I usually buy a whole free-range chicken and separate the meat from the carcass to use in other dishes. What's left is the carcass and chicken legs and wings with a little meat on it. That's what I use to make this broth. You can use leftover bones and carcass from a roasted chicken, or even a few chicken legs, wings and necks.
You can buy a whole chicken and then cut it in half. Use one half to make this recipe and freeze the other half for another day. This way you will also have a bit more meat so you can make satiating chicken soup, once you have made the broth.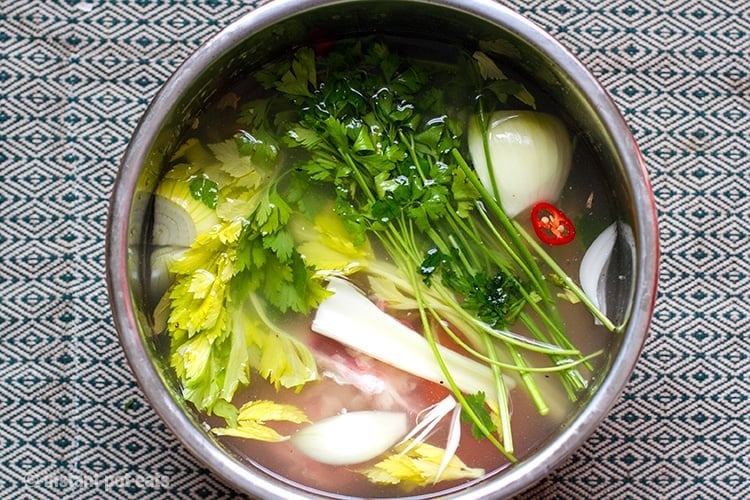 This recipe makes about 2.25 litres of bone broth. I strain and store the broth in clean, airtight jars in the fridge for up to 5 days. You can freeze some of the broth in storage containers or ice-cube trays. Make sure to remove any visible cooked chicken meat, if any is there, to enjoy with some of the broth.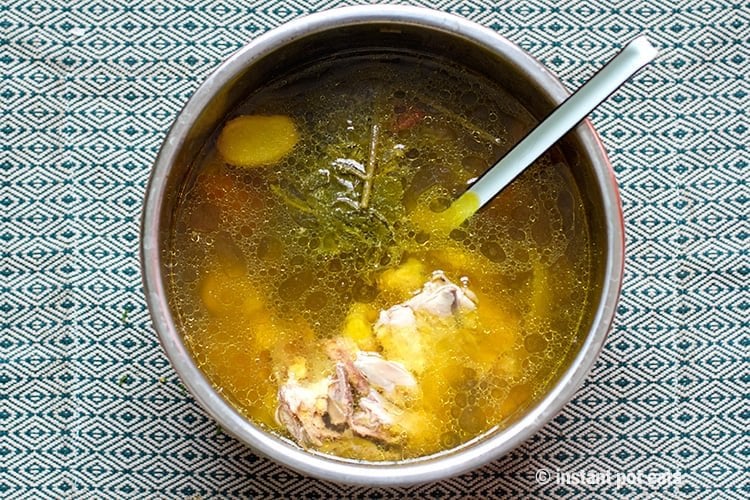 Print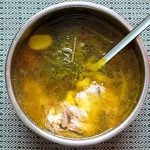 Instant Pot Bone Broth With Chicken
Prep Time:

10 mins

Cook Time:

3 hours

Total Time:

3 hours 10 mins

Yield:

2

litres

1

x

Category:

Soup

Method:

Instant Pot

Cuisine:

Traditional
---
Description
Hearty and nutritious Instant Pot bone broth made with chicken, herbs and veggies in just 3 hours (instead of 12). Sip on it as is or use it in stews, soups, curries, pasta and risotto dishes.
---
Scale
Ingredients
Carcass and bones of 1 whole, free-range chicken (a little meat still on the bone)

1

medium brown onion, peeled and quartered

2

small carrots

2

celery sticks (I use up the smaller sticks with leaves on)

2

–

3

slices of fresh ginger3 cloves of garlic

2

bay leaves

3

–

4

slices of red chilli (optional)
Handful of fresh parsley (good to use up the stalks here)
Handful of fresh cilantro/coriander (good to use up the stalks here)
Generous pinch of cracked black peppers

1 teaspoon

salt

1 tablespoon

fish sauce (optional, also you can't taste)

1 1/2 tablespoons

apple cider vinegar (white vinegar is fine)

2.25

–

2.5

litres (around

9 cups

) of water (ideally filtered)
---
Instructions
Place all ingredients inside the Instant Pot, place and lock the lid. Make sure the steam release handle is pointing to Sealing.
Press Manual/Pressure Cook functio key and change the timer to 130 minutes. After 3 beeps, the pressure cooker will start to build up the pressure and will be ready to go. Relax and enjoy yourself!
Once the timer goes off, allow the pressure to release naturally before opening the lid. The build up of the pressure will take about 20 minutes, natural release about 15-20 minutes, hence the total cooking time is about 3 hours.
Once the pressure valve is back down and you have opened the lid, let the broth cool down.
Strain the broth into clean jars or storage container, seal with lids and store in the fridge or freezer. Remove any visible chicken meat from the bones and store to enjoy with the broth.
You can use the broth to make chicken soup with fresh vegetables and cooked meat, or to use it as a base for other soups and stews. I like it simply heated and served in a bowl or a cup with some fresh herbs, a little garlic, sea salt and lemon or lime juice. You can also add some miso paste, scallions/spring onion, chilli and Tamari soy sauce.
---
If you enjoy this recipe, share it with your Instant Pot loving friends and family. Questions and comments are welcome!