Instant Pot For Beginners
Our Instant Pot For Beginners hub is the ultimate one-stop-shop of resources for how to use this wonderful appliance. You will find a collection of comprehensive guides, troubleshooting tips and step-by-step recipes for beginners. This page is continuously updated with more content, so make sure to bookmark it! 
---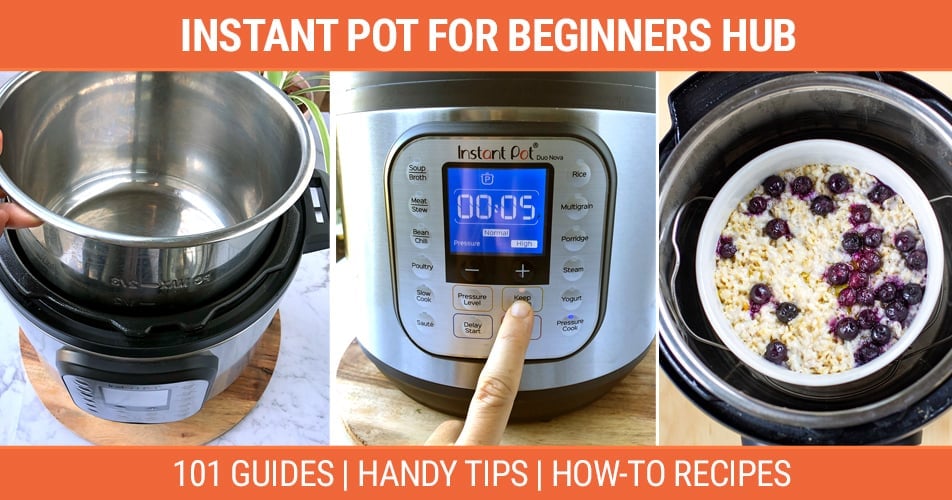 So, YOU GOT AN INSTANT POT! NOW, WHAT?
Tens of millions of people have welcomed this extraordinary kitchen gadget into their homes since its inception. But, this may or may not come as a surprise to you, many people who own an Instant Pot have never even used it. Why? Well, the intimidation factor can be difficult to overcome.
Perhaps it's all of those buttons (you only actually need a few) or the perceived risk associated with traditional stovetop pressure cookers exploding out of nowhere. Sometimes it's just not knowing where to begin, what to cook, or the fear of doing something wrong. 
HOW TO USE INSTANT POT FOR BEGINNERS HUB?
We've categorised content into Lesson Modules covering the basics and highlighting the easiest how-to recipes to master. You can follow these in the recommended order or browse through the topics you're most interested in.
If you have an Instant Pot question, shoot us an email at [email protected] or comment on this page and we will be sure to find an answer. 
---
LESSON MODULE 1
In this module, we cover the essentials you should learn when starting out. You might know what the Instant Pot is but do you understand how it actually works? Then follow our how-to-use guide with step-by-step photo instructions and simple explanations to learn the ropes. Don't forget to do a water test when you first set up the Instant Pot.
---
LESSON MODULE 2
In this module, you will learn about all of those buttons and program settings. We've put together the most comprehensive guide and it is worth grabbing a cup of coffee and reading through all of it. Once you've done that, it's time to cook your first dish in the Instant Pot and we've decided to start with RICE. Once you've tried the basic recipes,  check out our other rice recipes here and below.
---
LESSON MODULE 3
In this lesson, you will learn how to make delicious mashed potatoes with sour cream. You can use this beginner recipe as a template to create your favorite mash. Moving on to something a little meatier, you will learn how to make succulently soft pork shoulder and gravy. Don't eat pork? You can use this recipe for beef pot roast or lamb. Plus, we cover the most common obstacles faced by new Instant Pot owners.
---
LESSON MODULE 4
This module covers four popular, easy recipes suitable for beginners. You will learn how to cook boiled eggs, nutritious beets, and a family favorite Tuscan chicken pasta.
---
LESSON MODULE 5
In this module, you will learn about the most useful Instant Pot accessories: trivet, egg bite molds, cake pan and so on. You can try our beginner step-by-step recipe for chicken breasts and gravy which uses a trivet.
---
LESSON MODULE 6
In this module, learn about that pesky BURN error message and how to avoid it. Practice your pressure cooking skills with one of the most versatile recipes for Bolognese meat sauce and find out why the Instant Pot is must for cooking bone broths.
---
MORE BEGINNER-FRIENDLY RECIPES
Below, you will find more of our step-by-step recipes written and shot specifically for beginner Instant Pot users and cooking general. We've chosen some classic, family-friendly and delicious recipes that use accessible ingredients and that can become your go-to pressure cooker dishes.