These 10 Instant Pot recipes for beginners will get you started with your pressure cooker with ease and enjoyment. From perfect fluffy rice to pasta and soup, we've included our favourite staples that you can easily keep on rotation in your kitchen. Make sure to check out our Instant Pot For Beginners hub for 101 guides, tips and step-by-step recipes.
---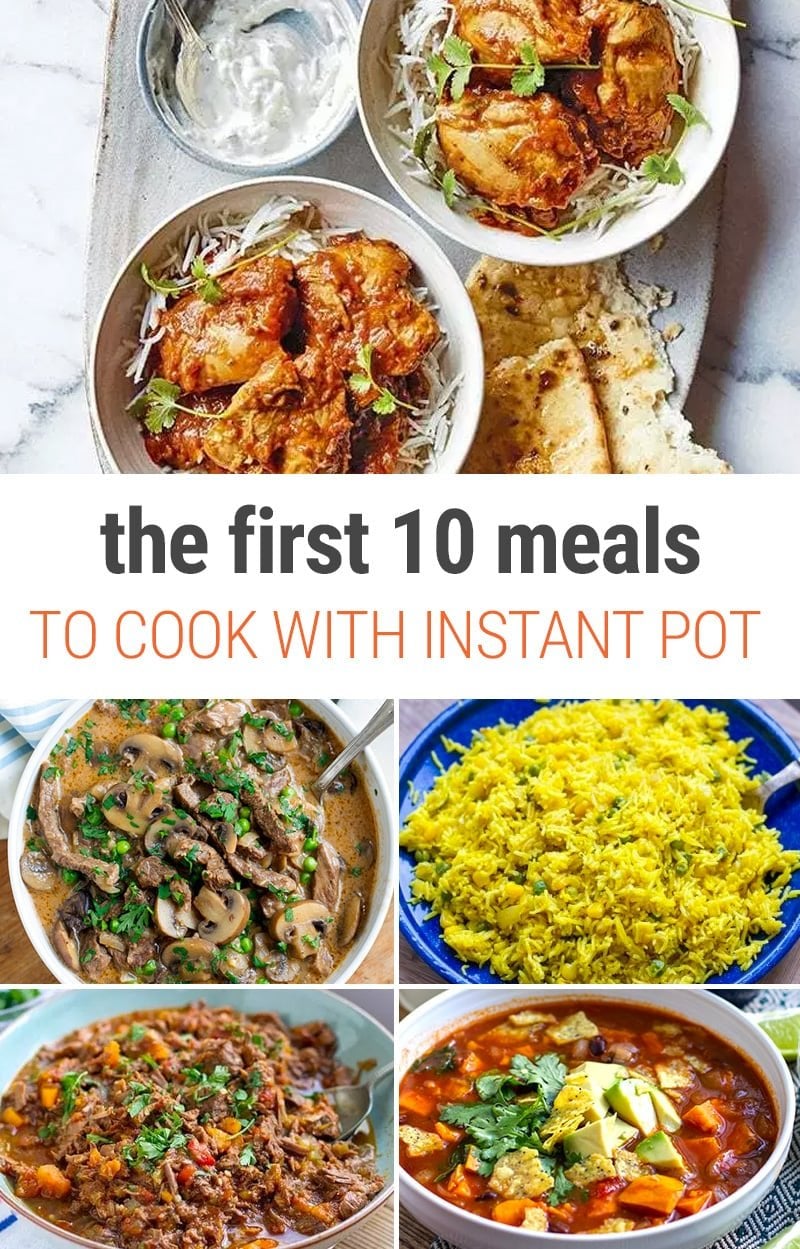 So, you just got an Instant Pot. What's next? Well, it's time to cook! Time and time again, we come across someone who bought the pot but hasn't opened it. It's been sitting in the box for months. Part of this is lack of time, but time is no excuse for the primed pressure cooker, of course.
For some, it comes down to the intimidation factor. Despite its intuitively labelled buttons, the Instant Pot can be a little scary. I'm sure you remember the first time you released the pressure valve!
There are a few beginner Instant Pot recipes you should master right off the bat, though. These are the dishes that will help you get acquainted with the Instant Pot while learning the ropes, cooking times, and techniques that yield delicious results.
Plus, these are recipes you might already be making on the stovetop or in the slow cooker, and having an Instant Pot method for those long-simmering dishes is going to be a game-changer.
You should also check out our Instant Pot For Beginners Hub and Instant Pot 101 series, in which we guide you on how to cook different veggies, meat, grains, and legumes in your pressure cooker. You can find all of our Instant Pot recipes here.
---
1. Bone broth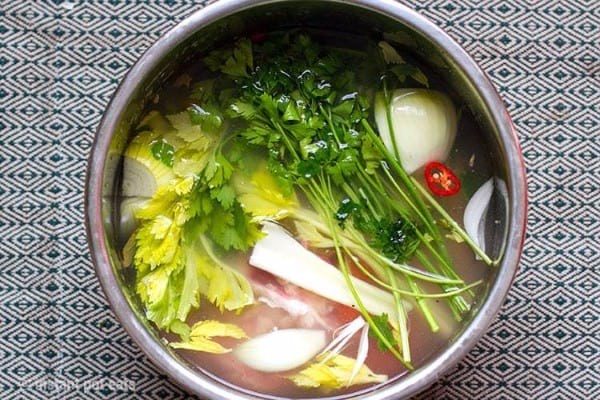 Bone broth is a great way to utilise those veggie scraps and bones you collect, minimising waste and providing you with something as nutritious as it is delicious. Bone broth extracts all of the vitamins and minerals from the bones and veggies used, infusing the broth with superfood power.
While bone broth takes up to an entire day to simmer on the stove for optimal results, the Instant Pot cuts that time back to 2-4 hours, depending on the recipe you follow.
The ingredients are simple – scraps and water! Start saving scraps in a container and store it in the freezer for easy, accessible bone broth materials any time you need to stock up. It can be used in soups and stews, as a braising liquid, or simply as an afternoon pick-me-up, sipping it like coffee.
Recipes To Try:
---
2. Pulled pork/carnitas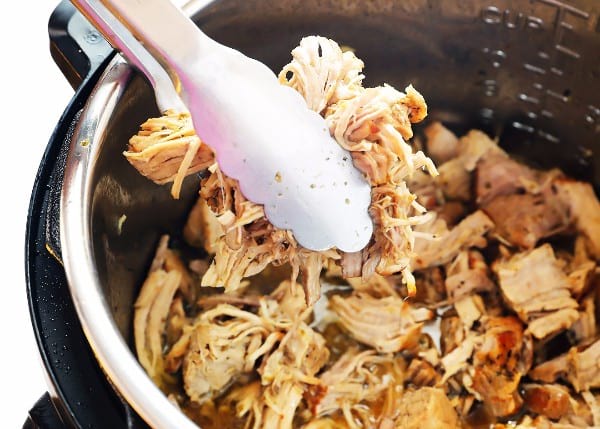 Nobody ever complains about having pulled pork for leftovers, and leftovers you will have! Pork shoulder or butt is inexpensive and delicious, so it makes a great meal for cooking in large batches if you're on a budget.
Since it's a fatty, tough cut, it requires lots of cooking time for those fats to blend into the meat and create those gorgeous juices that give the pork its flavour. Generally speaking, you're going to be smelling that delicious aroma long before you're tasting it.
With the Instant Pot, you can cut the cooking time down with similar results. For crispy carnitas, you'll want to finish it off under broil in the oven, but even with the extra step, you still save extra time. Pulled pork is wonderfully versatile taking on Mexican flavour or BBQ flavour. It's good for sandwiches, tacos or burritos, salads, rice and bean bowls, and paired with coleslaw.
Recipes to try:
---
3. Instant Pot Bolognese sauce
Everyone should have a bolognese sauce they have truly mastered the art of, whether it's something they put their own spin on or a recipe that's been passed down from generation to generation. A good pasta sauce is a kitchen staple, making simple and satisfying weeknight meals a reality without the aid of canned sauces from the supermarket.
The Instant Pot blends the meat, veggies, and tomato sauce perfectly in no time, allowing those flavours to meld as though they've been sitting together for days. Let's face it – we all know the sauce is best the next day!
You can mix and match meats if you don't do beef, or experiment with half pork/turkey mixes depending on whether you want to juice it up or lean it out. In any case, stocking up the freezer with a good Instant Pot bolognese is something you'll thank yourself for in the future. It's not only good with pasta, either. You can serve it over zucchini noodles, steamed veggies, mashed potatoes, or spaghetti squash.
Recipes To Try:
---
4. Instant Pot Risotto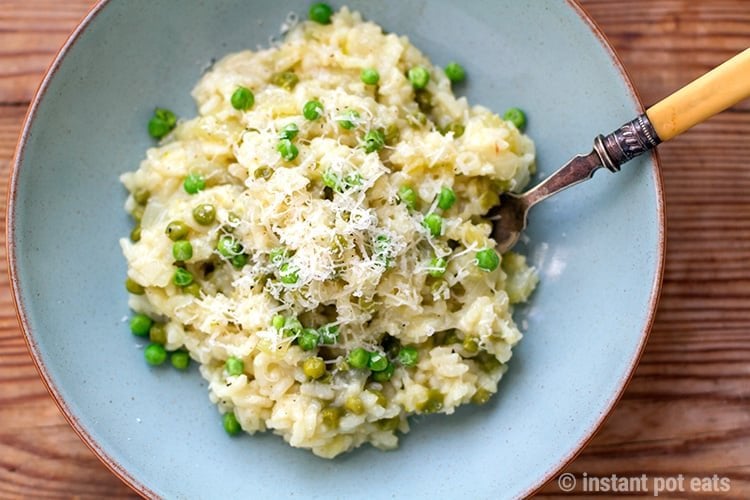 Risotto is one of those recipes people avoid with or without a pressure cooker. While it's truly just a humble rice dish, on the stove, it can require quite a bit of attention and stirring to get that perfect, creamy texture down. With the Instant Pot, that texture comes with the package deal. It's cheesy goodness in every bite without much effort. Who can deny that?
If you want to get fancy on a budget, risotto is the perfect meal to serve. It's often meatless, but you could always add some chicken to the mix or serve it on the side. Risotto shifts with the seasons, too, allowing you to showcase seasonal ingredients and pantry staples.
Recipes To Try:
---
5. Instant Pot chicken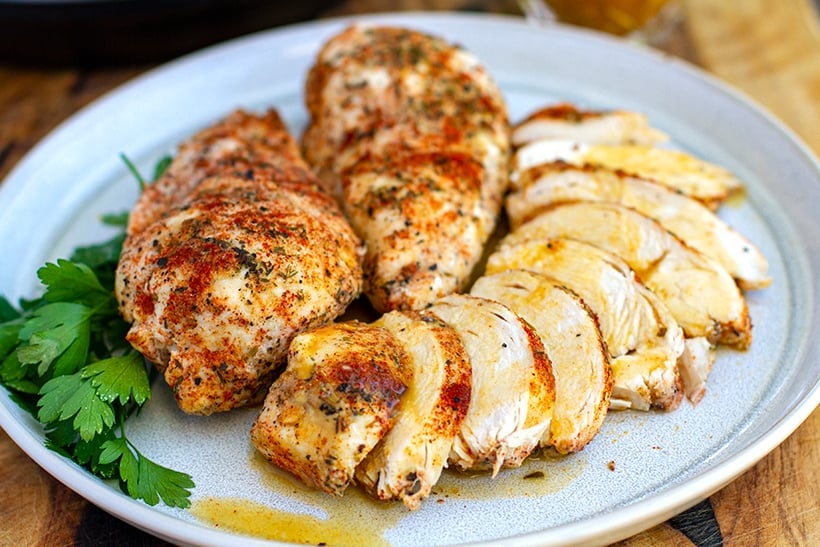 You can make chicken a zillion different ways in the Instant Pot – no joke. Our beginner-friendly chicken breasts and gravy is super simple but very delicious and is a great place to start with chicken recipes in the Instant Pot.
You might then want to try the chicken recipe everyone talks about on social. The honey-bourbon chicken from Once A Month Meals! It's sticky, sweet, spicy, and juicy, pairing perfectly with a simple side of steamed veggies. The recipe even includes instructions on how to freeze it and make it from frozen. Being busy is no longer a good excuse for not cooking real food!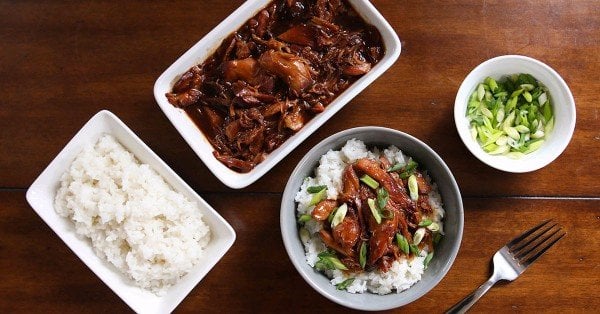 When it comes to cooking chicken, you can use the Manual pressure cooker setting or the handy dandy 'Poultry' button, which is pretty reliable (more about all the buttons here). Try a few recipes and then you can experiment with different chicken dishes or cook a plain batch once a week to mix and match with meals like salads, veggies, rice, beans, and pasta.
MORE Recipes To Try:
---
6. Instant Pot Pasta
Everyone loves a good pasta dish. The best thing about the Instant Pot is its capacity to take on one-pot meals. Pasta has never been easier, and just because it wasn't exactly rocket science on the stove doesn't mean we aren't always looking for kitchen hacks to feed the family quick.
These shells come together brilliantly in a sauce that you can cook with the noodles, and it's done in just five minutes under pressure! The browning function allows you to cook the meat before you add the pasta so it gets a nice brown.
You can use any type of pasta you enjoy with this recipe template and experiment with different veggies, meats, and sauces. Either way, learning the art of pasta under pressure is a worthwhile pursuit. No matter how bare the fridge is, you can always scrounge up some ingredients for this!
Recipes to try:
---
7. Perfect INSTANT POT Rice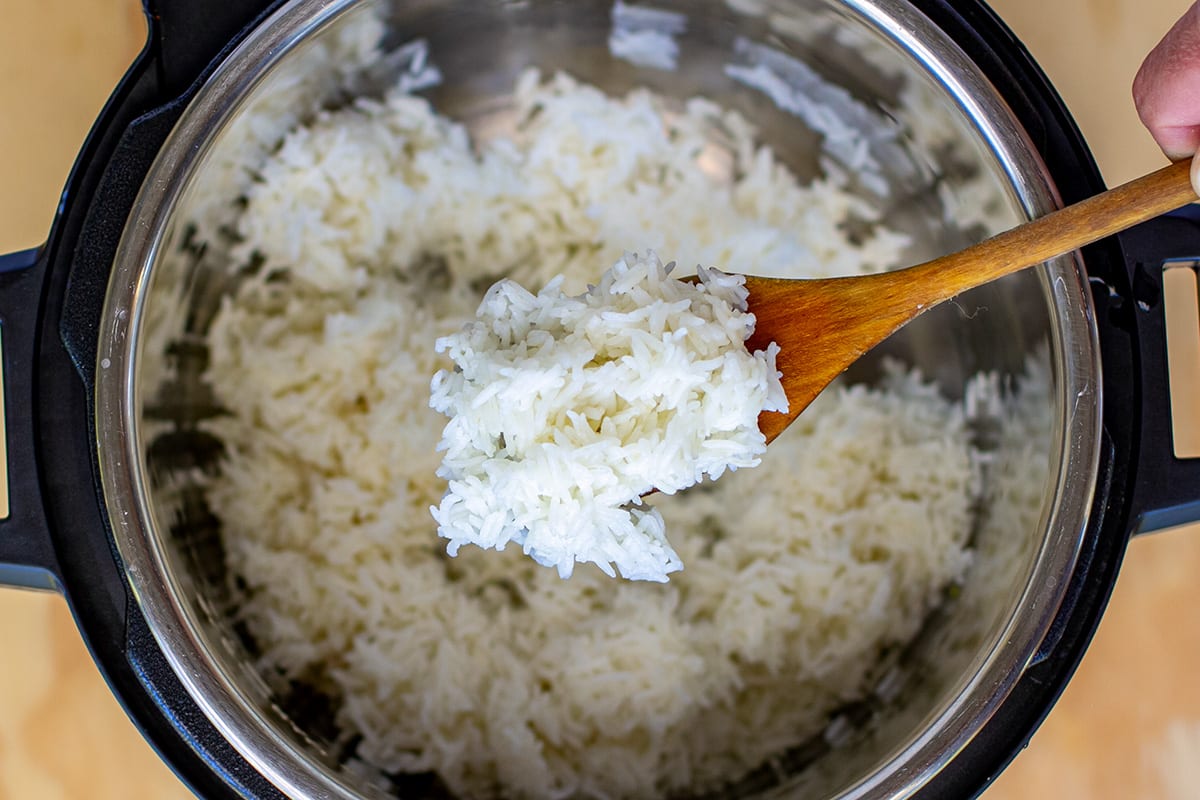 Rice is practically brand new when you get an Instant Pot. Long cooking times get cut in half with fluffy, cooked-to-perfection results every time. We all know how awful it is to take a big bite of slightly undercooked OR overcooked rice! The pressure cooker allows you to put full trust in its hands for the perfect texture every time.
It makes for great leftovers to stir-fry with meats, top off with an egg, or mix with some beans for a meat-free dish. It can also be turned into a casserole, fishcakes or veggie burgers. Pretty versatile, huh?
We have a detailed post on how to cook perfect rice in the Instant Pot including white, brown and wild varieties. You can then try one of our flavored rice recipes such as this fluffy yellow rice with peas and corn or our Indian-inspired spinach rice.
---
8. Your Signature Soup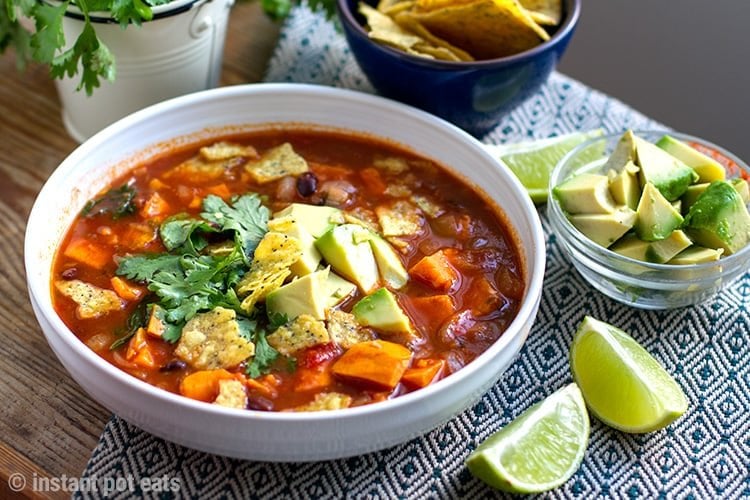 You definitely need to be whipping up some comforting, warming dishes of soup in your Instant Pot. Whether you like a chunky soup, soup with meats, veggie soups, or blended soups, the Instant Pot has you covered.
This is yet another dish that has all-day simmering potential that turns into a half an hour affair under pressure. We recommend you begin with this sweet potato tortilla soup.
It's vegan and vegetarian-friendly, gluten-free, and loaded with nutrient-dense veggies like sweet potato and plant protein from black beans. The spicy tomato base is ideal for dipping tortilla chips in and cooling down with fresh lime, cilantro, and avocado for garnish. If you're feeling extra crazy, add in some sour cream and cheese.
Recipes To Try:
---
9. Beef Stroganoff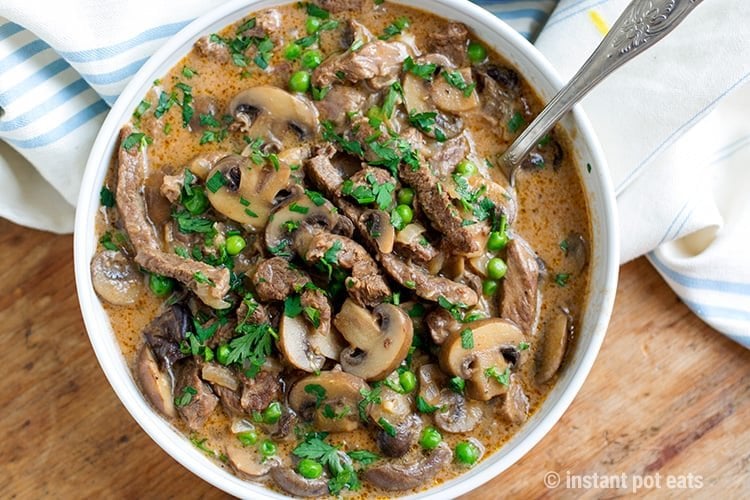 Beef stroganoff is an easy way to make a one-pot meal that stands alone or pairs well with rice, potatoes, pasta, or any other base you can think of. Warm and comforting, this highly palatable and kid-friendly meal is a great way to sneak some veggies into the mouths of picky eaters. This twist on a standard beef stew consists of thinly sliced beef steak, onions, mushrooms and sour cream for a rich and tasty recipe.
Once you get the hang of this, you can work on other types of stews as you'll have a better idea of which veggies cook best with certain cuts of meat, cooking times, and more. Generally, you can use less expensive cuts of meat for hearty stews, but in order for the meat to become tender, it takes an entire day on the stove. This dish only takes 25 minutes, though.
Recipes To Try:
---
10. Instant Pot Mac 'n' Cheese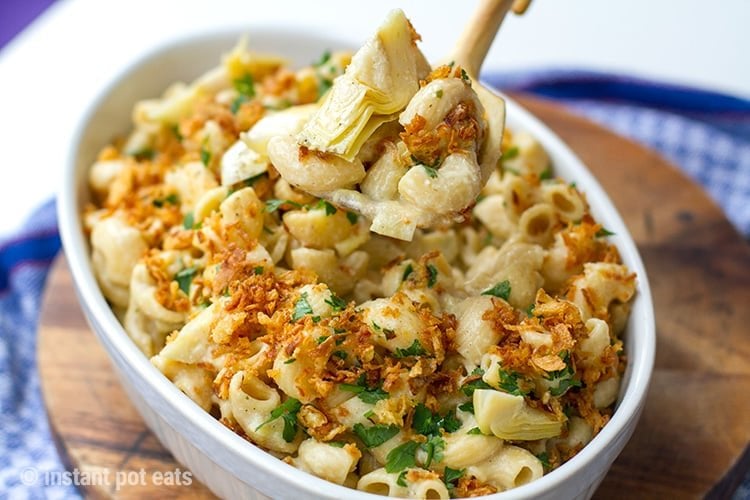 Mouthwatering yet? Just the thought of perfectly cooked macaroni tossed in fresh, warm, gooey cheese is enough to get those taste buds revved up. The Instant Pot gives every boxed brand a run for its money in terms of money spent, time to cook, and especially flavor. If you've got picky eaters on your hands or you're just someone who enjoys the finer things in life (we're talkin' about you, cheese), this is the only beginner's Instant Pot recipe you need.
You can mix and match types of cheese and types of noodles to create your own recipe. You definitely want to experiment with toppings and add-ins because something like bacon, for example, just makes everything a little better. If you're feeling up to it, finishing it off under the broiler with some breadcrumbs takes it from a 9 to a 10 quickly.
Recipes To Try:
---
NEED MORE INSPIRATION? WATCH OUR TOP 10 VIDEO RECIPES HERE
Best of luck if you are brand new to the Instant Pot and looking for a beginner's guide to cooking with it. If you've been using yours for a while, comment and let us know what meal you first cooked in your Instant Pot!
---
SAVE INSTANT POT RECIPES FOR BEGINNERS TO PINTEREST