This firecracker Instant Pot pulled pork is cooked perfectly until meltingly tender and finished with a sweet, smoky sauce, with a gentle chilli kick. Serve in warm wraps, tacos, slider or on baked potatoes or rice. This recipe has stovetop and oven cooking methods as well.
---
WHAT IS A firecracker pulled pork?
We remember coming across a firecracker brisket recipe and the name was compelling enough to check it out. We loved the idea of tender meat in a sauce that gave it a real burst or explosion of flavors – sweet, salty, smoky and a little spicy – kind of like a firecracker, hence the name. We decided to use this concept for an Instant Pot pulled pork recipe since this meat goes well with all those strong, punchy flavors. It's a mix of smoked and BBQ pulled pork with gentle heat.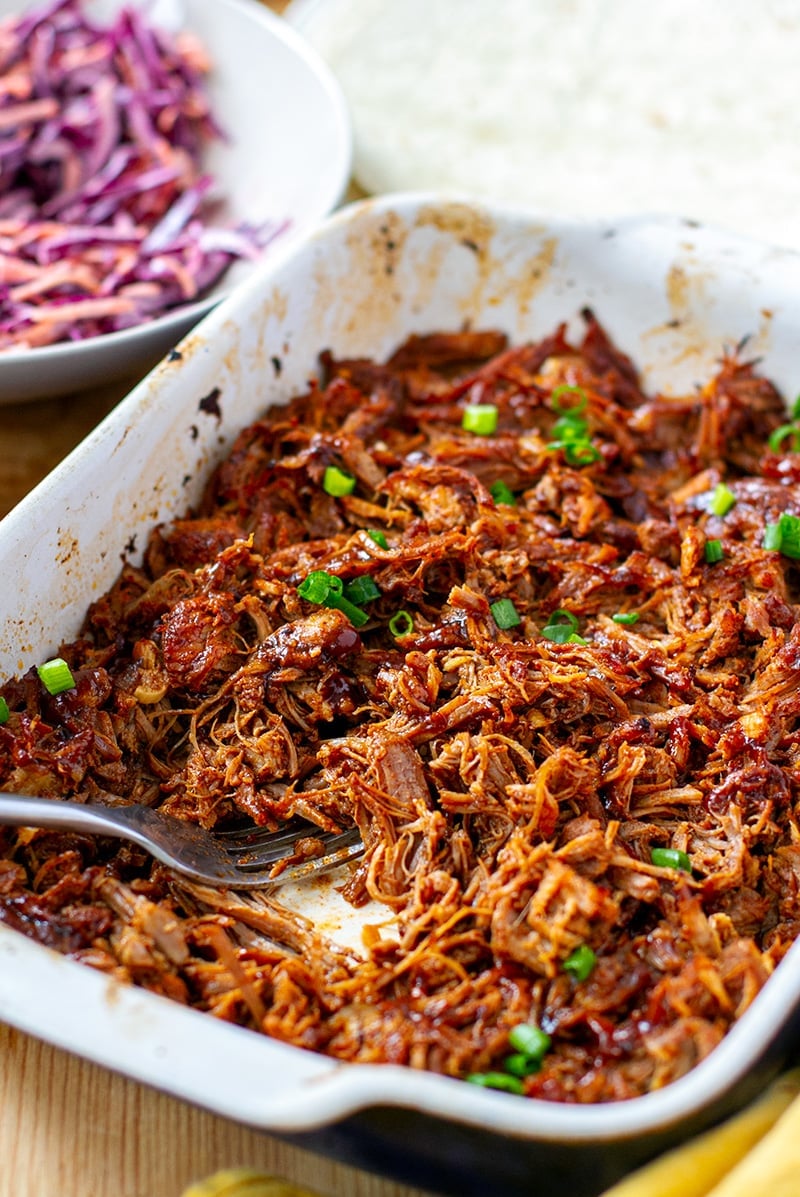 How to make Pulled Pork IN INSTANT POT
You can use diced pork or pork steaks in this recipe. Pork leg or shoulder cuts are perfect. This Instant Pot recipe has 4 parts to it. See some handy process shots below and the full how-to video below. You can also make this recipe on the stove or in the oven, which will take longer. See the instructions below in the recipe card.
Part 1. Make a pulled pork rub with delicious spices like smoked paprika, cinnamon and chipotle chili flakes. Rub the meat with the seasoning.
Part 2. Mix a tasty cooking broth with onions and garlic and combine with the pork meat in the Instant Pot. Cook on HIGH pressure for 40 minutes. If you were to do this on the stovetop or the oven, you would need a few hours to achieve the same tenderness of the meat.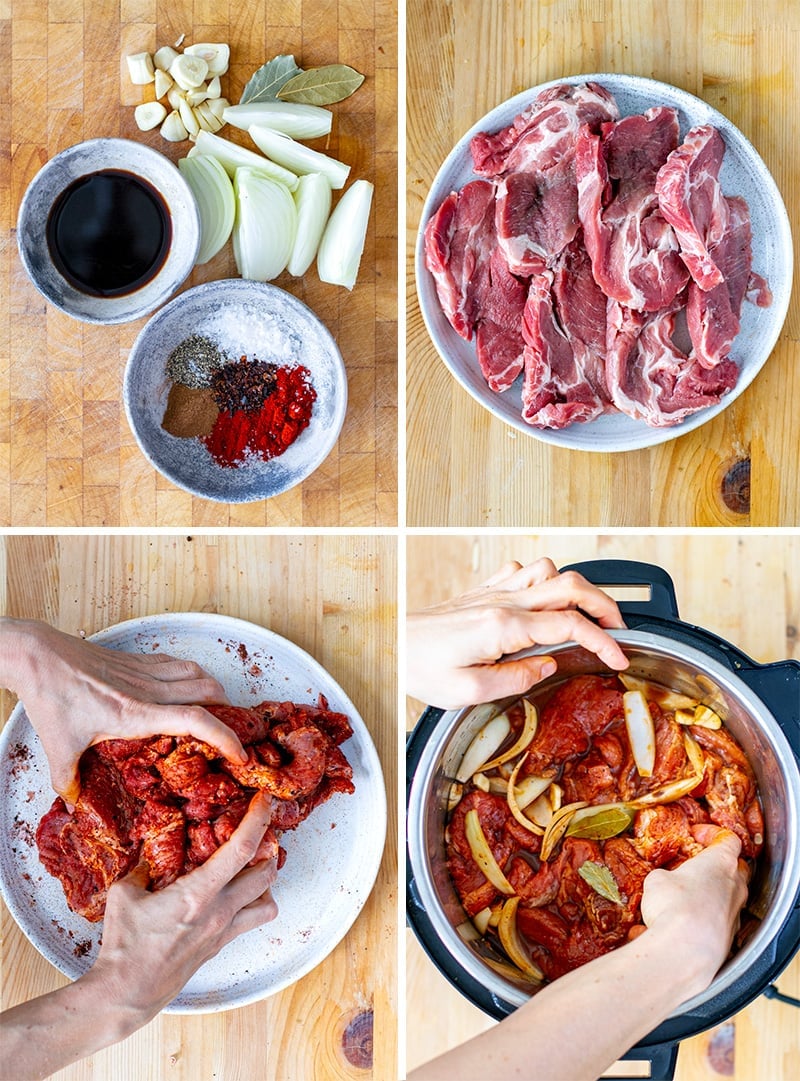 Part 3. Mix the firecracker pulled pork sauce. Transfer cooked pork to an oven-proof dish or a cutting board and shred with two forks. Add the sauce and incorporate into the meat.
Part 4. Optionally, place the baking dish with the pork in a hot oven for 10 minutes to brown slightly. You can also serve it right away. We like to brush the finished pork with a little regular barbecue sauce after baking to give it a little shine.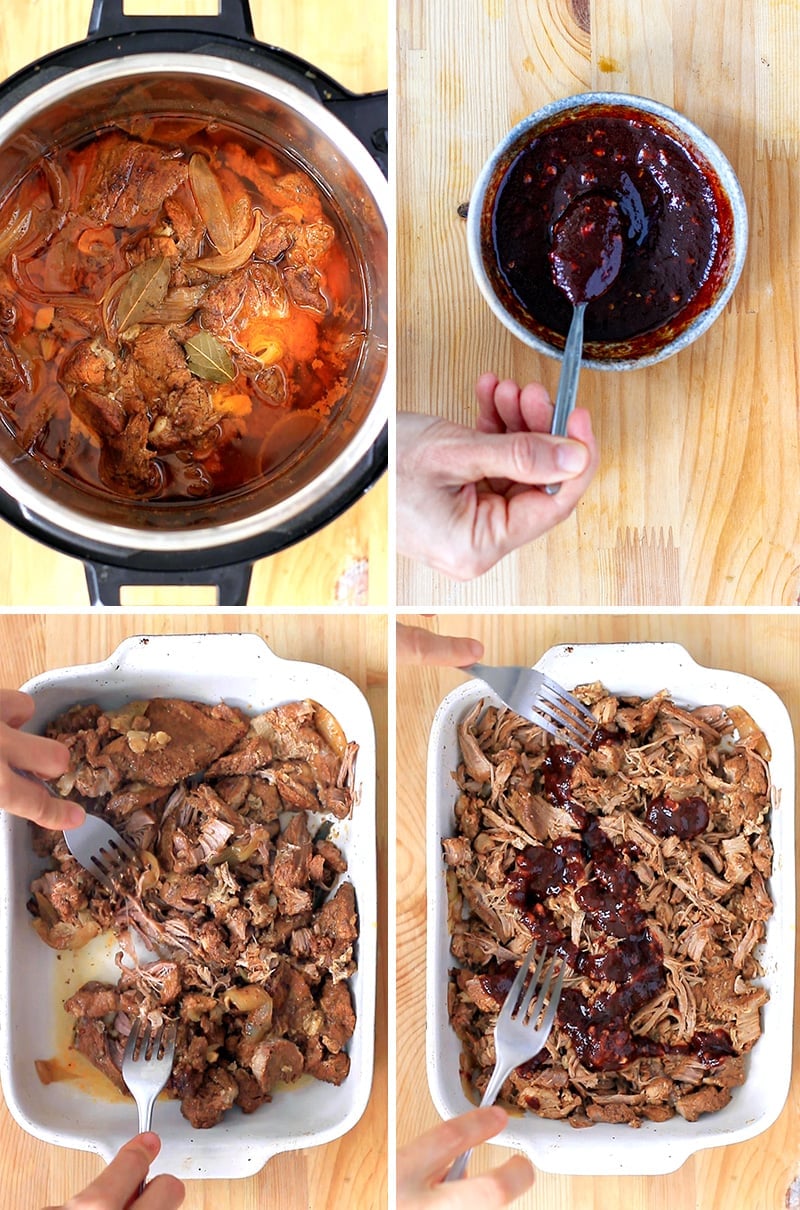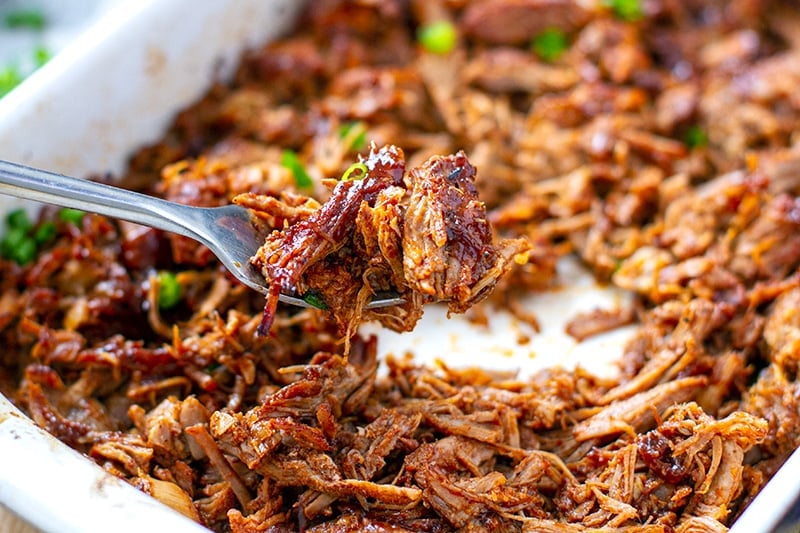 YOU MIGHT ALSO LIKE THESE INSTANT POT RECIPES
Print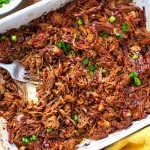 Firecracker Pulled Pork (Instant Pot & Stovetop)
Author:

Prep Time:

10 minutes

Cook Time:

60 minutes

Total Time:

1 hour 10 minutes

Yield:

6

1

x

Category:

Main

Method:

Instant Pot

Cuisine:

American

Diet:

Gluten Free
---
Description
Smoky, sweet, salty and a little spicy, this Instant Pot pulled pork is bursting with flavor like a firecracker.  You can make it using your pressure cooker or in the oven/ on the stovetop.
---
2lb, 900 g pork meat (diced should or leg, we used 6 pork steaks)

For the pulled pork rub
1.5 teaspoons salt

1 teaspoon pepper

2 teaspoons smoked paprika

1 teaspoon chipotle chili flakes (or chopped tinned chipotle)

1 teaspoon cinnamon powder

For the broth 
1 cup chicken stock

1 tablespoon balsamic vinegar

1 tablespoon Worcestershire sauce

1 onion, cut into wedges

4–5 garlic cloves, roughly sliced

2 bay leaves

For firecracker sauce
2 tablespoons Worcestershire sauce

1 tablespoon Balsamic vinegar

2 tablespoons ketchup

1 teaspoon smoked paprika

1 teaspoon chipotle chili flakes 

1 garlic cloves, minced

2 tablespoons maple syrup 

To finish: 1-2 tablespoons barbecue sauce of choice, chopped scallions or cilantro.

Instant Pot model used: 6-quart, Dual. Suitable for 8-quart, add a little more chicken stock as the surface is large. 
---
Instructions
Sprinkle the spice rub over the pork and rub into the meat with your hands. 

Add a cup of chicken stock, 1 tablespoon of balsamic vinegar and 1 tablespoon of Worcestershire sauce to the inner pot. 

Add 1 sliced onion, 4-5 garlic cloves, 2 bay leaves and add the spiced pork meat. Mix through with the broth using your hands, making sure the garlic and onion get in between meat pieces evenly. 

Pop the lid on, lock and make sure the top valve is set to Sealing. Press Manual/Pressure Cook, HIGH pressure and adjust the time to 40 minutes. It will take about 10 minutes to come to pressure and the timer will begin. 

Once cooked, allow 5-10 minutes for natural release and then use quick release (move the top valve to Venting) to let off the remaining pressure and steam. You can also do quick release right away if you can't wait.

Remove the pork onto a cutting board or into an oven-proof dish. Pour the remaining liquid to a bowl for now. Shred the meat with a fork. You can finish the pork in the oven or the Instant Pot. 

Instant Pot. 

Add shredded meat to the pot and pour in the firecracker sauce. Set to Saute and cook, stirring frequently for 1-2 minutes, to heat up and caramelise the sauce slightly. You can add a splash or two of the cooking broth as well. Transfer to a platter and use right away or cool and store for later.  

Finish in the oven: 

Preheat the oven to 425 F / 220 C (you can do this while shredding the meat or waiting for natural release). Transfer the shredded meat to an oven-proof dish or a tray. Spread the sauce over the top and mix through. Pop in the hot oven for 10 minutes until the top has browned. 

Brush a little more BBQ sauce over the top for extra shine and even more flavor. 
Notes
Coleslaw for pulled pork: We made a super simple coleslaw using 1/4 red cabbage, thinly shredded + 1 grated carrot, and 2 tablespoons mayonnaise, 2 tablespoons Greek yoghurt, and a little salt and pepper. You can also add a little mustard.
Stovetop method: Repeat the first couple of steps and once the pork meat is mixed with the broth, pop the pot over medium-high heat and bring to a boil. Reduce the heat to simmering and cook for 2-2.5 hours, until the pork is tender enough for shredding. Check after 2 hours and keep cooking longer if needed. Then repeat the shredding and mixing of the sauce steps from above.
Oven-method:  As above, mix the meat with the broth in a deep oven-proof dish or a Dutch oven. Cover the dish with foil or lid and place in a hot 480 F / 250 C (or the hottest your oven gets) for 10 minutes. Then reduce the heat to 355 F/180 C and cook under foil for 2-2.5 hours. Check the pork after this time to see if it's tender. If not, cook for 30 more minutes or so. This will depend on the size of the pork cuts. Then repeat the shredding and mixing of the sauce steps from above.
Use this pulled pork in tacos, sliders or sandwiches, with rice or beans, enchiladas, quesadillas, salads and so on. 
Nutrition
Serving Size:

5 oz of meat

Calories:

418

Sugar:

10.6 g

Sodium:

941.3 mg

Fat:

22 g

Saturated Fat:

7.9 g

Carbohydrates:

15.8 g

Fiber:

1.3 g

Protein:

37.5 g

Cholesterol:

128.1 mg
FREQUENTLY ASKED QUESTIONS
How much pulled pork per person?
This depends on how you're serving pulled pork and if there are other satiating sides. Typically, 5-6 oz or 150-180 grams is a filling amount of pork, whether served in a sandwich/slider, tacos or with potatoes or rice. Our recipe uses 2lb/900 grams and that was enough for 6 servings.
Reheating pulled pork
Pulled pork can be stored in the refrigerator for 2-3 days or in the freezer for up to 3 months. You can reheat cold pulled pork in a microwave (2 minutes on HIGH), in a frying pan or in the oven. The meat and sauce will dry up a little so we recommend adding a splash or two of water. You can also add extra sauce to freshen it up.
What goes with pulled pork?
Pulled pork goes well with many side dishes. It can be served as a filling in a sandwich, taco or sliders and can be complemented by a coleslaw or simple mix of tomato, lettuce and onions. Pickled onions, in particular, go well with pulled pork.
Corn on the cob or corn salsa, collard greens or sauteed spinach, baked potatoes or roast sweet potatoes, rice and beans, are all classic side dishes for pulled pork. How about a dollop of guacamole or sour cream on top?
You can use leftover pulled pork in pasta and rice casseroles, in a chili, enchiladas, quesadillas, as a pizza topping and more.