In this EPIC collection, we bring together 100 of the BEST Instant Pot recipes including top 10s, most popular chicken and beef recipes, one-pot dinners, soups, healthy meals, vegetarian and vegan options and desserts. Cooking with Instant Pot just got a whole lot more fun! Do you have a favorite recipe? Let us know in the comments!
---
We have put together a BIG collection of Instant Pot recipes. To make it easier to navigate this post, we've got a handy table of contents below so you can go directly to the category of interest.
---
What Is An Instant Pot?
The Instant Pot is an electric pressure cooker with multiple functions, which sets it apart from many kitchen appliances with a single purpose. It has functions of a simple pressure cooker, slow cooker, rice cooker, and yoghurt machine in one.
While previously all of these appliances were sold separately, you can now have them all in one. You can also sauté foods in the Instant Pot, which is done without pressurizing and uses a heating element that sits just underneath an inner pot.
The Instant Pot is a self-regulating machine in many ways. You don't have to be watching over it to make sure it turns off when it's done cooking. It is super safe, efficient and economical. Read our full article on the Instant Pot and how it works here.
Why cook with the Instant Pot?
Cuts down the time in the kitchen and makes it more efficient to cook healthy, nourishing meals quickly. For example, you can cook large roasts, broths, and stews that generally take 3-4+ hours to cook, in a mere 30 to 60 minutes. It also offers a timely way to cook grains, rice, lentils and beans.
Being a multi-purpose kitchen appliance, it's handy for people with limited counter space and is portable enough to take on trips.
It's a great 'set and forget' kitchen gadget, giving your more time to spend with family or to prepare sides or a salad while the main is cooking.
Finally, it's a huge money saver! It's great for cooking cheap cuts of meat, saving on waste with recipes for stocks and broths, and making recipes for the freezer.
If you're trying the Instant Pot for the first time or if you already have one, the next step is to choose what to cook! With so many recipes out there, we've done the homework for you by bringing together THE BEST Instant Pot meals, soups and desserts in one spot.
Bookmark this post for future inspiration and meal planning. Speaking of meal plans, make sure to check out our series of Instant Pot meal plans here.
---
10 Most Popular Instant Pot Recipes
We'll begin by introducing you to the top pressure cooker recipes we've tried or seen around since the Instant Pot came on the market. These were selected based on their popularity on social media, blog comments, shares, level of drool-worthiness, and our personal experience. Some of these are super easy, while others might require a handful of speciality ingredients. It's a mixed bag, really, in no particular order.
Made with ground beef, these juicy and saucy meatballs come with mushroom gravy and can be served over mashed potatoes, rice or pasta (or veggies). Perfect for a comforting, family-favorite dinner meal.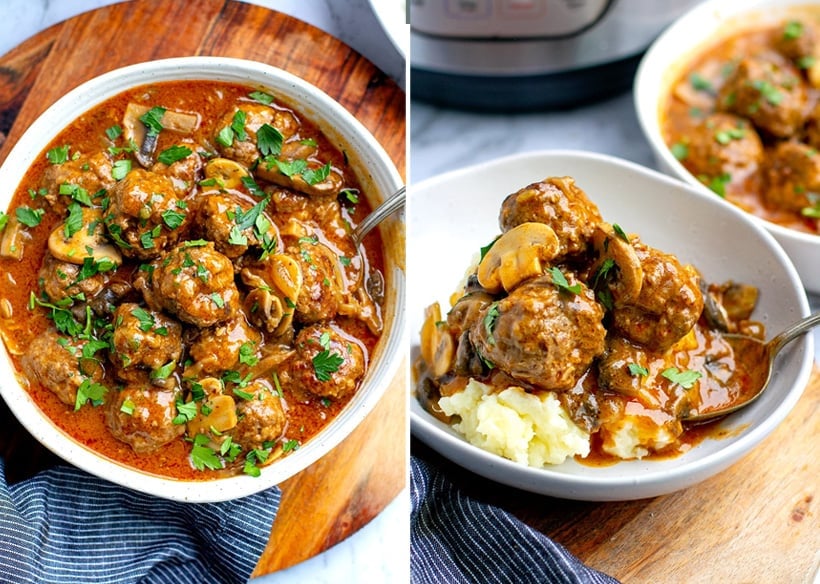 This tender and juicy lemon garlic chicken from Life Made Sweeter is full of flavor and super easy to make in the pressure cooker. It's low-carb and keto-friendly as well and can be paired with your favorite vegetables, rice or pasta.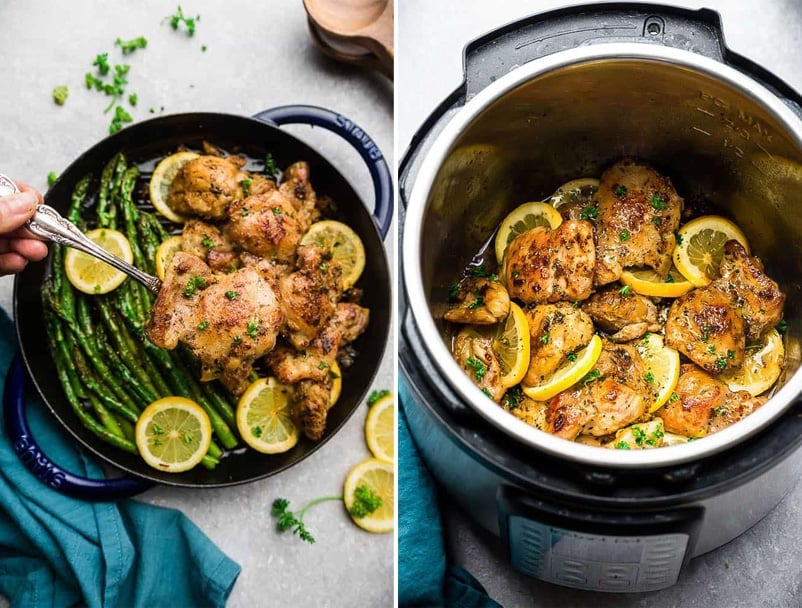 Adapted from a classic Turkish lentil soup, also known as Mercimek Çorbası, this is a simple, rich, and nutritious dish made with yellow split peas and warm, aromatic spices. It's full of flavor, vegan and gluten-free.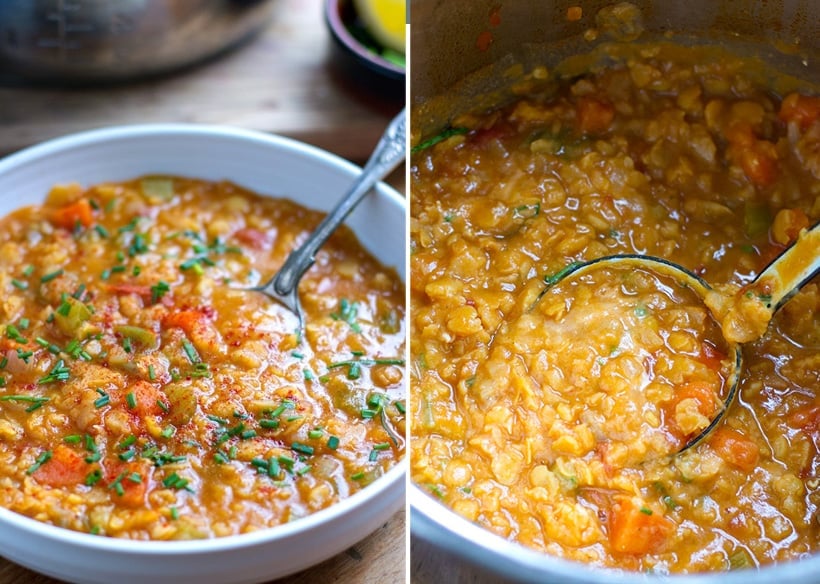 This mac and cheese is just as easy as making that macaroni in the blue box – but is SO much better for you from The Chunky Chef. No preservatives and other hard-to-pronounce ingredients. Just pure cheesy goodness! The lusciously creamy cheese sauce, enveloping every noodle… so full of flavor, yet so simply made.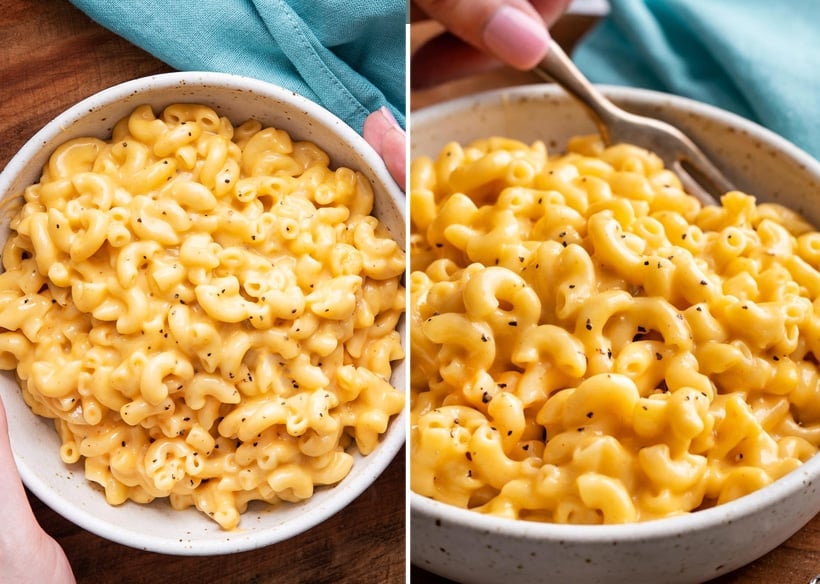 Rather than roasting your beef for hours and hours all day, you only need about an hour and a half to get from start to finish. Juicy and tender with gravy makes the perfect family-friendly dinner. This easy one-pot dinner recipe from Creme De La Crumb will please even the picky eaters!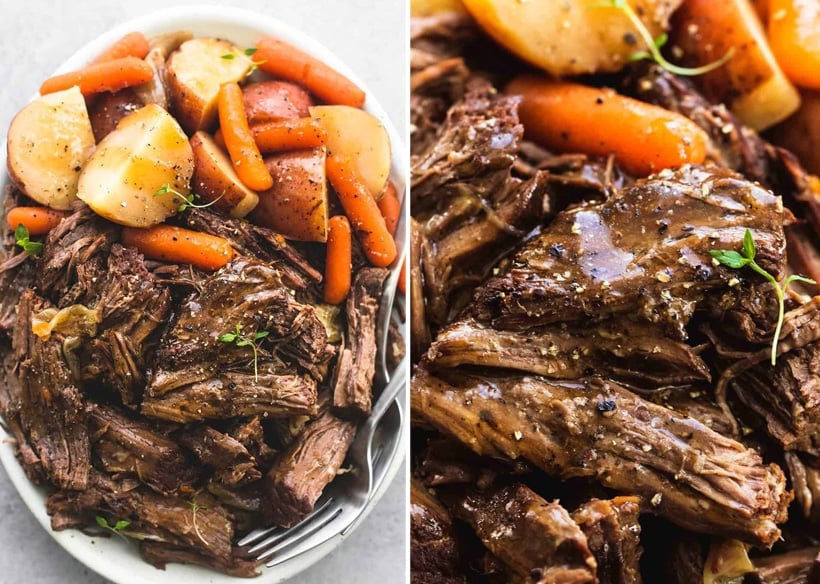 Making an authentic Thai curry can be a labor of love, especially if you make your own curry paste, but there is a much simpler and quicker way. This Instant Pot Thai chicken curry is made in 30 minutes using ingredients you can find in most grocery stores.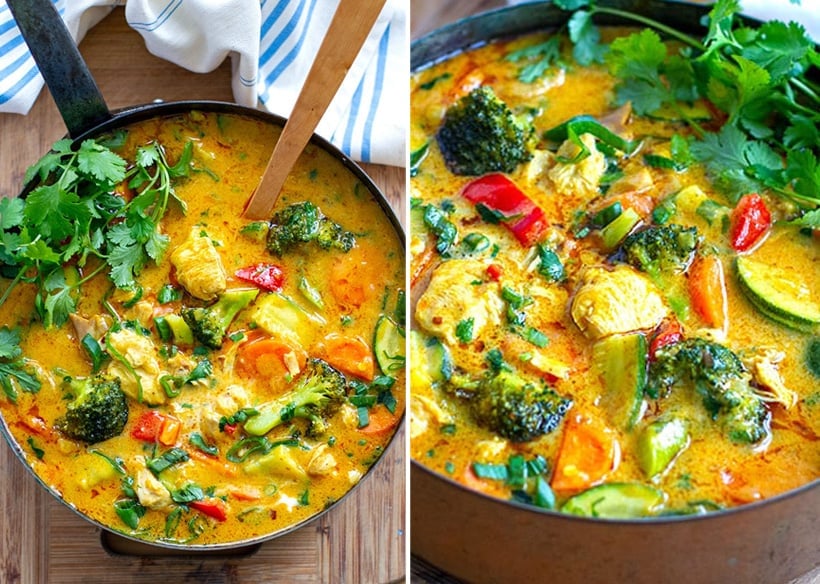 There's nothing better than a big bowl of chili on a cool day, and this Instant Pot version is from Dinner At The Zoo is a comforting blend of beef, beans, tomatoes, and spices, all simmered together in a pressure cooker until tender and flavorful. Serve your chili with honey cornbread or garlic knots for a complete meal.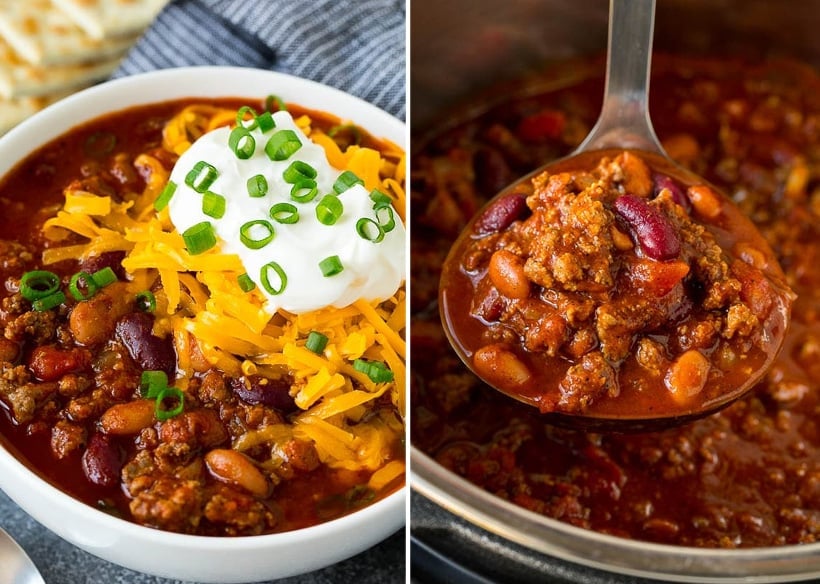 A one-pot chicken and rice dinner meal made with oregano, rosemary, lots of garlic and lemon juice, paprika, and olive oil flavors the meat and keeps it nice and juicy. Served it with a gorgeous Greek salad and cooling tzatziki yogurt sauce.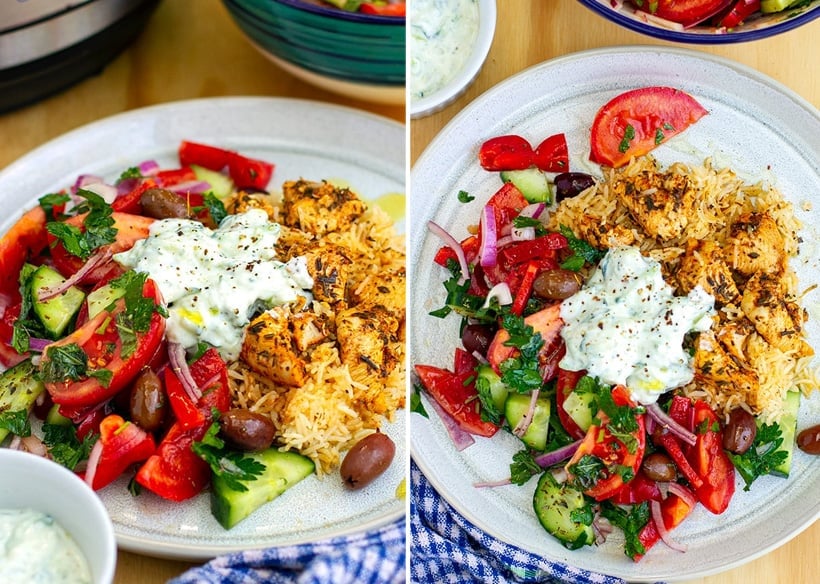 Hearty and delicious using inexpensive ingredients that will feed the whole family. This one-pot dish is super easy and quick to make, so it's great for those busy weekdays.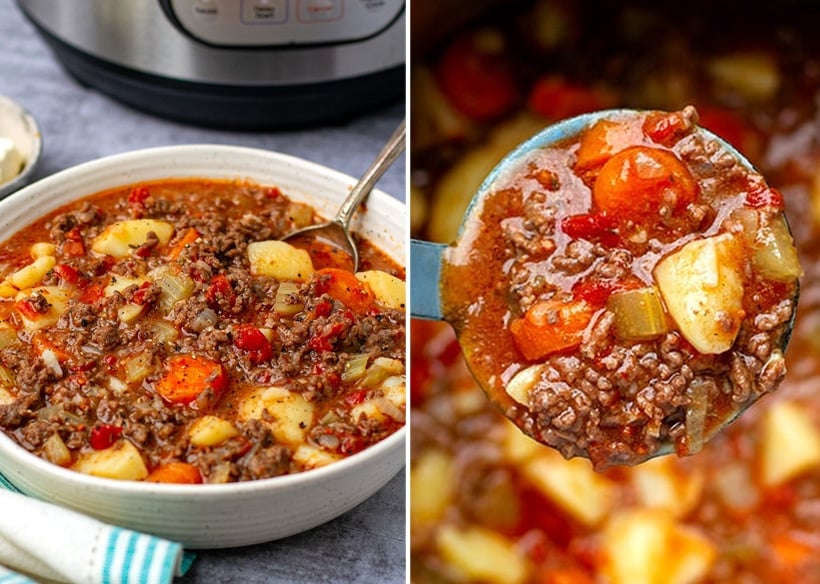 Round Steak & Gravy is a recipe that uses an affordable cut of beef called Round Steak that is delicious, but typically needs hours to cook so that it is tender. …. but not with your Instant Pot!⁠ This recipe from The Tipsy House Wife is best served on top of creamy mashed potatoes and with buttery corn. You can also use rice or egg noodles.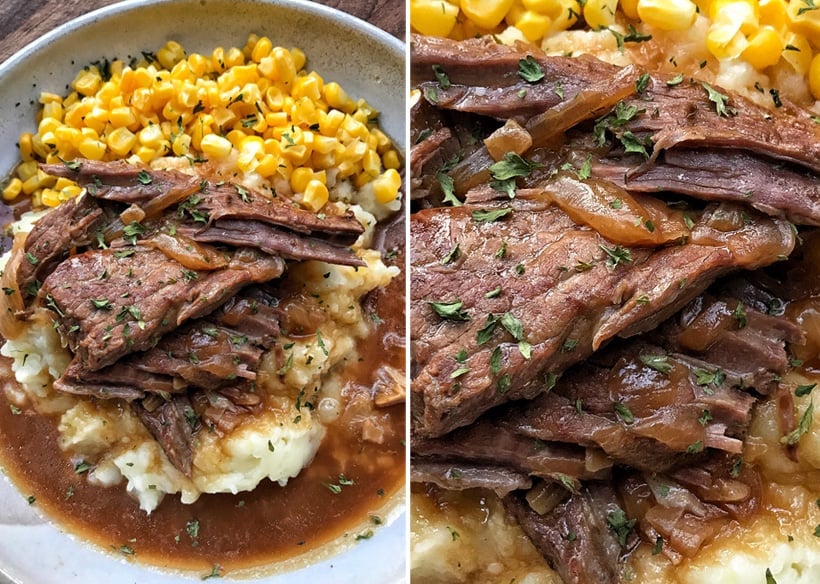 ---
Instant Pot Recipes For Beginners
We always get requests for basic, or foundation recipes that come with detailed step-by-step instructions and easy-to-access ingredients. We even have a dedicated Instant Pot For Beginners section here. Below are some of our favorite, easy, beginner-friendly recipes for the Instant Pot.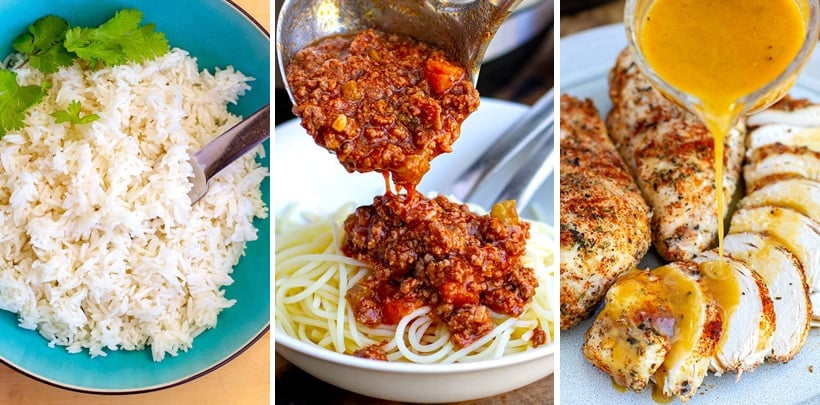 Rice is the most widely consumed staple food on the planet, so naturally, it is one of the first IP recipes one should learn how to make. Another reason is that the pressure cooker is perfect for making fluffy, well-cooked rice quickly and easily. Use this recipe for any dry, uncooked long-grain or medium-grain rice such as Basmati and Jasmine.
Save time and lock in all those gorgeous, hearty flavors and nutrients. Enjoy over pasta or zucchini noodles! The best part – it's super versatile and can be turned into many other dishes, such as Shepherd's Pie or spicy beef chili.
Easy, succulent chicken breasts and gravy is great as a main for dinner with easy mashed potatoes, some steamed garlic broccoli, or green beans on the side or as part of meal prep for salads, sandwiches, wraps, and so on.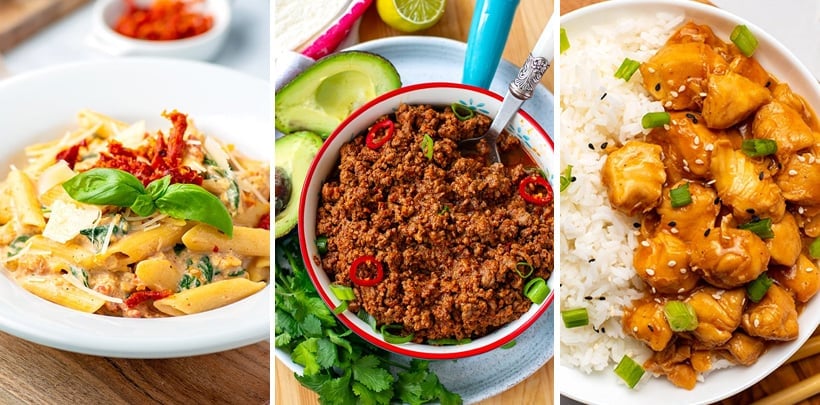 Indulgent and lip-smackingly tasty meal for the whole family combining essential carbohydrates, protein, and veggies. Chicken and pasta are cooked at the same time in a garlicky, sun-dried tomato sauce thickened with cream.
When it comes to recipes using ground beef, this taco meat recipe should be every household's staple. It's affordable, freezer-friendly, and super versatile with different ways you can use up the leftovers such as tacos, burritos, nachos, enchiladas, pasta, and rice dishes.
Made with chopped, battered and fried chicken pieces smothered in a sweet, sour, and savory sauce made with orange juice, soy sauce, garlic, ginger, sugar, and vinegar. Serve over rice or noodles and a side of veggies for a classic Asian American fusion.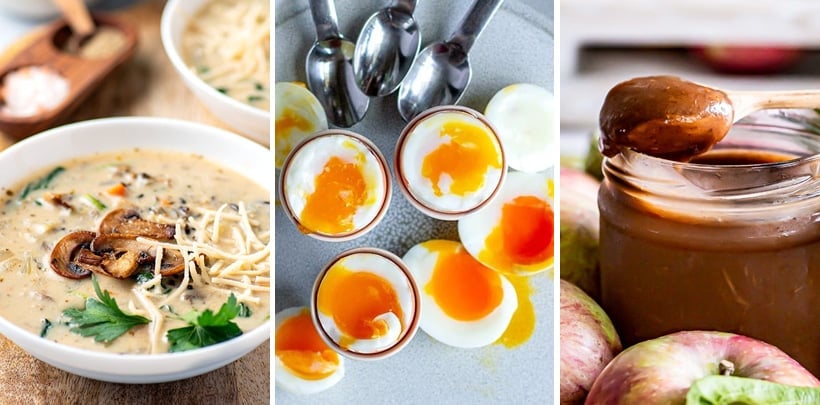 The soup turns out thick like a stew and creamy and is loaded with vegetables like celery, onions, carrots, potatoes, and spinach on top of mushrooms and wild rice. For seasoning, we have garlic, lemon, and dry thyme, and is thickened with a little cream and Parmesan cheese.
Eggs are a great source of protein, fats, and nutrients; plus, they are affordable and highly versatile. The best thing about cooking 'boiled' eggs in the Instant Pot is that you can add them in, press the button, and walk away. There is no need to wait for the water to boil first or to stand over the pot with a timer. It's also super convenient for those times when you can't use the stove for whatever reason.
From Healthy Little Vittles, this 8-ingredient, refined sugar-free naturally sweetened apple butter is made in just 20-minutes and no peeling is necessary!
---
Best Instant Pot Recipes With Chicken
Whether you want a tasty dinner with chicken breasts, whole chook, wings or frozen poultry, these are some of the most popular Instant Pot chicken recipes. We have separate roundups for individual types of poultry meat if you're interested in one of these in particular: chicken breast recipes, chicken thighs, frozen chicken recipes, whole chicken, wings, turkey.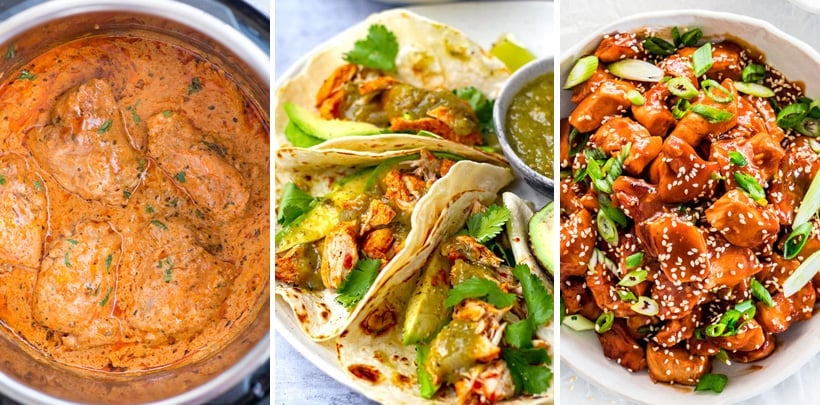 The tomato sauce is so creamy, buttery, tangy with a hint of sweetness to it. The sauce is perfect to toss some pasta in it or keep it simple and serve the chicken with a side of greens. From The Flavours Of Kitchen.
This 5-ingredient recipe is perfect for speedy dinners, if on the budget while traveling with your Instant Pot or making a last-minute meal for friends. Healthy and delicious tacos!
From Jo Cooks, this spicy Chinese takeout favorite is simple and quick to prepare with just the perfect balance of sweet and tangy.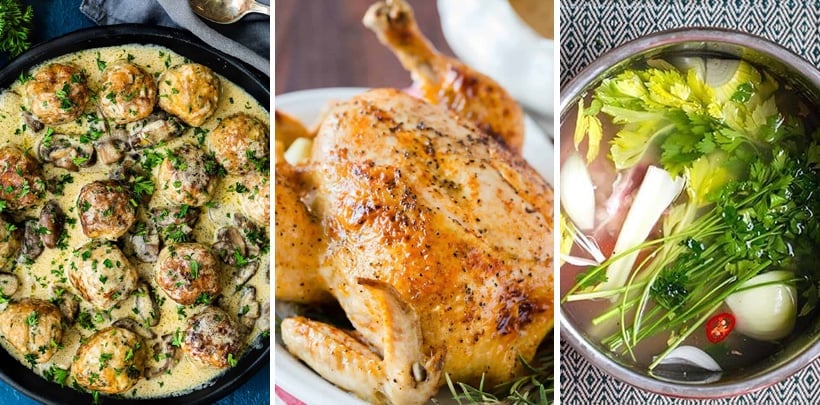 These aren't your everyday meatballs. These succulent little mouthfuls from Mommy's Home Cooking are made of ground chicken seasoned with a punch of condiments and smothered in a succulent sauce. Simply scrumptious and takes only 30 minutes to make this family favorite dish. Made from scratch, NO canned stuff.
Cooking whole chicken in the pressure cooker is so juicy and you'll love the easy 3-ingredient chicken gravy made from the drippings. It is the fastest way to cook a rotisserie chicken. From Natasha's Kitchen.
Would you like homemade, nutritious chicken bone broth with herbs and veggies made in 3 hours instead of 12 or 24? Yes, please! This recipe is gluten-free, paleo, Whole30, and keto-friendly.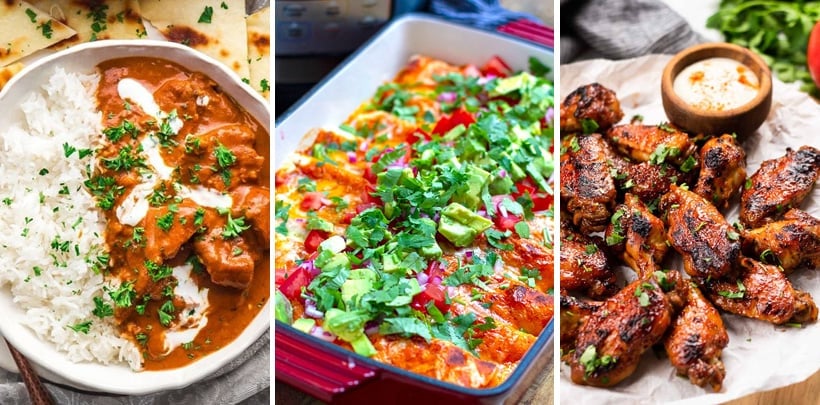 From Jo Cooks, this recipe delivers restaurant-quality butter chicken in the comfort of your own home. Ready in only 30 minutes, enjoy rich and creamy sauce and a fantastic blend of spices.
You will love these hearty chipotle-flavored chicken enchiladas smothered in delicious red sauce and finished in the oven with melted cheese. Freshened up with tomatoes, cilantro, onions and avocado on top, these enchiladas will be a hit with the family or at your next dinner party.
This recipe from Veronica's Kitchen is made with dry rub seasoning and delicious BBQ sauce. The best part is you can make it in just 30 minutes, great as an appetizer for Super Bowl party or a summer cookout! You can also try our mustard maple chicken wings here.
---
Best Instant Pot Recipes With Beef
For a little red meat fix, try one of these top beef recipes including stews, roasts, and tacos. Check out more beef recipes here.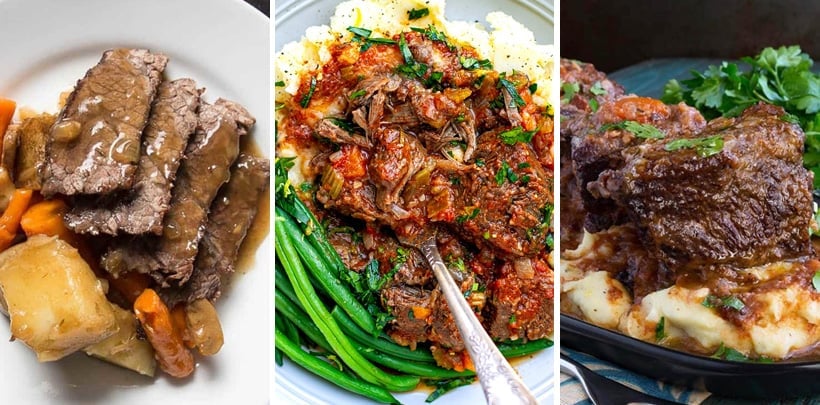 From Pressure Cook Recipes, your family will love the deliciously flavorful pot roast and potatoes with the rich umami gravy!!
Fall-apart tender beef cheeks to enjoy in 4 different ways: pasta ragu sauce, with mashed potatoes, as tacos, or as a beef cheek pot pie.
From Simply Happy Foodie, braised in a flavorful sauce with wine, beef broth, herbs, and veggies. You will enjoy these tender, pressure cooker beef short ribs in a little over an hour! Served on mashed potatoes, these beef short ribs make a hearty meal.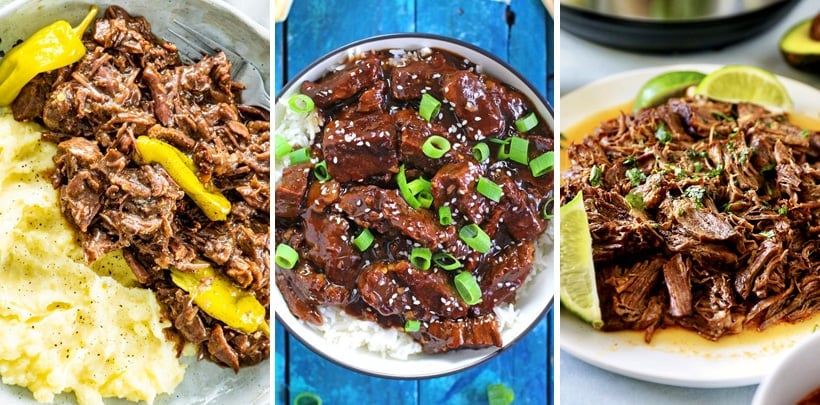 From Jo Cooks, made with fork-tender chuck roast, tangy pickled pepperoncini, and simple seasonings. Serve with creamy mashed potatoes and bask in the greatness of such a simple creation!
From Sweet and Savory Meals, made with tender beef in a sweet and savory Asian sauce. This recipe is better than the famous restaurant version you can find at PF Chang's.
From Number 2 Pencil, loaded with traditional Mexican spices and finished with fresh cilantro and lime juice. If you like Chipotle Barbacoa, you are going to love this recipe!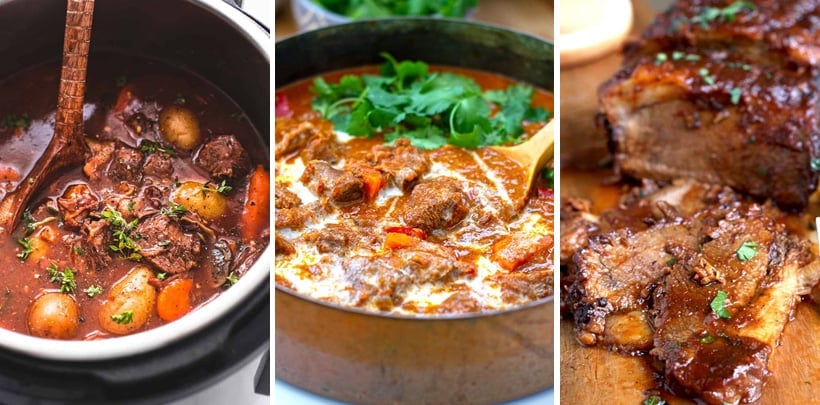 From Creme De La Crumb, If Ina Garten and Julia Child created a beef bourguignon together – this would be it! Beef is braised in red wine, alongside other ingredients like mushrooms, onions, bacon, and potatoes. The key to this dish is the sauce that easily can be mopped up with a big piece of crusty bread.
Made with warm Indian spices, tomatoes, and rich coconut milk, this curry is inspired by south Indian cuisine and can be made with beef or lamb. It's creamy and delicious and the meat is succulent and soft.
This is the easiest, quickest and most delicious beef brisket recipe from Lemon Blossoms! The meat is melt-in-your-mouth tender with gorgeous, homemade BBQ sauce glazed over the top.
---
Instant Pot Recipes With Pork
Pork is affordable and delicious, which makes it popular with many family cooks. It's also fabulous when cooked in the Instant Pot and we hope you will try one of these popular recipes with pork in your kitchen.
The mouthwatering creamy mushroom sauce will make you wonder why you ever made pork chops the old-fashioned way all these years! These saucy, fall-off-the-bone Instant Pot pork chops leave you with minimal mess and clean up afterwards.
From Eat Well 101, this cranberry butter sauce gives incredible flavor! Simply cook the pork with some chicken broth, balsamic, and a special mixture of butter, cranberries, garlic, and red onion. An easy dinner recipe that you can make in less than 30mn, using fresh or even frozen pork tenderloin.
From Kristine's Kitchen, smothered with the most amazing honey garlic sauce. Tender, saucy and satisfying, you'll want to add this recipe to your collection of favorites. Cook these pressure cooker pork chops from fresh or frozen, using bone-in or boneless pork chops.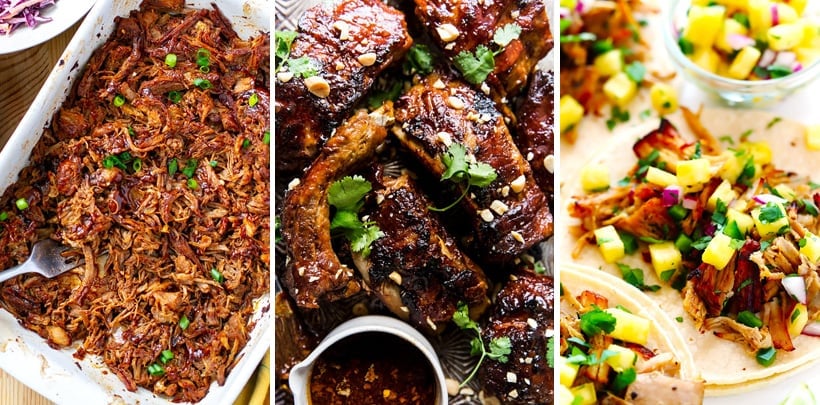 Cooked perfectly until meltingly tender and finished with a sweet, smoky sauce, with a gentle chili kick. Serve in warm wraps, tacos, slider, or on baked potatoes or rice.
From The Modern Proper, absolutely dripping with flavor, easy rib recipe yields perfectly tender, fall-off-the-bone ribs in under an hour. Finish them with a quick broil in the oven to create crispy, caramelized outer bits. Grab a bunch of napkins, and get ready for a rib-eating bonanza!
From Gimme Some Oven, Instead of having to plan 5-8 hours in advance to make carnitas in the slow cooker, this pressure cooker carnitas recipe can be ready to go from start to finish in just over 1 hour, making this recipe legit do-able on a weeknight or anytime you're craving some carnitas. It's seasoned with a zesty garlic-citrus mojo sauce, making each bite of pork extra flavorful even before any extra salsas or toppings are added.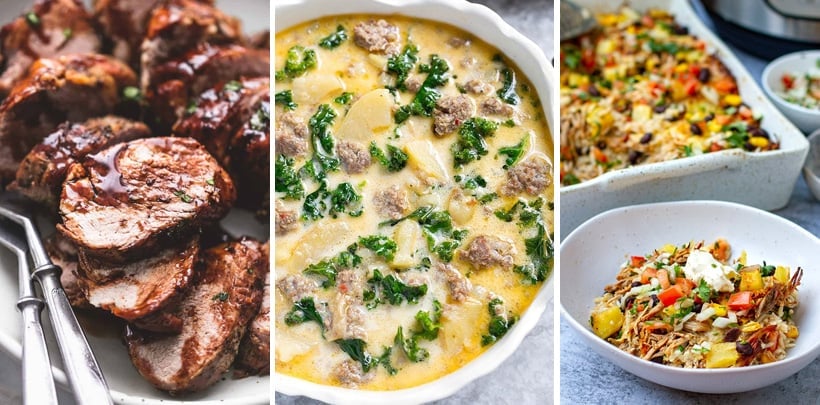 From Creme De La Crumb, ultra-tender pork tenderloin with a balsamic glaze made right in the pressure cooker. This Balsamic Pork Tenderloin will melt in your mouth and leave you craving more.
From Simply Happy Foodie, hearty and full of amazing flavor using spinach or kale and with or without bacon.
Pork shoulder meat is marinated with chipotle chilies, herbs, and pineapple and pressure cooked in the Instant Pot for that perfect tender and succulent result. The meat is paired with rice, beans, corn, and cheese and finished in the oven for a must-try casserole.
---
Best Instant Pot Soups & STEWS
A bowl of soup warms up the soul and nourishes the body. The pressure cooker is fantastic for making soups as it locks in all the nutrients and is super fast! Here are some of our favorite soup recipes made in the Instant Pot.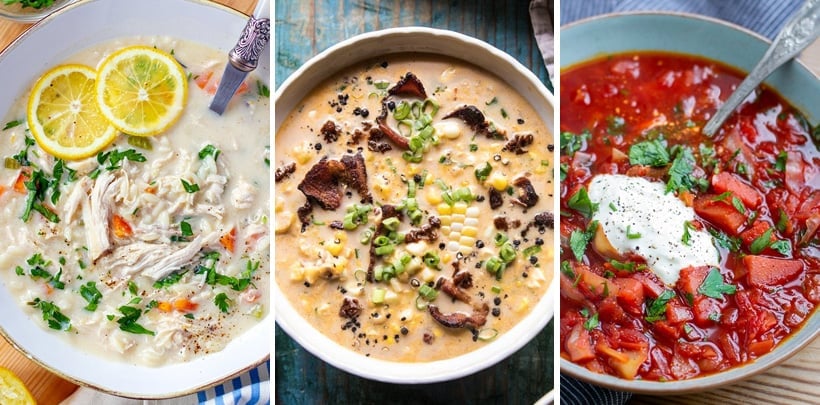 Creamy and hearty yet healthy and light. Thickened with fragrant and tangy lemony egg sauce, this luxurious soup with shredded chicken and orzo is silky and rich with no cream or dairy in sight.
From Half Baked Harvest, Just grab a few ears of sweet corn, some spicy, smoky, chipotle peppers, some sharp cheddar cheese, and a few other ingredients, and in less than an hour you can have the perfect cozy bowl of corn chowder.
Super easy with a little bit of prep work. Essential borscht vegetables are beets, cabbage, diced potatoes, carrots, and some variation add peppers. Top off with a dollop of sour cream or yogurt.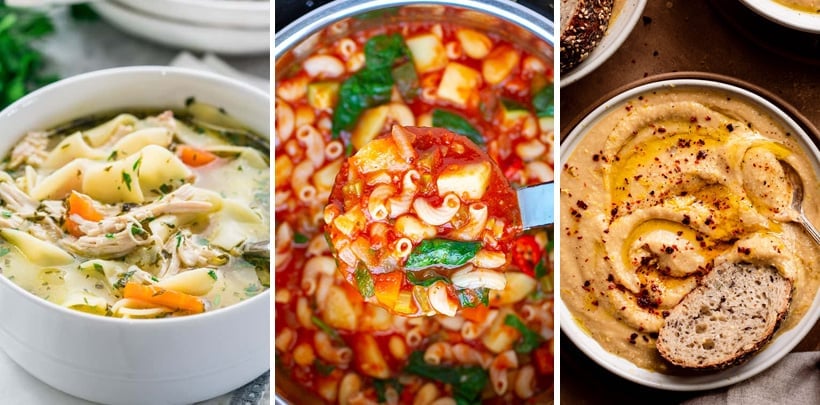 From Jo Cooks, made from scratch and in a fraction of the time. Delicious and hearty, loaded with noodles and chicken, this soup will warm the cockles of your heart.
Hearty, thick, and full of flavor and veggies, this Minestrone will leave you feeling satiated and nourished. Making this classic Italian tomato broth-based soup with pasta, potatoes, and beans gives you plenty of fiber and protein and you will be getting a ton of antioxidants and vitamins from all the veggies. Vegan-friendly.
From Rainbow Plant Life, this cauliflower soup is thickened naturally with white beans and cashews, so it's luscious and creamy but dairy-free. It's a quick and easy dump-and-go recipe that's made with just 10ish ingredients, so it's perfect for busy weeknight dinners.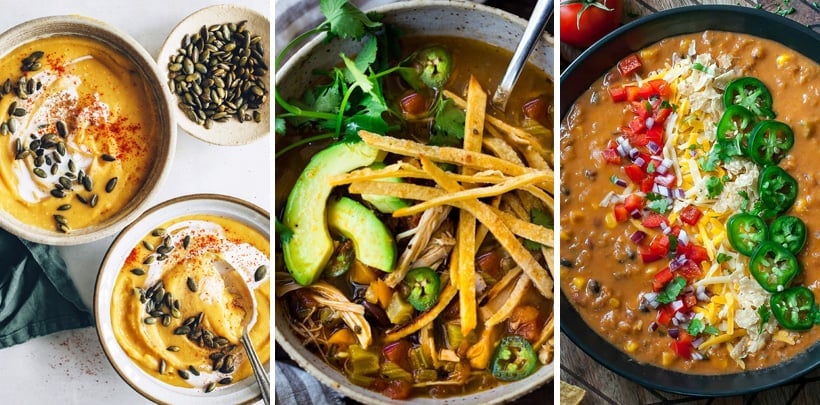 It's a 1-pot recipe with creamy coconut milk and sneaky red lentils for a protein and fiber boost. Sweet potato makes the soup creamy, comforting, and naturally sweet. Warmth comes from the fresh ginger and dried spices: turmeric, cinnamon, clove, and cayenne. A touch of maple syrup at the end elevates the flavor. From Minimalist Baker.
From Feasting At Home, this soup is highly adaptable. Make it with dry beans, canned beans, or no beans at all, it's totally up to you. Top it with cheese and sour cream, or keep it dairy-free and add avocado. Make it as spicy as you want! Lots of options here friends!
From Peas and Crayons, it channels the flavor of tortilla soup perfectly, with the added bonus of extra veggies, extra legumes, and a swirl of creaminess that makes this easy, everyday dinner soup feel like a luxurious indulgence.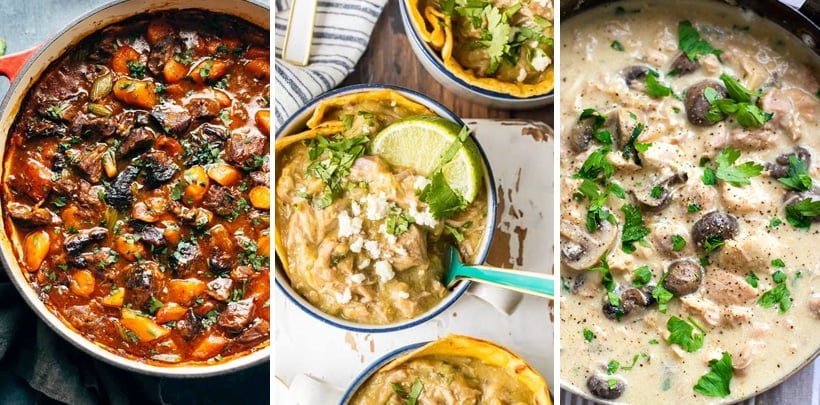 From A Pinch of Yum, make this stew feel homey by transferring the cooked stew to a casserole dish or Dutch oven and pop it in the oven for a few minutes before serving. It's BEEF STEW. It deserves to look like it came straight off Little Home on the Prairie.
From The Cookie Rookie, this pork stew is flavored with a mix of green peppers, like green chilis and jalapenos. All the spice in all the right places! Fry up some tortillas and lay them at the bottom of the bowl for extra crunch and texture.
This Instant Pot chicken stew with mushrooms is hearty, creamy and delicious. Using a pressure cooker, it's a quick and easy dinner for the whole family. Serve with rice, potatoes, pasta or veggies. Keto-friendly!
---
Instant Pot One-Pot Dinners
Stews, casseroles, risotto and hearty pasta are all great examples of one-pot dinner meals you can make in the Instant Pot. We've selected a few of the most appetizing options for you to choose from.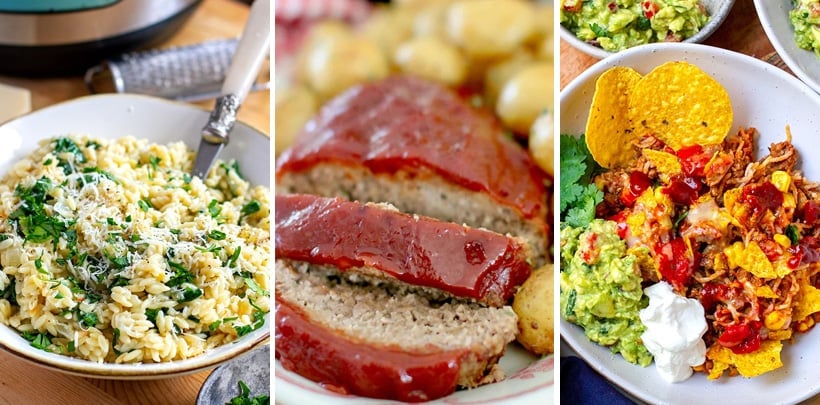 Quick and easy Instant Pot orzo with Parmesan, lemon, and baby spinach. You can serve this dish as a main or a side dish. It can be adapted to use up other ingredients you have on hand.
From The Country Cook, this isn't an old-school dry meatloaf recipe. It's an all-in-one meal with bonus Garlic Parmesan Potatoes.
Inspired by Tex Mex cheesy nachos, made with ground beef, rice, tomatoes, and a few pantry staples, it's a quick and easy pressure cooker recipe you can whip up mid-week in under 30 minutes. It's gluten-free friendly and can also be made with chicken, pork, or vegetarian-friendly beans or lentils.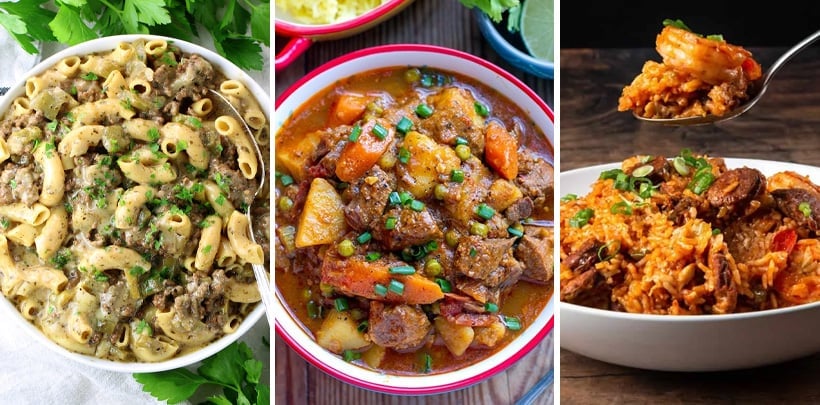 From Taste & See, the Philly cheesesteak originated as a sandwich made with thinly sliced steak and Provolone cheese served with onions on a hoagie roll made popular in Philadelphia, PA. So here you've got lean ground beef, onions, peppers, Italian seasoning, beef stock, elbow pasta, and Provolone cheese creating a hearty Instant Pot meal with some savory beef flavor and gooey cheese.
Moroccan-inspired ingredients and spices and is cooked up with soft potatoes, carrots, and peas for an incredible one-pot dish. Serve it with rice, couscous or quinoa, or low-carb cauliflower rice.
This delicious chicken and sausage jambalaya is an incredible flavor-party in your mouth bursting with savory-umami-spicy-tangy-sweet flavors. Comforting, satisfying, family-friendly one-pot meal from Amy + Jacky Pressure Cooker Recipes.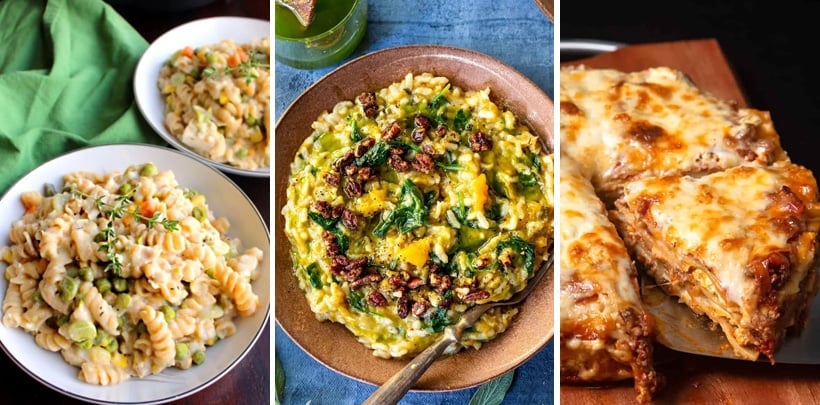 This tasty chicken and noodles recipe is based on creamy chicken pot pie. We love the flavor of the pie, but we don't always have the time to put it together and let it bake. So this one-pot meal was born, to give us that flavor quicker.
From Feasting At Home, cozy up with a comforting bowl of risotto with very little fuss. It's vegan-adaptable and gluten-free.
From Pressure Cook Recipes, heavenly rich lasagna packed with creamy-cheesy layers of satisfaction.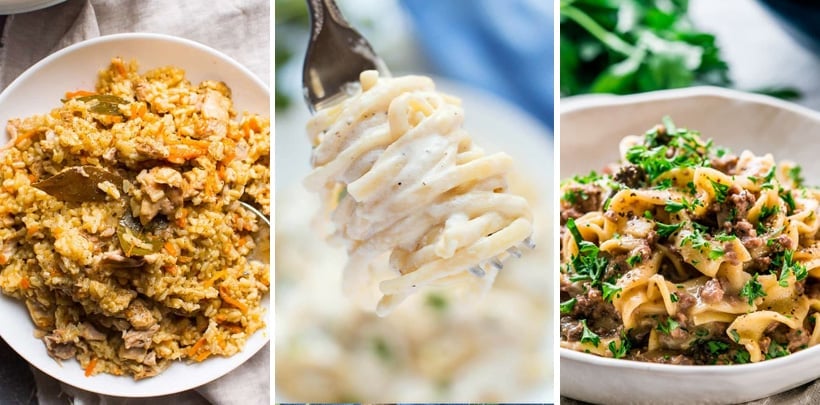 This is an absolutely scrumptious one-pot, dump-and-cook Instant Pot recipe with chicken breasts or thighs, white or brown rice and veggies. It is ideal for busy weeknights!From iFoodReal.com
From Simply Happie Foodie, this is a dump it all in and push start type of recipe. It is a creamy, rich, and delicious one-pot, easy pasta dinner! If you want to add chicken, just lay the chicken pieces over the noodles and season them, and away you go.
From Jo Cooks, a classic Russian dish consisting of sautéed beef and mushrooms in a rich sauce with sour cream. All of this deliciousness is usually served over egg noodles to soak up all that sauce.
---
Healthy Instant Pot Recipes
Whether you're watching calories or counting carbohydrates, healthy cooking is easy peasy with the Instant Pot. Meal prep and planning are key to weight loss and healthy eating and that's when the pressure cooker is your best friend. These recipes are nutritious and tasty, ranging from Whole30, low-carb and low-calorie mains and meal prep foods.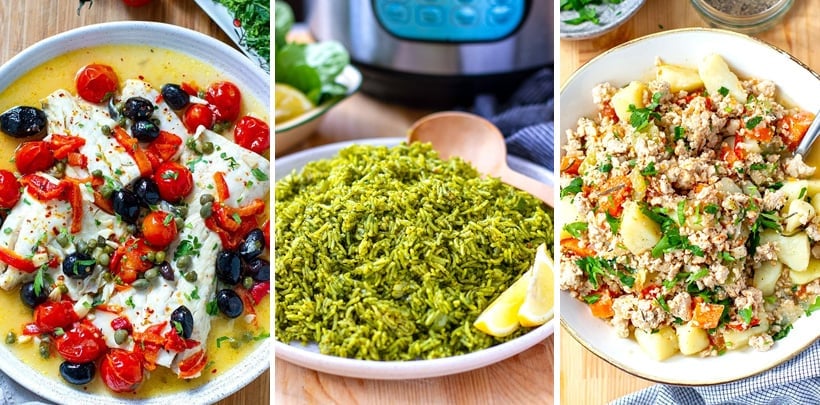 A super quick and easy recipe using cherry tomatoes, olives, capers, and roasted peppers. It's bursting with Mediterranean flavors, and you can make it with frozen white fish or salmon. Cook from Frozen, Whole30, Low-Carb.
Why have a plain rice side dish when you can turn it into something special? This Indian-inspired spinach rice is a great example of this process. You can get creative by adding tasty and nutritious ingredients to the cooking rice, which will infuse it with flavor and color, and add interesting textures. Vegan, Gluten-Free.
This is one of those recipes that you will make and think about how can something so simple taste so good. There are no robust or pungent flavors and the ingredients are pretty simple, but this country-style, rustic ground turkey stew is tasty and comforting. Whole30, Gluten-Free.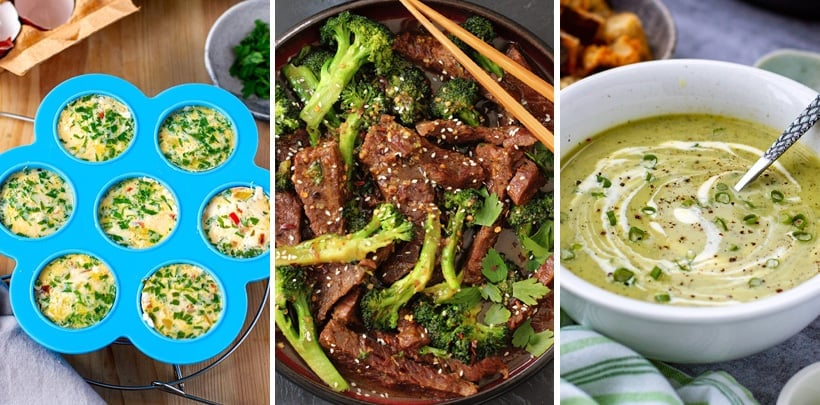 Perfectly cooked with red peppers, sun-dried tomatoes, and feta cheese. This protein-rich breakfast recipe is partly inspired by the Starbucks sour vide egg bites but is made with whole eggs and nutrient-dense ingredients. Low-Carb, Vegetarian, Gluten-Free.
From Whole Kitchen Sink, this beef and broccoli is about a million times healthier than the beef and broccoli you would normally get in your takeout order and ready in 30 minutes. Whole30, Gluten-Free.
Creamy and flavorful, yet light on the calories. Great as a starter or a main dish! Serve with fresh herbs, scallions or chives, and croutons or crusty bread on the side. You can also top it with shaved or grated Parmesan cheese or any other cheese you like.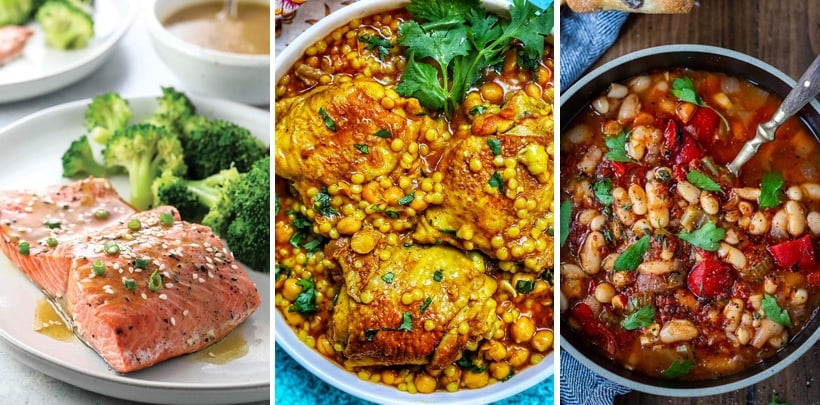 Salmon is an excellent source of protein and omega-3 fatty acids, and it comes to perfection in just minutes in the Instant Pot. Whip up this addictive soy-ginger dressing while the pot is coming to pressure for an easy 20-minute meal.
From Urban Bliss Life, this chicken is so flavorful and moist, and the quinoa turns out just as yummy and fluffy. And best of all, it takes just around 30 minutes from start to finish, all in ONE pot. Less to clean up, and more to enjoy!
From Feasting At Home, a simple, hearty soup you can make using dry beans. Smoked paprika and Harissa paste gives it a delicious flavor that will have you coming back for seconds. Low in calories, high in fiber, this soup is vegan and gluten-free.
---
Vegetarian & Vegan Instant Pot Recipes
Eating more plant-based foods is not only nutritious but is also environmentally friendly. Whether you're a full-time vego or you're simply trying to reduce meat consumption, these vegetarian and vegan recipes are for you.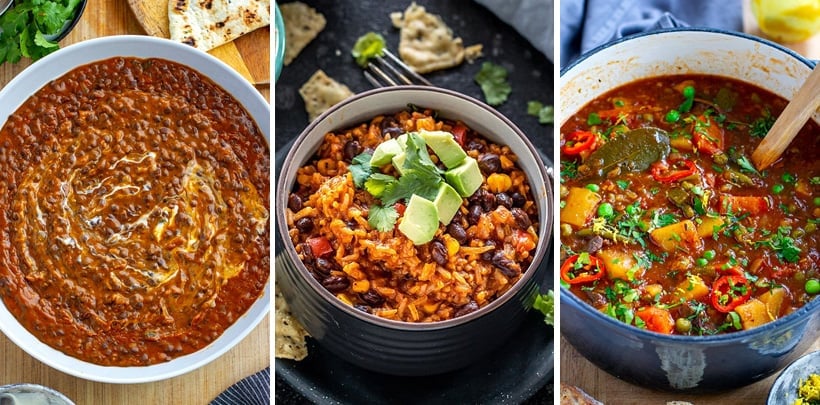 Creamy and buttery black dal recipe inspired by the famous signature Dal Makhani from London's Indian restaurant chain Dishoom. Made in a fraction of the time compared to the original (which is cooked for 24 hours in the restaurant), this incredible lentil dish will delight with its complex flavors and heavenly texture. It's gluten-free and vegetarian-friendly.
This easy enchilada rice from Cook With Manali gets done in less than 30 minutes! Packed with flavors, this is the perfect meal for busy days for the whole family.
This warm and hearty vegetable stew is made with almost 10 veggies and healthy ingredients. It's a nutritious stew, vegan and gluten-free friendly and great for batch cooking and meal prepping.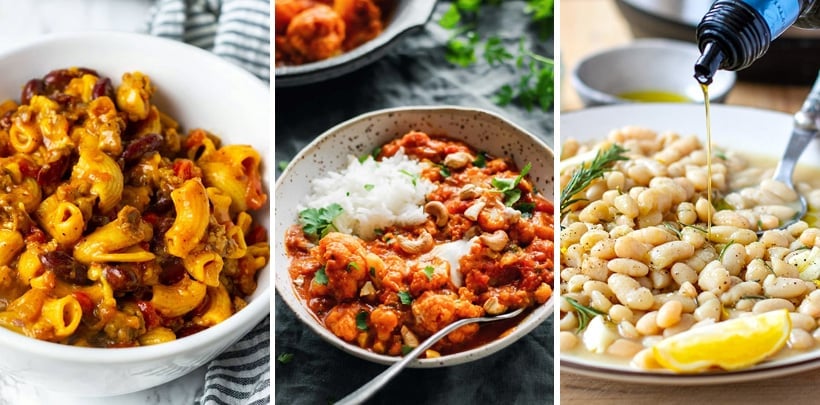 This Instant Pot vegan chili mac and cheese from Healthier Steps is the best one-pot comfort dish ever, it is warming and flavorful, elbow pasta, kidney beans, onion, garlic, bell pepper, spices cooked in flavorful broth, finished off with vegan shredded cheese. So hearty and satisfying!
This Instant Pot cauliflower curry from Full Of Plants takes only 30-minutes! Perfectly spiced, incredibly easy to make, and super creamy.
Hearty, flavorful and nutritious, these white beans are the perfect example of healthy Mediterranean cuisine. Learn how to make this delicious dish inspired by Italian and Greek recipes and enjoy it as a main or side dish for dinner, lunch or breakfast.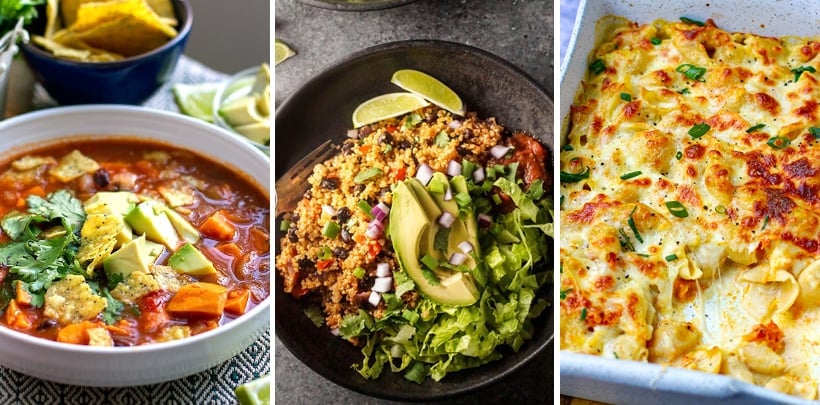 This hearty soup is super fast and easy, topped with your favorite toppings such as avocado or sour cream, and crispy corn chips, of course. This tortilla soup recipe is gluten-free, vegetarian and vegan-friendly.
This recipe is a protein-rich take on "Mexican rice" by combining two simple ingredients: quinoa and prepared salsa. From Detoxinista.
This is a deliciously creamy and garlicky Instant Pot pumpkin pasta bake with only 5 ingredients. You can use your favorite pumpkin/winter squash such as Butternut squash or Kabocha squash, depending on the sweetness you prefer. This pasta dish comes together in about 30-35 minutes using the pressure cooker and oven.
This warm and spicy Thai-inspired Instant Pot red lentil soup is the perfect weeknight meal. It is packed with veggies, plant-based protein, creamy coconut milk and a ton of flavor!
This chili from Well Plated is made with convenient canned beans, fresh sweet potato, quinoa, and a rainbow of southwest spices. It's bold, colorful, and spirit-boosting, and thanks to the Instant Pot, it cooks in minutes instead of hours.
An authentic recipe for Chana Masala from Feasting At Home using dry or canned chickpeas that can be made in an Instant pot or on the stovetop. Easy and flavorful, vegan-adaptable!
---
Best Instant Pot Dessert Recipes
Surprised to see dessert recipes here? Don't be! Instant Pot is a jack of all trades and can even make delicious sweet treats like cheesecakes, cobblers and cakes. Here are the most delectable dessert recipes you can make in your pressure cooker.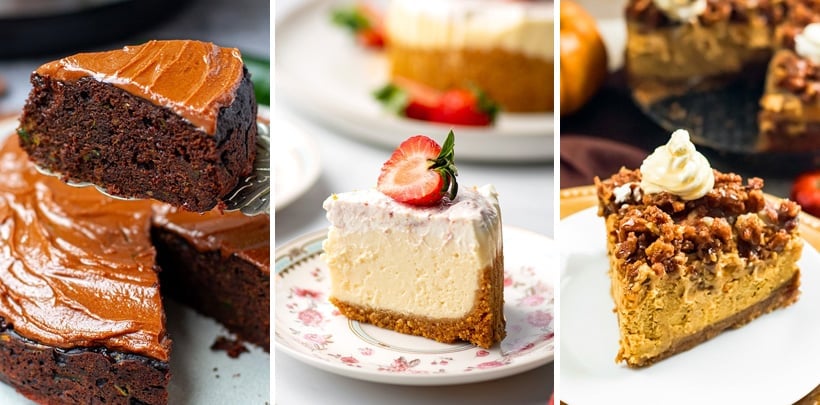 This is a great cake using up summer zucchini (courgette). You can also top it with vanilla or chocolate cream frosting.
This is a simple cheesecake with vanilla cream cheese filling and strawberry jam whipped cream topping and is beginner-friendly for those of you new to pressure cooking or the kitchen in general.
You can't go past a good pumpkin or pecan dessert, and this cheesecake, combines both! With creamy, decadent pumpkin filling with caramelized butter pecan topping, this cheesecake is absolutely to die for and would be perfect for any other festive occasion.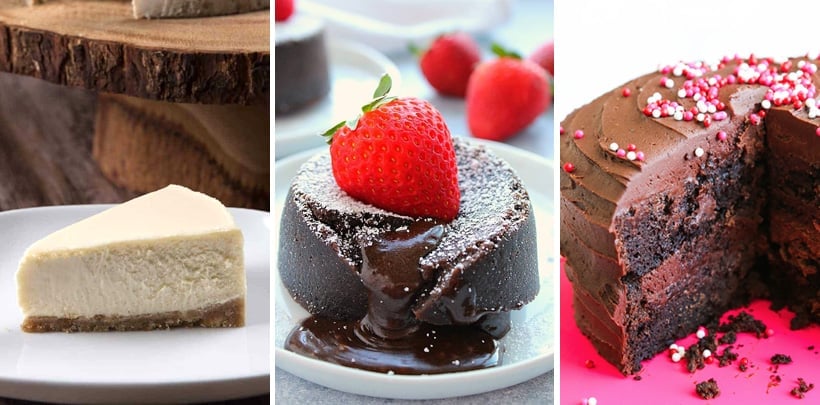 From Pressure Cook Recipe, pamper yourself or impress your guests with your choice of smooth & creamy or rich & dense pressure cooker cheesecake with a crisp crust.
From Crunchy Creamy Sweet, decadent molten lava cakes cooked in the pressure cooker, ready in less than 20 minutes. The gooey, fudgy center is irresistible!
From Pip and Ebby, a super moist and flavorful cake and much less porous than its oven-baked counterpart. Use any box cake variety of your choice! Nobody has to know this delicious cake was not made completely from scratch.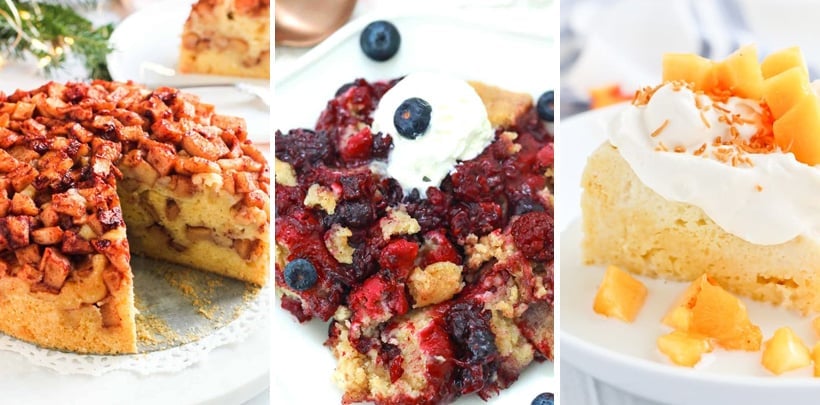 From Ministry of Curry, delicious Apple Cake loaded with fresh apples coated with cinnamon and sugar. Perfect for breakfast or dessert cake.
From Sweet and Savory Meals, filled with tender, orange-infused berries packed on top of a spiced crust. So easy to make, and heavenly with whip cream or ice cream!
From Tidbits-Marci, tres Leches translates to "three milks" and typically includes heavy cream, sweetened condensed milk, and evaporated milk. This Coconut Tres Leches version is lighter, but still just as creamy and luscious as any tres leches cake out there.
---
More Instant Pot Resources
To wrap it up, we thought it might be useful to share some practical Instant Pot related resources and articles for those of you new to the pressure cooker.
More Instant Pot Recipe Inspiration
Want more? We've selected a few of our popular and fun recipe collections for you to get inspired from.