This Instant Pot borscht recipe is such a lovely, hearty beet soup and it's quick and easy when made with the pressure cooker. It's delicious, full of nutrients. vegan-friendly, and gluten-free.
---
Having grown up in Ukraine, this pressure cooker borscht recipe is very close to my heart. We use to eat borscht almost every week, and I've tried many variations over the years: with and without beef, with and without beans, vegetarian only, pureed and with diced vegetables, and the list goes on.
Almost every country in East Europe has its own version of this delicious beetroot-based soup. Today, I am sharing MY borscht recipe using the Instant Pot – it's quick, easy and full of nutrients.

HOW TO MAKE INSTANT POT BORSCHT
The borscht recipe is super easy but it does take a little bit of prep work. It is full of veggies and they all need to be diced and shredded. The essential borscht vegetables are beets and cabbage, then you will usually also see diced potatoes and carrots, and some variation will add peppers. Of course, you will also need onion and garlic as they are staples in Slavic cuisines.
This recipe is made without meat but I did use a combination of beef and vegetable stock cubes. You can use all vegetable stock to make this completely plant-based. The broth is also flavored with tomatoes or tomato paste and a little acidity from vinegar or lemon juice. I am also adding mushrooms, which will give a lot of depth and umami flavor to this borscht.
Once everything is diced and shredded, the process is very simple.
Step 1. Saute the veggies in some olive oil.
Step 2. Pressure cook on HIGH for 10 minutes with 5-minute natural pressure release.
Step 3. Finish the soup with fresh herbs (usually dill or parsley) and sour cream.
BORSCHT ADDITIONS
Traditionally, a dollop of sour cream or yoghurt is added to a bowl of borscht (trust me, it's GOOD!) but for a vegan and paleo-friendly version, you can easily go without or add a little plant-based yoghurt or coconut cream.
For extra protein: you can cook the soup with diced meat of choice and if you're plant-based, throw in a can of beans (which is very common in Ukrainian borscht soups). A slice of toasted rye bread or sourdough and the sour cream will also add some protein to this meal. Adding spinach or kale and beans will also provide extra iron for those on a plant-based diet.
Fresh dill or parsley are the preferred herbs in Borscht.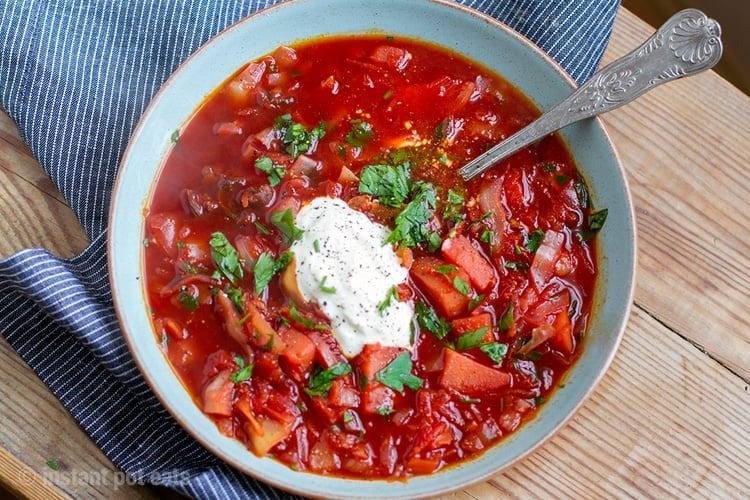 MORE INSTANT POT RECIPES
Print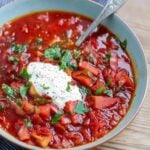 Instant Pot Borscht (Beet Soup)
Author:

Prep Time:

15 mins

Cook Time:

15 mins

Total Time:

30 mins

Yield:

4

1

x
Category:

Soup

Method:

Instant Pot

Cuisine:

Ukrainian