Nutritious and delicious cabbage is a great addition to so many pressure cooker meals like soups, roasts and meat dishes, and simple veggie side dishes. Here are some of the most inspiring and appetizing Instant Pot cabbage recipes we could find.
---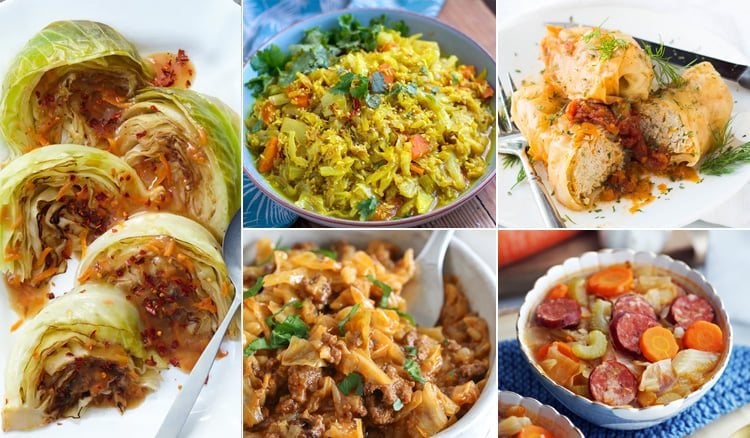 Let's talk about cabbage. Seldom do we build our meals around it, but I think we're doing this magnificent cruciferous plant a disservice! One head of cabbage yields a ton of food, so when we set out to use it, we've got some work on our hands.
WHY COOK WITH CABBAGE?
Cabbage is particularly rich with fibre which keeps digestion healthy and helps to fill you up for longer. It's also high in vitamin C for a strong immune system. It's also rich with other important vitamins and minerals like vitamin B1 and B1, phosphorous, potassium, and choline.
Not only is it good for us. It's a staple ingredient in many people's homes and many traditional dishes. It's often found in soups to help bulk things up, and there will be plenty of soup! It's fabulous with pulled pork and beef roasts alike. It makes a great side raw or cooked. It takes on flavor like no other with a mild flavor on its own. It cooks down wonderfully and makes for a brilliant braised dish. There's nothing cabbage can't do (besides cook itself).
The pressure cooker makes eating your veggies easy and tasty. These Instant Pot cabbage recipes are healthy, nourishing, rich with vitamins and minerals, and come together quickly so you can stay on track throughout the week. With vegan and vegetarian options, gluten-free dishes, and low-carb soups, there's something for everyone in this collection.
---
1. Sri Lankan Coconut Cabbage
This cabbage comes together with an awesome Sri Lankan twist – a type of cuisine we don't hear enough about! Inspired by a traditional dish called mallum or mallung, this brilliant veggie side is tossed with mustard seed and turmeric (hence its yellow, sunshine-y color!), shredded coconut, and fresh red chilli for a kick. You'll love this unique way to prepare cabbage. Recipe from Instant Pot Eats.
2. Sausage Cabbage & Quinoa Bowls
This healthy, nourishing bowl is sure to satisfy. Packed with beautiful texture from protein-rich quinoa, the maximum flavour from sweet Italian chicken sausage, onion, tomatoes, and parsley, plus plenty of cabbage, you get everything you need from a meal in one bowl. This is a great batch cooking recipe, perfect for toting in your lunch box to the office. Recipe from Cookin' Canuck.
3. Thai Chicken Coconut & Cabbage Soup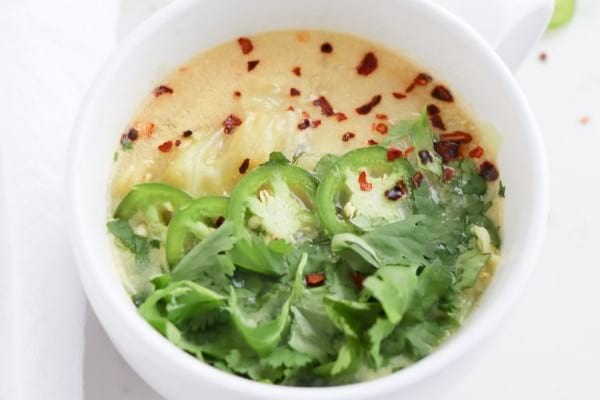 Let's kick things off with a soup. Unsurprisingly, there will be plenty of soup in today's roundup! It's just what cabbage is good at. With this soup, we get a little something different. With Thai inspiration – and of course, Thai spice – lemongrass, ginger, garlic, and green chili paste bring tons of flavor into this dish. Then, it's blended with cabbage, perfectly cooked chicken, and coconut milk. You can serve this alongside some rice and top it off with fresh jalapeno and cilantro. Recipe from Tidbits.
4. Fennel Cabbage & Sausage Soup
This economical recipe will stretch your dollar and offer up 10 cups of food, so this is a great Sunday soup to have hanging out in the fridge all week. You'll love these leftovers packed with flavourful fennel, carrots, celery, tender cabbage, and smoked Kielbasa. This healthy soup provides a full meal in every bowl, and it's a one-pot meal so clean up is easy. Recipe from Yay for Food.
5. Low-Carb Ham & Cabbage Soup
This soup takes classic ham and white bean soup and makes it low-carb by bulking it up with cabbage instead. Ham, onions, carrots, and red bell pepper make the bulk of the stew for a veggie-packed dish that is diet-friendly and easily adaptable for the keto diet. Top it off with a generous sprinkle of Parmesan cheese for the best results. Recipe from Kalyn's Kitchen.
6. Unstuffed Cabbage Bowls
If you want all of the deliciously awesome flavors of stuffed cabbage rolls without the hassle of actually stuffing them, this is the recipe for you. Brown rice, lean ground beef, cabbage, warming spices, and tomato sauce stew together for a comforting bowl. The entire family will love this dish, and it's so budget-friendly! Perfect for the shoestring budget or pinching pennies when you need to while still staying healthy. Recipe from Skinnytaste.
7. Instant Pot Corned Beef & Cabbage
This Irish dish is typically reserved for St. Patrick's Day, though we think it's acceptable any day of the week. When it's this quick and easy, why not? It's also quite healthy, balancing out a full meal with some protein, some starch, and some fibrous green veggies. This dish often takes an entire day to make, so no wonder it's reserved for special occasions. This version only takes about an hour and a half! Recipe from The Typical Mom.
8. Instant Pot Stuffed Cabbage Rolls
Un-stuffed cabbage is tasty, but some of us want the real deal. Not to worry – this recipe makes it easier than ever to get beautiful results. In the oven, you can expect to wait an hour or two before everything is fully cooked in your cabbage roll. This recipe? It takes just about 17 minutes for perfectly tender rice, meat, and sauce all blended together for the most delectable bites! Recipe from Girl & the Kitchen.
9. Pork Chops & Cabbage
With next to zero prep work required and just 20 minutes of cooking time, this full meal is on the table in a jiffy. Searing a pork chop isn't exactly rocket science, but it's so easy to just stick everything in one pot and allow the cabbage to soak up the juices from the meat while you tend to other important duties. Start with browning the chops and seal the lid. The rest is gravy! Speaking of gravy, that's part of the deal too. Recipe from Hip Pressure Cooking.
10. Cabbage & Lentil Soup
We love lentils. They're so easy to make in the Instant Pot, plus they are cheap, tasty, and nutritious. Paired with cabbage, you start out with a hearty and healthy base. Ginger, garlic, and turmeric root are thrown into the mix with tons of anti-inflammatory benefits (and flavor!). It's naturally detoxifying and gluten-free, and this recipe is plant-based so you can feel good about devouring a bowl or two! Recipe from Chef de Home.
11. Cabbage Noodles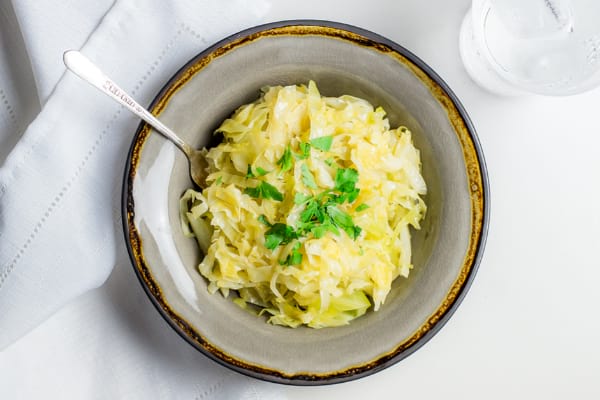 This 3-minute recipe couldn't be simpler. Cutting grains or gluten from the diet often means forgoing noodle dishes and pasta. However, there are so many veggie alternatives these days! No – it's not exactly the same, but these low-carb noodles will do the trick if you keep your mind open. You can saute them in butter and stock, then seal the lid to cook through to tender perfection in just a couple minutes. Recipe from Wild Roots Kitchen.
12. Kalua Pork & Cabbage
If you want to make the most of three simple ingredients, this is the best recipe for it. Kalua pork is a Hawaiian pulled pork dish made with budget-friendly pork loin, a few slices of bacon which inject big flavor, and cabbage wedges. That's it! This is a meal prep staple for me as it yields so much food on a dime. Plus, it tastes ah-mazing. It's also a great potluck dish. Recipe from Cooking with Curls.
13. Sweet & Spicy Braised Cabbage
Braised cabbage takes a solid hour any other way, but with the pressure cooker, you can master both the taste and texture that makes it so divine in just five minutes. Sesame oil, apple cider vinegar, a pinch of sugar, and a few other simple ingredients bring the sweet and sour blend that balances each other out so well. Recipe from The Kitchn.
14. Irish Cabbage Colcannon
These Irish mashed potatoes aren't just any old mashed potatoes. They've been a staple in Ireland for a long time, originally an economical recipe that would feed laborers without being too pricey. It's designed to be heavy and a bit bulky, hence the addition of cabbage. Napa or savoy will work best in this. Lots of butter, chopped leeks, milk, and heavy cream are key. This is a real 'stick-to-your-ribs' side! Recipe from Hey, Let's Make Stuff.
15. Chunky Beef Cabbage & Tomato Soup
This tomato-based soup is a healthy and humble dish, perfect for adding cheese to or dipping grilled cheese in. It's a great template to use for cleaning out the fridge, adding in stray veggies for a nutritious and delicious 'end-of-the-week' meal. Cut back on food waste, get the most bang for your buck, and stick to your healthy habits doing it. These are the kind of recipes that never go outta style! Recipe from Skinnytaste.
16. Instant Pot Egg Roll In A Bowl
This is a popular recipe, and for good reason. It's easy, but it really nails that Chinese egg roll flavour you love. Let's get real – who is making their own egg rolls from scratch? They're not exactly known for being healthy either. These bowls on the other hand? Perfectly healthy, gluten-free, packed with protein, free of refined sugar, and no deep-frying required. Plus, they're low-effort (especially if you buy a bag of pre-made coleslaw!). Recipe from Gluten Free Pressure Cooker.
17. Asian Steamed Cabbage Dumplings
Another takeaway appetiser everyone loves – dumplings! These little guys are packed with cabbage, carrot, and shiitake mushrooms, encapsulated in vegan dumpling wrappers and cooked under pressure in just 7 minutes. While they cook, you can whip up the tasty dipping sauce and scour the kitchen for the chopsticks you hardly break out. Recipe from Pressure Cooking Today.
18. Kimchi Beef Stew
Kimchi is a fermented cabbage dish from Korea, traditionally made with napa cabbage, daikon radish, carrot, dried shrimp, and lots of red chilli flakes. You can often find it in the grocery store (and especially Asian markets), or you can very easily and affordably make your own. It just takes a couple of weeks! When it's ready, this unique beef stew recipe is the first thing you should make. Recipe from Two Sleevers.
19. Red Cabbage & Apple
Red cabbage is a pretty side to serve with a little more to it than plain green cabbage. It pairs well with any roast meat. This cabbage has a sweet twist with a fresh apple cooked into it, infusing a juicy flavor to balance things out. Brown sugar, ground cloves, nutmeg, cinnamon, and a smidge of butter give this dish a little more oomph with plenty of warming qualities. Recipe from Gluten Free Pressure Cooker.
20. Delicious Borscht (Beet Cabbage Soup)
This Instant Pot beet and cabbage borscht is such a lovely, hearty beet soup and it's quick and easy when made with the pressure cooker. It's delicious, full of nutrients, and is vegan-friendly, and gluten-free. Recipe from Instant Pot Eats.
We hope you loved these ideas! Cabbage is such an awesome veggie, and there are so many recipes to make with it from side dishes to stunning main meals. Make sure to share this roundup if you enjoyed it and found it helpful.
---