When it comes making dinner quick and easy, these Instant Pot one-pot meals are must-save recipes, from breakfast porridge to hearty stews. The convenience of cooking protein and veggies as one dish makes your pressure cooker the ultimate kitchen appliance.
---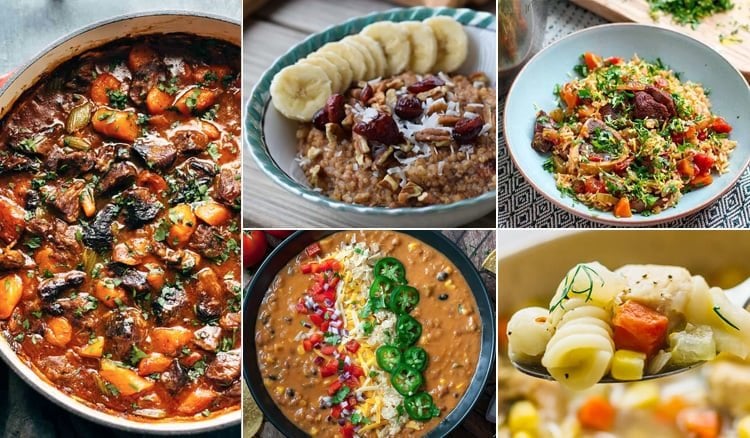 One of the Instant Pot's strengths is its ability to give us something edible and incredible with a "one-pot meal" mentality. These are popular with slow cookers, but they're also popular with pressure cookers. Basically, the criteria the recipe needs to meet is limited to all ingredients being tossed in the pot at once, setting it, and forgetting it.
All ingredients will cook together, so no need for adding some into the mix later or preparing a side dish. The Instant Pot undoubtedly makes dinnertime (or breakfast) easier, quicker, and requires less work, but these one-pot meal recipes are the pinnacle of easy, fast, and delicious… oh, and mostly pretty nutritious, too. Bonus: less mess = fewer dishes to wash!!!
Breakfast Instant Pot One-Pot Meals
The best part of waking up is putting little to no effort into making a delicious, satiating breakfast – hearty, energizing, and piping hot. It's a lot of pressure right out of bed. That's why we need some one-pot wonders that make breakfast a meal worth looking forward to… beyond the cereal bowl.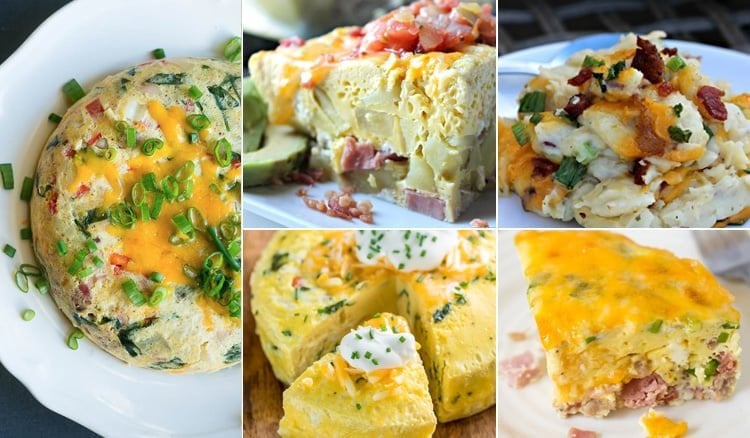 When it comes to Instant Pot one-pot meals, you can't go past a good egg-based breakfast casserole. From classic Quiche Lorraine to spinach and cheese, you can whip up a make-ahead morning dish for the whole family. Check out a selection of ideas here.
Wake up to creamy Instant Pot steel-cut oats with cranberries and almonds in the morning. It is the perfect simple portion-sized breakfast to enjoy for two or you can make a bigger batch to feed a hungry army of little munchkins.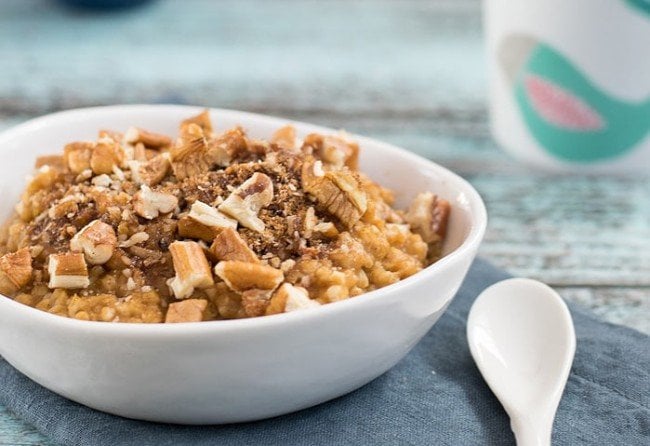 Warm spices and a simple-to-assemble "coffee cake" topping give this autumnal bowl of oats its best qualities. Get your pumpkin spice fix without the sugar buzz. This recipe is vegan and gluten-free. Recipe from Healthy Slow Cooking.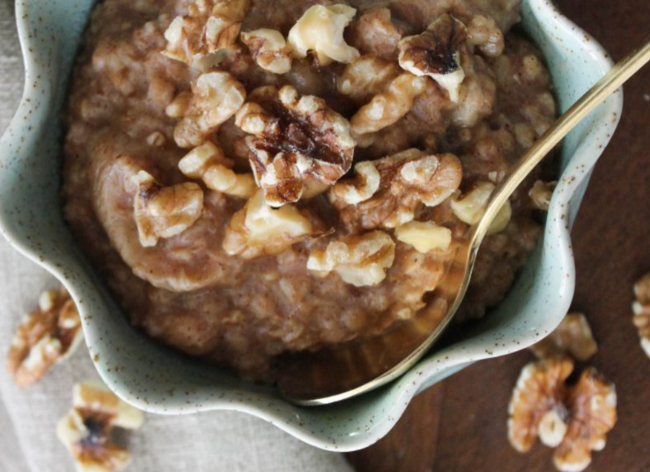 It's hardly fair to consider steel-cut oats a viable morning meal option considering that they take quite some time to cook. Perhaps for the weekend, but you deserve more than quick oats mid-week. Even on the most hectic morning, this vegan banana and walnut porridge are full of fiber, slow carbs, and whatever mix-ins or stir-ins you like. We're thinkin' about you, almond butter. Recipe from Knead to Cook.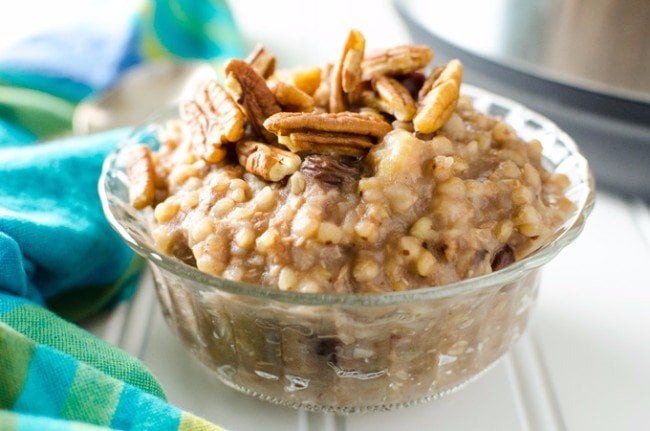 If oats just aren't your thing, or you're simply getting a little tired of the same old breakfast bowl every morning, experiment with buckwheat! It's rich with vitamins and minerals, and it's naturally gluten-free with a nutty taste that pairs well with fruits, warm spices, and other breakfast porridge staples. Recipe from Veggie Primer.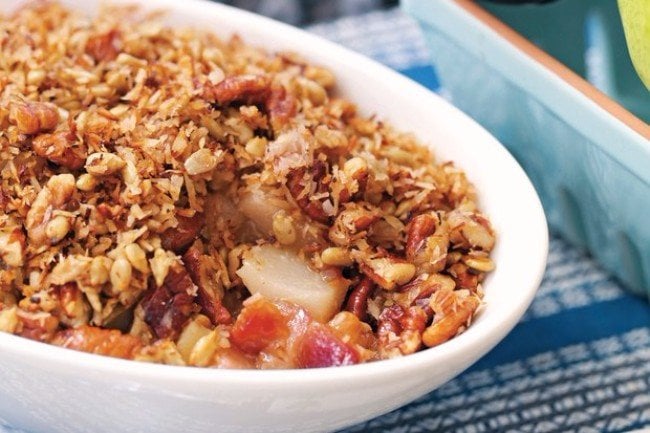 Step it up a notch with a breakfast that really feels like dessert with this grain-free cobbler. No refined sugar here – just a touch of honey and a blend of apples, plums, and pears, topped with a crunchy, nutty cobbler. Recipe from Epicurious.
One-Pot Meals With Meat & Seafood
The focus of this round-up is to provide one-pot recipes for a full meal. For many people, that means meat is on the table. Don't worry – we have a meat-free section below. From beef to chicken and everything in between, we've found the shortcut to cooking the whole plate at once whether you're in the mood for rice, chili, or soup.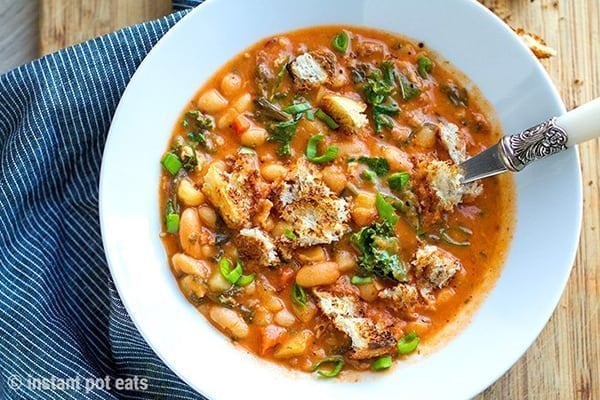 This one-pot Zuppa Toscana is the perfect mix of the authentic Italian recipe and the Olive Garden's favourite Tuscan soup recipe. It's hearty, nutritious and full of flavour and great for the whole family.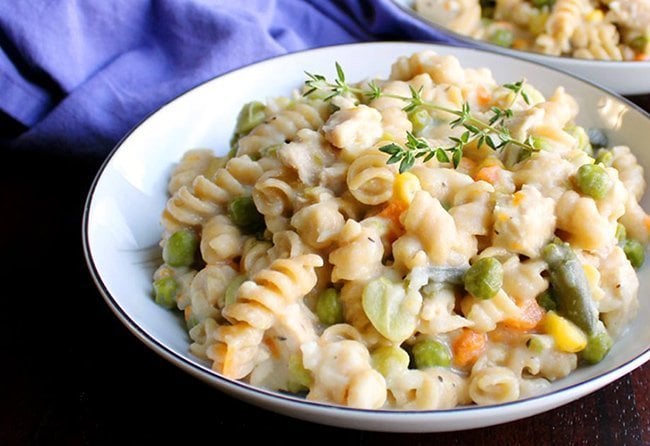 This Instant Pot creamy chicken and noodles recipe is based on a family favorite, chicken pot pie. This hearty meal is creamy, delicious and will please the whole family.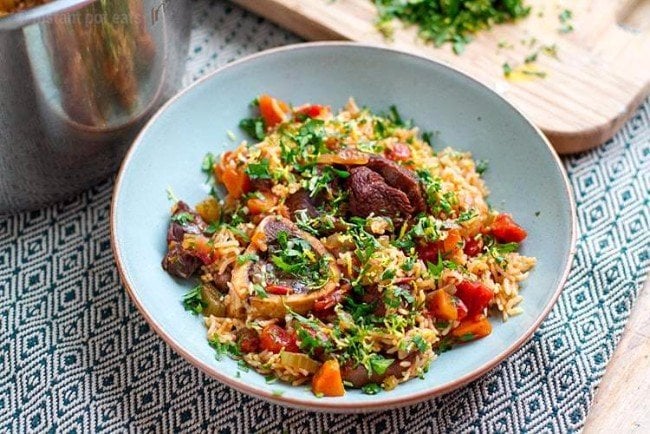 Osso Bucco might sound like an intimidating meal to put together, but this one-pot dish couldn't be simpler (or more impressive). It's an Italian dish featuring slow-braised veal shanks served with veggies, wine, and tomatoes. Traditionally, it's generally served over risotto which you can totally do, too, but serving it with rice keeps this recipe a one-pot affair.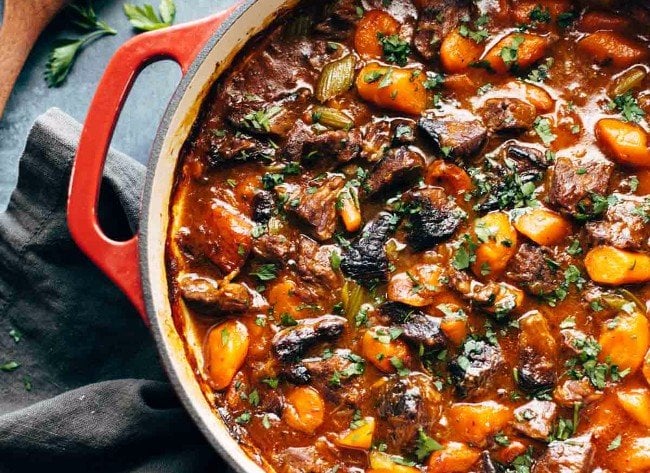 Beef stew is usually a one-pot affair, but this recipe has something going for it… because it only takes 45 minutes. I mean, seriously?! Beef stew is notorious for needing lots of time to simmer, but this comes together quick with luscious, tender meat and veggies all cooked to perfection almost instantly. Recipe from Pinch of Yum.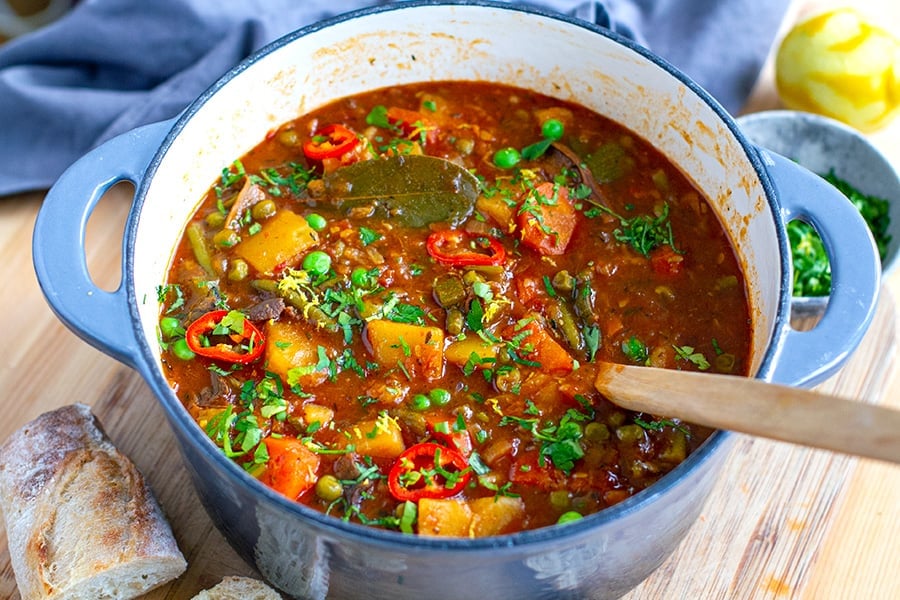 This warm and hearty vegetable stew recipe is super easy to make. Made with almost 10 veggies and healthy ingredients, this nutritious stew is vegan and gluten-free friendly. It's great for batch cooking and meal prepping as it keeps well and can be used over a few days.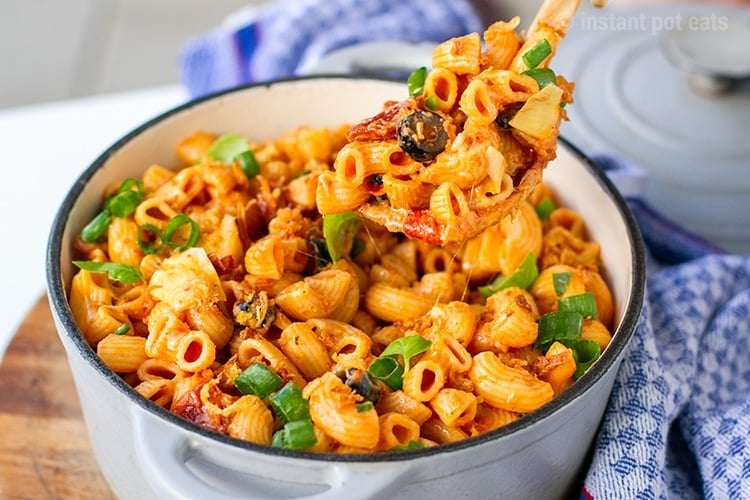 This Instant Pot mac and cheese recipe has a rustic, Italian flare to it. With the addition of olives, artichokes and sun-dried tomatoes, and a hearty helping of mozzarella, this vegetarian wonder will have you drooling for days. Recipe from Instant Pot Eats.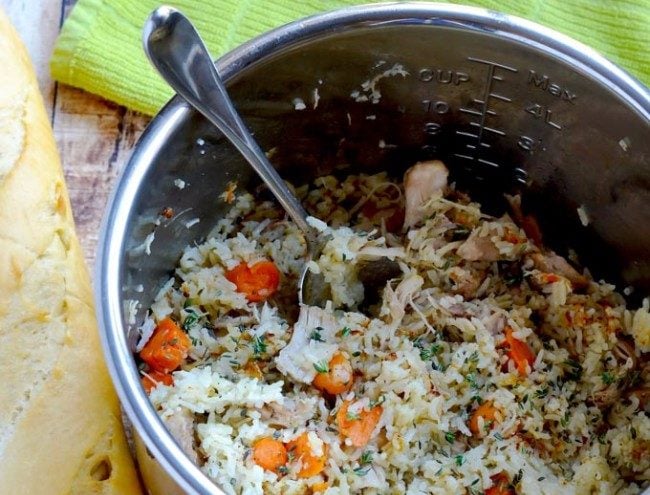 Chicken and rice is a humble supper, but it's a total crowd-pleaser. Kids and adults can't complain about this, and you get a healthy serving of veggies in the pot as well. Serve it with fresh baguette or French bread. Recipe from A Pinch of Healthy.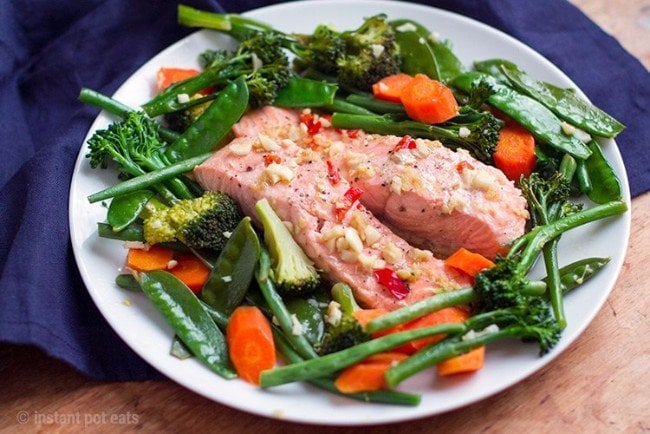 Seafood can be delicate under pressure, but this salmon is absolutely cooked to perfection in conjunction with the veggies in just around 15 minutes for a quick, Asian-inspired meal when you need some nourishment fast. Recipe from Instant Pot Eats.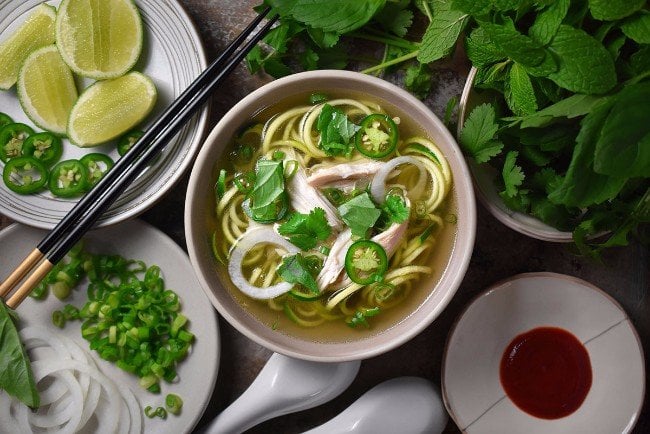 Give your local Vietnamese joint a run for their money. This dish skips out on rice noodles for zucchini noodles instead of making it low-carb, paleo-friendly, and totally grain-free. You can easily sub them out for rice noodles if that's your jam, though – it's still a one-pot meal! Recipe from Nom Nom Paleo.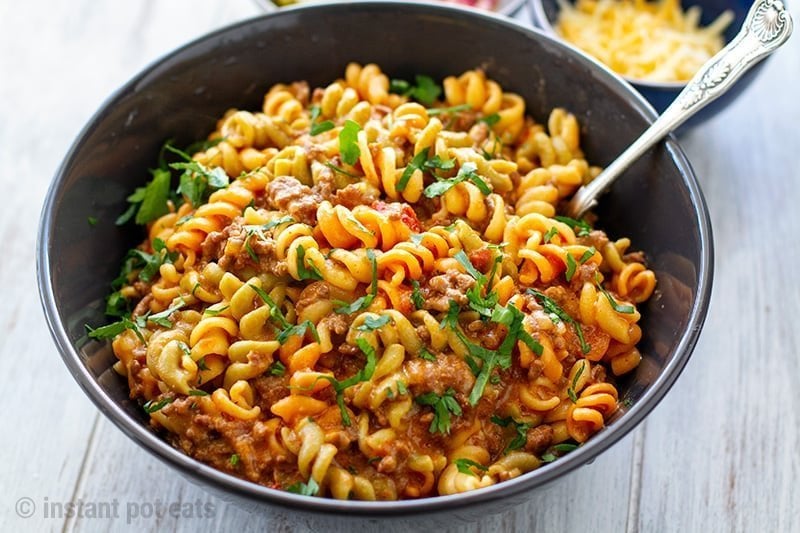 This Instant Pot hamburger helper inspired pasta is a great one-pot family meal and comes with a little cheeseburger twist. It's a perfect one-pot meal if you're looking for ground beef pasta recipes or needing a substantial meaty meal on the budget.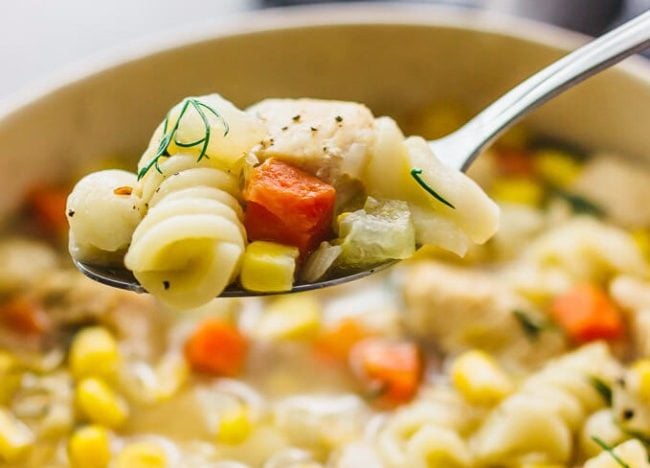 Whether or not you've got a curious case of the sniffles, this chicken soup is always a good idea. It's comforting, warming, healing, and tasty. This recipe is loaded with noodles, corn, carrots, celery, fresh dill, and perfectly cooked, tender chicken. Recipe from Savory Tooth.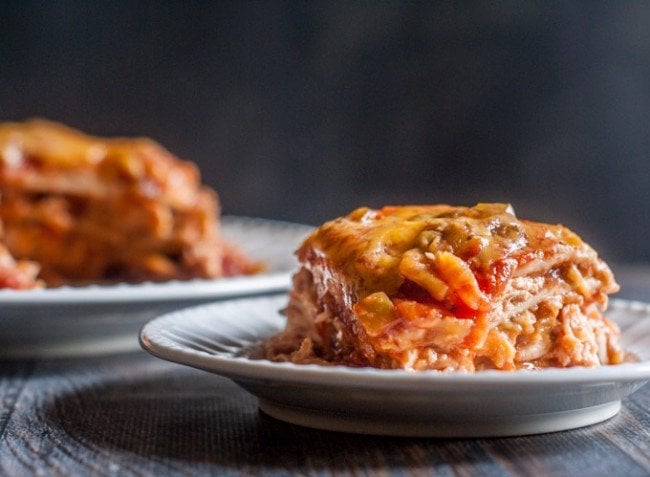 Five ingredients? Count me in. It doesn't get better than one-pot meals, besides when they're this minimalist. Besides, who can argue with the combination of lasagna and chicken burritos? All you need for this is a springform pan – an essential Instant Pot accessory. Recipe from My Life Cookbook.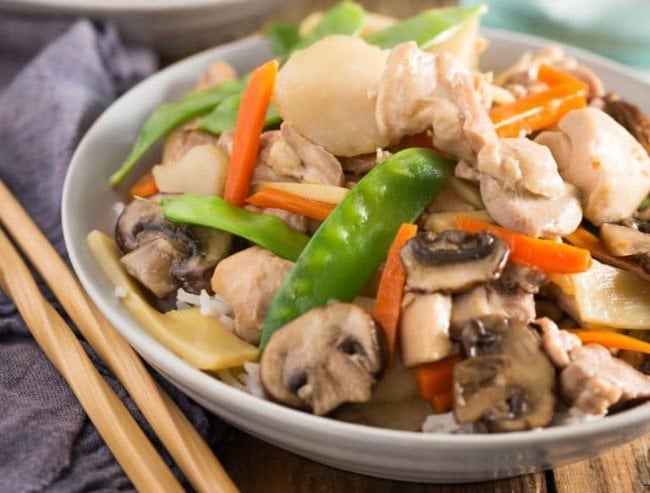 Moo Goo Gai Pan is a simple stir-fry with button mushrooms, snow peas, bamboo shoots, carrot, water chestnuts, and chicken thighs. This healthier-for-you Chinese takeaway is gluten-free, full of authentic flavor, and cheaper to make than ordering out. Recipe from Gluten Free Pressure Cooker.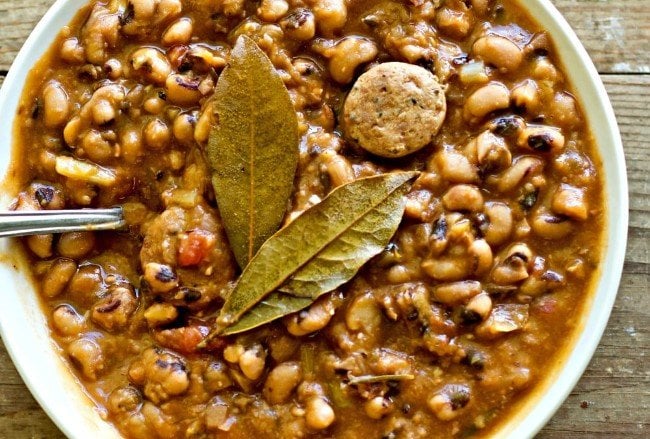 Humble, quaint, and comforting, this soup is thick like a stew. All you need are some black-eyed peas and pre-cooked chicken sausage for a complete, protein-packed meal. This takes just around an hour, and you can make it on the fly when you need something filling… quick! Recipe from Homemade Food Junkie.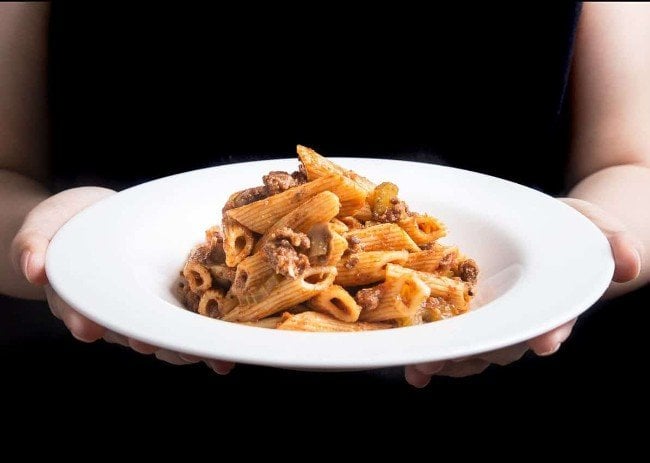 Pasta is always a one-pot affair with the Instant Pot, giving you a perfect, even coat of sauce each time. This one features penne pasta although you can sub it out for regular spaghetti. You simply can't go wrong with a good bolognese sauce. Check out our roundup of Instant Pot pasta recipes. Recipe from Pressure Cook Recipes.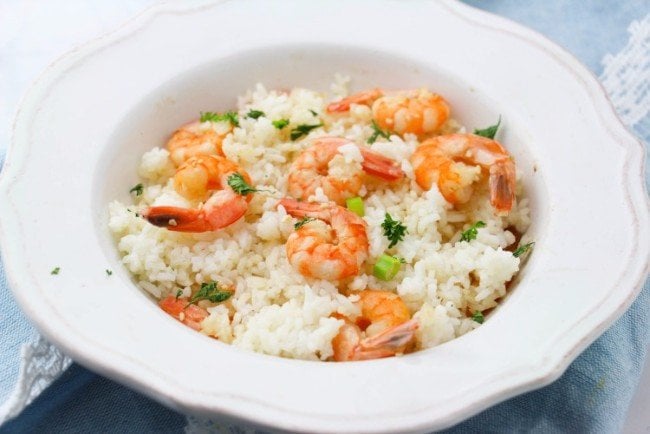 Mix up some shrimp and pre-cooked rice – or uncooked pasta – and you've got shrimp scampi. It's as simple as that, plus some pastured butter and fresh parsley. Voila! Recipe from Happy Mothering.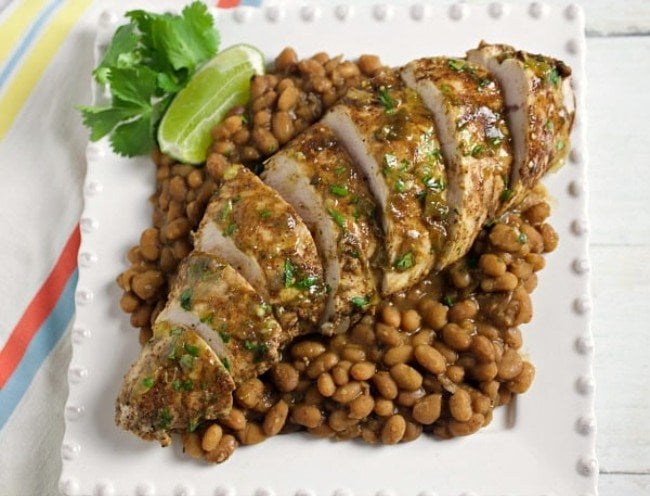 Meat and beans… does it get much better than this? The salsa verde sauce is one you'll keep making. The dry-rub on the turkey really brings the flavor on home. You could serve this with additional steamed or roasted veggies or some rice if you like, plus add any additional toppings you desire. Recipe from Tasty Ever After.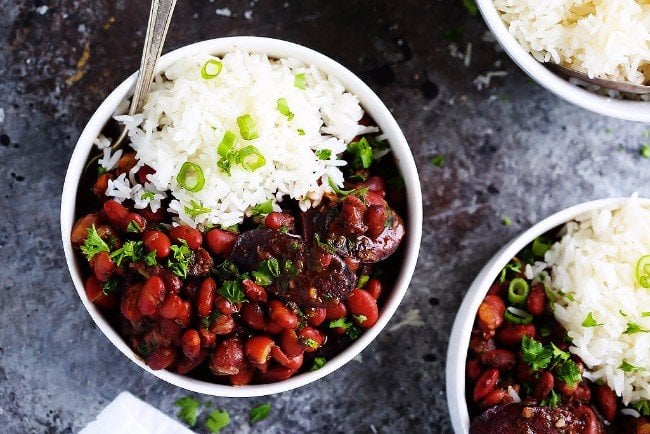 This classic New Orleans dish is sassy, spicy, and scrumptious. A glorious mixture of white rice, red beans, and smoked sausage comes to life with authentic Cajun seasoning for some tried and true Southern cuisine, no matter where you are in the world. Recipe from Platings and Pairings.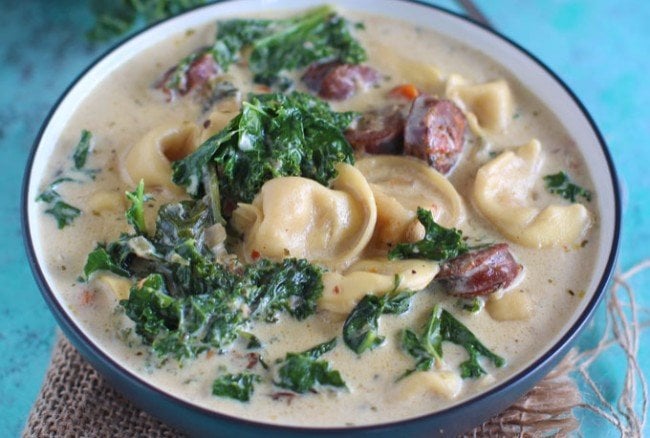 Tortellini filled with cheese is the perfect way to start a meal off on the right foot. When you add delicious sausage, tender greens, perfectly cooked veggies, and a rich, creamy broth to the mix, it's nothing short of a one-pot miracle. Recipe from Peas and Peonies.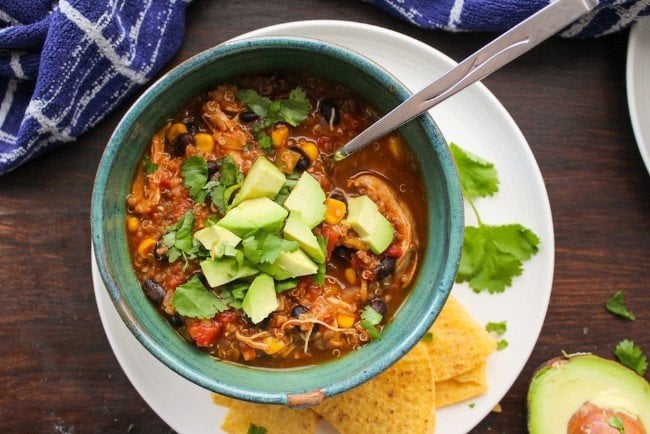 Enchiladas require a bit more work and tending to than your average one-pot meal. When you turn it into soup, you bypass the complications and still get the flavor – tender shredded chicken, plant protein-rich quinoa, black beans, corn, and cool avocado. This is a complete meal – and a superbly healthy one, at that! Plus, it's a great way to use what you have in the pantry. Recipe from A Saucy Kitchen.
Meat-Free One-Pot Meals
These recipes make up full meals without any animals. Whether you're aiming to cut down on meat consumption, or you follow a vegan or vegetarian diet, this is your one-pot guide to veg-friendly Instant Pot success.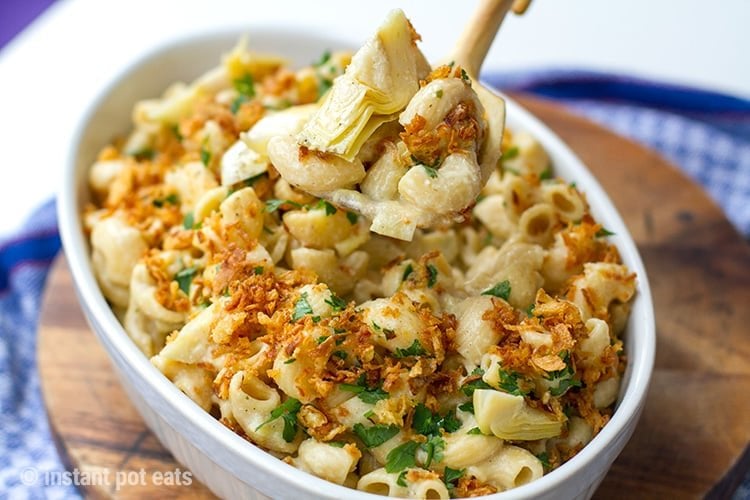 For a lighter, plant-based pasta dish, this vegan Instant Pot mac and cheese is made with dairy-free cashew sauce and artichokes and is velvety, creamy and full of flavor. Enjoy this healthier version in about 35 minutes. Recipe from Instant Pot Eats.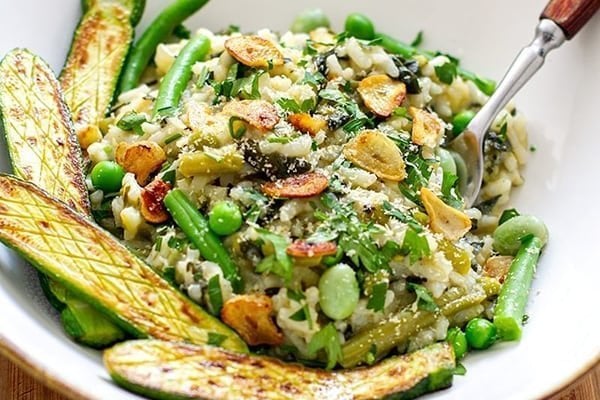 A creamy, velvety risotto that is much lighter and is made without butter or cheese? You got it! Our Instant Pot vegan risotto is loaded with green vegetables like kale, green beans and zucchini and is topped with fried garlic for amazing aroma and flavor. Learn how to make this one-pot gluten-free, plant-based risotto recipe and enjoy a meatless dinner that is filling and nutritious.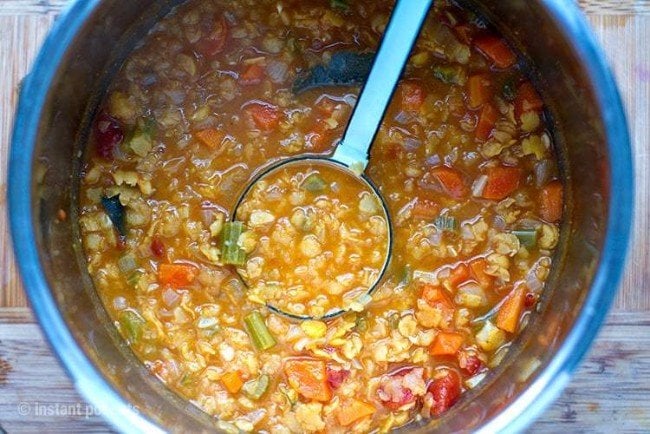 This stew is vegan and vegetarian-friendly, plus it's easy on the budget. It features plenty of good-for-you plant protein from split peas. Plus, you probably have most of the ingredients for it hiding out in the pantry right now. This is also a good one for the freezer, and it makes Meatless Mondays easy, breezy, and ultra-tasty. Recipe from Instant Pot Eats.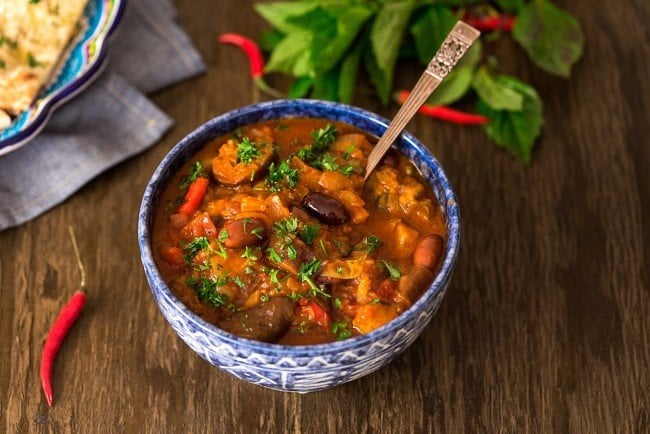 This dish is a bit reminiscent of Italian Caponata with a twist. It's bursting with beautiful, creamy eggplant, Thai chilies, red wine vinegar, fresh basil, and olives. It's good on its own or served over some quinoa, couscous, or rice. Recipe from Viva La Food.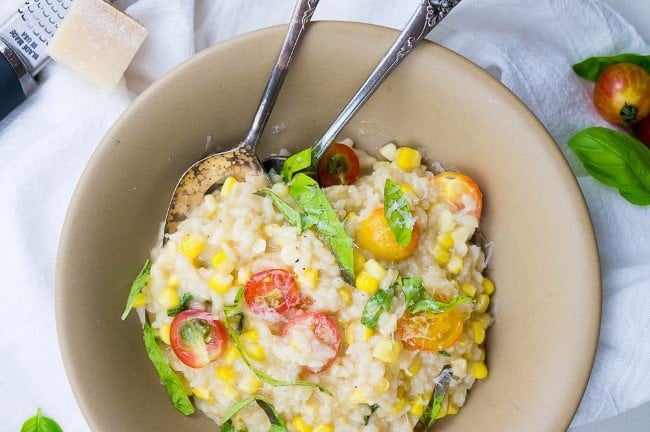 Lock in the flavors of summer with this fancy pants risotto. It features the best of the warm-weather bounty from sweet corn to ripe, cherry tomatoes. Risotto generally requires just one pot, but lots of stirring. Skip the hard work altogether with this gorgeous, rich, and refreshing dish. Recipe from Kitschen Cat.
Check out more of our favorite pressure cooker risotto recipes.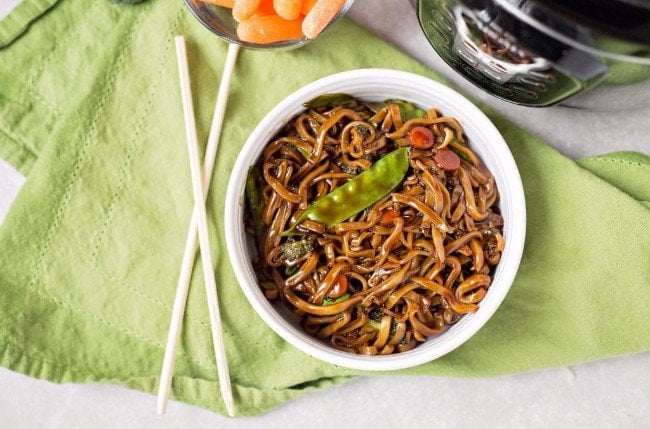 Skip takeaway for this perfect lo mein at home. This recipe is meat-free and vegan-friendly, loaded with fresh veggies and rice noodles, so it's also gluten-free. Winning! You could also swap out soy sauce for Tamari (wheat-free) or coconut aminos which is both wheat-free and soy-free. Recipe from Slap Dash Mom.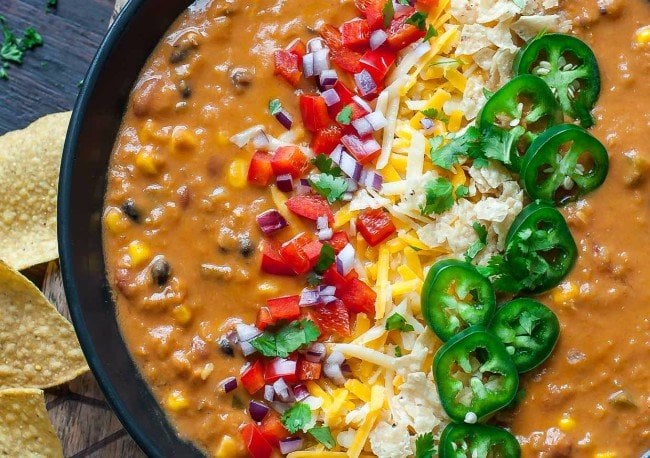 Tacos and burritos are fine and dandy, but sometimes, the traditional flavors and ingredients of Mexican food are meant for soup. This tortilla soup is meat-free with pinto beans, black beans, lentils, and corn makes up the bulk of it. Top off with your favorite garnishes. Slice some avocado to cool things down if you like. Recipe from Peas and Crayons.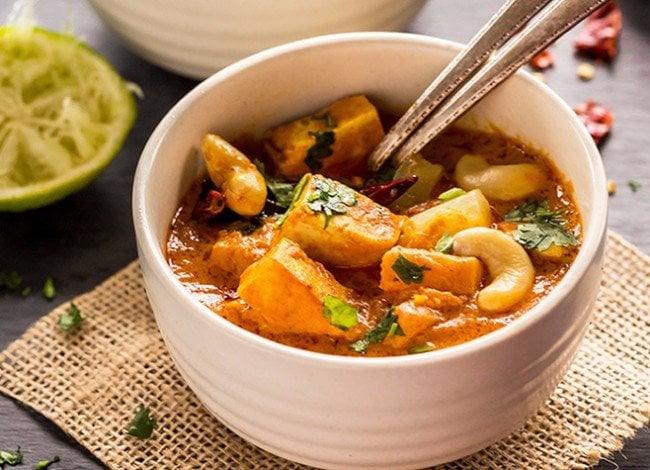 Curry is always a lovely one-pot meal. This vegan and gluten-free dish is bursting with tofu, pineapple, and delicious peanut sauce flavor for a satiating, savory dish you'll want to eat all week. You could easily swap tofu for chicken or beef if you're eating meat. Don't forget the crunchy cashew nuts! Recipe from Cook With Manali.
What's your favorite recipes for one-pot Instant Pot meals? Share with us below in the comments.