This one is for you, pasta lovers! From classic Italian dishes to mac'n'cheese and beyond, we've picked 20+ Instant Pot pasta recipes that are delicious, hearty and easy to make in your pressure cooker.
---
Oh, pasta! It's an undeniable love affair for many, no matter which way you swing. It's tempting, and we're right to give in sometimes because what's life without a little healthy indulgence? White sauce or red sauce, it's all gravy to us. We love the endless varieties of pasta out there from hearty and sturdy penne to delicate angel hair and linguine dishes.
We like veggies in our pasta as much as we like meat, and we can't get enough cheese on top. Seriously… that HAS to be the best part, and if you think pasta isn't merely a vessel to get more cheese into the mouth at once, well… we agree to disagree.
Oh, and the best thing about pasta? You can make pasta in the Instant Pot pressure cooker, which means less waiting and more eating. Here are 20 Instant Pot pasta dishes that will impress even your Italian grandmother.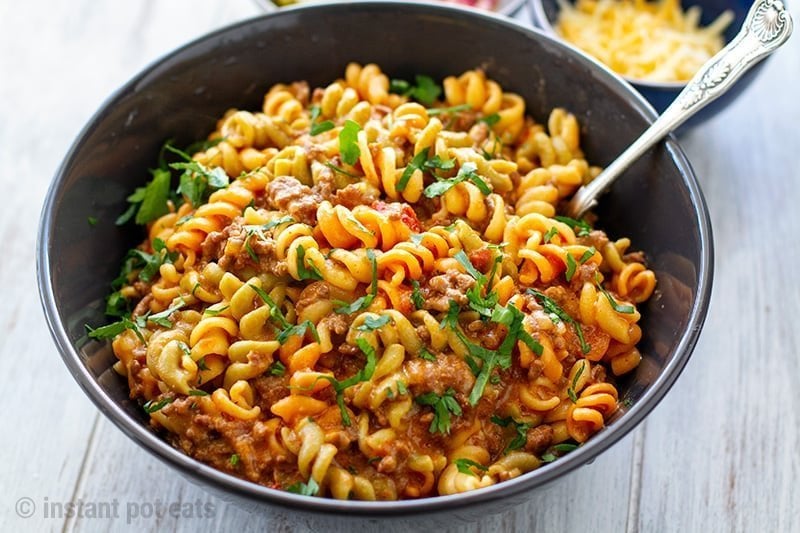 This Instant Pot hamburger helper inspired pasta is a great family meal and comes with a little cheeseburger twist. It's a perfect one-pot meal if you're looking for ground beef pasta recipes or needing a substantial meaty meal on the budget. Recipe from Instant Pot Eats.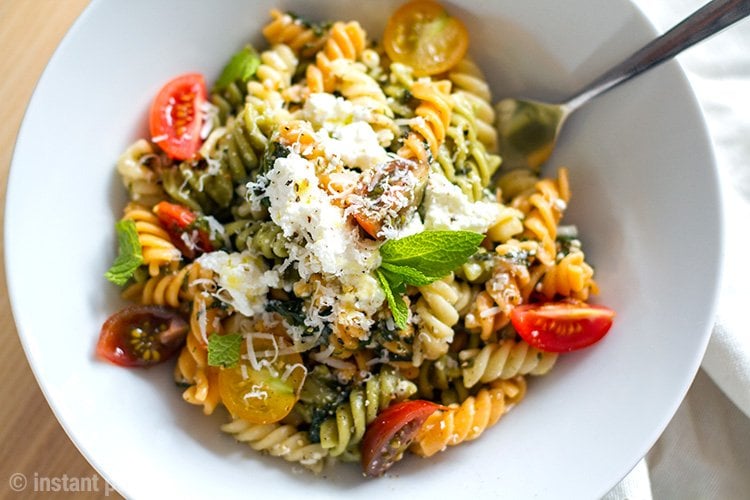 This fresh and light pasta is a perfect example of how to enjoy Italian cuisine in a healthy way. Made with nutritious ingredients such as protein and calcium-rich ricotta, spinach and lemon, it's a dish is that is both tasty and easy to prepare. Recipe from Instant Pot Eats.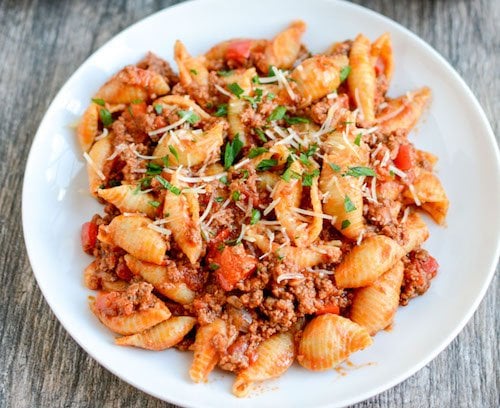 Who doesn't adore a good meat sauce over shells? This is a classic dish full of great flavor and heartiness. Plus, you can toss in some extra veggies to boost both texture and nutrition. Yum! Recipe from The Lean Green Bean.
Did someone say tomato cream? Paired up with a decadent sausage blend over penne, this is the pasta trio that appears in your dreams. Just don't forget some chopped bell peppers and fresh parmesan! Recipe from Paint the Kitchen Red.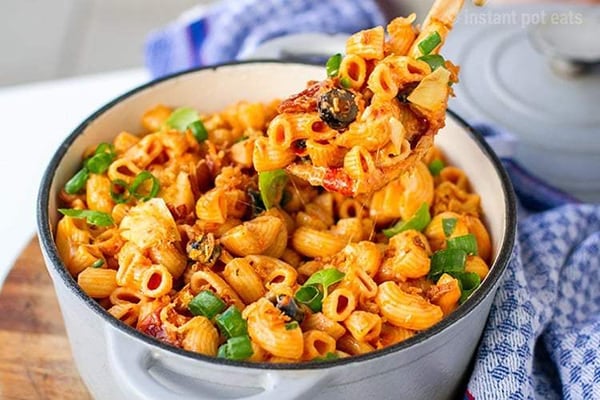 This Instant Pot mac and cheese pasta recipe has a rustic, Italian flare to it. With the addition of olives, artichokes and sun-dried tomatoes, and a hearty helping of mozzarella, this vegetarian wonder will have you drooling for days. Recipe from Instant Pot Eats.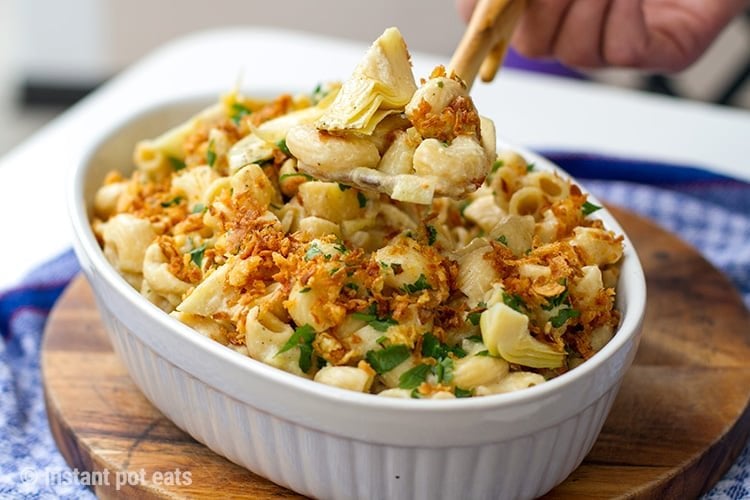 For a healthier, lighter version try this vegan Instant Pot mac and cheese made with dairy-free cashew sauce and artichokes, and is velvety, creamy and full of flavor. All in about 35 minutes! Recipe from Instant Pot Eats.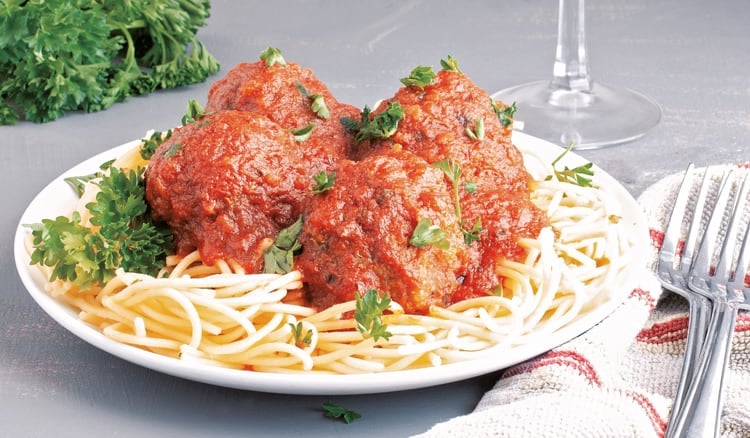 An Italian dinner for everyone is possible with this Instant Pot meatballs and spaghetti dish, substituting bread and egg with quinoa to make it gluten-free and egg-free. This is a great dish for kids! Recipe from Instant Eats.
The photo says it all. It's meaty, it's cheesy and it's perfect for those of you Italians who have high pasta standards. Rest assured – the Instant Pot is HERE to make it happen! There's a lovely mix of beef and pork in this one. Recipe from Homemade Food Junkie.
Basil, tomato, and mozzarella just work. Don't question it – eat it in this gorgeous Instant Pot pasta dish instead! Recipe from Ministry of Curry.
A simple dump and go Instant Pot pesto chicken pasta recipe that's done in less than 30 minutes! Make your own pesto sauce or use your favorite store brand. Recipe from Berly's Kitchen.
Your Italian grandmother might ask you what the heck you're doing making your pasta taste like pizza but HEAR US OUT. Five ingredients in this dish make it a weeknight staple that won't taste as easy as it was to put together. Pepperoni, mushrooms, cheese and tomato sauce step in for the pizza part. The pasta steps in for the pasta part. That's what we like to call teamwork. Recipe from Typical Mom.
No alfredo? No problem. You can still get your white sauce on with some hidden veggies in this cauliflower sauce which is much lower in fat. We're not knocking on fat, but on top of a heap of pasta, it can be quite a heavy meal! Garnish with sun-dried tomatoes and chopped green onion for the best flavour and texture. Our personal recommendation? Bacon. Recipe from Rebooted Mom.
While you could probably swap out any pasta for gluten-free noodles, this recipe focuses exactly on how to successfully cook rice noodles in the Instant Pot… so nobody even knows it's gluten-free! You could also make it paleo with tapioca noodles instead. This recipe includes some hidden veggies, but our personal suggestion would be to add even more. Recipe from Predominantly Paleo.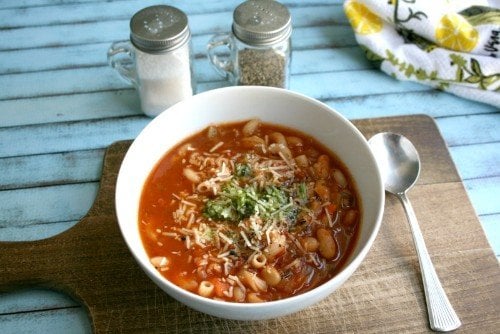 Pasta is the centrepiece of a good minestrone, adding the bulk of this gorgeous soup. This recipe has both gluten-free and vegan cooking options, so it's suitable for everyone and it's perfect to tote to a potluck. Having your pasta in soup forms helps to lighten things up, too, if spaghetti just isn't calling your name. It still has those same warming, comforting qualities. Recipe from Don't Mess With Mama.
Penne rigate is a no-frills recipe with satisfying results, especially when you take it to the IP to work its faster-than-lightning magic. Zucchini, mushrooms, shallot, and garlic fill in for adding variety and nutrient-density to each bite and the sauce recipe is just to die for. You'll have to try it yourself to see! Recipe from Pressure Cooker Recipes.

This Instant Pot creamy chicken and noodles recipe is based on a family favorite, chicken pot pie. This hearty meal is creamy, delicious and will please the whole family. This recipe is by our contributor Carlee from Cooking With Carlee. Recipe from Instant Pot Eats.
While this recipe is for the sauce, you can easily make some pasta – preferably pappardelle – in the Instant Pot too. Anyhoo, duck ragu is a fabulous way to get used to eating this sorely undervalued protein and a swift way to mix things up from your usual meat sauce. Garlic, fresh rosemary, and Marsala wine come in for a rich and flavourful sauce with "pour over everything" potential. Recipe from Every Nook and Cranny.
Learn how to make simple Instant Pot Orzo with lemon, Parmesan cheese and spinach for a perfect, hearty side dish or main. This lemony, cheesy orzo recipe only takes 20-25 minutes from start to finish and is vegetarian-friendly. Recipe from Instant Pot Eats.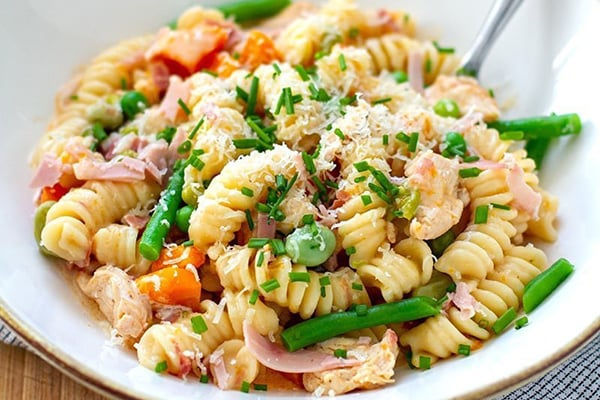 This kid-friendly Instant Pot chicken pasta with ham and vegetables is tasty and nutritious, with just a touch of cream and cheese that makes it velvety and hearty and provides a good serving of calcium and fat-soluble vitamins. Recipe from Instant Pot Eats.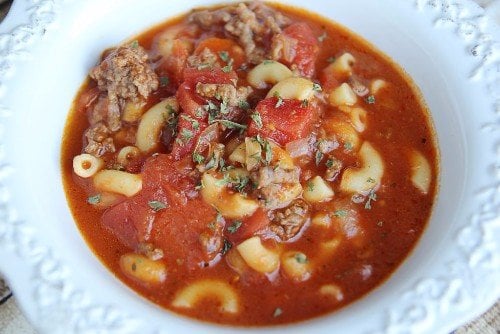 In case you're not familiar with goulash, it's an elbow pasta dish served with ground beef, onion, carrots and garlic in a tomato base with Worcestershire sauce, thyme and oregano. Basically, it's comfort in a bowl. It's the middle ground between soup and pasta, so if you can't make up your mind, opt for this! Recipe from It's Gravy Baby.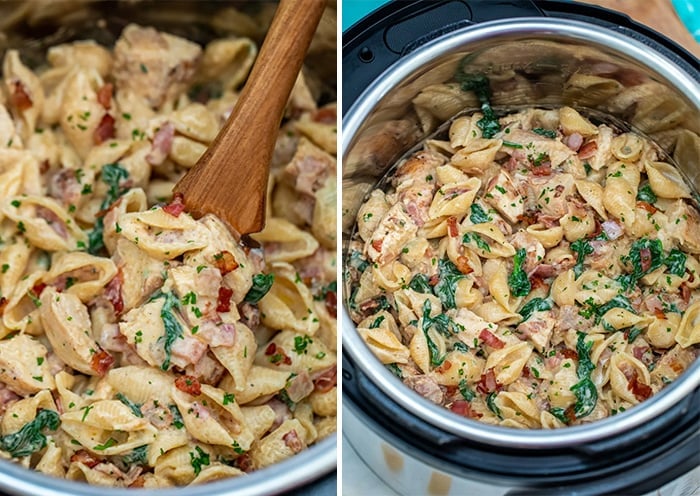 Instant Pot chicken bacon ranch pasta is a creamy and satisfying dish that the whole family will love. Ready in minutes, it makes for a quick hearty dinner! Recipe from Sweet & Savory Meals.
---
Which pasta dish are you most excited to make in your Instant Pot? Let us know and share this roundup with your pasta-lovin' pressure cookin' friends!