Kid-friendly Instant Pot recipes that will satisfy even the pickiest eaters! Try these healthy dishes and comfort food classics for a family breakfast, lunch or dinner.
---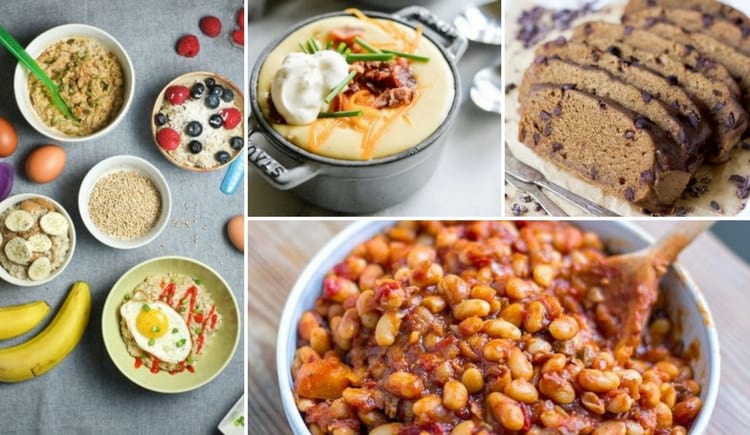 This one is for you, parents. If anyone knows struggle and triumph, it's you guys… and that's especially true when it comes to getting the kids to actually eat what you make!
How many of you have gone through all the effort of cooking a beautiful and nutritious meal, only for the little ones to dismiss it entirely, unwilling to even consider it edible? It's not an uncommon occurrence! Maybe YOU love your Instant Pot, but the kids don't quite get what all the fuss is about. How about you show them?
Children are tough critics, but you're a hard worker. You know better than anyone that time is of the essence, so it's only natural that you like pressure cooker meals. They simplify just about every aspect of cooking besides the mystery of, "Will my kid(s) actually eat this?" We're solving that one for you today with 15 kid-friendly Instant Pot recipes that are also great for you.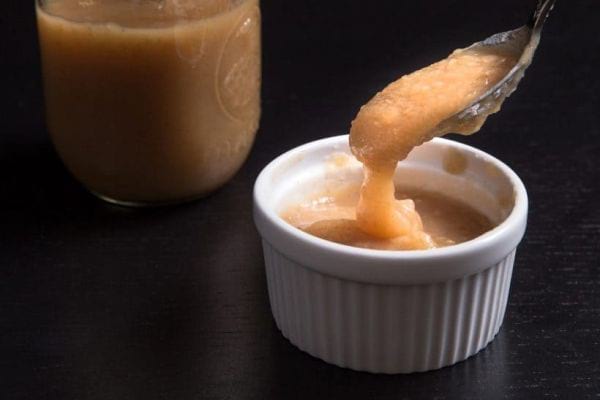 When you think of applesauce, you probably think of childhood. Your kids probably love the stuff, and you can actually feel good about packing this sweet treat in their lunch boxes. It can be rather expensive to buy the single-serving cups at the store, so save on money and plastic waste by making your own at home. You can choose the types of apples you use and cater to the kids' taste buds, too. You can choose to add additional honey to sweeten or leave it as is. Plus, it's beyond easy. This recipe practically makes itself. Recipe from Pressure Cook Recipes.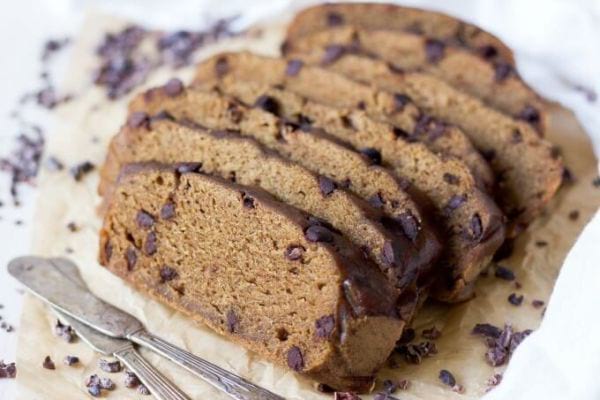 Here's a list of people who love banana bread: literally everyone. Even if we're working with a small margin, we're covering more ground by adding chocolate chips to the mix. Kids will eat this right up and so will you! Bonus: it's paleo, so it's grain-free and contains no refined sugar. You know that a little sugar goes a long way in a tiny human, and we want to avoid the 'bouncing off the walls' aftermath of dessert. This beautiful loaf steams up perfectly in the IP, and you can freeze it for easy lunch packing later down the road. Recipe from Recipes To Nourish.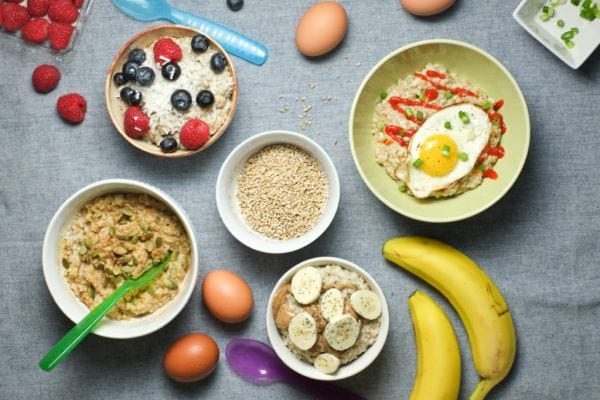 Steel-cut oats are a step above the rest, but they take much longer than quick oats to make. Enter the Instant Pot. In its typical way, it makes life simpler and cooking times shorter. Oats are no exclusion to the rule. This recipe is especially great to get some extra protein into the kids' diets. It's thickened and boosted with eggs stirred in before cooking. You can serve it either sweet or savory. Either way, it's a balanced breakfast that will fuel your little ones' brains and bodies. Recipe from Super Healthy Kids.
Getting the kids to eat healthy is an entirely different struggle than simply getting them to eat what you cook. Combine some of the magic of takeaway with a healthy rendition of orange chicken (which kids tend to LOVE!) and you've got a successful meal on the table. This variation is paleo and omits all refined sugar and grains while emphasizing protein, healthy fats, veggies, and flavor. Your kids will never know their "rice" is cauliflower… Recipe from Little Bits Of.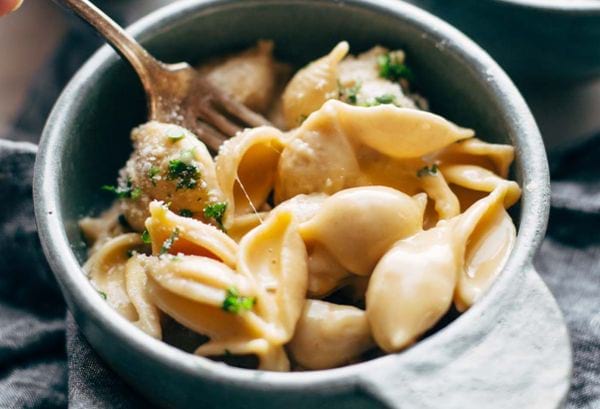 There are a few universal rules we can rely on through and through, even when times change. One is that kids adore macaroni and cheese… and can you blame them? This delightfully simple combination of pasta and cheese is something you just can't go wrong with. It's comfort food at its finest, and we all know it's better when it's done from scratch than when you make it from the box. This recipe contains just five ingredients and takes only four minutes, so the effort is comparable with wildly different results. Recipe from Pinch of Yum.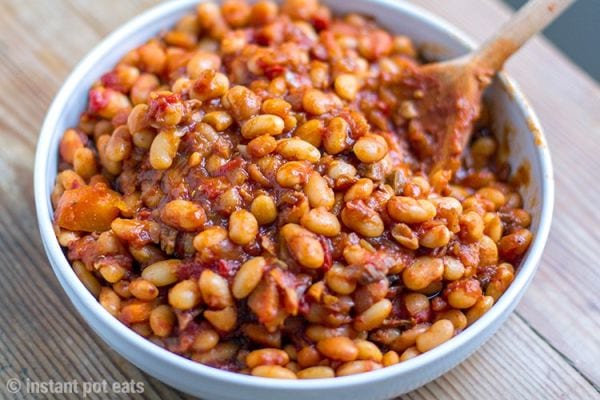 Baked beans are a highly palatable form of fiber and plant protein for kids with a sweet and savory bite that keeps them coming back for more. They're fantastic served over toast with eggs for breakfast or paired with hot dogs for a classic dinner, forming full meals that are entirely kid-friendly and mother-approved. Dried mushrooms add an extra layer of flavor to this batch, setting it apart from canned varieties while also going easy on the sugar. Recipe from Instant Pot Eats.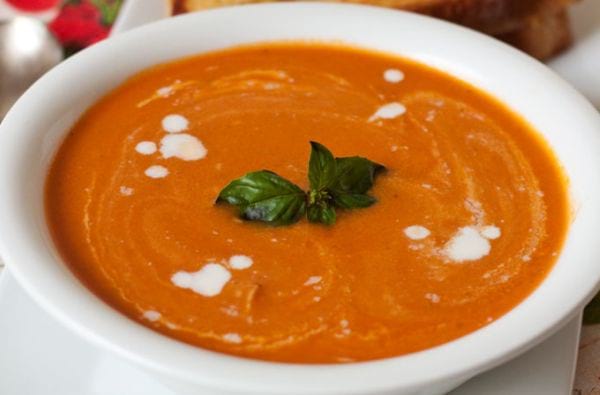 This lunch staple cooks up in just minutes, and it certainly beats the canned stuff. The kids will love this soup served with a grilled cheese sandwich for dipping. It still manages to squeeze in some veggies and fruit while maintaining its reputation for hearty and rich comfort food. Recipe from Pressure Cooking Today.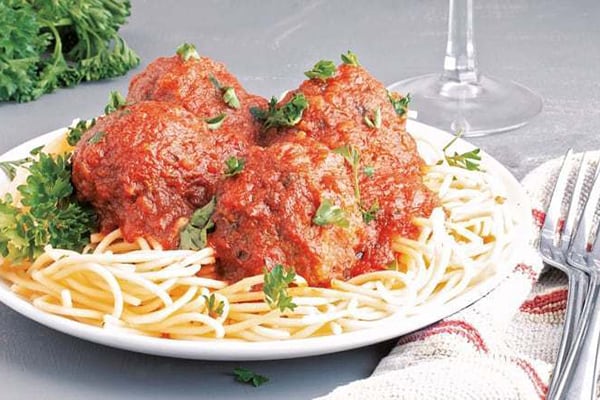 There isn't a single kid on the planet who doesn't get excited about spaghetti dinner! This pasta is a one-pot affair, cooking the spaghetti and meatballs simultaneously for ultimate simplicity. You can choose to make your own meatballs like this recipe does, or use frozen meatballs for an even easier meal. Top your plate off with a healthy dose of Parmesan, and you're good to go. This is the perfect meal for busy parents on weeknights.
When you mix up half a pound of bacon with a sack of russet potatoes, you're on your way to kitchen sorcery. It's that glorious blend of starch and rich fats that calls to everyone's brains and bellies, no matter their age or size. It's one big unanimous YES from everyone who catches a whiff of this stuff. With a little broth and sour cream, you've got yourself a meal with a small ingredients list, perfect for a last-minute dinner. Recipe from Fed & Fit.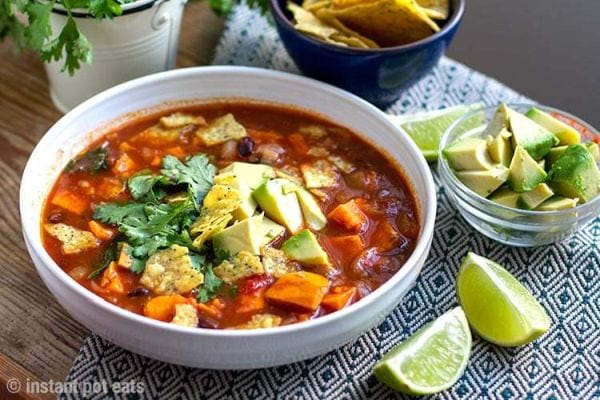 Sneaky veggies? Check. Protein? Check. Healthy fats? Check. All neatly packaged into a meal that your kids will actually enjoy? Check! We're hitting all the notes with this one. Tortilla soup is always a winner, and it's dairy-free and gluten-free so it makes a great choice for kids with allergies. Plus, they can easily customize it to their tastes with a wide variety of toppings whether they like cheese, avocado, tortilla chips, or a little bit of everything. Recipe from Instant Pot Eats.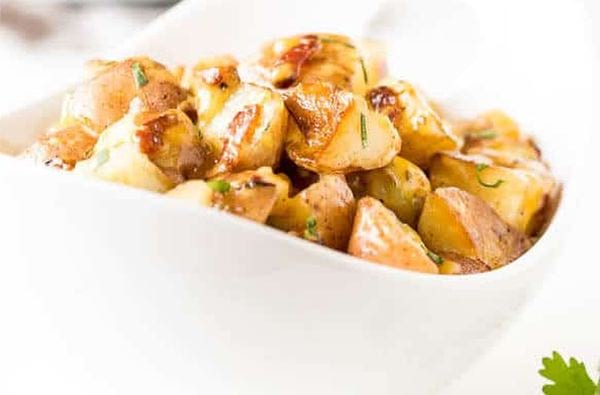 When it comes to a trio of foods you know will be foolproof across generations, you can always trust bacon, ranch, and potatoes to come in the clutch. When you add some cheese to the mix… well, you could call it witchcraft or straight-up magic. These are the perfect starchy side that might distract the kids enough to also eat their greens… who knows? It's worth a shot because you'll probably love these spuds too. Recipe from Sweet & Savory by Shinee.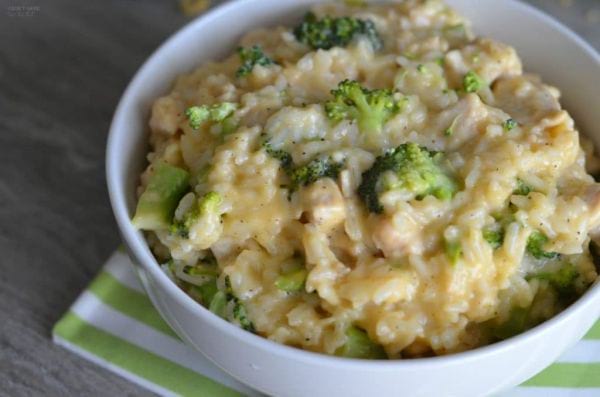 Greens aren't always easy to slip by a kid who is – for one reason or another – morally opposed to even looking at them. This chicken and rice dish is plenty cheesy to sort of bypass the whole vegetable thing, and the fun green look of the recipe might actually intrigue the little ones rather than turn them off. This is a weeknight staple and was personally one of my favorite dishes as a kid. Recipe from I Don't Have Time For That.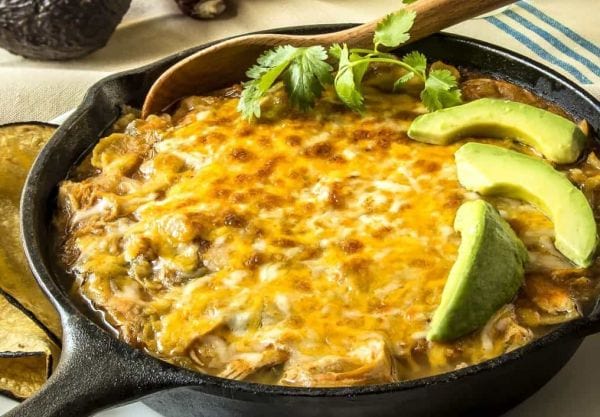 Casseroles are nothing fancy, but they are often quite easy and very satisfying, which makes this chicken enchilada recipe for the pressure cooker a clear winner for the dinner table. Taking on the flavors of enchiladas without the fuss of making them, this cheesy chicken dish comes together brilliantly with a quick bake in the oven to finish things off. The kids will love this served with tortillas or corn chips. Recipe from Two Sleevers.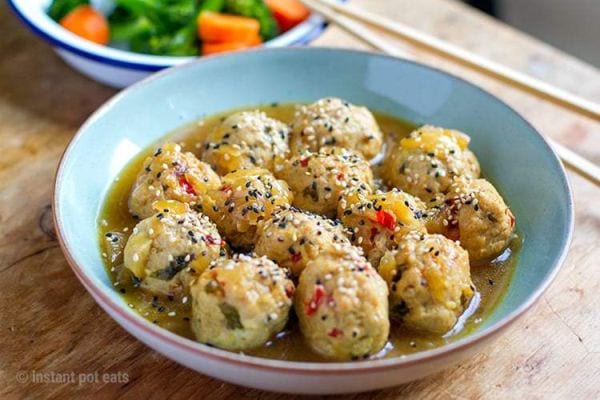 Kids love finger food. While you might be tempted to serve meatballs on a plate with a fork and knife, let the kids grab at them and gobble them up. A sweet teriyaki sauce is all the convincing they'll need to continue on chowing down with this recipe served in a delicious Japanese gravy. To make it more enticing, serve the gravy over steamed greens or veggies. If you've got truly picky eaters, opt for a simple side of fried rice (and maybe toss in some chopped carrots and onion). Recipe from Instant Pot Eats.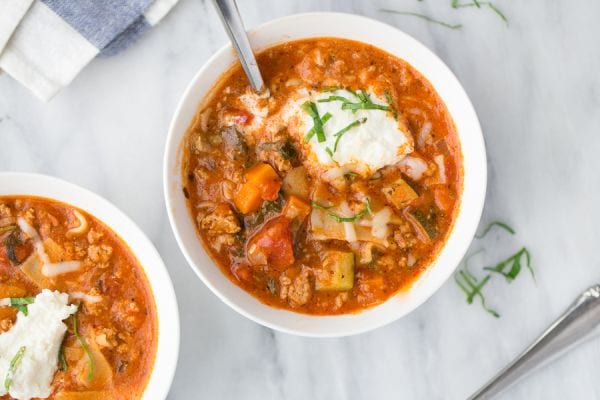 How do you get a kid to eat their veggies? Lasagna – duh. It's not exactly rocket science to layer up this dish in the oven, but making it in soup form keeps things easy on you while still getting all those classic flavors in with lasagna noodles, plenty of ricotta, and some fun (and healthy) additions. This recipe even puts gluten-free lasagna noodles to the test, so you can rest assured it will work out just fine in case you're working with rice flour pasta. Recipe from Meaningful Eats.
BONUS
Here are a few more kid-friendly recipes …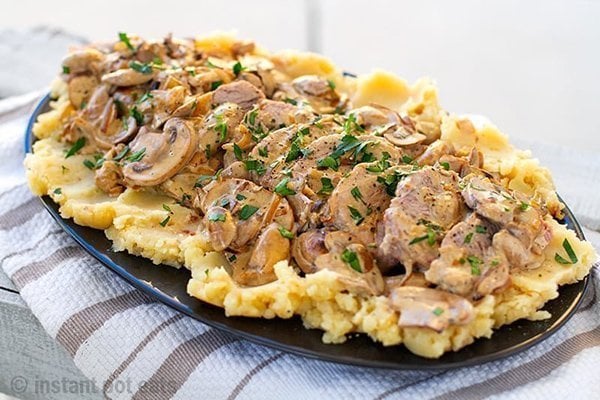 Pork tenderloin is a long, log-like piece of meat that is quite lean but very tender. It's a great way to have appropriate portion sizes for tiny tummies. Made together in the Instant Pot, will cut your cooking time and the pork will release all of its tasty juices straight into the potatoes resulting in heartier flavor. Recipe from Instant Pot Eats.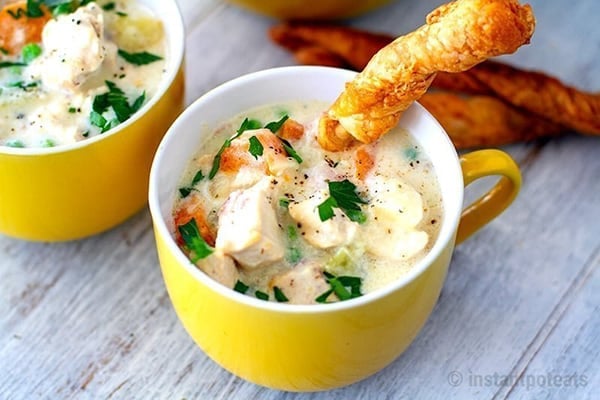 Here is the moment you can tell your child that they are having pie for dinner. Chicken pot pie that is!!! In this recipe you can make it in two ways: finished with the puff pastry crust traditional style or served open with pastry twist sticks to hold which they will love. Recipe from Instant Pot Eats.
Wake up to this Steel-Cut Oatmeal with Cranberries and Almonds in the morning. Oatmeal can be plain and boring. But not when it is nutty and creamy with an extra kick from tangy cranberries and toasted nuts. What's nice about making oatmeal in your Instant Pot is that you can walk away. You don't have to monitor the stove to prevent it from over boiling or drying out. Instead, you can just enjoy your much-needed coffee. If you're rushed in the morning, make this the night before and refrigerate it, then reheat. Recipe from Instant Pot Eats.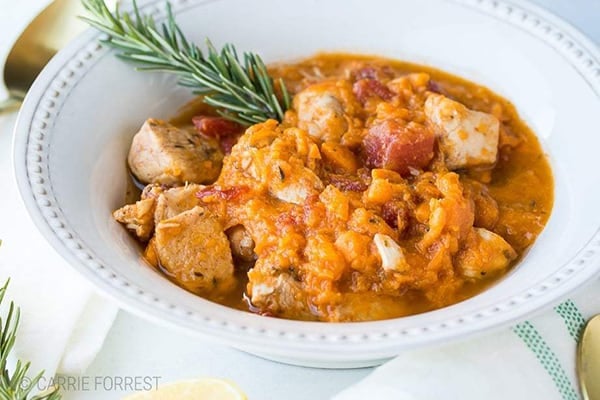 This Instant Pot sweet potatoes and chicken stew is one of those recipes you can keep in your back pocket when you just need something quick and easy. It's a whole meal in one pot, so it's super easy to throw together and clean up! This recipe is great for kids because it doesn't have onion or any other strong flavors that kids often don't like. It is also gluten-free and dairy-free. Recipe from Instant Pot Eats.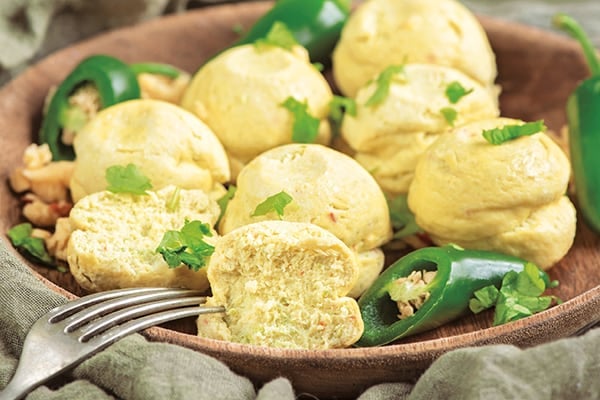 Jalapeño adds a nice kick to this easy to make and convenient egg bites. They can be popped into the microwave for a quick weekday breakfast and are gluten-free and grain-free. This is a guest recipe from Kristy Bernardo, the blogger behind The Wicked Noodle. The recipe can be found in The Big Book Of Instant Pot and from Instant Pot Eats.
Keeping a stash of frozen chicken nuggets in the freezer makes it easy to whip up a quick meal for kids, just add a healthy vegetable side dish to serve up a balanced meal. Crispy outside and tender inside, these nuggets are served with a delicious honey mustard sauce. Get the recipe here.
Now, it's just up to YOU to cook the recipes! Make sure to bookmark this one for later. We hope you enjoyed these kid-friendly recipes. Make sure to share this with fellow mums and dads who love their Instant Pots.