It's a kitchen appliance that's taking over the world but what is an Instant Pot exactly? In this post, you will learn the basics about this magical electric pressure cooker, what it does, what you can make in it, different models, how much it costs, customer reviews and more.
---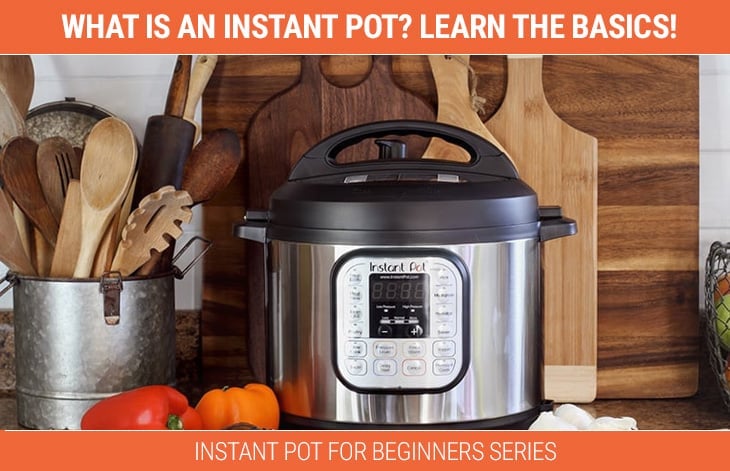 There is a worldwide love affair with a magical eclectic pressure cooker. More and more households are adding this wonderful appliance to their kitchens and for a good reason. While pressure cooking has been around since the nineties, it wasn't until the 3rd generation of pressure cookers entered the market, that the cult of this appliance was born. So, what is an Instant Pot and what's so magical about it? Keep reading or jump directly to a question.
---
What is AN Instant Pot EXACTLY?
The Instant Pot is simply an electric pressure cooker with multiple functions, which sets it apart from many kitchen appliances with a single purpose like a rice cooker or slow cooker.
If you're brand new to the concept, a pressure cooker – electric or stovetop version – creates a pressurized environment inside the pot, which cooks food (any food) much quicker than the oven or a regular pot on the stove. You can learn about how the Instant Pot works in more detail here.
The Instant Pot is also multi-cooker so in comparison to a gadget like a rice cooker, it has multiple functions instead of a single function. There have been dozens of models since it was first introduced, but they all possess similar features that make the Instant Pot what it is.
So, what does this "multi-cooker" entail? Well, it has functions of a simple pressure cooker, slow cooker, rice cooker, and yoghurt machine in one. While previously all of these appliances were sold separately, you can now have them all in one. You can also sauté foods in the Instant Pot, which is done without pressurizing and uses a heating element that sits just underneath an inner pot. It will even keep your food warm once it stops cooking.
The Instant Pot is a self-regulating machine in many ways. You don't have to be watching over it to make sure it turns off when it's done cooking. Gone are the days of exploding pressure cookers on the stovetop! The Instant Pot is super safe, efficient and economical.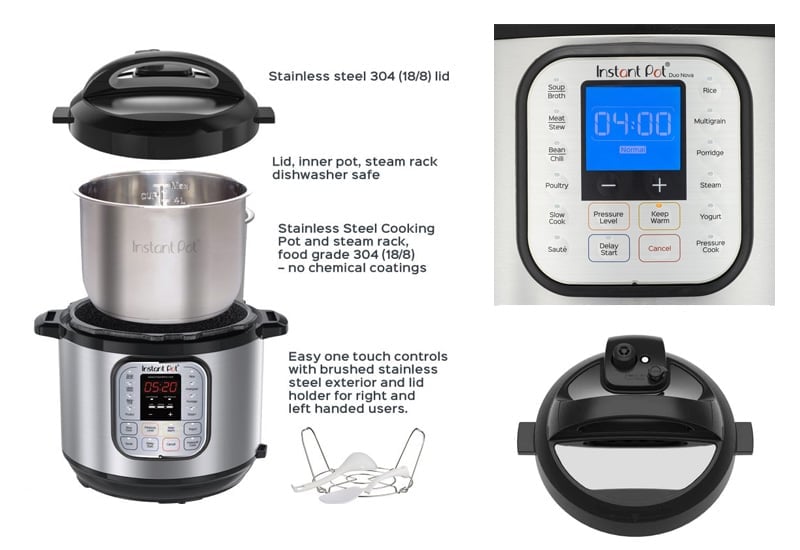 DIFFERENT MODELS OF INSTANT POT
When it was first launched, there was just one classic model called Instant Pot Duo 7-in-1. It came with an outer pot with button controls and a display screen on the front, the 6-quart stainless steel inner pot and the special lid with steam release handle and the pressure valve.
In the last few years, the Instant Pot company has released multiple new versions and sizes. We have Duo Plus, Nova, Viva, Ultra, and Max to name a few and most of them come in 3 popular sizes – 6-quart (for 5-6 servings of food), 3-quart (1-2 servings) and 8-quart (8-10 servings). There is even a 10-quart version for extra-large batches of cooking. You can see the full range of Instant Pot multicookers on the official website here.
Each new model came with more functions and buttons, more sophisticated display screens and finer adjustment possibilities. The makers have also made some improvements to the lid, so the steam-release handle changed to a simple knob button on later versions.
However, as confusing as all these new models may seem, they all do exactly the same thing – cook food under pressure in a controlled, safe environment. In our opinion, the newer models like Ultra and Max seem much more intimidating and overwhelming with bright digits and hi-fi buttons, so we prefer to stick with the classic models. All our website recipes are cooked in a 6-quart Instant Pot Duo or Instant Pot Duo Nova.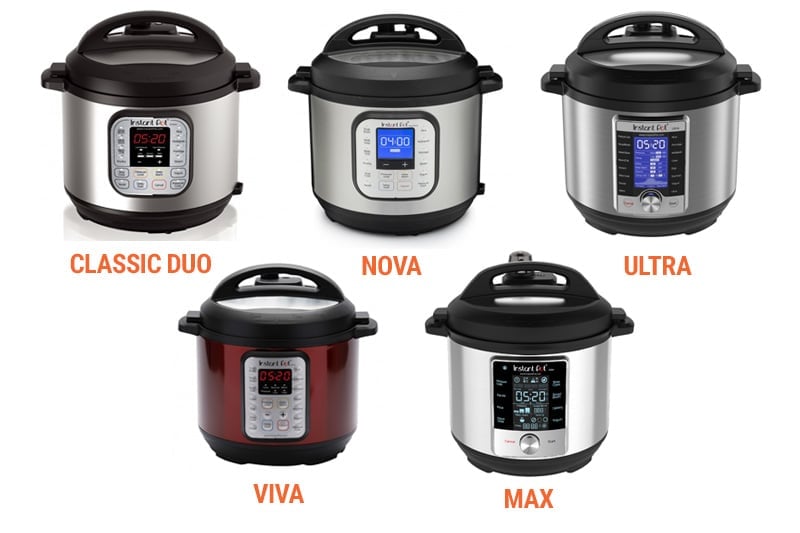 Why is it becoming so popular?
Plain and simple, the Instant Pot makes life easy. It cuts down the time spent in the kitchen and makes it more efficient to cook healthy, nourishing meals that taste really, really good!
For example, you can cook large roasts, broths, and stews that generally take 3-4+ hours to cook, in a mere 30 to 60 minutes. It also offers a timely way to cook grains, rice, lentils and beans. It's also replacing many people's crock pots and slow cookers since it has the ability to cook low and slow.
Like we mentioned above, it's a multi-purpose kitchen appliance, so it's especially handy for people with limited counter space, who want to utilise its multiple cooking abilities.
Plus, once you've done the prep and set the Instant Pot to work, there is plenty of time to relax away from the kitchen. Once the cooking is done, the food will be kept warm for up to 10 hours.
Finally, it's a huge money saver! It allows home cooks to easily utilise cheap cuts of meat, save on waste with recipes for stocks and broths, and develop recipes that freeze well and can be used later down the road.
WHAT CAN YOU MAKE IN THE INSTANT POT?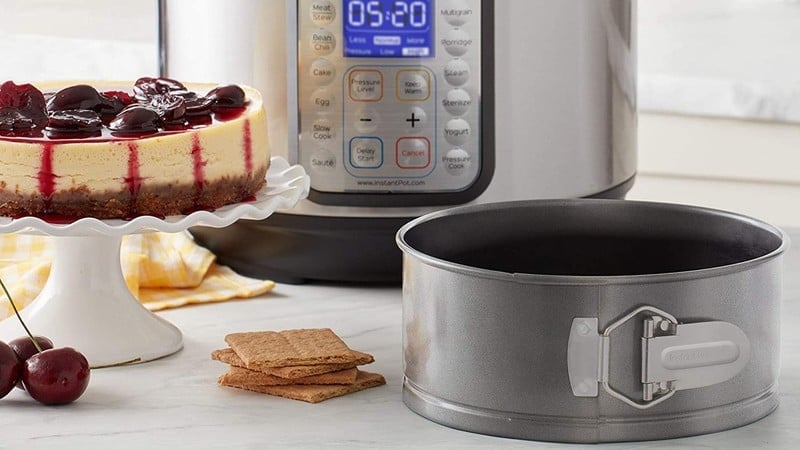 The real question is: what can't you make? You can pretty much cook anything that you can think of, whether it's steaming, roasting, slow cooking or canning. Many recipes are adaptable to the Instant Pot, even if they take a bit of trial and error. If you're an experimental cook, this pressure cooker will be one adventure after another. Here are some common recipes that can easily be made in this pressure cooker, and a few additional functions:
Yoghurt (coconut or dairy)
Roast meats and vegetables
Large and/or tough cuts of meat
Steel-cut oatmeal and porridge (try our blueberry oatmeal, OMG!0
Making cakes and cheesecakes (yes – seriously!)
Egg dishes (i.e. quiche or egg bites)
Applesauce
Cooking whole root vegetables quickly (try these whole baby potatoes with dill and butter)
Cooking grains quickly (try our turmeric rice here)
Cooking beans or lentils quickly
Keeping food warm once cooked
Slow cooking or pressure cooking crockpot recipes
Learn How To Use Instant Pot For Beginners Here.

How is the Instant Pot different from a stovetop pressure cooker?
The Instant Pot is an electric pressure cooker with internally built heating element while the stovetop pressure cooker is fueled by heat from a stove, whether gas or electric. Learn how the Instant Pot works in more detail here.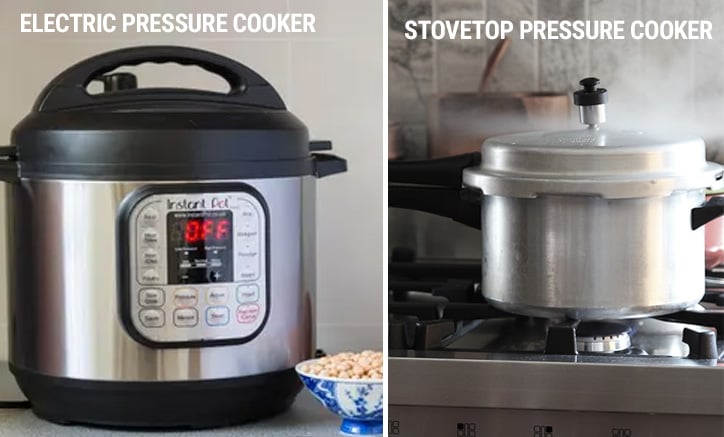 A pressure cooker works on a simple principle: steam pressure. A sealed pot, with a lot of steam inside, builds up high pressure, which helps food cook faster. Here is a video explaining how a traditional stovetop pressure cooker works. The physics of high-heat and steam under pressure also apply to the electric pressure cookers, except they require no monitoring or manual timing.
PRESSURE DIFFERENCE
Stovetop pressure cookers work at slightly higher pressure (and come to pressure quicker) than newer, electric versions like the Instant Pot. Almost every stovetop cooker reaches 15 psi (pounds per square inch) at high pressure; most electric pressure cookers reach between 9 and 12 psi. This is only really important if you want to adapt a stovetop pressure cooker recipe to an electric one because the cooking times might be slightly longer.
For comparison, stovetop pressure cookers are, on average, about three times faster than conventional cooking, while the electric pressure cookers are twice as fast.
LIQUID REQUIREMENT
Another difference is that the stovetop pressure cooker ejects a small amount of steam at high pressure (which is also what intimidates some people to use the traditional version) and thus has greater evaporation, especially during cooking times of 30 minutes or more. Instant Pot is so finely calibrated that it never puts out steam once the pressure lock engages. This means that the stovetop cookers require a little more liquid, about 1/4 cup more, for the same desired effects.
SAFETY
Stovetop pressure cookers require you to be more hands-on than an electric pressure cooker. With the Instant Pot, you can basically select the cooking settings and walk away until it's done. It does not pose many (if any) safety threats and its foolproof design and abundant safety features will help to reassure you. Here are some of the safety features of the Instant Pot:
Steam release.

This feature is made to ensure you will never have an excess buildup of pressure which can be dangerous. Instead, it will naturally let off additional steam. The floating valve on the lid indicates if the pressure is out and the lid is locked until it is safe to open.
Anti-block shield.

This keeps food particles out of the steam release valve which reduces the risk of blockage.
Safety lid lock.

The lid automatically locks and cannot be open once the cooker has reached pressure.
Lid position detection.

The pot will not function if the lid is improperly positioned and will not begin to increase the pressure until the lid is secure.
Automatic temperature control.

The temperature won't surpass a safe level based on the program being used.
Automatic pressure control.

If the pressure exceeds limits, the heating mechanism will be suspended.
Electrical fuse.

The pressure cooker will shut off if it exceeds limits of electrical current.
Thermal fuse.

If the temperature exceeds the limit, the pressure cooker will shut off.
Leaky lid detection.

The cooker can detect excess loss of steam which can lead to a burn notice. If the pressure is not reached, the temperature is reduced to decrease the risk of burning contents.
Quick-release button.

This button or handle ensures you can keep your hand out of the direct line that hot steam is released, reducing the risk of possible injury.
---
WATCH OUR TOP 10 VIDEO RECIPES
---
How much does the Instant Pot cost?
The IP-DUO60 7-in-1 costs $79-99 USD in its 6-quart version, although you can choose a smaller or larger model. The 8-quart pot is around $160 USD. Look out for seasonal sales, when you can get this magical pot at a cheaper price. But trust us, the investment is so worth it.
Where can I buy an Instant Pot?
You can purchase it on Amazon, or you might find it at your local kitchen store or big box store that sells kitchen appliances. The Duo Nova model is best for beginners.
Instant Pot pressure cooker reviews
Is THE Instant Pot right for me?
Wondering if you should get an Instant Pot? From the college student to the amateur cook, to the busy mamas and papas and the city-dwellers with tiny kitchens, this appliance an absolutely revolutionize your cooking! Check out 10 Types of People Who Need An Instant Pot
Instant Pot Recipe Cookbooks… Which one TO GET?
Are you the type a person who likes paper? Or rather a book to hold in your hand. There is a growing library of books solely dedicated to the subject, "Instant Pot". So where do you begin? Especially when you are spending money on purchasing these books that take up valuable space on your shelves. Check out our Cookbook Reviews.
Once you get the Instant Pot
Make sure to read our posts on how to do the water test, what happens if you get the burn message, check out our 101 series, learn about the accessories you can get for your new pressure cooker, and get inspired by the recipes below. Learn the steps for cleaning your Instant Pot here.
---
Popular Instant Pot recipes and ideas: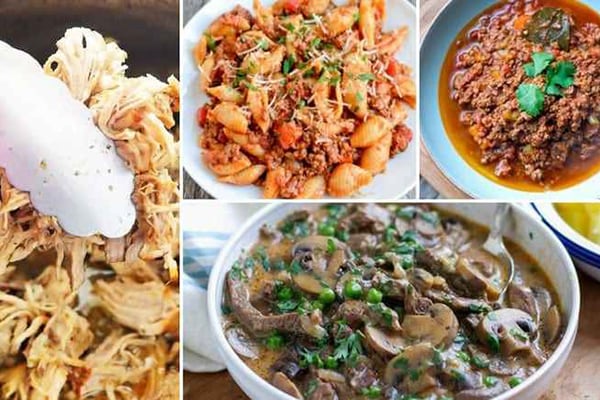 So, you just got an Instant Pot. What's next? Don't be that person who bought the pot but hasn't opened it, letting it sit in the box for months. Part of this is lack of time or just the intimidation factor. It can be a little scary when you keep hearing about the first time someone's released the pressure valve.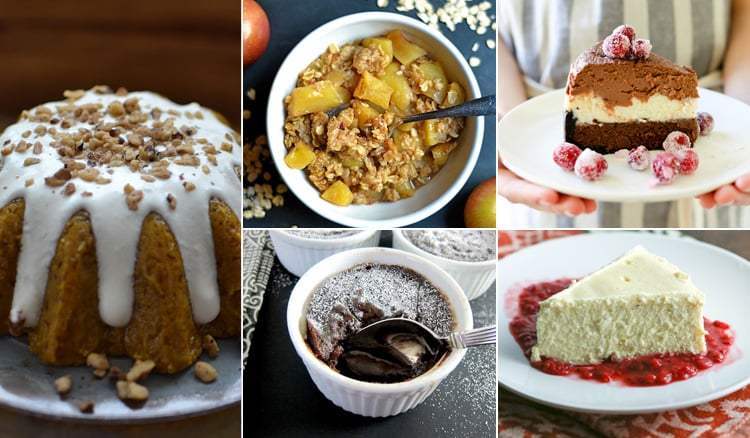 Baking isn't everyone's forte and we get that. Much like the Instant Pot makes cooking delicious meals an easier feat even for the amateur chefs, they can turn your baking mistakes into brilliant treats every time – minimal effort required.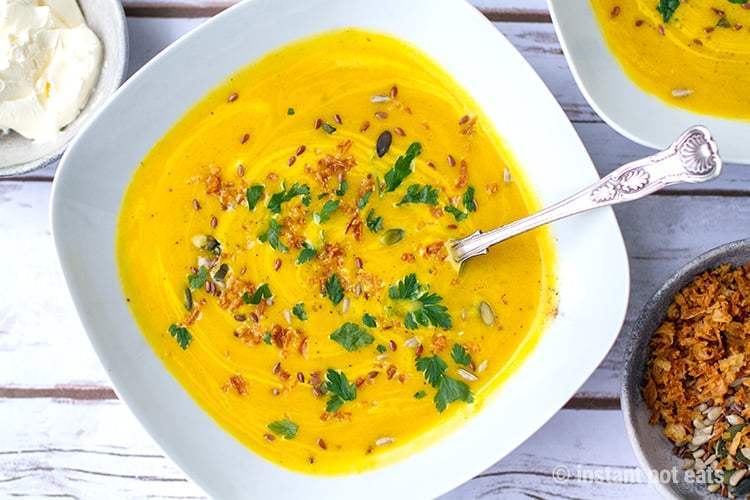 Cooking soups is one of the easiest things with Instant Pot and it's a great way to use up root vegetables, such as butternut squash. They add starch and body to the dish without having to use too many other thickeners. This dish is gluten-free, paleo, vegetarian and vegan-friendly.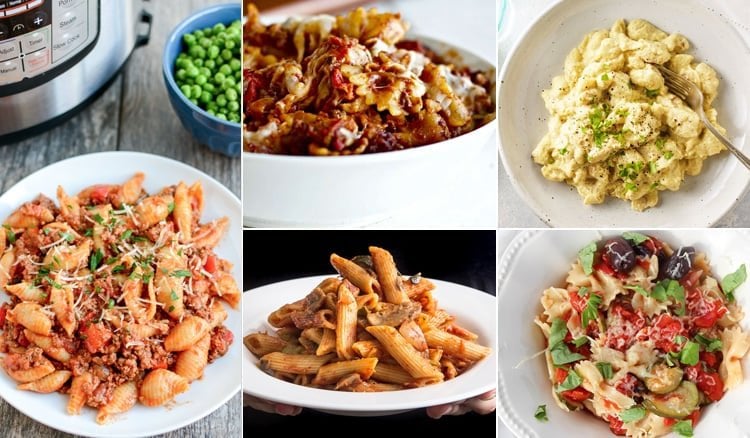 Oh, pasta! It's an undeniable love affair for many. What's life without a little healthy indulgence? We love the endless varieties of pasta out there from hearty and sturdy penne to delicate angel hair and linguine dishes. Here are 20 pressure cooker pasta dishes that will impress even your Italian grandmother.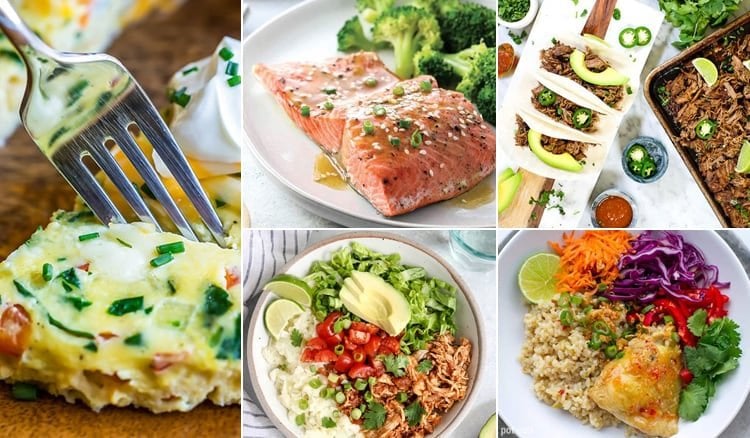 Decided to get healthier this year? Great! To go along with your new exercise regime you need a delicious and healthy diet to keep you nourished and energized. Sticking with healthy eating isn't always easy but the Instant Pot can certainly help you with some essentials required to succeed.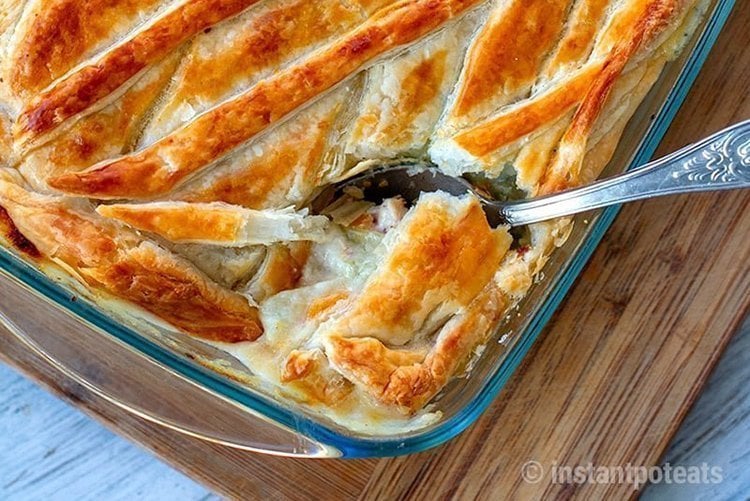 Is there anything more comforting than a hearty, creamy chicken pie? In this recipe, we show you how to make a chicken pot pie that can be done in two ways: finished with the puff pastry crust or served open with pastry twist sticks.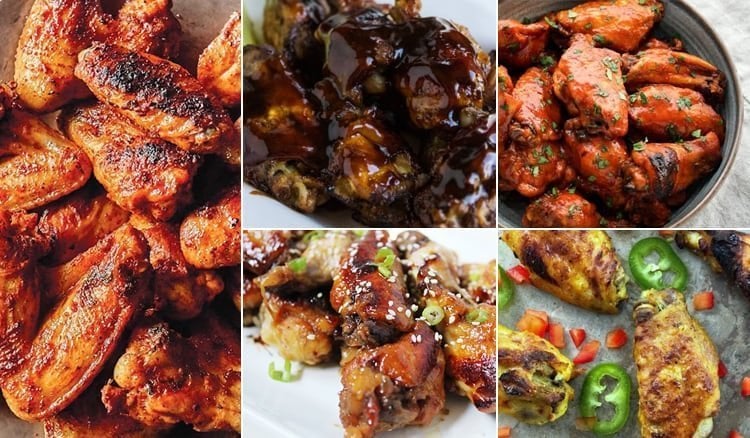 Chicken wings are always a finger-lickin' good choice that is totally worth the mess. For game day, barbecue parties and just preparing a super delicious dinner alongside a few simple sides. No matter what your craving, spice tolerance or sauce versus spice preference is, we've got an Instant Pot chicken wing recipe for you in today's roundup. Break out the napkins!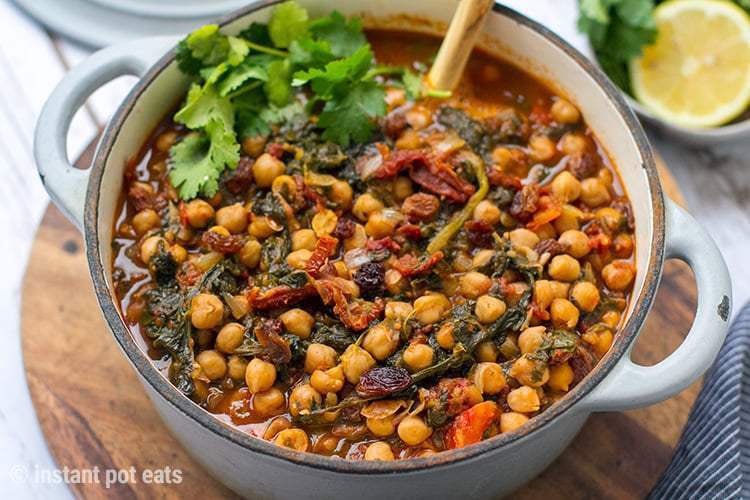 This vegan and gluten-free friendly Instant Pot chickpea stew is a delicious main meal full of Moroccan-influenced spices and flavors. Serve it over rice, couscous or with some crusty bread.
Learn more about the Instant Pot on their official website.
If you have any additional questions, ask away! If you're ready to purchase your Instant Pot, you can find the recommended model for beginners here.