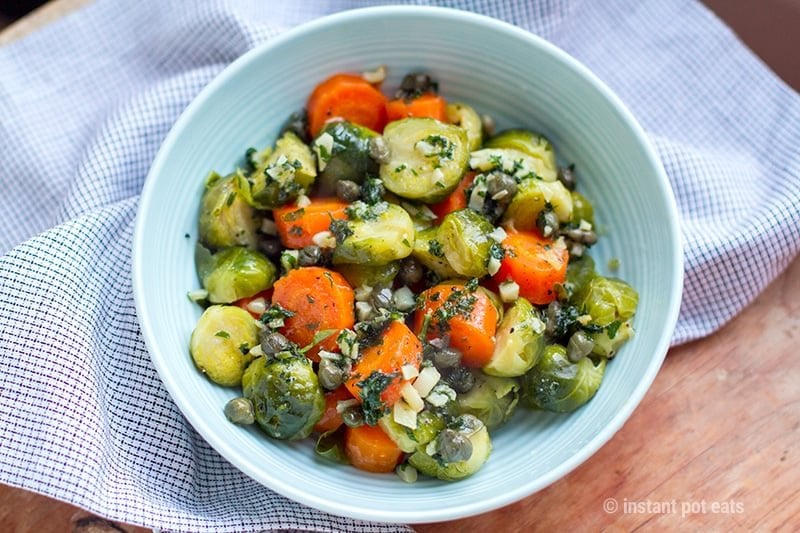 Let's all agree on one thing: steamed vegetables are boring unless you add some magic to them. While eating the veggies plain with no addition of fat or salt might seem like a healthier option, it's not actually always the case. Let me show you a delicious way to spruce up your steamed vegetables with a tasty butter sauce that is also good for you.
Before I get into the recipe, which is super simple by the way, I wanted to address the topic of healthy fats. Although you might have been led to believe that cutting out as much fat as possible is the way to go, it's not actually the healthiest way forward. The truth is that our bodies need fat. We need fat to perform certain metabolic functions, to fuel our brain, make sure our hormones work properly, and to help us absorb the fat-soluble vitamins in the food.
While steaming vegetables is a great idea – as this cooking method retains more nutrients – it's also important to add some healthy fats to the ready carrots and broccoli, so that your body can easily absorb all those fat-soluble vitamins (A, D, E and K). Plus, fats like grass-fed butter, coconut oil and olive oil are full of their own beneficial nutrients.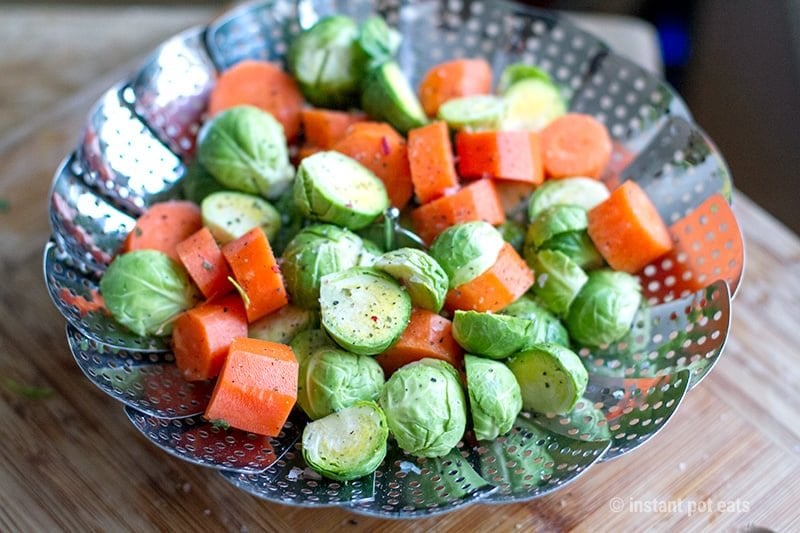 Our main rule when it comes to steaming any kind of vegetable is DO NOT OVERCOOK it. Soggy, over-soft Brussels sprouts and mashy carrots is not how the nature intended these vegetables to be eaten. Cooking them just enough will retain some crunch for texture (and fibre!) and their vibrant colour. Now, the thing about pressure cooking is that you have to experiment with the timings, to know how long you need for different vegetables and quantities. Using the STEAM button will set your Instant Pot to 10 minutes at High Pressure, which is WAY too long for steaming say Brussel sprouts or carrots.
There is a handy chart for cooking vegetables on the official Instant Pot website, but I think some of those time could be even lower. The point is, you have to experiment with the times to see what readiness works for you. I prefer my veggies on the crunchier side, and that's how you would have them served to you in a good restaurant.
The sauce that I made to go over our steamed carrots and Brussel sprouts is very versatile and you can use it over broccoli, cauliflower, potato or peas. Its Mediterranean flavours go with just about anything. One of my favourite meals is a piece of grilled chicken or fish, simply seasoned with salt and pepper, served with steamed vegetables tossed in this parsley, garlic and caper butter sauce. While the meat or fish is cooking, the Instant Pot will get the veggies done in no time. And the sauce only takes a minute on the stove.
Before you get cooking
Steaming: I used a metal steam basket but you can also use an ovenproof dish that fits inside the Instant Pot. Separating the vegetables from the water and allowing them to cook in the steam created inside the pot prevents the nutrients from escaping into the liquid. This is not a problem if you're making soups or braising vegetables, because you end up consuming the liquid. But when you boil vegetables, you discard the cooking liquid.
Dairy-free option: Instead of using butter you can use 2-3 tablespoons of olive oil or ghee (clarified butter) which is around 95% dairy-free.
Alternatives: Chopped sun-dried tomatoes, olives or good quality anchovies can be used instead of capers. Other fresh herbs such as oregano, thyme or basil will give you a different flavour variation. You can add lemon zest, a little mustard, and even some crispy bacon if you like. The idea is to add some stronger flavours to make the vegetables more exciting. Sometimes, good quality salted butter and freshly ground pepper are just the ticket as well. Just make sure to add some fats.
Print
Steamed Vegetables With Garlic, Capers & Parsley Butter
Author:

Prep Time:

5 mins

Cook Time:

5 mins

Total Time:

10 mins

Yield:

2

1

x
Category:

Side

Method:

Instant Pot Pressure Cooker

Cuisine:

Mediterranean
---
Description
Steaming vegetables just enough to retain some crunch for texture, fiber, and vibrant color is the mission. How long you need to cook in the pressure cooker for different vegetables and quantities can seem like an experiment of times. So here's some help!
---
Scale
Ingredients
2

large carrots, peeled and sliced thick

0.7

lb / around 300 g Brussels sprouts, halved
sea salt and pepper

1 cup

of water
For the butter sauce
1 oz

/ 30 g good quality salted butter (if using unsalted, add a little more salt)

1 tablespoon

baby capers

1 tablespoon

chopped fresh parsley

2

cloves garlic, finely diced

1

small lemon peel

2 tablespoon

s lemon juice
---
Instructions
Add a cup of water to the pot.
Place the vegetables inside the steam basket or the ovenproof dish and place inside the pot. Season vegetables with a generous pinch of sea salt and pepper.
Place and lock the lid, make sure the steaming is pointing to sealed. Press Manual, High Pressure and set to 0 minutes. Don't worry, the veggies will cook during the build-up of the pressure. Once the time is up, use the quick release method to let out the rest of the pressure. Open the lid once the pressure valve is all the way down again.
While the vegetables are cooking, add the sauce ingredients (except for lemon juice) to a small pot and place over medium-high heat. Once the butter has melted, cook for about a minute, stirring frequently to prevent burning. Remove from heat and set aside.
Remove the steam basket from the pot (I use tongs to lift it out) and transfer the vegetables to a serving bowl. Drizzle with lemon juice and then spoon the sauce evenly over the top. Serve while hot.
---
Keywords: Mediterranean Steamed Vegetables Carrots Brussel Sprouts Garlic Butter Sauce Healthy
---