These Instant Pot Baby Potatoes with dill & butter will compliment any main course on the table. It's a delicious crowd-pleasing side dish that works with any dietary restriction. 
---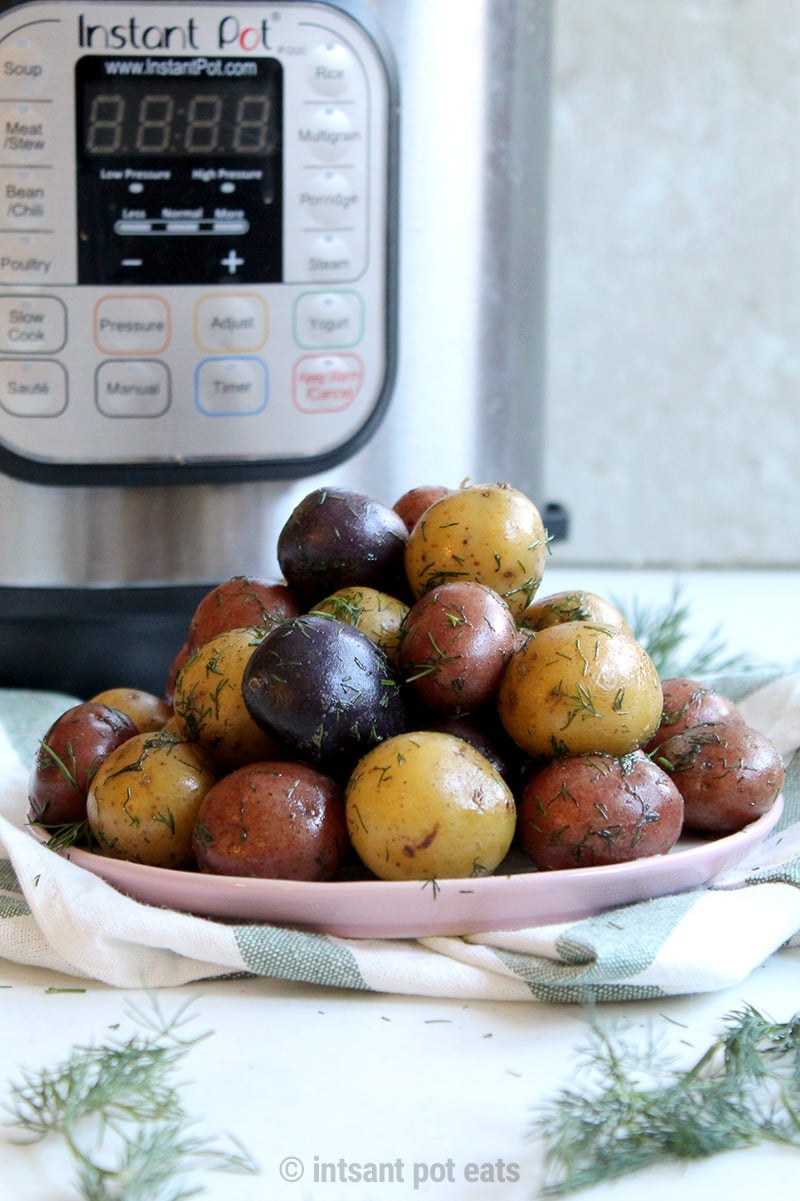 "If beef's the king of meat, potato's the queen of the garden world", a quote from an Irish saying. Potatoes seem to be the primary staple food for most of the world. But why? Because potatoes are easy to grow if you are not rich. They originated in Peru, then made it's way over to Europe.
In the agricultural industry, you need a lot of land.  Grain crops need space to grow and a lot of labour to process. Therefore, only rich landowners who have the land could grow crops, pay labourers to do the work, and then pay for cutting, threshing, winnowing and milling to end up with flour. So looking back on history, a lot of people were left hungry. Then the potato was introduced into common society in both Europe and the Americas.
Potatoes can be grown in a small garden, a pot or even Mars (if you've seen the movie The Martian). The only processing is to dig up a few, wash them and cook them. When something is a staple, it becomes part of the culture's cuisine. This particular potato dish is popular in Central & Eastern Europe as dill and butter are a common way to flavor the potatoes there.
Since potatoes are a starchy staple, you can add different seasonings to keep it interesting. For a Mexican flare try chopped cilantro & olive oil, or Italian try dried Italian herbs, rosemary or chopped basil and olive oil. Leftover potatoes can be refrigerated and used for a potato salad, turned into hash or pan-fried with an egg on top for breakfast.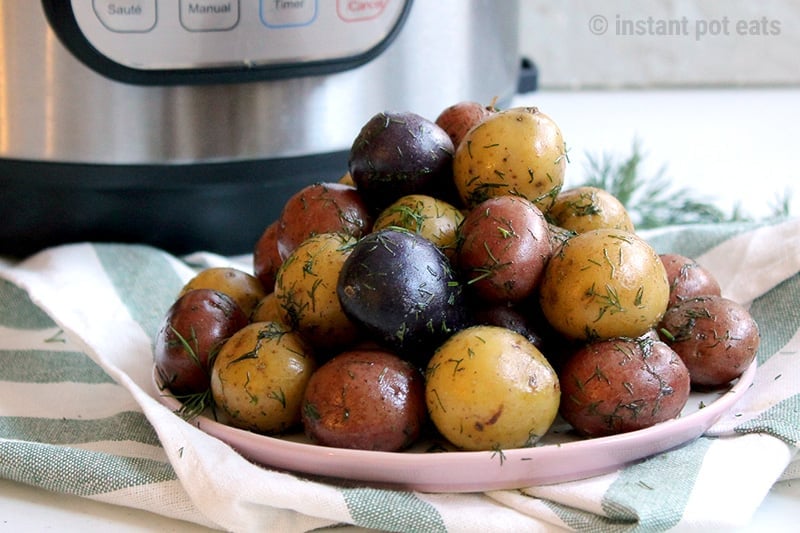 Print
Instant Pot Baby Potatoes
Prep Time:

10 minutes

Cook Time:

20 min

Total Time:

30 minutes

Yield:

6 servings

Category:

Potatoes

Method:

Instant Pot Pressure Cooker

Cuisine:

Central & Eastern Europe
---
Ingredients
For cooking:
About 1.5 – 2 lb baby potatoes, washed but not peeled (cut the larger potatoes in halves)
2 cups water
1 teaspoon salt
To finish off:
2 tbsp salted butter (if using unsalted, add a little more salt)
1/3 cup finely chopped fresh dill
1 clove garlic, minced
½ teaspoon salt
½ teaspoon pepper
---
Instructions
Add the whole potatoes, water and salt to the Instant Pot. Set to Manual, HIGH pressure for 10 minutes. Once cooking finishes, allow 5 minutes for natural pressure release and then use the quick release method.
Strain the water, return the hot potatoes back to the pot and add the butter, dill and garlic. Season with salt and pepper. Mix well and serve.
---
Notes
Alternative ways to flavor the cooked baby potatoes:
Spanish: chopped parsley & olive oil
Italian: dried Italian herbs, rosemary or chopped basil and olive oil
Mexican: cilantro & olive oil
Irish: chopped scallions & butter.
Keywords: potatoes, dill, garlic, butter, pressure cooker