A Mediterranean diet is a way of eating that is inspired by the people of the Mediterranean region who focus on generous portions of fresh produce, whole grains, and legumes, some healthful fats, and fish. In today's post, we are featuring Instant Pot Mediterranean Diet recipes based on these ingredients and principles.
---
What is the Mediterranean diet?
A Mediterranean diet means eating in the way that the people in the Mediterranean region traditionally ate. It is rooted in the coastal cuisines of countries such as Greece, Spain, Italy, France, and northern Africa.
Since there are many countries around the Mediterranean sea and people in different areas may have eaten different foods, there is no one right way to follow the Mediterranean diet.  
It puts a higher focus on plant foods than many other diets. Generous portions of fresh produce, whole grains, and legumes to make up all or most of a meal, as well as some healthful fats and fish.
Interest in the Mediterranean diet began in the 1960s with the observation that coronary heart disease caused fewer deaths in Mediterranean countries, compared to the U.S. and northern Europe. More than half of the calories from fat come from monounsaturated fats, such as olive oil, therefore the diet may not be right for people who need to limit their fat intake.
Benefits of the Mediterranean diet
The Mediterranean diet is good for your heart, and your brain, stabilizes blood sugar, and helps with depression and anxiety. It can cause weight loss, help prevent heart attacks, strokes, type 2 diabetes, reduce the risk of Parkinson's disease, reduces the risk of cancer, reduces the risk of Alzheimer's, and premature death. Help Guide: The Mediterranean Diet
Mediterranean Diet Food List
Eat plenty of: Vegetables, fruits, nuts, seeds, legumes, potatoes, whole grains, bread, herbs, spices, fish, seafood and extra virgin olive oil.
Eat in moderation: Poultry, eggs, cheese, and yoghurt.
Eat only rarely: Red meat. Lamb and roasts are eaten on more special occasions such as weekends or family gatherings.
Don't eat: Sugar-sweetened beverages, added sugars, processed meat, refined grains, refined oils, and other highly processed foods.
Mediterranean Grocery List:
Vegetables: Tomatoes, broccoli, kale, spinach, onions, cauliflower, carrots, Brussels sprouts, cucumbers, etc.
Fruits: Apples, bananas, oranges, pears, strawberries, grapes, dates, figs, melons, peaches, etc.
Nuts and seeds: Almonds, walnuts, macadamia nuts, hazelnuts, cashews, sunflower seeds, pumpkin seeds, etc.
Legumes: Beans, peas, lentils, pulses, peanuts, chickpeas, etc.
Tubers: Potatoes, sweet potatoes, turnips, yams, etc.
Whole grains: Whole oats, brown rice, rye, barley, corn, buckwheat, whole wheat, whole-grain bread, and pasta.
Fish and seafood: Salmon, sardines, trout, tuna, mackerel, shrimp, oysters, clams, crab, mussels, etc.
Poultry: Chicken, duck, turkey, etc.
Eggs: Chicken, quail and duck eggs.
Dairy: Cheese, yoghurt, Greek yoghurt, etc.
Herbs and spices: Garlic, basil, mint, rosemary, sage, nutmeg, cinnamon, pepper, etc.
Healthy Fats: Extra virgin olive oil, olives, avocados, and avocado oil.
What to Drink
Water
Wine only in moderation (around 1 glass per day).
Coffee and tea are acceptable but avoid sugar-sweetened beverages and fruit juices, which are very high in sugar.
Avoid
Added sugar: Soda, candies, ice cream, table sugar, and many others.
Refined grains: White bread, pasta made with refined wheat, etc.
Trans fats: Found in margarine and various processed foods.
Refined oils: Soybean oil, canola oil, cottonseed oil, and others.
Processed meat: Processed sausages, hot dogs, etc.
Highly processed foods: Anything labelled "low-fat" or "diet" or which looks like it was made in a factory.
More information on the Mediterranean Diet:
Mediterranean Diet 101: A Meal Plan and Beginner's Guide
12 Reasons to Love the Mediterranean Diet
Best Instant Pot Diet Recipes
---
Italian Fish With Tomatoes, Capers & Olives (From Frozen)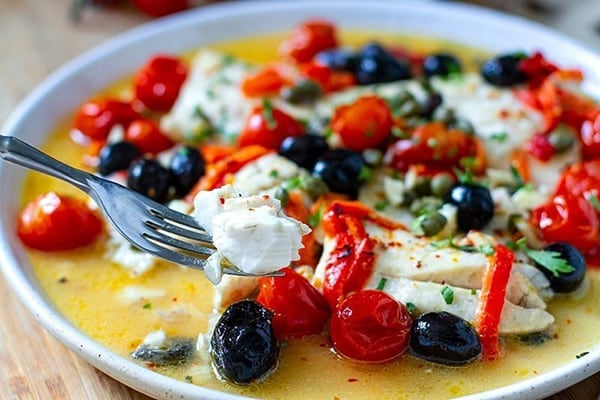 The frozen fish is cooked in the Instant Pot in Italian broth flavored with classic Mediterranean ingredients: olives, garlic, capers, tomatoes, and healthy olive oil. The flavors are tangy and savory with a little sweetness from cherry tomatoes, and it infuses the fish while it braises in the broth. It's a dump-n-cook recipe that is fantastic even for Instant Pot beginners. This dish is gluten-free, paleo, low-carb and Whole30 diets. Get the recipe on our blog here.
Instant Pot Chickpeas With Salsa Verde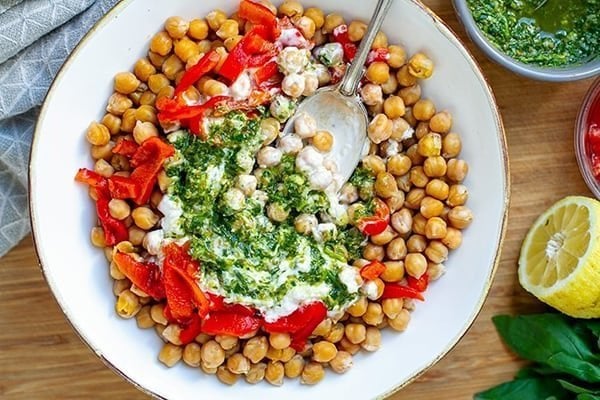 Whether you like them in salads, hummus, stews or soups, cooking chickpeas in Instant Pot is super convenient and affordable. Using dried chickpeas (garbanzo beans), you can pressure-cook them much quicker than using the stove. This dish is gluten-free, vegetarian and vegan-friendly. Enjoy! Get the recipe on Instant Pot Eats.
Pasta With Ricotta, Lemon & Spinach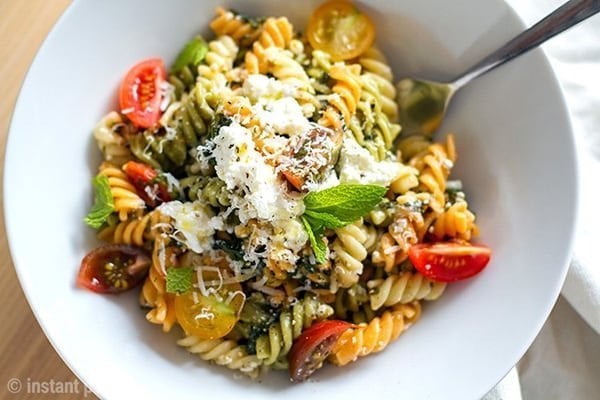 This Instant Pot pasta with ricotta, lemon and spinach is the kind of nutritious Italian dish that you can easily enjoy as part of a balanced, healthy diet. It's got a lot of protein as well as carbohydrates, healthy fats, vitamins and minerals in an easy and fast-to-prepare one-pot dish that the whole family will enjoy. Get the recipe here.
Braised Chicken Scarpariello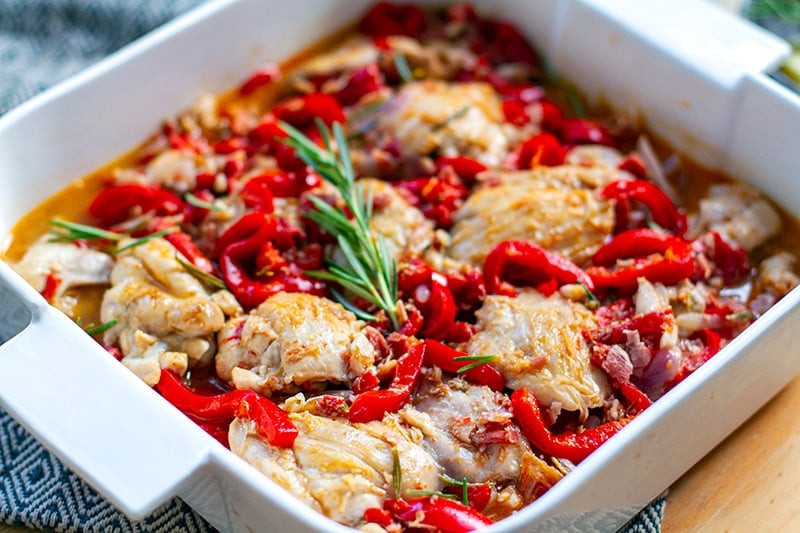 This Instant Pot chicken scarpariello recipe is a pressure cooker version of the American-Italian classic dish made with poultry and sweet and sour sauce of pickled roasted red peppers and rosemary. This sensational dish can be served over your favourite pasta, polenta, rice or vegetables. Recipe on our blog here.
Mediterranean Horta Greens With Potatoes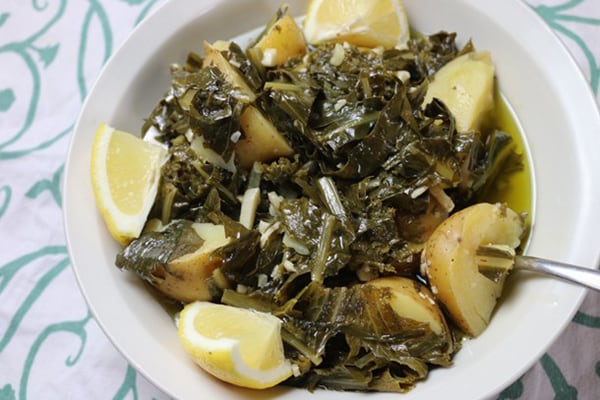 Horta and potatoes are a perfect example of why scientists believe the Mediterranean diet and lifestyle is so intertwined with longevity. Combine these greens, potatoes, and lemon with lots of fresh extra virgin olive oil and you have one of the healthiest, inexpensive, and fulfilling dishes from Crete. Recipe from Mediterranean Living.
Tomato Barley Risotto With Marinated Feta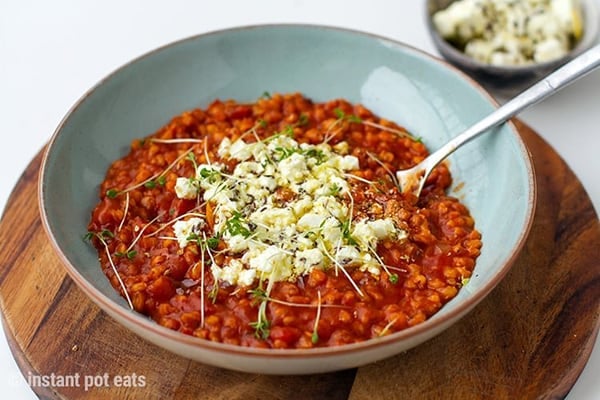 This rich and hearty Instant Pot barley risotto comes with delicious Mediterranean flavors of tomatoes and thyme and is topped with fresh marinated feta. Its unison of bold flavors and unique textures will make you fall in love with pearl barley. Recipe on the blog here.
Healthy Salmon With Broccoli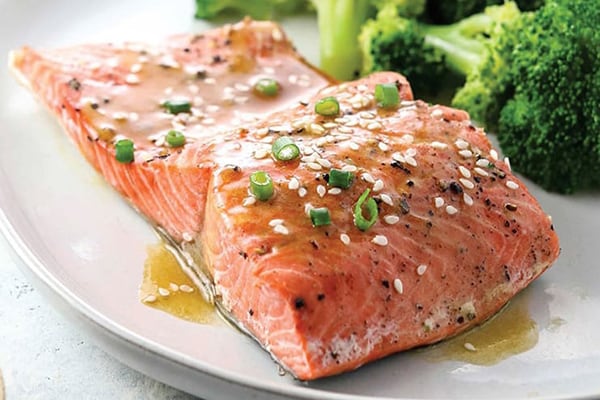 Salmon is an excellent source of protein and omega-3 fatty acids, and it comes to perfection in just minutes in the Instant Pot. Because the broccoli cooks even faster than the fish, you add it at the very end of the cooking process to ensure it doesn't turn to mush. Recipe on Instant Pot Eats blog here.
Instant Pot Vegan Bolognese

If you love homemade Italian cuisine, you must try this vegan bolognese recipe. This meat-free version is made with red lentils and mushrooms, pressure cooked in a gorgeous, rich tomato sauce. You'll be surprised by how satiating and hearty this dish is, making it a worthy rival to its traditional meaty cousin. Recipe on our blog here.
Instant Pot Turkish Lentil Stew/Soup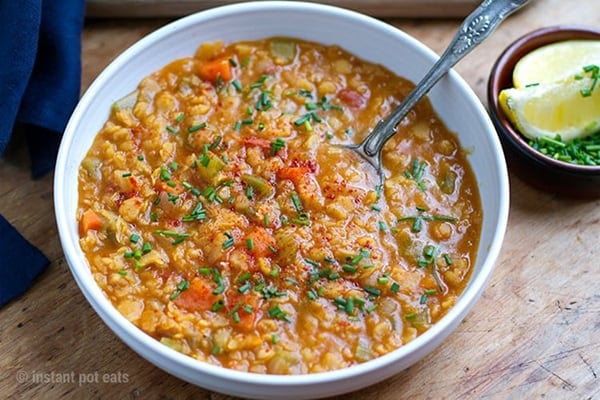 Adapted from a classic Turkish lentil soup, also known as Mercimek Çorbası. It's a simple, rich and nutritious soup that is full of warm, aromatic spices. This vegan and gluten-free friendly stew is very healthy and has veggies like yellow split peas, carrots, celery, onions, and tinned tomatoes. Split peas or lentils are a great source for plant-based protein and to make this meal into a complete protein with all amino acids. Get the recipe here.
Broccoli Soup With Gremolata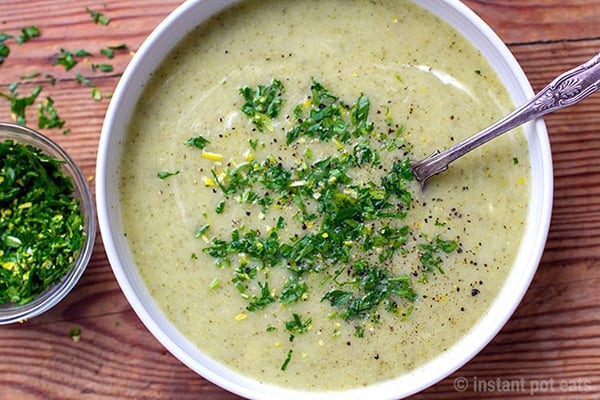 This quick and easy Instant Pot broccoli soup is served with an aromatic and zesty gremolata made of parsley and lemon zest on top to give it an added Mediterranean twist. The Italian gremolata recipe often contains chopped anchovies. Rich in Vitamin C, potassium and antioxidants, it's a great meal for cooler weather and to boost your immune system. It's vegan, gluten-free and Whole30 friendly. Recipe on our blog here.
Green Vegetables Risotto (Dairy-Free)
Risotto made without butter or cheese? Our Instant Pot vegan risotto is loaded with green vegetables like kale, green beans, and zucchini and is topped with fried garlic for amazing aroma and flavor. Make this gluten-free, plant-based risotto recipe and enjoy a meatless dinner that is filling and nutritious. Get this delicious recipe on the blog here.
One-Pot Greek Black Eyed Peas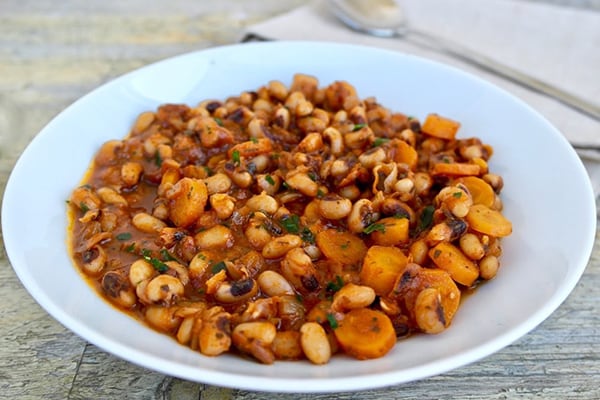 This is the classic way black-eyed peas are prepared in Greece: stewed with onion, tomato, and herbs until thick. This One Pot Greek Black-Eyed Pea dish is hearty and good. 1 cup of cooked black-eyed peas contains about 220 calories, 15 grams of protein and 11 grams of fiber. Perfect food for those wanting to lose weight, maintain balanced blood sugar levels and feel full and satisfied. It is often combined with spinach or other greens. Recipe from Olive Tomato.
Italian Beef Shanks With White Beans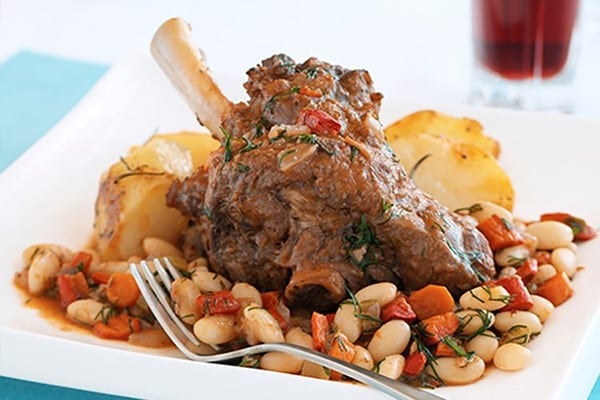 Bring a little Tuscany into your kitchen with these succulent Instant Pot lamb shanks served over soft white beans and tomatoes. This is a grain-free, dairy-free and one-pot friendly dish that will delight the whole family. Recipe on our blog here.
Asparagus With Lemon, Pepper & Olive Oil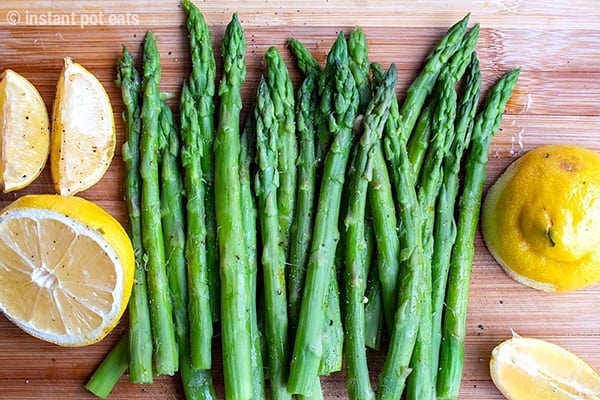 Asparagus is such a lovely vegetable: it's tasty, looks beautiful and is very nutritious. As well as being high in vitamin K (great for bone health), vitamins E and C (powerful antioxidants), folic acid (essential for healthy pregnancies) and iron, asparagus is low in calories and high in fiber, making it great for weight loss and managing blood sugar levels and it helps to balance your hormones. Recipe here on the blog.
Italian Farmhouse Soup (Vegan, Gluten-Free)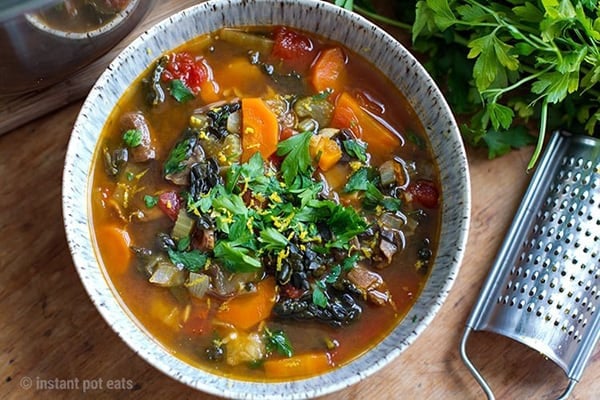 Focused on accessible, nutrient-dense vegetables but doesn't skimp on the flavor with savory mushrooms, lots of garlic and herbs, this meal is bursting with tasty goodness. Vegan and gluten-free, this detox-friendly Instant Pot vegetable soup is hearty, light and low in calories (under 200 calories per serving). Recipe on the blog here.
---
Mediterranean Diet Breakfast Meals
---
Instant Pot Spinach Mushroom Frittata
The perfect solution to recycle your leftovers! For breakfast, as a snack, into a sandwich or as a simple and light meal: frittata is very versatile and it can be enriched with plenty of other ingredients (cheese, veggies, cold cuts, legumes, etc.). Recipe from Corrie Cooks.
Instant Pot Baked Beans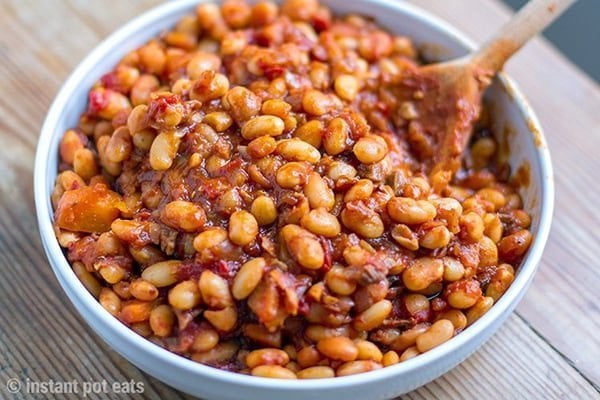 These incredible Instant Pot baked beans have a secret ingredient or two, they are vegan and gluten-free and perfect for meal prepping on the weekend. Enjoy these for breakfast, lunch or as a side dish. Recipe from Instant Pot Eats.
Steel-Cut Oats With Almonds & Cranberries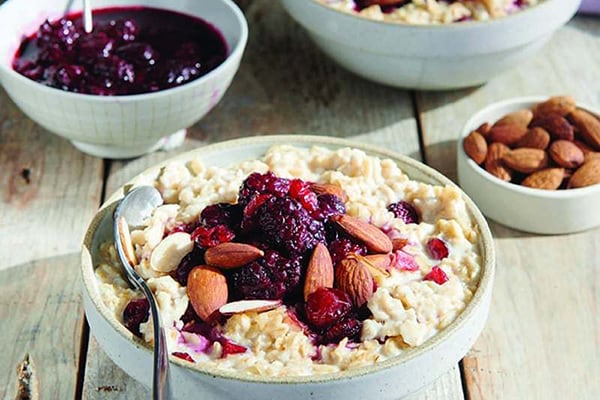 Wake up to creamy Instant Pot steel-cut oats with cranberries and almonds in the morning. It is the perfect simple portion-sized breakfast to enjoy for two. Recipe from Instant Pot Eats.
Instant Pot Quinoa Breakfast Porridge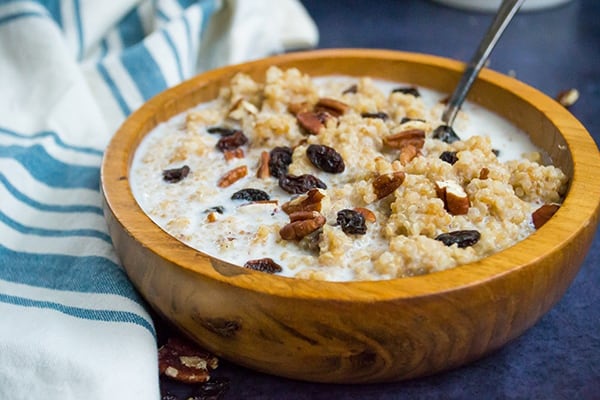 This soaked Instant Pot Quinoa Breakfast Porridge is a gluten-free, grain-free dairy-free breakfast that's easy, digestible, and has just 4 ingredients! Top it with extra dairy-free milk, butter or ghee, and fun things like nuts or seeds, chocolate chips, and raisins! Recipe from All The Nourishing Things.
Instant Pot Greek Yoghurt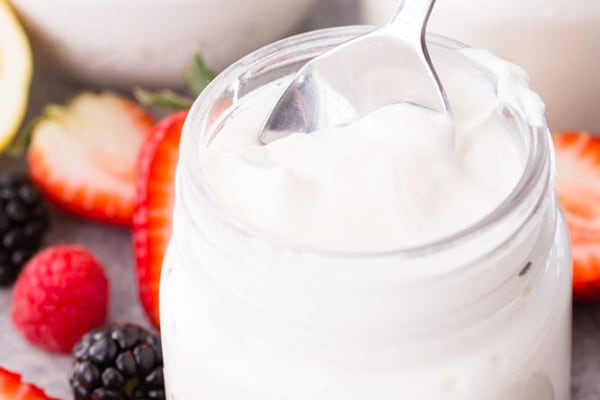 Delicious greek yogurt made using the Instant Pot Duo and Lux. This simple method means 12 jars (1/2 pint) homemade yogurt overnight for under $5, where you control the thickness, the sugar, the flavor, and more. Recipe from Easy Peasy Mealz.
Mediterranean Diet Desserts
---
Chocolate, Orange & Olive Oil Mini Lava Cake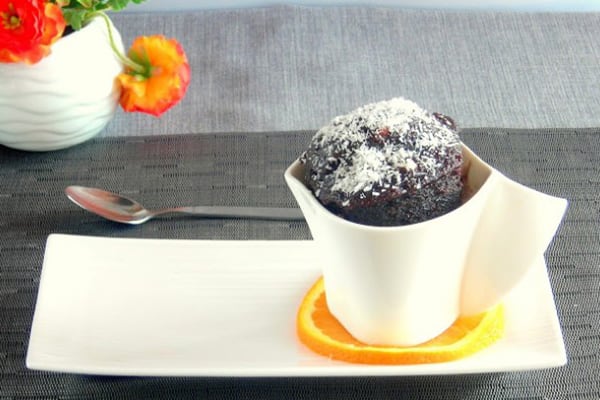 This is no ordinary chocolate lava cake. Olive oil lends to superior moisture that only improves over time as it sits. Plus it is Infused with a citrus flavor that makes it stand out. Recipe from Instant Pot Official.
Instant Pot Poached Pear With Blackberries (No Added Sugar)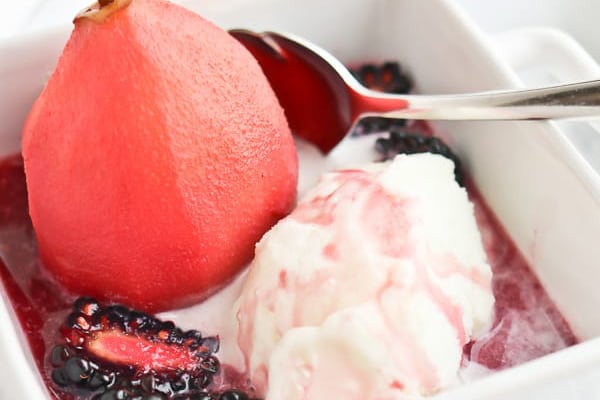 Have you ever had a poached pear? Poach means to gently simmer something in a liquid. It's a great way to infuse a specific food with flavor. Instant Pot Poached Pears are the easiest, most heartwarming dessert you will ever make! Serve them as a dessert topped with ice cream or as a salad with a tangy vinaigrette. Recipe from Tidbits.
Instant Pot Apple Crisp (With Greek Yoghurt)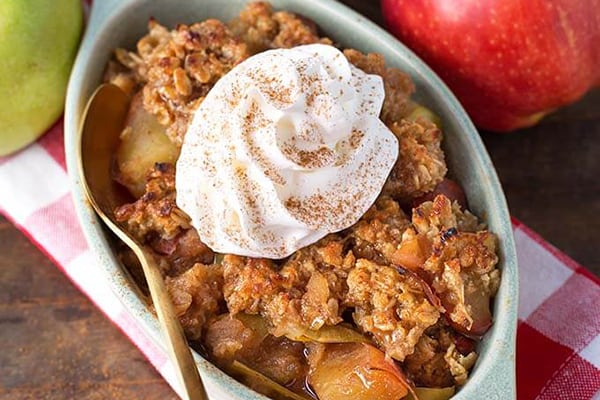 Tender apples with lots of sweet topping all cooked together in one pot. Pressure cooker apple crisp doesn't get crisp like in the oven, it is a little firm. But if you place it under the broiler for just a few minutes, it will crisp up on the outside, leaving delicious, sweet apple filling underneath! Top off with vanilla ice cream and maybe even some whipped cream. Recipe Simply Happy Foodie.
---
SAVE THESE MEDITERRANEAN RECIPES TO PINTEREST