If you love homemade Italian cuisine, you must try this Instant Pot vegan bolognese recipe. This meat-free version is made with red lentils and mushrooms, pressure cooked in a gorgeous, rich tomato sauce. You'll be surprised by how satiating and hearty this dish is, making it a worthy rival to its traditional meaty cousin.
---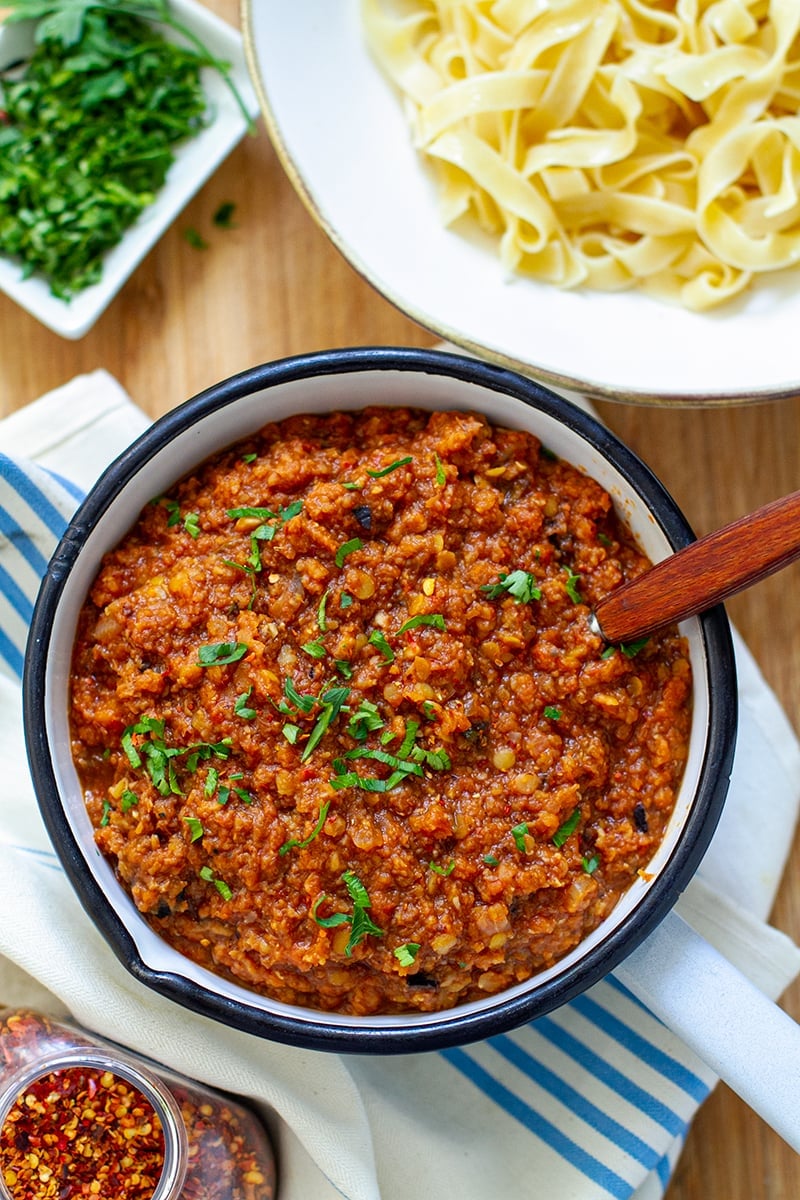 If you love a good bolognese, which is traditionally made with ground beef and pork (in various ratios) but you're vegan or vegetarian, avoiding meat for health reasons or simply incorporating more plant-based dishes in your diet, then this recipe is a must-try.
After trying a few different versions of vegetarian-friendly ragu sauce and experimenting with ingredients and seasonings, we have finally perfected our Instant Pot vegan bolognese.
WHY YOU SHOULD MAKE A VEGAN BOLOGNESE
It's a great way to incorporate more nutritious lentils and veggies in your diet.
It's perfect for #meatfreemondays, or any time you want to eat a plant-based meal.
It's high in protein and fibre, and when served over pasta, rice or other grains, you'll be getting in the complete profile of amino acids.
It's ridiculously delicious and very satiating and many of our recipe testers prefer this version to the meat one.
It's quick and easy to make in the Instant Pot!
You can make a gluten-free version of this dish by using wheat-free Tamari sauce instead of soy sauce.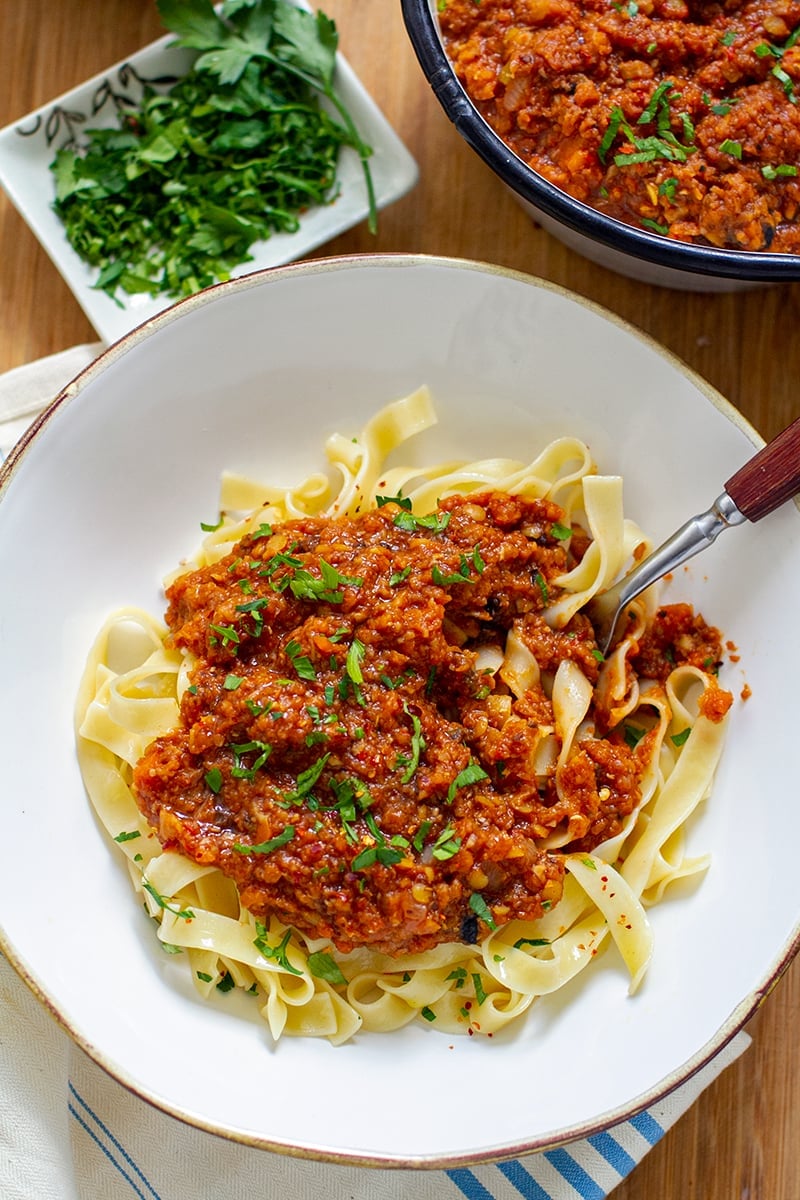 WHAT'S IN THE VEGAN BOLOGNESE
Let's break down the ingredients you will need to make this dish. As with many sauces, the trio of onions, celery and carrots is the base of the recipe. Sauteed in olive oil, these veggies will caramelise slightly and lovely sweetness and flavours to the final dish.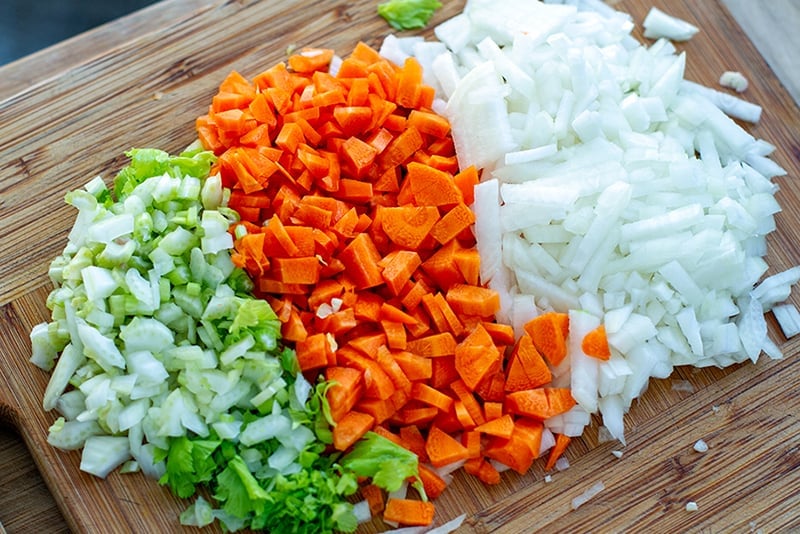 The star ingredients that will give the bulk to our sauce are red lentils (pre-soaked in water for 15-20 minutes) and finely diced mushrooms. You can use any type of lentils and any type of mushrooms. We used a food processor to chop the mushrooms but you can also do this by hand.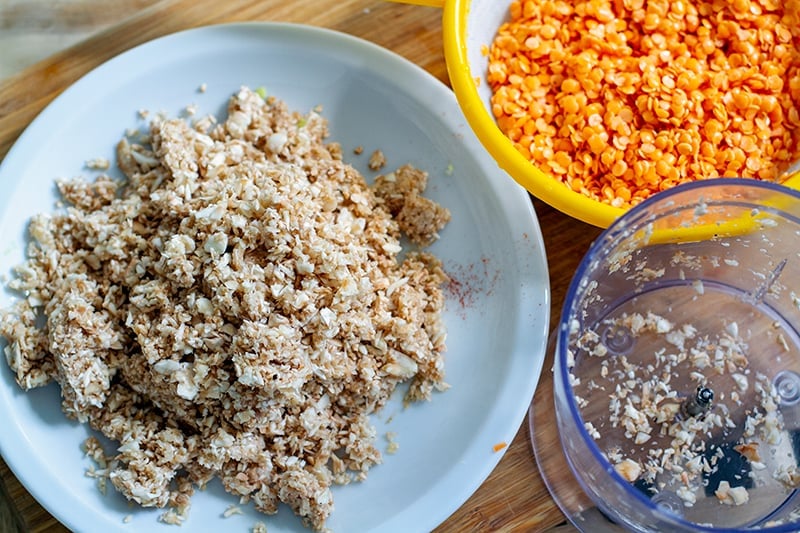 Other (all accessible) ingredients that give this sauce sweetness, acidity, saltiness and umami flavours: garlic, vegetable stock cube, paprika, a couple of dates, black olives, chili, crushed tomatoes (or tomato passata), balsamic vinegar and soy sauce.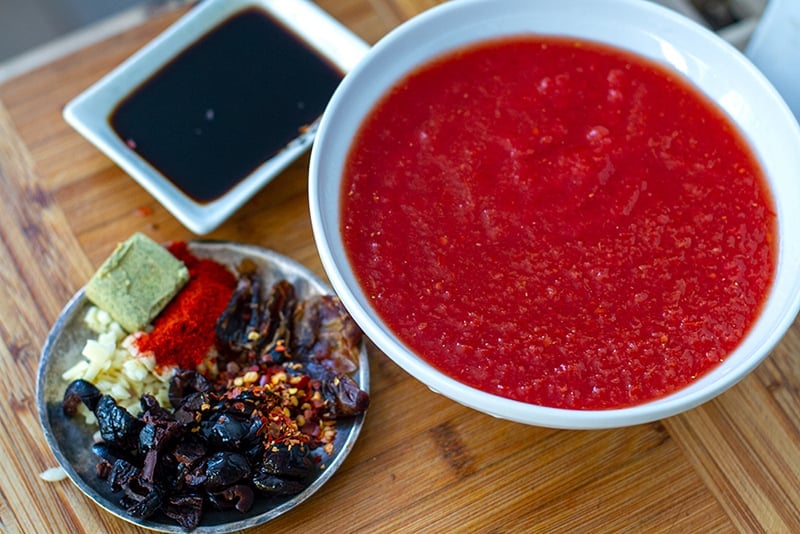 HOW TO MAKE INSTANT POT VEGAN BOLOGNESE (VIDEO)
FREEZING BOLOGNESE
Allow the sauce to cool completely and divide between Ziploc freezer bags or containers. Freeze for up to 3 months. Defrost in the fridge or microwave, reheat well and serve. In the fridge, the bolognese sauce will last for 3-4 days.
SERVING SUGGESTIONS
You can serve this vegan bolognese sauce with any kind of pasta but it's particularly good with spaghetti, fettuccine and tagliatelle. Gluten-free pasta also works well. Other options are rice, quinoa, polenta, mashed potatoes, zucchini noodles or cauliflower rice for a low-carb version.
We like to sprinkle it with a few chili flakes and fresh parsley, and some nutritional yeast flakes for that cheesy, umami addition. If you eat cheese or have a dairy-free version, that also goes well on top.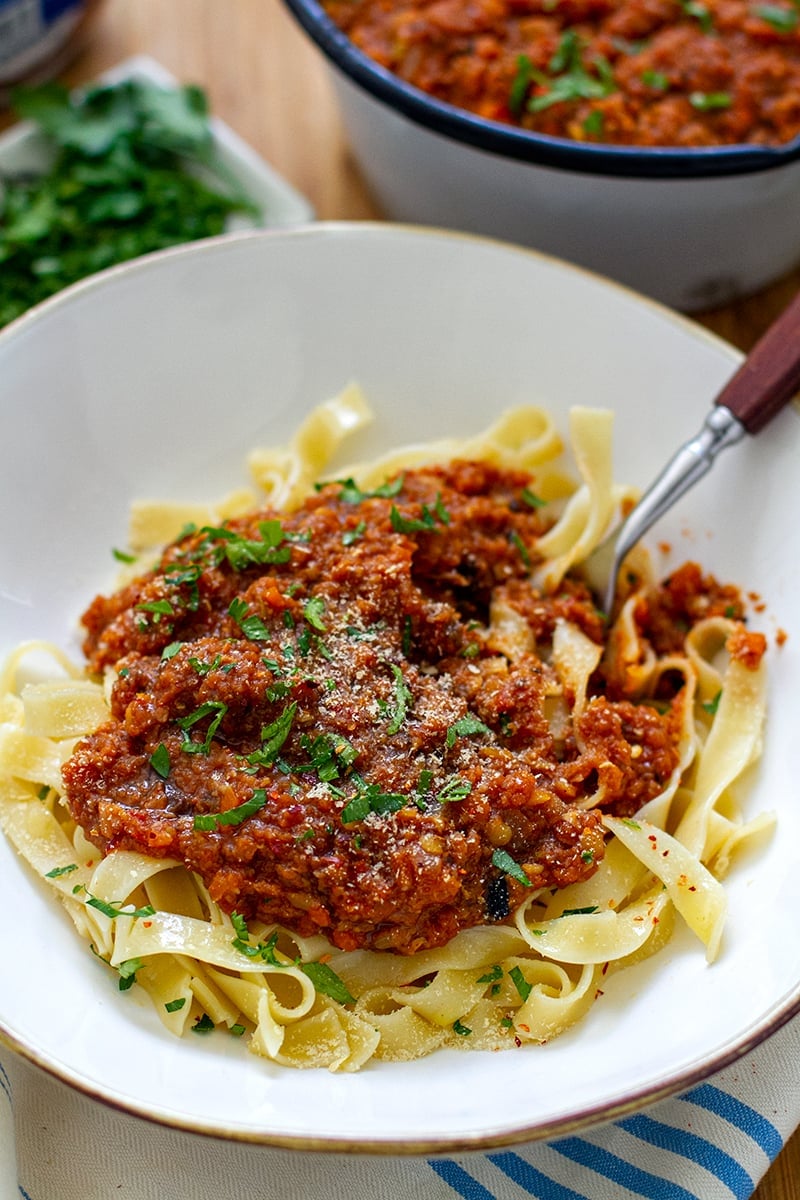 MORE VEGAN INSTANT POT RECIPES
Instant Pot Vegan Risotto With Green Veggies & Fried Garlic
Moroccan-Style Chickpea Spinach Stew
Vegan Mac & Cheese With Artichokes
Hearty Pumpkin & Chickpea Chili
Print
Instant Pot Vegan Bolognese
Author:

Prep Time:

20 minutes

Cook Time:

30 minutes

Total Time:

50 minutes

Yield:

4-6

Category:

Main

Method:

Instant Pot

Cuisine:

Italian
---
Description
This hearty and delicious Instant Pot vegan bolognese recipe is made with lentils and mushrooms in a rich sauce. Perfect for a plant-based dinner, it can be served over pasta, rice, quinoa, polenta ot veggie noodles. Can be gluten-free with one small adjustment.
---
Ingredients
1 cup red lentils, soaked for 15-20 minutes
200 g / 7 oz. button mushrooms, diced into mince
2 tablespoons olive oil
1 onion, finely diced
1 large carrot finely diced
1 large celery rib, finely diced
1/2 teaspoon salt
10 black or green olives, diced roughly
2 dates, roughly diced
3 cloves garlic, finely diced
1 teaspoon paprika
1/2 teaspoon chilli flakes
1 teaspoon brown or white miso (optional)
1 vegetable stock cube
2 tablespoons soy sauce
1 tablespoon balsamic vinegar
1 tablespoon tomato paste (optional, makes it a bit more tomato-y)
2 cups tomato passata or crushed tinned tomatoes
1/3 cup water
---
Instructions
Pre-soak the lentils for 15-20 minutes and rinse and set aside.
Dice the mushrooms very finely, ideally using a food processor. Set aside.
Turn the Instant Pot on and press the Sauté button. Add the olive oil, onions, carrot, celery and salt and cook for 7-8 minutes, stirring a couple of times.
Add the rest of the ingredients and stir. Press Cancel to stop the sauteeing.
Pop and lock the lid and press Manual/Pressure Cook button, HIGH pressure, adjust to 12 minutes. Cook your preferred side (pasta, rice, polenta) in the meantime.
Once the timer finishes, follow with natural pressure release.
Open the lid and stir through before serving over pasta, rice, polenta or quinoa.
---
Notes
You can serve this sauce over pasta or any other side with a few chili flakes and parsley on top. We like to sprinle some nutritional yeast flakes or you can also grated some vegan-friendly cheese.
Keywords: Vegan, Gluten-Free