Made with butternut squash pumpkin and garbanzo beans (or chickpeas), this Instant Pot chili is comforting and hearty, perfect for a fall or winter dinner. Served with diced avocado and cilantro, this is a must-go gluten-free, vegetarian, and vegan chili for your pressure cooker. This is a great make-ahead, freezer-friendly recipe.
---
This vegan Instant Pot chili is made with butternut squash pumpkin, pinto beans and dried chickpeas (or garbanzo beans). It has just the right amount of spice and sweetness to have you going back for seconds.
Pumpkin softens and dissolves into the sauce during cooking, making it an integral part of the stew sauce. You will still have some chunks of it, but most of the texture will come from protein-rich pinto beans and chickpeas.
This is an excellent dish for a Meatless Monday or if you're looking for hearty vegetarian, gluten-free or vegan Instant Pot recipes. It has lots of nutrients, beneficial fibre and plant-based protein, making it a well-balanced meal for any occasion.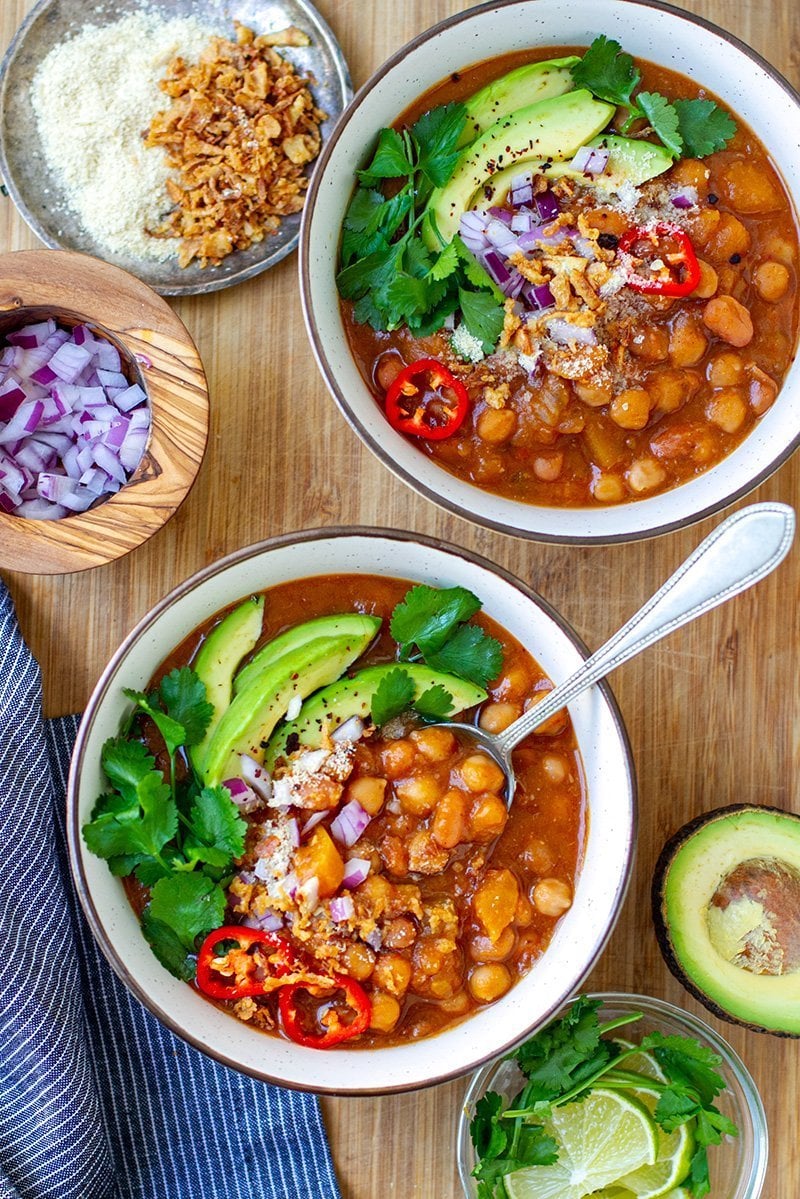 INSTANT POT VEGETARIAN CHILI INGREDIENTS
This Instant Pot chili recipe is a bit of a template, and you can swap some of these ingredients with whatever you have in the pantry. For protein, we used dried pinto beans and chickpeas, which we soaked in salted water overnight.
Soaking legumes in salted water will rehydrate them, which shortens the cooking time but also makes them much easier to digest. If you're using lentils instead, they will only need 1-2 hours of soaking.
For the pumpkin, we are using butternut squash diced into cubes. It's not as sweet or starchy as say kabocha, but works perfectly in this chili recipe. You can use other types of squash or replace it with a mix of sweet potatoes and carrots to achieve similar sweetness and consistency.
CAN I USE CANNED BEANS OR UNSOAKED BEANS?
You can use canned pinto beans and chickpeas instead of dried, soaked legumes. Change the cooking time to 5 minutes on HIGH pressure with full natural release. We do not recommend using unsoaked, dried beans except for lentils.
Dried chickpeas and pinto beans will take much longer to pressure cook, which will completely disintegrate the pumpkin. You want to retain some of the diced squash in the chili. As we are cooking everything together, you don't want to increase the cooking time by too much. Lentils are much smaller, which is why the cooking time listed in the recipe below should be sufficient.
Another alternative is to pre-cook the pinto beans and chickpeas in the Instant Pot for 10-15 minutes at high pressure and then use as if they were soaked.
The rest of the ingredients will provide a lot of that familiar chili flavor, as well as extra nutrients. We have diced aromatics such as red onions, celery, garlic and red jalapeno chili. The finished stew has a little heat, but it's not too spicy. Feel free to deseed the chili or use less of it.
Initially, we thought of using a couple of dates (pictured here) but then decided that the pumpkin will provide enough sweetness. We also have some lovely spices – cumin, paprika, coriander seed and cinnamon, as well as some veggie stock cube.
Our last ingredients are tomato paste and soy sauce that will add extra umami flavors.
HOW TO MAKE PUMPKIN CHILI
Once you've chopped and diced all the ingredients, cooking this Instant Pot vegan chili is very easy. Full ingredients and instructions are in the recipe card below.
First, you have to saute the aromatics to get them slightly caramelised and softened. Then add the rest of the ingredients and water or stock, stir and set to cook for on HIGH pressure for 10 minutes with natural pressure release.
As you can see in the bottom right picture, once the chili is cooked, it will look much darker, and half of the liquid will be absorbed into the beans. The pumpkin will be very soft. At this stage, it will not look beautiful, but you're not done yet!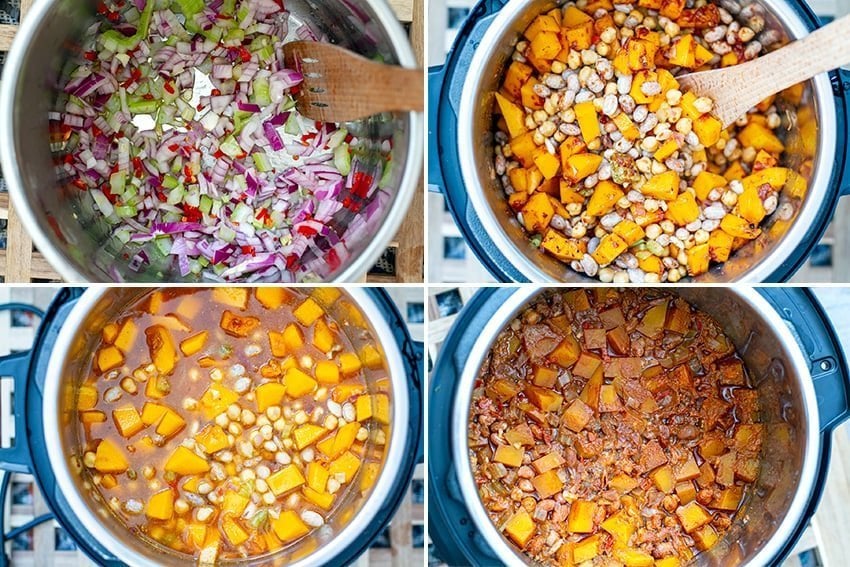 To complete this incredible chili, we need to stir in some butter or plant-based butter alternative and some arrowroot or tapioca flour to thick the sauce. Once mixed, taste for salt and add a little more if needed.
HOW TO SERVE INSTANT POT PUMPKIN CHILI
This part is fun, and you can get as creative as you like. We wanted to keep this Instant Pot chili vegan, so we served it with sliced avocado, fresh cilantro (of course) and chopped red onions. We added some nutritional yeast flakes (for that cheesy flavor and is a great source of Vitamin B12) and fried shallots.
You can also add regular grated cheese, sour cream, corn chips, and serve this with a side of rice, quinoa, cauliflower rice, pasta or with some crusty bread. We like to add a little extra lime juice at the end so you can have a few wedges on the table.
MORE INSTANT POT RECIPES FOR YOU
20 Instant Pot Pumpkin & Squash Recipes
Instant Pot Sweet Potato Tortilla Soup
Moroccan-Style Instant Pot Chickpea Stew
Instant Pot Rice Pilaf With Chickpeas
More Instant Pot Recipes With Garbanzo Beans
Print
Instant Pot Chili With Pumpkin & Chickpeas (Vegan, Gluten-Free)
Author:

Prep Time:

20 minutes

Cook Time:

40 minutes

Total Time:

1 hour

Yield:

6-8

Category:

Main

Method:

Instant Pot

Cuisine:

American
---
Description
This vegan and gluten-free Instant Pot chili is made with butternut squash pumpkin, pinto beans and chickpeas. It's hearty and comforting with just the right amount of spice and sweetness. Serve with chopped onion, avocado, cilantro and lime.
---
For soaking the beans
1 cup dried pinto beans
1 cup dried chickpeas
1 teaspoon bicarb soda
—————————-
1 butternut squash pumpkin, peeled and diced into cubes
2 tablespoons olive oil
1 red onion, finely diced (reserve 1/4 cup for garnish)
1 red jalapeño chili, finely diced
1 celery stick, diced into cubes
1/2 teaspoon salt
5 cloves garlic, diced
2.5 tablespoons tomato paste
1 vegetable stock cube (unless using liquid veggie stock)
3 tablespoons soy sauce or Tamari for a gluten-free version
2 teaspoons cumin powder
1 teaspoon smoked paprika or chipotle pepper powder
1 teaspoon coriander seed powder
1 teaspoon mild paprika powder
1/2 teaspoon cinnamon powder
4 cups of water
To finish:
1 teaspoon butter or plant-based alternative
2 tablespoons arrowroot, tapioca flour or cassava flour or other gluten-free flour/starch to thicken the sauce
Toppings
1/4 cup chopped red onion (reserved from above)
A handful of fresh cilantro/coriander
1 lime, cut into wedges
1 avocado, sliced
Optional: nutritonal yeast flakes, plant-based or regular yoghurt, sour cream, fried onions.
---
Instructions
Soaking the legumes. Add the pinto beans and chickpeas (or other beans) to a bowl of water and add the bicarb soda (or salt), which helps to soften the beans. Soak overnight or for at least 6-8 hours. Then rinse thoroughly before using.
Cut the butternut squash in halves and scoop out the seeds. Peel the skin and dice into cubes (see pics above).
Turn the Instant Pot on and press the Saute function key. Once hot, add the oil, onion, celery, chili and salt and cook for 3-4 minutes, stirring a couple of times. In the meantime, prepare other ingredients. Press Cancel to stop the cooking.
Add the rest of the ingredients and water and stir through well. Pop and close the lid. Make sure the top valve is pointing to Sealing. Press Manual/Pressure Cook button (depending on model) and set to 10 minutes at HIGH pressure.
After three beeps, Instant Pot will start to build up the pressure, which will take 10-15 minutes. FYI, that cooking starts even during the pressure buildup. Once the timer goes off, allow the pressure to release naturally. This part will take another 10-15 minutes. So, the total time is about 35-40 minutes (still quicker than the stovetop for this kind of chili). You can prepare all the toppings during this time.
Once all the pressure is out, open the lid. Add the butter or margarine and sprinkle preferred starch (we used tapioca flour) over the top. Stir through well.
Serve with sliced avocado, chopped onion and cilantro and any other toppings you like.
---
Notes
Nutritional information below is for 2 cups of the chili with a few slices of avocado, chopped onions and a teaspoon or two of nutritional yeast flakes.
Nutrition
Serving Size:

2 cups

Calories:

431

Sugar:

10 g

Sodium:

916.6 mg

Fat:

11.7 g

Saturated Fat:

1.9 g

Carbohydrates:

67.8 g

Fiber:

15 g

Protein:

18.8 g

Cholesterol:

1.7 mg
Keywords: Butternut Squash, Pumpkin, Chili, Make Ahead, Fall, Winter, Pinto Beans