These nutritious and tasty Instant Pot garbanzo beans recipes are perfect for any day of the week and will delight with their Mediterranean, Indian and Middle-Eastern flavors. Get your chickpea on!
---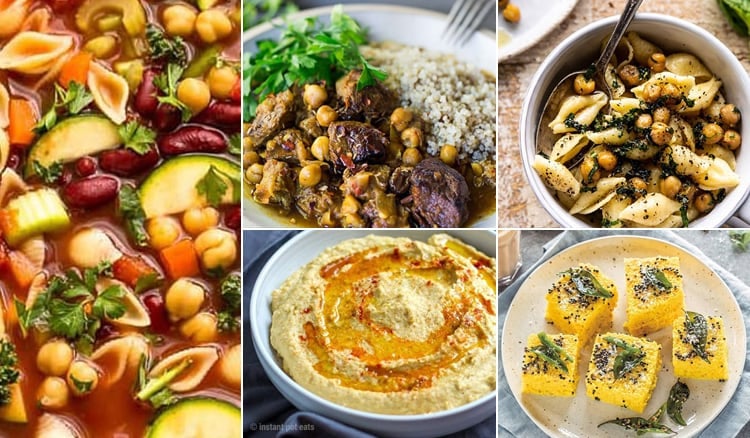 Garbanzo beans or chickpeas are a legume that's especially popular in the Mediterranean and Indian cooking. It's also popular amongst plant-based eaters because the nutty-flavored bean is chock full of protein and other important vitamins and minerals.
While you can purchase garbanzo beans in a can, it's far more economical and less wasteful to purchase them dry and cook them from scratch. However, it can take a long time simmering on the stove to get them to a soft, tender texture. The Instant Pot will fix that. Whether you are cooking from dry chickpeas or canned, these Instant Pot garbanzo beans recipes are quicker than stovetop for a healthy meal any day of the week.
Please note that in this post we will say both garbanzo beans and chickpeas based on the original recipe from the author.
1.Moroccan Instant Pot Chickpea Stew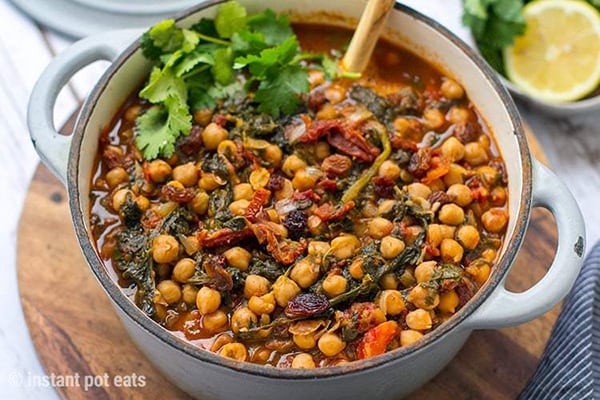 Cinnamon, cumin, and cayenne come together for a zesty spice mix to flavor this Moroccan-style stew with hearty garbanzos as the filler. Garnish with raisins and cilantro, and serve over rice or couscous. This is a simple and lovely vegetarian meal for any day of the week. Recipe from Instant Pot Eats.
2. CHICKPEAS WITH SALSA VERDE & ROAST PEPPERS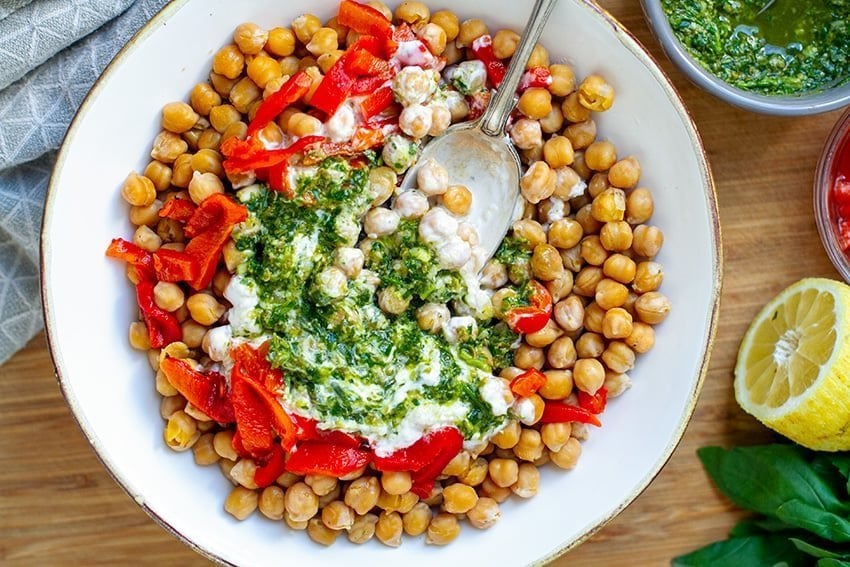 Yotam Ottolenghi inspired Instant Pot chickpeas with salsa verde, roasted red peppers and yoghurt. Whether you like them in salads, hummus, stews or soups, cooking chickpeas in Instant Pot is super convenient and affordable. This dish is gluten-free, vegetarian and vegan-friendly. Recipe from Instant Pot Eats.
3. Instant Pot CHICKPEA Soup
This gorgeous, Mediterranean-inspired soup is packed with nutrients including up to 40% of your daily need for protein, tons of vitamin C and even a boost of iron. In the Instant Pot, these simple powerhouse ingredients and rich spices will blend together for warming, slightly spicy spoonful in every bite. Recipe from The Mediterranean Dish.
4. Curried Sweet Potato Chickpea Quinoa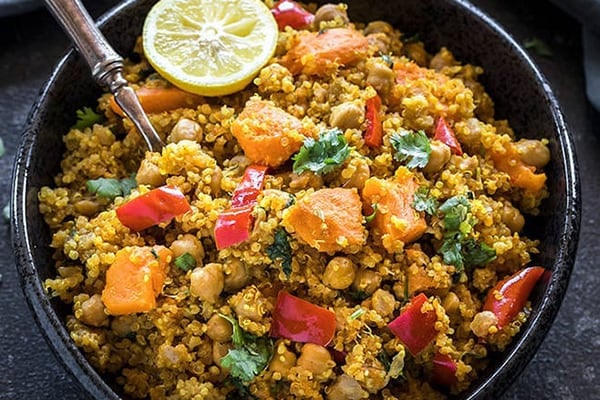 This lovely spin on curry is made with a base of fluffy quinoa, upping the protein content of this dish alongside garbanzo beans for a filling and nutrient-dense dish. Combined with vitamin-rich sweet potatoes, peppers, and onions, this meal is nutritionally complete and packed with flavor. It's perfect for meal prep! Recipe from Cook with Manali.
5. GARBANZO BEAN & PUMPKIN CHILI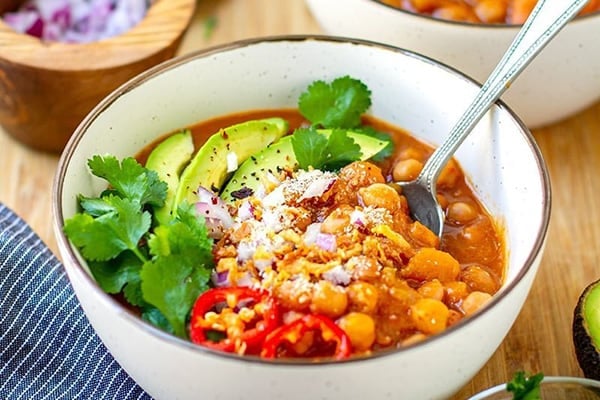 Made with butternut squash pumpkin and garbanzo beans, this Instant Pot chili is comforting and hearty, perfect for a fall or winter dinner. Served with diced avocado and cilantro, this is a must-go gluten-free, vegetarian, and vegan chili for your pressure cooker. This is a great make-ahead, freezer-friendly recipe. From Instant Pot Eats.
6. Vegan Wild Rice Soup With Garbanzo Beans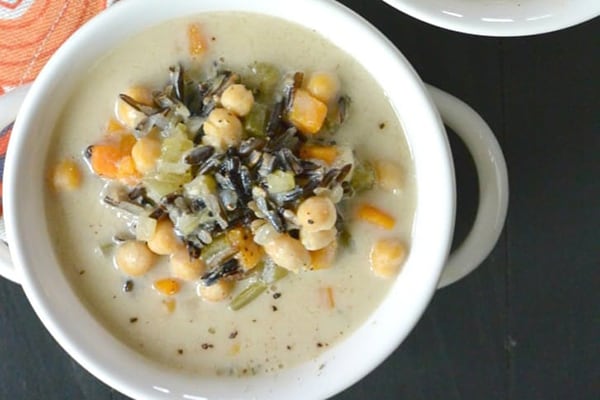 This wild rice soup is set in a comforting creamy broth made with soaked cashews for a boost of healthy fats and amazing flavor. Garbanzo beans step in to make the soup a bit bulkier and adding protein. Recipe from Veggies Save the Day.
7. Steamed Savory Chickpea Flour Cakes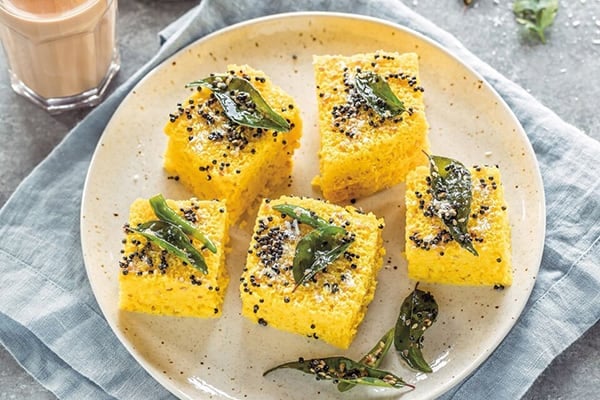 Khaman dhokla is a savory cake made from chickpea flour, traditionally served in India. For a unique tea treat to serve alongside a cup of hot chai, this steamed delight is worth the effort – especially if you enjoy using new and exciting ingredients. Recipe from One Green Planet.
8. Quick & Easy Instant Pot Hummus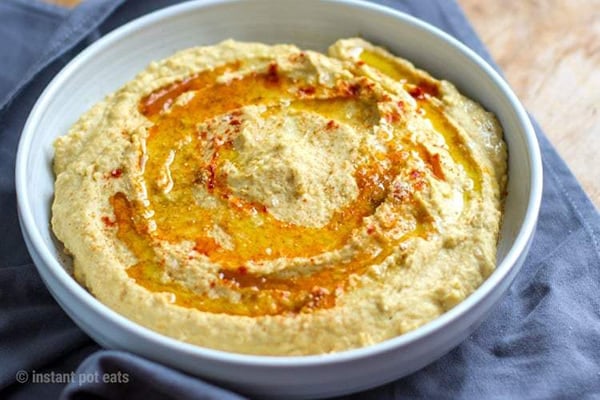 A good hummus recipe is great for making at home. Buying store-bought can be convenient, but it's also expensive. Stretch your budget and reduce waste with this simple, quick and easy recipe for Instant Pot hummus at home. You can customize flavors however you like. This is sure to become a weekly staple. Recipe from Instant Pot Eats.
9. Cacio E Pepe with Crispy Garlic Basil Chickpeas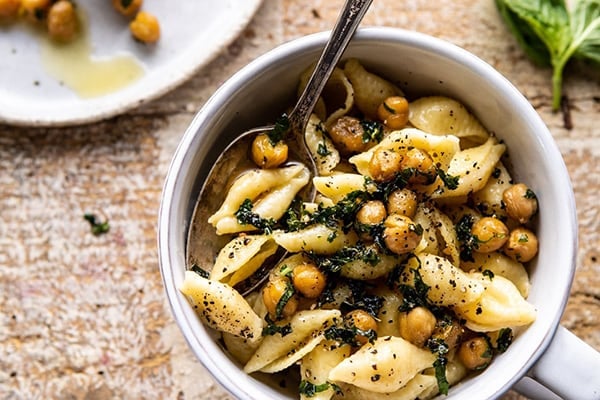 This beautiful pasta dish with cheesy shells and crispy chickpeas (which are actually made in a skillet) still comes together in just 15 minutes for a unique and satisfying dinner with a flavourful crunch in every bite. You can also crisp up the chickpeas in the IP on saute mode prior to cooking the pasta for a true one-pot meal. Recipe from Half Baked Harvest.
10. Garbanzo Bean & Rice Pilaf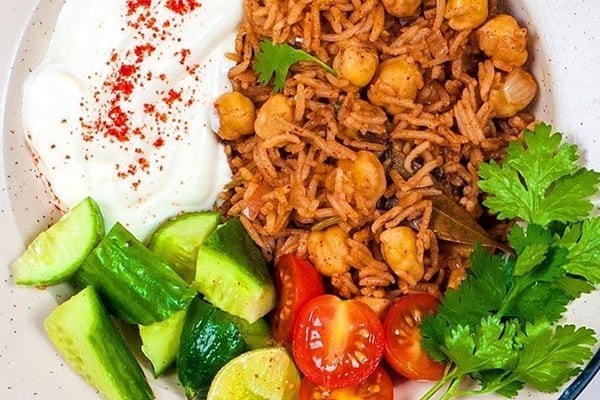 This healthy and delicious Instant Pot rice pilaf is made with protein-rich garbanzo beans, warm spices and cilantro for a perfect vegetarian, vegan and gluten-free main or side. Recipe from Instant Pot Eats.
11. Vegan Instant Pot Chickpea Noodle Soup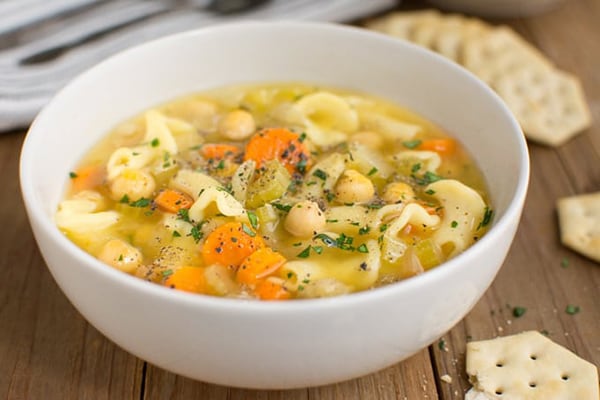 For vegetarians who want their fix of chicken noodle soup without the chicken, look no further. Chickpeas stand-in for both protein and texture in this cozy noodle soup with plenty of veggies and fresh herbs to up the healthy factor. This is a great freezer meal, too. Recipe from Where You Get Your Protein.
12. Chana Masala With Garbanzo Beans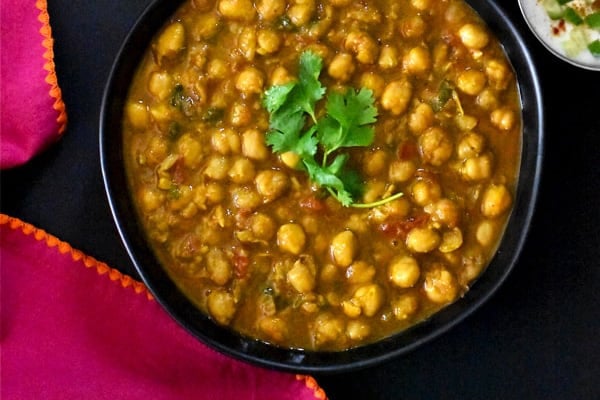 Chana masala is one of the most popular chickpea recipes out there. It's a simple curry packing big heat and flavor with a homemade chole masala powder to recreate your most beloved Indian dishes at home in just around an hour. Recipe from Spice Cravings.
13. Vegan Butter Chickpeas CURRY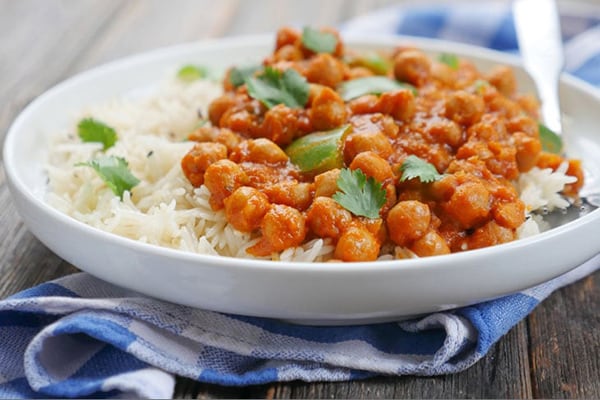 Here's another Indian favorite – butter chickpeas! Usually, this butter sauce is used for butter chicken, but this vegan recipe recreates it without missing a beat minus all dairy and meat for a rich, hearty and butter stew with plenty of protein. Recipe from My Heart Beets.
14. Spiced GARBANZO BEAN Salad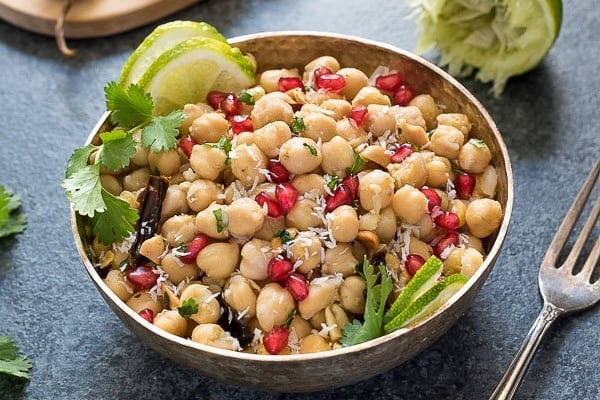 This stunning Indian salad with a chickpea base is speckled with colorful, juicy pomegranate arils and dried red chilies for a spicy and sweet blend you can't beat. Peanuts, lime juice, honey, and desiccated coconut garnish this gorgeous dish for a standout side. Recipe from Flavour the Moments.
15. Persian Instant Pot Chickpea Stew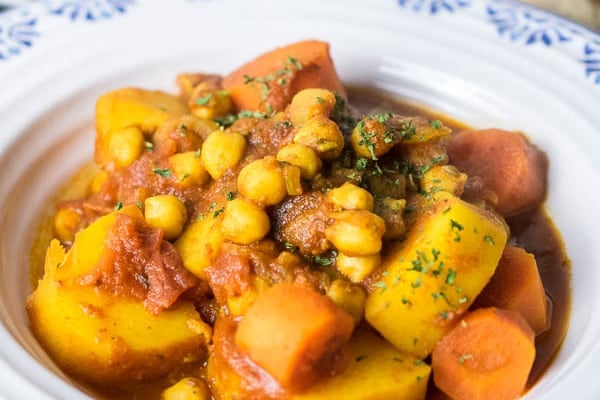 Chickpeas, carrots, and potato make this dish ultra hearty and comforting, all covered in a beautiful Persian-inspired sauce made with lime powder, chili powder, turmeric, harissa and more for a bursting, unique and warming flavor that is sure to warm up your bones. Recipe from Every Nook & Cranny.
16. Middle Eastern Lamb & Garbanzo Beans Stew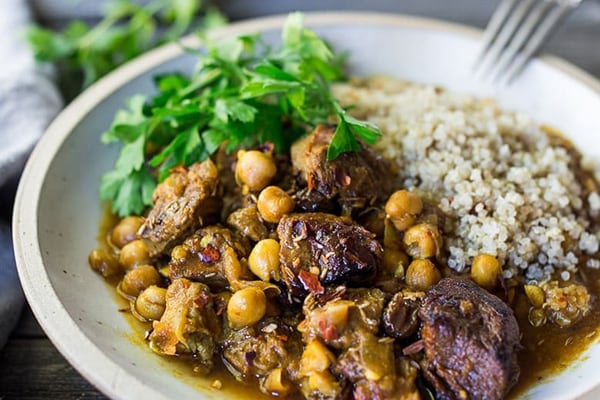 Tender, juicy, perfectly cooked lamb paired with garbanzo beans in this stew is a beautiful way to taste the tastes of the Mediterranean right in your own home. Garnished with a bit of dried fruit and fresh parsley or cilantro, this dish is fabulous and wholesome atop a bed of fluffy couscous. Recipe from Feasting at Home.
17. Minestrone Soup With Garbanzo Beans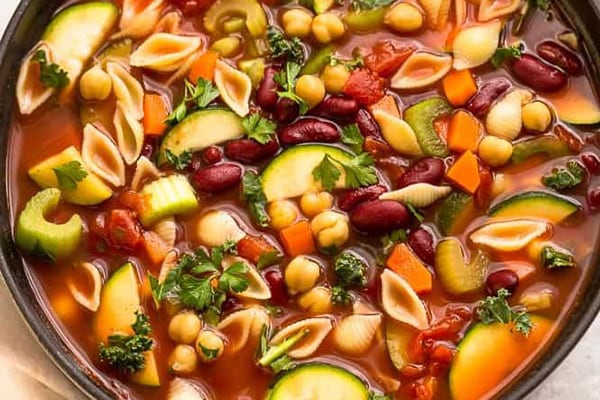 This soup is absolutely brimming with healthy ingredients. Two different types of beans (your choice, but I recommend garbanzo beans somewhere in the mix), carrots, celery, tomatoes, and zucchini make this recipe a nutritional powerhouse with a beautiful broth and pasta shells to round out the classic minestrone template. Recipe from Life Made Sweeter.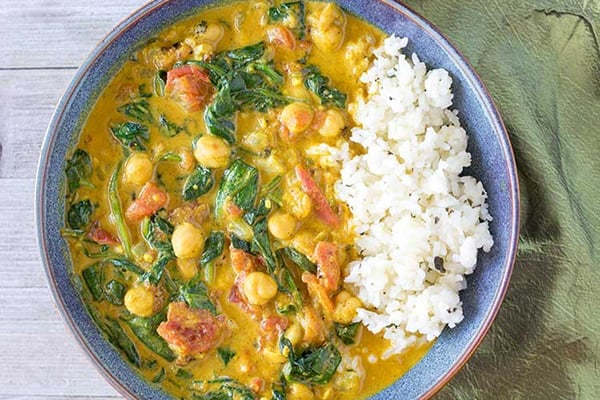 Garbanzo beans are a great addition to any curry. In fact, they're often the star. In this recipe, they share the spotlight with juicy tomatoes and spinach for a perfect blend of nutrient-dense veggies and protein, holding the weight of the spicy, vibrant sauce and all of its spices beautifully. Serve over a bed of rice for the best results. Recipe from The Foodie Eats.
19. Instant Pot Chickpea Stew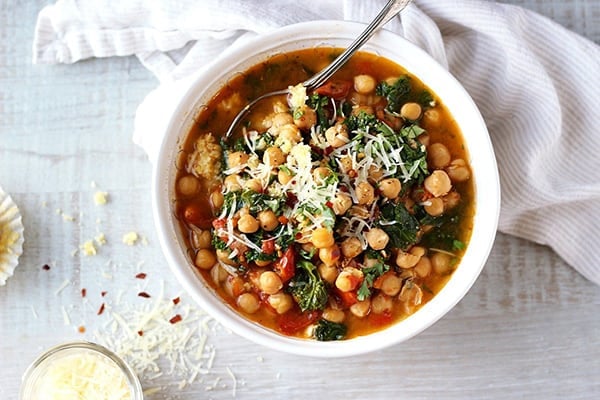 With just a few ingredients – and besides salt and pepper, we mean three! – this couldn't be simpler to make. With a rich tomato-based sauce and chickpeas to make up the protein-rich bulk, it's a nutritious stew speckled with leafy kale. Garnish with parmesan and call it a day! Recipe from Garden in the Kitchen.
20. Instant Pot Chole With Garbanzo Beans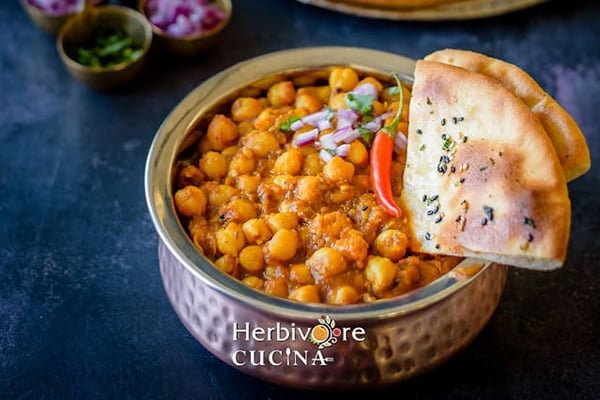 This lovely little curry dish is a humble Indian recipe, getting its flavor from chole masala. It's lovely served platter-style with some raw veggie garnishes, samosa and of course, a fluffy piece of warm naan (or two). Recipe from Herbivore Cucina.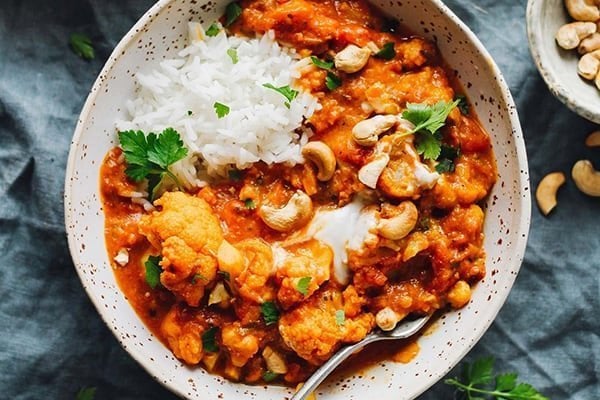 Chicken tikka masala is a classic Indian food staple. For a vegan spin on this, sub out the chicken for tender and versatile cauliflower. The chickpeas will fill in the protein gap, and the rest remains the same – tasty as ever, full of flavor and spicy like your favorite buffet dish. Recipe from Full of Plants.
22. Garbanzo Bean & Chicken Rice Pilaf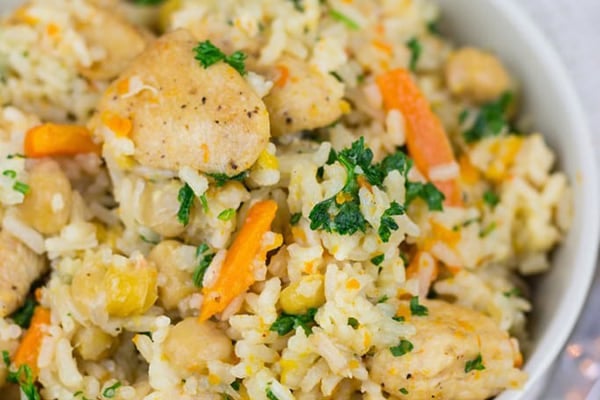 Good rice pilaf is a comfort food necessity for easy dinnertime meals. Chicken, veggies, rice, and chickpeas give this a well-balanced nutritional profile with tons of protein, micronutrients, and starch. It's great for packing lunches and post-workout nutrition as well. Recipe from Veronika's Kitchen.
For an Italian soup with all your favorite flavors straight from Italy, this chickpea stew will totally hit the spot. Serve it with a garnish of freshly grated parmesan for stunning results and dig right in. This warming dish also deserves a side of warm bread. Recipe from Epicurious.
We hope you enjoyed these Instant Pot recipes using garbanzo beans/chickpeas. Do you have your own favorite way to cook with this legume? Let us know in the comments.