In today's recipe, we share delicious, Yotam Ottolenghi inspired Instant Pot chickpeas with salsa verde, roasted red peppers and yoghurt. Whether you like them in salads, hummus, stews or soups, cooking chickpeas in Instant Pot is super convenient and affordable. This dish is gluten-free, vegetarian and vegan-friendly. Enjoy!
---
Whether you're looking for a protein-rich, vegan-friendly main dish or you want to dish up a nutritious side dish, this Mediterranian Instant Pot chickpea recipe is a must-try. Using dried chickpeas (garbanzo beans), you can pressure-cook them much quicker than using the stove.
We use the Instant Pot to cook dried chickpeas, which are full of fibre, nutrients and plant-based protein, and the dress it up with gorgeous, creamy tahini yoghurt (dairy-free works well here!), roasted pickled peppers and sensational salsa verde. These toppings bring chickpeas to life and are super easy to make at home.
Of course, you can also use canned chickpeas to make this dish. No cooking is needed in this case.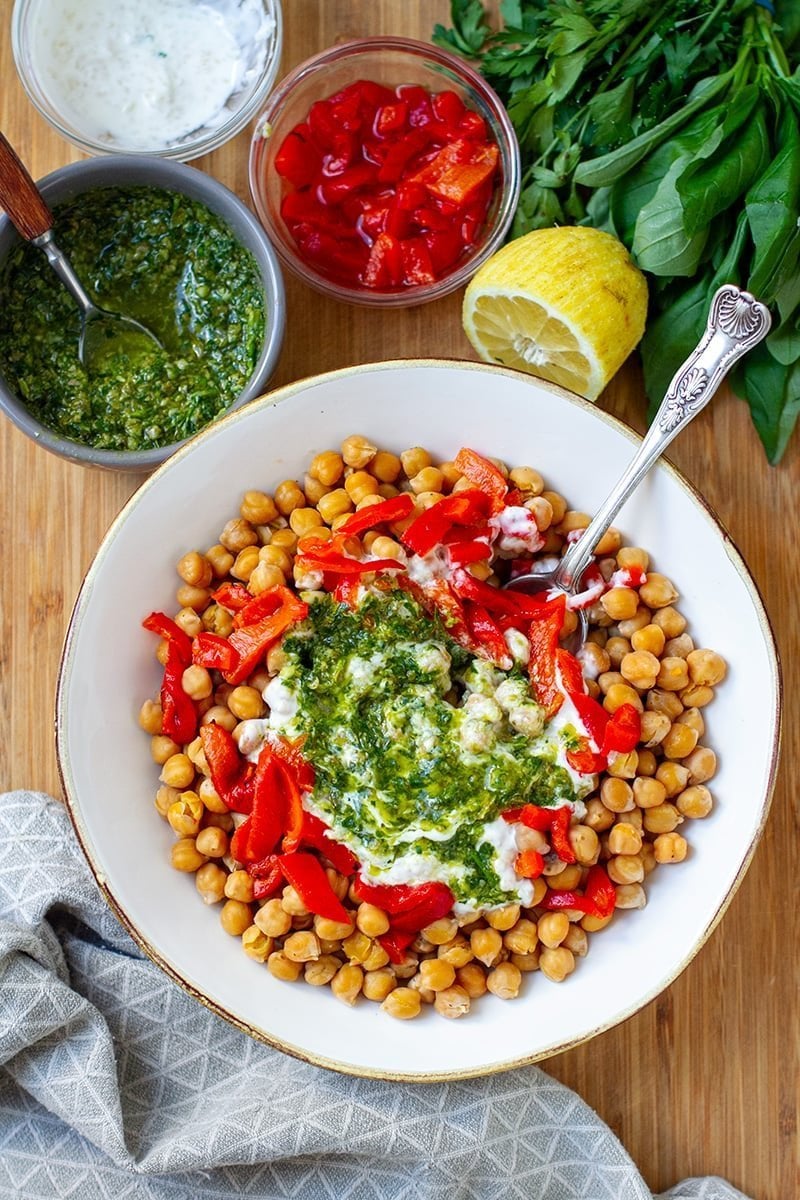 HOW TO COOK CHICKPEAS IN INSTANT POT
For this recipe, we cooked dried (unsoaked) chickpeas in the Instant Pot. We used about 1.5 cups of dried garbanzo beans and a litre of water. A little trick to make your chickpeas (or any legumes) taste delicious is to add a cube of vegetable stock to the cooking liquid. The beans will absorb the flavour of the stock during cooking.
For dried chickpeas, you're looking at 45 minutes at HIGH pressure with natural pressure release; for soaked garbanzo beans/chickpeas (say 12 hours or overnight), you can cook for 20 minutes at HIGH pressure.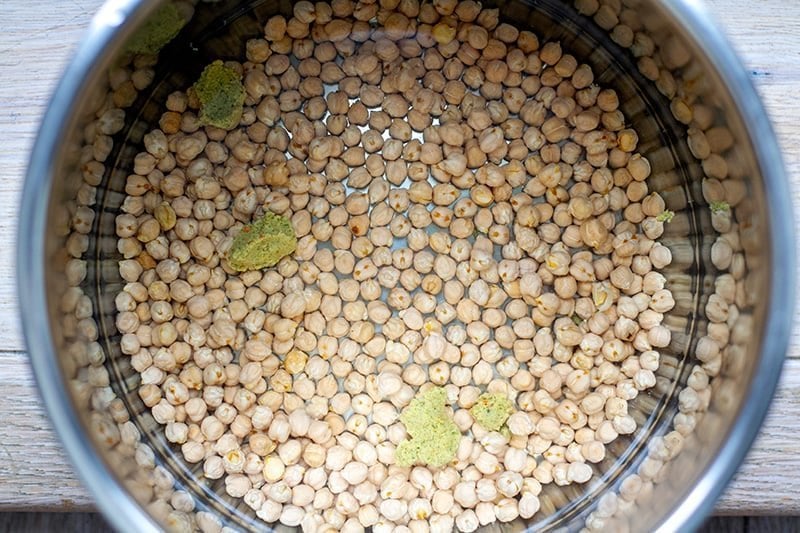 HOW TO USE COOKED CHICKPEAS
Once chickpeas are cooked, you can use them in a variety of ways. Store in an airtight container for 4-5 days in the fridge and use in salads, make hummus, add to an Instant Pot rice pilaf, try this delicious vegetarian Moroccan chickpea stew or get cozy with our pumpkin chickpea chili recipe. Cooked chickpeas may also be frozen.
Before we carry away with other ideas, let's use our Instant Pot cooked garbanzo beans in this delicious dish topped with freshly-made salsa verde, yoghurt (dairy or vegan-friendly) and roasted red peppers.
Get inspired by more recipes with chickpeas here.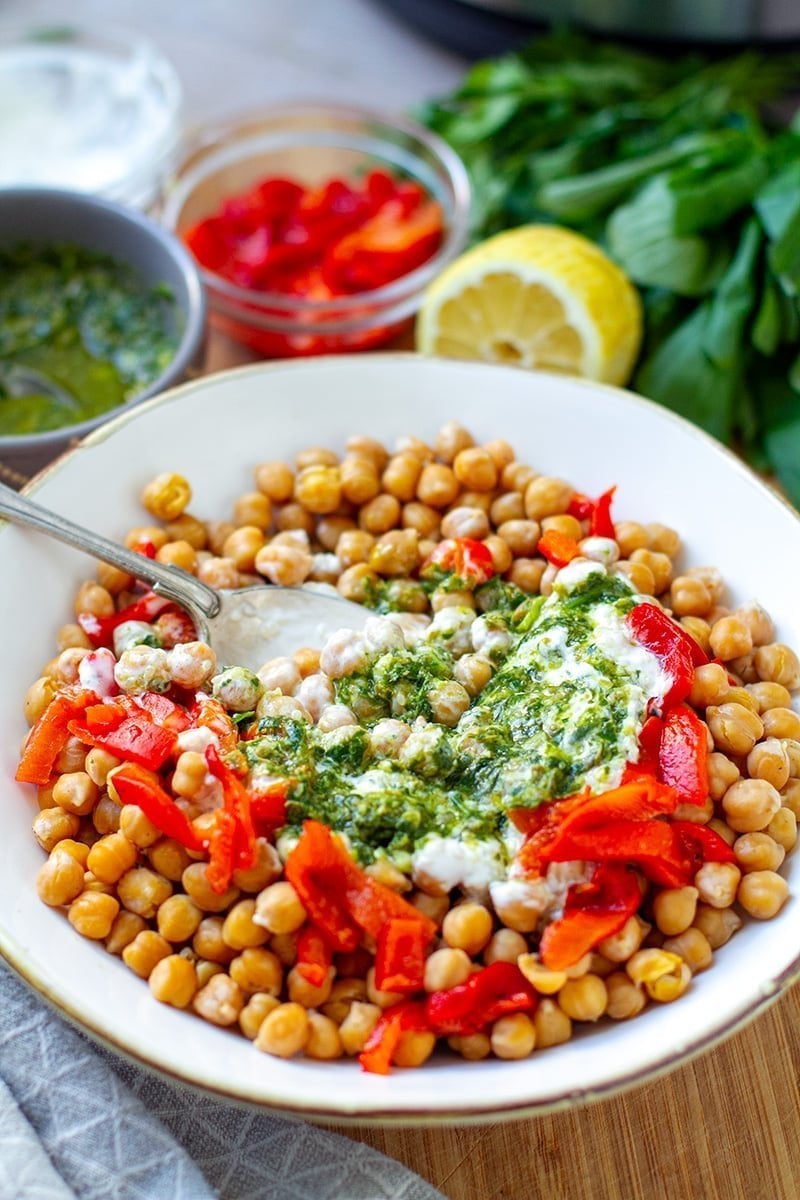 HOW TO MAKE SALSA VERDE
Salsa verde is a pesto-like sauce made with lashing of olive oil, pickled or salted capers, garlic, lemon and lots of fresh herbs like basil, parsley, oregano and chives. It's a zesty and flavorful condiment that can be used as a sauce, salad dressing and marinade. There is a version of this green sauce in many cuisines from this Italian salsa verde to Argentinian chimichurri.
To make salsa verde, you simply blend fresh ingredients, seasoning and olive oil in a blender or a food processor. This can be done while you're waiting for the chickpeas to cook in the Instant Pot.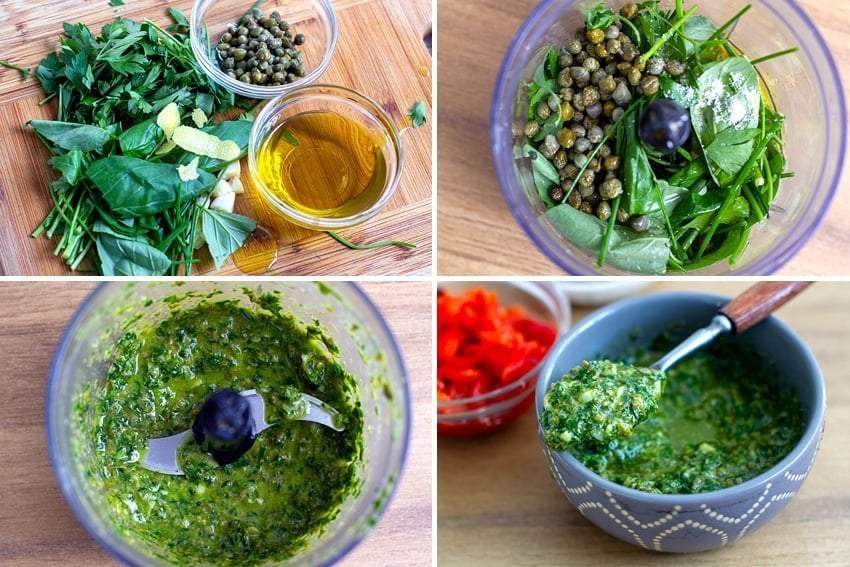 ASSEMBLING THE FINAL DISH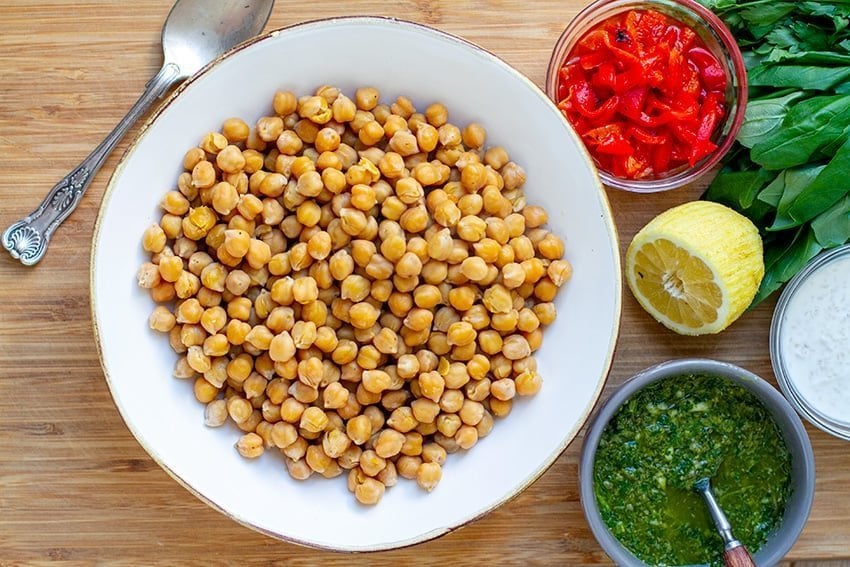 Right! We have our pre-cooked chickpeas (lovely seasoned with our veggie stock) and our fresh salsa verde. The last two elements in this dish are creamy yoghurt mixed with some earthy tahini (you could use sesame seeds or sesame oil) and roasted, pickled red peppers. The peppers add lovely sweetness, while the yoghurt gives the chickpeas a little creamy dressing.
For a vegan version of this dish, simply use a dairy-free yoghurt but choose unsweetened variety.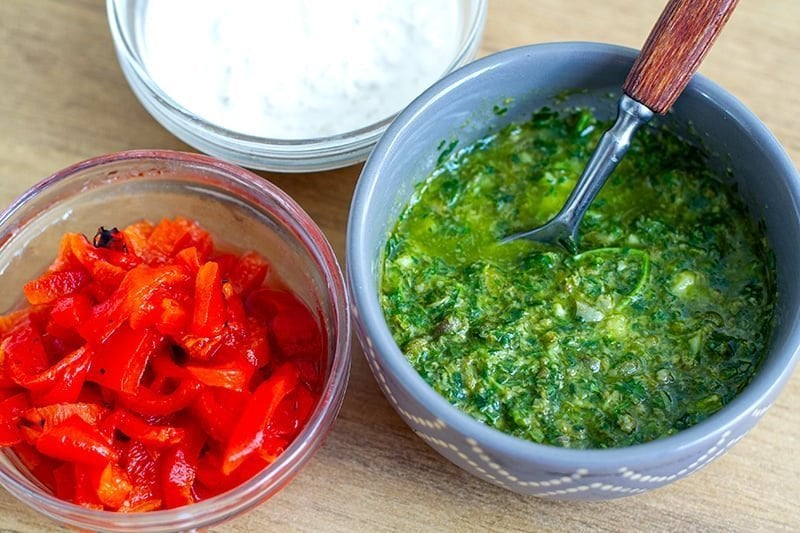 Serve the chickpeas in a large bowl and top with tahini yoghurt mixture in the middle. Then drizzle generously with salsa verde and scatter the sliced red peppers. You can serve extra sauces and peppers on the side for everyone to add to their plate.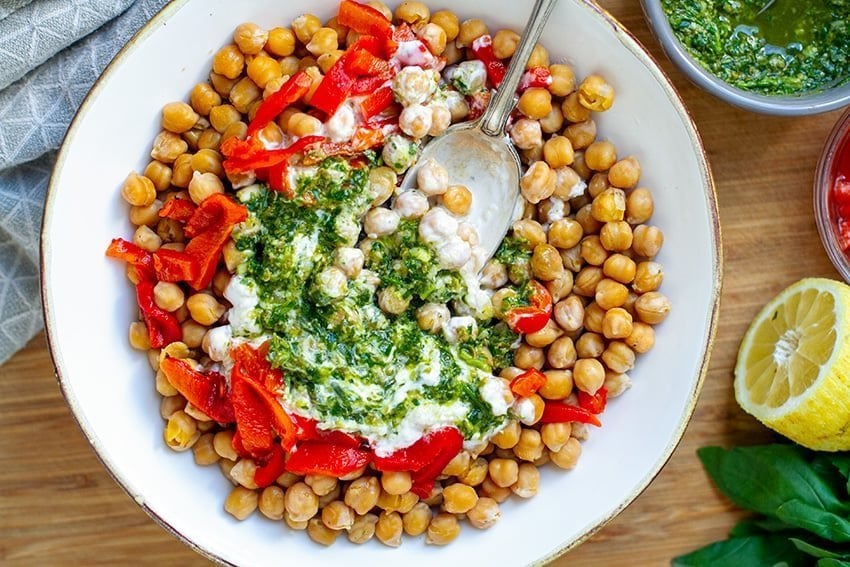 Print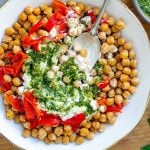 Instant Pot Chickpeas With Salsa Verde (Vegan, Gluten-Free)
Author:

Prep Time:

15 minutes

Cook Time:

1 hour

Total Time:

1 hour

Yield:

4-6

Category:

Main or Side

Method:

Instant Pot

Cuisine:

Mediterranean
---
Description
This Ottolenghi-inspired dish of Instant Pot chickpeas with salsa verde, tahini yoghurt and roasted red peppers is gluten-free, vegetarian, vegan-friendly. It can be served as a main with a side of rice or quinoa or as a side dish.
---
To cook the chickpeas
1.5 cups dried chickpeas (garbanzo beans)
4 cups water
1 cube of vegetable stock (such as Kallo Organic)
For salsa verde
A handful of fresh parsley
A handful of fresh basil
2 tablespoons marinated capers
2 cloves of garlic
2.5 tablespoons lemon juice
1/4 teaspoon salt
1/4 cup olive oil
1/4 teaspoon sugar or honey (optional)
To finish the dish
2 roasted red peppers, sliced thinly
1/4 cup plant-based yoghurt or regular yoghurt (unsweetened)
1 teaspoon tahini or 1 teaspoon sesame oil
---
Instructions
Cook the chickpeas. Add dried, unsoaked chickpeas to the Instant Pot and cover with about 4 cups of water. Add a cube of vegetable stock. Set to High pressure for  45 minutes. The Instant Pot will take about 10 minutes to come to pressure. Once cooked, allow the pressure to release naturally, which will also take about 10 minutes. You could use quick release if you're in a rush.
Prepare the salsa verde. While the garbanzo beans are cooking in the Instant Pot, prepare the green sauce. Add all ingredients to a food processor and blend until fairly smooth (pesto-like consistency).Transfer to a bowl and set aside.
Assemble the dish. Mix the yoghurt with tahini or sesame oil. If you don't have those, add a little ground cinnamon powder or cumin powder. Slice the red peppers.
---
Notes
Yoghurt. You can also add cumin or cinnamon powder to the yoghurt mix, especially if you don't have tahini or sesame oil.
Roasted red peppers. If you don't have those on hand, you could slice a few sun-dried tomatoes or fresh tomatoes instead.
Nutrition
Serving Size:

1 cup with 1 tbsp plain yoghurt + 1 tbsp salsa verde

Calories:

367

Sugar:

9.9 g

Sodium:

332.3 mg

Fat:

16.3 g

Saturated Fat:

2.4 g

Carbohydrates:

43.7 g

Fiber:

8.7 g

Protein:

14.6 g

Cholesterol:

1.9 mg