Fall is the season for pumpkin everything. Even if you're not a fan of the flavored pumpkin spice coffee drinks, with the influx of new, seasonal produce comes the potential for new recipes. In this roundup post, we're covering delicious Instant Pot pumpkin recipes. We're not just talking pumpkin, either – we've got butternut squash, sweeter kabocha squash, acorn squash, and more. From stews and soups to pies and cakes, we've got you covered this season!
---
Winter squash and pumpkin are beautiful ingredients that can be used in a huge variety of cuisines both sweet and savoury. The slightly sweet, light, starchy veggies signify the dawning of a transitional period. Autumn is a nice time of reflection, change, and comfort food. Stews, soups, warming spices, and cosy desserts abound, we have lots of great Instant Pot pumpkin recipes and ideas for you to use up that booming bounty of winter squash.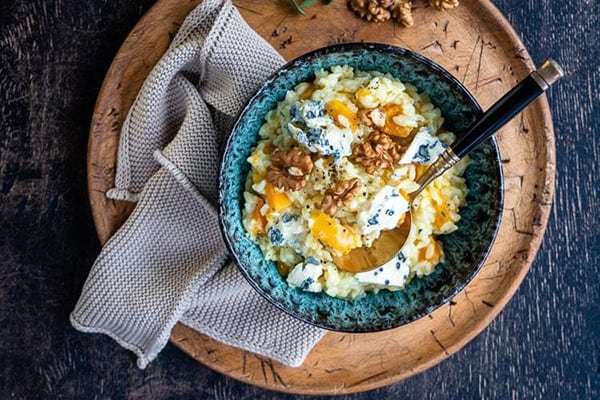 This creamy Instant Pot butternut squash risotto comes with a twist of blue cheese instead of the classic Parmesan cheese. It's perfect for a quick weeknight meal but fancy enough for company. Find the recipe here.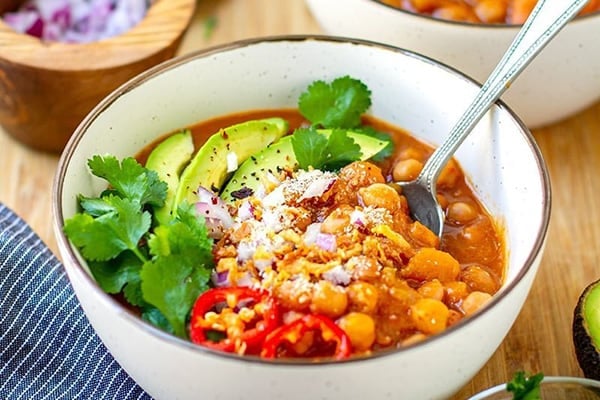 Made with butternut squash pumpkin and garbanzo beans (or chickpeas), this Instant Pot chili is comforting and hearty, perfect for a fall or winter dinner. Served with diced avocado and cilantro, this is a must-go gluten-free, vegetarian, and vegan chili for your pressure cooker. This is a great make-ahead, freezer-friendly recipe.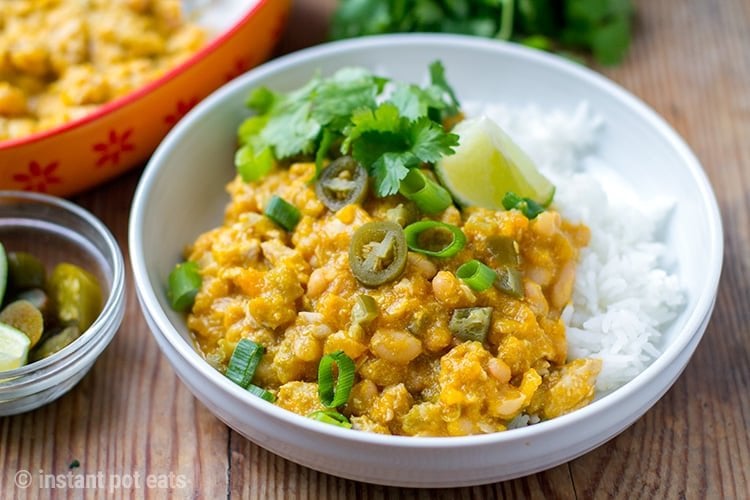 Made with sweet kabocha squash and white beans, this Instant Pot turkey chili is hearty, nutritious and full of flavour. The recipe is dairy-free, gluten-free and can be made with ground or diced turkey, or chicken.
---
WATCH OUR TOP 10 VIDEO RECIPES
---
Perfect for fall and winter, this Instant Pot butternut squash soup only takes 20-25 minutes from start to finish. It's gluten-free, paleo, vegetarian and vegan-friendly. This soup is also great for make-ahead batch cooking and freezing.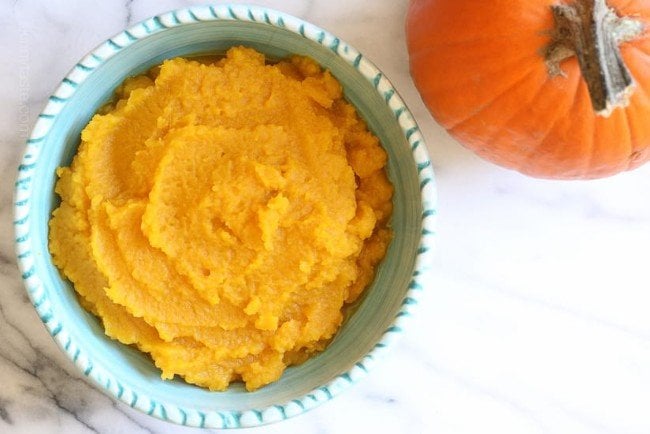 Let's begin with the basics! You can buy your own pumpkin puree at the store, but everything is better when you make it from scratch. This is great for those of you growing pumpkins. You can use some fresh, serve it plain, or freeze it in plastic bags for use throughout the year. It tastes better and fresher, and it's super easy to make in the Instant Pot. This is a great start for baking pumpkin pie that will blow everyone away. Be the star of Thanksgiving this year. Recipe from Skinnytaste.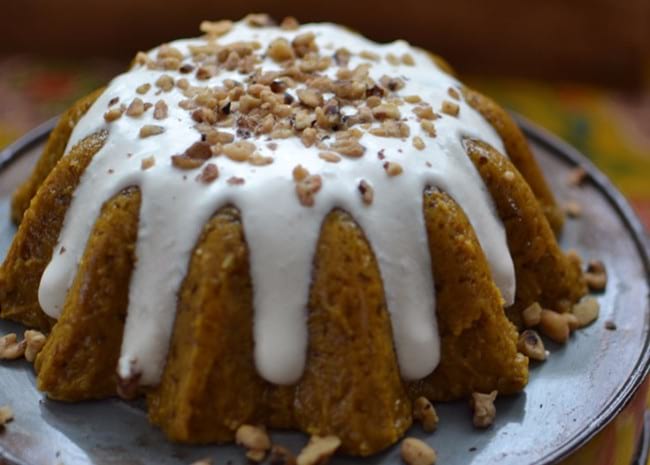 This incredible pudding looks indulgent, but it's hiding behind a 'junk food' facade. This pressure cooker creation is full of real food goodness, and it's totally allergen-friendly meaning it's free of dairy, gluten, and grains making it paleo-friendly. Plus, it's low in sugar. If you're looking to ward off the sneaky weight gain that tends to come along with the winter season, this dessert is perfect for toting to holiday parties. Recipe from Gnowfglins.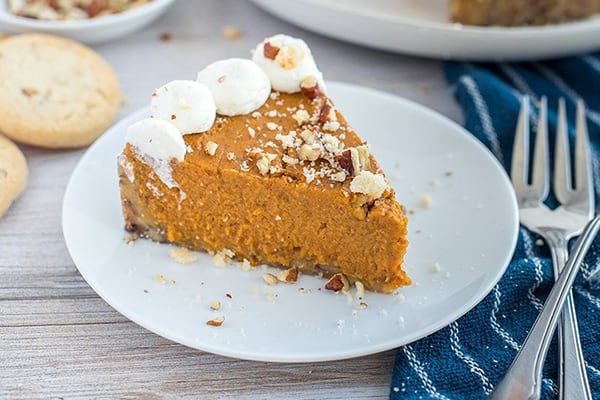 Of course, we had to include pumpkin pie. You have to make a good pie each season, and if you're looking to use your Instant Pot more for baking, this is the recipe to get started with. Like with pressure cooking cheesecakes, making pie in the Instant Pot is quick and painless – even for those of you who don't consider yourself the modern-day Betty Crocker. Recipe from Pressure Cooking Today.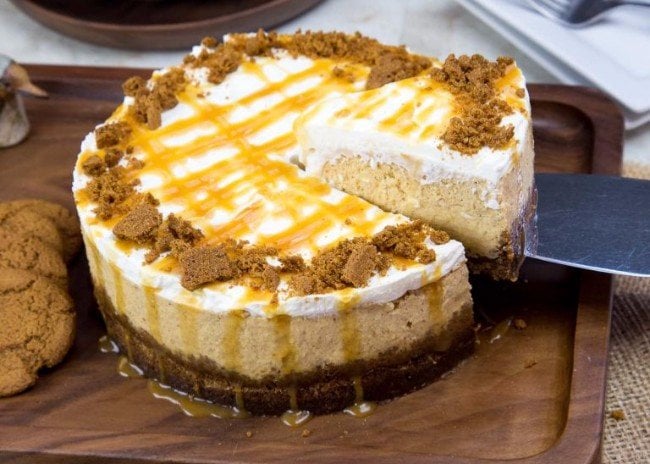 And if pie just isn't cutting it for you, there's always cheesecake. Who can deny the brilliance of a crusty layer on the bottom made with ginger snaps, the creamy pumpkin filling, and a sweet whipped cream topping with caramel drizzle? Nobody – that's who. This is the quintessential cheesecake for the fall season. Recipe from Pint Sized Baker.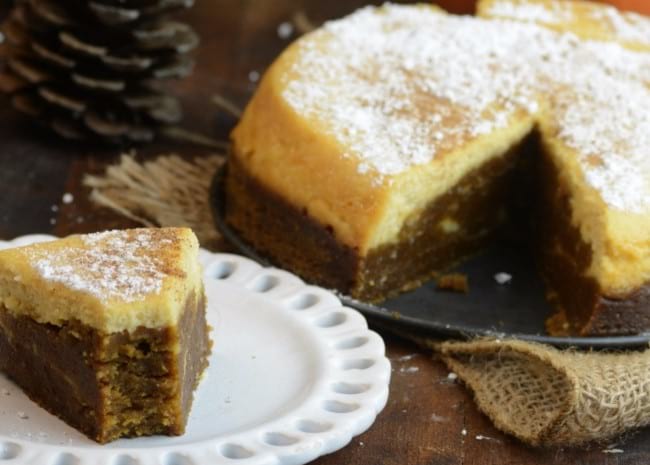 The evolution continues! If you can't choose between cake, cheesecake, or bread, this is the pumpkin-infused dessert for you. You get a moist cake layer and you get your creamy cheesecake layer on top. What more could you ask for? Recipe from Adventures of a Nurse.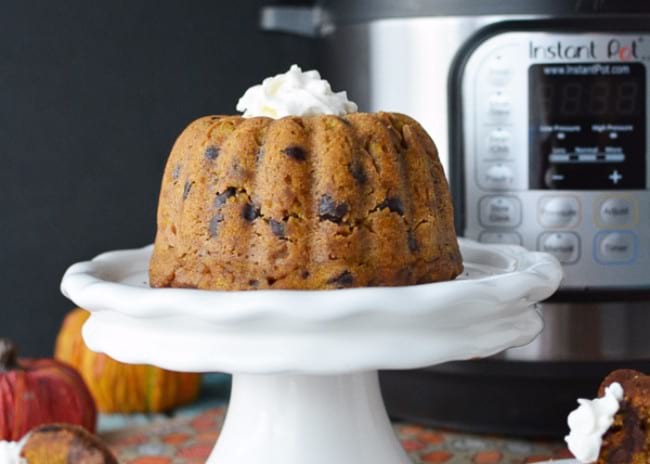 True story: pumpkin and chocolate are an underrated combination. This cake takes that into consideration and gives it some time in the spotlight in cake form. You can bust out your best bundt pan for this seasonal creation. This one takes just 30 minutes to cook from start to finish. Recipe from Southern Family Fun.
Pumpkin butter is a fall staple. It's great to pick up a jar fresh from the farm. It makes a lovely addition to oatmeal, spread on toast or crackers, or used in other desserts. Jarring it up also means having holiday gifts to give, from the heart! Let the Instant Pot make it easy with this hands-off, 5-minute recipe. Recipe from Recipes For Instant Pot.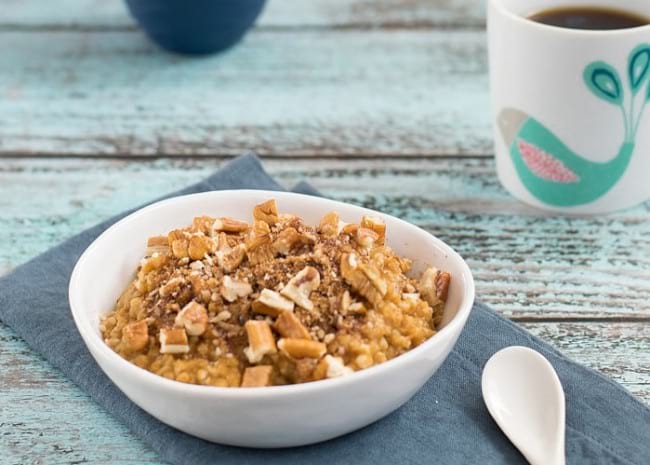 The Instant Pot makes breakfast easy, especially when it comes to a good bowl of oats. Steel-cut oatmeal is the superior oat, but it's notorious for taking a bit of time. Plus, it requires a lot of stirring. The Instant Pot removes the need for both so you can set it and forget it. Start your day the pumpkin spice way with this creamy bowl of nourishing, gluten-free porridge. Recipe from Healthy Slow Cooking.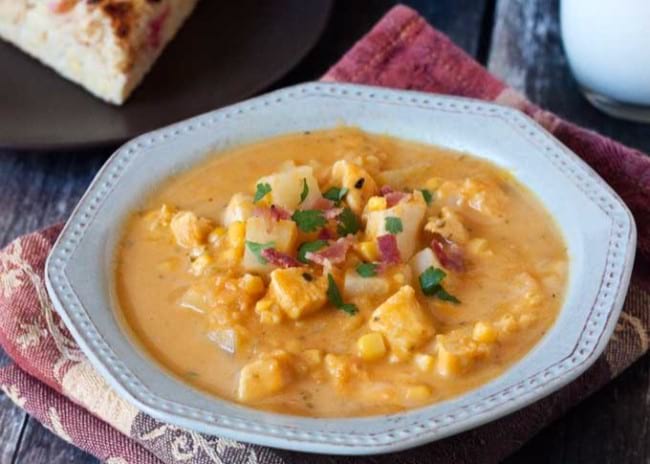 This chowder is creamy and dreamy with everything that makes a good chowder what it is – tender chicken for some protein, chunky potatoes, sweet corn, and a pumpkin base with a bit of spice in the mix for that classic kick. You can whip this up in no time with that homemade pumpkin puree. In fact, it makes a great addition to any creamy soup. Recipe from Pressure Cooking Today.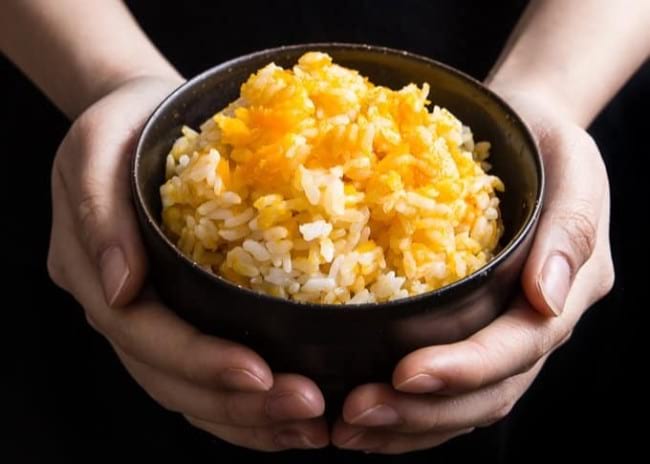 If you've never heard of kabocha squash, you aren't alone. Otherwise known as Japanese pumpkin, it's very similar to pumpkin, though it's a bit more starchy and less creamy. It works really well in savoury dishes like this rice. Recipe from Pressure Cook Recipes.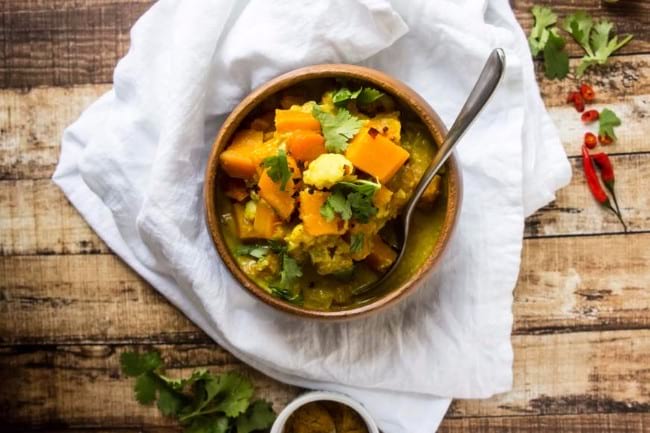 Pumpkin and butternut squash make a great addition to curry. Pumpkin is often found in the sauce itself, but this coconut curry features tender chunks of butternut squash throughout. Of course, you could easily use any winter squash you have handy, but admittedly, butternut is easiest to slice and dice so it comes in the clutch to add some texture and colour to this veggie-packed dish. You can serve it over plain rice or cauliflower rice. Recipe from Foraged Dish.
With this recipe, you get a stunning seasonal blend of Autumn's best selection – butternut squash and tart, juicy, sweet apples. With sweet potato in the mix to balance things out, plus a mix of sage, pumpkin pie spice, and coconut milk, you'll love what every ingredient brings to the table with this paleo and vegan soup. Recipe from Our Food Fix.
You can't bring up butternut squash without risotto. This creamy arborio rice dish skips out on the labour in favour of doing it up under pressure the lazy cook's way. Sage and Parmesan on top bring it together. Recipe from Serious Eats.
Check out some of our other favourite Instant Pot risotto recipes.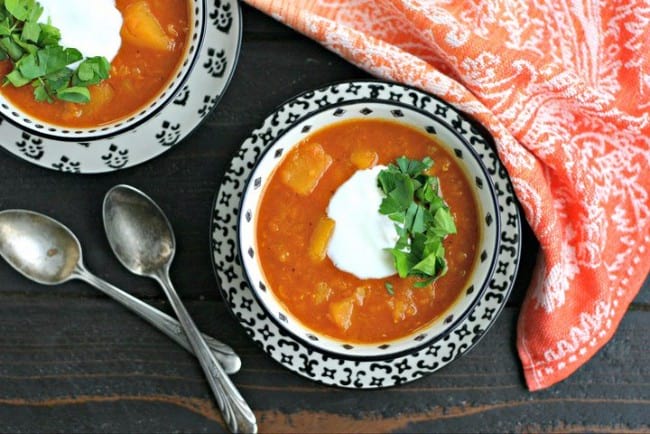 Lentils are always in season. This budget-friendly pantry staple brings soups to life with texture, flavour, and some plant protein. This soup is a fantastic winter warmer with big freezer potential to keep you satiated through any surprise storms that snow you in. Recipe from Everday Maven.
Swap potatoes in your beef stew! This recipe just puts a spin on the classic, cutting back on carbs and starch in favour of lighter, sweeter, and creamier butternut squash chunks instead. The Instant Pot yields tender, juicy stew every time, rich with flavour and aroma. This recipe is paleo and Whole30-compliant. Recipe from Gluten Free Pressure.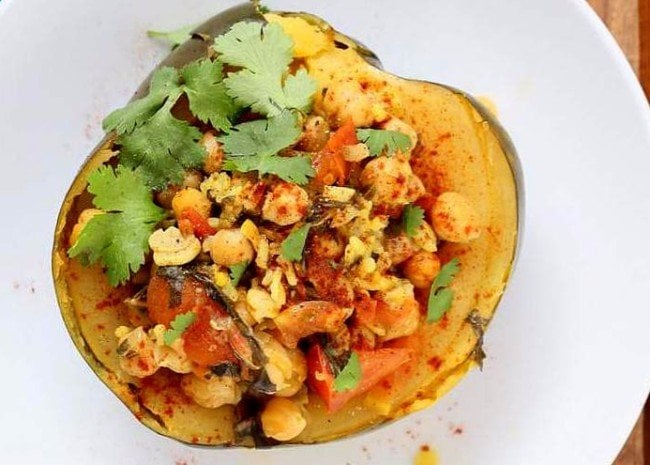 Acorn squash makes for a great meal because you can skip the bowl, and use its hollow inside instead. This vegan dish is jam-packed with goodies like curried chickpeas, brown rice, chopped onion, and warm spices. With this recipe template, you can use your acorn squash for inventive and creative stuffing from veggies and rice to meat and cheese. Recipe from Vegan Richa.
Spaghetti squash is a lot different than most other winter squash varieties because it's not a starchy veggie. It's still an amazing ingredient, especially if you're cutting carbs or grains. Instead of a creamy, potato-like inside, it shreds into strands much like spaghetti, making it a great replacement for bolognese, Alfredo, your favourite tomato sauce, or pesto "pasta." Recipe from Instant Pot Eats.
Winter squash is one of the best foods to make in the Instant Pot. Long cooking times grow shorter under pressure, and you can have your warm and comforting food on the table in no time. What is your favourite variety? Let us know, and be sure to share this roundup!
---
SAVE INSTANT POT PUMPKIN RECIPES TO PINTEREST