From vanilla and chocolate to salted caramel and light peach, we've got a collection of incredible Instant Pot cheesecake recipes for you to try at home. The pressure cooker is terrific for making cheesecakes and we even have gluten-free, vegan, and keto options.
---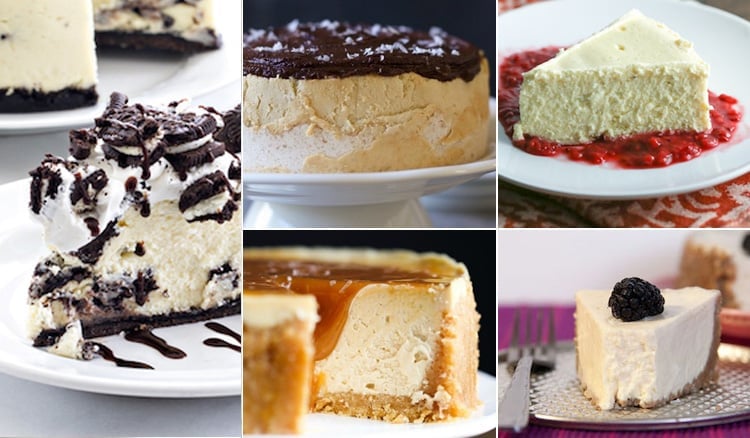 If you own an Instant Pot and you've done some research, one of the most pleasant surprises is the ability to effortlessly and quickly make cheesecake.
Truly, who doesn't like cheesecake? It's rich and creamy, and you can inject any flavor you fancy into it. It's also worth noting that some cheesecakes can be made with real food ingredients.
This simple dessert comes together brilliantly under pressure. The Instant Pot is good for soups, stews, meats, veggies, and all things savoury, but we know how to mend your sweet tooth with these fabulous sweet eats. All you need to make an Instant Pot cheesecake is a 7″ springform pan, or whichever size will fit your pressure cooker model size.
Check out these drool-worthy Instant Pot desserts and bundt cakes for more sweet inspiration. Below are some of must-try Instant Pot cheesecake recipes.
---
Best Instant Pot Cheesecake Recipes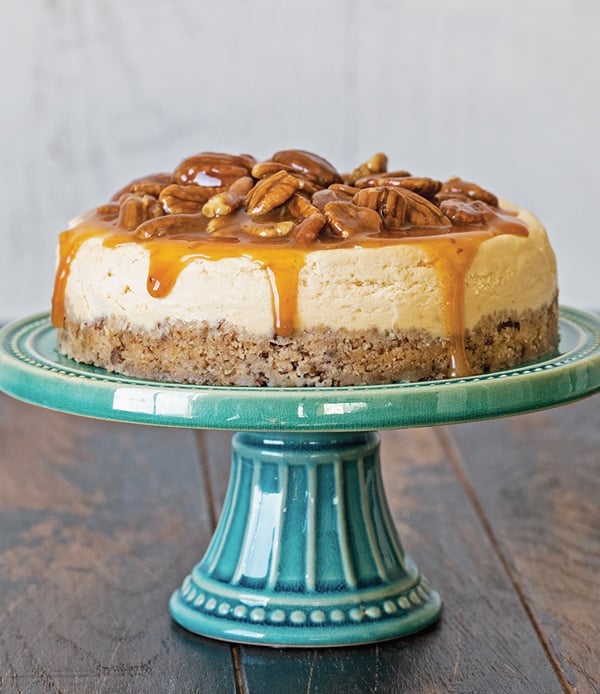 Try this amazing Instant Pot cheesecake recipe and indulge in a creamy filling sweetened with brown sugar on a shortbread pecan crust with a decadent caramel topping studded with toasted pecans. Get The Recipe Here.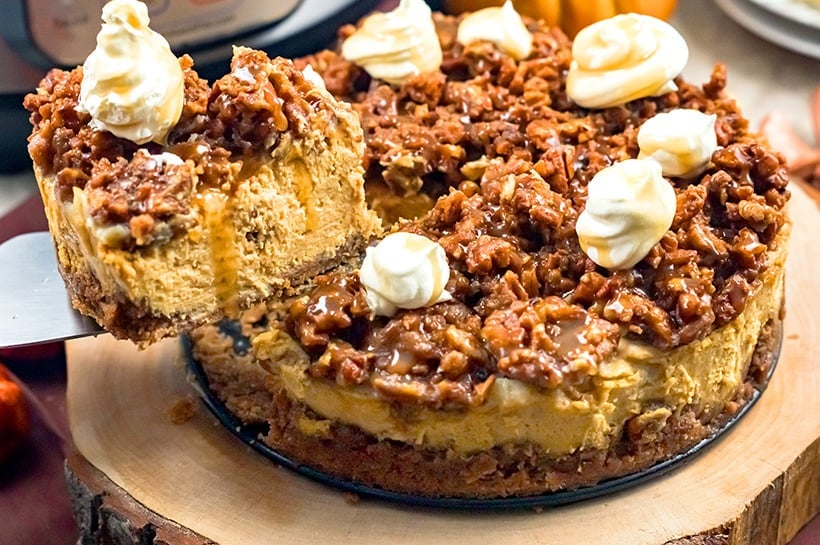 When it comes to seasonal fall and winter recipes, you can't go past a good pumpkin or pecan dessert, and with this Instant Pot pumpkin cheesecake with pecan crust and topping, we're combining both! With creamy, decadent pumpkin filling with caramelised butter pecan topping, this cheesecake is absolutely to die for and would be perfect for Thanksgiving, Christmas, Halloween or any other festive occasion. Get The Recipe Here.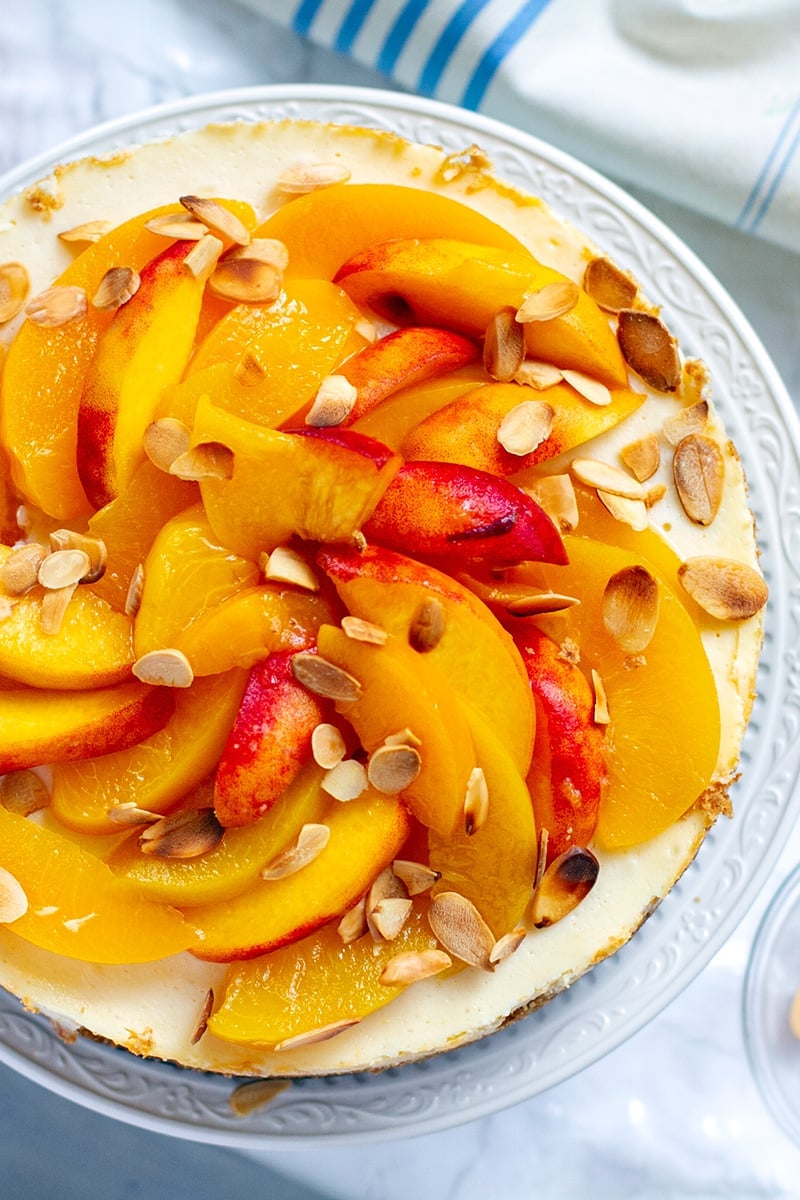 This fruity cheesecake is low in refined sugar and carbohydrates, making it a perfect treat. It's light and healthy, made with light cream cheese, Greek yogurt, and juicy peaches. Get The Recipe Here.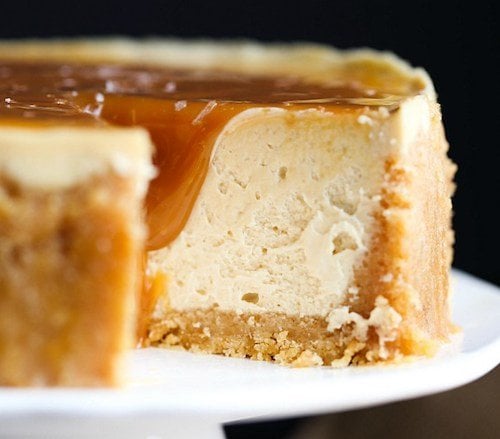 Salted caramel and cheesecake were meant to be. They're dessert soulmates. Naturally, this recipe made the list, and you can whip it up in the Instant Pot. The crust brings the salt home with a mixture using Ritz crackers, but you could use any cracker you'd like, including a gluten-free version if you prefer. Recipe from Cookies and Cups.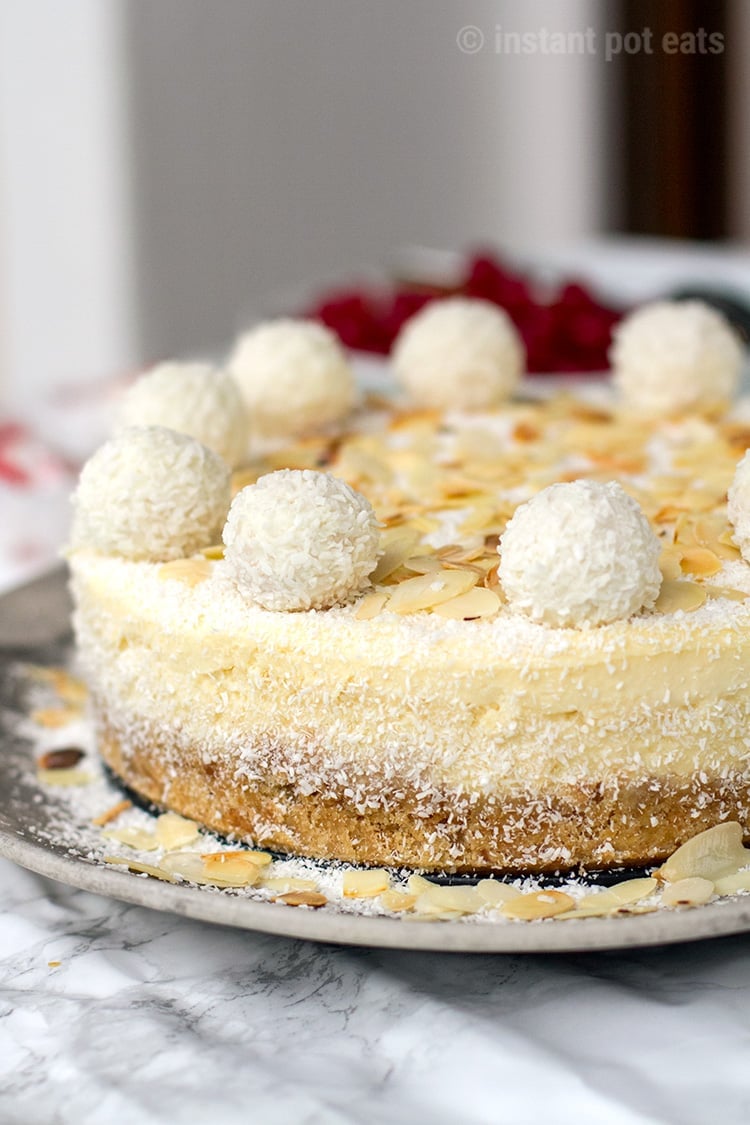 This is not an ordinary Instant Pot cheesecake! Inspired by the coconut and almond flavours of the Raffaello sweets, this pressure-cooked cheesecake is as decadent and delicious as it looks. Must-try recipe! Get The Recipe Here.
This cashew lemon cheesecake or "cheezecake" doesn't contain any of the cheese, but it certainly isn't lacking in texture or taste! You can serve it with whatever fruit you like, but fresh summer berries pair exceptionally well with the lemony, cashew base. The crust is naturally gluten-free, made with a mixture of rolled oats, walnuts, and dates. This recipe is also a refined sugar-free – score! Recipe from Healthy Slow Cooking.
Grain-free never looked this good! This stunning cake is made with cassava flour which works quite like wheat flour, so you'll never know the difference. It's refined sugar-free to boot, with just a touch of maple sugar. It's topped off with a peppermint chocolate layer and garnished with sea salt flakes. Are you drooling yet? Recipe from Recipes to Nourish.
This low-carb, crustless cheesecake comes together with just five ingredients, and it's totally sugar-free, instead of using Swerve – a natural sweetener derived from erythritol – to sweeten it. This is perfect for those who are following a keto diet but need a sweet fix here and there. Recipe from Health Starts in the Kitchen.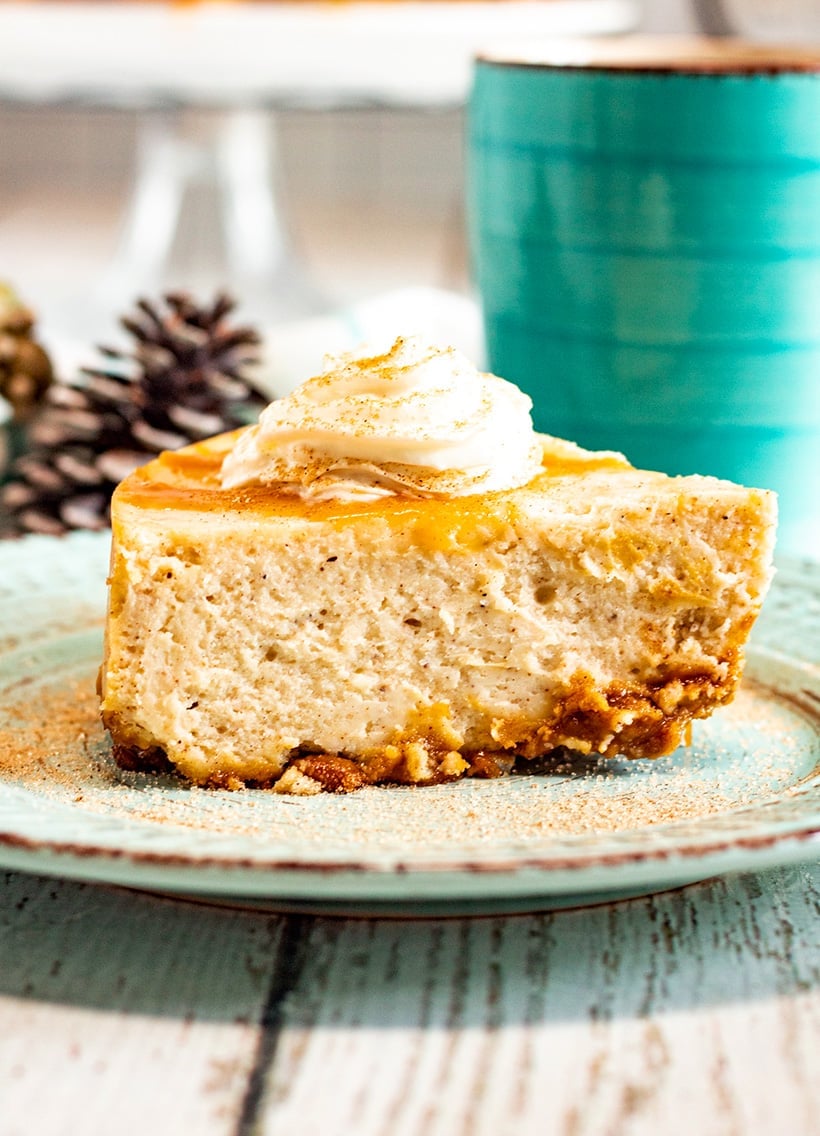 For a dessert with the holiday spirit, make this fabulous Instant Pot eggnog cheesecake with gingersnap crust and caramel drizzle. Spiked with a little rum, cinnamon and nutmeg, this pressure-cooked cheesecake is creamy and decadent, perfect with a little whipped cream or ice cream. Great for Thanksgiving and Christmas! Get The Recipe Here.
Here we have another one for the keto dieters, low-carb'ers and diabetics. This sugar-free cake is rich and chocolatey with a crust reminiscent of chocolate biscuits – inspired by Oreo cheesecake – and a silky, smooth and sweet ganache topping. All of that sandwiches a classic cheesecake filling. You've got yourself some seriously good dessert to dig into! Recipe from Nom Nom Princess.
This recipe takes on lighter fare by swapping out the heavier dairy for a full-fat Greek yoghurt and cream cheese combo, which lends its thick and creamy texture to the finished product quite well. This is a baseline recipe that you can use them to top with whatever you like! Recipe from Fueled By Instant Pot.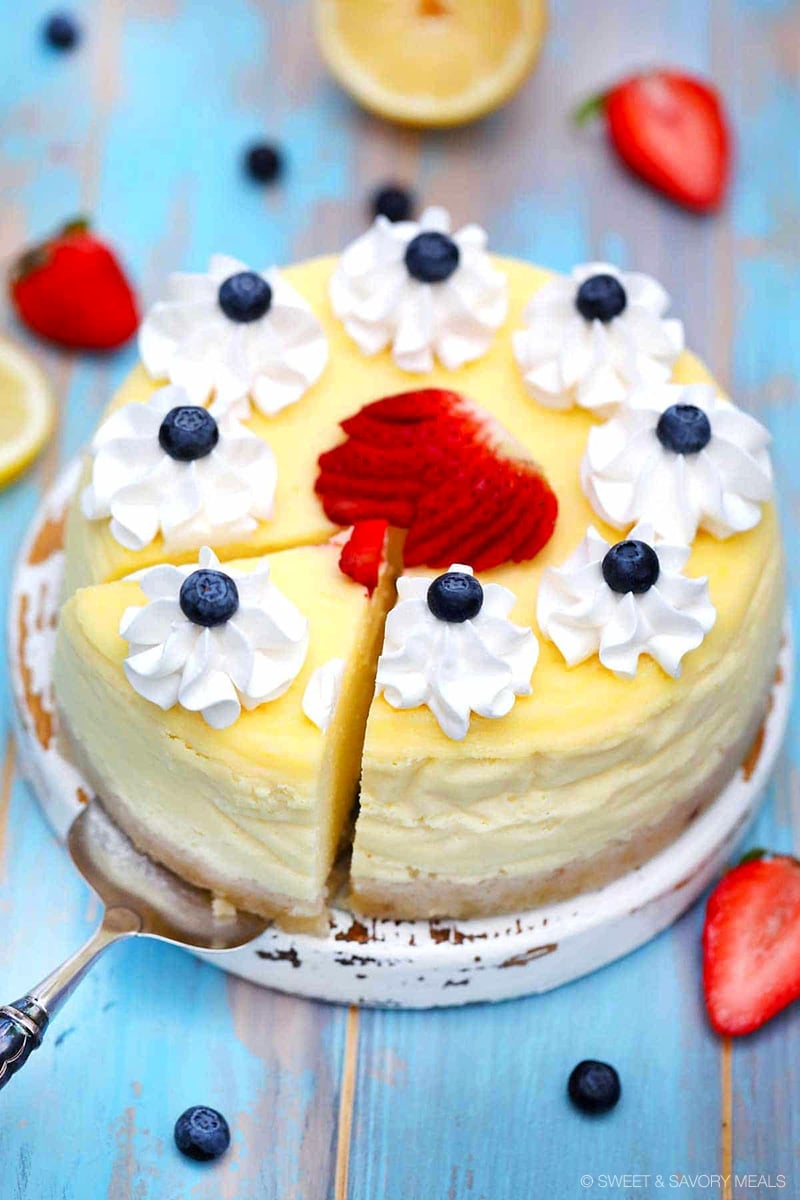 Zesty and summery, this Instant Pot lemon cheesecake is not only delicious but is also keto-friendly. Made with low-carb crust and creamy filling with a hint of lemon and vanilla, this is a dessert you can enjoy with the whole family and they won't even know that it's sugar-free. Get The Recipe Here.
Cheesecake is pretty inherently low-carb if you don't add in tons of sugar, so we're loving these adaptations. This one brings in some peanut butter and chocolate for that gorgeous, decadent marriage of the two. Plus, this recipe features single-serving sizes because, y'know, eating just a slice of cheesecake when the whole thing is starting back at you is tough! Recipe from Low Carb San Diego.
This simple, plain cheesecake is a winner. The crust is made from gluten-free graham crackers which are easily sourced at the store, and the rest comes together with just a few simple ingredients. Grass-fed dairy sources make this recipe full of healthy, good-for-you fats which you can feel pretty good about indulging in. Recipe from Life Made Full.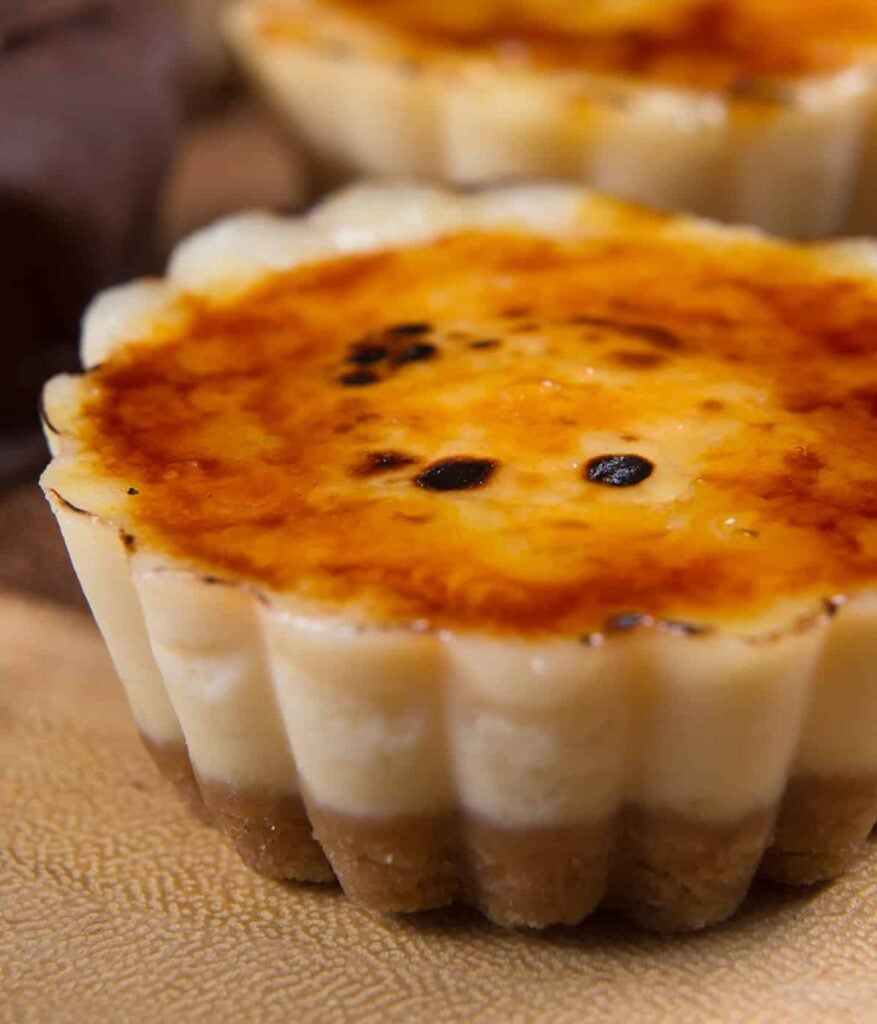 If you don't have to choose between creme brûlée and cheesecake, why bother? This recipe is a play on both, and you don't even need a fancy torch to make it happen. Considering these are also done in single-serving fashion, they're good for portion control (and probably freeze well if you need to eliminate temptation). Recipe from Pressure Cook Recipes.
Finally, we'll leave you with the quintessential cheesecake recipe. Suffice to say, there's nothing "healthy" about this, but sometimes, that's the best part about indulging in dessert. If you're looking to bring something quick, easy and painless on your part to the party, this glorious, cookie-stacked cake is IT. Recipe from My Baking Addiction.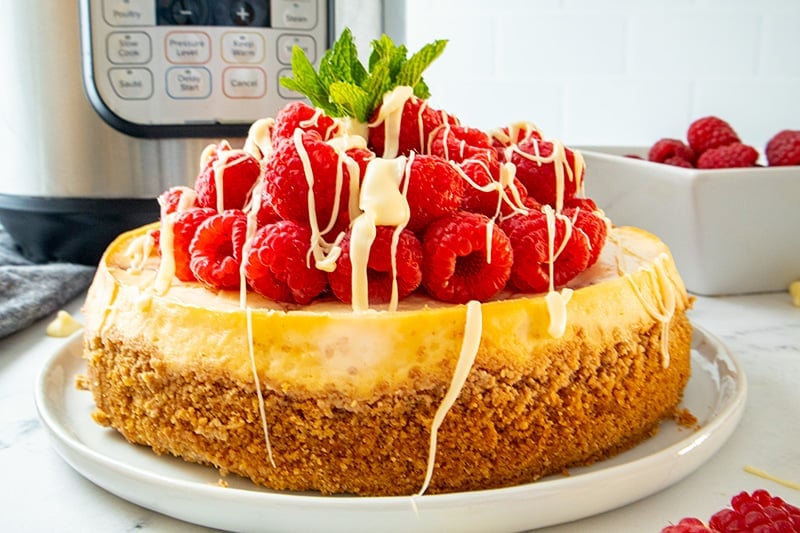 While white chocolate sounds rich and decadent, this raspberry cheesecake is actually quite light and fluffy and not too heavy. This smooth, creamy dessert is packed full of raspberries and is perfect for showing off summer berries — strawberries or blueberries work just as well! Get The Recipe Here.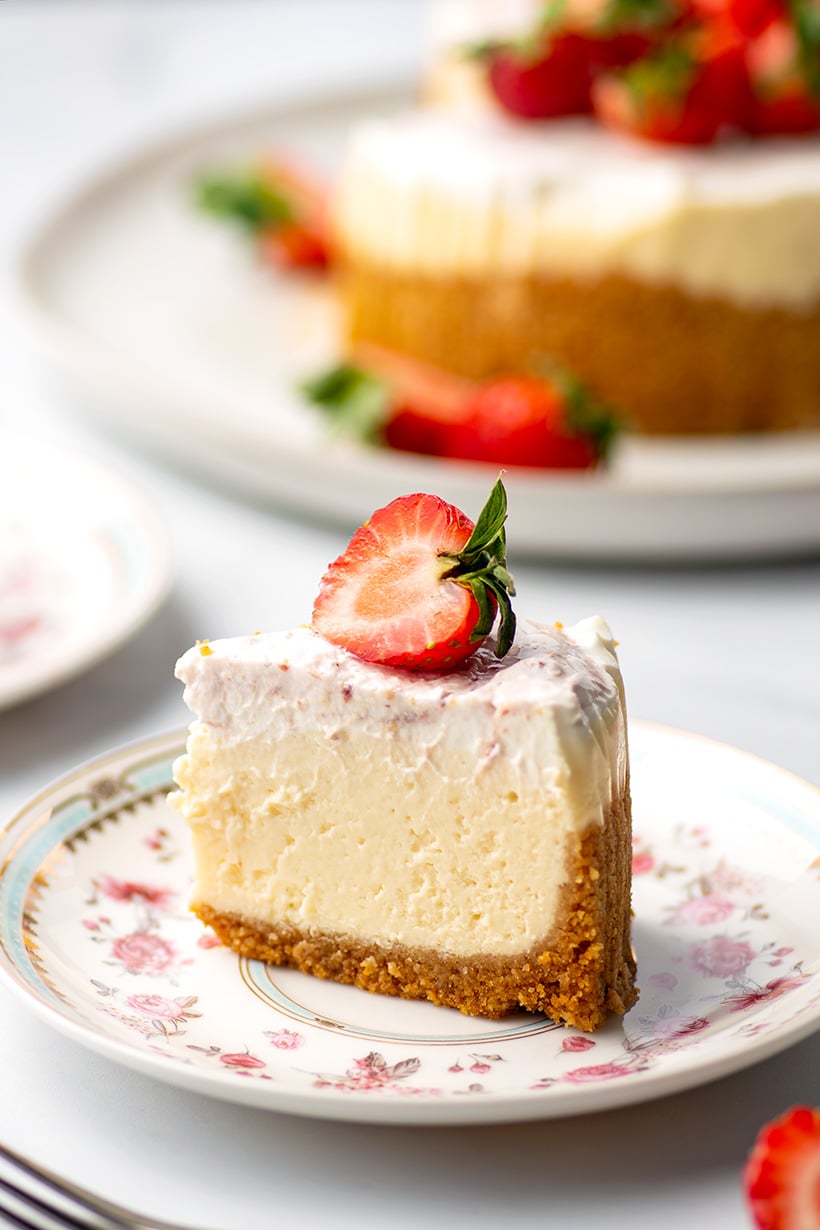 This is a simple cheesecake with vanilla cream cheese filling and strawberry jam whipped cream topping and is beginner-friendly for those of you new to pressure cooking or the kitchen in general. Get The Recipe Here.
Inspired by that wonderful freshly-squeezed summer drink that's sweet and tart with vibrant pink color. A hint of lemon in the cream cheese filling is complemented by fresh raspberry puree, giving this pressure cooker cheesecake a taste of childhood summers. Get The Recipe Here.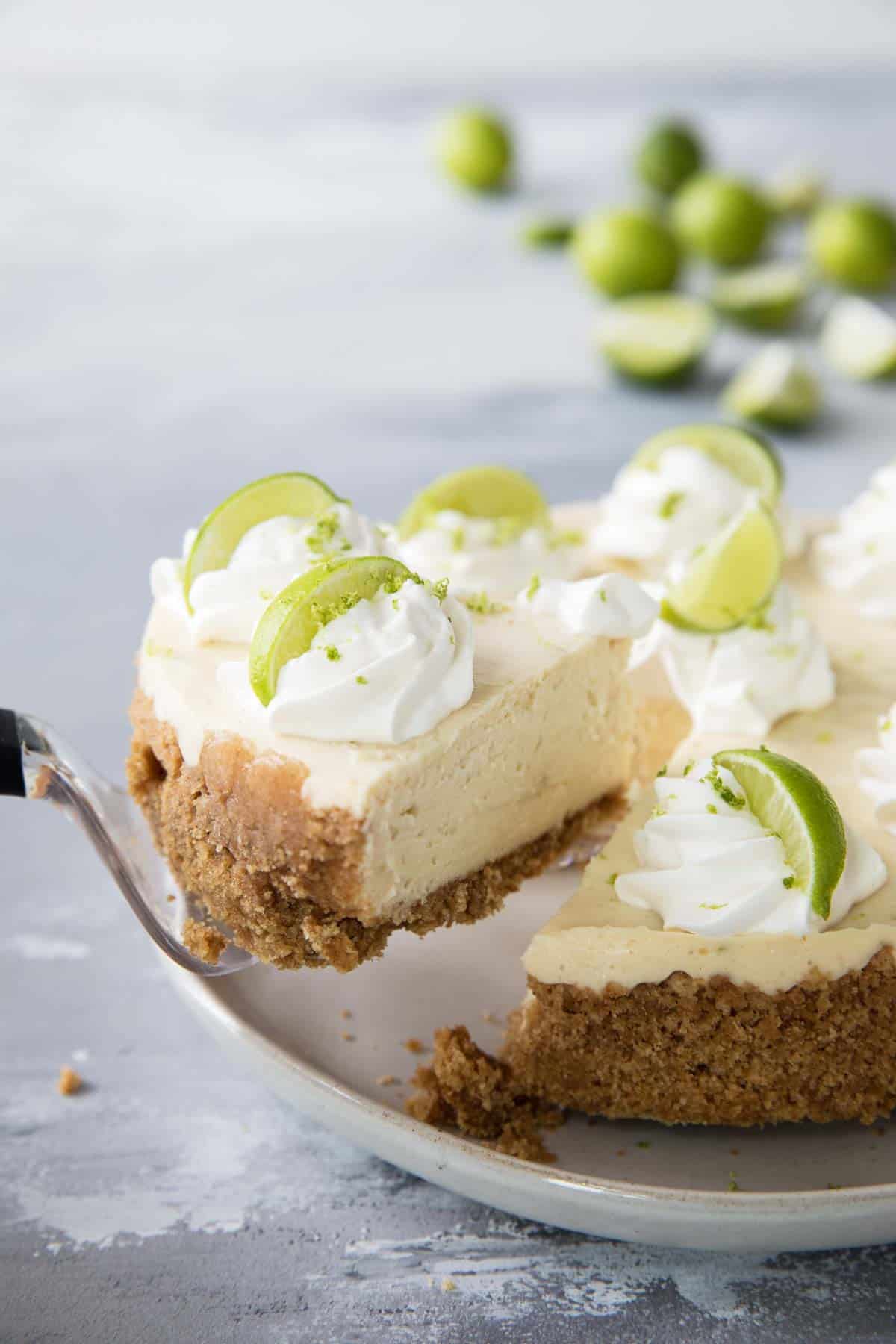 Sweet and tangy, this Instant Pot Key Lime Cheesecake is the perfect dessert for tart lime lovers. It is rich, creamy, and super easy. Recipe from Taste And Tell Blog.
This Cheesecake has a dense brownie bottom layer, an espresso and Kahlua cheesecake layer, and topped off with chocolate ganache and whipped cream. Don't worry, the alcohol evaporates while baking, so you are just left with that delicious Kahlua flavor without the alcohol content. Recipe from Baking Up Memories.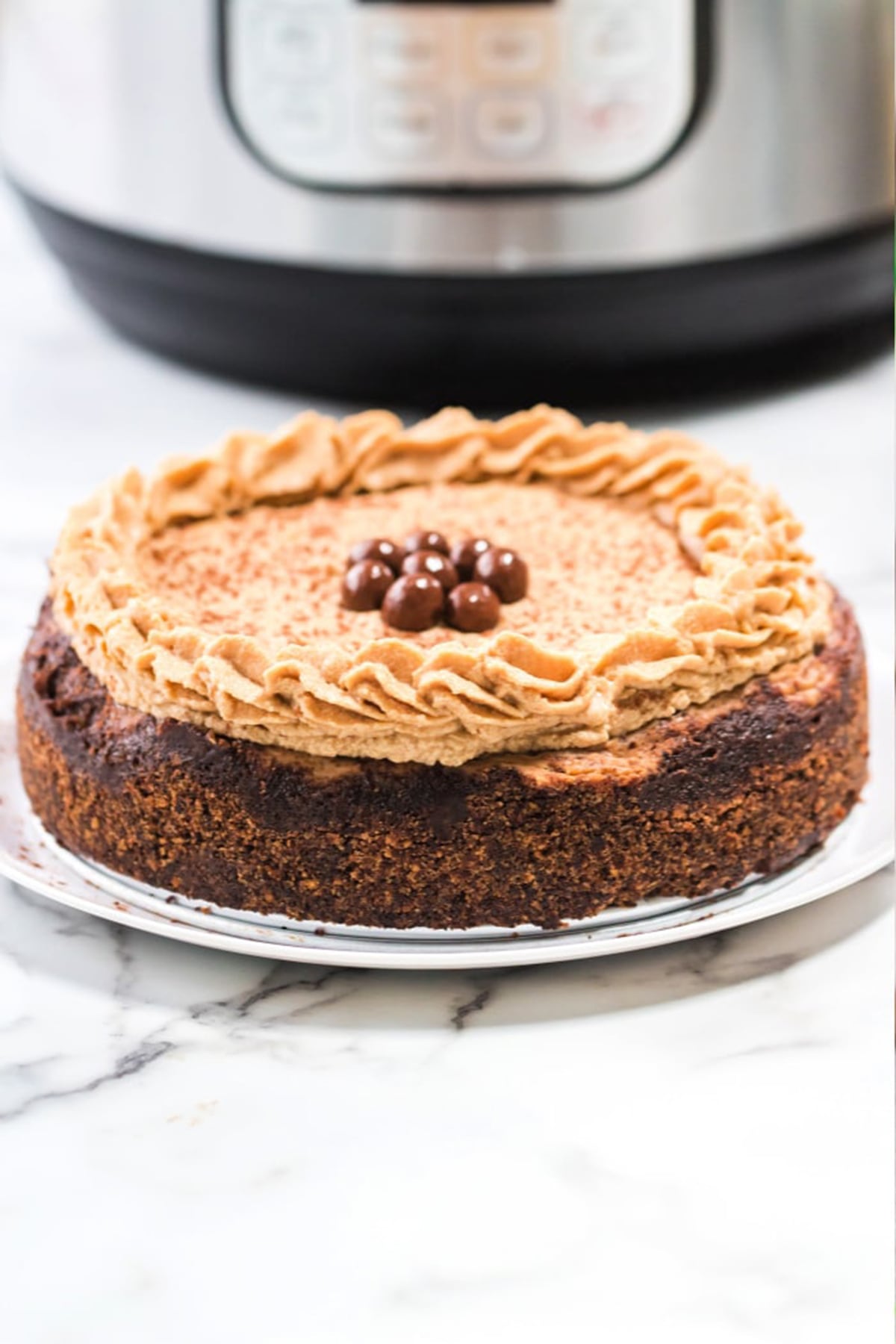 This Instant Pot Cheesecake tastes just like that Italian tiramisu dessert that we all love and adore but takes it to a whole other level with an awesome crust and creamy texture. It is full of coffee flavor and comes out so creamy. Recipe from Mom Makes Dinner.
Make a small-size rich, decadent cheesecake that is every chocolate lover's dream! This Instant Pot Chocolate Cheesecake has an Oreo crust and ganache topping. Recipe from The Best Cake Recipes.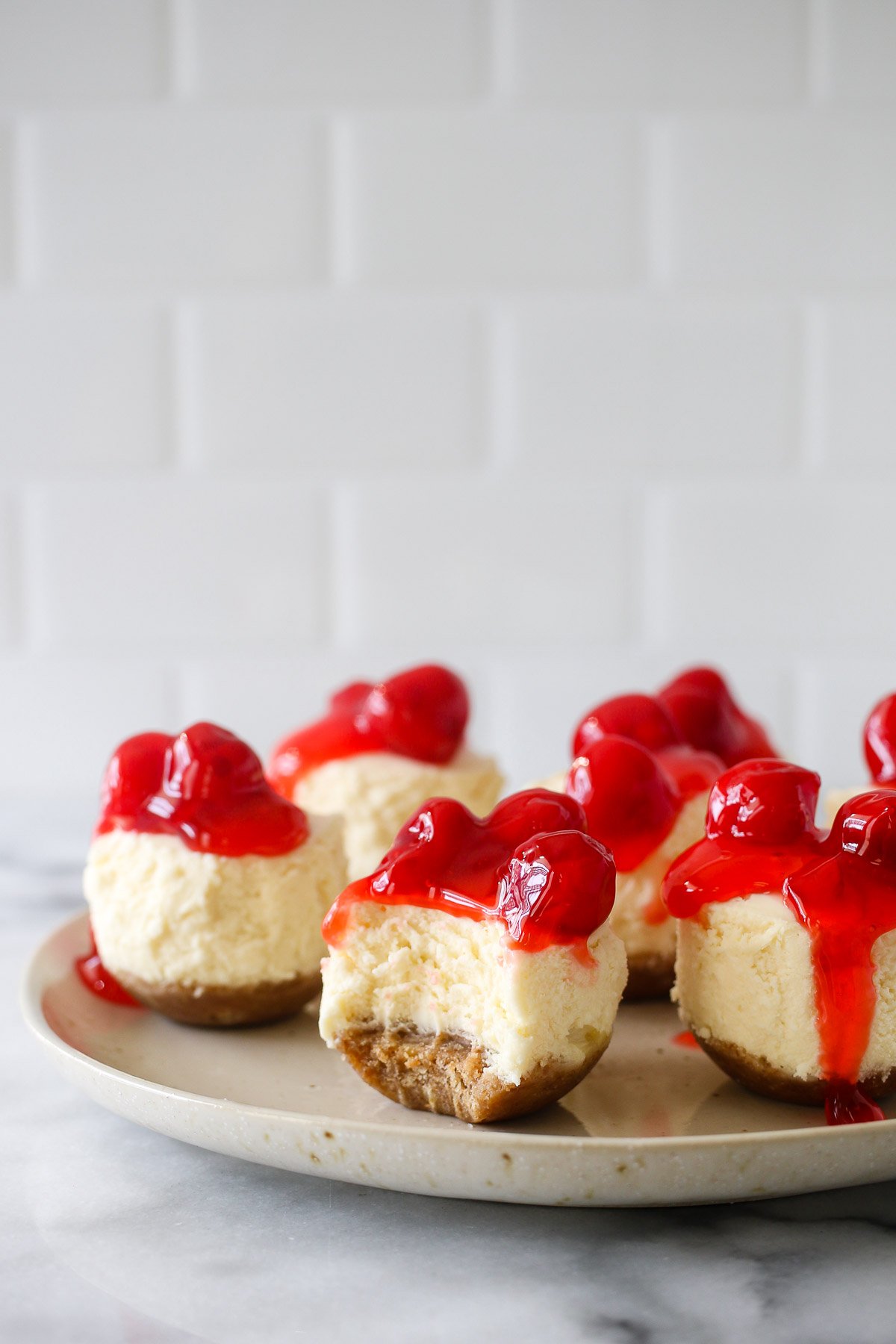 These Instant Pot mini cheesecake bites are prepared in an Instant Pot silicone egg bite mold to make the perfect serving size. Also great for single-serving party desserts, you can top these Instant Pot cheesecake bites with cherry pie filling like the recipe states, with blueberry topping, strawberries, or eat them just as they are. Recipe from Fab Every Day.
If you haven't heard of ube (pronounced ooh-bey) yet, it's purple yam. A popular ingredient for sweets and desserts in the Philippines and Hawaii. Ube is a starchy, sweet yam with the most beautiful purple coloring, which makes it the perfect ingredient for cheesecake. Recipe from Food Is A Four Letter Word.
Have you made cheesecake in the Instant Pot? We hope you enjoyed these healthy recipes. Now, what's your favourite flavour? Let us know in the comments! Share on Pinterest from here.
---