The Instant Pot makes weeknight dinners easy breezy. It turns once stressful meal prepping into a short and sweet affair. It can even make you breakfast overnight, or yield a week's worth of yoghurt in a single sitting. Perhaps, though, one of its most desirable and flat out charming qualities is its ability to make dessert. I mean, you can even make healthy desserts in the pressure cooker.
Baking isn't everyone's forte and we get that. Much like the Instant Pot makes cooking delicious meals an easier feat even for the amateur chefs, they can turn your baking mistakes into brilliant treats every time – minimal effort required. Here are some of our favourites you could try your hand at.
Pumpkin and chocolate are the dynamic duo of autumn, bringing in that fresh flavour and texture from REAL pumpkin and sweet, rich chocolate in every bite. Okay, enough drooling! This bundt cake uses real puree giving it a lovely hue with some healthy additions from the Greek yoghurt and banana. You could easily sub out the flour for gluten-free if you prefer, too.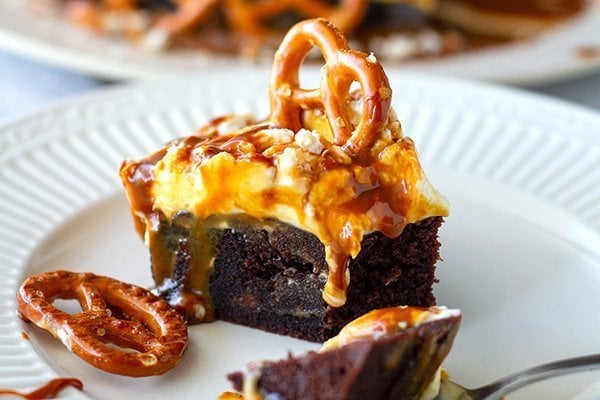 This particular Instant Pot chocolate cake recipe is great to have in your repertoire as you can use it as a template for other desserts. In this case, we were inspired by the classic pretzel cake and used salted caramel and whipped cream and cream cheese to pimp up our chocolate cake.
And we have another pumpkin winner! This allergy-friendly pudding recipe isn't just made for the holidays. It's like a traditional Christmas pudding, but it's so worth making in the off-season too. The coconut-ginger glaze makes it so satisfying to cut into!
AIP and paleo-friendly, this gorgeous apple upside down cake – no 'pine' necessary – is a stunning centerpiece to any table, whether you're feeding those with dietary restrictions or not. You can feel good about these ingredients, and beautiful, fresh lavender brings in some colour, flavour and stunning aroma.
When two worlds collide, you get pudding in cake form. Better yet? Its guilt-free label holds true. A modest list of ingredients – most kitchen pantry staples – make this pressure cooker dessert not only easy to make but easy to feel good about indulging in. It's grain-free and refined sugar-free, so have a slice… or two!
Banana + toffee = banoffee. And it's really, really good stuff. Can you tell? This pie is loaded with a creamy centre, tucked away in between cheesecake crust and drizzled with a paleo toffee and caramel sauce. This is the type of dessert you want to get to know.
Cheesecake is a fun one to make in the Instant Pot. We have a whole roundup dedicated to just that if cheesecake is just your thing. We especially like this low-carb version with no refined sugar! Keep it sweet, but not too sweet. This is perfect for keto'ers and low-carb'ers to indulge wisely (and with ease, of course).
Simple, slightly sweet, rustic and relatively healthy? We dig it. Apple crisp is a lovely way to use up any fruits. Autumn calls for apples and pears while summer will beg for berries. Fortunately, you could swap them any which way you choose with this easy cobbler adaptation for the Instant Pot.
Chocolate is better when it's doubled, and it's best when it's tripled. These are facts. Triple chocolate is better when it's cheesecake. This is also a fact. Here, we have all the things in one. This slice doesn't really need an introduction because just look at the layers. It's a cake crush, and you can make it in the Instant Pot.
Molten lava cake is the holy grail of chocolate. Dipping into that center of ooey-gooey, sweet chocolate is amongst the best feelings in the world. It's a nice way to celebrate or add a little something special to the dessert menu for a surprise. Plus, it's so easy to make!
Which dessert are you most looking forward to trying? From pudding to pumpkin, we have something for everyone! Share these recipes with your Instant Pot-loving friends who want to indulge… healthily