From lavish puddings and silky cheesecakes to comforting cobblers, we have put together our favorite easy-to-make, drool-worthy recipes for Instant Pot desserts and sweets that come together quickly in the pressure cooker.
---
The Instant Pot makes weeknight dinners easy breezy. It turns once stressful meal prepping into a short and sweet affair. It can even make you breakfast overnight, or yield a week's worth of yogurt in a single sitting. Perhaps, though, one of its most desirable and flat out charming qualities is its ability to make dessert. We mean, you can even make healthy desserts in the pressure cooker.
Baking isn't everyone's forte and we get that. Much like the Instant Pot makes cooking delicious meals an easier feat even for the amateur chefs, they can turn your baking mistakes into brilliant treats every time – minimal effort required.
WHAT DESSERTS CAN YOU MAKE IN INSTANT POT
When it comes to Instant Pot desserts you can usually make round cakes, cheesecakes, cobblers and crumbles, stewed fruit, jam, summer and winter puddings, and even mini lava cakes. You are somewhat restricted by the shape of the pot but it shouldn't stop your creativity.
You can use the Instant Pot trivet to stack layers of mini ramekins with pannacotta or chocolate muffins, and you can use various cake tins (again rounded or those that can fit inside your pressure cooker) to make all sorts of desserts.
Here are some essentials for your Instant Pot dessert-making kit: trivet (comes with your IP), silicone cake tin, loaf tin, flower cake or bundt cake tin, some ramekins, and yogurt making cups (which you can use for other things as well).
DROOL-WORTHY INSTANT POT DESSERT RECIPES
Here are some of our favorites Instant Pot desserts you could try your hand at. Find more pressure cooker dessert recipes here.
1.Chocolate Brownie Fudge Cake
Are you ready for some chocolate?! Instant Pot Chocolate Fudge Brownie Cake with toasted walnuts will be a dessert that impresses everyone at the table and makes your chocolate lovers very happy. Recipe from Instant Pot Eats.
2. INSTANT POT PEACH CHEESECAKE (LIGHT & HEALTHY )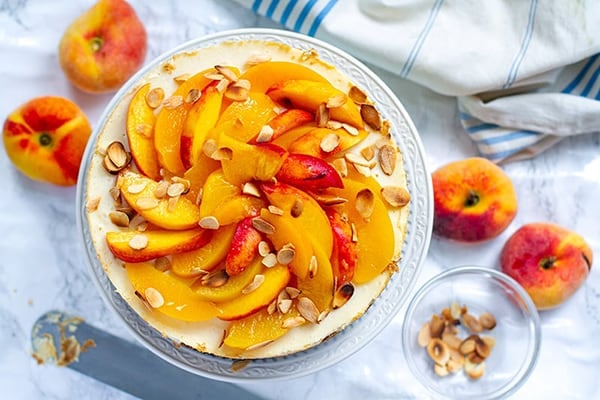 This fruity cheesecake is low in refined sugar and carbohydrates, making it a perfect treat. It's light and healthy, made with light cream cheese, Greek yogurt, and juicy peaches. Recipe from Instant Pot Eats.
3. INSTANT POT CHOCOLATE-ORANGE LAVA CAKES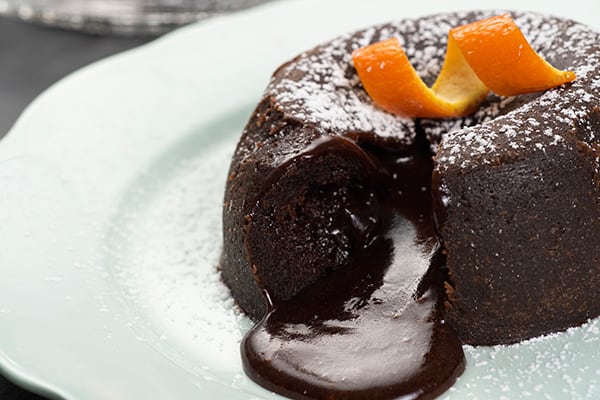 These are decadent and light in texture filled with gooey "molten" chocolate center and will melt on your plate and in your mouth. Super delicious and easy to make. This lava cakes recipe is from Laurel Randolph's latest Instant Pot Desserts Cookbook. Make sure to rank this recipe and comment below with any feedback or your own tips for making the perfect Instant Pot lava cakes. Get the recipe here.
4. Eggnog Cheesecake with Gingersnap Crust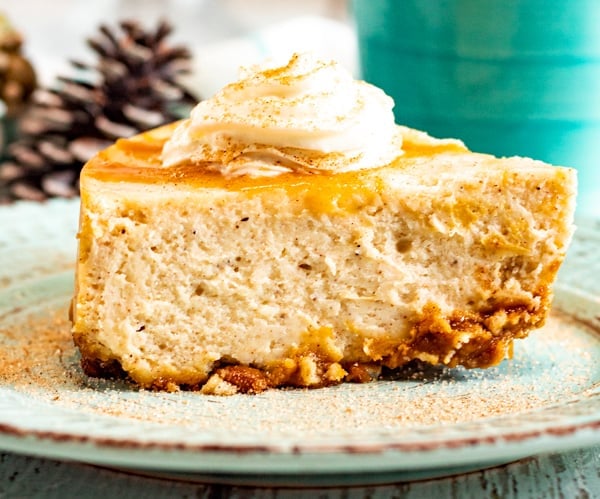 For a dessert with the holiday spirit, make this fabulous Instant Pot eggnog cheesecake with gingersnap crust and caramel drizzle. Spiked with a little rum, cinnamon and nutmeg, this pressure-cooked cheesecake is creamy and decadent, perfect with a little whipped cream or ice cream. Recipe from Instant Pot Eats.
5. Chocolate Cake With Salted Caramel & Pretzels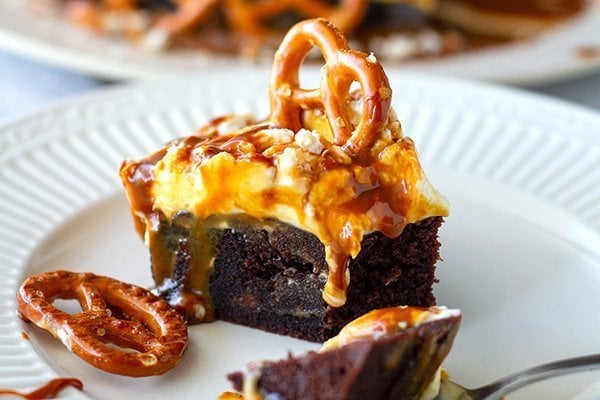 This particular Instant Pot chocolate cake recipe is great to have in your repertoire as you can use it as a template for other desserts. In this case, we were inspired by the classic pretzel cake and used salted caramel and whipped cream and cream cheese to pimp up our chocolate cake. Recipe from Instant Pot Eats.
6. Instant Pot Carrot Cake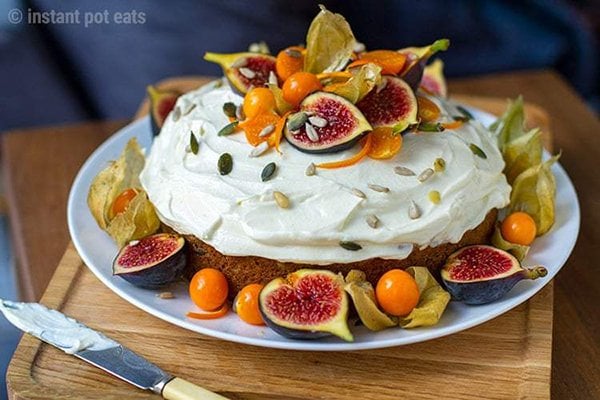 You will fall in love with this gorgeous and moist Instant Pot carrot cake the minute you taste it. It's nut-free and perfect with a cup of tea or as a treat for birthday parties, Easter, or Thanksgiving. It comes with step-by-step instructions and pictures. Recipe from Instant Pot Eats.
7. Caramel Pecan Cheesecake
Try this amazing Instant Pot cheesecake recipe and indulge in a creamy filling sweetened with brown sugar on a shortbread pecan crust with a decadent caramel topping studded with toasted pecans. Recipe from Instant Pot Eats.
8. Pumpkin Chocolate Chip Cake
Pumpkin and chocolate are the dynamic duo of autumn, bringing in that fresh flavor and texture from REAL pumpkin and sweet, rich chocolate in every bite. Okay, enough drooling! This bundt cake uses real puree giving it a lovely hue with some healthy additions from the Greek yogurt and banana. You could easily sub out the flour for gluten-free if you prefer, too. Recipe from A Pinch of Healthy. Find more Instant Pot bundt cakes here.
9. KETO LEMON CHEESECAKE (GLUTEN-FREE)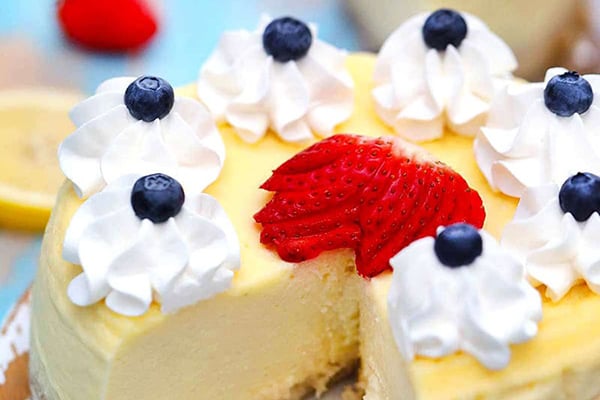 Zesty and summery, this lemon cheesecake is not only delicious but is also keto-friendly. Made with low-carb crust and creamy filling with a hint of lemon and vanilla, this is a dessert you can enjoy with the whole family and they won't even know that it's sugar-free. Recipe from Instant Pot Eats.
10. Pumpkin Pecan Cheesecake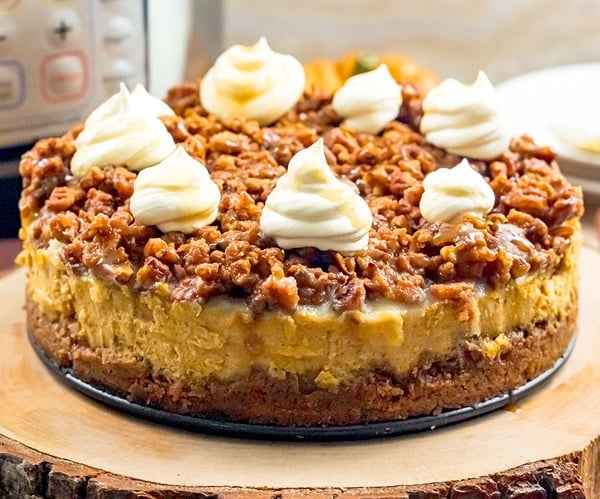 When it comes to seasonal fall and winter recipes, you can't go past a good pumpkin or pecan dessert, and with this Instant Pot pumpkin cheesecake with pecan crust and topping, we're combining both! With creamy, decadent pumpkin filling with caramelised butter pecan topping, this cheesecake is absolutely to die for. Recipe from Instant Pot Eats.
11. Instant Pot Pineapple Upside Down Cake
This beautiful dessert is a stunning centerpiece to any table and you could use a variety of fruit like peaches or apples instead of the pineapple. This Instant Pot cake has a delightful flavor and is made from scratch with ingredients easily found in your pantry. Recipe from Monday is Meatloaf.
12. Guilt-free Chocolate Pudding Cake
When two worlds collide, you get pudding in cake form. Better yet? Its guilt-free label holds true. A modest list of ingredients – most kitchen pantry staples – make this pressure cooker dessert not only easy to make but easy to feel good about indulging in. It's grain-free and refined sugar-free, so have a slice… or two! Recipe from This Pilgrim Life.
13. Instant Pot Pumpkin Pudding
And we have another pumpkin winner! This allergy-friendly pudding recipe isn't just made for the holidays. It's like a traditional Christmas pudding, but it's so worth making in the off-season too. The coconut-ginger glaze makes it so satisfying to cut into! Recipe from Traditional Cooking School.
14. Banoffee Pie with Paleo Caramel Sauce
Banana + toffee = banoffee. And it's really, really good stuff. Can you tell? This pie is loaded with a creamy center, tucked away in between cheesecake crust and drizzled with a paleo toffee and caramel sauce. This is the type of dessert you want to get to know. Recipe from Recipe This.
15. Low-carb Vanilla Bean Cheesecake
Cheesecake is a fun one to make in the Instant Pot. We have a whole roundup dedicated to just that if cheesecake is just your thing. We especially like this low-carb version with no refined sugar! Keep it sweet, but not too sweet. This is perfect for keto'ers and low-carb'ers to indulge wisely (and with ease, of course). Recipe from Health Starts in the Kitchen.
16. Triple Chocolate Layered Cheesecake
Chocolate is better when it's doubled, and it's best when it's tripled. These are facts. Triple chocolate is better when it's cheesecake. This is also a fact. Here, we have all the things in one. This slice doesn't really need an introduction because just look at the layers. It's a cake crush, and you can make it in the Instant Pot. Recipe from Pressure Cooking Today.
17. STEWED APPLES IN MULLED WINE
It's exactly as it sounds – apples stewed with brown sugar in red wine and spices – resulting in soft, sweet, spiced, and slightly boozy-flavored fruit (but not alcoholic!). You can serve these pressure cooked apples as a dessert with ice cream. Recipe from Instant Pot Eats.
18. Instant Pot Apple Crisp
Simple, slightly sweet, rustic and relatively healthy? We dig it. Apple crisp is a lovely way to use up any fruits. Autumn calls for apples and pears while summer will beg for berries. Fortunately, you could swap them any which way you choose with this easy cobbler adaptation for the Instant Pot. Recipe from Center Cut Cook.
Which dessert are you most looking forward to trying? From pudding to pumpkin, we have something for everyone! Share these recipes with your Instant Pot-loving friends who want to indulge… healthily