Learn how to use the Instant Pot trivet with this handy guide-post. From making cakes to steaming vegetables to pot-in-pot cooking, we show you 7 different ways how to utilize this accessory for cooking delicious food with a pressure cooker.
---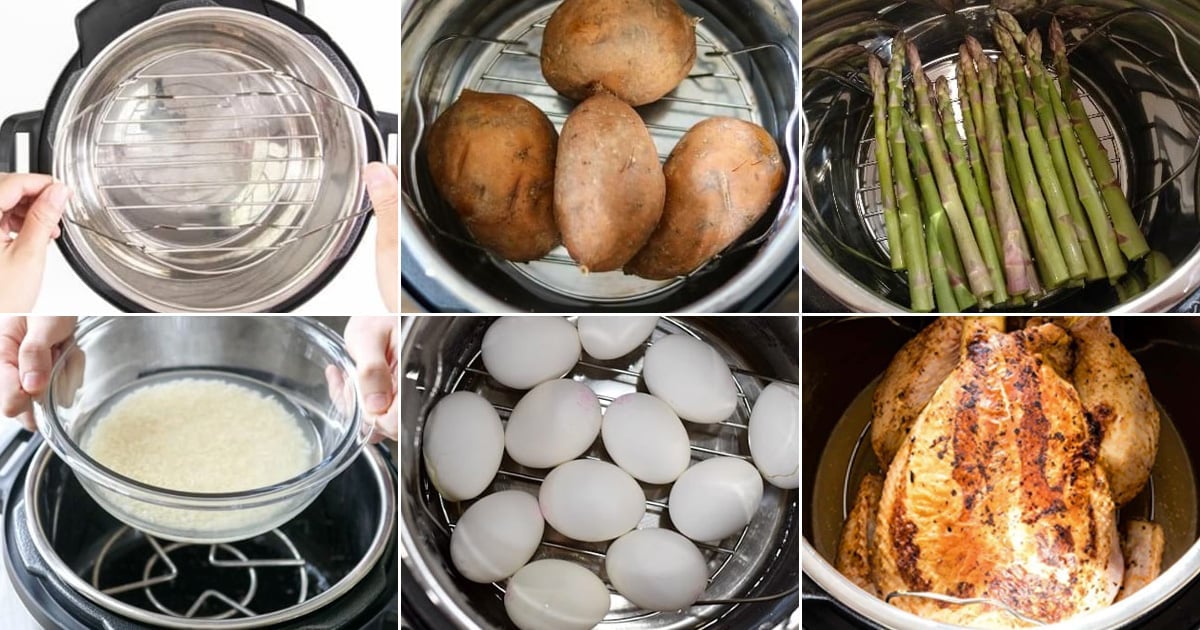 WHAT IS AN INSTANT POT TRIVET?
When you first unbox your Instant Pot, you'll find a few additional items that come with it. One of those key accessories is the trivet or the metal insert with collapsible side handles. In the example of the Instant Pot, it is designed to keep ingredients out of the water.
While pressure cooking, it is necessary to use 1-2 cups of water for every recipe (unless you are using the Saute function only). However, you don't always want it to mix with your food. Could you imagine a soggy cheesecake? Gross.
This is where the trivet comes in handy, and no – it's not just good for dessert! There's a reason why it comes with the Instant Pot. Here are some of our favorite ways to use the Instant Pot trivet that will inspire you to cook more and step outside of the box.
---
New to Instant Pot? Check out our Instant Pot beginner series. Learn how this pressure cooker actually works here, settings and buttons lowdown here, learn how to make perfect rice, creamy mashed potatoes, Tuscan chicken pasta or easy pork shoulder and gravy with our step-by-step recipes.
---
1. Cheesecakes & Other Baking Needs
Who wants a cheesecake with a soggy crust? Nobody – that's who. While the springform pan is the most vital accessory for making the perfect dessert slice, a trivet is necessary for getting the right texture.
Unlike the oven method, you need water to cook anything in the Instant Pot. This is how it comes to pressure. While the pan provides a barrier, a trivet keeps it lifted and fully out of the water allowing for even cooking throughout. Check out these 10 incredible Instant Pot cheesecakes recipes for inspiration.
2. Eggs On Trivet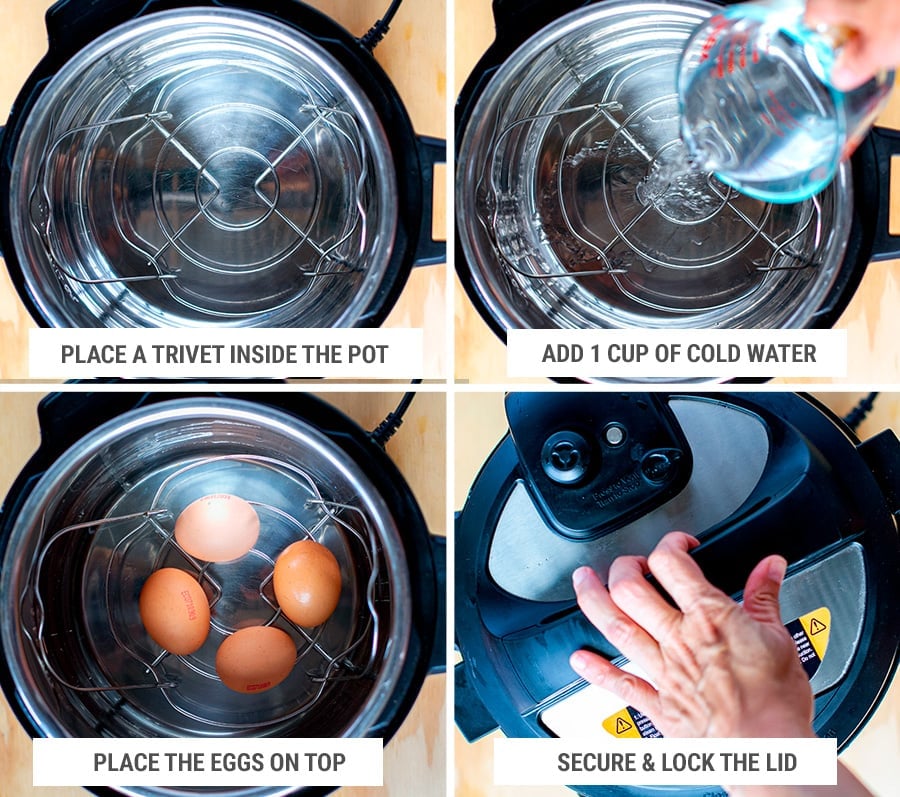 There are a few methods for cooking "boiled" eggs in the Instant Pot. You can't just toss the eggs into the water and hope for the best. You'll end up with cracked eggs!
You can use a steamer basket or cook them in the trivet, as pictured above (here is the recipe). This keeps the eggs in place and minimises movement so your eggs are perfectly cooked and don't bump into each other during the process too much.
Like with cheesecake, you also want to keep the eggs out of the water while cooking, and the trivet comes in handy for this. Check out 10 ways to prepare eggs using the Instant Pot here.
3. Pot-in-pot Cooking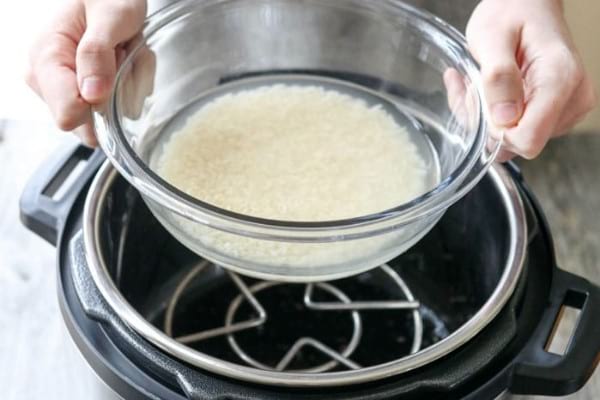 If you're looking to use your Instant Pot for something like the perfect steamed rice, the pot-in-pot method is perfect for you. You can use a glass bowl, stainless steel pot, or whatever else is safe and sturdy to use under pressure (make sure to double-check ahead of time!).
The trivet essentially keeps the pot above the waterline allowing for even cooking and steaming. This method is great for mastering dishes like lasagna, bread loaves, flour cakes, and meatloaf recipes in the Instant Pot.
Check out some inspiring pot-in-pot Instant Pot recipes here.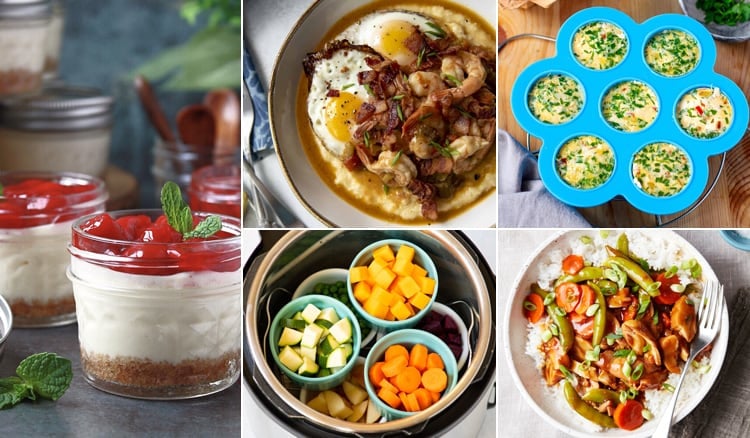 4. Steaming Veggies on Trivet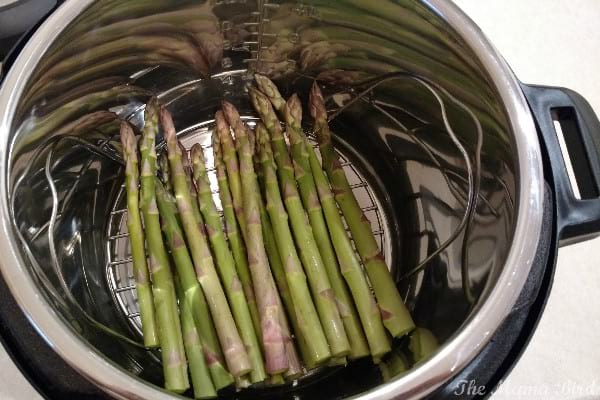 Delicate veggies don't take long in the Instant Pot. If you've experimented, you likely know that things like asparagus, broccoli, beets and cauliflower only take around a minute to make. Perfectly steamed veggies are still a little crisp. Cooking them in the Instant Pot can be a gamble.
For great texture and maximum nutrient retention, place your delicate veggies on the trivet to steam so that they remain out of the water. A steamer basket or even a cake tin placed on top of the steam rack trivet will also do the trick. For more ways to cook vegetables with your Instant Pot, check out our 101 series here.
5. Using Trivet For Perfect Potatoes
Baked potatoes are a thing of the past. Pressure cooked potatoes are in because the method is hands-off, the timing is quick, and the results are fantastic every time. The trivet works to keep them out of the water so the bottom of your spuds doesn't get soggy.
You can use the trivet steaming method for potatoes with both regular potatoes and sweet potatoes. Check out these baby potatoes with butter and dill.
You might also want to check out these 5 delicious ways to make Instant Pot potatoes.
6. Double Stacking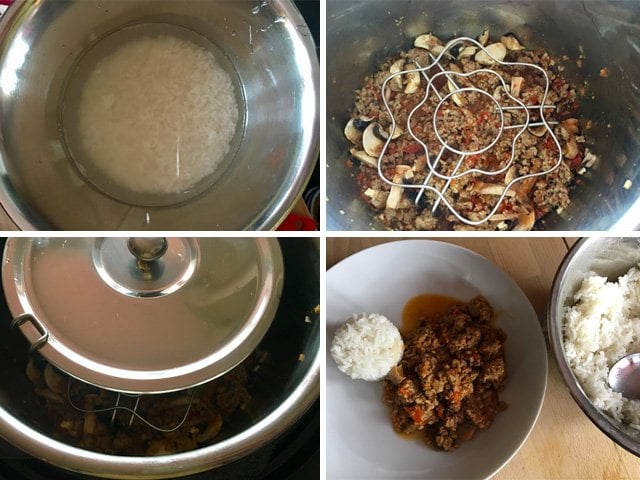 Another very useful way to use a trivet is when you want to cook two different dishes or separate elements of a meal at the same time. For example, you can cook a meat sauce on the bottom of the pot and place a bowl of rice and water on the trivet over the top. Set the right timings and relax!
Or, you could place potatoes in some delicious broth or salted water in the bottom of the pot and place the trivet over the top together with a few marinated chicken breasts. Check out this chicken curry and rice recipe here.
7. COOKING Large Pieces Of Meat & Poultry
Whether you want to make a whole roast chicken for Sunday lunch or a rack of smokey BBQ pork ribs, the Instant Pot can be very handy at getting the task done in half the time. And when it comes to cooking larger pieces of meat or poultry with the pressure cooker, having the trivet is essential, especially if you're cooking the meat separately from the sauce.
Add a cup of water or broth to the bottom of the pot (you can even experiment with adding some lovely aromatic herbs, citrus fruit, and garlic to the liquid), pop the trivet on top and nestle the rubbed chicken or a spiced beef brisket over it.
Once it's cooked or partially cooked, the trivet makes it easier to pull the meat out of the Instant Pot. Pop it under the grill or in a hot oven to get some color and crispiness, if needed. Check out this easy whole roasted chicken from Recipes From A Pantry.
How do you use your trivet? Let us know your favourite tips and tricks in the comments below, and make sure to share this article!
---