The Pot-in-Pot method of cooking in the Instant Pot gives you so much flexibility with prep time and cleanup. Plus, you can use accessories already in your kitchen. From making yoghurt in mason jars that you can easily grab on-the-go to rice in a bowl so that it doesn't stick to the bottom of the pot and cooking main protein alongside veggies or grains at the same time, there are many creative ways to use the pop-in-pot technique.
---
Instant Pot has made life so much easier in the kitchen. Can it get any faster or convenient? Maybe if cooking more than one dish at the same time with less cleanup was possible? It is! It is referred to as the pot-in-pot method and it's all about clever ways of using the inner pot and additional accessories to cook multiple things at once or to cook foods inside an additional pot. Let's look at this in more detail.
WHAT IS POT-IN-POT PRESSURE COOKING?
The Instant Pot's Pot-in-Pot method of cooking, also known as PIP, is the process of using a heat-proof dish to cook your main, side, or dessert by placing it inside the inner pot of your Instant Pot to cook separately. PIP is a broad term that can be done in several different ways using various containers and tools. Just make sure whatever you purchase actually fits inside your Instant Pot's model.
Raised steam rack or trivet
Multi-tiered stackable containers
Egg moulds
Ramekin dishes
Mixing bowl (glass, ceramic, metal)
Steamer basket
Springform pan
Bundt cake pan
Mason jars
Always add liquid to the inner pot even with the pot-in-pot method. Any container used for PIP cooking must be placed on a rack, and not directly in the inner pot. If you don't have a steam rack with handles to lift the container out, you can make one out of aluminum foil folded into a sling to remove the container from the Instant Pot. Aluminum foil can also be used as a cover for the container when needed (e.g. to avoid condensation droplets)
Why use the pot-in-pot method?
Avoid the BURN notice – No one wants to see that notice but it can happen when you cook certain ingredients such as pasta or rice with tomato paste or sauce, which can caramelize and stick to the bottom of the pot, resulting in a BURN notice.
2-for-1 deal – Add one meal to the bottom of your Instant Pot and then another on top, such as meat and potatoes.
Taking turns – When you have a curry that needs rice. Cook the curry first, then make the rice immediately after.
Dinner for just you, two or three – Perfect for small portions such as rice or quiches.
Sensitive ingredients – Protect delicate foods and sauces (e.g. fish or seafood).
Specific accessories – Recipes that need moulds or specific accessories to make like crème brulee or poached eggs.
An alternative to the microwave – You can add water to the bottom and place freezer meal on top of the steamer such as soup. Never put a frozen glass bowl inside, the glass cracking due to a sudden change in temperature.
Easier cleanup – Easier to wash smaller containers than a large pot especially if you have a shallow sink.
Some recipes will take a slightly longer time to cook with the pot-in-pot method since there are two materials that are involved in the pressurized environment. Weighing out that extra time with the time of clean up and the option of cooking more than one recipe can easily resolve that downside. The positives definitely outweigh this negative.
What if you have different cooking times?
When attempting to cook more than one dish with the PIP method, try to have the same cooking time for the two dishes you are cooking What if you have different cooking times? Partly cook the longer-cooking item, do a quick release of pressure, and add in the second item and continue cooking both items.
Consider how sensitive your ingredients are. Some recipes can cook longer and not be affected much. You can tightly cover the container of the faster-cooking item with a double layer of aluminum foil. The foil slows down the cooking of the contents. Meats cook faster when it is cut into small pieces so that can reduce the pressure time.
Materials can affect time as well. Cooking the faster-cooking item in a glass, ceramic, or silicone container instead of stainless steel will slow down the cooking time a little bit.
Here are some pot-in-pot Instant Pot recipes to get you started from breakfast to dinner to dessert.
---
MEDITERRANEAN EGG BITES WITH HERBS & FETA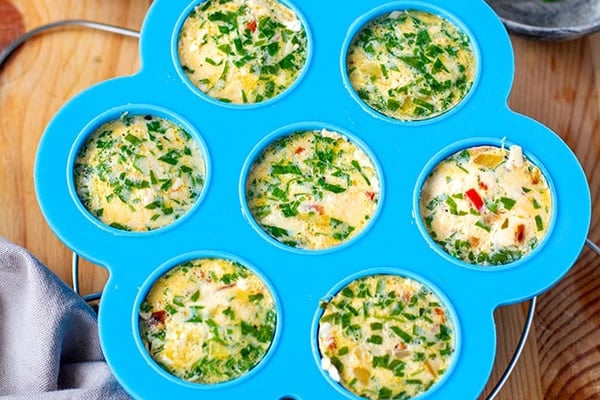 There's no need to go out to Starbucks to get those yummy sous vide egg bites, you can make them right at home. Perfectly cooked Mediterranean-style Instant Pot egg bites with red peppers, sun-dried tomatoes, and feta cheese. Recipe from Instant Pot Eats.
Instant Pot Oatmeal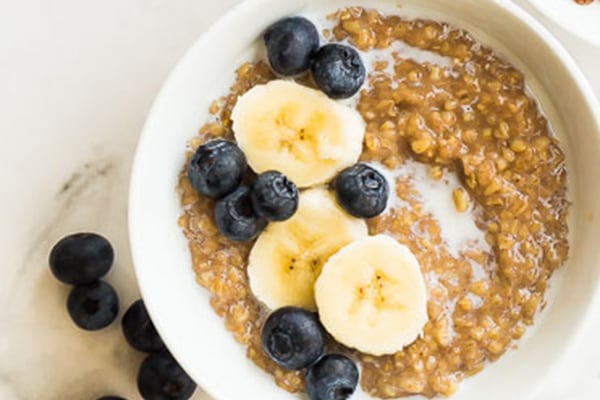 This easy Instant Pot oatmeal uses either rolled oats or steel-cut oats, and comes together quickly with no stirring! For Rolled Oats, it is best to use the pot-in-pot method. It only takes 1 minute and so easy to clean up. Recipe from The Recipe Rebel.
Greek Yogurt Recipe (Cold Start)
Did you know Greek yogurt is just like regular stuff, but with some of the whey removed? Greek yogurt is thicker and has more protein while regular yogurt is thinner with more calcium and carbs. This Cold Start Instant Pot Greek yogurt recipe is an easy and budget-friendly choice for a healthy Instant Pot recipe for breakfast or a snack. Recipe from So Very Blessed.
Instant Pot Baby Food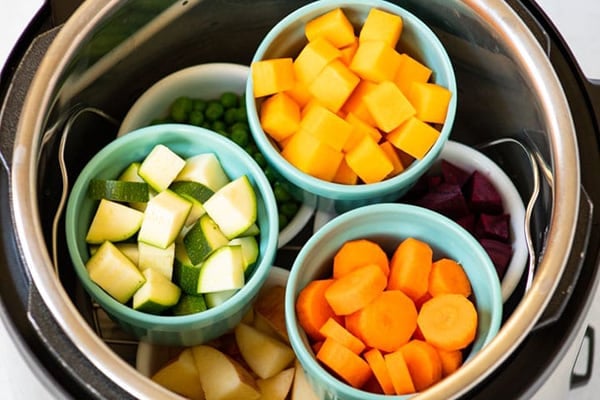 Did you know that you can make healthy, nutritious baby food right in your Instant Pot? Pressure cooking multiple baby food items using the pot-in-pot method is cost-effective and low-effort resulting in nutritious meals for your baby at home. Recipe from Piping Pot Curry.
Indian Chicken Curry & Rice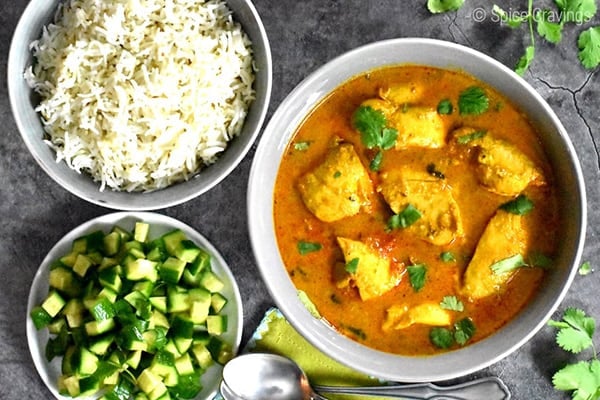 This delicious and aromatic Instant Pot chicken curry recipe is made with Indian tomato and onion based sauce and thickened with creamy yoghurt. Not only will you make a hearty curry in a hurry (so to speak) but you can also do the rice in the same pot. Recipe on Instant Pot Eats.
Perfect Rice in the Instant Pot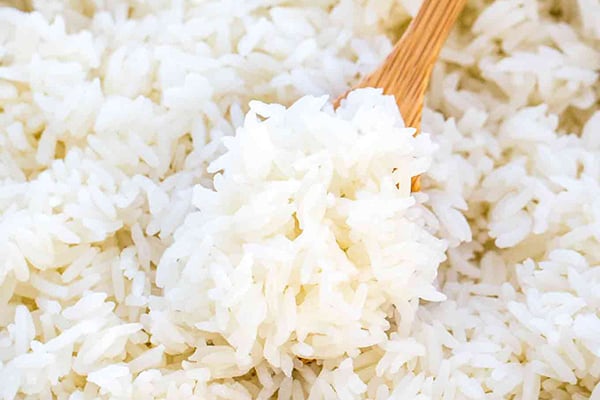 Have you ever been torn about using your Instant Pot for a main dish or a side dish like rice? You can cook the rice first in a smaller bowl and once it's finished start on the next recipe without having the trouble of washing or a messy transfer. Recipe from Sweet And Savory Meals.
Pot-In-Pot Teriyaki Chicken and Rice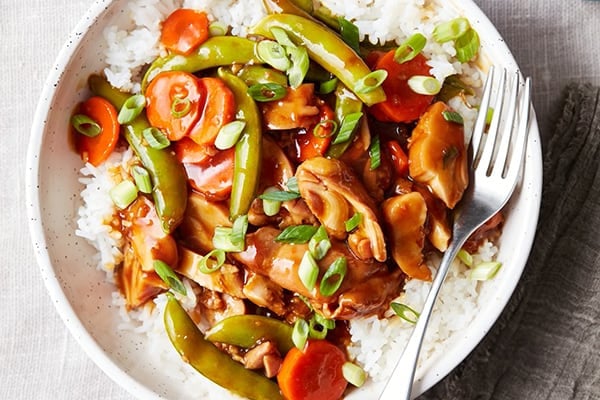 This pot-in-pot recipe has everything from the fragrant chicken with lots of gingery bits, to tender-crisp vegetables, and delicate rice, all pulled together with a sweet and earthy teriyaki sauce. You can make everything in less than 30 minutes. Recipe from The Kitchn.
Meatloaf and Garlic Parmesan Potatoes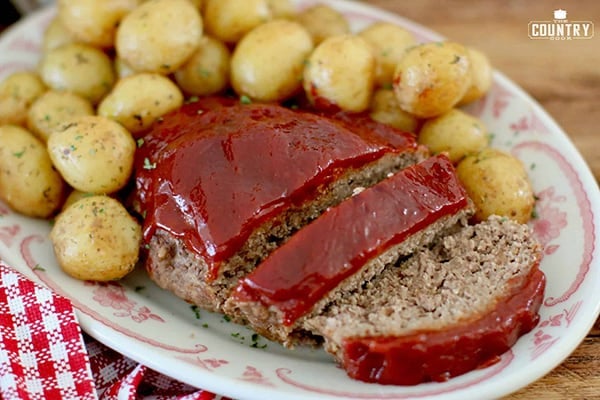 Tender, flavorful glazed meatloaf and perfectly seasoned potatoes, an all-in-one meal made together in the Instant Pot. If you don't have a small extra bowl or pan for your meatloaf to go into, you can simply make one out of aluminum foil! Recipe from The Country Cook.
INSTANT POT SHRIMP AND GRITS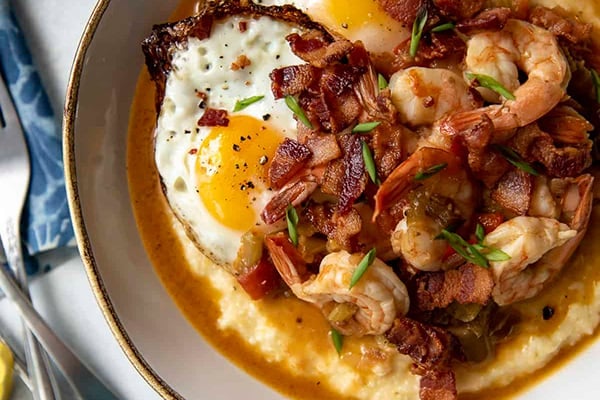 Enjoy a taste of the South with a batch of this cheesy shrimp and grits, an easy brunch recipe. Salty bacon, spicy sauteed tomatoes, and crispy fried eggs share the bowl with juicy shrimp and creamy grits in this comforting dish. Recipe from The Crumby Kitchen.
Instant Pot Cheesecake In Jars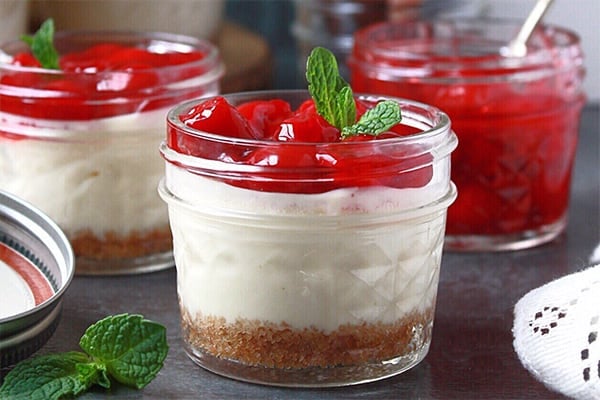 Perfect for small parties and Instagram ready for picnics, these mason jar cheesecakes will impress everyone so much they will definitely take a picture. Recipe from Aromatic Essence.
Instant Pot Banana Bread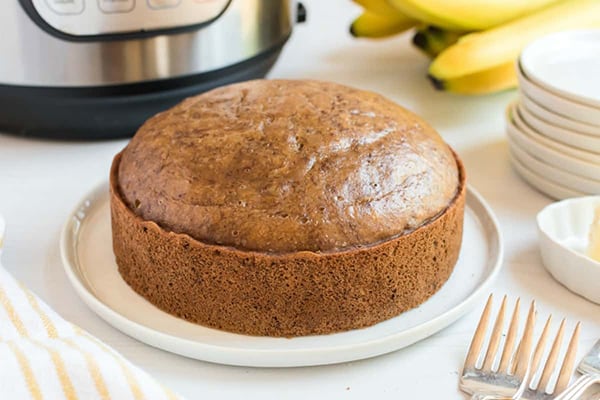 Make moist, delicious banana bread without turning on the oven! Instant Pot Banana Bread with a cinnamon sugar crust is the ultimate pressure cooker bread recipe. Recipe from Shugary Sweets.
Any Instant Pot Cheesecake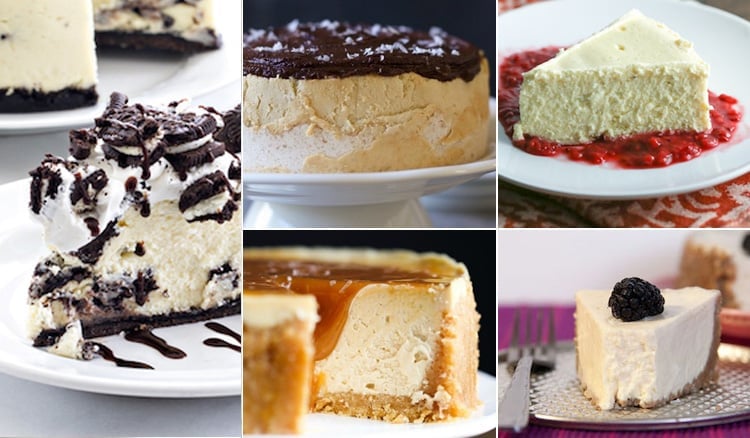 The simplest example of using a pot-in-pot method in the Instant Pot is a cheesecake, which is made in a springform cake pan positioned on top of a trivet with some water added to the pot. You can try any of these fabulous cheesecake recipes or our light and healthy peach cheesecake here.
YOU MIGHT ALSO LIKE
---
SAVE THESE POT-IN-POT RECIPE IDEAS TO PINTEREST