The pressure cooker is one of the quickest and easiest ways to make a delicious family dinner using larger cuts of meat or a whole bird. Here are some of our favourite Instant Pot whole chicken recipes to show you how.
---
The pinnacle of poultry is no doubt the whole roasted chicken. Rotisserie-style, crispy skin, tender meat – what's not to love? It's a simple and rustic dinner that pairs well with everything from starchy rice and potatoes to a fresh green salad. It spans the seasons and makes a normal weeknight dinner feel like a treat.
WHY MAKE INSTANT POT WHOLE CHICKEN
Buying a whole chicken raw is often one of the most budget-friendly protein choices at the store. While it doesn't take a ton of skill to make a delicious chicken at home, it can take time. The Instant Pot makes both time and skill non-factors, considering most whole chicken recipes featured in today's roundup are as simple as some seasoning and the click of a button.
Moreover, these whole chicken recipes will only take 30-60 minutes to make and it's almost all entirely hands-off. That is until it's time to broil it in the oven if you want that fabulous crispy skin.
Oh, and did we mention you can cook your chicken from frozen? Yep! If you forget to thaw dinner in time, don't fret. The plans are still on, and you won't sacrifice taste or texture at all.
Remember to choose a properly sized chicken for the Instant Pot. A standard 6-quart pot will contain a 3-4 pound chicken easily but might have trouble with anything much larger. For an 8-quart pot, you could probably cook up to a 6-pound bird.
Here are some of our favourite Instant Pot whole chicken recipes for you to try.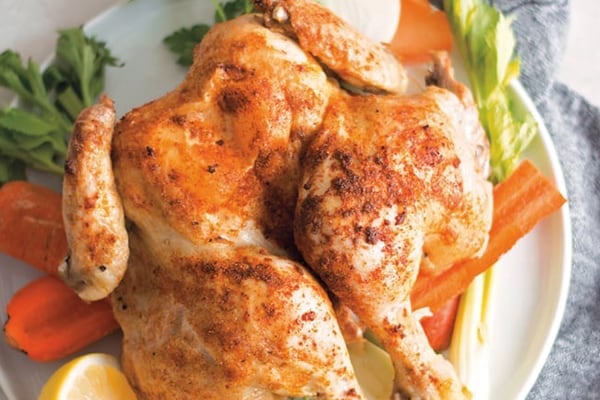 This chicken is blackened which is a cooking technique used in the preparation where the food is dipped in melted butter and then sprinkled with a mixture of herbs and spices, usually some combination of thyme, oregano, chili pepper, peppercorns, salt, garlic powder, and onion powder. You can imagine the flavors that come from those spices would make anyone sit patiently in the kitchen. Recipe from Instant Pot Eats.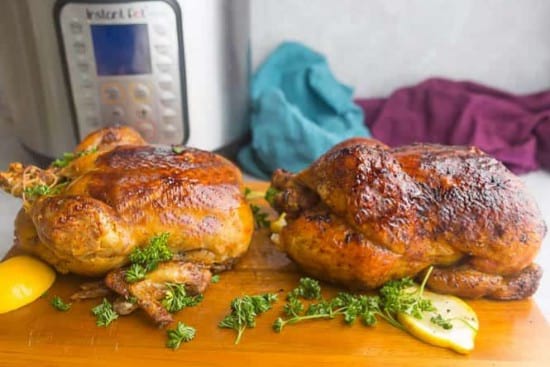 This recipe provides instructions for cooking a chicken in the Instant Pot fresh, from frozen, and cooking a whole chicken in the oven for a thorough comparison of the methods. Spoiler alert: they all turn out beautiful! You can cook a whole frozen bird in just sixty minutes, and a fresh one in around a half-hour. Either way, the results are fabulous with juicy, pull-apart meat and mouthwatering crispy skin. Recipe from Life Made Sweeter.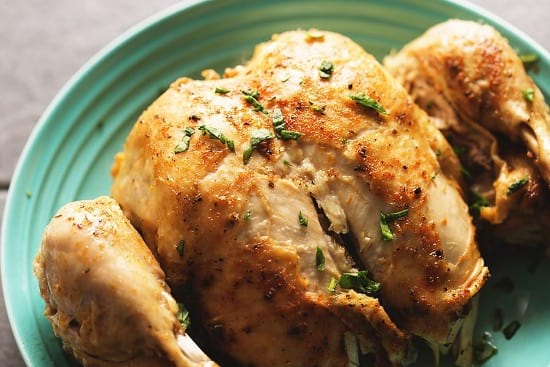 If you're not making compound butter, it's about time you start. It's perfect to use in a whole chicken recipe, infusing it with the buttery flavour and herb-a-licious awesomeness. It's so simple to make, too. Its simply melted butter with a blend of simple staple spices you likely have lying around: salt, pepper, smoked paprika, onion powder, dried oregano, and garlic powder. This recipe takes a total of 50 minutes to make. Recipe from Jennifer Banz.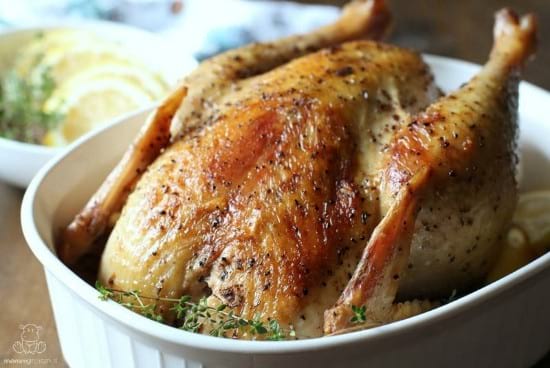 This recipe couldn't be simpler. It's a true testament to making the switch from a stovetop pressure cooker to the 7-in-1 Instant Pot. You can have your chicken and your bone broth too. In fact, it could be simmering away as soon as you're ready to serve dinner. Oh, and the ingredients list is limited to your bird, a smidge of oil, salt, and pepper. Could it get any easier? This one practically cooks itself, and you won't be disappointed in the results. Recipe from Mommypotamus.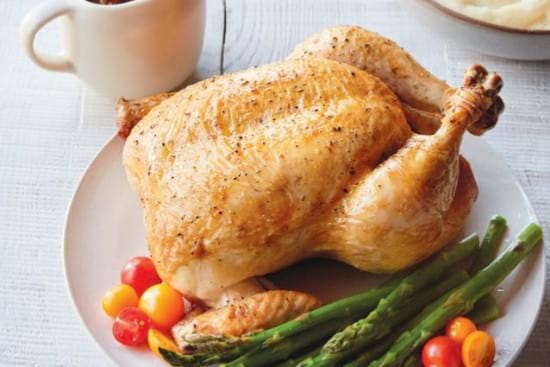 The Kitchn provides some of the most failproof and trustworthy recipes. If you're cooking a whole roast chicken for the first time, this is a great starter recipe and one you'll revisit time and time again when the craving for fantastic meat hits. The best part of this recipe is undoubtedly the savoury mushroom sauce to pour atop your cooked chicken and whatever hot veggie side you decide to serve it with. Recipe from The Kitchn.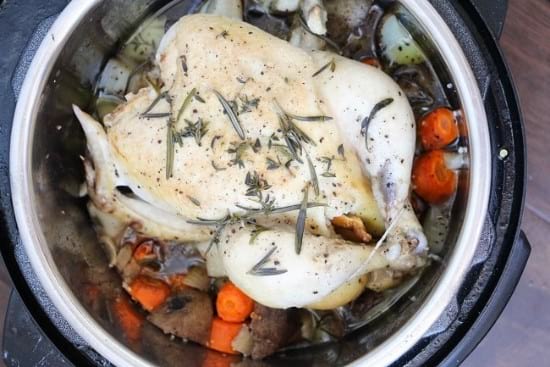 This one-pot meal is the best guideline recipe for cooking your chicken and veggies to perfection simultaneously, and anyone with pressure cooking experience knows this can be a rather delicate balance. The seasoning of the veggies is seamless, so you can simply chop 'em, layer 'em, and wait for the chicken to do all the work, infusing it with flavour from its juices and fresh herbs. Fresh herbs, lemon, and garlic are recommended for the most explosively tasty final product. Recipe from Wondermom Wannabe.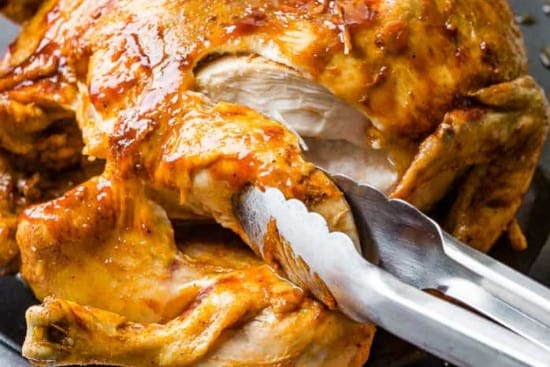 Who doesn't love a good barbecue chicken? It can be expensive to order a good whole chicken out, and sometimes, you don't have a good BBQ joint to go to in the first place. This recipe will not disappoint whether you use homemade sauce or a favourite store-bought brand. Either way, it's infused with smoky goodness that'll be finger-lickin' good with a side of fresh slaw, potato salad, or fries. Recipe from Oh Sweet Basil.
Lemon and rosemary are a timeless combination. Fresh, zingy, and light, this chicken takes on the flavor duo perfectly. It's simple enough without lacking in flavor. For the best results, use a rosemary-infused olive oil which will lend some buttery goodness to the mix and help the bird retain its natural moisture. Recipe from Our Best Bites.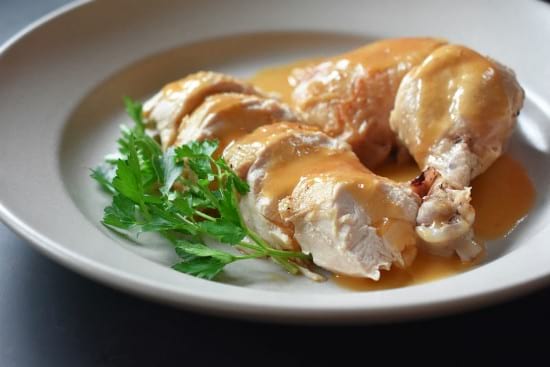 If you're looking for a delectable gravy recipe that can easily be whipped up in the pot with the leftover chicken juices, this recipe is for you. Even better? It's grain-free making it perfectly paleo-friendly and low-carb, so it's suitable for nearly every diet. This healthy meal will feel like a little bit of soul food – perfect for keeping things interesting during the week or avoiding tempting, heavy foods. Recipe from Nom Nom Paleo.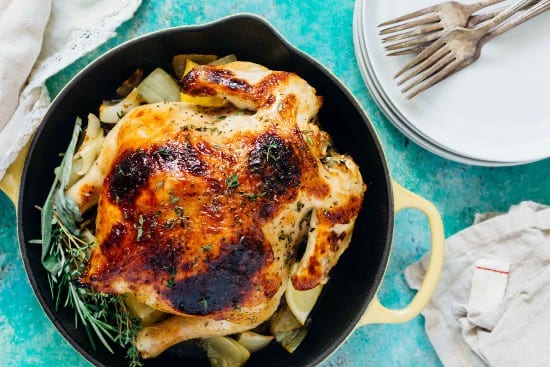 You simply can't go wrong with a sweet and savory blend of honey, butter, and herbs. Creamy, fresh, and with a subtle hint of sugar, this bird is cooked to perfection is even a winner for holiday meals if you're serving a smaller crowd. Recipe from Table for Two.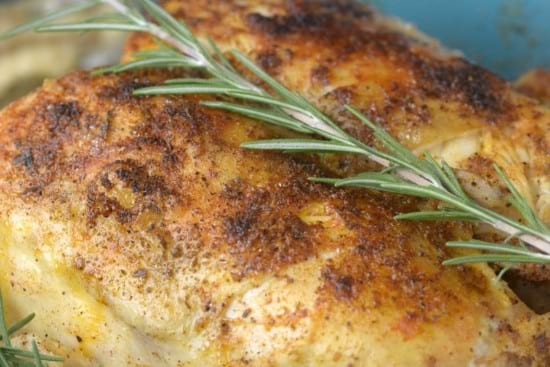 Beer can chicken is a fun and tasty way to cook a whole bird. This recipe cooks in just a half-hour, and it's perfectly safe to cook under pressure too. It'll be the most succulent and juicy chicken you've ever had, so buckle up. Grab a six-pack, reserve one for the cooking, and enjoy the rest with a friend or family member while you wait for dinner. Recipe from Adventures of a Nurse.
Cooking a whole chicken from frozen or from fresh in the Instant Pot is so simple. Enjoy your weeknights made easy with these gorgeous recipes, and let us know how they go for you.