Learn how to cook frozen chicken in your Instant Pot with our next post in the Instant Pot 101 series. Whether it's a whole frozen chicken, drumsticks or breast meat, we have provided essential tips and tricks to get the best results every time.
---
One of the most common questions we get is, "Can I cook it from frozen?". In our Instant Pot 101 series, we aim to provide thorough, informative, and helpful guides that you can bookmark for later. These posts are designed to get you acquainted with how to cook all the essentials in your pot.
Cooking frozen meat can prove to be tricky, and the results aren't always stellar. It can really feel like a gamble sometimes! Rubbery, dry chicken is often the result, and nobody wants to eat that. The Instant Pot changes everything though. It's true – your frozen chicken will actually taste good if you use the Instant Pot and follow the instructions we provide.
Whether you're working with chicken thighs, wings, or even a whole chicken, you can use your pressure cooker to make a meal from frozen. Let's run through the basics of how to cook frozen chicken in your Instant Pot.
Remember: For all recipes, use a meat thermometer for the best results. Chicken should always reach an internal temperature of 74 C / 165 F before consumption.
You might also like our post on 15 must-try recipes from frozen foods, Instant Pot fish from frozen, and this cookbook on Instant Pot recipes with frozen foods.
---
How to cook whole frozen chicken in Instant Pot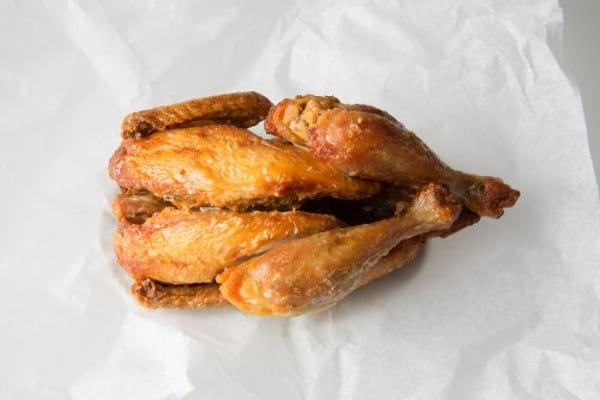 Cooking a whole chicken is an awesome move for any cook. It yields a ton of meat that you can use for any recipe that calls for shredded chicken.
It's a convenient protein to have handy whether you want to dip a chicken wing into BBQ sauce or toss some cold chicken on to a salad. Chicken filling, delicious, and especially awesome if you take that extra step to get your skin nice and crispy in the oven. Finally, the bones will yield you a hearty chicken bone broth which you can also make in your Instant Pot (and quickly, might I add).
Instructions:
First, make sure the chicken fits in your pot! A frozen chicken is far less malleable than a fresh chicken, so you want to start with a smaller bird for this recipe. Otherwise, you can cut it into 2-3 large pieces and follow the same instructions.
Rinse and pat your chicken dry (optional).
Combine your favourite dry spice blend in a bowl and use it to thoroughly coat the chicken. A blend of salt, pepper, garlic powder, thyme, sage, and rosemary is great. You can also choose your own flavour profile. Add fresh garlic cloves, onion, and other 'stuffers' into the chicken cavity for additional flavour.
Place a trivet into the Instant Pot and pour a cup of water into the inner pot. Then, place the whole chicken on the trivet – breast side up.
Seal the Instant Pot lid and manually set to cook on HIGH pressure for 45 minutes. Once the timer goes off, let the pot NPR (natural pressure release) for around 15 minutes before performing a QR (quick release).
NOTES:
The time above is good for a 3-4 lb. chicken (1.3-1.8kg). As a rule of thumb, you want to cook frozen meat for 10 minutes per pound.
A natural pressure release is ideal for 5-15 minutes after cooking. If you are worried about overcooking your chicken, you may choose to perform a quick release immediately after it's done the cooking.
The best chicken requires another step! Broil the chicken in the oven to finish things up, lock in the flavour, and crisp up the skin. While the Instant Pot has a Sauté function, it's impossible to utilise for this purpose when cooking chicken from frozen. We recommend 10 minutes in a very hot oven, about 430 C / 220 C to get that nice crispy skin.
Check out this lovely roasted chicken from frozen from iFoodReal blog.
---
How to cook frozen chicken thighs in Instant Pot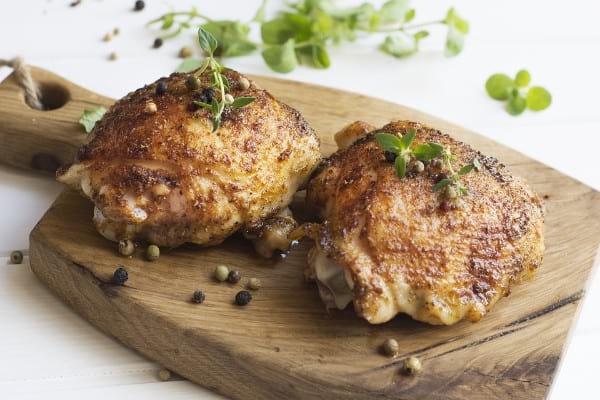 Frozen chicken thighs are such a versatile protein, and definitely one of the most budget-friendly choices. It's not uncommon to find a nearly-forgotten package of thighs in the back of the freezer. Don't underestimate the power!
There are so many delicious chicken thigh recipes for the Instant Pot from curry to soup. Better yet, you can mix and match thighs with breasts for a really delicious blend of textures and tastes. Don't worry if those thighs have become a frozen block of meat – you can still make magic happen. Try this recipe Instant Pot frozen chicken piccata with lemon and capers.
Instructions:
Measure your frozen chicken thighs in weight as this number will determine both the amount of liquid you use to cook and the amount of time it takes for your chicken thighs to finish cooking.
Use one cup of liquid per pound (half a kilo) of chicken thighs. Fill the inner pot with the correct amount of water. At this point, you can also choose to cook in the broth, sauce, or a mixture of these choices for additional flavour.
Set the pot to HIGH for 20 minutes (you can just hit the Poultry button), and follow up with a natural pressure release to continue cooking, which will take about 5-8 more minutes. This is the main difference to remember in cooking fresh versus frozen, give the IP the time to release the pressure naturally!
Notes:
These instructions are most reliable for individually frozen chicken thighs. Freeze your thighs with a divider in between them like parchment or separate plastic bags. Otherwise, use a hammer to separate the thighs before cooking. Otherwise, the cooking time listed above is subject to change, longer, and more difficult to gauge what is ideal.
If you are using bone-in chicken thighs, cook for around 2-3 minutes longer on HIGH pressure.
Try to prep for thinner chicken thighs. When shopping, choose smaller thighs for easier cooking. If you happen to purchase particularly thick thighs, consider making them smaller before freezing.
If you cook your chicken thighs in sauce, use the saute function on your pot after they're done cooking to thicken the sauce and reduce some of the liquid without sacrificing flavour. Additionally, you can toss them in the oven to lock in the sauce/flavour.
---
How to cook frozen chicken breasts in Instant Pot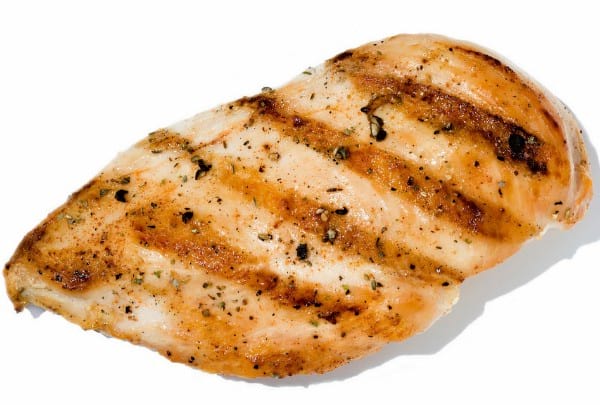 Cooking frozen chicken breast in the Instant Pot is pretty comparable to the thighs when it comes to which recipes you can use it in and how to do it. Here are some of our favourite chicken breast recipes. When it comes to prep work, there are a few differences to note although you can generally follow similar time/water guidelines.
Instructions:
Place 1/2 -1 cup of water, broth, sauce, or a mixture of both into the pot per 2 lbs./ 1kg (or around four chicken breasts) of chicken.
Place the chicken directly into the pot – no need for a trivet – and set the pot to HIGH for 12 minutes.
Follow up with either Natural Pressure Release (NPR) or Quick Release (QR).
Notes:
For bone-in chicken breasts or particularly thick chicken breasts, consider increasing cooking time to around 15 minutes.
The chicken will easily shred after cooking for delicious and easy meals. Using more liquid will help it to shred after cooking directly in the pot. Check out our shredded chicken recipes ideas here.
Chicken breast is particularly good to cook in sauce – especially compared to thighs or whole chicken with the skin on. You won't have much fat to drain and it's bulky, helping to soak up all that flavour and really utilise the liquid (while chicken thighs shrink). Use your favourite BBQ sauce, salsa, or mole to cook with for awesome meals throughout the week.
---
How to cook frozen chicken wings in Instant Pot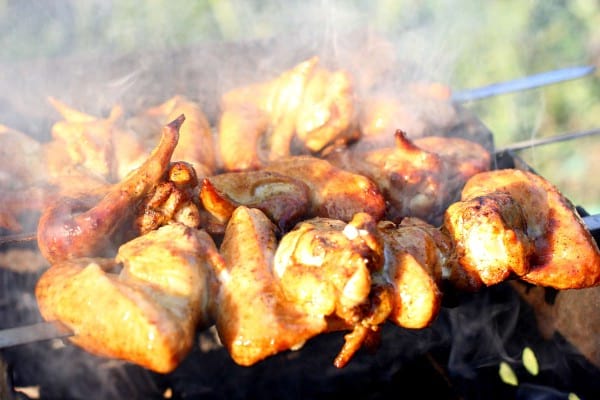 Sometimes, you just want to head out to your favourite pub and indulge in a big order of wings. Whether you like a good dry rub, sweet and sticky BBQ sauce, or hot and spicy buffalo wings, there's a recipe for everyone. Fortunately, it's nearly as cheap, easy, and quick to make your own in the IP as it is to go out for dinner. Plus, you can create your own unique flavour blends and keep it healthy. Try one of these tasty chicken wings recipes.
Instructions:
Fill the inner pot of your Instant Pot with 1-1.5 cups of water and a drop of liquid smoke (liquid smoke optional).
You can add sauce now or later, but if you want to add a BBQ sauce or a hot sauce to the wings in addition to seasoning, do so before placing them into the pot.
Add 2-4 lbs. / 1-1.8 kg of frozen, seasoned chicken wings. For 2 lbs. or less, you can just use 1/2 cup of water.
Cook manually on HIGH for 5 minutes.
Remove the chicken wings, baste and/or season with your favourite dry rub or sauce, and broil in the oven for 7 minutes or so on each side until crispy.
ALTERNATIVELY: Cook manually on HIGH for 10 minutes.
Remove the chicken wings, baste, and/or season with your favourite dry rub or sauce, and broil in the oven for 3-5 minutes until crispy.
Notes:
You really don't want to eat your wings straight from the Instant Pot. If you don't have time to finish them off in the oven, it's best to avoid making the wings. While the meat will be cooked, they will be nearly tasteless and quite soggy!
You can cook the wings in sauce, but you will likely discard all the liquid after cooking considering how fatty wings can be. It's best to add the sauce after the wings are done cooking and before broiling in the oven.
If you're feeling up to it, you can turn up the grill and finish your wings off with perfect grill lines and a smoky flavour.
There you have it! Your poultry needs are no sweat in the Instant Pot. There is always variation and you'll come across different time recommendations for different types of recipes, but these are the absolute basics. For more, check out our favourite Instant Pot chicken recipes for inspiration.