Our favourite, quick-to-cook, tasty and nourishing chicken Instant Pot recipes including chicken marsala, BBQ pulled chicken, curries, glazed drumsticks, rice dishes and more.
---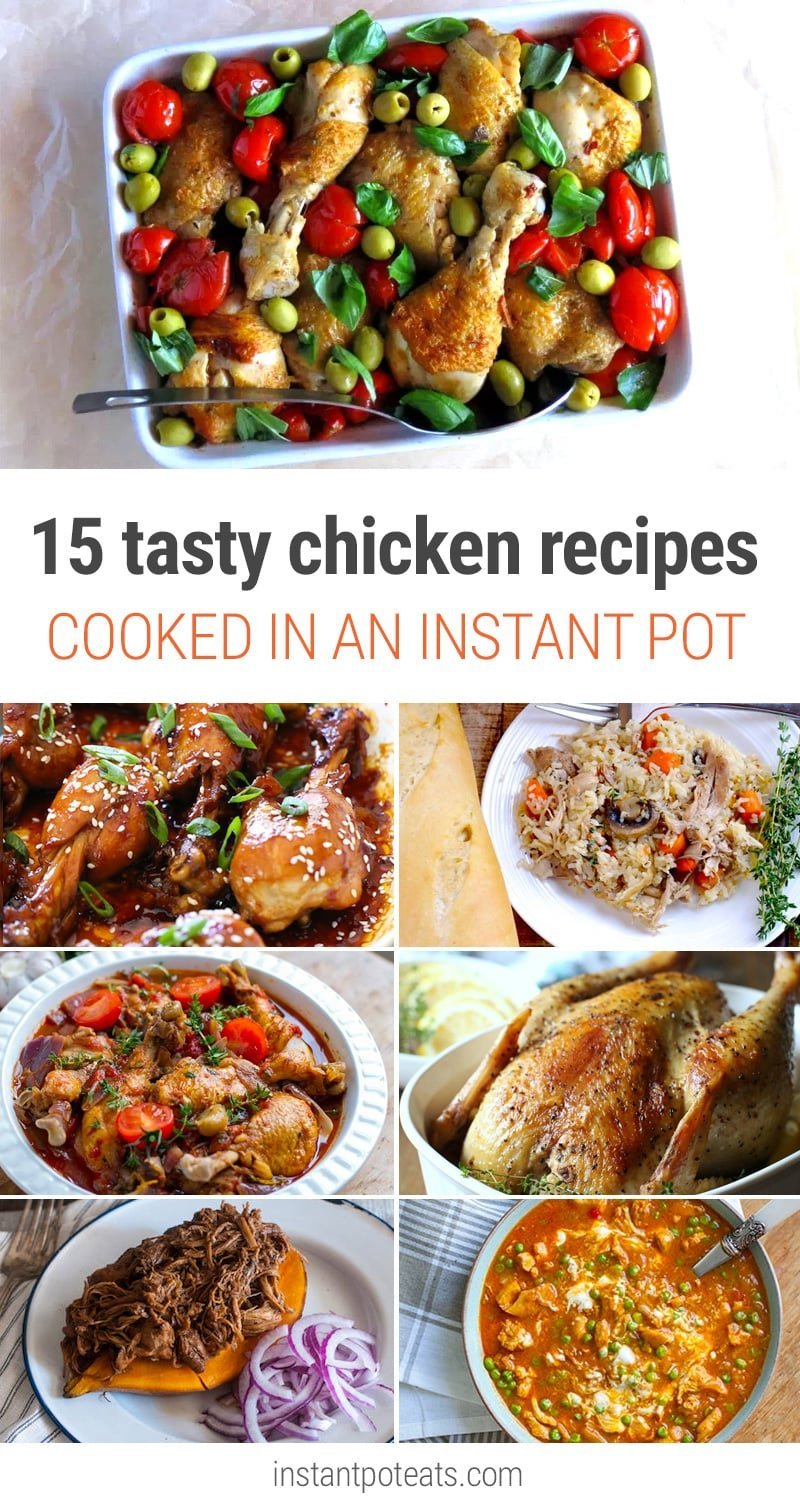 Take a look in the freezer or the fridge, and you've probably got some form of chicken stuffed in there. Whether you've got a whole bird, some budget-friendly thighs, some mince or plain ol' breasts, the Instant Pot is here to breathe life into otherwise plain poultry.
Chicken goes well with just about everything, and it makes a great contender for sauces, rice dishes, stir-fries, and roasts. The pressure cooker? Well, that just shaves a little time off. Seriously – even if you've got frozen chicken you want to eat tonight, it's going to be tender and tasty instead of rubbery and bland with the trusty IP. No thawing necessary! Here are fifteen of our favorite chicken Instant Pot recipes.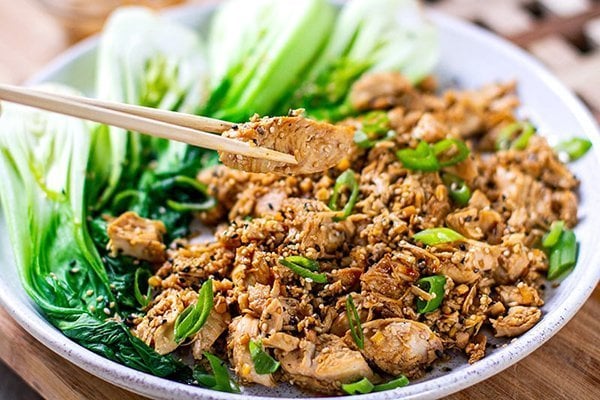 Made from fresh or frozen, this delicious Instant Pot soy-ginger chicken hibachi recipe is a great Japanese-inspired dish that you can serve with rice, cauliflower rice, quinoa, noodles or green vegetables. The chicken is stir-fried in a soy ginger and sesame based sauce and a dollop of butter.
Chicken paprika or paprika chicken (also known as paprikás csirke) is a popular Hungarian dish and one that has become a classic around the world. This Instant Pot recipe is a quick and easy way to prepare this dish, which normally requires extended simmering time.
The cooking term Alla Cacciatora means to cook meat in tomatoes, wine, and in-season veggies, then garnish with olives. Technically speaking, you can do this with any meat, but chicken is the most common contender. This summery dish features tomatoes and fresh basil with green olives. The chicken with the bone-in is the most important part – plus it looks fantastic to serve! Get the recipe from Hip Pressure Cooking.
Indulgence doesn't mean ditching healthy eating – nope! Not with a recipe like these honey teriyaki drumsticks. Eating chicken off the bone is undeniably satisfying, especially when it's a bit sticky and messy. Honey, soy sauce, garlic, and ginger come together to make an Asian-inspired glaze that you're going to want more of, so consider making a double batch. Get the recipe from Skinnytaste.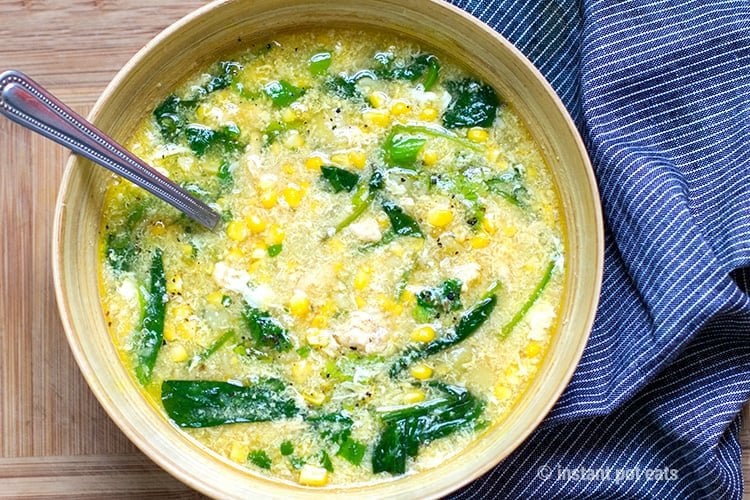 Chicken and corn soup is a popular Chinese dish. It's often served as a starter at restaurants and you might have tried it warmed up out of a can. In this recipe, you learn how to make a healthier, homemade version using fresh corn (frozen is also ok), good quality chicken and stock, and some nutritious spinach.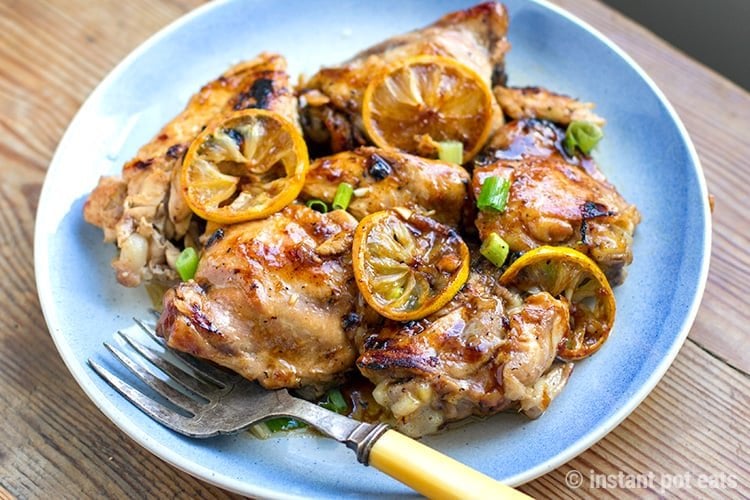 This sweet and sticky glaze with lemon zest has serious "pour-it-all-over-everything" potential. With no refined sugar, you can enjoy this glaze on chicken and serve it up with veggies for a fun yet healthy meal that feels a little indulgent.
When it comes to chicken Instant Pot recipes, a good creamy stew is a must-have! A blend of chicken breast and thighs in this sour cream base makes for a hearty stew and a happy belly. With added flavor and texture from the mushrooms and a deep garlic flavor, this weeknight meal is pure comfort food with a healthy twist.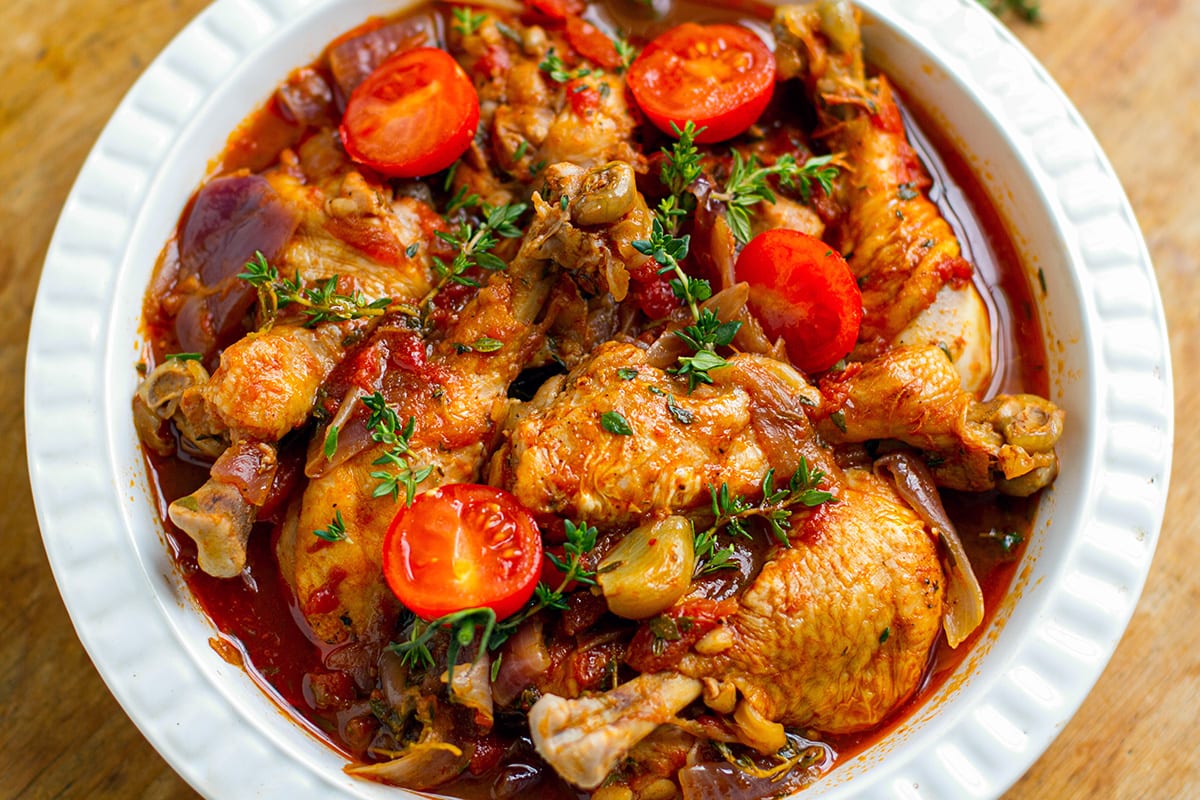 Bathed in a tasty garlic and thyme tomato sauce and with meat falling off the bone, these Italian chicken drumsticks make are a fabulous family meal. Making this dish in an Instant Pot pressure cooker means you can have it done and dusted in no time. It's healthy and budget-friendly, too. Get the recipe from Instant Pot Eats.
Chicken Marsala is an earthy, mellow, Italian-inspired dish that comes to life with a strong Marsala wine and fresh mushrooms. Fresh parsley and garlic really bring the flavor in this creamy dish home. It's often served atop pasta so opt for gluten-free if you like. Alternatively, you can serve it over a veggie mash, sweet potato or zoodles. Get the recipe from What the Forks for Dinner?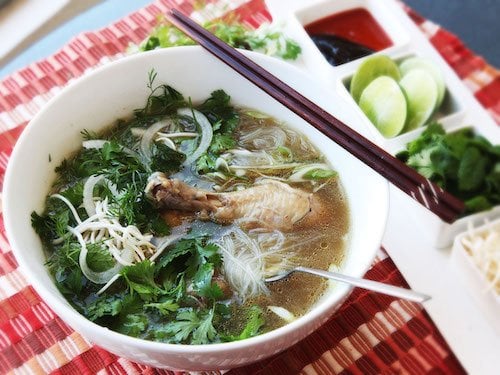 Pho is a traditional Vietnamese soup that is naturally gluten-free because it's served with rice noodles. The broth is classically rich and aromatic, and it's usually served with beef. This version uses chicken on the bone instead, injecting even more flavor into the base. It's topped off with sprouts, greens, herbs, chillis, and lime – or really, whatever you want! Get the recipe from Serious Eats.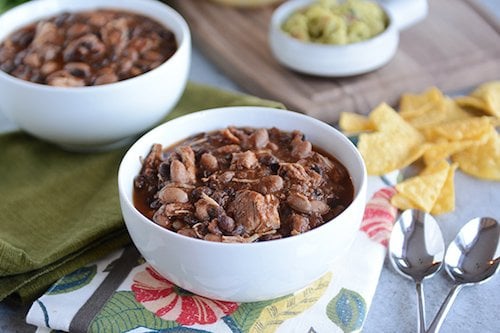 Even using dried beans, this recipe is so quick! This classic chili features a blend of both pinto and black beans with plenty of chicken in the nooks and crannies, so it's absolutely packed with protein and fibre. It also freezes amazingly well, so whip up a big batch while you're at it. Top with cheese, guac, sour cream or jalapeños! Get the recipe from Mel's Kitchen Cafe.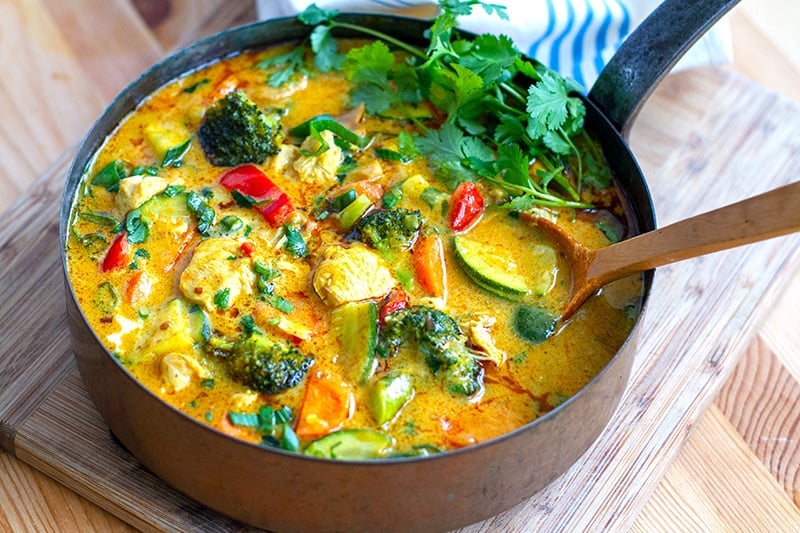 We love all types of curries but a tasty Thai chicken curry would have to be on the top of the list. Making an authentic Thai curry can be a labour of love, especially if you make your own curry paste, but there is a much simpler and quicker way. This Instant Pot Thai curry is made in under 30 minutes using ingredients you can find in most grocery stores. Get this recipe from Instant Pot Eats.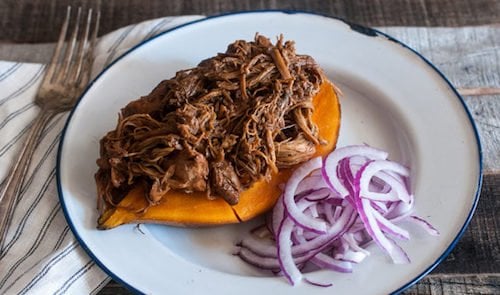 The shredded BBQ chicken is fabulous for veggie bowls, lettuce wraps, burritos and salad alike. This recipe is refined sugar-free, AIP-friendly and 100% barbecue-worthy, so pack it up for your next picnic. The Instant Pot makes the meat so tender that it shreds rather effortlessly with a fork. Get the recipe from Meatified.

Instant Pot chicken and rice is a delicious and simple supper that you can make all in one pot. It is every bit as good as the original recipe, except it's fuss-free and super quick to make. Get the recipe from A Pinch of Healthy.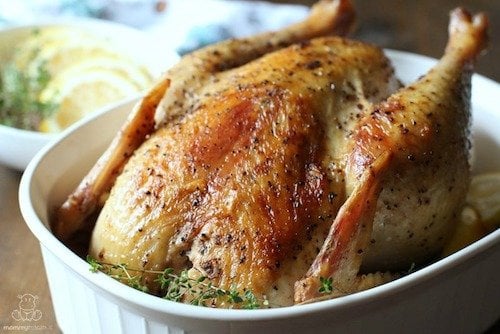 Let's end things with the quintessential Instant Pot chicken recipe – the rotisserie chicken! Can you imagine roasting a whole bird in half an hour? It's no joke! You can finish it off with a quick brown in the oven, and dinner is served. Everyone likes rotisserie chicken, and this is just about as simple as picking one up at the store on the way home (but tastier). Get the recipe from Mommypotamus.
Everyone needs a go-to chicken soup recipe. While simmering a pot of the stuff on a hot stove all day long is sometimes part of the process, sometimes you need a cold-killer or comfort food in a pinch. That's where this recipe comes in. It's loaded with healing bone broth, tasty veggies, and mouthwatering chicken. Get the recipe from A Squirrel in the Kitchen.
This kid-friendly Instant Pot chicken pasta with ham and vegetables is tasty and nutritious, with just a touch of cream and cheese that makes it velvety and hearty and provides a good serving of calcium and fat-soluble vitamins. You can make this family dinner meal in 30 minutes with minimal cleanup…because…Instant Pot!
This healthy takeaway classic is made creamy with almond milk, cashews and cashew butter for a healthy spin on classic coconut curry. The Greek yoghurt and curry powder-marinated chicken stands in for the protein in this spicy, warming bowl, making it both delicious and tender every single time. Serve this with naan, over cauliflower rice or on top of plain white rice – whichever you prefer! Get the recipe from Every Nook & Cranny.
This chicken chili comes together in less than 30 minutes in white chicken chili fashion – it's affordable, effortless and it tastes really good. Who knows? You might even have all the ingredients right now. You could even add some extra veggies to the mix if you like. Oh, and don't forget a side of skillet cornbread because you need a little something to take in all that yumminess. Get the recipe from A Pinch of Healthy.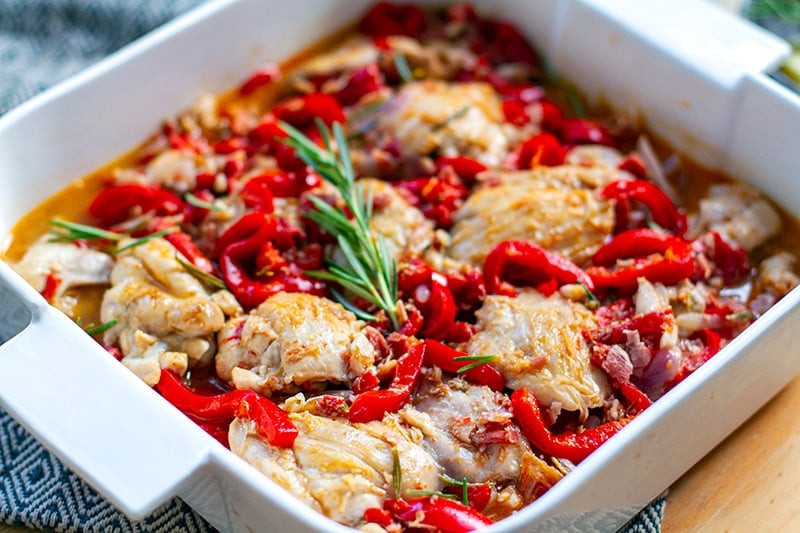 This Instant Pot chicken scarpariello recipe is a pressure cooker version of the American-Italian classic dish made with poultry and sweet and sour sauce of pickled roasted red peppers and rosemary. This sensational dish can be served over your favourite pasta, polenta, rice or vegetables.
Do you have a go-to Instant Pot recipe for chicken? Share it with us! We hope you enjoyed our roundup. If you did, share these recipes or save them for later.