Get inspired by our favorite, easy-to-cook, tasty, and nourishing Instant Pot chicken recipes including chicken marsala, BBQ pulled chicken, curries, whole rotisserie-style chook, glazed drumsticks, rice dishes, and more.
---
Chicken is undoubtedly the most popular and versatile meat on the planet. Take a look in the freezer or the fridge, and you've probably got some chicken on hand right now! Whether you've got a whole bird, some budget-friendly chicken thighs, some ground-up meat or plain ol' breasts, the Instant Pot is here to breathe life into otherwise plain poultry.
WHY COOK CHICKEN IN THE INSTANT POT
Chicken goes well with just about everything, and it makes a great contender for sauces, rice dishes, stews, and roasts. The pressure cooker? Well, that just shaves a little time off. Seriously – even if you've got frozen chicken you want to eat tonight, it's going to be tender and tasty instead of rubbery and bland with the trusty Instant Pot. No thawing necessary!
Here are some of our favorite chicken Instant Pot recipes. To make it easier to navigate this post, we've got a handy table of contents below so you can go directly to the category of interest.
---
Instant Pot Chicken Breast Recipes
Chicken breast is lean, protein-filled, and incredibly easy to cook with. However, it is easy to overcook this meat and end up with rubbery, tough breasts. Instant Pot happens to be quite good at cooking chicken breast. You can either do it very quickly or cook for a bit longer to get succulent, juicy results.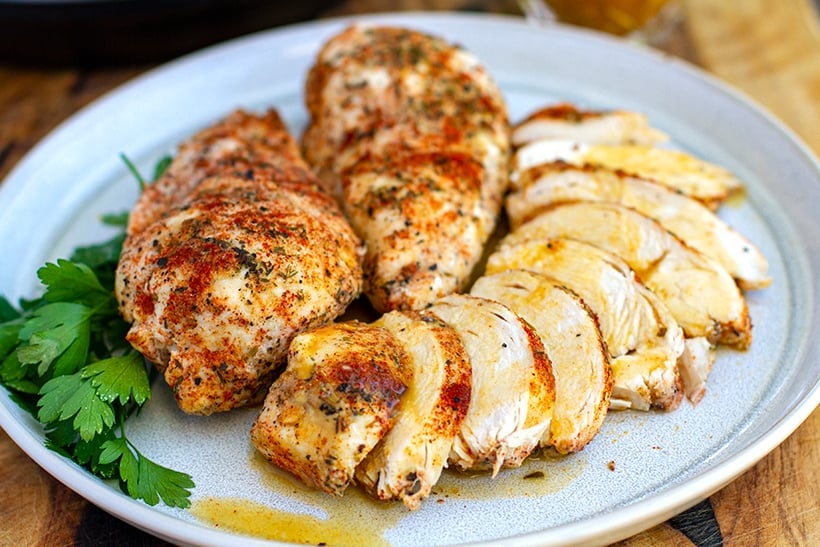 Learn how to cook basic seasoned chicken breasts and gravy in the Instant Pot with this step-by-step, beginner-friendly post. Get the recipe here.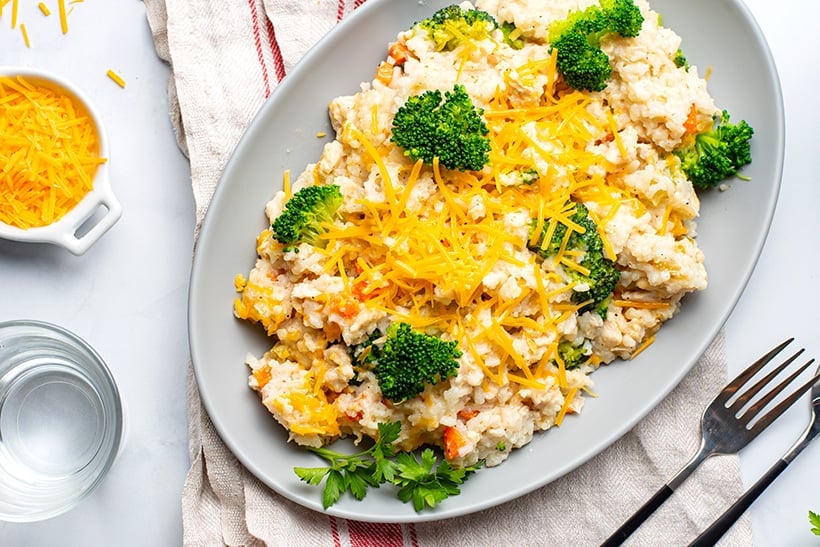 This casserole-like, one-pot comfort meal is easy to make in the Instant Pot. It requires simple, wholesome ingredients (no canned soup in sight!) and is beginner-friendly for those of you new to pressure cooking or kitchen in general. Get the recipe here.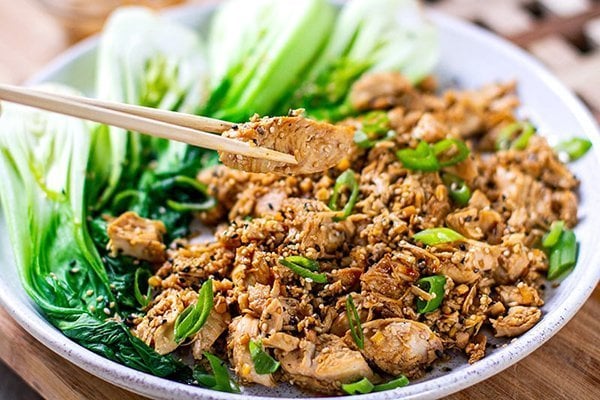 Made from fresh or frozen, this delicious Instant Pot soy-ginger chicken hibachi recipe is a great Japanese-inspired dish that you can serve with rice, cauliflower rice, quinoa, noodles, or green vegetables. The chicken is stir-fried in soy-ginger and sesame-based sauce and a dollop of butter. Get the recipe here.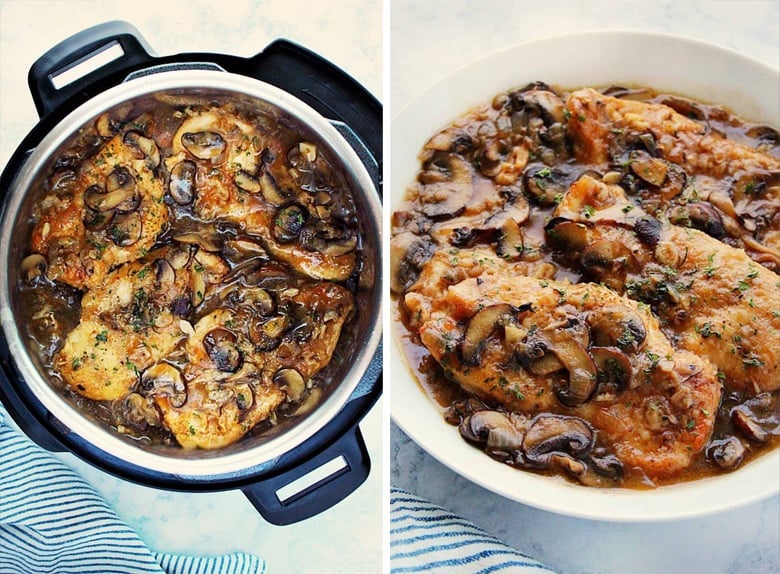 Chicken Marsala is an earthy, mellow, Italian-inspired dish that comes to life with a strong Marsala wine and fresh mushrooms. Serve it on top of pasta, mashed potatoes or with a side of vegetables. Get the recipe from Crunchy Creamy Sweet.
You will love these hearty chipotle-flavored Instant Pot chicken enchiladas smothered in delicious red sauce and finished in the oven with melted cheese. Freshened up with tomatoes, cilantro, onions and avocado on top, these enchiladas will be a hit with the family or at your next dinner party. Get the recipe here.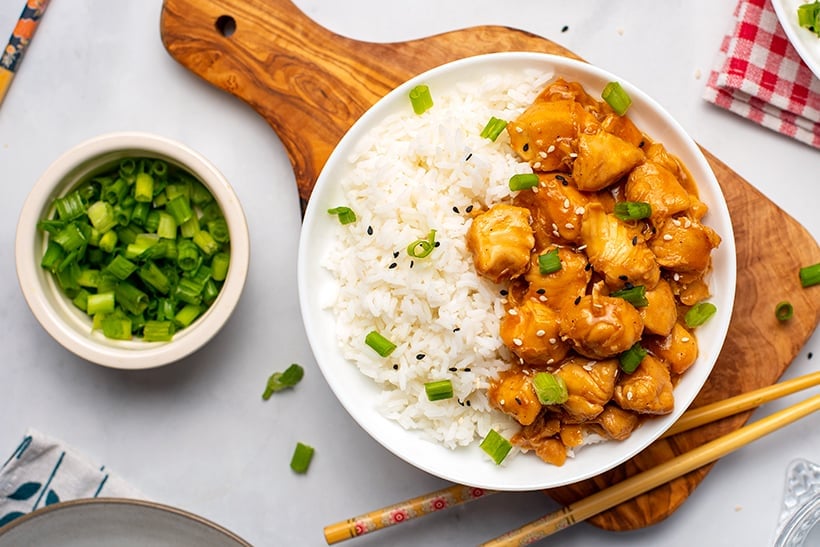 Learn how to make this classic American Asian fusion recipe with our beginner-friendly, step-by-step recipe. Served over rice, noodles or vegetables, this sweet, salty and sour chicken dish is a must for family dinners. Get the recipe here.
---
Instant Pot Chicken Thigh Recipes
Chicken thighs are more affordable than chicken breast and the meat is darker in color but has a little more flavor. It often takes a little longer to cook, depending on how it's cut, but the Instant Pot is perfect for the job. This is great chicken meat for stews, curries and soups but is also fantastic as whole pieces.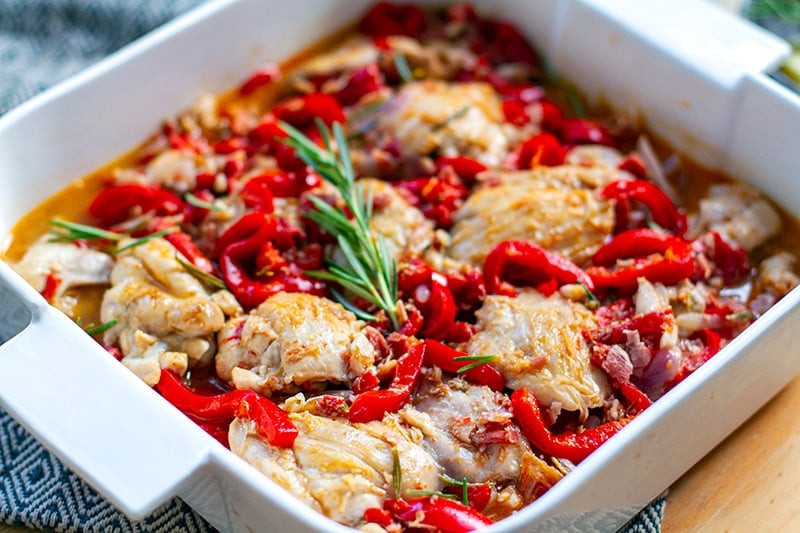 This chicken thigh scarpariello recipe is a pressure cooker version of the American-Italian classic dish made with poultry and sweet and sour sauce of pickled roasted red peppers and rosemary. This sensational dish can be served over your favorite pasta, polenta, rice, or vegetables. Get the recipe here.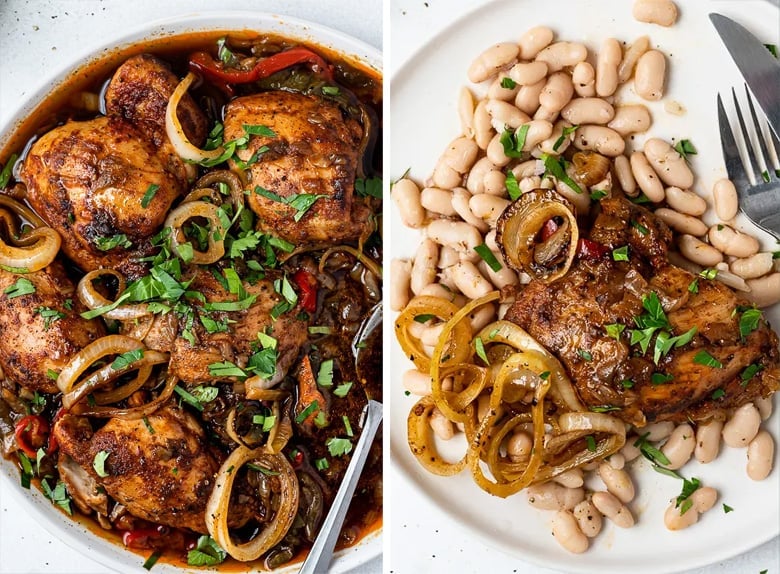 Braised in a delicious broth with onions and bell peppers, these Instant Pot chicken thighs are succulent, easy and will make everyone happy. Leftovers, if you have any, are great in tacos or enchiladas. Recipe from Sandra Valvassori.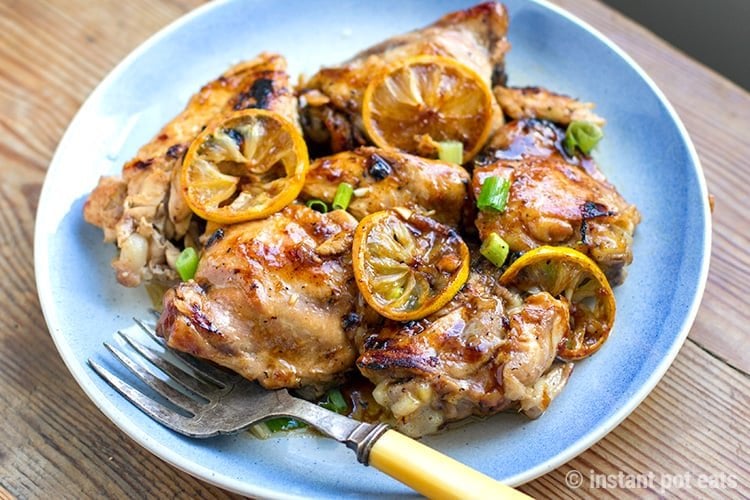 This sweet and sticky glaze with lemon zest has serious "pour-it-all-over-everything" potential. With no refined sugar, you can enjoy this glaze on chicken and serve it up with veggies for a fun yet healthy meal that feels a little indulgent. Get the recipe here.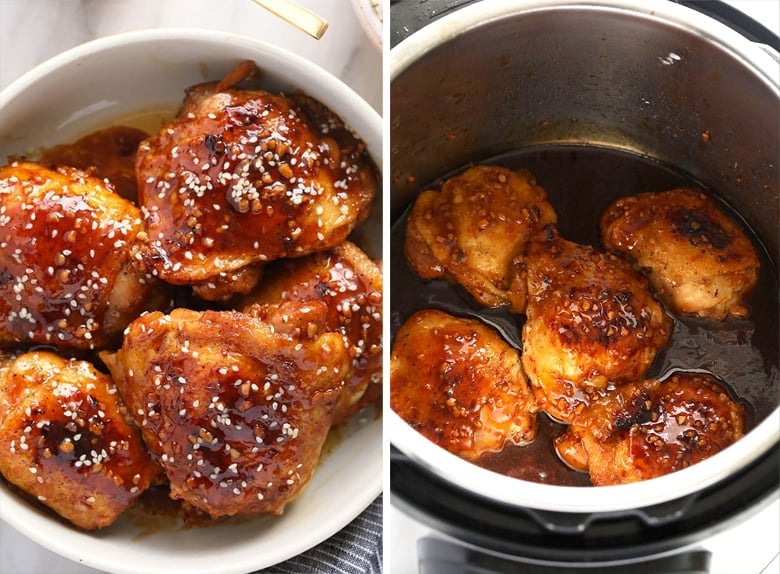 These Instant Pot Chicken Thighs are seared to perfection, slathered with honey garlic sauce, and then pressure cooked in your Instant Pot to make them juicy as can be. Recipe from Fit Foodie Finds.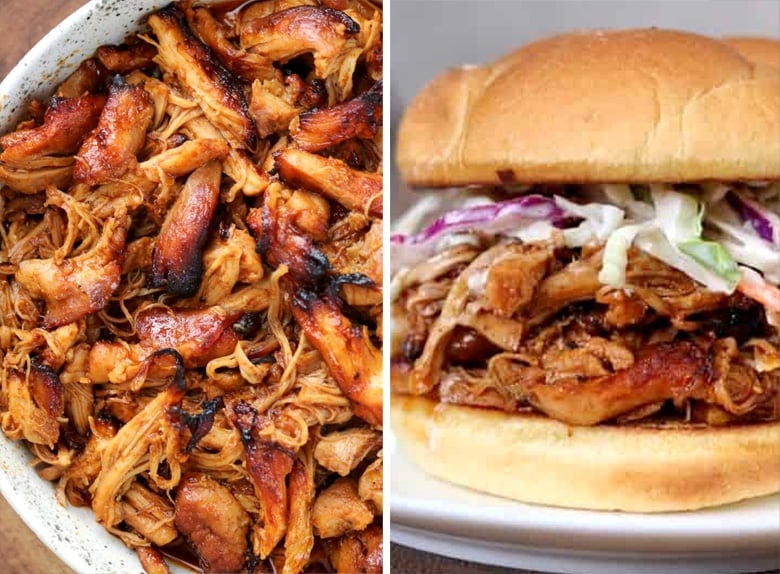 This Instant Pot BBQ chicken is perfect for game days or your next meal prep. You can make everything from sandwiches and nachos to loaded fries or spuds. The possibilities are limitless. Recipe from Masonfit.
Paleo and gluten-free friendly, this sweet and tangy chicken is juicy and delicious. Similarly to sweet and sour chicken or pork, this dish can be served over rice or noodles or wrapped in lettuce wraps or with cauliflower rice for a low-carb, grain-free version. Get the recipe here.
---
INSTANT POT CHICKEN DRUMSTICKS
Chicken drumsticks are affordable and the kids love them, so of course, we wanted to include a few good pressure cooker friendly recipes for you to choose from.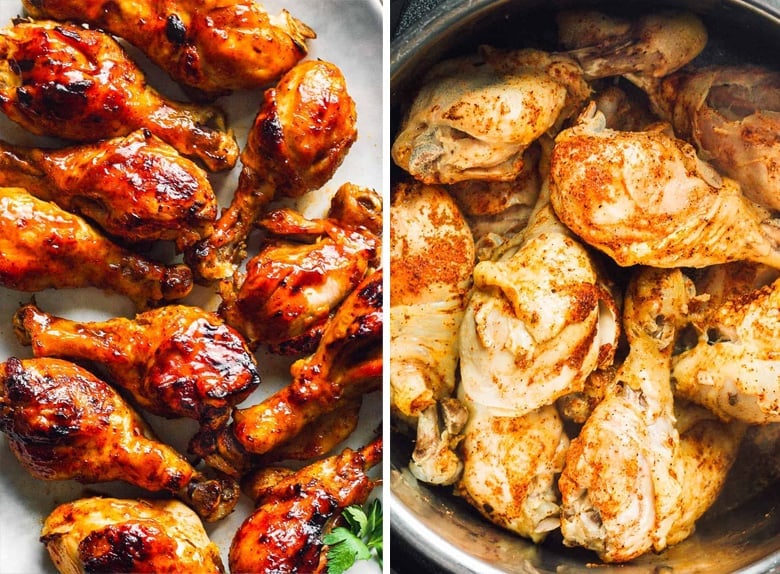 Chicken drumsticks have never been quicker or easier to make than in the Instant Pot. Seasoned with spices and smothered in BBQ sauce (optional), they come out perfectly juicy and are ready to serve in 20 minutes. Recipe from Easy Chicken Recipes.
Indulgence doesn't mean ditching healthy eating – nope! Not with a recipe like these honey teriyaki drumsticks. Eating chicken off the bone is undeniably satisfying, especially when it's a bit sticky and messy. Honey, soy sauce, garlic, and ginger come together to make an Asian-inspired glaze that you're going to want more of, so consider making a double batch. Get the recipe from Skinnytaste.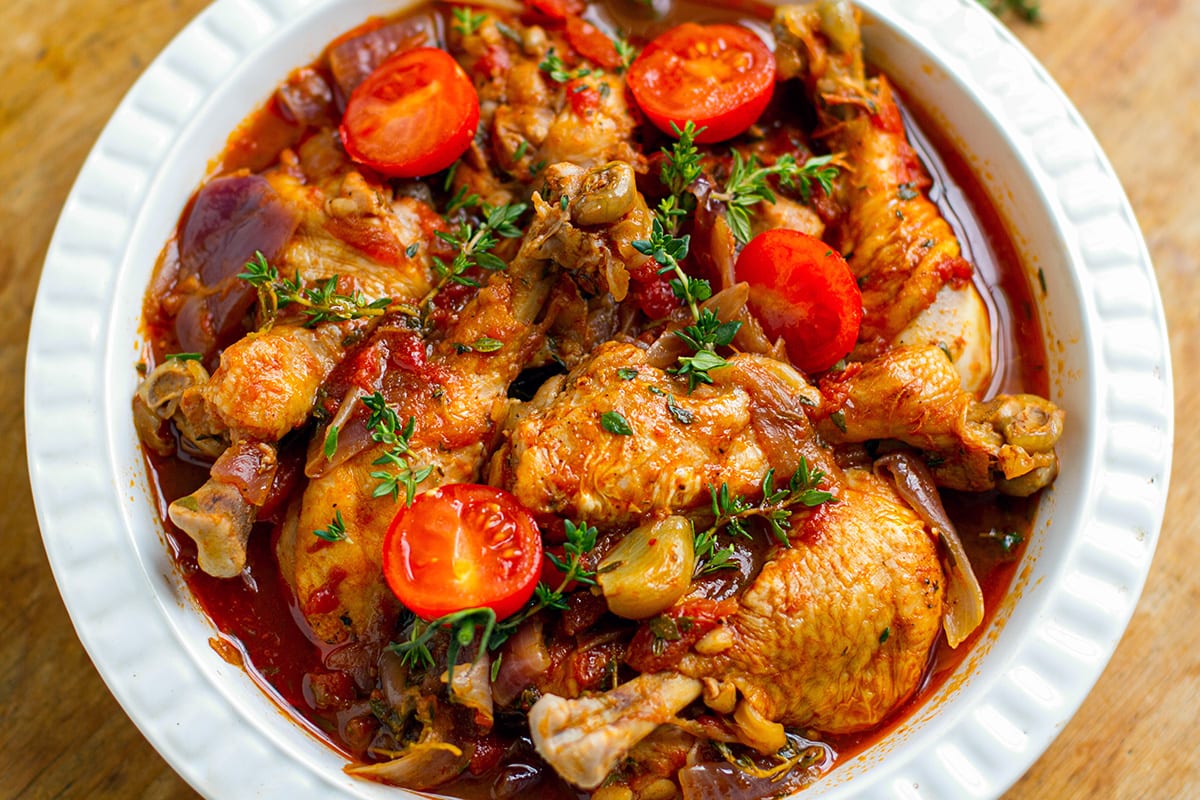 Bathed in a tasty garlic and thyme tomato sauce and with meat falling off the bone, these Italian chicken drumsticks make are a fabulous family meal. Making this dish in an Instant Pot pressure cooker means you can have it done and dusted in no time. It's healthy and budget-friendly, too. Get the recipe from Instant Pot Eats.
The cooking term Alla Cacciatora means to cook meat in tomatoes, wine, and in-season veggies, then garnish with olives. Technically speaking, you can do this with any meat, but chicken is the most common contender. This summery dish features tomatoes and fresh basil with green olives. The chicken with the bone-in is the most important part – plus it looks fantastic to serve! Get the recipe from Hip Pressure Cooking.
---
Instant Pot Chicken Wings
Chicken wings are more cost-effective than other cuts making them ideal for large get-togethers. They are the perfect size for little hands and taste fabulous basted in a sticky marinade or infused with herbs and spices. Chicken wings are often made in the Instant Pot and finished in the oven or on the grill.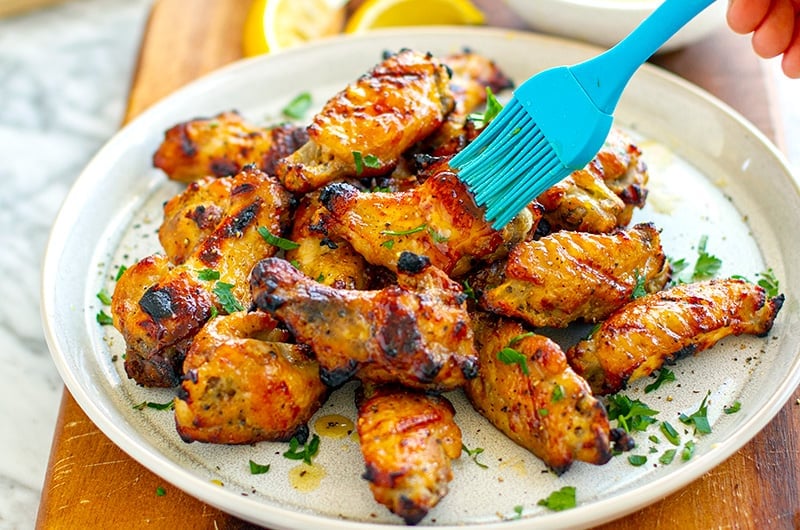 A little sweet and sticky with a touch of heat from the mustard and acidity from lemon, these Instant Pot chicken wings are super delicious and easy to make. This recipe is for about 2 pounds of chicken wing pieces (wings and drumettes) but you can easily double the ingredients for a larger batch. Get the recipe here.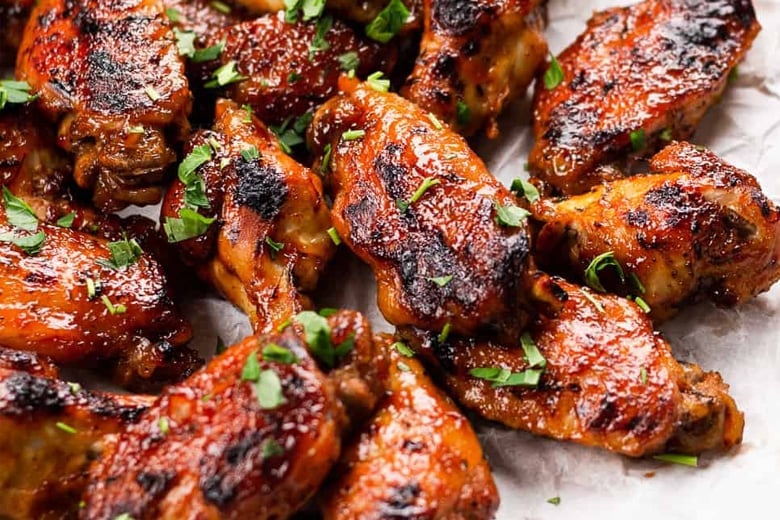 This is the best Chicken Wings recipe made with dry rub seasoning and delicious BBQ sauce! The best part is you can make it in your Instant Pot in just 30 minutes! It will be a great easy appetizer for Super Bowl party or a Summer cookout! Recipe from Veronica's Kitchen.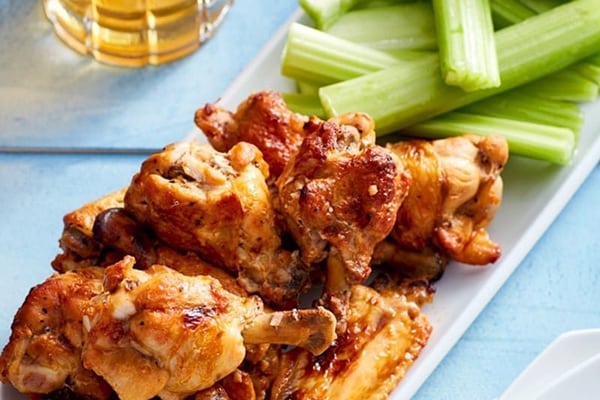 The chicken is cooked in the Instant Pot from frozen making this a very convenient dish to make when you're in the rush or you've forgotten to pick fresh ingredients. Stocking a few chicken wings in the freezer means that you can whip these guys up any time! Get the recipe from here.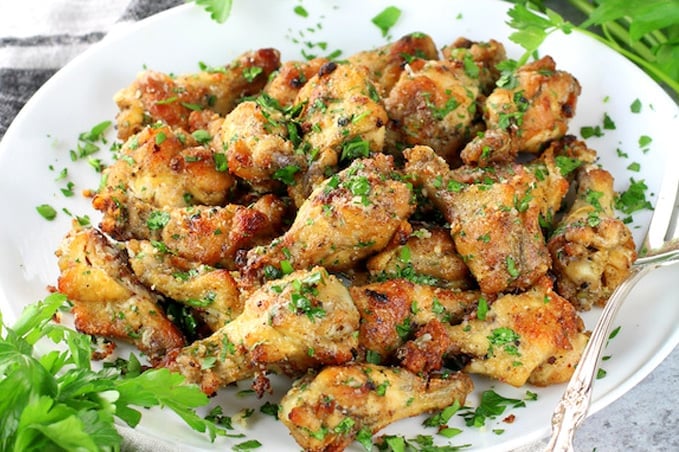 These Instant Pot garlic Parmesan chicken wings are tender on the inside, crispy and golden on the outside, with no frying involved. Plus, the cheesy garlic flavor is such a delicious and kid-friendly combination. Recipe from Taste & See.
---
Instant Pot Recipes With Whole Chicken
From roasts to curries, it's amazing what you can do with a whole chook. Yes, you can make a rotisserie style whole chicken in the Instant Pot or you can use the pressure cooker to make nutritious bone broth. Here are some recipes to try!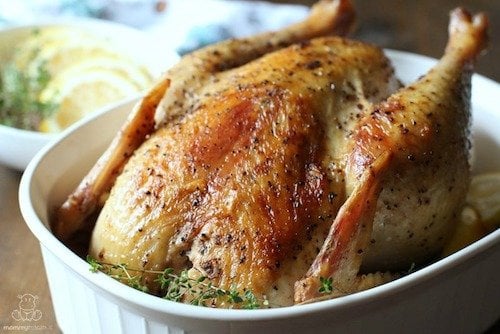 Let's end things with the quintessential Instant Pot chicken recipe – the rotisserie chicken! Can you imagine roasting a whole bird in half an hour? It's no joke! You can finish it off with a quick brown in the oven, and dinner is served. Get the recipe from Mommypotamus.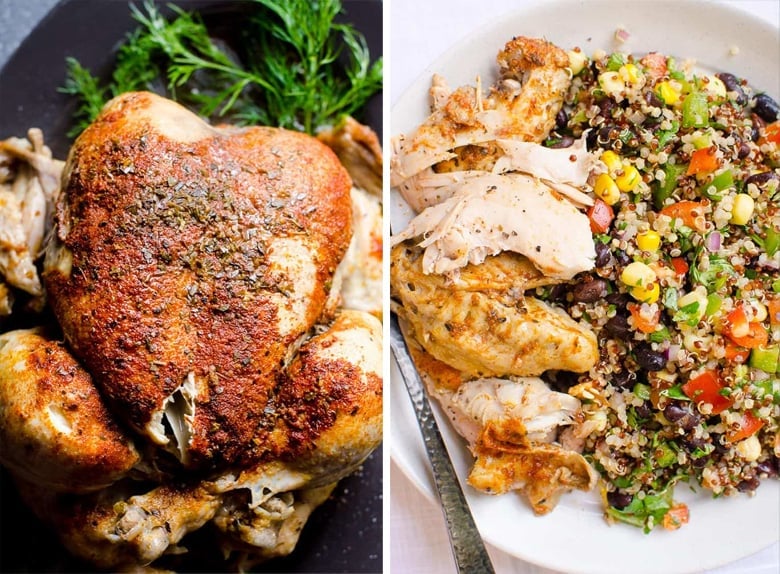 This Instant Pot Frozen Chicken is rotisserie style whole chicken cooked in your electric pressure cooker without thawing with 5 mins prep. It comes out super juicy! Recipe from iFoodReal.
Would you like homemade, nutritious chicken bone broth with herbs and veggies made in 3 hours instead of 12 or 24? Yes, please! Learn how to make nutritious bone broth in your pressure cooker using whole chicken or pieces of chicken and bones. Get the recipe here.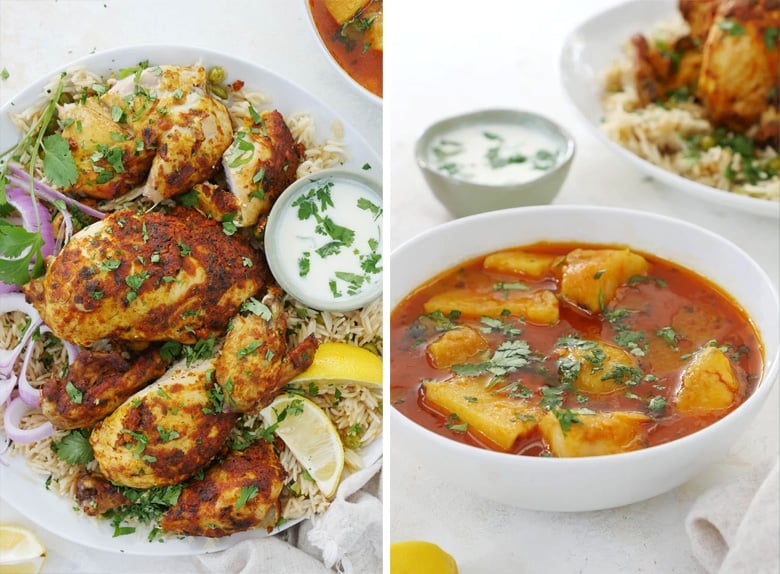 Learn how to make a tandoori spiced whole chicken in an Instant Pot! Then, use the remaining sauce at the bottom of the pot (drippings) to make a delicious and comforting potato curry! Get the recipe from My Heart Beets.
---
INSTANT POT Chicken Soup Recipes
Chicken soup is good for the soul and the body! With these classic and creative chicken soup recipes made in the Instant Pot, you will satisfy both the kids and the grownups.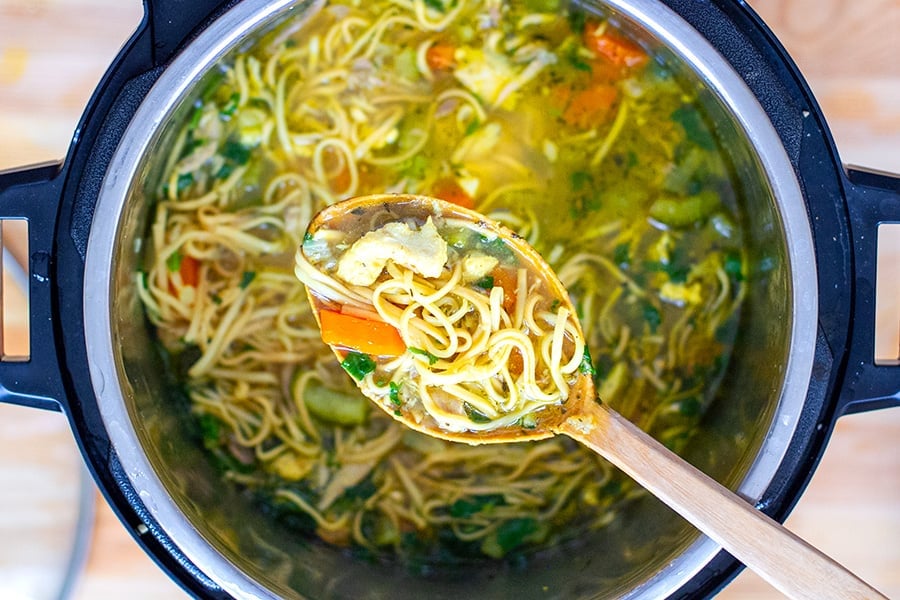 Who doesn't love a good chicken noodle soup? It's a family-friendly dish loved by kids and grownups and it's one of those classic comfort meals that make even the coldest, rainiest of days seem a little warmer and brighter. Get the recipe here.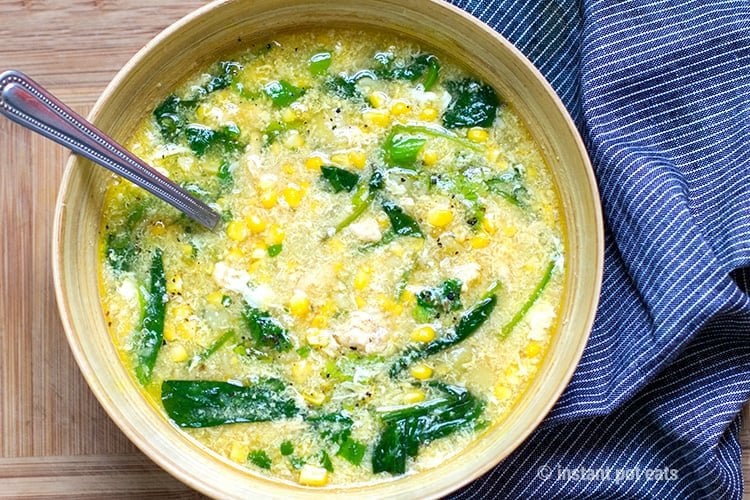 Chicken and corn soup is a popular Chinese dish. It's often served as a starter at restaurants and you might have tried it warmed up out of a can. In this recipe, you learn how to make a healthier, homemade version using fresh corn (frozen is also ok), good quality chicken and stock, and some nutritious spinach. Get the recipe here.
Everyone needs a go-to chicken soup recipe. While simmering a pot of the stuff on a hot stove all day long is sometimes part of the process, sometimes you need a cold-killer or comfort food in a pinch. That's where this recipe comes in. It's loaded with healing bone broth, tasty veggies, and mouthwatering chicken. Get the recipe from A Squirrel in the Kitchen.
Creamy and hearty yet healthy and light, this Greek chicken lemon soup is also known as avgolemono (pronounced av-gho-lé-mo-no). Thickened with fragrant and tangy lemony egg sauce, this luxurious soup with shredded chicken and orzo is silky and rich with no cream or dairy in sight. Get the recipe here.
Using that bold hot sauce mellowed out by cream cheese and half-n-half can give your chicken soup a lot of flavor AND beautiful color. Adding vegetables of your liking completes the soup and it can be served with all those classic sides of crumbled blue cheese and celery sticks (and maybe a breadstick or two). Get the recipe here.
---
International RECIPES WITH CHICKEN
Explore the world from the comfort of your kitchen with these tasty Instant Pot chicken recipes inspired by International cuisines from Asian curries to Moroccan tagines.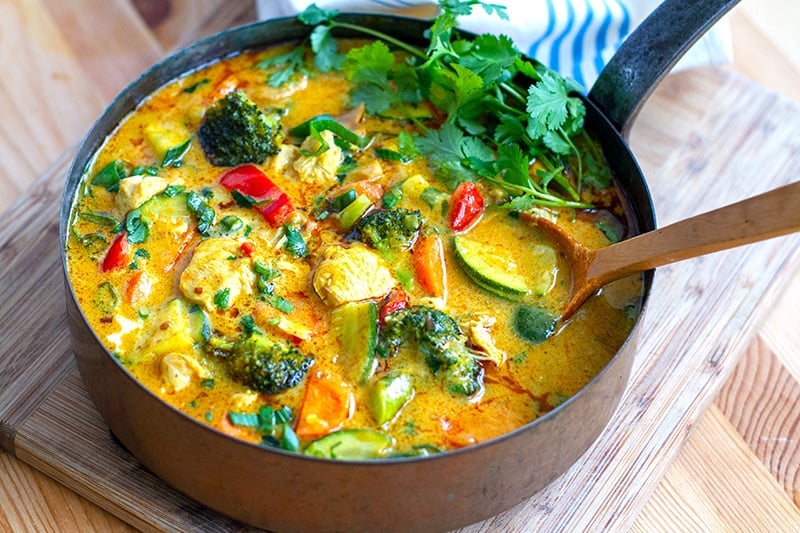 We love all types of curries but a tasty Thai chicken curry would have to be on the top of the list. Making an authentic Thai curry can be a labour of love, especially if you make your own curry paste, but there is a much simpler and quicker way. This Instant Pot Thai curry is made in under 30 minutes using ingredients you can find in most grocery stores. Get this recipe from Instant Pot Eats.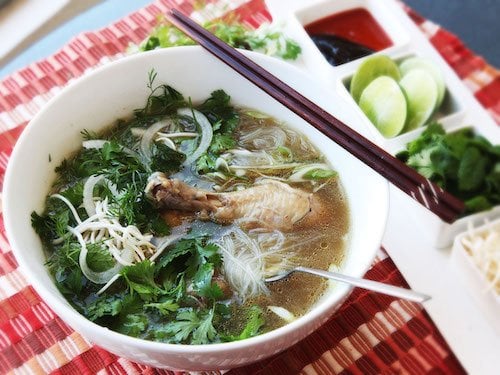 Pho is a traditional Vietnamese soup that is naturally gluten-free because it's served with rice noodles. The broth is classically rich and aromatic, and it's usually served with beef. This version uses chicken on the bone instead, injecting even more flavor into the base. It's topped off with sprouts, greens, herbs, chillis, and lime – or really, whatever you want! Get the recipe from Serious Eats.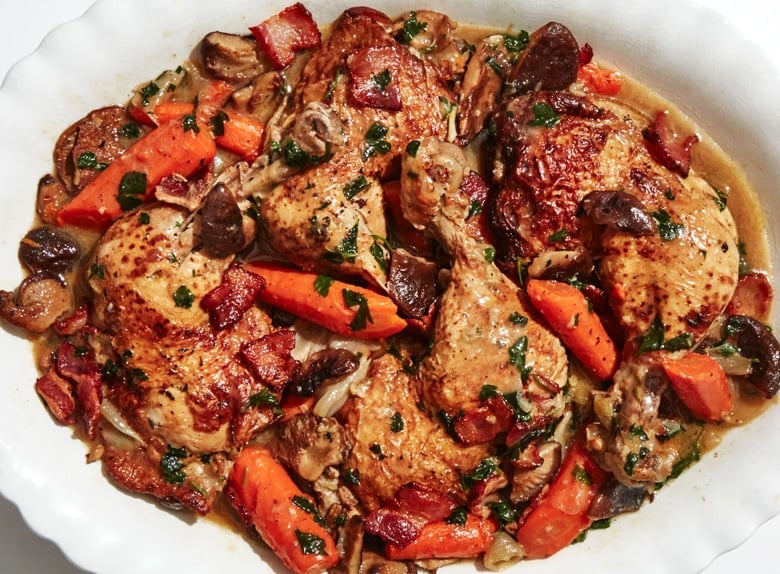 Instead of hours in the oven, this classic French chicken braise only needs 15 minutes at high pressure to achieve silky-shreddy chicken meat and vegetables so tender you can cut them with a spoon. Recipe from Bon Appetit.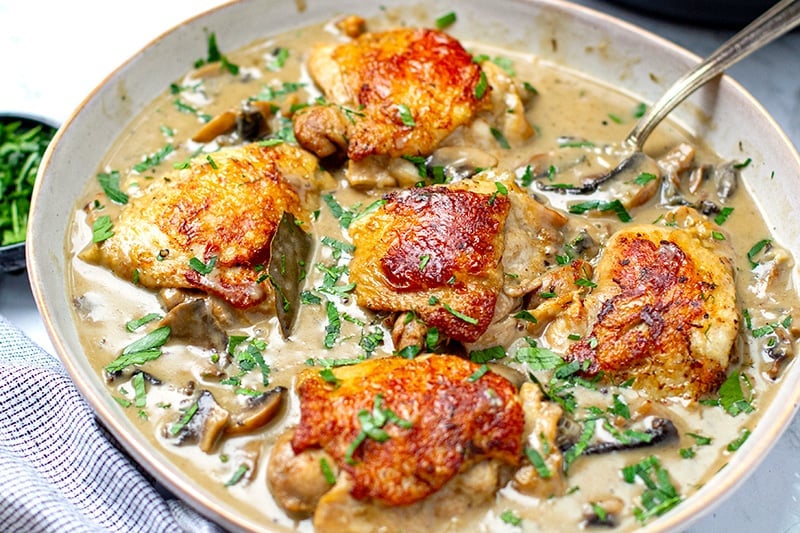 A traditional French stew made with browned chicken pieces braised in a delicious, creamy white mushroom sauce. The sauce is heavenly and the dish is rustic comfort food at its best. Recipe from Instant Pot Eats.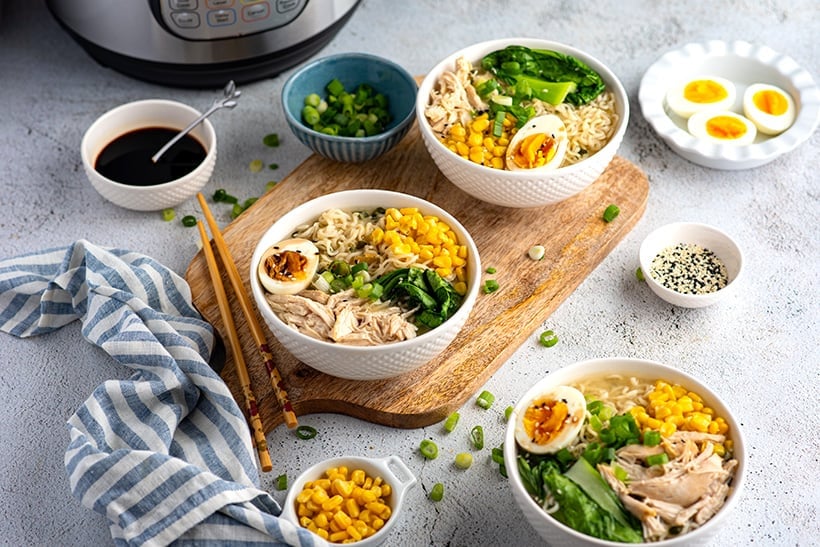 Simple and delicious Instant Pot ramen noodles with chicken and miso broth are perfect for a quick lunch or dinner meal that both kids and grown-ups will love. Inspired by the Japanese miso ramen, this noodle soup is topped with Asian greens, sweet corn, and a boiled egg. Recipe from Instant Pot Eats.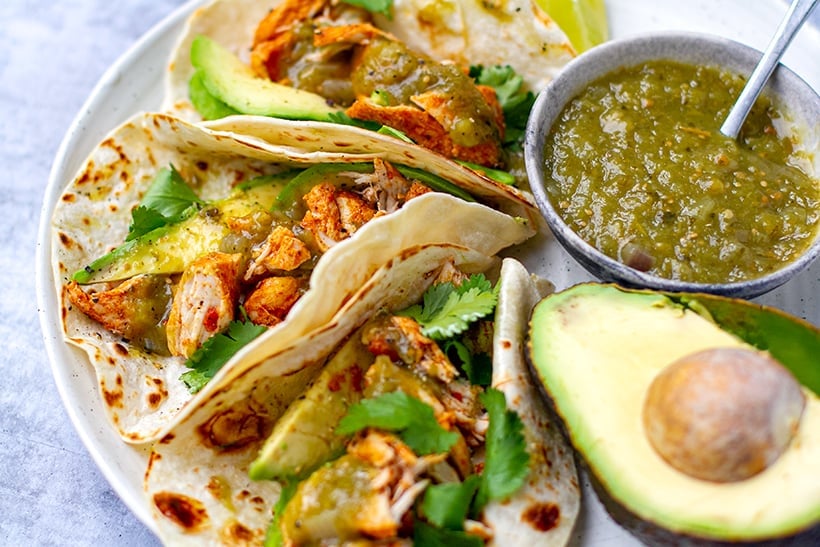 If you're looking for quick and easy Instant Pot recipes, these chicken avocado and salsa verde tacos tick all the boxes. We will show you how to make them with just 5 main ingredients for a speedy, budget-friendly dinner you can serve up to your family or friends. Recipe from Instant Pot Eats.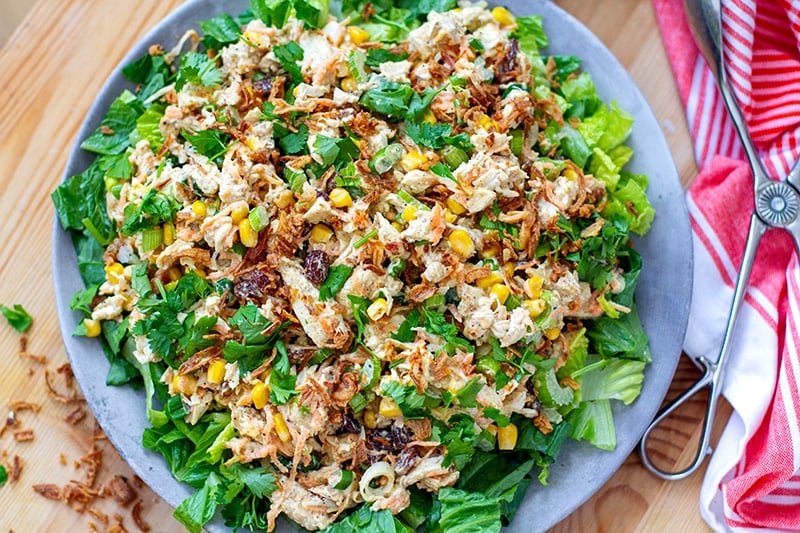 This delicious and healthy recipe is inspired by a Brazilian chicken salad, also known as Salpicão de Frango. It's kind of a fusion dish, really. Take an American classic, add some Brazilian additions of grated carrot, raisins and corn, perfectly cooked, lightly spiced chicken breasts (Instant Pot is great for this!) and an Asian twist of curry mayo dressing. Everything is mixed and served over shredded lettuce or salad leaves. Recipe from Instant Pot Eats.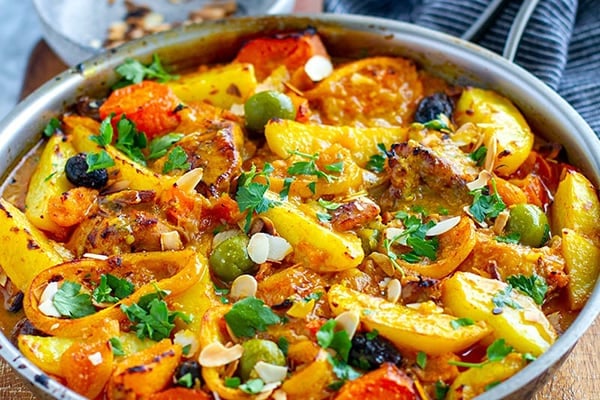 The combination of salty (olives), sweet (dried apricots) and sour (lemon) is a winning trio that is quite common in Moroccan dishes. With the addition of common pantry spices like cumin, turmeric and paprika, you're pretty much ready to become Moroccan chef extraordinaire. Recipe from Instant Pot Eats.
Instant Pot Chicken One-Pot Meals
Hearty stews, pasta, casseroles and risotto are all one-pot meals that can be made with chicken in the Instant Pot. Saves on washing up and makes dinner prep easy peasy breezy.
This kid-friendly Instant Pot chicken pasta with ham and vegetables is tasty and nutritious, with just a touch of cream and cheese that makes it velvety and hearty and provides a good serving of calcium and fat-soluble vitamins. You can make this family dinner meal in 30 minutes with minimal cleanup…because…Instant Pot!

Instant Pot chicken and rice is a delicious and simple supper that you can make all in one pot. It is every bit as good as the original recipe, except it's fuss-free and super quick to make. Get the recipe from A Pinch of Healthy.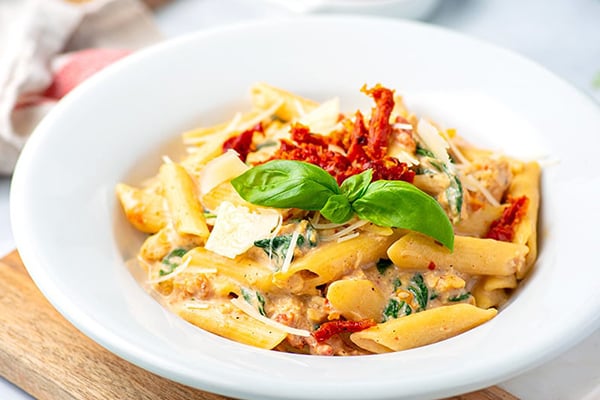 This creamy Instant Pot Tuscan chicken pasta is an indulgent and lip-smackingly tasty meal for the whole family combining essential carbohydrates, protein and veggies. Chicken and pasta are cooked at the same time in a garlicky, sun-dried tomato sauce thickened with cream. Recipe from Instant Pot Eats.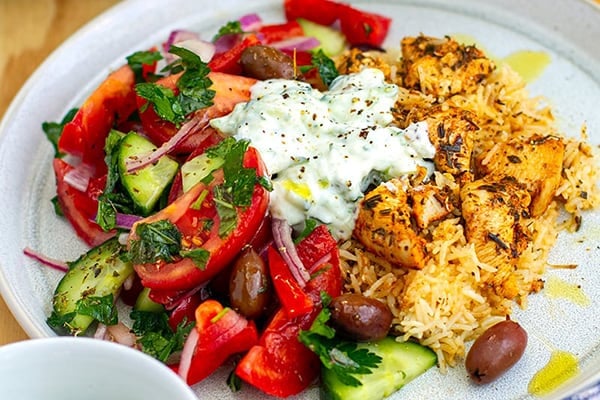 The meat and rice are cooked at the same time, during which you can prepare a colorful Greek salad and the accompanying tzatziki sauce. It's an adaptation of the traditional souvlaki as we're not grilling the meat, but TRUST US, this dish is delicious and the juices from the chicken and the marinade add lots of flavor to the rice. Recipe from Instant Pot Eats.
---
Best INSTANT POT Chicken Stews
When the temperature drops, get a stew going! These chicken stews are perfect for when you want something hearty, comforting, and even better the next day.
When it comes to Instant Pot recipes, a good creamy stew is a must-have! A blend of chicken breast and thighs in this sour cream base makes for a hearty stew and a happy belly. With added flavor and texture from the mushrooms and a deep garlic flavor, this weeknight meal is pure comfort food with a healthy twist. Get the recipe here.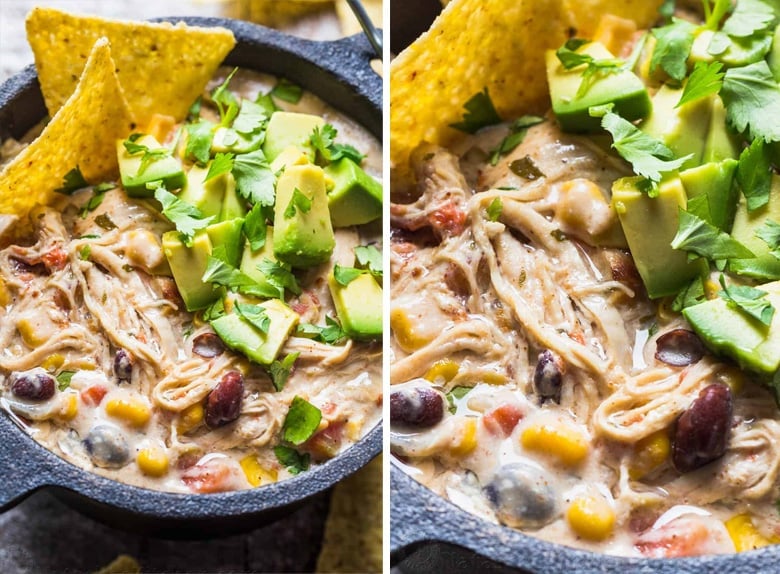 This white chicken chili is done in less than an hour from start to finish in the Instant Pot with melt in your mouth tender chicken. Just stir everything together, top with cream cheese and set for 20 minutes. Recipe from Natasha's Kitchen.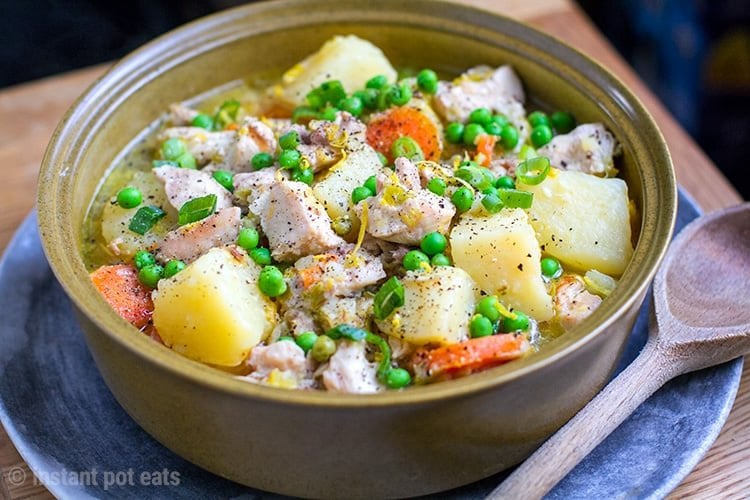 You can make this tasty and rustic meal of stewed chicken and potatoes with minimal cleanup. Plus, cooking the potatoes and chicken at the same time allows for the flavours of the poultry, leeks and vegetables to infuse the spuds, while the starch in them thickens the broth and makes it rich and hearty.
Get the recipe here.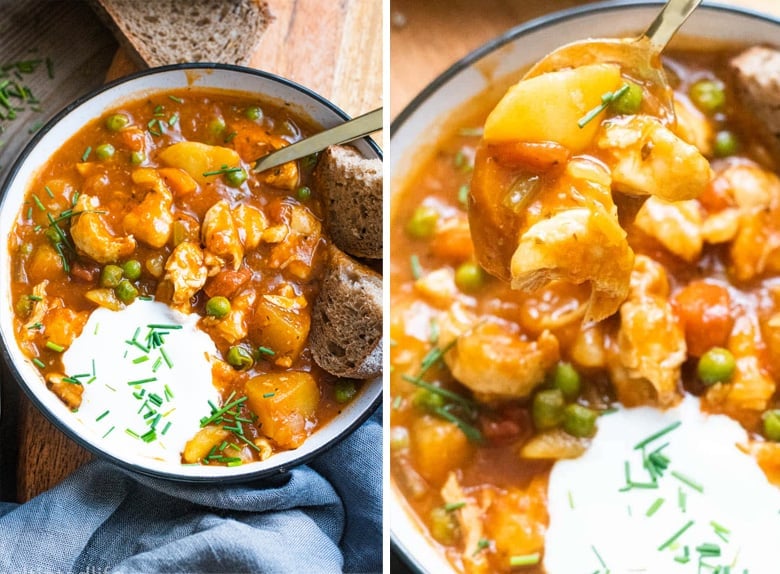 This chicken stew is super hearty, made with browned chicken that is cooked in a delicious, aromatic, savory sauce with vegetables. Make it in the Instant Pot with ease. Recipe from Caramel Tinted Life.
Chicken paprika or paprika chicken (also known as paprikás csirke) is a popular Hungarian dish and one that has become a classic around the world. This Instant Pot recipe is a quick and easy way to prepare this dish, which normally requires extended simmering time. Get the recipe here.
Do you have a go-to Instant Pot recipe for chicken? Share it with us! We hope you enjoyed our roundup. If you did, share these recipes or save them for later.