Check out some of our top picks for Instant Pot chicken thigh recipes that are delicious, healthy, budget-friendly, and sure to satisfy. Share your favorites in the comments!
---
WHY COOK WITH CHICKEN THIGHS
There are a few protein options I almost always have handy, hanging out in the freezer. Among those are chicken thighs. Most recipes using chicken breast can be made using thighs too which makes them incredibly versatile. Better yet, they're packed with flavor with a little extra fat that goes a long way.
They are still a healthy choice – especially if you remove the skin – are great for those on a budget. Chicken thighs are often significantly cheaper than chicken breasts and serve approximately the same purpose.
Some recipes work especially well with thighs, and they couldn't be easier to make than in your pressure cooker.
Enjoy some of my top picks of Instant Pot chicken thigh recipes and for how to use them in one-pot meals for easy weeknight dinners. Oh, and these recipes are fantastic for batch cooking and meal prep to meet your protein needs throughout the week!
With a slightly sour tang from fresh lemon juice and slices and a sweet layer from delectable and decadent raw honey, this blend really jazzes up plain chicken thighs. This one is a lifesaver on busy weeknights, and it's sure to be a hit with the kids. Garnish with fresh sliced green onions for the best results, and serve with a simple side of veggies for a healthy, balanced meal. These also make a great addition to your weekly meal prep routine.
If you're looking for a one-pot meal using chicken thighs, look no further. Mushrooms and chicken pair up for a hearty and meaty filling in this stewed dish tossed with sour cream after cooking to make it oh-so-creamy and quite dreamy. This is a crowd-pleasing recipe that can also be adapted for a paleo diet as there is a dairy-free alternative. This one is packed with protein and nutrients, and it's on the table in just 40 minutes.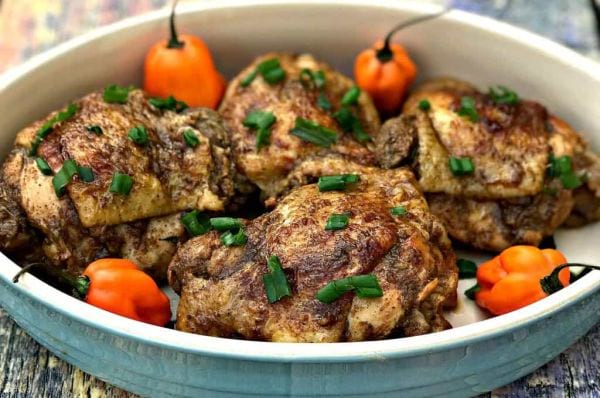 Perhaps you want your dinner to transport you to somewhere warm… somewhere tropical… somewhere you can get some seriously awesome jerk chicken. Ah! I know. Let's take it to Jamaica with this brilliant take on chicken thighs. While this dish is generally prepared on a grill, you can easily adapt that to your Instant Pot for easy, hands-off prep. Fresh Creole seasoning and spicy jalapenos give this dish a seriously addictive kick. Recipe from Stay Snatched.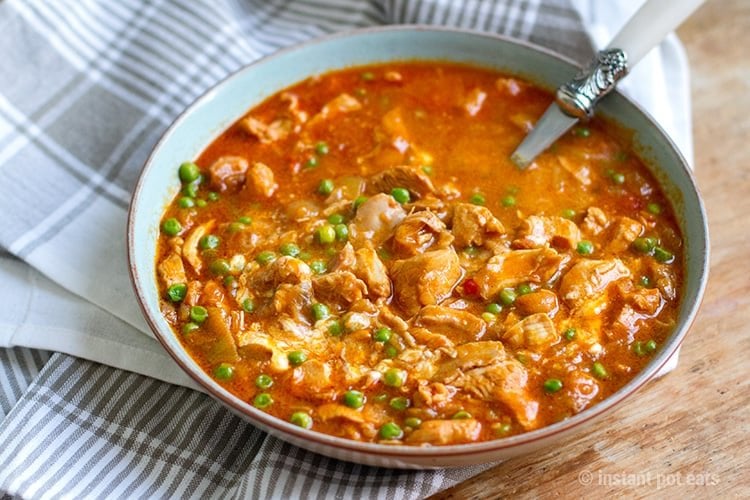 Chicken paprika or paprikás csirke is a staple in Hungarian cuisine. It's a creamy chicken stew with crème fraîche or sour cream, onion, peas, and of course, plenty of fresh paprika that lends its vibrant red color to each and every bite. It's perfect for serving with a fresh cucumber salad that you can prepare while this cooks. It's dinner-ready in just 35 minutes of prep time and cooking time total.
This Instant Pot chicken thigh dish has it all, making you feel like you're hanging out on the coast of Greece enjoying the fine dining opportunities. Artichoke hearts, roasted and marinated red bell peppers, olives, and fresh herbs bring home that unique flavor. Give it a squeeze of fresh lemon to serve, and don't forget the crumbled feta cheese on top. This is a great main dish to serve with fresh salad. The recipe also includes an adaptation for the slow cooker. Recipe from Wholesomelicious.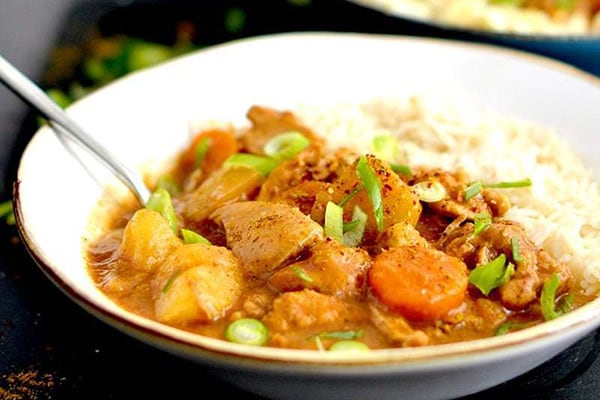 This simple homemade recipe is made from scratch rather than using ready-made boxed curry and is super delicious. We used chicken thighs and breast, carrots, and potatoes but you can make a vegetarian/vegan version as well.
One look at this gorgeous glaze will have you drooling! A blend of honey, garlic, and soy sauce injects massive flavour into these juicy chicken thighs for a fantastic treat with an Asian flair. These chicken thighs pair perfectly with a bowl of white rice and steamed broccoli, or make an awesome addition to noodle bowls. You can use gluten-free soy sauce or coconut aminos to make this one paleo-friendly too. Oh, and cook time is just 20 minutes! Recipe from Diethood.
This paleo-friendly and Whole30-approved take on chicken shawarma is sure to be a winner. The recipe uses a blend of both chicken thighs and chicken breast for the best results. After that, it's all about the spices! Get this on the table in just 25 minutes. Serve with pita if you'd like, or sweet potatoes and veggies if you're keeping it grain-free. Don't forget a generous topping of tahini sauce on top. Recipe from Little Bits Of.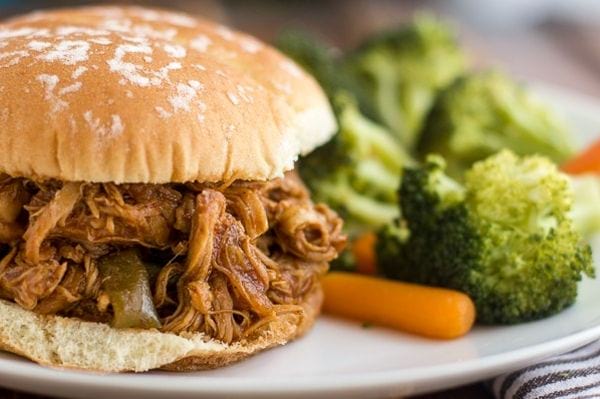 Who doesn't love a good pile of pulled BBQ meat? It's finger-lickin' good every time. Often, we make pulled pork, but pulled chicken is quite underrated. Case in point? These buns piled high with the stuff! This recipe is as effortless as it gets when you make it in the IP with easy-to-shred chicken every time. Use your favorite BBQ sauce whether it's store-bought or homemade for the best results. The only downside is this won't last long! Recipe from The Black Peppercorn.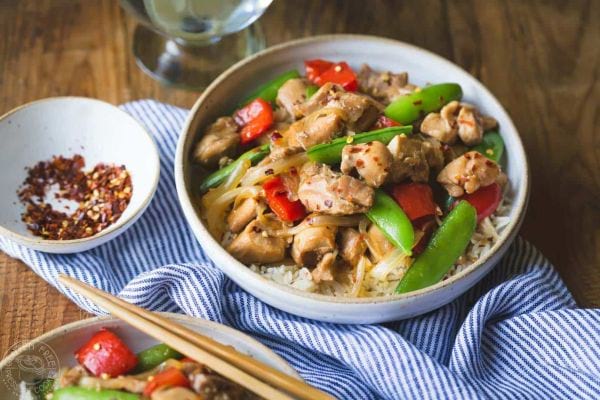 The variety you can achieve with chicken thighs is truly outstanding. This gluten-free recipe is made with sugar snap peas, red bell pepper, onion, soy sauce, fresh ginger, and red chili flakes for a veggie-packed meal that you can make as spicy (or not spicy) as you want. Serve over cauliflower rice or rice noodles for a full meal. P.S. this one only takes 20 minutes from start to finish! Recipe from Gluten Free Pressure Cooker.
In a hurry? Just make this Thai chicken curry. A coconut broth base, tender veggies that you can customize to what you have in the fridge, and chicken thighs make the bulk of this dish. This is one of those meals you can always have in a pinch when you're feeling the takeout craving come on. Top it off with some fresh lime and cilantro for the best results. It's spicy, creamy, and downright awesome – trust me! Recipe from Instant Pot Eats.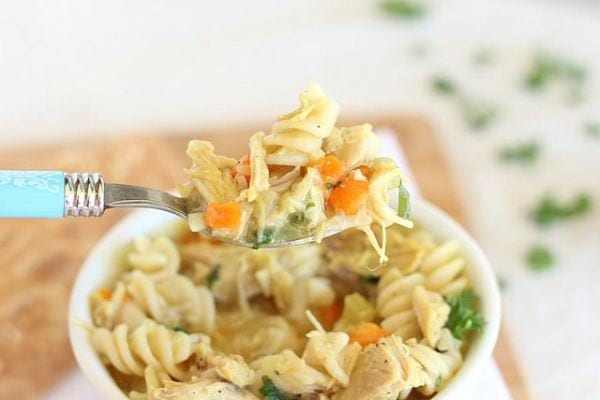 What would this roundup be without a good chicken soup recipe? Well, here you have it. Whether or not you have a cold, this soup stands out. Best of all, this recipe uses gluten-free noodles which can be a tricky ingredient to get right in your Instant Pot. This one is healthy, hearty, allergen-friendly, and quick. It's also freezer-friendly, so stock up and make a double batch. Recipe from Oatmeal With A Fork.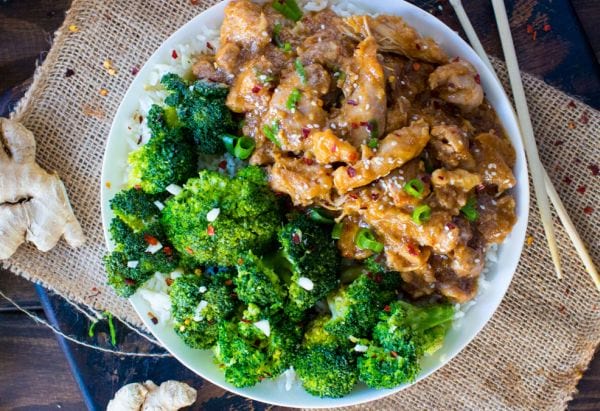 Now, for everyone's favourite chicken recipe! Ordering Chinese food is nothing without an order of General Tso's, but it isn't exactly healthy. Making it at home gives you more control over the ingredients and you can choose natural sweeteners to get the flavour just right without relying on tons of sugar and MSG. This is the perfect dish to serve with some pre-cooked rice and fresh steamed veggies. Recipe from Sweet & Savory Meals.
Perhaps Indian food is your jam instead of Chinese. If so, we've got you covered. This butter chicken recipe is delectable and mimics the flavor of your favorite buffet effortlessly on your part. Save your money for this economical recipe that'll help you stretch your dollar without sacrificing the flavor you love. Recipe from Jo Cooks.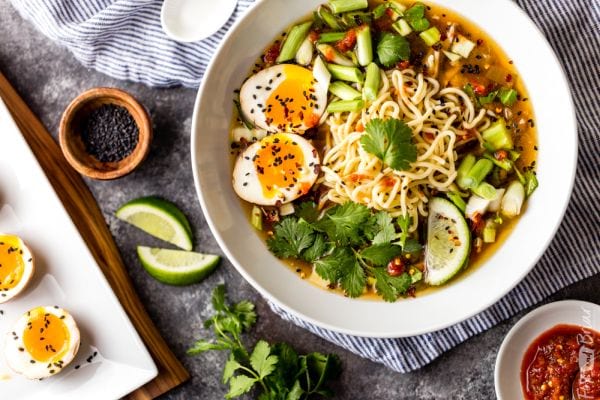 Who doesn't love a piping hot bowl of warm and comforting ramen? I know I do. Ditch the sodium-laden 50-cent packages for some real deal stuff that feels authentic, and dare I say kinda healthy. This soup is packed with hearty chicken broth, perfectly cooked ramen noodles, chicken thighs, veggies and flavourful additions like chili garlic sauce, sesame oil, and fresh ginger. Top it off with some soft-boiled eggs (which you can also make in your IP) and fresh lime for the best results. Recipe from Fox & Briar.
Chicken cacciatore is commonly served with pasta, but it's great over spaghetti squash or zoodles for a lightened up grain-free version. This healthy dish is full of Italian flair featuring chicken thighs stewed with tomatoes, red and green peppers, and onions for a delicious meal done in a total of 35 minutes. Recipe from Skinnytaste.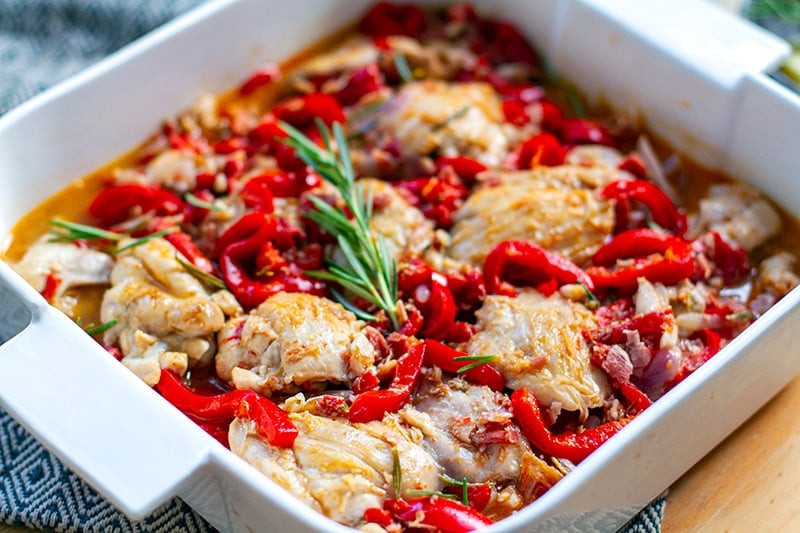 This Instant Pot chicken scarpariello recipe is a pressure cooker version of the American-Italian classic dish made with poultry and sweet and sour sauce of pickled roasted red peppers and rosemary. This sensational dish can be served over your favorite pasta, polenta, rice or vegetables.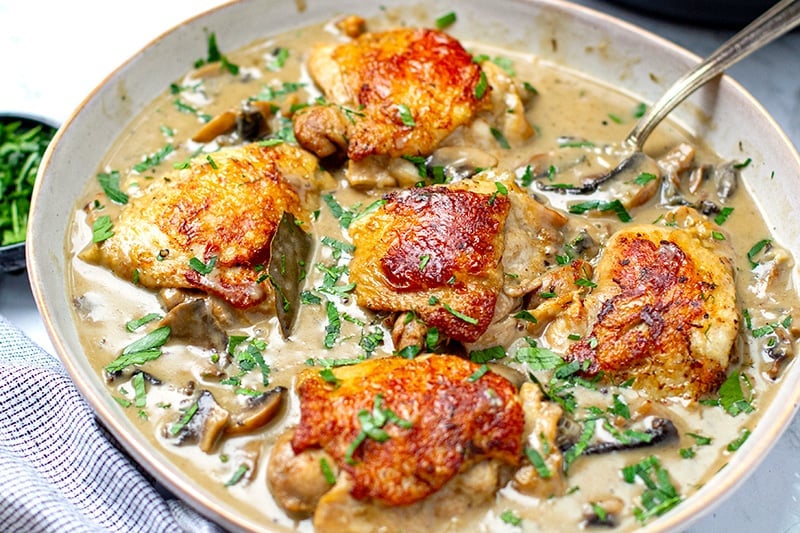 A traditional French stew made with browned chicken pieces braised in a delicious, creamy white mushroom sauce. The sauce is heavenly and the dish is rustic comfort food at its best. Recipe from Instant Pot Eats.
We hope you love these recipes and have so many new ideas for using chicken thighs. Let us know which ones you're looking forward to trying the most in the comments, and make sure to share this with your Instant Pot pals!
---