You say, "Po-tay-to," and I say, "Po-tah-to." Either way, we can probably agree on one thing: potato salad is seriously tasty. Summertime is the pinnacle for this dish as we find ourselves dining beneath the sun on plaid blankets with friends and family, or whipping up that signature recipe to contribute to the BBQ while someone else does the grilling. In this post, you will learn how to make Instant Pot potato salad with 10 delicious variations to inspire you.
---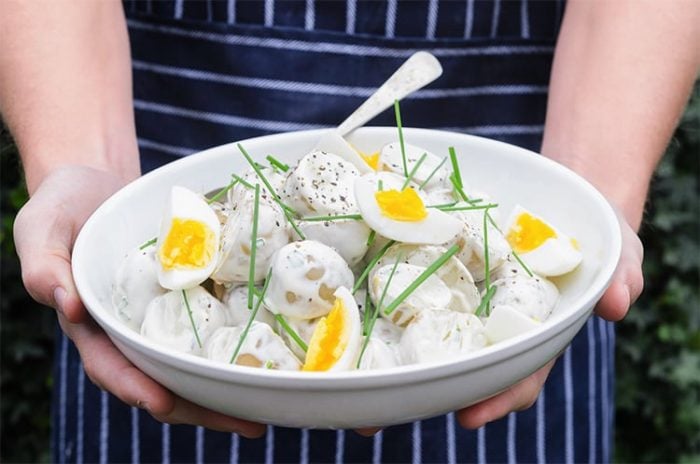 Potato salad is a modest dish with a simple concept, and while you may be using an age-old, tried and true recipe, there's nothing wrong with some healthy experimentation in the kitchen sometimes. We want to share a few unique ways to make this picnic essential potato salad with the help of an Instant Pot.
You can bake and boil potatoes all you want, but the Instant Pot means fast cooking and no mess – two things we're always down for. Plus, you don't have to break a sweat – save that for the great outdoors.
How to Make Instant Pot Potato Salad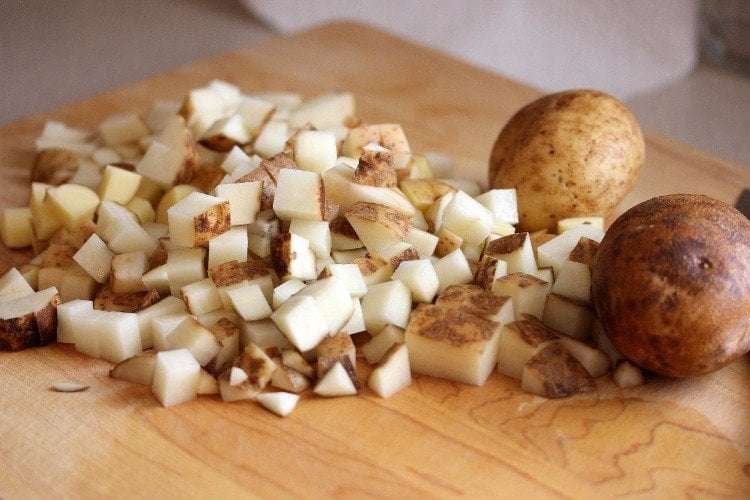 Naturally, you can't make the entire dish in the Instant Pot – especially since potato salad is generally served cold. With that said, you know the bulk of the time spent making it is waiting for the cooked potatoes to cool so you can slice and dice 'em then toss them with the magic ingredients. The Instant Pot means hands-off, perfectly cooked spuds every time. Here's how.
Instructions for cooking the whole potatoes in Instant Pot:
3-4 lbs. of whole potatoes with skin – depending on how large of a batch you want. We recommend Russet potatoes, as they seem to work best in a potato salad. Red potatoes are also a good choice!
1 teaspoon salt
Place potatoes of choice into the pressure cooker pot
Add around 2/3 cup water and season with salt.
For small potatoes: using the manual setting, cook on 'HIGH' pressure for 3 minutes.
For larger potatoes: using the manual setting, cook on 'HIGH' pressure for 4-5 minutes.
Use quick release and let the steam out.
Let your spuds cool before you very easily peel them and cut them to the desired size for your potato salad.
Instructions for cooking the potatoes diced with or without eggs:
3-4 lbs. of potatoes – peeled and diced into 1-inch cubes
1 teaspoon salt
3-4 eggs (if using)
Add one cup of water to the Instant Pot, and place a steamer basket inside.
Add the diced potatoes, season with salt and place the eggs carefully on top.
Place and lock the lid, and set the settings to manual, 'HIGH' pressure for 4 minutes. Allow the pressure to release naturally for a couple of minutes and then use the quick release to let the steam out before opening the lid.
Remove the steamer basket carefully and rinse the eggs under cold water. Let the potatoes cool off before adding to the salad.
You can prepare the rest of the salad ingredients and the dressing while the spuds are cooking.
---
Classic Potato Salad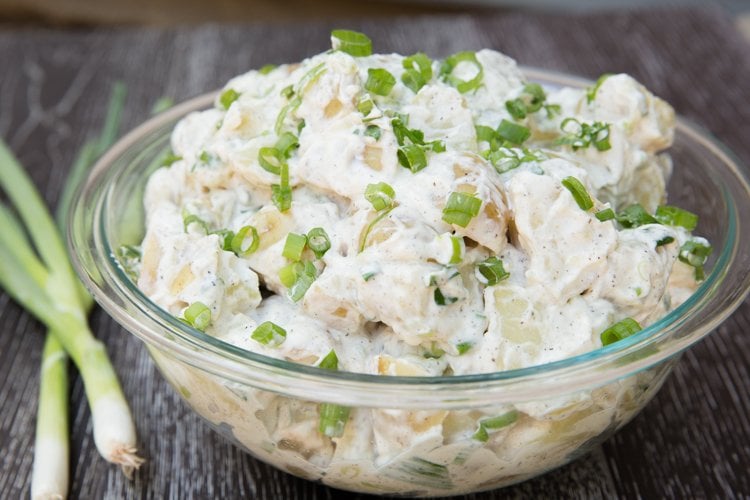 You just can't go wrong with classic potato salad. All you really need are a few simple ingredients to make a stunning dish that everyone will eat up. That makes it simple to whip up for a party and inexpensive to make a pretty large batch of. Throw this on the meal prep menu if you're cooking on a budget.
The main ingredients you can mix and match are mayo (duh), scallions, celery, yellow mustard, bacon, boiled eggs, dill, various other spices, and sour cream. You can mix and match or easily use all of these at once. Check out this ultra-rich 4-ingredient recipe from Tastes Lovely.
Sweet Potato Salad
Some people don't eat regular white potatoes, and that's totally okay. You can make a yam or sweet potato salad using the same Instant Pot method instead. They make a salad that will taste just as delicious. You can basically sub out sweet potatoes for potatoes in any recipe variation on this list, but we're big fans of this salad featuring bacon and jazzed up with a lime vinaigrette from Paleo Running Momma. It's perfectly paleo-friendly.
Vegan Potato Salad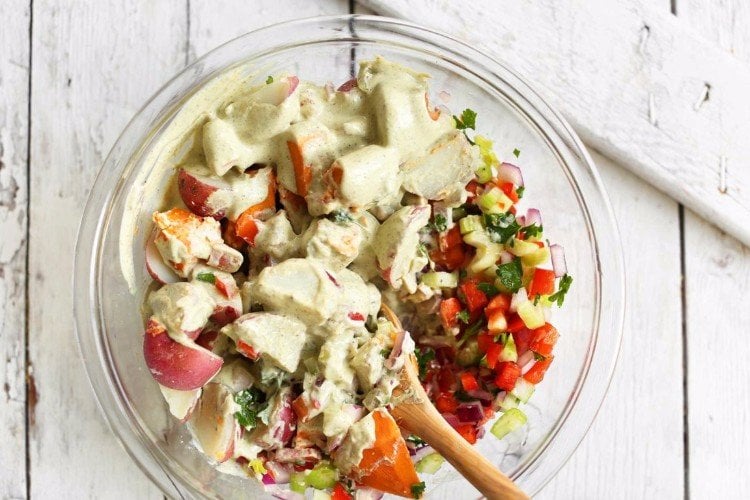 If you want to cater to the party, you should consider catering to everyone's dietary needs. It can be tough, but there's always a way to make it happen. A vegan potato salad can easily be made by subbing out mayo for a vegan mayo – found in many health food stores – or you can do it from scratch with cashew cream or non-dairy yoghurt. Here's a simple dairy-free and egg-free, creamy potato salad from Minimalist Baker.
German Potato Salad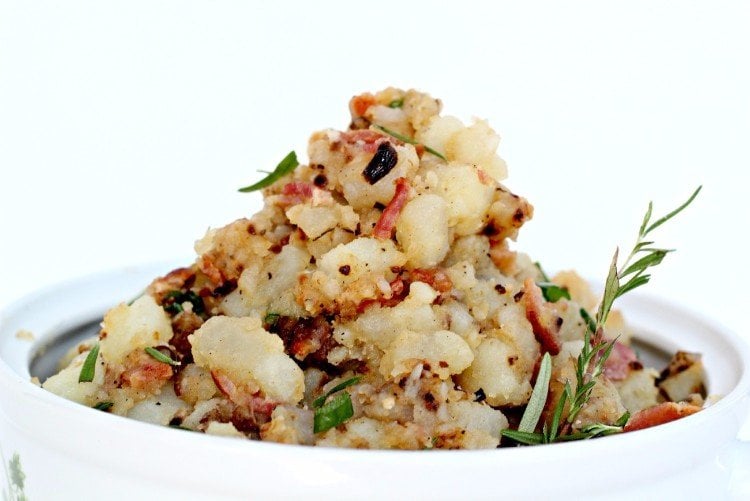 Basically, German potato salad subs out mayonnaise for bacon grease. Count. Me. In. Some people are a bit grossed out by mayo, or simply don't like it on their potatoes. Fear not! Now, if you don't like bacon, we have an issue, but that's another story. Otherwise, it includes most regular potato salad ingredients. Don't forget some fresh rosemary which will pair exceptionally well with that smoky flavour. Check out this recipe from Bravo for Paleo. This recipe is Whole30-compliant.
Spring Vegetable Potato Salad

This Instant Pot potato salad is a great example of using the pressure cooker for spring and summer dishes. So why not reflect that by mixing vibrant coloured veggies with your potatoes! Mixed with lovely green beans, peas, pickles, and zesty shallot vinaigrette, it's vegan, gluten-free and Whole30 friendly. Potato Salad With Tangy Vinaigrette from Instant Pot Eats is a fantastic salad to bring to a barbecue party, picnic in the park or to enjoy as a nutritious, balanced meal at home.
Potato Salad With Greek Yoghurt Dressing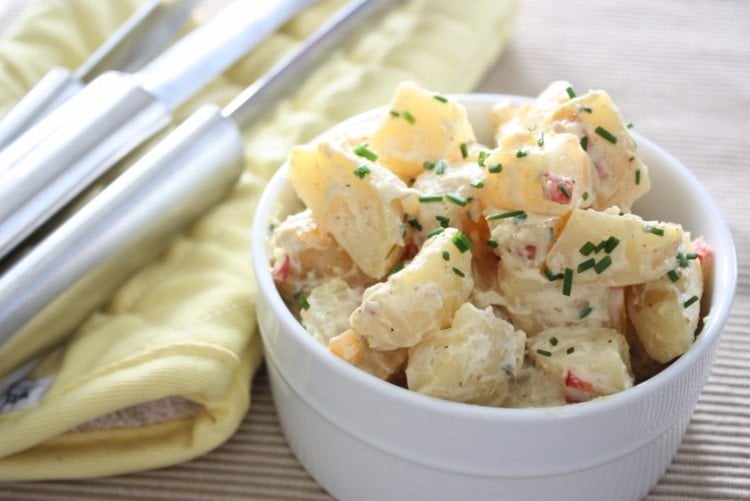 Greek yoghurt is rich and creamy just like mayo, but it can be a lighter option if you're interested. It also has the added benefit of being a fermented food, thus rich with probiotics and healthy gut bacteria. Finally, it's high in protein, so using it will give you a really nice blend of good-for-you fats, resistant starch from the potatoes, and protein – especially if you add eggs to the mix as well!
You can simply substitute mayonnaise completely with yoghurt, or you can use any ratio you like. Pro-tip: use full-fat or 2% yoghurt for better flavour and consistency. Try this recipe from Fake Food Free.
Add Something Sweet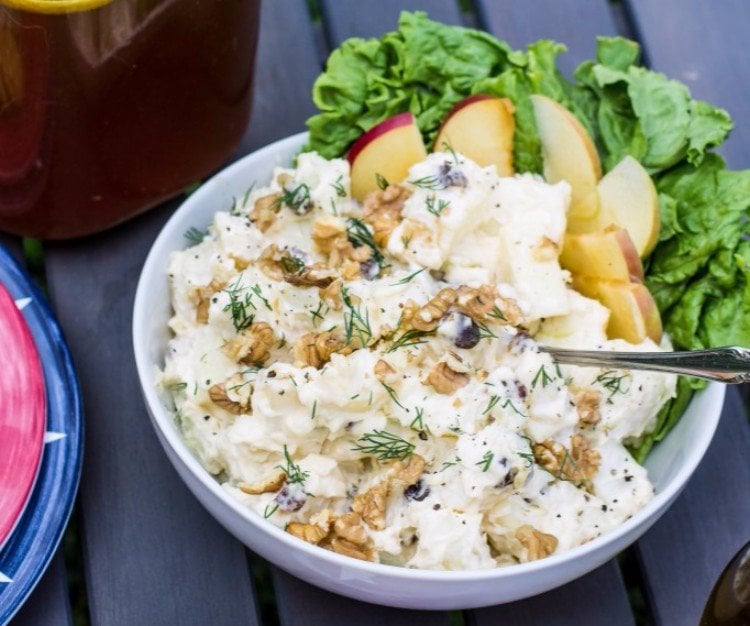 Try this gorgeous and colourful sweet potato pomegranate salad from Two Peas and Their Pod or the potato salad in the photo above from Olivia's Cuisine boasting apples, raisins, and walnuts. You could add in your dried fruit of choice or swap apples for pears. Get creative!
Bavarian-Style Potato Salad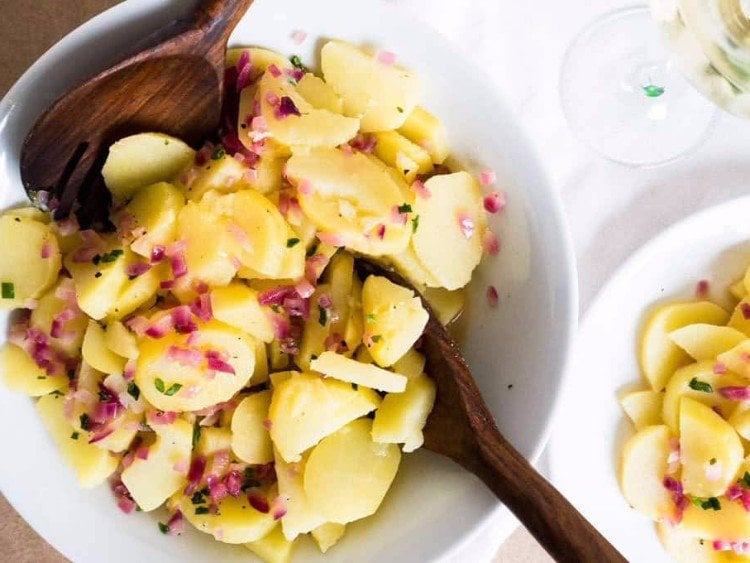 Just like with coleslaw, a tasty alternative to using mayonnaise is using an oil and vinegar base. Bavarian potato salad – a German dish called "Kartoffelsalat" is generally served warm and prepared with red potatoes, bacon, vinegar, salt, pepper, vegetable or olive oil, mustard, vegetable or beef broth, and onions. If you're ever in Southern Germany, you should have some with a hot brat and a side of sauerkraut. In case you're not travelling any time soon, here's a pretty authentic recipe from Plated Cravings.
Grilled Potato Salad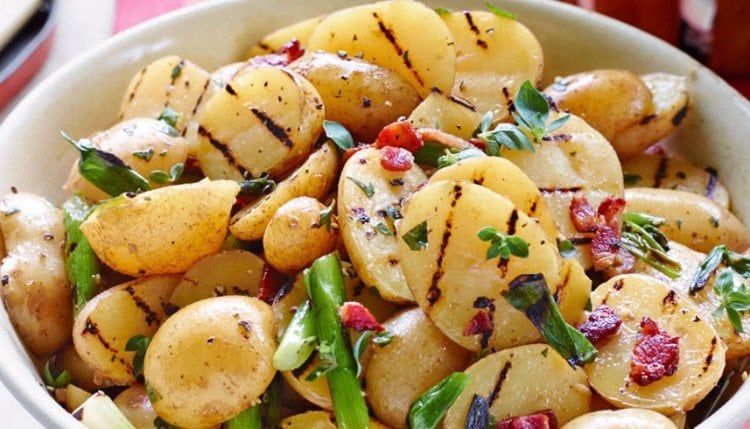 How about those grill marks? Double cooking the potatoes might seem like a little extra work and it is, but it might be worth it. Injecting a smoky flavour alongside already smoky bacon, plus its beautiful appearance when set on the table will woo and wow guests' taste buds (and your own). Here's a simple recipe for grilled potato salad from Country Living. Keep the grill hot and pair with some hot dogs or hamburgers for the best results. Can you beat that combo? Nope!
Danish Potato Salad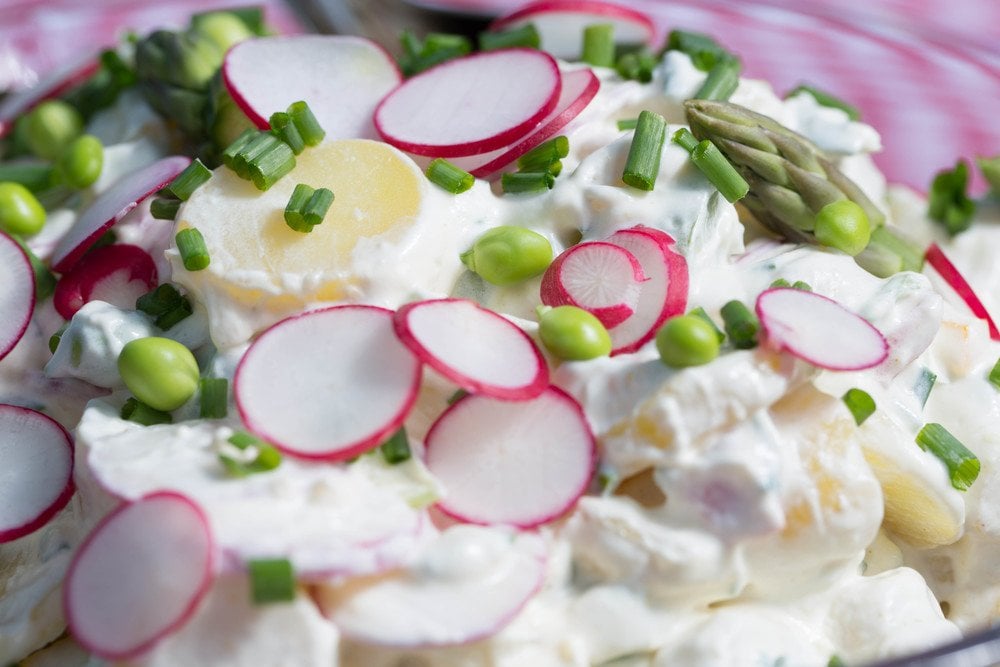 This one really brings in some unique textures while embracing spring and summer produce. Hit up the farmer's market to make this Danish-style potato salad. Generally, it has asparagus and peas in it for a healthy dose of green veggies – who could complain? You'll also find thin slices of radishes scattered throughout and tossed on top. This potato salad has some awesome crunch and colour to it which we love. Try it out with this recipe from Sweet Sour Savory.
Make It Your Own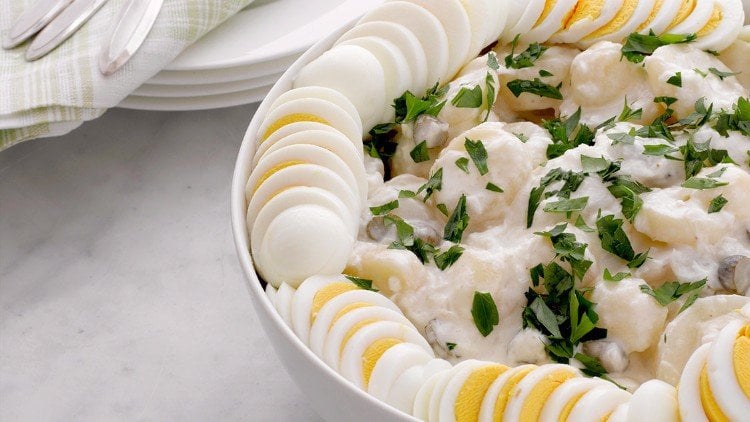 Potato salad is what you make of it. You can really add so much to it. Try adding some beans or lentils to pack in some extra plant protein. Toss it with shredded chicken to make it a full meal. Add in greens for a vitamin and nutrient boost like shredded kale or spinach. Sprinkle it with cheese or drizzle it with hot sauce. Toss crunchy nuts or seeds throughout. Blend gold potatoes and sweet potatoes. Heck – use purple potatoes for a super funky rendition of this classic food. Put some avocado in it because avocado goes with everything. Get generous with goodies from the herb garden. Make potato salad art, folks.
Do you have a go-to potato salad recipe for the summer? Let us know! Share this roundup if you enjoyed these ideas.