For a dessert with the holiday spirit, make this fabulous Instant Pot eggnog cheesecake with gingersnap crust and caramel drizzle. Spiked with a little rum, cinnamon and nutmeg, this pressure-cooked cheesecake is creamy and decadent, perfect with a little whipped cream or ice cream. Great for Thanksgiving and Christmas!
---
Did someone say eggnog cheesecake? Yes, please! This holiday-inspired dessert is great for a festive table and will be a total crowdpleaser. The best thing, you can make it using the Instant Pot so your oven can be free for main savory dishes.
What is eggnog?
If you've never tried eggnog, it is essentially holiday milk/cream and egg drink – kind of like a milk punch – flavored with sugar, alcoholic spirits like rum or bourbon and spices like nutmeg, cinnamon or vanilla. It's an old English drink is particularly popular around winter holidays.
This eggnog cheesecake recipe is a perfect adaptation of this drink and because it is cooked, you don't have to worry about the raw eggs or alcohol content, yet you will still get all those festive flavors.
Using the Instant Pot, we made this eggnog cheesecake with gingersnap crust and added caramel drizzle on top. You can, of course, make basic cheesecake crust and leave the caramel off or simply decorate with whipped cream and a dusting of cinnamon. We used some rum but bourbon, whiskey or brandy could also be used.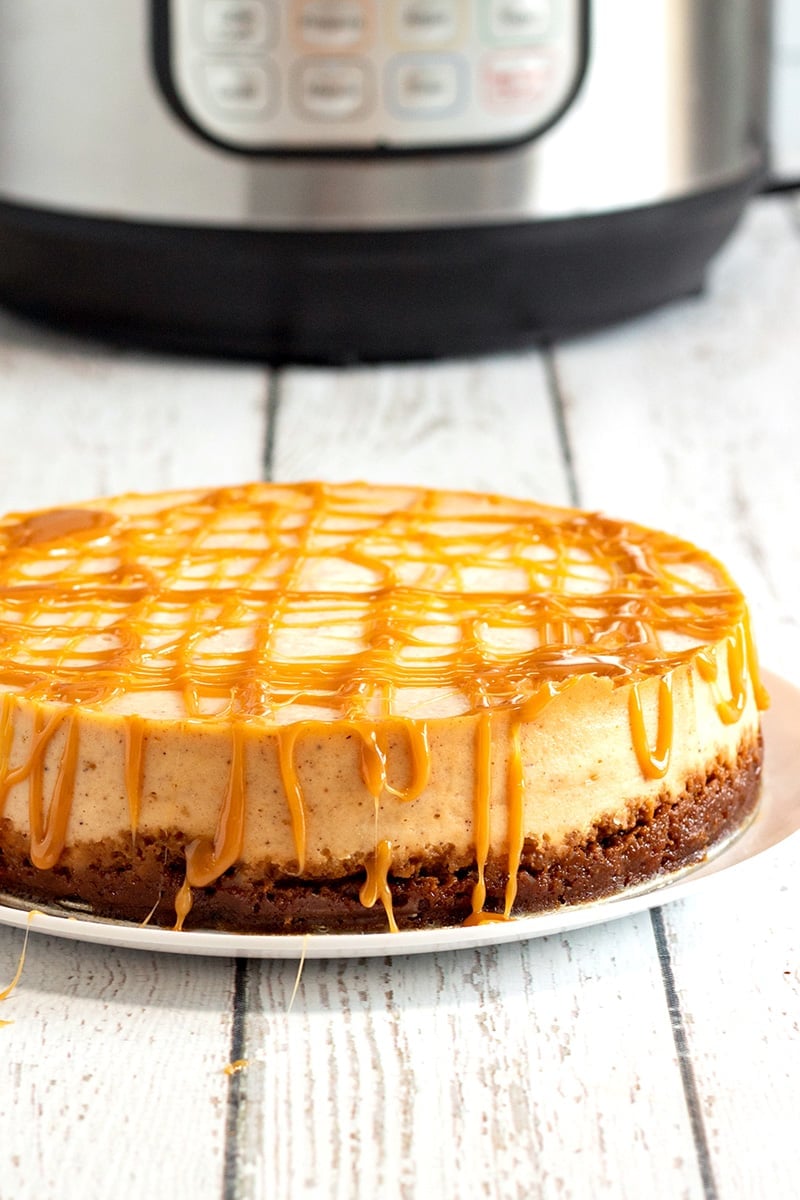 how to make eggnog cheesecake in Instant Pot
You will find the full list of ingredients, instructions and nutritional breakdown in the recipe card below. Here are some basic steps and photos to guide you along.
Step 1. To make the gingersnap crust, you simply mix the crumbs with sugar and melted butter (this can be done in a food processor) and press them down into a springform cake tin. For a 6-quart Instant Pot, you can use a 7″ cake pan and for an 8-quart, you can use 8-9″. Check first that the cake pan will fit inside the pot on top of the trivet! Place the crusted pan in the freezer to set while you make the filling.
Step 2. The filling is super easy and features cream cheese, eggs, cream, spices, rum all whisked together until smooth. Pour the mixture into the cake pan and smooth the top.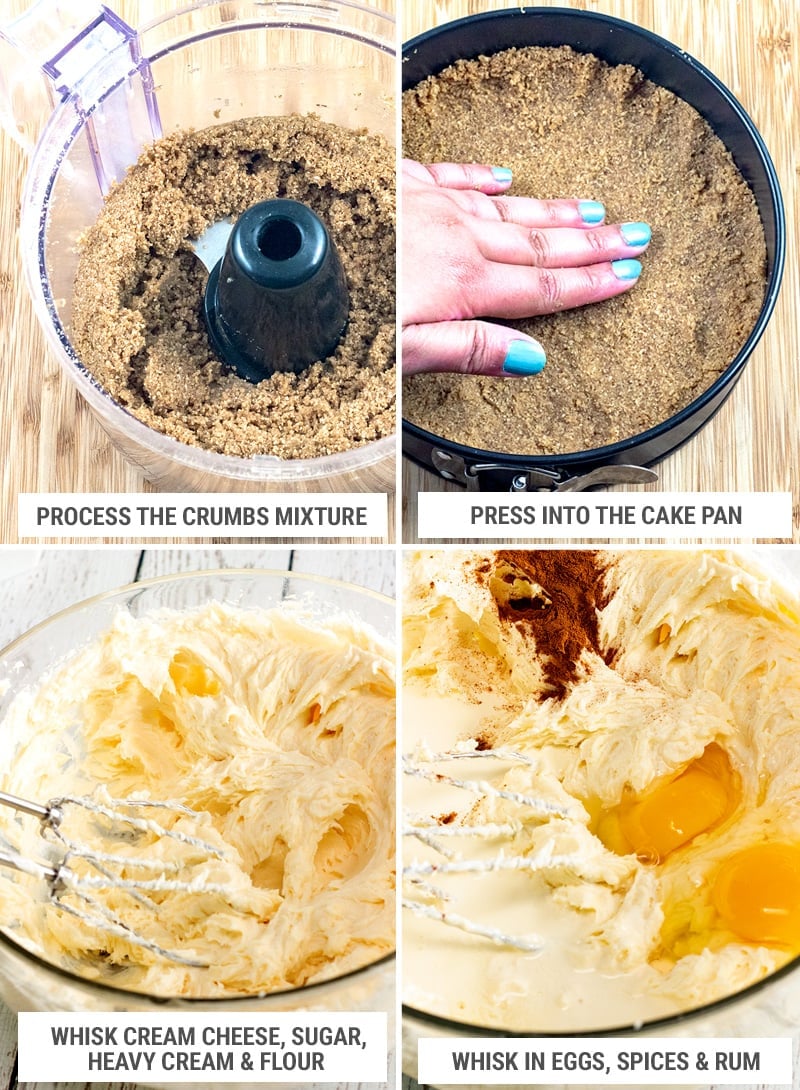 Step 3. Cooking the cheesecake in the Instant Pot is pretty easy. Add a cup of water to the inner pot. Cover the cake pan with foil tightly and place on top of the trivet with the handles pointing up. Lower the trivet into the pot. You can also make a foil sling to lower the cake pan into the pot. Press Manual/Pressure Cook and adjust the time to 35 minutes at HIGH pressure. Once the timer is done, allow the pressure to release naturally. The whole cooking (pressurizing and depressurizing) should take about 50-60 minutes. Once it's in, you can move on with your day and other tasks.
Step 4. Open the lid, remove the cake pan and the foil. Use some paper towel to blotch any water drops gathered on top of the cake. It may seem a little wobbly still but it should set once cooled. If, for some reason, the cheesecake seems undercooked, return it back to the pot and put it back on HIGH pressure for 5 more minutes. Allow the cheesecake to cool completely before decorating, ideally, it should set in the fridge for 3-4 hours.
Step 5. You can use ready-made caramel sauce or dulche de leche sauce or melt some caramel candy with a splash of water in a microwave. Drizzle over the top and your eggnog cheesecake is ready to go. You can also drizzle it with chocolate sauce or leave it blank for some whipped cream goodness.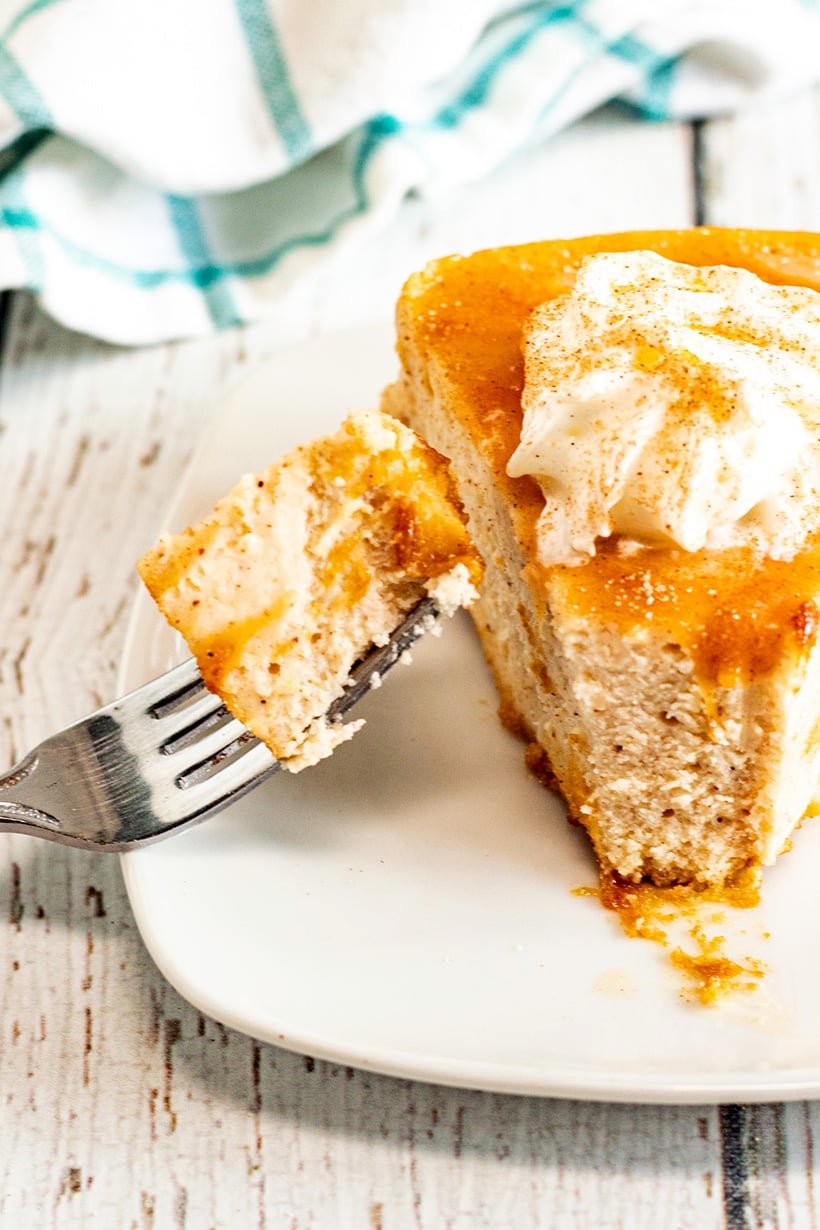 ---
MORE INSTANT POT Cheesecake RECIPES
WATCH OUR TOP 10 VIDEO RECIPES HERE
---
Print
Instant Pot Eggnog Cheesecake With Gingersnap Crust
Author:

Prep Time:

25 minutes

Cook Time:

50 minutes

Total Time:

1 hour 15 minutes

Yield:

1

0

1

x

Category:

Dessert

Method:

Instant Pot

Cuisine:

American
---
Description
Learn how to make a festive eggnog cheesecake with gingersnap crust and caramel drizzle using your Instant Pot pressure cooker. Perfect for Christmas, Thanksgiving and other holidays or special occasions.
---
Crust
1 cup ginger snaps (finely chopped)

2 tbsp white or brown sugar

2 tbsp butter (melted)

Eggnog Cheesecake
16 oz cream cheese (2 x 8-oz packs, 225 g each)

2/3 cup granulated white or brown sugar

2 tbsp all-purpose flour

1/2 cup heavy cream

2 large eggs 

1–2 teaspoons rum extract (like this)

1 teaspoon ground nutmeg

1/2 teaspoon ground cinnamon 

For the topping
12–15 pcs caramel candies (for caramel sauce) or 1/2 cup (120 g) caramel ice cream topping or Dulce de Leche

1–2 teaspoons water
---
Instructions
Bring all ingredients to room temperature (eggs, cream cheese, cream) – leave them out of the fridge for 15 minutes ideally. 

Cut a piece of parchment paper the size of the bottom of your pan. Place in bottom of the cake pan and spray paper and sides with a non-stick spray.

In a medium bowl combine finely chopped gingersnaps, sugar and butter. You can use a food processor to grind the crumbs and combine the mixture. Press into the bottom and up sides about 1-inch of a 7-inch springform pan. Cover with a plastic wrap or a plate and place in the freezer while preparing the filling.
Filling
In a large bowl or standing mixer, combine cream cheese and sugar. Whisk on medium speed until combined and fluffy. 

Add cream, flour, eggs, rum extract, cinnamon and nutmeg. Mix on low until thoroughly combined. Pour filling into prepared crust. Tap the cake pan on the surface of the table a couple of times to release any air bubbles. 
To Cook
Add 1 cup water to the bottom of Instant Pot.

Cover the cheesecake with foil, sealing edges. Place pan on a trivet that comes with the Instant Pot and lower it into the pot. Seal the lid. Press Manual/Pressure Cook and set the timer for 35 minutes on HIGH pressure. Allow pressure to release naturally. 

Remove foil and allow cheesecake to cool completely. Ideally, you want to refrigerate it for a couple of hours to set properly.
Caramel Topping
Place caramels in a microwave-safe dish, add the water and microwave in 20 seconds intervals until melted. Stir well. If too hot, allow to cool a bit and then drizzle over top of the cooled cheesecake. Alternatively, you can use caramel icing sauce. 
---
Notes
For an 8-quart 8-9″ cheesecake (larger cake pan)
Crust
1 cup gingersnaps (finely chopped)
2 tbsp granulated white sugar
2 tbsp butter (melted)
Eggnog Cheesecake
24 oz cream cheese (3 x 8-oz packs)
1 cup granulated white sugar
3 tbsp all-purpose flour
¾ cup heavy cream
2 large eggs 
1 tsp rum extract
2 tsp ground nutmeg
1/2 tsp cinnamon
· 15 pcs caramel candies
· 1-2 tsp water
Keywords: Cheesecake, Pressure Cooker, Cream Cheese, Gingersnaps, Caramel, Cake