We are continuing our Instant Pot Meal Plan series with the 13th edition! This week we have a menu inspired by spring and all the lovely produce coming into season. As usual, we have 5 wholesome dinners, 2 lunch-friendly dishes, and 1 dessert this week. Downloadable PDF with shopping list included (at the bottom).
---
WHAT'S IN SEASON IN SPRING?
Spring is in the air with seasonal produce popping up at greengrocers' and farmers' markets around the country. It's time to make use of the fresh, vibrant new vegetables, fruits, and herbs.
Spring season is known for staples like asparagus, spinach, artichokes, cabbages, and rhubarb, fruits like apricots and pineapple, and plenty of fresh green herbs, scallions, and leeks. For some speciality foods, you might get tempted by morels, stinging nettles, and fiddleheads. 
This spring-inspired Instant Pot meal plan takes advantage of the season with either mains or sides using up all that gorgeous produce.
More on what to cook in spring in your Instant Pot here.
---
Instant Pot Meal Plan For Spring
This asparagus risotto is off the charts good! Made with sweet fennel and crunchy asparagus, this Italian classic is super easy with a pressure cooker. Get the recipe here.
Side: Arugula & Radish salad with lemon vinaigrette.
Shopping list: 1 medium onion, 3 tbsp olive oil, 1/2 medium fennel, 1/2 bunch of asparagus, 2 large cloves of garlic, 2 cups arborio risotto rice, 1/3 cup white wine, lemon, 2 cups vegetable stock (1 cube + 2 cups water), 2 cups chicken stock (1 cube + 2 cups water), 25 g / 2 tablespoons of butter, and 1/2 cup grated Parmesan cheese.
For the salad: 2-3 cups arugula, 4-5 radishes, 2 tablespoons lemon juice, 1 teaspoon honey, 2 tablespoons olive oil. Or try this radish salad recipe.
Prep tips/make-ahead: You can also reduce the amount of butter and cheese for a slightly lighter version. Leftover risotto can be stored in the fridge for 2 days. Reheat as is or turn into risotto cakes/fritters, fishcakes (with some added tuna or salmon) or arancini balls.
Serving suggestions: Serve topped with pan-fried asparagus and fennel and a side salad.
---
Leeks, peas, asparagus, turnips, and white wine turn this Pressure Cooker Lamb Stew into a spring event! Get the lamb stew recipe here.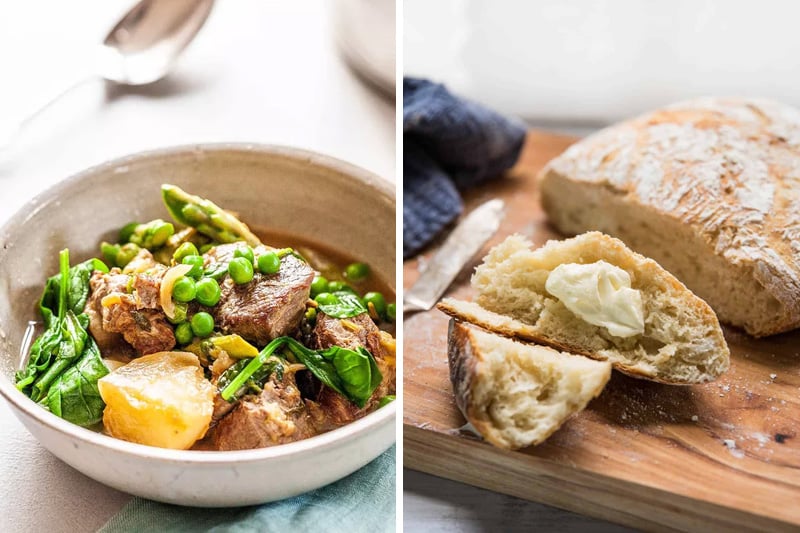 Side: Lovely crusty bread and/or extra mashed/roast potatoes, rice, or pasta.
Shopping list: 2 tbsp olive oil, 2 sprigs rosemary, 2 sprigs parsley, 1 bay leaf, 2 wide strips of lemon peel, 2 pounds lamb, 1 large shallot, 2 medium leeks, 2 tbsp all-purpose flour, 1 cup dry white wine, 1 cup chicken stock, 3 to 4 small turnips (about 12 ounces), 1 pound asparagus, 2 cups frozen peas, and 2 handfuls baby spinach.
*Note: Bread ingredients are not included in the downloadable shopping list.
Prep tips/make-ahead: You will need a piece of kitchen twine to tie the rosemary, parsley, bay leaf, and lemon peel together. The cut of lamb can be from the leg, shoulder, or shank.
Serving suggestions: Serve with bread or potatoes to soak up all that delicious broth.
---
Potato leek soup is a classic, simple, delicately flavored soup that's creamy but light. You can top it with crispy bacon or pan-fried mushrooms and serve it with some nice crusty bread for a wonderful meal! Get the recipe here.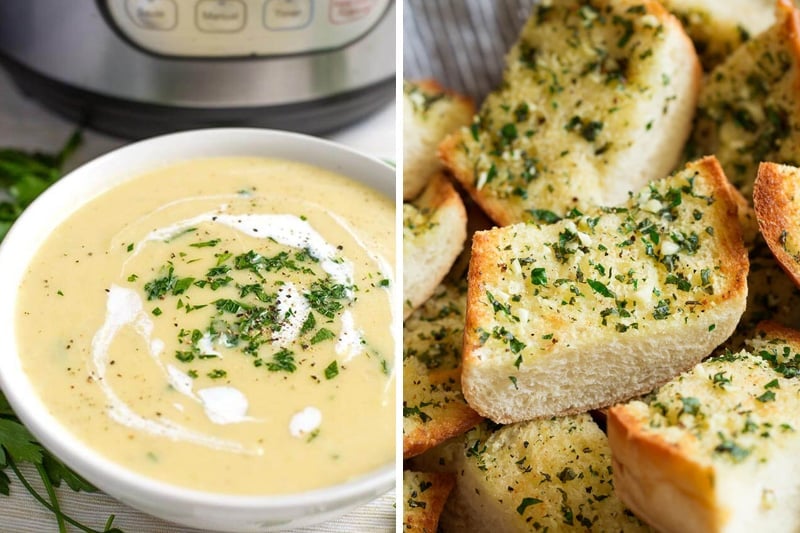 Side: Crusty garlic bread or dinner rolls would be lovely here. For extra protein, you can stir in some shredded rotisserie chicken or chickpeas.
Shopping list: 1 loaf of French bread, 2 tbsp olive oil, 3 tbsp butter, 4-5 large Leeks, 2 garlic cloves, 2 tbsp flour, 5 cups chicken broth (or vegetable broth), 1 bay leaf, 1 lb Gold Potatoes, 1/8 tsp nutmeg (optional), 3/4 cup Half and Half (or heavy cream, or for lower fat use milk), and garnish with chopped chives (or parsley) and sour cream.
Prep tips/make-ahead: If you don't have an immersion blender, you can use a blender, pureeing the soup in small batches very carefully.
Serving suggestions: Garnish with chopped chives and sour cream. Serve hot or chilled with bread.
---
Make use of seasonal spinach with this easy, creamy Tuscan chicken pasta. Serve with a tangy green salad like this watercress and fennel, or with added orange to cut through the richness of the pasta. Get the pasta recipe here.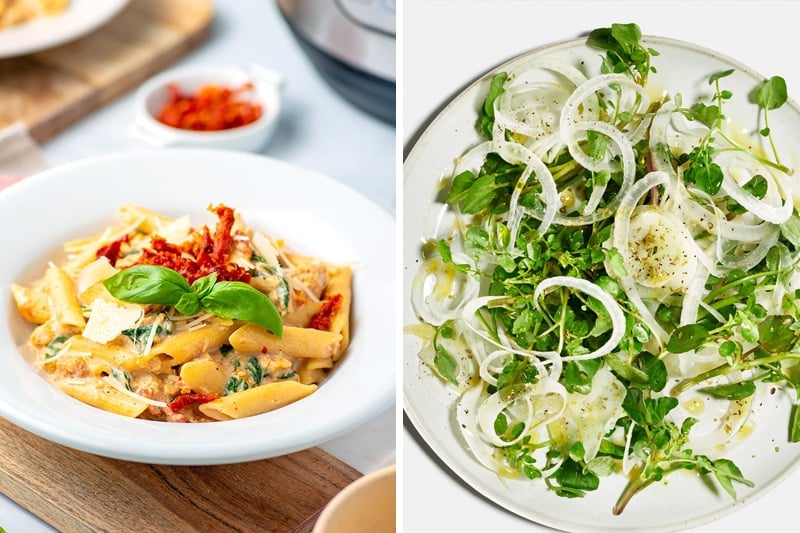 Side: Fennel, watercress, and orange salad. You can use any leafy greens in season such as arugula, baby spinach, or gem lettuce. Strawberries work well in place of orange here.
Shopping list: For the salad: fennel, watercress, orange,white onion. 4 cups chicken stock (32 fl. oz., 1 litre), ½ cup sliced sun-dried tomatoes, 3 cloves garlic, 1 tsp Dijon or mild yellow mustard, 2 tsp Italian seasoning, ¼ cup tomato sauce or tinned diced tomatoes (or 1 tbsp tomato paste), 1 lb. / 450 g chicken breast or thigh meat, skinless, 12 oz. (340 g) dry pasta (penne, fusilli or rigatoni), 5 oz. / 150 g baby spinach, 1 –1.5 cups shredded Parmesan cheese, 1 cup heavy/whipping cream, and 1/3 cup roughly sliced basil leaves.
Prep tips/make-ahead: Use the sun-dried tomatoes that come preserved in oil; drain them lightly on a paper towel before using. Larger-shaped pasta like penne, fusilli or rigatoni are best for his recipe. Avoid elbow or macaroni pasta as those cook much quicker. For a lighter version, use low-fat cream.
Recommended sides: Top with extra basil, sliced sun-dried tomatoes and extra Parmesan cheese on top.
---
Using pantry staples like rice, beans, and sweet corn, this vegetarian bowl is filled with nutritious ingredients and Tex-Mex flavors. Paired with grilled sweet red peppers, fresh tomatoes, and delicious cilantro avocado crema. Avocados are great in spring! Get the recipe here.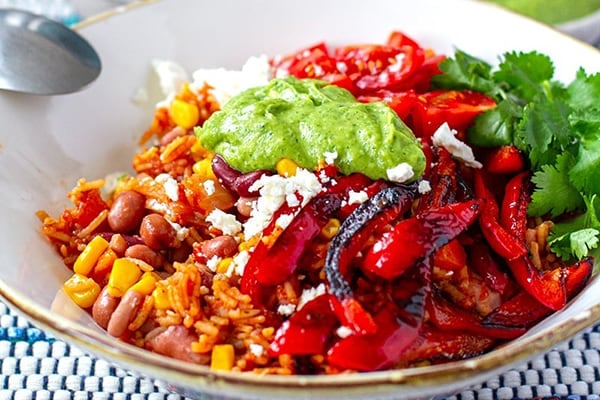 Shopping list: 2 tbsp olive oil, 1 onion, 1 medium carrot, 1/2 tsp chipotle chili flakes, 1 tsp ground cumin, 1 tsp paprika powder, 1 tsp ground coriander seed powder, 1/2 tsp dried oregano, 1.5 cup long-grain rice (Basmati), 2 cups vegetable stock, 1 x 400 ml can chopped tinned tomatoes (with juices), 1 x 400 g can mixed cooked beans, 1 x 350 g sweet corn, 1 avocado, 2 cloves garlic, 1/4 cup chopped cilantro leaves, 2 tbsp lime juice (lemon is also fine), 1 tbsp olive oil, 1 red pepper, 2 cups cherry tomatoes or 2 medium tomatoes, and crumbled feta cheese or grated cheese of choice.
Prep tips/make-ahead: Ready-made guacamole can be used instead of freshly made avocado cream.
Recommended sides: Serve the rice, bean and corn in bowls and top with fried red peppers, diced tomatoes, crumbled or grated cheese, and a dollop of avocado cilantro cream. Tomato salsa, sour cream or yoghurt, pickled jalapenos, corn chips can all be added as toppings.
---
Take advantage of young potatoes, green peas, and string beans with this easy, healthy salad. It's satiating enough to have as its own meal for lunch. Get the recipe here.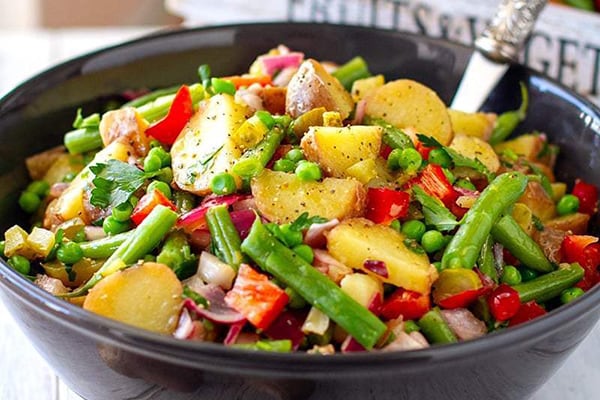 Shopping list: 1 kg /2 lb small to medium potatoes, 3–4 oz (100–120 g) fine green beans, 1 red bell pepper, 2/3 cup defrosted baby green peas, 4 medium gherkins, 1/4 cup chopped parsley or dill, 1 small red onion or 2 shallots, 5 tbsp red wine vinegar, 5 tbsp olive oil, 2 tsp Dijon mustard or whole grain mustard, and 1 tsp sugar or honey.
Prep tips/make-ahead: Depending on the season, you can throw in other crunchy fresh vegetables such as fresh cucumbers, radish, or carrots.
Serving suggestions: To finish the salad, dice the potatoes into large cubes or circles (any shape you like) and combine all other ingredients, the vinaigrette and fresh herbs.
This is a "salad" the way potato salad is a "salad". It is a chickpea salad, not a leafy greens salad with some chickpeas in it. However, it is loaded with seasonal scallions (spring onions) and lots of lovely spices and make for a great lunch meal. Get the recipe here.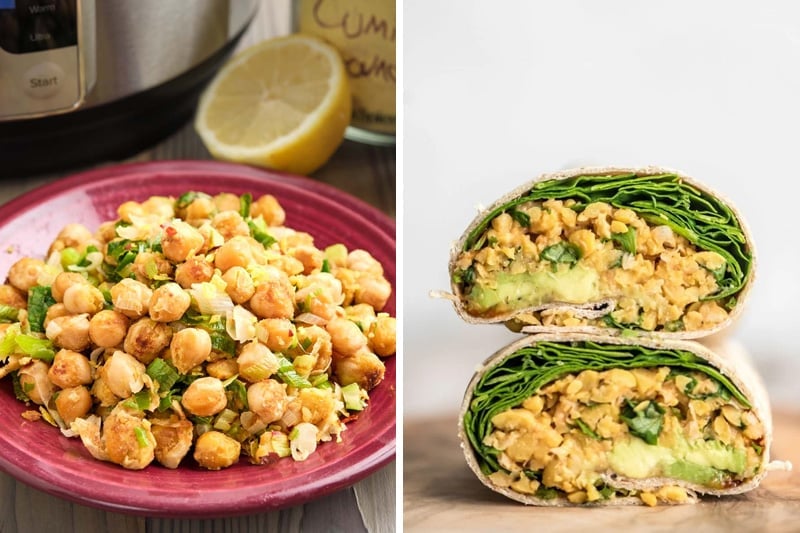 Shopping list: 1 tbsp olive oil, 4 ounces dried chickpeas (about ¾ cup), ½ tsp ground coriander, ½ tsp ground cumin, ¼ tsp crushed red pepper, 1 bunch green onions (about 4 ounces), zest and juice of ½ a fresh lemon, and a little more minced green onion for garnish.
Prep tips/make-ahead: If you don't have coriander or cumin you can skip or substitute paprika for a nice red color. If you want to cut the heat, remove the red pepper flakes. Diced red onion can replace green onion for a sharper taste. One can of drained chickpeas can substitute for dried chickpeas.
Serving suggestions: You can add diced cucumbers, radishes, or cherry tomatoes or serve it in a wrap with some mayonnaise and grated cheese or spinach and avocado, like this recipe.
---
Whip up some delicious apricot jam in your Instant Pot on the weekend to enjoy for breakfast or dessert. One of the most delicious ways to enjoy apricot preserves is on top of smooth, creamy ricotta and crispy toast. Get the recipe here.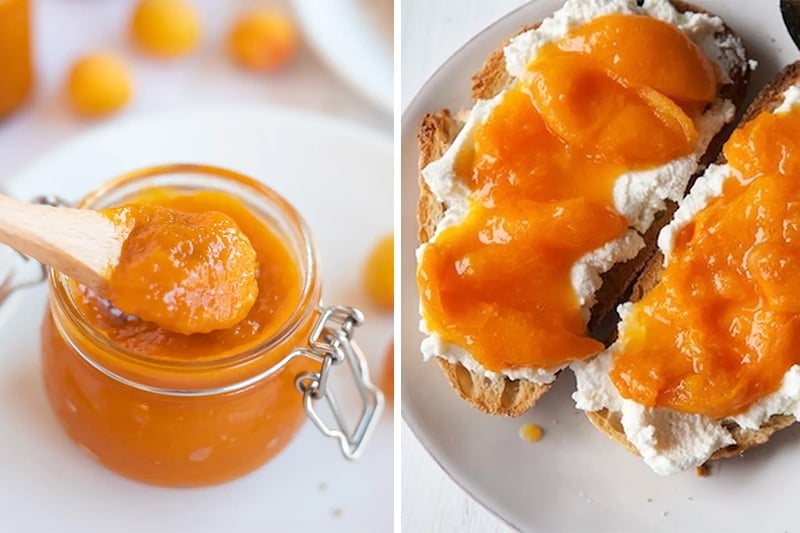 Shopping list: 6 cups apricots, 4 cups sugar, 1 packet pectin, and 1 tbsp lemon juice.
Prep tips/make-ahead: Check if your jam is ready by diping a frozen spoon into the jam. If the jam on the spoon gels, then it is done. If it stays thin and liquidy, then it needs to be cooked for additional time.
Serving suggestions: Greek yogurt with apricot jam, fresh apricots, and toasted almonds or walnuts makes for a fabulous breakfast bowl. Or you could make these oatmeal and apricot bars for the week ahead.
Feel like something savory, try this Instant Pot apricot chicken with brown rice.
If you have some rhubarb to use up, try making this compote/preserves with extra strawberries for aroma and sweetness. You can use it in similar ways to the apricot jam above. Get the recipe here.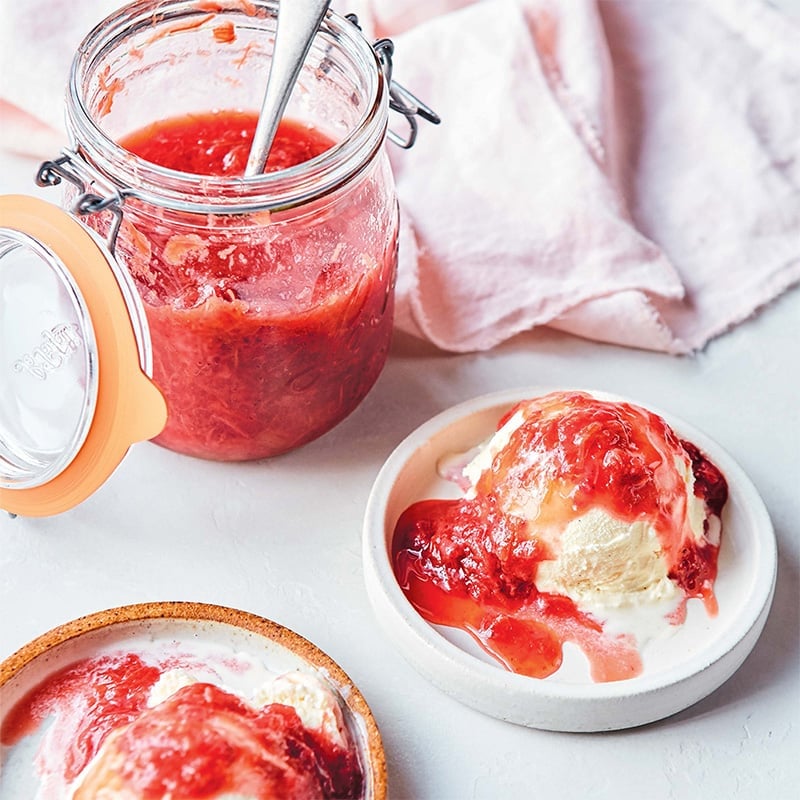 Shopping list: 1 lbs rhubarb about 4 large stalks, 1 lbs strawberries, 1/2 cup turbinado or organic cane sugar, and 1/2 tsp ground cardamom.
*Note: These ingredients are not included in the downloadable shopping list.
Prep tips/make-ahead: Transfer the compote to a heatproof container, where it will continue to thicken as it cools. It will keep in the refrigerator for up to 1 week.
Serving suggestions: Serve the compote warm or chilled. Add to toast for a yummy breakfast or top off a scoop of ice cream for dessert.
---
---
SAVE INSTANT POT Meal Plan #13 TO PINTEREST