We are continuing our Instant Pot Meal Plan series with the eleventh edition! We are back to a regular Instant Pot meal plan suitable for omnivores. It's balanced and nutritious, featuring 5 dinner meals, 2 lunch dishes, and 1 dessert. Downloadable PDF with shopping list included (at the bottom).
---
About this meal plan
Whether you're in the mood for Asian food, Tex Mex, or Italian-inspired dinner, we have an Instant Pot recipe just for you. Start with a vegetarian-friendly lentil stew to kick off the week. Enjoy our easy orange chicken with rice, a family favorite broccoli cheese soup, hearty nachos-inspired rice and beef casserole, or dish up the Parmesan pasta with roasted broccoli.
Make crispy carnitas and favorite side and toppings to prep lunch boxes or make a batch of the creamy BLT pasta salad that keeps well in the fridge.
Finish off the week with a treat by making the delicious lemon cake for your loved ones.
You can find other Meal Plans here.
PS. If you make one of our recipes, take a picture and share it on Instagram. Use the hashtag #instantpoteats! We want to see what you are making in your kitchen. And don't forget to follow us on Instagram!
---
Instant Pot Meal Plan #11
This vegetable-loaded lentil stew is both flavorful and nutritious. It's somewhere between a thick soup and a stew and you can use this recipe as a template to add whatever veggies you have. It's gluten-free, vegetarian, and vegan-friendly but super satiating and hearty. Great for meatless Mondays. Get the recipe here.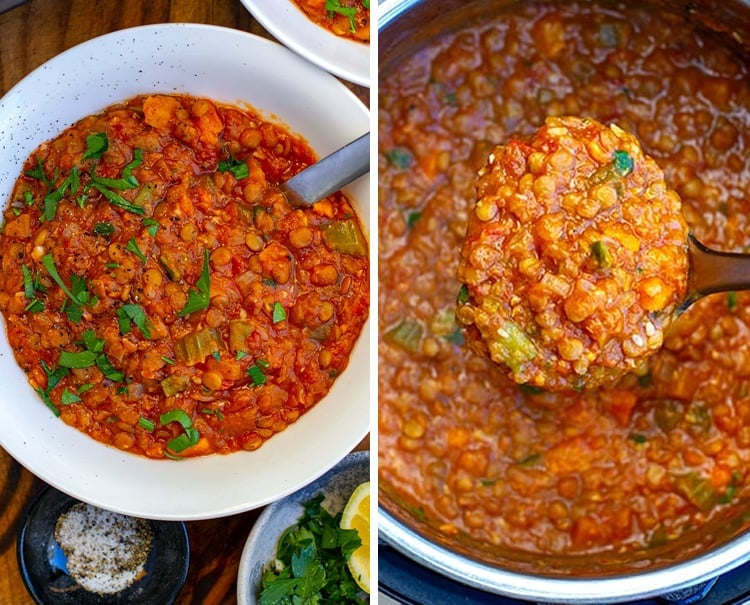 Shopping list: 2 tablespoons olive oil, 1 onion, 2 small carrots or 1 large (7 oz/200 g), 2 celery ribs, 5 cloves garlic, 1 tsp paprika powder, 1 tsp ground cumin powder, 1 small sweet potato (220 g), 1 medium zucchini (6 oz / 160–180 g), 2 cups brown lentils, 3–4 cups vegetable stock, 14 oz / 400 g can diced tomatoes, 1 tbsp tomato paste, 1 tsp lemon zest, 2 tbsp lemon juice, and 1 tbsp chopped parsley.
Prep tips/make-ahead: You're welcome to substitute sweet potatoes with white potatoes and zucchini with green beans or bell peppers. You can store this lentil stew for up to 4 days in the refrigerator or freeze it for up 3 months. Make sure to cool down before storing. Defrost in a fridge overnight or in a microwave and reheat well.
Serving suggestions: Serve as is with a side of crusty bread, dinner rolls, or buttered toast; top with croutons; you can stir in some cheese, sour cream or yogurt on top. The stew can also be served over rice, pasta, couscous, quinoa or cauliflower rice/vegetables.
---
In the moodle for Asian food? Make this Instant Pot orange chicken – a classic American Asian fusion recipe. Served over rice, noodles or vegetables, this sweet, salty and sour chicken dish is a must for family dinners. Get the recipe here.
Shopping list: 2 lb / 900 g chicken breast or/and thighs, 2 tbsp cooking oil, 1 tsp orange zest, 1 cup orange juice, 2 tbsp lemon juice, 2 tsp minced/grated ginger, 2 tsp minced/grated garlic (3–4 garlic cloves), 3 tbsp soy sauce, 1 tsp Sriracha or hot sauce (or ¼ teaspoon chili flakes), 3 tbsp brown sugar or granulated sugar, 3 tbsp cornstarch or flour, 3 tbsp water or extra orange juice, ¼ cup diced scallions (green onions) and sesame seeds.
Prep tips/make-ahead: If making both the chicken and the rice using the Instant Pot, prepare one or the other ahead of time. We have a simple recipe for Instant Pot rice here.
Serving suggestions: Serve the orange thicken topped with chopped scallions (green onions) and sesame seeds. Serve the chicken over rice or noodles with a side of greens of choice.
---
Creamy broccoli cheese soup is a classic recipe that's easy to make in the Instant Pot and is a favorite with kids and grownups. Get the recipe here.
Shopping list: 6 tablespoons butter (unsalted), 1 cup diced carrots, 1 onion, ½ cup all-purpose or gluten-free flour (8 tbsp), 8 cups chicken stock or vegetable stock, 2 tsp powdered garlic or 2 cloves garlic, 1/2 tsp sweet or mild paprika, 2 tsp spicy mustard, 8 cups broccoli (small florets), 3 cups half and half cream, and 4 cups cheddar cheese or Velveeta cheese.
Prep tips/make-ahead: Use evaporated milk instead of cream if you plan to freeze this soup. For a lower-calorie version reduce butter or use low-fat alternatives and use light or low-fat dairy and cheese. For a gluten-free version, make sure to use suitable flour. For a low-carb version, omit the flour and carrot at the start or reduce flour down to 1-2 tablespoons.
Serving suggestions: Serve with toppings of your choice, such as shredded cheddar, chopped broccoli, hot sauce, sour cream, chives, crispy bacon, or croutons.
---
Inspired by Tex Mex cheesy nachos, this beef and rice casserole is hearty, delicious, and satiating – perfect for the whole family! Made with ground beef, rice, tomatoes and a few pantry staples, it's a quick and easy pressure cooker recipe you can whip up mid-week in under 30 minutes. Get the recipe here.
Shopping list: 1 tbsp olive oil, 1 medium onion, 1 lb (450 g) ground beef mince, 4 large cloves of garlic, 1/2 long red chili (jalapeno), 1 tbsp Mexican taco seasoning or spice blend, 1 tsp smoked paprika (optional), 1.5 cups chicken stock, 1 cup long-grain rice, 1 cup canned tomato sauce, 1/3 cup canned sweet corn (frozen can also be used), 1/4 cup diced roasted red peppers (like these), 1.5 cups grated cheese (e.g. cheddar or Mozzarella or a mix), 1 cup corn tortilla chips, 1/4 cup chopped fresh cilantro, 1 large avocado, 1 lime, 1 small tomato, light sour cream, and salsa.
Prep tips/make-ahead: For a vegetarian version swap ground beef for 1-2 cans of beans or lentils or vegan alternative to ground meat. Store leftovers for up to 3 days in the refrigerator in an airtight container. Reheat in a microwave, oven, or in a frying pan with a splash of water and melt extra cheese on top if you like.
Recommended sides: Serve the casserole in bowls with a side of guacamole, sour cream, and extra corn chips. You can also add fresh salsa, extra jalapenos, raw onions, etc.
---
Who doesn't love a midweek pasta in a jiffy? This Instant Pot creamy garlic Parmesan pasta recipe cooks in 8 mins. It's creamy, cheesy, garlicky, and just the best comfort food. We recommend serving with roasted broccoli (can also be pan-fried, broiled, or steamed). Get the parmesan pasta recipe here and roasted broccoli here.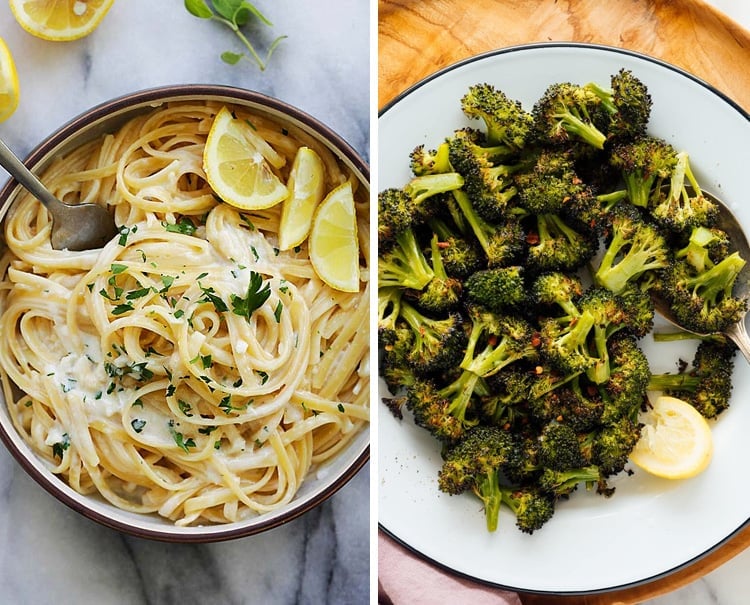 Shopping list: 8 oz. (226 g) linguine, 2 tbsp olive oil, 3 cloves garlic, 2 1/4 cups chicken broth, 1 tsp garlic powder, 2 tbsp lemon juice, 1 cup heavy whipping cream, 1/4 cup shredded Parmesan cheese, and 1 tbsp chopped Italian parsley.
Prep tips/make-ahead: You can double the recipe but still cook for 8 minutes on high pressure. If you use spaghetti, cook for 6 minutes on high pressure. If you want it to be saucier, use 2 cups of chicken broth. Cut the broccoli florets into bite-sized pieces so that there are plenty of flat edges to lie flush against the pan and caramelize. Don't overcrowd the baking pan so that it can crisp on the edges. Bake broccoli at 425 degrees Fahrenheit, it's high enough to get crispy, golden edges, but not so high that the olive oil burns on the pan and creates bitter flavors and an acrid smell.
Recommended sides: Serve pasta with broccoli. For an Italian flavor lightly drizzle thick balsamic vinegar or balsamic glaze. You could finish it off with a sprinkle of lemon zest, red pepper flakes, and/or grated Parmesan. For an Asian spin, drizzle toasted sesame seed oil over the broccoli. Finish it off with sesame seeds (white or black), and some red pepper flakes if you'd like a spicy kick. Or try a peanut sauce on the side for drizzling, and lime wedges.
---
Instant Pot carnitas are a quick and easy way to satisfy your craving for authentic Mexican food. Make a batch of crispy pork and prepare a variety of toppings to prep a few lunchboxes ready to go. Add rice or pack a few tortillas for a complete meal! Get the recipe here.
Shopping list: 3lb pork shoulder, 3 tbsp olive oil, 2 tsp cumin powder, 3.5 tsp chili powder, 2 bay leaves, 2 medium red onion, 1 cup chicken broth, 2 cups cherry tomatoes, ½ cup cucumber, ¼ cup jalapeno, 1 tbsp cilantro, 1 tsp garlic, 2 red bell peppers, 2 yellow bell peppers, and 2 green bell pepper.
Prep tips/make-ahead: Use pork shoulder because of the high-fat content, making it the most flavorful. It is a large, tough cut of pork. However, the meat becomes very tender and juicy after being cooked.
Serving suggestions: For Meal prep place an even amount of carnitas, sauteed bell pepper and salsa into 5 different medium glass containers. Cover with the lid and place in the fridge for up to 5 days.
Chopped bacon, romaine lettuce, red onion, and juicy tomatoes are tossed in a delicious ranch dressing with spiral pasta to create a flavorful side dish delicious served hot or cold! Perfect for quick pre-packed lunches. Get the recipe here.
Shopping list: 16 oz. cavatappi pasta (cellentani, rotini, or fusilli), 4 cups romaine lettuce, 8 slices bacon, 1 cup tomatoes, 1 small red onion, 1/4 cup chives, 1/4 cup sour cream, 1 cup ranch dressing, 1/4 cup mayonnaise, and 1 tbsp apple cider vinegar.
Prep tips/make-ahead: To save time when making this side dish, cook the bacon ahead of time, it makes this dish come together even quicker. Make sure the pasta is submerged under the water completely before pressure cooking the pasta. If the pasta is not completely covered by the water then the pasta that is sticking out of the liquid will still be firm and will not cook evenly when the rest of the pasta is.
Serving suggestions: Once everything is mixed it can either be served right away or you can chill it in the refrigerator and serve it cold.
---
This lemon cake is super easy and delicious, perfect for using winter citrus. Made in half the time and incredibly moist, you will never make cake another way. Get the recipe here.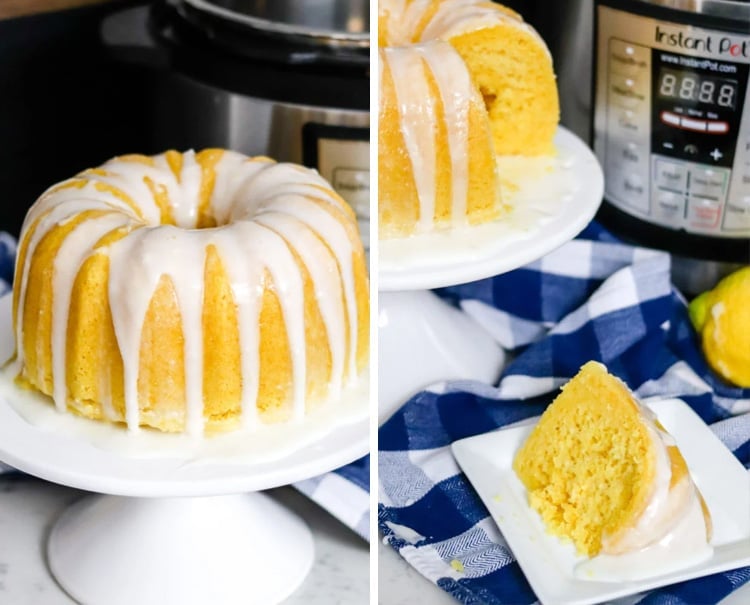 Shopping list: 1/2 tsp melted butter, 2 cups powdered sugar, 1/2 cup orange juice, 3 tbsp lemon zest, 5 tsp fresh lemon juice (about 1 lemon juiced), and 1 box lemon cake mix, plus ingredients required for the cake mix.
Prep tips/make-ahead: When preparing the box lemon cake mix, substitute HALF the amount of water for orange juice (for example, if it calls for 1 cup water, use 1/2 cup water and 1/2 cup orange juice). Add some lemon zest to the cake mix to bring up the flavor. Pour the batter into the pan until it's 3/4 full. You may have some left over, just set it aside. You don't want to overfill the bundt pan.
Serving suggestions: Once the cake is cooled, drizzle the frosting over the top.
Download this MEAL PLAN & COMPLETE THE SHOPPING LIST here.
---
---
SAVE INSTANT POT Meal Plan #11 TO PINTEREST