We are continuing our Instant Pot Meal Plan series with the 14th edition! This week we have a winter-inspired menu that is cozy and comforting. It's balanced and nutritious and features 5 wholesome dinners, 2 lunch-friendly dishes, and 1 dessert this week. Downloadable PDF with shopping list included (at the bottom).
---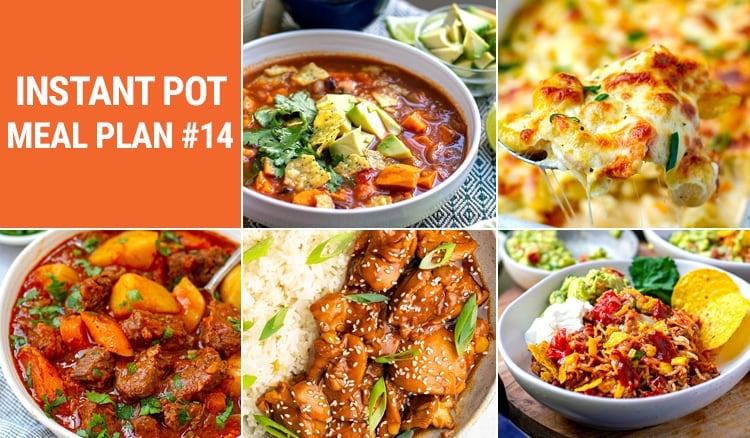 WHAT'S IN SEASON IN WINTER?
You might think that winter is not very exciting for produce but many fruits and vegetables are at their most flavorful in the colder months of the year, and many of the fruits and veggies that we typically associate with fall continue their seasons well into winter.
Winter season has plenty to offer from allium family (onions, garlic, and shallots), avocado, beets, cruciferous friends (broccoli, cabbage, Brussels sprouts), lots of root vegetables and winter squashes, fennel, leeks, and more.
When it comes to fruit, we can rely on crispy apples, juicy citrus, pears, and persimmons.
This winter-inspired Instant Pot meal plan takes advantage of the season with either mains or sides using up that gorgeous produce.
More on what to cook in winter in your Instant Pot here.
---
Instant Pot Meal Plan For Winter
Dinners
This hearty sweet potato tortilla soup is a vegetarian-friendly version of the classic chicken soup. It's quick and easy with a pressure cooker, and you can top it favorite tortilla soup toppings such as avocado, sour cream, and crispy corn chips. Get the recipe here.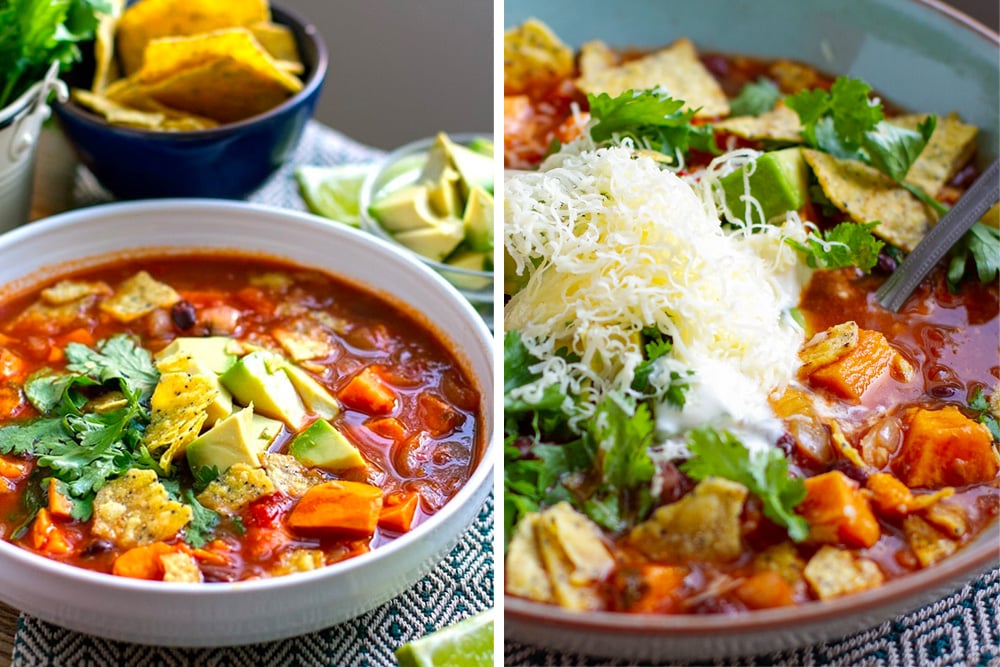 Shopping list: 1 onion,1 tbsp olive oil, 1 tsp salt, 4 garlic cloves, 1/2 red chili, cilantro, 2 tsp cumin, 1 tsp ground coriander seeds, 1 tsp paprika, 1 lb / 550 g sweet potato, 1 can black beans, 2 cups chopped tinned tomatoes, 1 cube vegetable stock cube, juice of 1/2 lime, 1 avocado, and a handful of corn tortilla chips.
Stovetop method. Okay, because we know how delicious this soup is, we want to give you a stovetop option too. You can repeat the first few steps in a pot on the stove, and once you add the sweet potatoes, beans and liquids, simply cook over medium heat for 15 minutes, until the sweet potato is soft.
Sides (toppings): Diced or sliced avocado, sour cream, grated cheese, corn chips, diced onion, diced tomatoes, hot sauce. Add a dollop of sour cream (in bowls, per person, optional) and 1 tbsp of grated cheddar (in bowls, per person, optional).
---
This beef stew is hearty and nutritious and can be done ahead of time and for the freezer. Made with a few special flavor twists for that extra umami hit, this stew is great on its own or with a side dish. Plus, it's gluten-free and Whole30-friendly. Get the recipe here.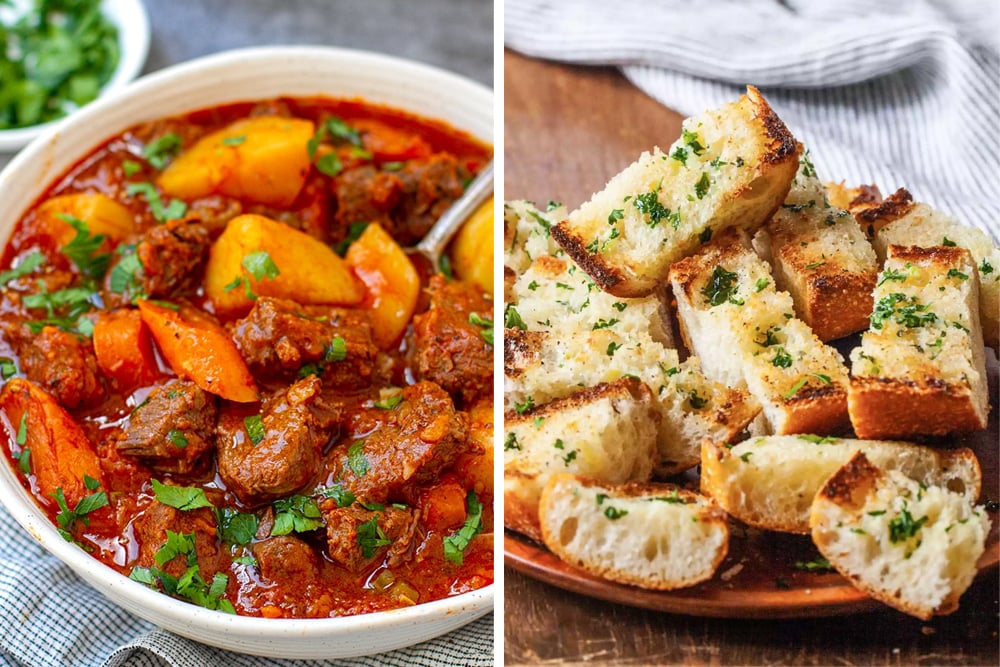 Shopping list: 2 tablespoons olive oil, 1 large yellow onion, 1 cup chopped celery, 2.5 lb / 1.2 kg chuck or round steak, 3 garlic cloves, 1 teaspoon smoked paprika, 1 teaspoon mixed dried herbs or Italian herbs, 1 teaspoon onion powder, 1/4 teaspoon chili powder or cayenne pepper, 1.5 cups beef stock or bone broth, 1 tablespoon coconut amions, 1.2 lb / 500 g white potatoes (4 medium Russet potatoes), 1 medium sweet potato, 0.5 lb / 250 g carrots, 1/4 cup sun-dried tomatoes, 1 cup tomato sauce (passata), 2 teaspoons tomato paste, 2 tablespoons tapioca flour, and 2 tablespoons chopped parsley.
Stovetop instructions: Repeat the saute steps in a heavy bottom pot or saucepan on the stove over medium heat. Once all ingredients are in, including the tomato sauce and paste, stir everything through and bring to a boil. Then turn the heat down to medium-low and cover with a lid. Cook for 2-3 hours until the meat is tender. Stir a few times. Finish with the slurry to thicken the stew if needed and turn the heat off.
Side suggestions: You can cook up a side of rice or pasta but we highly recommend a side of garlic bread.
---
This Instant Pot Chicken Teriyaki recipe is a quick and easy dinner made with chicken thighs pressure cooked in a savory, sweet and sticky sauce. Serve with rice and vegetables. Get the chicken recipe here.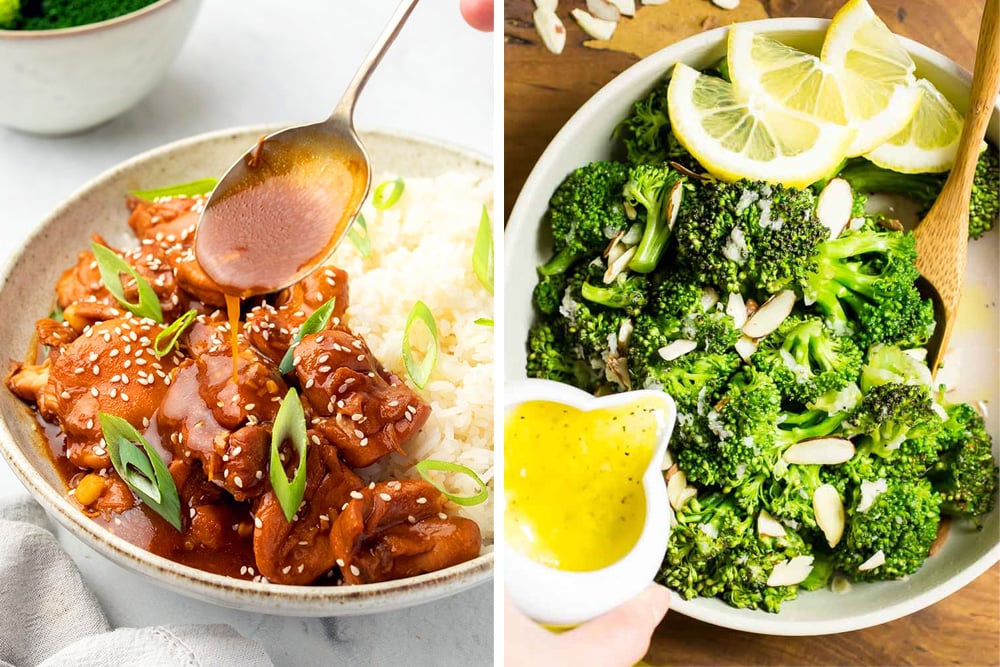 Shopping list: 1.5 lb / 700 g skinless, boneless chicken thighs, ½ cup chicken stock (low-sodium ideally), ½ cup low-sodium soy sauce, 2 tablespoons rice wine vinegar or apple cider vinegar, 1 tablespoon sesame oil, 2 large garlic cloves minced or grated (about 2 teaspoons), 1 teaspoon grated or minced ginger, 2 tablespoons honey, 1 tablespoon light brown sugar or white sugar, 1 teaspoon butter, 2 teaspoons cornstarch or flour, 2 green onions, sliced for garnish, and sesame seeds for garnish.
Serving suggestions: Take advantage of cruciferous vegetables in season and make this simple garlic lemon broccoli. Serve over rice, noodles, quinoa, or vegetables or shred for a delicious sandwich or wrap filling.
---
Delicious, creamy and garlicky Instant Pot pumpkin pasta bake uses only 5 ingredients. You can use your favorite pumpkin/winter squash such as Butternut squash or Kabocha squash, depending on the sweetness you prefer. This pasta dish comes together in about 30-35 minutes using the Instant Pot and oven. Get the pasta bake recipe here.
Shopping list: 10–11 oz (300 g) pasta shells, 10– 11 oz (300 g) pumpkin (butternut squash or kabocha squash works also), 3 cloves garlic, 1 cup heavy cream, and 2 cups of grated cheddar cheese.
Prep tips/make-ahead: Pumpkin: You can use any kind of sweet or semi-sweet winter squash/pumpkin in this recipe. Kabocha squash is sweeter and more starchy than say Butternut Squash or other types of winter squashes.
Pasta: You can use any medium-shaped pasta like penne, rigatoni, fusilli or large shells.
Cream: You can use half/half or thickened cream, or a lighter version to lower the calories.
Recommended sides: We recommend this beautiful winter salad with red cabbage and kale or you can make a simple fennel and orange salad.
---
Inspired by Tex-Mex cheesy nachos, this beef and rice casserole is hearty, delicious, and satiating – perfect for the whole family! Made with ground beef, rice, tomatoes, and a few pantry staples, it's a quick and easy pressure cooker recipe you can whip up mid-week in under 30 minutes. Topped with guacamole, sour cream, and corn chips. Get the recipe here.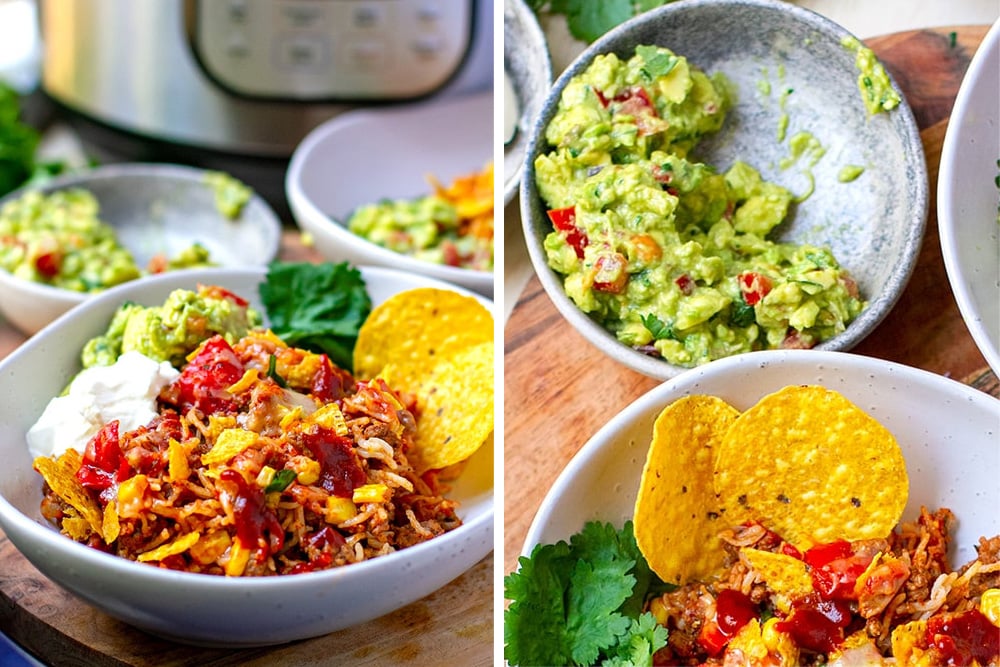 Shopping list: 1 tbsp olive oil, 1 medium onion, 1 lb (450 g) ground beef mince, 3 large cloves of garlic, 1/2 long red chili (or jalapeno), 1 tbsp Mexican taco seasoning or spice blend, 1 tsp smoked paprika (optional), 1.5 cups chicken stock, 1 cup long-grain rice (e.g. Basmati, rinsed well), 1 cup canned tomato sauce (or diced tinned tomatoes), 1/3 cup canned sweet corn (frozen can also be used), and 1/4 cup diced roasted red peppers.
Serving Suggestions: Finished with melted cheese and crushed corn chips on top, as well as your favorite condiments, this is a tasty Instant Pot dinner recipe for the whole family.
Recommended sides: Delicious on its own with guacamole and sour cream on top, but you could serve a fresh salad on the side.
---
GOOD FOR LUNCH
Inspired by the Japanese miso ramen, this noodle soup is topped with Asian greens, sweet corn, and a boiled egg and is perfect for a quick lunch or dinner that both kids and grown-ups will love. This will soon become your favorite way to pimp up the humble ramen noodles. Get the recipe here.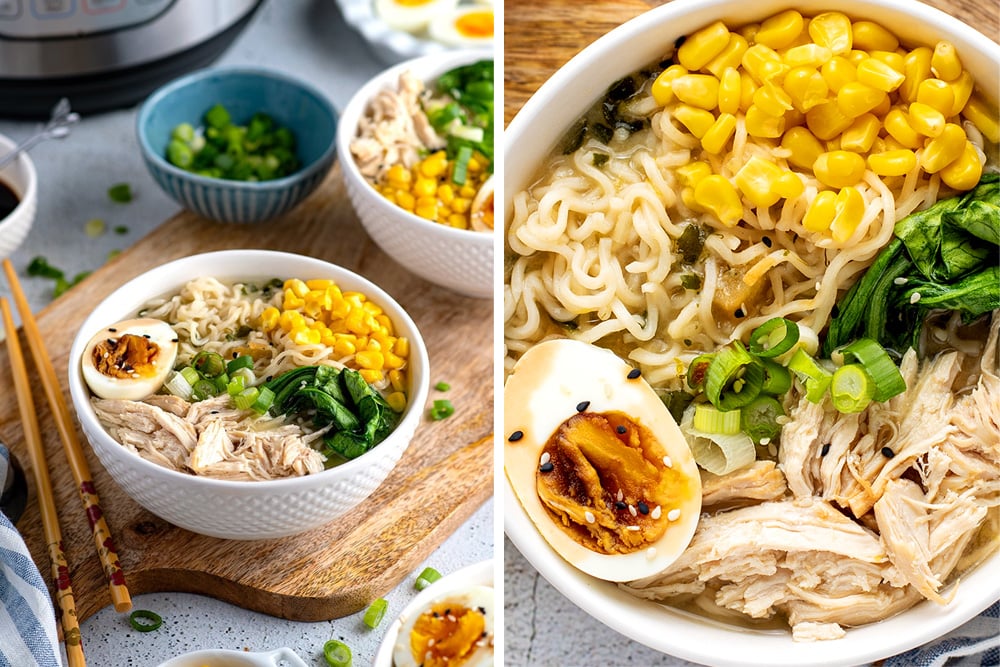 Shopping list: 5.5 cups chicken stock, 2 chicken breasts, 2 large cloves garlic, thumb-size piece of ginger, 2 scallions, 2–4 eggs, 2 tbsp miso paste, 3–4 servings ramen noodles, 2 bok choy/pak choi, (you could also use broccoli or spinach here), 1 can of sweet corn, and 1 scallion for garnish.
Prep tips/make-ahead: When you assemble the noodle bowls, you can mix everything together or serve each element on top of the noodles.
Serving suggestions: Doesn't need any but you can always add extra vegetables. Optional garnish that you can add are Nori seaweed, fried shallots, pickles, sliced chili, cilantro, and sesame seeds if you have any of these on hand.
Cook up a batch of our creamy vegetable soup and pair it with simple tuna melts or cheese toasties for a healthy yet satisfying and comforting lunch. The soup freezes well so you can enjoy it over a few weeks. Get the vegetable soup recipe here.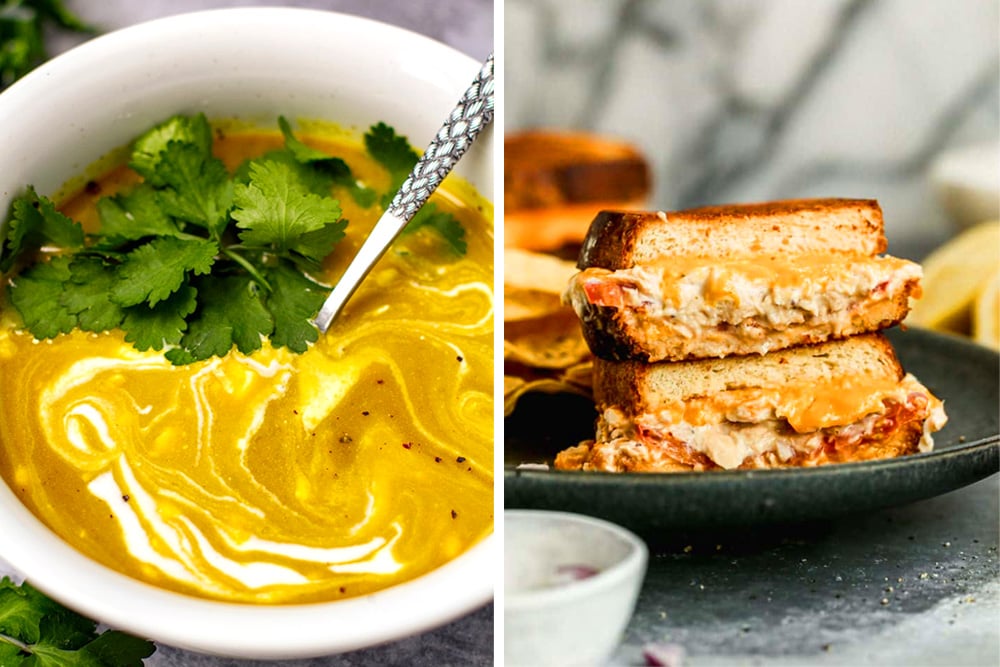 Shopping list: 1 lb (450 g) kabocha squash or another type of sweet pumpkin, 1/2 yellow onion, 1 large carrot, 1 large rib of celery, 3 medium white potatoes, 2 cups baby spinach, 2 cloves of garlic, 1 cube of vegetable stock, 1 teaspoon turmeric, 1 teaspoon garam masala, 1 tbsp lemon juice, 1/3 cup coconut cream, and 1/4 cup chopped cilantro.
Prep tips/make-ahead: The soup can be made in advance as it freezes quite well. We recommend adding the coconut milk/cream after the soup has been defrosted. 
Sides: You can choose to make these lovely tuna melts or simple cheesy toasties to go with the soup. Both would add a serving of protein to the meal. Our shopping list includes ingredients for the tuna melt.
---
SEASONAL DESSERT
This Instant Pot citrus monkey bread is an easy pull-apart loaf bread with a sticky glaze made from yeasted rolls. It's a fun pressure cooker treat with just 7 ingredients and a great way to use up winter citrus. Get the recipe here.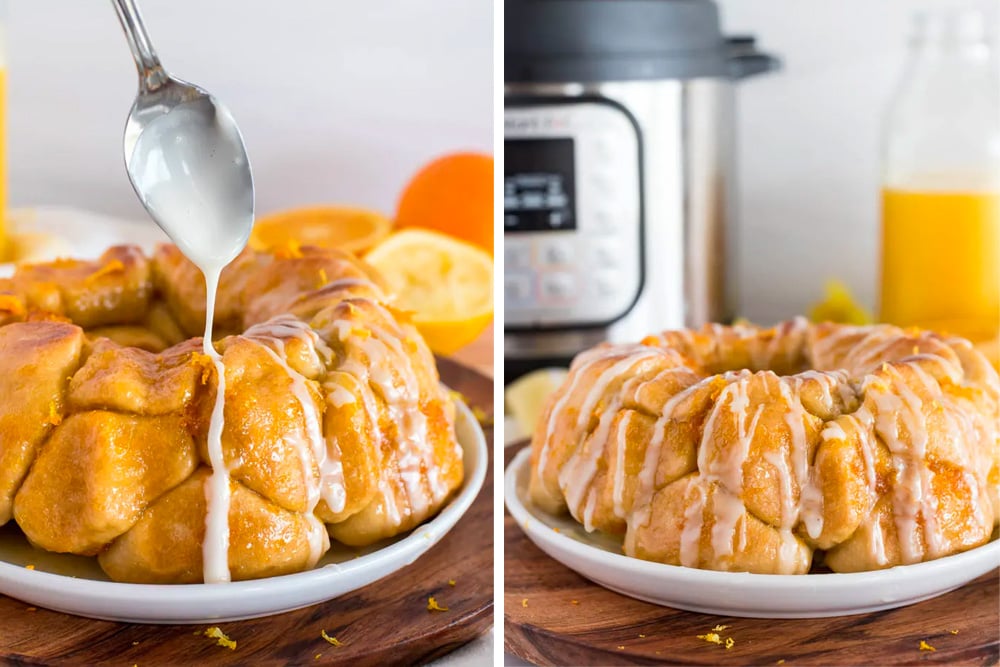 Shopping list: 16 frozen unbaked white yeast dinner rolls, 1/2 cup granulated sugar, finely grated zest from 1 large lemon and 1 large orange, and 1/4 cup unsalted butter, 1/2 cup powdered sugar, 2 tsp lemon juice, and 1 tsp orange juice.
Prep tips/make-ahead: After Pressure Cooking, place the monkey bread on a foil-lined baking sheet. Preheat the broiler and cook until the tops of the rolls are golden brown, about 3 to 5 minutes. Remove from the oven.
Serving suggestions: To Make the Glaze: Whisk powdered sugar, lemon juice and orange juice in small bowl until smooth. Add more powdered sugar or juice, as necessary, until glaze reaches the correct consistency. Drizzle glaze over the top and sides of the bread. Serve warm.
---
---
SAVE INSTANT POT MEAL PLAN #14 TO PINTEREST