This gluten-free and Whole30 beef stew Instant Pot recipe is hearty and nutritious and can be done ahead of time and for the freezer. Made with a few special flavor twists for that extra umami hit, this stew is great on its own or with a side of cauliflower rice, vegetables or any other sides you like with a stew. A definite family favorite! Stovetop instructions included.
---
There are many beautiful meat stews that you can make in the Instant Pot such as Beef Stroganoff, Beef bourguignon, Beef Chili, or Irish Stew. Today's recipe is for a classic beef, carrots and potatoes stew that is a real crowd pleaser and very easy to make.
INSTANT POT WHOLE30 BEEF STEW
This Instant Pot beef stew is hearty and thick, made with chuck steak, white and sweet potatoes, carrots and celery for a complete, balanced meal the whole family will enjoy. It's Whole30 compliant and gluten-free, which means it has no added sugar, wheat flour or dairy and uses clean, natural ingredients.
With the addition of spices, coconut aminos (similar to soy sauce), and sun-dried tomatoes, this beef stew has more depth and flavor than the regular version. And, you can use grain-free, gluten-free flour alternatives such as tapioca flour or arrowroot starch, to thicken the stew right at the end.
This is a great make-ahead and freezer-friendly stew that you can store in individual portions for a quick meal. It will keep for 3-4 days in the fridge as well.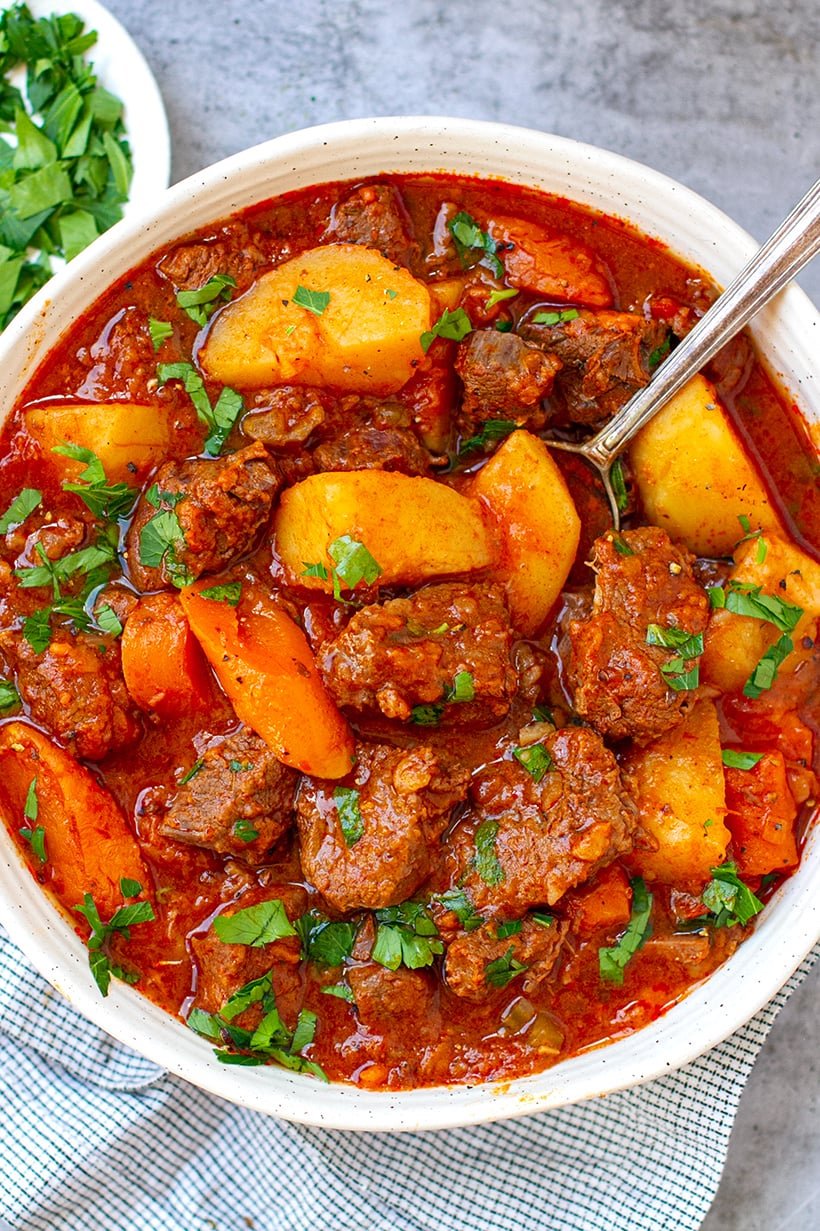 WHOLE30 BEEF STEW INGREDIENTS
Meat. We used chuck beef steak cut into 1-inch pieces. It's a tougher cut of meat that requires a longer cooking time but is perfect for a pressure cooker stew and its marbling and connective tissues release all the collagen and fat into the stew for flavor and keep the meat tender once it's cooked. You can use round-cut, brisket, oxtail, short rib and other stew-friendly cuts (see a list below).
Base vegetables. A delicious mix of onions, garlic, celery and carrots builds the stew's base flavors and are also nutritious.
Potatoes. Not only do they add more substance to the stew, but potatoes are nutritious and the starch in them helps to thicken the cooking broth. Russet potatoes hold up well during prolonged cooking making them best for stews. We've added some sweet potato as well, which softens quite a lot during cooking but adds lovely sweetness and thickness to the finished stew. Make sure to cut potatoes into similar sized chunks so they all cook evenly.
Seasonings & sauces: We used several pantry staple spices and herbs, as well as some umami-rich ingredients like coconut aminos, tomato paste and sun-dried tomatoes to add tons of flavor to this beef stew. Coconut aminos is a Whole30 alternative to soy sauce but you can sub with Tamari gluten-free sauce or fish sauce if you can't get coconut aminos.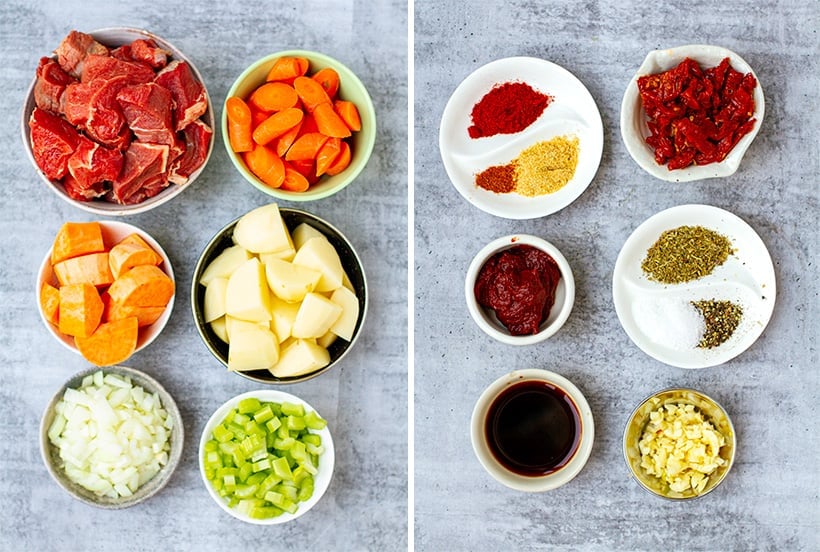 Cooking broth: We are using tomato sauce (passata) and beef stock (or bone broth) as the base. You can use canned tomatoes but I find the flavor isn't as concentrated as in the pureed sauce. Olive oil is used to saute everything at the start.
To finish. Once the stew is cooked, it will be quite thick already from the starch in the vegetables, however, it's even better slightly thickened. Normally, you would use cornstarch or regular flour mixed with a little water into a slurry. For a Whole30 version, we are using tapioca flour or you can use arrowroot starch. Mixed with water, add this slurry right at the end while the stew is still hot. Top everything with fresh parsley!
Which cut of beef is best for a stew?
The following are some of the best cuts of beef for stewing, yielding meat that's juicy and tender even after long cooking. What you're looking for is a little bit of marbling and fat that will keep the meat nice and tender.
Chuck and round cuts
Bone-in short rib
Bohemian (Bottom Sirloin Flap)
Oxtail
Brisket ("point" or "second cut")
Cross-cut shanks
In some countries, you might be looking for 'stewing steak'
Lean cuts tend to end up drier and tougher after even prolonged cooking.
Normally, the best way to achieve a super tender meat stew while using tougher cuts of beef is hours of low and slow cooking but the Instant Pot speeds the process AND locks in the moisture during the pressure cooking process.
COOKING BEEF & VEGETABLES IN THE INSTANT POT
One tip for achieving a great Instant Pot beef stew is to cut the potatoes and carrots into large pieces so that they can cook with the beef at the same time and not get too soft. We also recommend keeping the vegetables on top of the meat, only stirring gently to dip them into the cooking broth.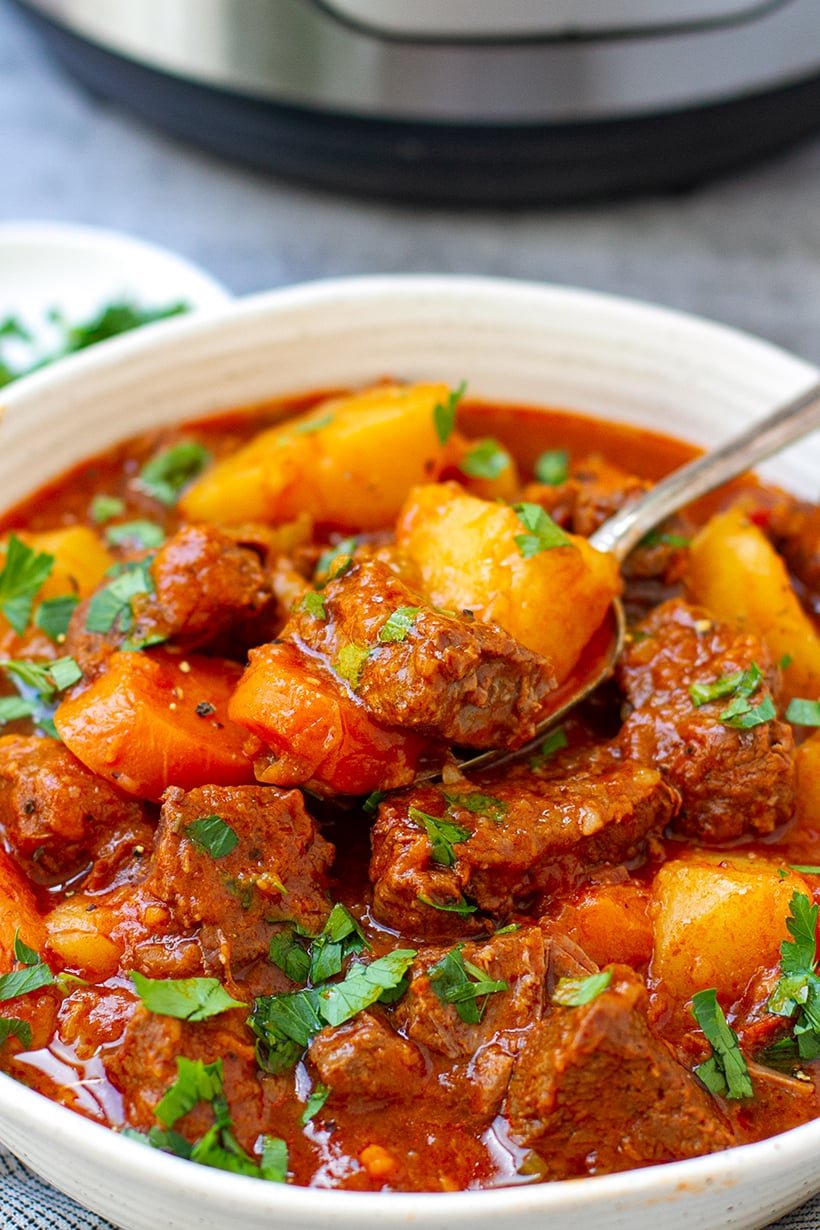 HOW TO MAKE INSTANT POT BEEF STEW
We used Instant Pot Duo 6-quart to make this Whole30 beef stew. You can follow these step-by-step photos for reference and find the full recipe, ingredients and nutritional breakdown in the recipe card just below.
Step 1. Saute the onions and celery, then add the beef and cook for a couple of minutes on Saute setting.
Step 2. Add all spices, herbs, seasonings and garlic, stir and follow with beef stock and coconut aminos. Stir and Cancel Saute.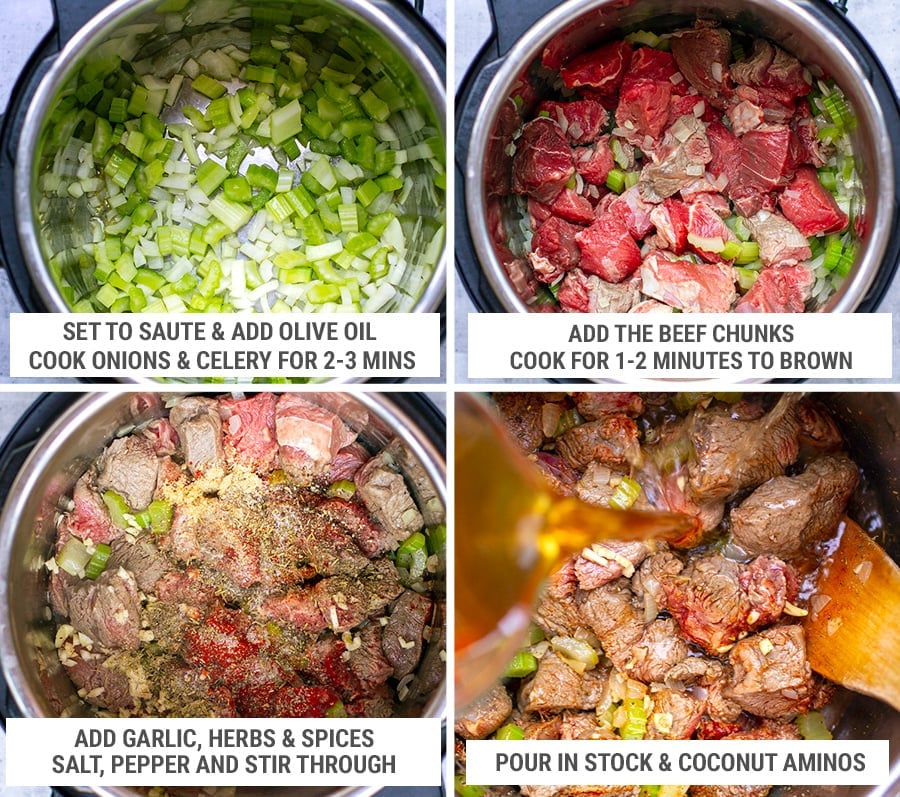 Step 3. Place potatoes, sweet potatoes and carrots on top, scatter the sun-dried tomatoes. Press down to dip the vegetables into the broth but don't stir.
Step 4. Spread tomato sauce and paste on top but don't stir to prevent the burn error.
Step 5. Set to Meat/Stew setting or manually select Pressure Cook and adjust the time to 35 minutes on HIGH.
Step 6. Whisk the tapioca starch and water to make the slurry, set it aside.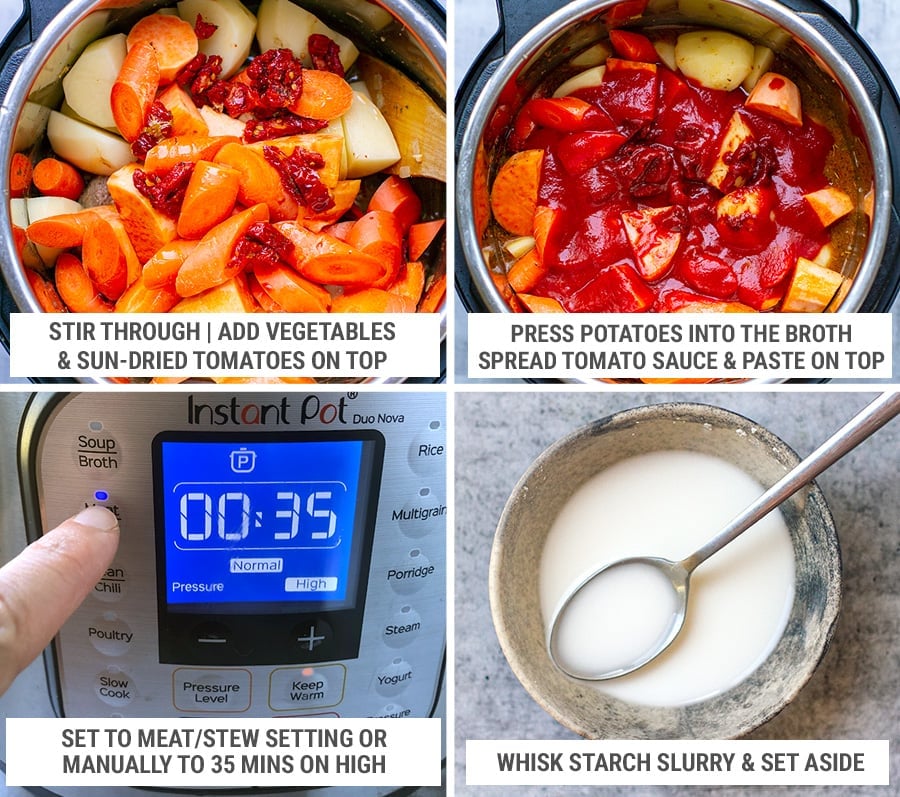 Step 7. Once done, allow the pressure to release naturally for 10 minutes. Quick-release and open the lid, stir the stew. Pour the slurry and stir into the hot stew to thicken.
Finish with fresh parsley and serve!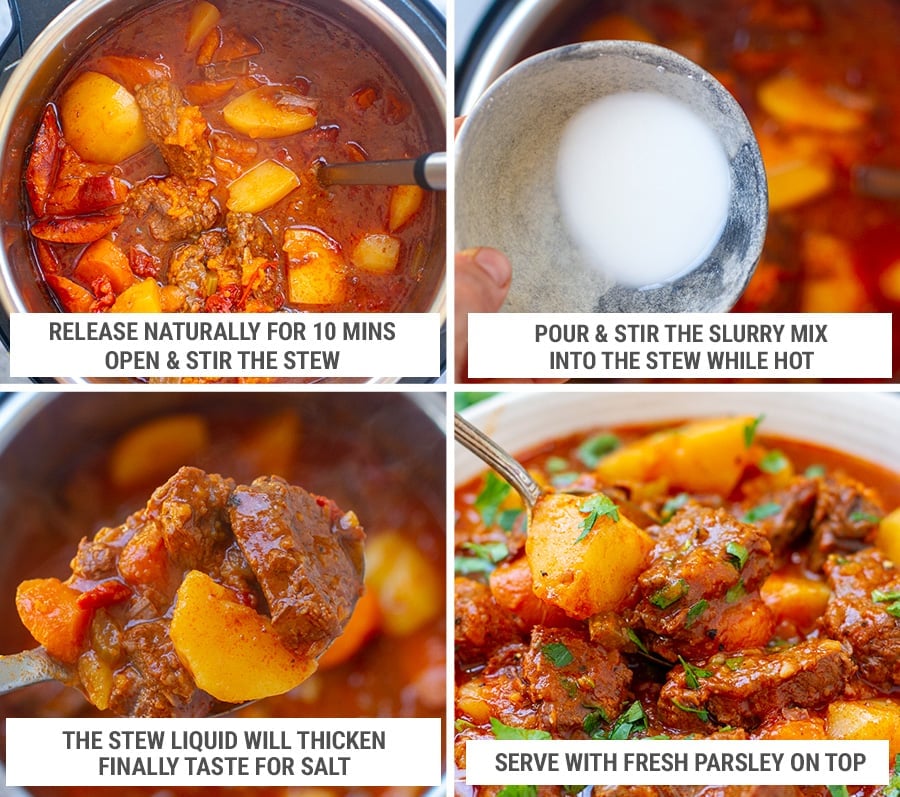 ---
MORE INSTANT POT BEEF RECIPES
---
Print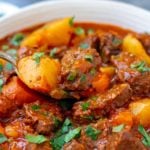 Whole30 Beef Stew (Instant Pot & Stovetop)
Author:

Prep Time:

20 minutes

Cook Time:

1 hour

Total Time:

1 hour 20 minutes

Yield:

6

-8

1

x

Category:

Main

Method:

Instant Pot

Cuisine:

British

Diet:

Gluten Free
---
Description
Hearty and delicious Instant Pot Whole30 beef stew with carrots and potatoes is perfect for the whole family. This healthy stew can also be made on the stovetop. Perfect for making ahead and the freezer.
---
2 tablespoons olive oil

1 large yellow onion, chopped

1 cup chopped celery

2.5 lb / 1.2 kg chuck or round steak (stewing beef meat), cut into chunks

3 garlic cloves, chopped

1 teaspoon smoked paprika

1 teaspoon mixed dried herbs or Italian herbs

1 teaspoon onion powder

1/4 teaspoon chili powder or cayenne pepper

1.5 teaspoons salt

1/2 teaspoon pepper

1.5 cups beef stock or bone broth

1 tablespoon coconut amions

1.2 lb / 500 g white potatoes (4 medium Russet potatoes), cut into quarters

1 medium sweet potato, cut into big chunks

0.5 lb / 250 g carrots, cut into large chunks

1/4 cup sun-dried tomatoes, chopped

1 cup tomato sauce (passata)

2 teaspoons tomato paste 

To finish: 
2 tablespoons tapioca flour

3 tablespoons water

2 tablespoons chopped parsley 
---
Instructions
Turn the Instant Pot on and press the Saute button. Once hot, add the olive oil, onions and celery and cook for 2-3 minutes to soften.
Add the beef and stir through, cook for 1-2 minutes to brown off slightly.
Add garlic, spices, herbs, salt and pepper and stir through. Pour in the coconut aminos and beef stock and stir through. Scrape the bottom of the pot to get any stuck bits off. Press Cancel to stop the Saute function.
Place potatoes, sweet potatoes, carrots and sun-dried tomatoes on top. Gently press down to dip the vegetables into the broth but they can stay on the top.
Pour tomato sauce over the top and spread the tomato paste. You don't need to stir the sauce into the stew as it will prevent it from getting burnt on the bottom. It will still penetrate the stew while cooking.
Pop the lid on top and secure. Select the Meat/Stew button (Normal) and it should say 35 Minutes on HIGH pressure. You can also set it manually by pressing Pressure Cook button and adjusting the time. After 3 beeps, the Instant Pot will begin building the pressure. On some models, you may have to press the Start button.
As there is a lot of liquid and food in the pot, it will take 15-20 minutes to build up the pressure. Then the countdown clock will start. Once done, release the pressure naturally for 10 minutes or all the way, this will help to 'rest and set' the stew.
While releasing the pressure, whisk the tapioca starch and water in a small bowl and set aside.
Open the lid and stir the stew. While still super hot, stir in the starch slurry to thicken the stew liquid. Finish with fresh parsley on top. You are ready to serve!
---
Notes
Saute: 10 minutes | Pressure building: 15 minutes | Pressure Cook: 35 minutes | Natural release: 10 minutes followed by quick release
Stovetop instructions: Repeat the saute steps in a heavy bottom pot or saucepan on the stove over medium heat. Once all ingredients are in, including the tomato sauce and paste, stir everything through and bring to a boil. Then turn the heat down to medium-low and cover with a lid. Cook for 2-3 hours until the meat is tender. Stir a few times. Finish with the slurry to thicken the stew if needed and turn the heat off.
Nutrition
Serving Size:

2 cups of stew

Calories:

374

Sugar:

6.9 g

Sodium:

941.9 mg

Fat:

11.8 g

Carbohydrates:

29.3 g

Protein:

39.7 g

Cholesterol:

103.6 mg
Keywords: Instant Pot, Beef, Beef Stew, Whole30, Gluten-Free
WHAT TO SERVE WITH INSTANT POT BEEF STEW
For a Whole30 meal, you can enjoy this stew as is or add some cooked broccoli, zucchini, cabbage or cauliflower rice on the side.
For a non-Whole30 version, serve with some toasted bread rolls or toast, rice, pasta or noodles and extra veggies if you like.
Storage Tips
Fridge: Refrigerate this beef stew in an airtight container for up to 4 days. Reheat in a pot on the stovetop over medium heat, in the Instant Pot on Saute setting, or in the microwave.
heat or gently in the microwave.
Freezer: Cool the stew completely. Freeze in an airtight freezer-friendly container for up to 3 months. Thaw overnight in the refrigerator before reheating as above or remove from the container frozen directly into the Instant Pot frozen, add a little water and set to Pressure Cook for 5 minutes on HIGH. Then heat further on Saute if needed.
Related: How To Reheat Leftovers In The Instant Pot
---