Get inspired by our collection of 50+ healthy and delicious Whole30 Instant Pot recipes with meat, poultry, and veggies that you can make in the pressure cooker in no time. We've included mains and sides you can prepare for dinner, lunch or savory breakfast. Do you have a favorite Whole30 pressure cooker recipe? Share with us in the comments below!
---
Whether you're starting a new year with a healthy eating resolution or you need a reset post indulgent vacation, it's always a good time to start the Whole30 program and start focusing on eating whole, real foods.
Perhaps, your healthier lifestyle is accompanied or inspired by your Instant Pot which is very good news. If you haven't already heard, pressure cooking makes whipping up super tasty dishes easier and quicker than ever.
When you commit to something like a Whole30 challenge, you need all the support you can get! Let your Instant Pot be your biggest cheerleader. We have collected some of our favorite Whole30 Instant Pot recipes you can lean on when you need them the most. Scroll down to browse or jump directly to the section you're looking for:
---
---
Whole30 INSTANT POT Recipes WITH MEAT
These main Instant Pot meat dishes are easily made for weeknight dinners. Most roasts take hours, but you'll have perfect, tender, fall-apart meat every time with these squeaky clean recipes.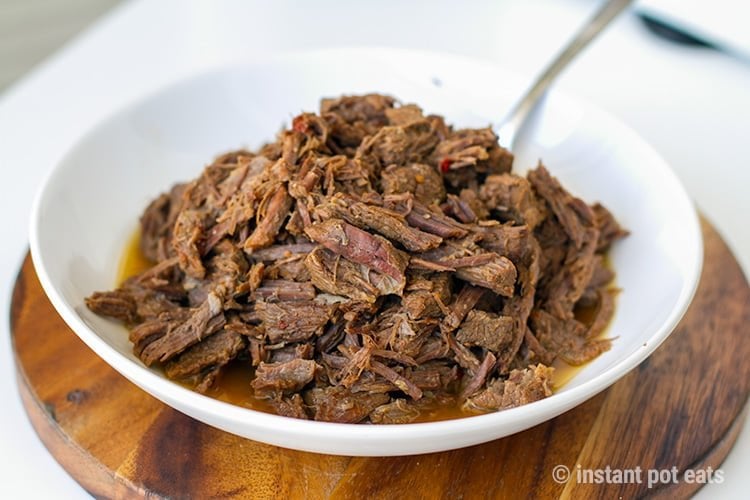 If you want a versatile recipe that is perfect for meal prep and batch cooking, try our Whole30-friendly Instant Pot shredded beef. It's paleo, gluten-free, and with a Whole30 option. Keep it simple or add a BBQ twist to it.
This hearty beef ragu is a great recipe for cooler weather or when you want to make a versatile meat dish as part of your weekend meal prep. It's paleo and Whole30-friendly, gluten-free, high in protein and iron, and full of flavour. Or you can try our versatile Instant Pot Bolognese Sauce.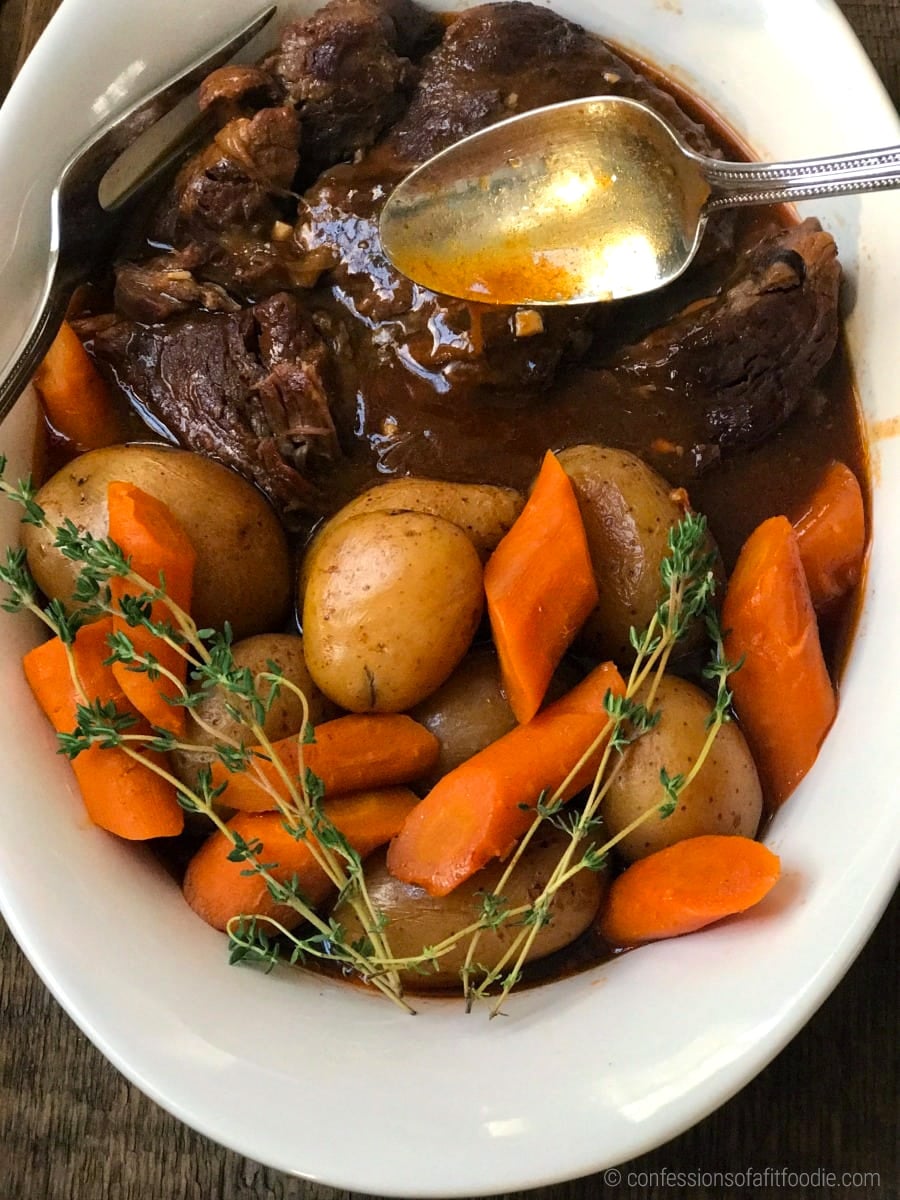 Pot roast takes on a new form in the Instant Pot. Perfectly tender meat and vegetables to soak up all the delicious juices that bubble up in record time? We like that concept a lot. This is a Whole30 staple that the entire family can get on board with, and you can have it for dinner even if you only start it when you get home from work!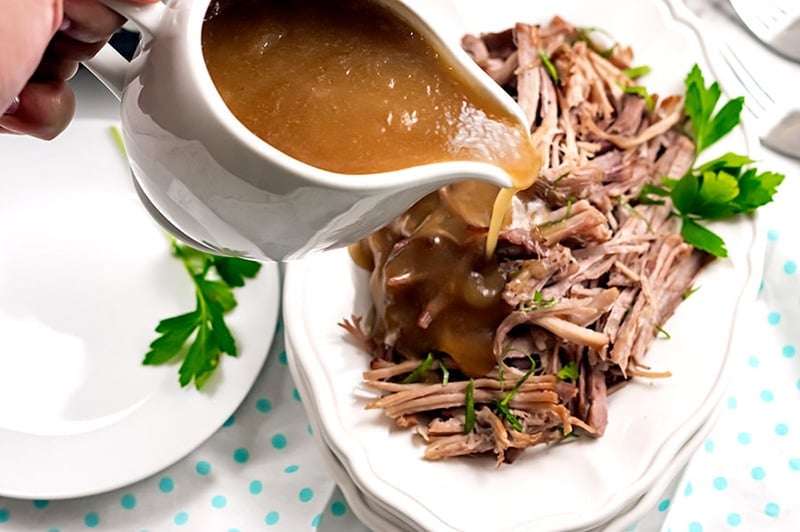 This beginner-friendly recipe for Instant Pot pork shoulder roast and gravy is easily adapted to Whole30 by using ghee (clarified butter) in place of butter and tapioca or arrowroot flour to swap regular flour with. Serve with your favorite vegetable sides like roasted sweet potatoes and a green salad.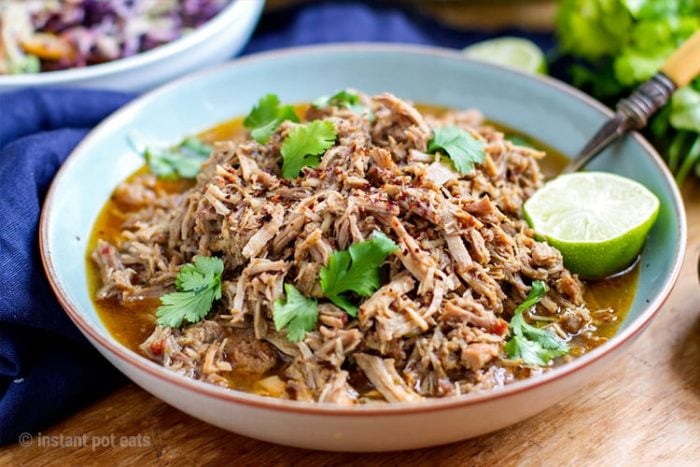 Mexican food is easy to make Whole30. Just avoid the rice, beans, cheese, and sour cream. Yeah – it seems like a lot, but when you have pulled pork, none of that really matters. This barbacoa-style recipe is great for salads, burrito bowls, or lettuce wrap tacos.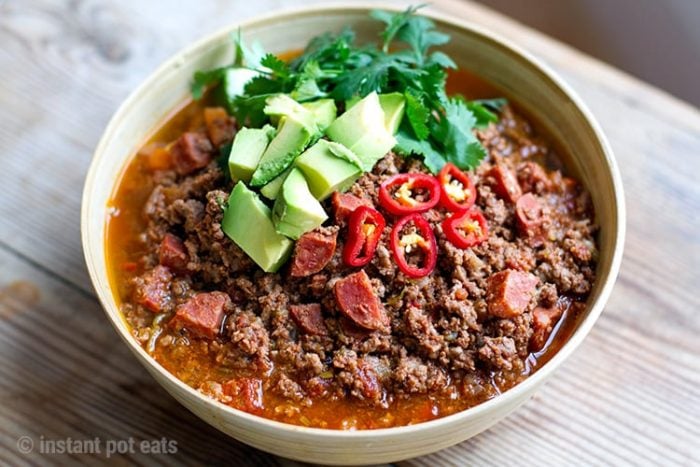 Chili is a good dish for meal prep every week because you can really customize it and tailor it to the extra veggies you have in your fridge. It's also really affordable to make, even without relying on beans as a filler. This is plenty hearty with a unique blend of chorizo and beef, packed with gloriously delicious spices and healthy fats.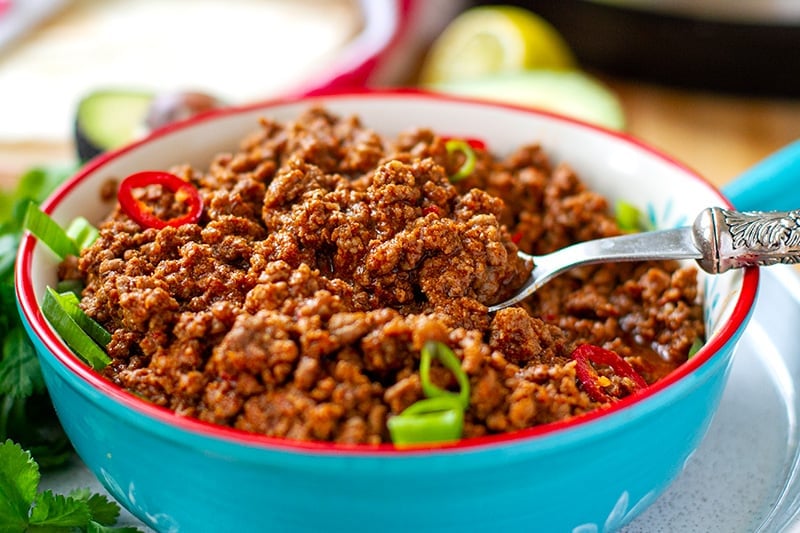 Taco meat is a recipe everyone should have mastered. It's a versatile leftover, and it's not simply limited to tacos. Salads, frittatas, lettuce wraps and even stir-fries come to mind.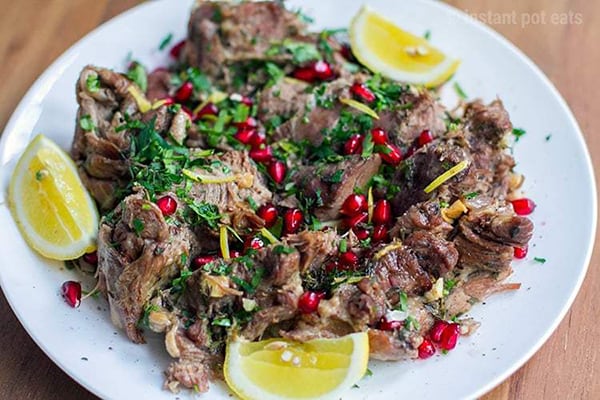 This succulent, melt-in-your-mouth Greek-style Instant Pot lamb shoulder roast only takes just a little over an hour instead of 4-5 hours of slow cooking in the oven. Great for Easter, Thanksgiving or your weekly Sunday roast dinner. Omit the honey!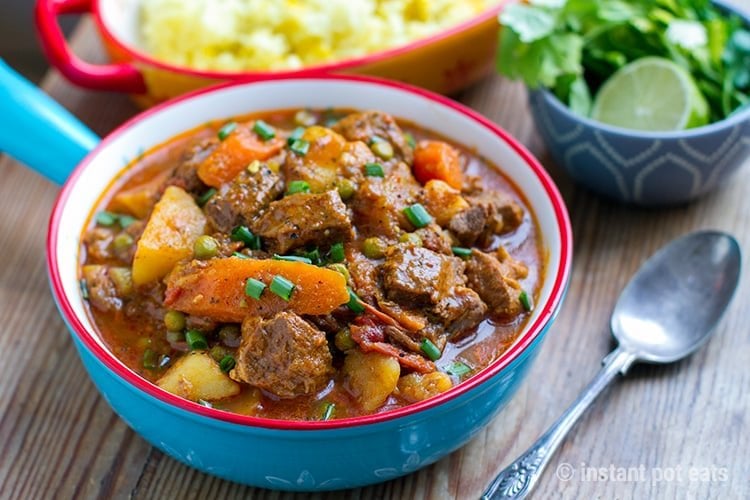 This lovely Instant Pot lamb stew uses Moroccan-inspired ingredients and spices and is cooked up with soft potatoes, carrots and peas for an incredible one-pot dish. Serve it with cauliflower rice or a side of veggies.
Savory broth and fresh herbs offer a gorgeous base for this pork to simmer in until it's just tender. This dish can typically be pretty intimidating, but the pressure cooker makes it totally accessible to even the busiest Whole30'er. Recipe from I Heart Umami.
Spaghetti squash and zoodles are staples on the Whole30, but you know you need to dress things up. Italian cuisine is fully accessible despite the lack of cheese, and the big flavor explosion in these Italian meatballs with plenty of garlic and spices will curb that need for dairy. Recipe from Instant Pot Eats.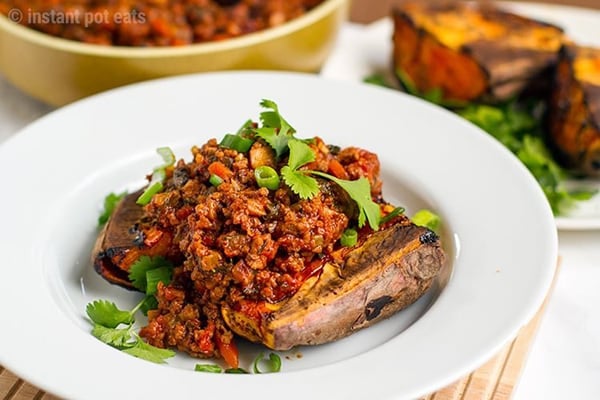 This Instant pot sloppy joes recipe has lots of hidden veggies and is delicious over baked sweet potatoes or with zucchini noodles. For a Whole30 version, omit the coconut sugar from the ingredients. It will still be delicious, trust us!
WHOLE30 MEAT RECIPES FROM OTHER BLOGGERS
---
Whole30 CHICKEN INSTANT POT Recipes
These chicken dishes are good as it is, but these recipes are particularly special since they're Whole30-compliant, take just one pot, and are super fast to make. We've also included a few Instant Pot turkey recipes.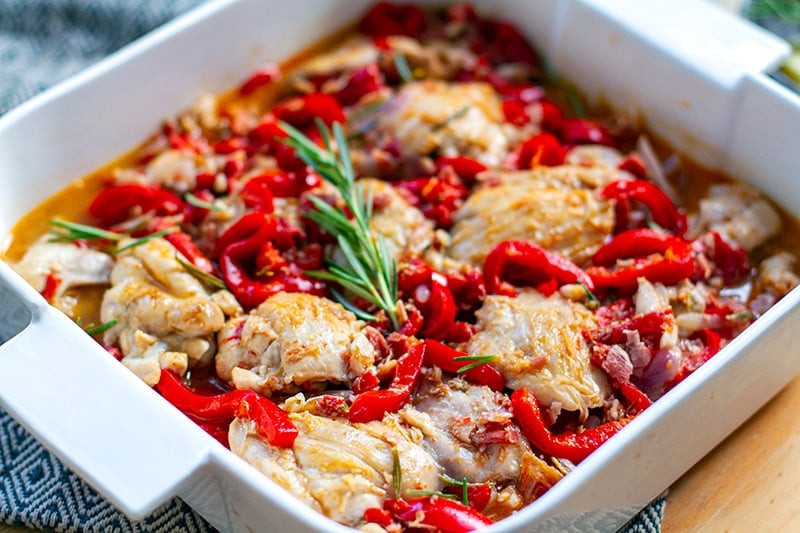 This Instant Pot chicken scarpariello recipe is a pressure cooker version of the American-Italian classic dish made with poultry and sweet and sour sauce of pickled roasted red peppers and rosemary. This sensational dish can be served over your favourite pasta, polenta, rice or vegetables.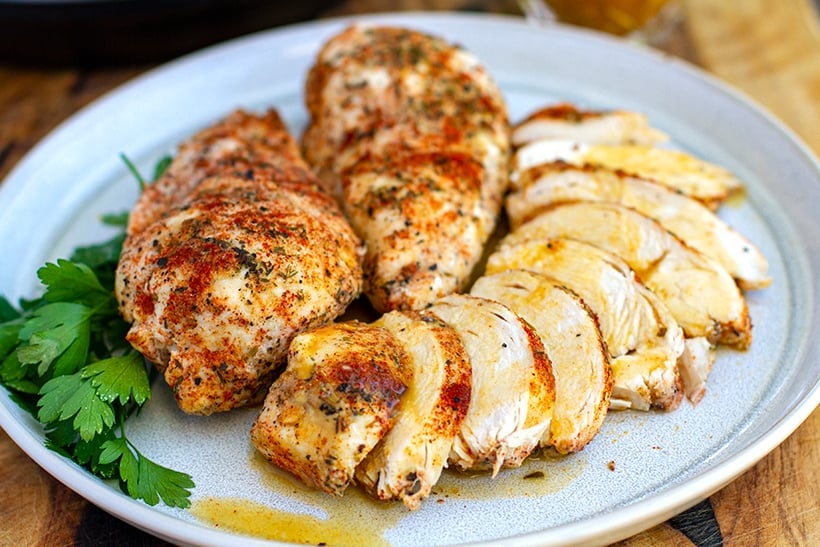 This super easy recipe for chicken breasts and gravy is perfect for the pressure cooker as you can make both in one pot. The gravy is thickened with butter and flour but is easily adapted for Whole30 with the use of ghee (clarified butter) and tapioca or arrowroot flour at the end.
This Instant Pot Thai chicken curry is quick and delicious, loaded with healthy protein and vegetables. Made with red curry paste and wholesome coconut cream, this curry recipe is dairy-free, Whole30, paleo and keto-friendly. Serve it with cauliflower rice on the side.
You might also like this Whole30 chicken and pumpkin curry from I Heart Umami.
When it comes to Whole30 Instant Pot recipes, you need a go-to chicken dish for easy meal prep. This dump and cook savory chicken recipe is super simple and delicious. Using boneless chicken breast meat or thighs, this dish is great for batch cooking and you can serve it in a variety of ways.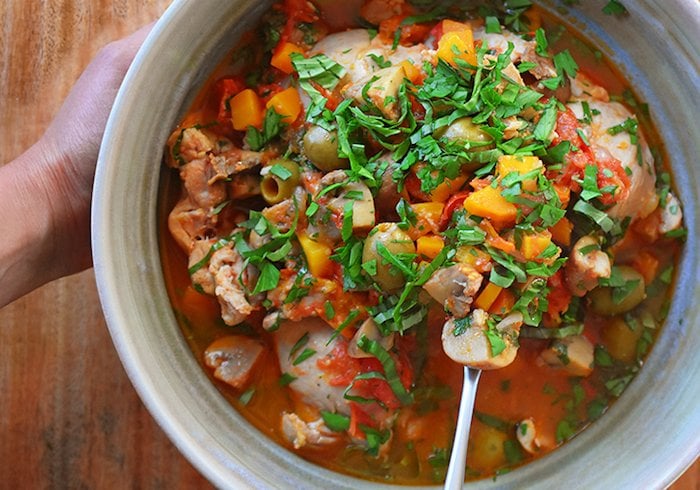 Whether it's summer or winter, this vibrant dish comes together beautifully with chicken thighs, ripe tomatoes, fresh chopped herbs and buttery olives in a veggie-laden stew. Recipe from Nom Nom Paleo.

Curb those inevitable cravings for takeaway with something just as timely, doubly nutritious and ten times as delicious – promise! Serve this chicken tikka masala over cauliflower rice or roasted veggies instead of white rice to make it totally Whole30-friendly. Recipe from Wholesomelicious.
The whole roasted chicken is something we simply adore doing in the Instant Pot. It's so easy, and the results are always stunning. Toss some fresh lemon and rosemary in the mix, and you've got yourself an awesome dinner every single time. Recipe from Our Best Bites.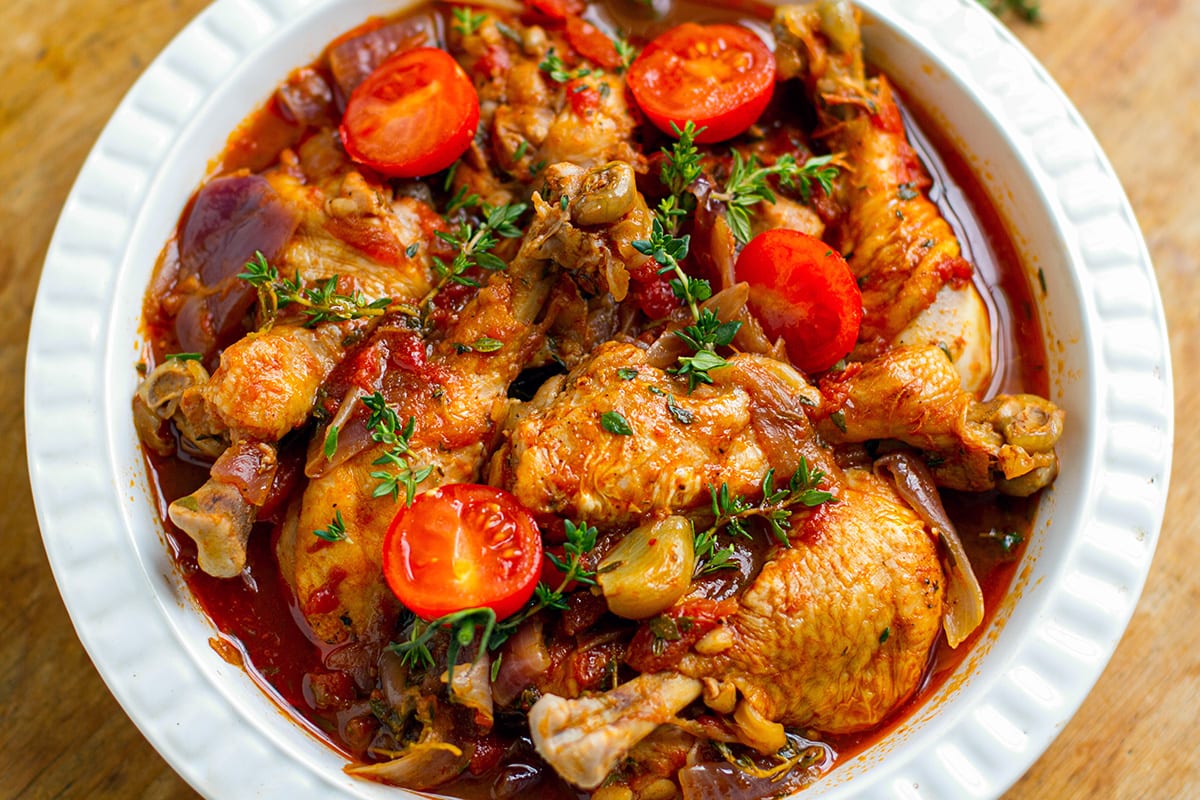 Rich in Italian tomato sauce with herbs and garlic and meat falling off the bone, these Instant Pot chicken drumsticks are great for the whole family. Serve them with pasta, rice or veggies. Recipe from Instant Pot Eats.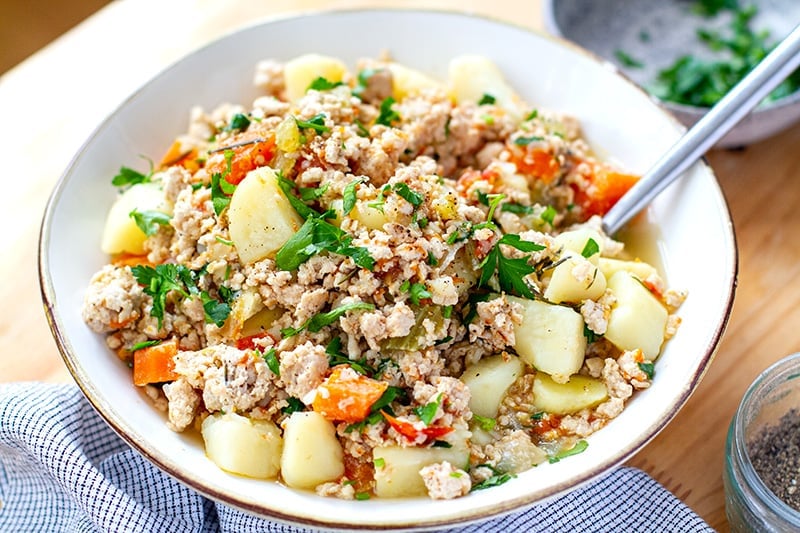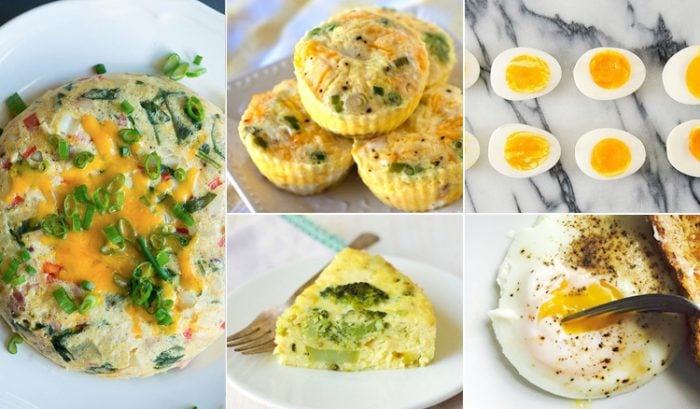 Eggs are a staple on the Whole30. If you've ever done one before, you either get sick of eggs in the end or really just learn to love 'em. They're so easy to make, plus they're satisfying and nutritious. To stave off the boredom, learn to make 'em ten ways in the pressure cooker for endless options beyond just 'boiling' them.
---
Whole30 Fish & Seafood Recipes
Cooking fish can be intimidating as is, let alone trying to figure out how to cook frozen fish in the Instant Pot. Today, we're going to show you a super quick and easy recipe for Instant Pot fish braised in Italian broth of cherry tomatoes, olives, capers and roasted peppers. It's bursting with Mediterranean flavors, and you can make it with frozen white fish or salmon.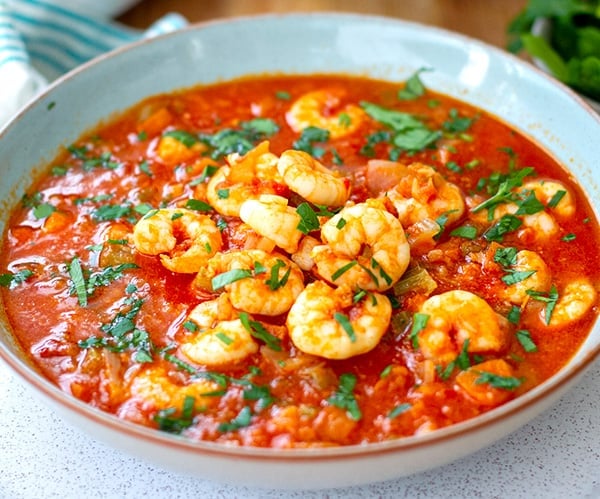 Cooked from frozen, this tomato garlic shrimp dish can be made in 15 minutes using the Instant Pot. It's gluten-free, paleo, Whole30 and low-calorie and can be served with a variety of sides.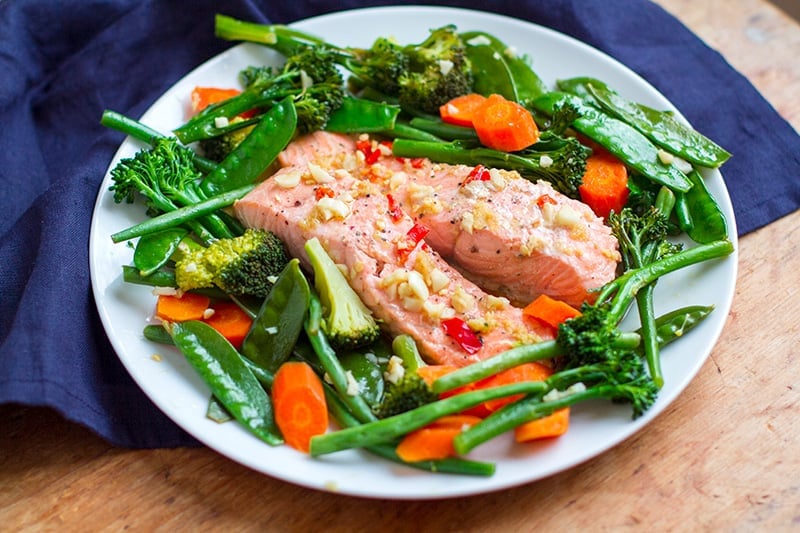 Speed, efficiency, and nutrition are what this recipe is all about. It's designed for 2 servings but you could easily add an extra fillet or two of salmon and make more vegetables.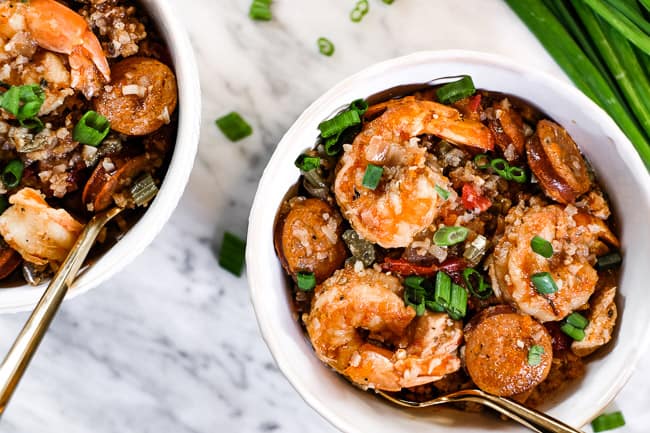 This Paleo, Whole30 + Keto Instant Pot Jambalaya is a new cajun inspired meal, cleaned up with lower carb cauliflower rice and Whole30 compliant sausage! It's an easy weeknight dinner or meal prep recipe! Recipe from Real Simple Good.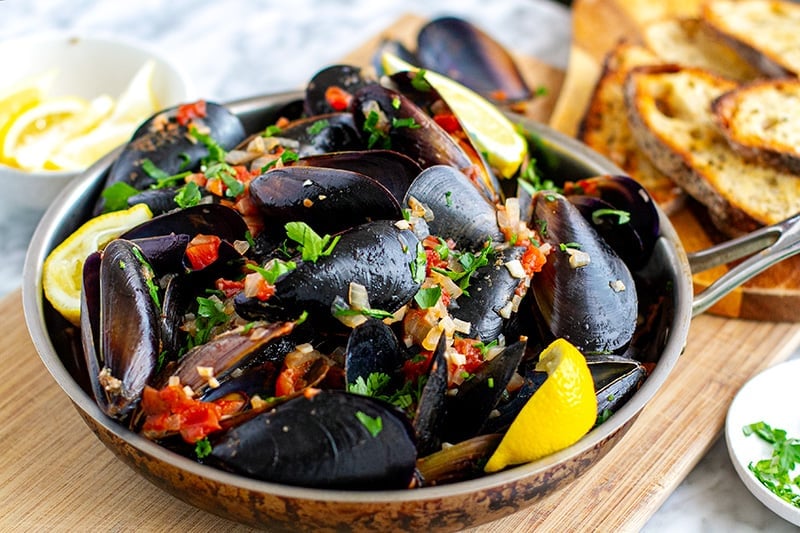 Okay, you can't exactly have toast or dinner rolls while doing Whole30, but it shouldn't stop you from enjoying these delicious Instant Pot mussels with tomato, garlic and onion Marinara sauce. Make a side of zucchini noodles to use up the leftover broth in your bowl.
---
Whole30 Sides & Vegetable Recipes
Sometimes, the main dish is the easy part. How do you keep variety in your Whole30? The answer is eating your veggies! There is no shortage of incredible, edible ways to do up your favorite plant foods, or maybe experiment with something new.
With only a handful of ingredients, this recipe for Instant Pot Brussels sprouts with crispy bacon and garlic is a must-have side dish for any occasion. Gluten-free, keto and low-carb, paleo and Whole30-friendly recipe.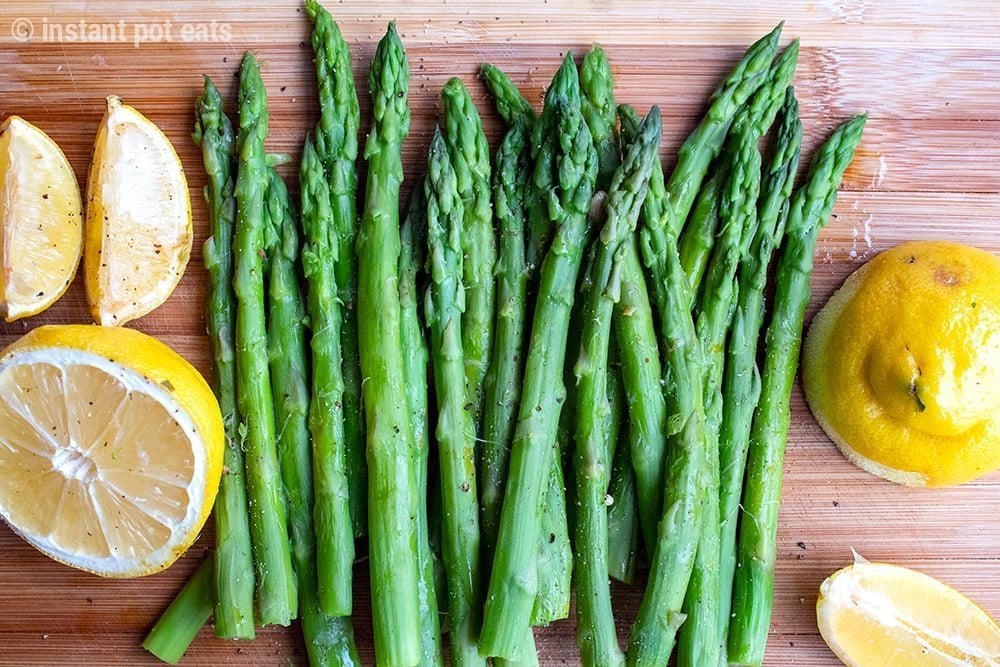 Learn how to make Instant Pot spaghetti squash, which is a truly amazing and versatile vegetable. It's the perfect alternative to noodles and pasta on a Whole30 diet and can be served with sauce or baked with meat or chicken topping on top.
If your Whole30 teaches you just one thing, we hope it's not to be afraid of fat! Lard, in particular, has been looked down upon since the whole low-fat thing started, but it's both Whole30-friendly and good for you! It brings in some serious depth and unbeatable taste to this gorgeous parsnip mash, which makes a perfect pairing for a tender roast. Recipe from Grazed and Enthused.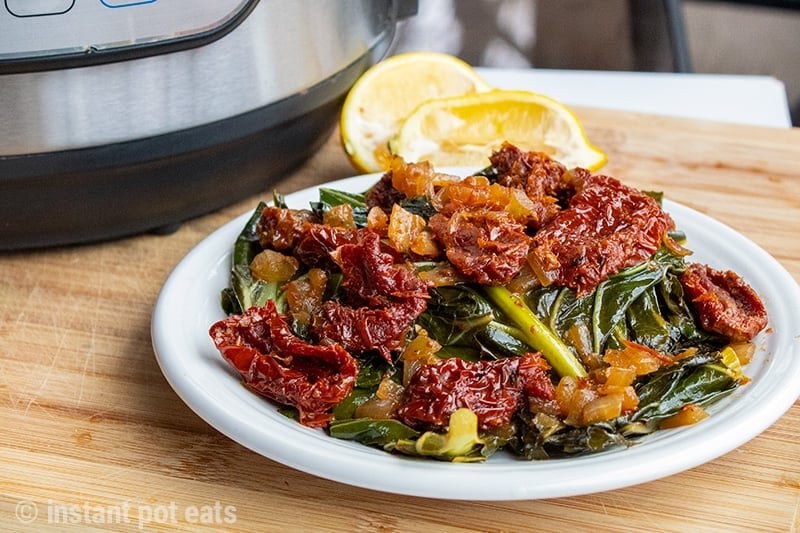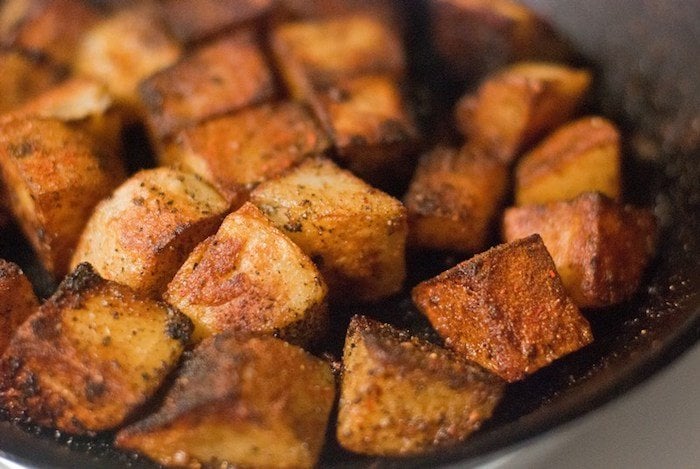 The news that potatoes are indeed Whole30-compliant is music to most people's ears. These crispy, Moroccan-style potatoes are a beautiful starch to have handy throughout the week. They make a lovely hash to top off with eggs, or a cozy side for roast chicken.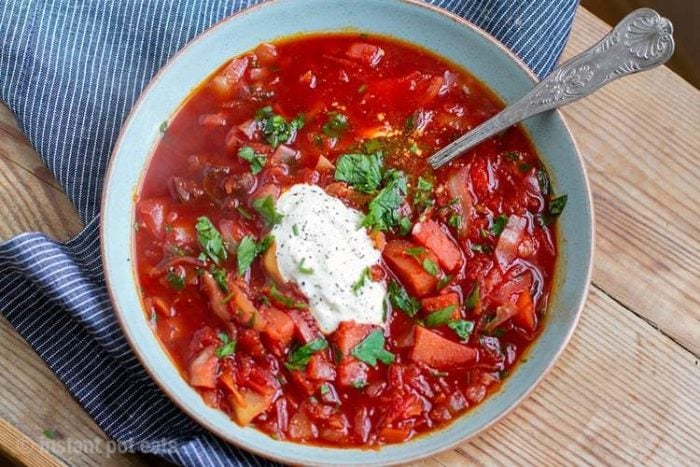 Beet soup is good hot or cold. This naturally detoxifying soup easily comes together regardless of which season it is, and it works really well with a dollop of coconut cream or coconut yoghurt. Recipe from Instant Pot Eats.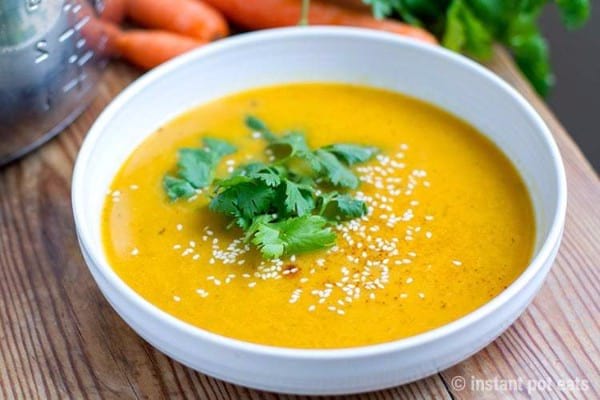 Aromatic, nutritious, healing, and colorful. This soup is packed with unique flavor, creamy texture, and nutrients for all your Whole30 needs. The carrots make it slightly sweet. It's also vegan, made creamy with coconut milk.
Check out our Sri Lankan Coconut Cabbage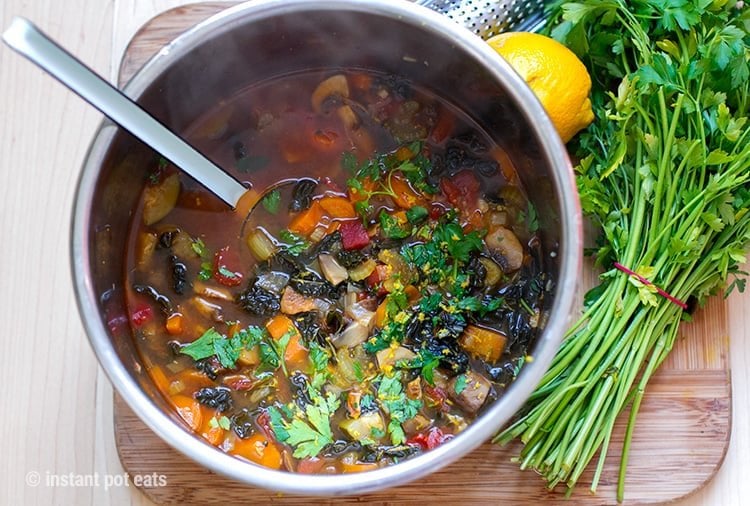 This detox-friendly Instant Pot vegetable soup is hearty and nutritious, filled with veggies, greens, and mushrooms. It's a great example of a traditional Italian farmhouse soup and it is vegan and gluten-free.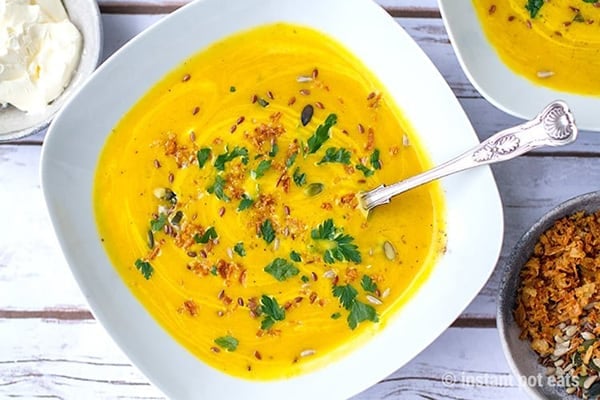 Perfect for fall and winter, this Instant Pot butternut squash soup only takes 20-25 minutes from start to finish. It's gluten-free, dairy-free, and vegetarian-friendly. This soup is also great for make-ahead batch cooking and freezing.
MORE WHOLE30 INSTANT POT RECIPES WITH VEGETABLES
---
Find even more delicious paleo Instant Pot recipes here.
What recipes are you most looking forward to making during your Whole30? Comment below with your favorites! We hope you enjoyed this roundup. If you did, hit the 'share' button to inspire your pressure cooking pals.