Find 30+ quick, healthy and delicious Instant Pot Whole30 recipes with meat, poultry and veggies that you can make in the pressure cooker in no time.
---
The new year is the perfect time to start a Whole30. Truly, it's the perfect time to start anything new! Come to think of it, there's never a bad time to start a Whole30 and begin focusing on eating whole, real foods.
Perhaps, your healthier lifestyle is accompanied or inspired by your Instant Pot which is very good news. If you haven't already heard, pressure cooking makes whipping up super tasty dishes easier and quicker than ever. When you commit to something like a Whole30, you need all the support you can get! Let your IP be your biggest cheerleader. Here are some of our favourite Whole30 recipes you can lean on when you need them the most.
---
Meat Recipes
These main dishes are easily made for weeknight dinners. Most roasts take hours, but you'll have perfect, tender, fall-apart meat every time with these squeaky clean recipes.
Pot roast takes on a new form in the Instant Pot. Perfectly tender meat and vegetables to soak up all the delicious juices that bubble up in record time? We like that concept a lot. This is a Whole30 staple that the entire family can get on board with, and you can have it for dinner even if you only start it when you get home from work!
Garlic & herb pot roast from Wellness Mama
Fall-apart pressure cooker pot roast from Healing Gourmet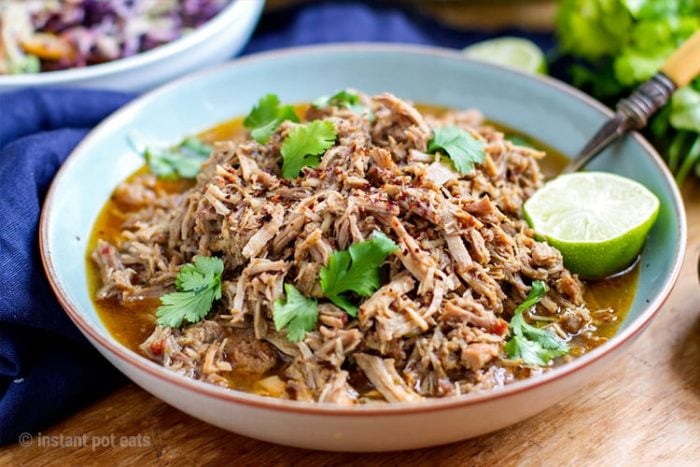 Mexican food is easy to make Whole30. Just avoid the rice, beans, cheese, and sour cream. Yeah – it seems like a lot, but when you have pulled pork, none of that really matters. This barbacoa-style recipe is great for salads, burrito bowls, or lettuce wrap tacos.
Pressure cooker pot roast & gravy from Zenbelly
Versatile Instant Pot Bolognese Sauce from Instant Pot Eats
Chipotle shredded beef from Taste and Tell Blog
Creamy smothered beef & artichokes from Grazed and Enthused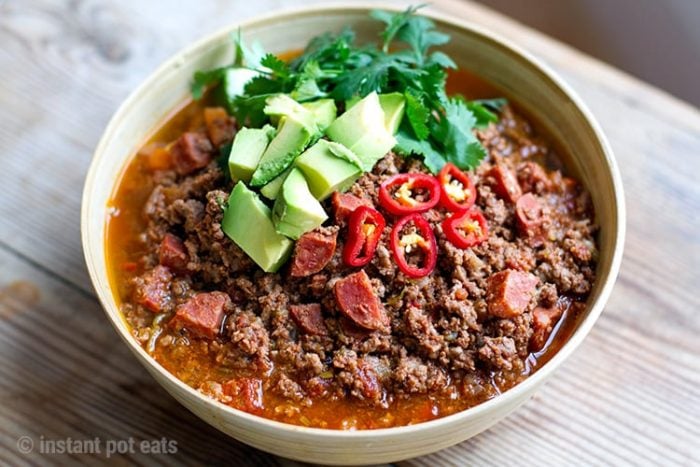 Chili is a good dish for meal prep every week because you can really customise it and tailor it to the extra veggies you have in your fridge. It's also really affordable to make, even without relying on beans as a filler. This is plenty hearty with a unique blend of chorizo and beef, packed with gloriously delicious spices and healthy fats.
Meatballs & sauce from Coco's Paleo Kitchen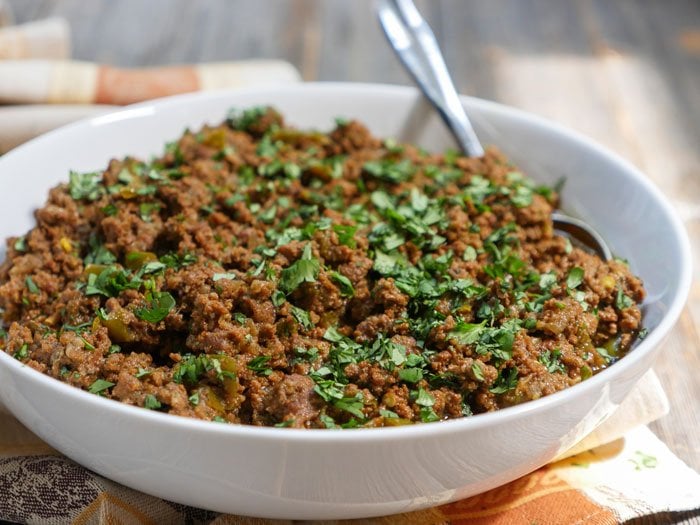 Taco meat is a recipe everyone should have mastered. It's a versatile leftover, and it's not simply limited to tacos. Salads, frittatas, lettuce wraps and even stir-fries come to mind.
Lamb shanks with ginger & figs from Gutsy by Nature
Pressure cooker lamb shanks from Nom Nom Paleo
Beef ragu from Instant Pot Eats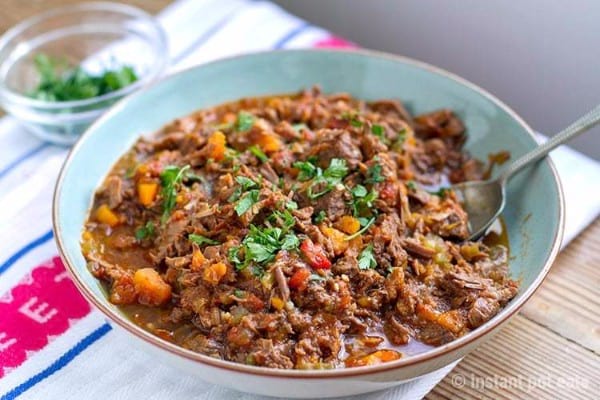 It's kind of like a stew and it's kind of like bolognese. Either way you classify it, this dish is downright delicious and packed with iron and protein. It's perfect on its own or served over zoodles, sweet potato cubes, or cauliflower rice. It's hearty, easy to freeze, and makes for great leftovers.
Beef short ribs from Paleo Magazine (omit alcohol)
Savoury broth and fresh herbs offer a gorgeous base for this pork to simmer in until it's just tender. This dish can typically be pretty intimidating, but the pressure cooker makes it totally accessible to even the busiest Whole30'er.
Jamaican jerk pork roast from I Breathe, I'm Hungry
Kalua pig from Nom Nom Paleo
Spaghetti squash and zoodles are staples on the Whole30, but you know you need to dress things up. Italian cuisine is fully accessible despite the lack of cheese, and the big flavour explosion in these Italian meatballs with plenty of garlic and spices will curb that need for dairy.
Poultry Recipes
These chicken and turkey dishes are good as it is, but these recipes are particularly special since they're Whole30-compliant, take just one pot, and are super fast to make.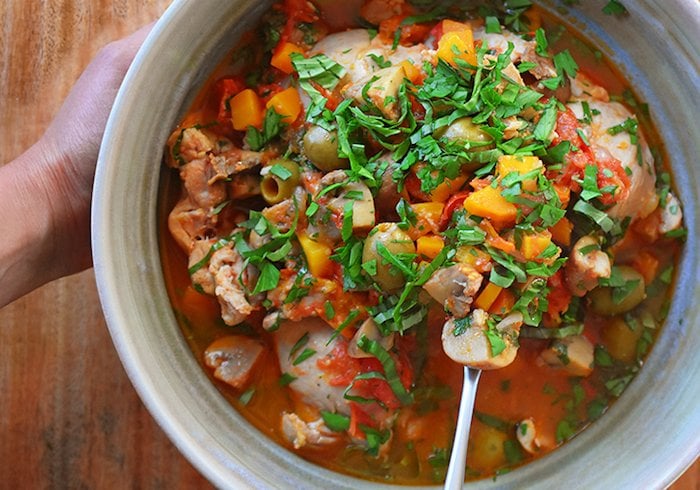 Whether it's summer or winter, this vibrant dish comes together beautifully with chicken thighs, ripe tomatoes, fresh chopped herbs and buttery olives in a veggie-laden stew.
Easy braised chicken drumsticks in tomatillo sauce from Skinnytaste
Instant Pot chicken soup from Mommypotamus
Hearty Chicken Bone Broth from Instant Pot Eats
Curb those inevitable cravings for takeaway with something just as timely, doubly nutritious and ten times as delicious – promise! Serve this chicken tikka masala over cauliflower rice or roasted veggies instead of white rice to make it totally Whole30-friendly.
Instant Pot butter chicken from My Heart Beets
Chicken Creole from The Curious Coconut (omit coconut sugar)
The whole roasted chicken is something we simply adore doing in the Instant Pot. It's so easy, and the results are always stunning. Toss some fresh lemon and rosemary in the mix, and you've got yourself an awesome dinner every single time.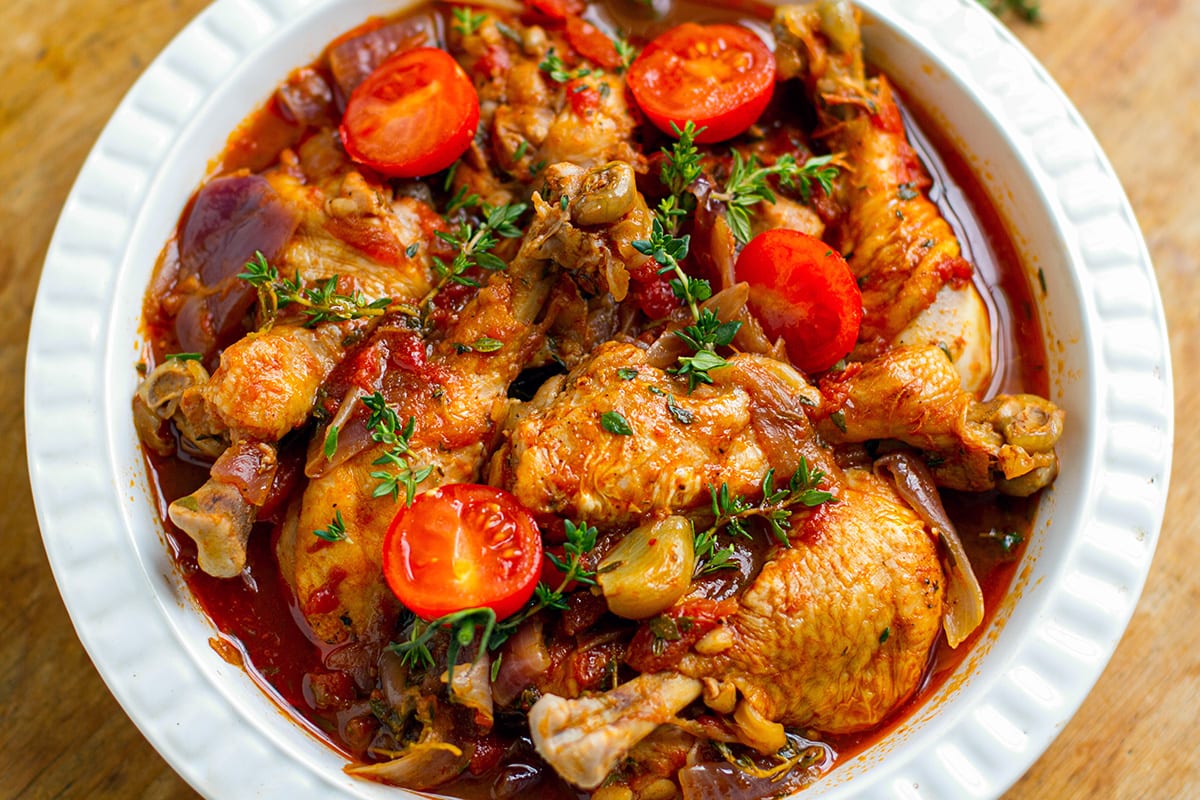 Turkey with cranberries & sauerkraut from Provincial Paleo
20-minute turkey & gravy from Grazed and Enthused
This warming soup is fabulous for the minimalist in the kitchen who wants real nutritious, real fast. This hearty blend of turkey and cabbage comes together in a mixture of broth, marinara sauce and onions which packs in plenty of flavour.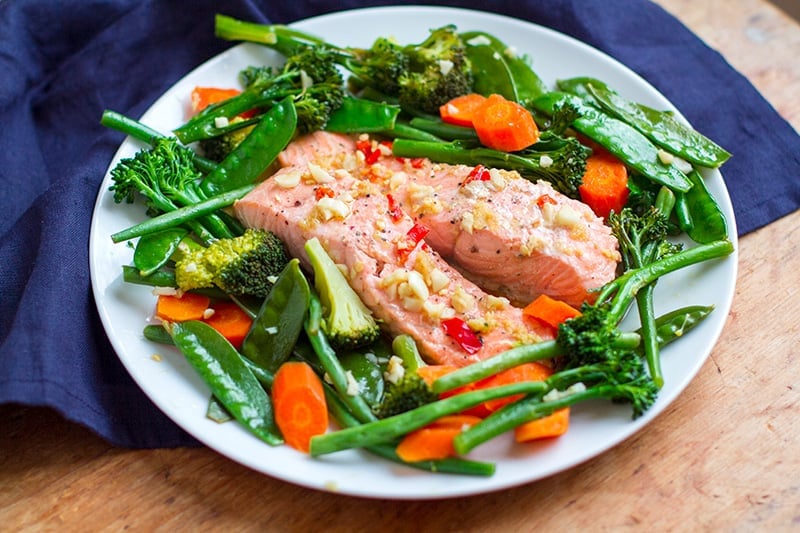 Sides & Vegetable Recipes
Sometimes, the main dish is the easy part. How do you keep variety in your Whole30? The answer is eating your veggies! There is no shortage of the incredible, edible ways to do up your favourite plant foods, or maybe experiment with something new.
If your Whole30 teaches you just one thing, we hope it's not to be afraid of fat! Lard, in particular, has been looked down upon since the whole low-fat thing started, but it's both Whole30-friendly and good for you! It brings in some serious depth and unbeatable taste to this gorgeous parsnip mash, which makes a perfect pairing for a tender roast.
Roasted red pepper & cauliflower soup from Simply Whole Foods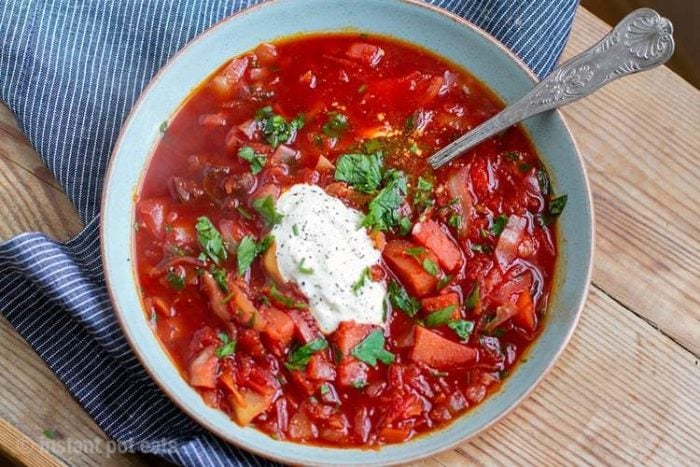 Beet soup is good hot or cold. This naturally detoxifying soup easily comes together regardless of which season it is, and it works really well with a dollop of coconut cream or coconut yoghurt.
Pressure cooker mushroom ragu from La Fuji Mama
Red, white and green is the new red, white and blue in this scrumptious side. Brussels sprouts are easy to make in the pressure cooker (as though they weren't easy enough), and we love this trio of tart pomegranate and buttery pine nuts.
Pressure-steamed artichokes from Flavorrd
Braised kale & carrots from Nom Nom Paleo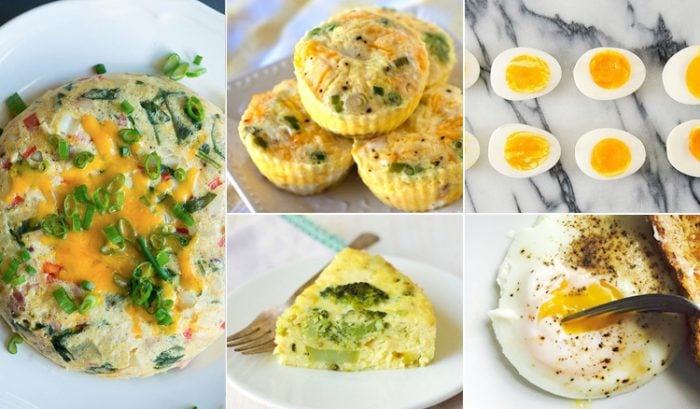 Eggs are a staple on the Whole30. If you've ever done one before, you either get sick of eggs in the end or really just learn to love 'em. They're so easy to make, plus they're satisfying and nutritious. To stave off the boredom, learn to make 'em ten ways in the pressure cooker for endless options beyond just 'boiling' them.
Instant Pot sweet potatoes from Add a Pinch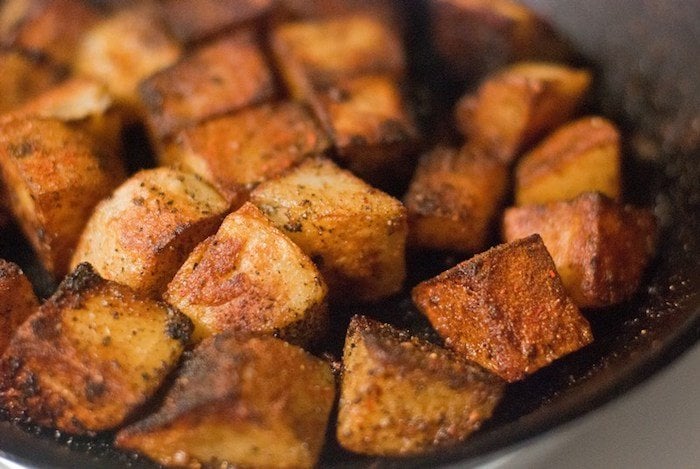 The news that potatoes are indeed Whole30-compliant is music to most people's ears. These crispy, Moroccan-style potatoes are a beautiful starch to have handy throughout the week. They make a lovely hash to top off with eggs, or a cosy side for roast chicken.
How to make spaghetti squash in the Instant Pot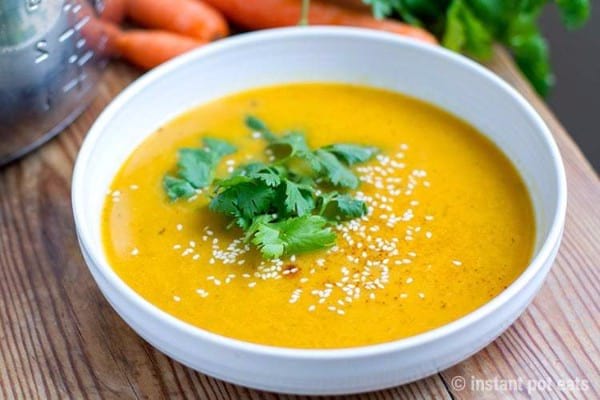 Aromatic, nutritious, healing, and colourful. This soup is packed with unique flavour, creamy texture, and nutrients for all your Whole30 needs. The carrots make it slightly sweet. It's also vegan, made creamy with coconut milk.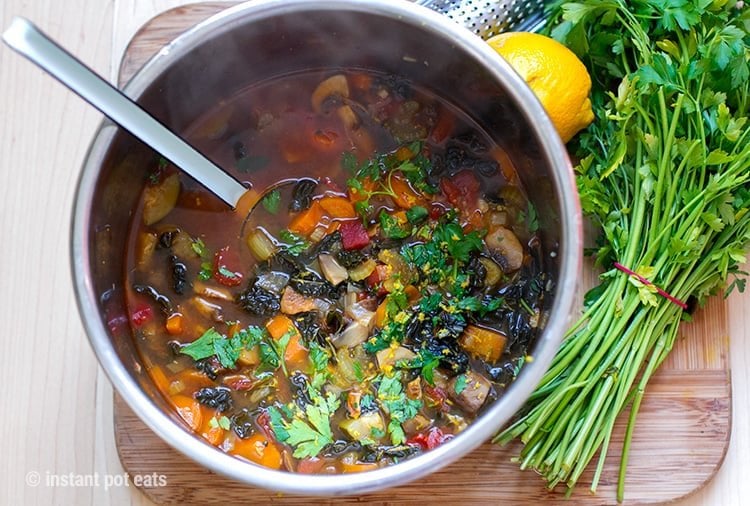 More delicious paleo instant pot recipes here.
What recipes are you most looking forward to making during your Whole30? Comment below with your favourites! We hope you enjoyed this roundup. If you did, hit the 'share' button to inspire your pressure cooking pals. Share on Pinterest from here.