Making a Bolognese sauce in the Instant Pot pressure cooker not only saves time but it also locks in all those gorgeous, hearty flavours and nutrients. Enjoy over pasta or zucchini noodles!
---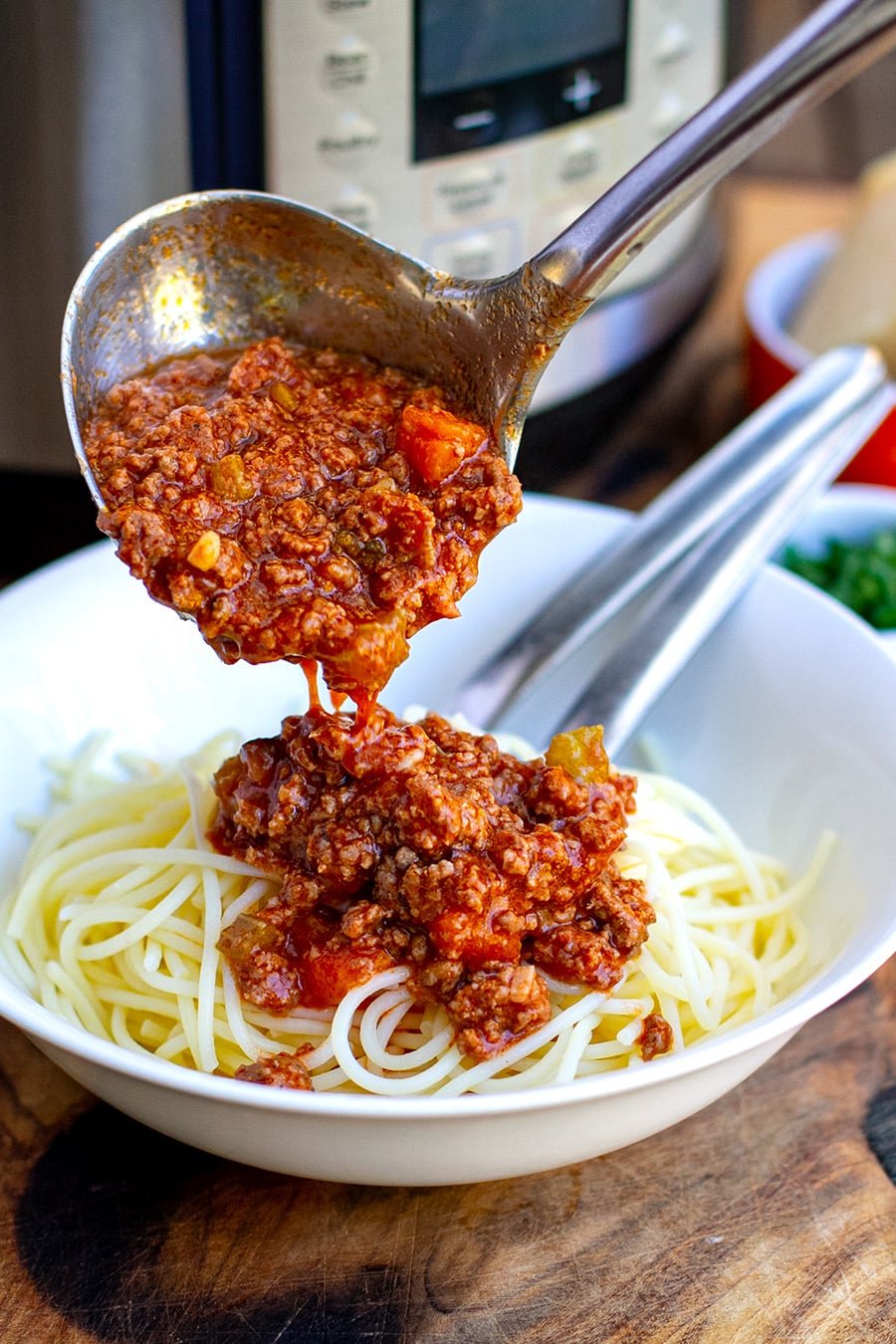 Let's face it: if you're going to master any one pressure cooker recipe, it should probably be a good, hearty Instant Pot Bolognese sauce. Served over good quality pasta, rice or zucchini noodles, this nourishing beef ragu sauce is an absolute crowd-pleaser. The best part – it's super versatile and can be turned into many other dishes, such as Shepherd's Pie or spicy beef chilli.
The secret to a good Bolognese sauce is good quality meat, organic tomatoes (they are sweeter!) and slow cooking. The longer you can cook the sauce the better; however, not everyone has the time. Right? That's when your trusted Instant Pot comes into play.
Instant Pot Bolognese sauce takes half the time, yet the result is as good as if you've been cooking it all afternoon. Plus, you seal in all those nutrients and flavours. In today's recipe, I show you how I make my pressure cooker Bolognese sauce using the Instant Pot. It's super easy and you will love the flavours of my version.
PS. The more authentic Italian Bolognese uses fewer tomatoes but I like it nice and saucy this way. This recipe is gluten-free, Whole30 and paleo-friendly.
HOW TO MAKE INSTANT POT BOLOGNESE SAUCE
There are two parts to this recipe. First, sauté the onions, carrots and celery in olive oil until soft and translucent. Don't skip this step as it caramelizes the vegetables and releases their umami (savoury flavours).
The rest is super easy! Add the rest of the ingredients listed in the recipe below, stir through and pop the lid on. Set to Manual/Pressure Cook for 20 minutes on HIGH pressure. To be honest, even 10 minutes will do the trick but I wanted to get the most out of ground beef and all the seasonings. You can release pressure naturally all the way or for 5-10 minutes and then do the quick release to let off the rest of the steam.
This recipe makes 6 servings because I like to make a big batch of the sauce to then use as leftovers and to turn into other dishes.
HOW TO USE UP LEFTOVER BOLOGNESE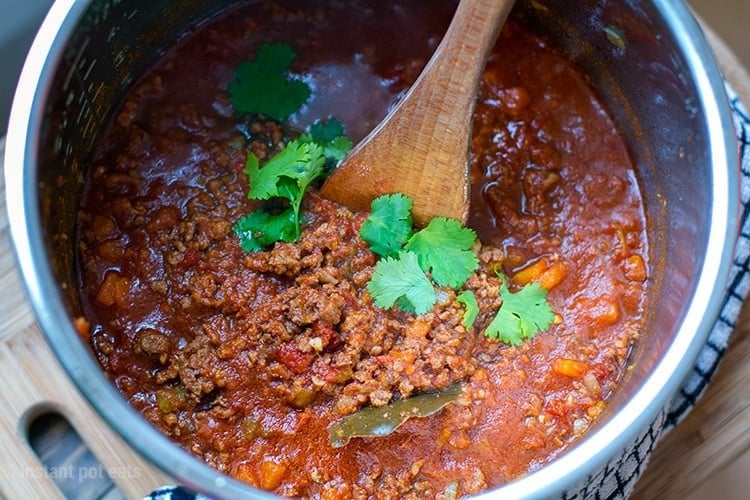 If you have leftover Bolognese sauce, there are quite a few ways to use it up. Obviously, you can reheat it for another spag Bol meal. Cold Bolognese is great in a Shepherd's or cottage pie.
Another idea is to re-fry the Bolognese sauce with added Tex Mex spices and turn it into taco and burrito filling. If you add some ginger, garlic and soy sauce, you can turn it into a more Asian-inspired dish and serve it with rice.
Pan-fry the sauce for 5-10 minutes to evaporate some of the liquid. Once it thickens, add some BBQ sauce and/or Worcestershire sauce and turn it into Sloppy Joes.
You can also divide the sauce between Ziploc bags or containers and freeze the leftovers for up to 3 months.
MORE INSTANT POT RECIPES YOU MIGHT LIKE
Instant Pot Chili With Beef & Chorizo
Instant Pot Italian Pork & Bean Stew
Instant Pot Meatballs & Spaghetti
Best Instant Pot Italian Recipes
Print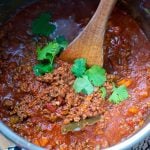 Instant Pot Bolognese Sauce Recipe
Author:

Prep Time:

10 mins

Cook Time:

25 mins

Total Time:

35 mins

Yield:

6

1

x

Category:

Main Entree

Method:

Instant Pot Pressure Cooker

Cuisine:

Italian
---
Description
Make this Instant Pot Bolognese sauce to save time and lock in all those gorgeous, hearty flavours and nutrients. Enjoy over pasta or zucchini noodles!
---
Scale
Ingredients
2 tablespoons

olive oil or coconut oil

1

large brown onion, finely diced

2

medium carrots, diced small

2

celery sticks, diced small

2 teaspoons

of salt

1/2

long red chilli, finely diced (can be omitted or use chilli flakes)

2.2

lb / 1 kg grass-fed ground beef (I used 10-15% fat beef mince)

4

cloves of garlic, diced

1 teaspoon

paprika powder

1/2 teaspoon

cinnamon powder

1 teaspoon

onion powder

2 tablespoons

Tamari gluten-free soy sauce

1 teaspoon

fish sauce (don't worry, you can't taste it)

2

bay leaves

1

star anise (optional)

3 cups

organic chopped tinned tomatoes (with juice)
---
Instructions
Turn the Instant Pot on. Press the Sauté function key (it will show Normal, 30 minutes).

Add the olive oil, onions, carrots, celery and chilli to the pot. Sauté for about 5 minutes, stirring a couple of times. In the meantime, prepare the rest of the ingredients.

After 5 minutes, add the beef and break it apart using a spatula. Stir through, then add the rest of the ingredients except for the bay leaf and tomatoes, and stir again. Cook on Sauté for 5 more minutes to brown off the meat.

Once the meat has changed the colour, add the chopped tomatoes (juices including) and stir through. Press Keep Warm/Cancel to stop the sautéing process.

Close and lock the lid of the Instant Pot. Check that the steam valve knob is pointing to Sealing.

Select Manual (High Pressure) and set the time to 20 minutes. Wait for the Instant Pot to beep three times to let you know it's getting to work. You can now walk away and do your thing.

After about 5 minutes, you will see and hear the steam coming out of the valve. Once enough pressure builds up in the pot, the valve will pop to the top. At this stage, you won't be able to open the lid. During the cooking process, you will hear some hissing but don't worry about it.

When time is up, you can let the pressure release naturally or use the quick pressure release method before opening the lid. Our Bolognese sauce should be thick and glossy.

If you find that the stew is too watery, set the Sauté function back on and cook the sauce uncovered for 5-10 minutes, stirring a few times. This will allow some of the liquid to evaporate and the ragu sauce to thicken more.

Serve with zucchini noodles or your favourite pasta, rice or potatoes — store leftovers in the fridge or freezer.
---
Notes
I use grass-fed ground beef, but you can certainly use half beef and half pork; or, even ground lamb or chicken meat. I truly believe that grass-fed beef is not only more nutritious, but it really does taste so much better.
Good, ideally organic tomatoes is another key to an amazing Bolognese. They tend to be sweeter and definitely better for you. I love this brand of tinned chopped tomatoes from a can, but you could also use tomato passata.
The rest are my personal favourite ingredients in the Bolognese, such as sneaky cinnamon powder, fish sauce and tamari (gluten-free soy sauce). Another favourite of mine is a single star anise that I add to the cooking sauce, but it will taste just as good without.
Keywords: Bolognese Sauce, Italian, Pasta, Zucchini Noodles, Ragu
---