In this roundup, we show you how to use the Instant Pot to help you cook some of the most popular Father's Day recipes. Plus, we've added a few Instant Pot air fryer recipes to the mix.
---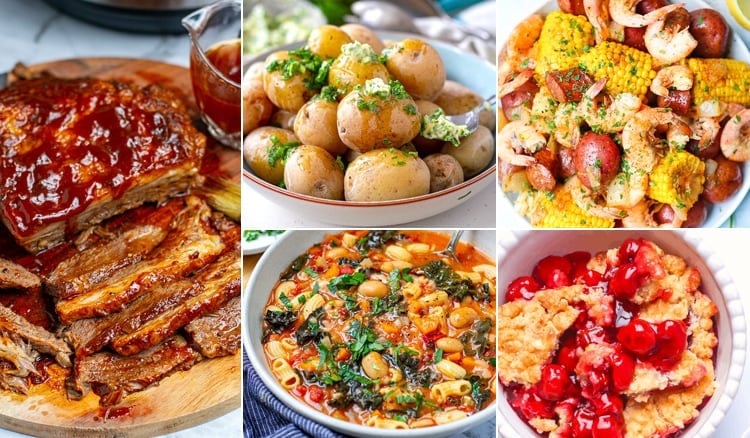 FATHER'S DAY RECIPES
In many countries, Father's Day is celebrated on the third Sunday in June every year. The best gift you can give is an incredible meal. Sure, you could just take him out to a restaurant, but it'll mean a whole lot more if you make it yourself.
Father's Day food tends to lean towards summer themes including grill recipes, big meaty dishes, fresh seafood meals, and filling salads. You may be doing an outdoor cookout, big family pasta or lasagna, make-your-own burger buffet, roast and gravy, or maybe it's taco night.
USING THE INSTANT POT FOR FATHER'S DAY
Whatever your plan is, there is a way the Instant Pot (or the Instant Pot Air Fryer) can come in handy. You might use it to pre-cook the meats for an easy grill finish, braise pulled pork for sliders, make the sauce for lasagna, cook beans or chicken for tacos, and make potatoes and eggs for a picnic salad, or bake your dad's favorite cheesecake. Get inspired with our favourite Father's Day recipes below.
PS. A new model of Instant Pot or the air fryer makes for a great Father's Day gift!
---
SUMMER GRILLING
You can use the pressure cooker to pre-cook the meat such as pork ribs, beef brisket, chicken wings, or thighs, and then finish them on the grill for quick delivery. Here are some recipes to try: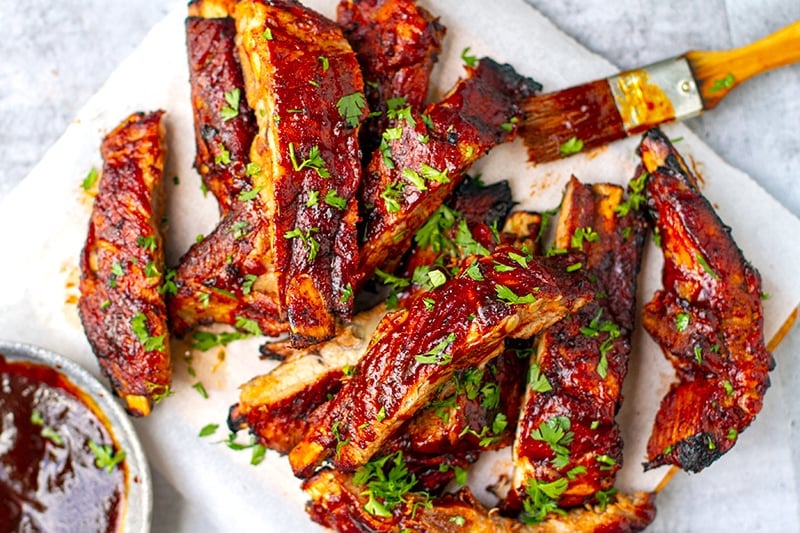 Compare with other ways to cook ribs, the Instant Pot method is mostly hands-free, giving you plenty of time to prepare side dishes and relax. All you need to make pork ribs in the Instant Pot is a rack of baby back ribs, homemade or store-bought spice rub, and your favorite BBQ sauce. That's it! Learn more here.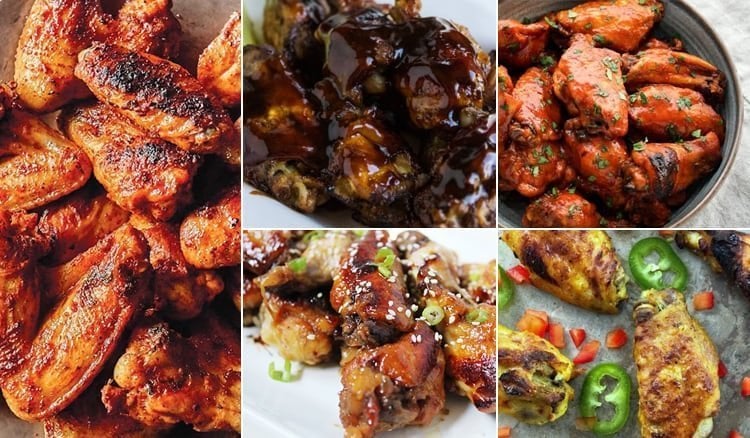 From honey mustard to Korean sticky wings, no matter what your craving, spice, or sauce preference is, we've got an Instant Pot chicken wings recipe for you. Break out the napkins and get recipes here!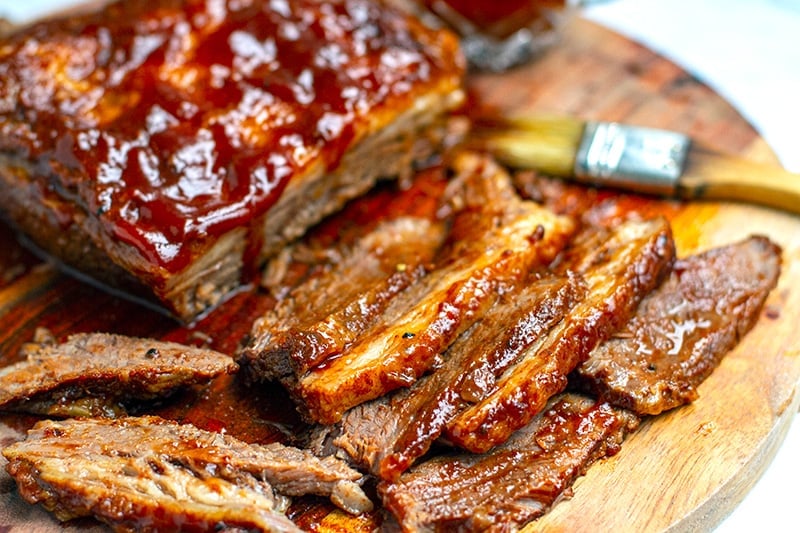 Rubbed in delicious spices and smothered in barbecue sauce, the beef brisket is pressure cooked in tasty broth until juicy and tender. You can serve it sliced in a brisket sandwich, tacos, or with mashed potatoes or rice. Get the recipe here.
BBQ & PICNIC SIDE DISHES
If you're planning an outdoor cookout or a family picnic, these dishes are great for making with Instant Pot's help.
A good potato salad is a favorite at picnics, cookouts, barbecues, and family meals in the summertime. A classic potato salad is fairly simple but you can get pretty creative and add your own tweaks to make a little more special. Get the recipe here.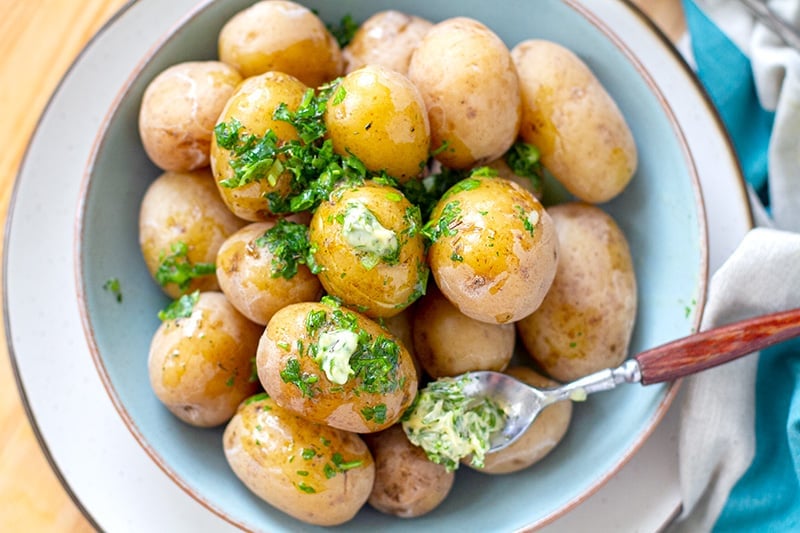 Salt potatoes with herb butter are super easy to make and are a perfect side dish. Salty potato skin is contrasted by sweet, creamy, and starchy flesh with butter and herbs melting into it releasing beautiful aromas and freshness. Get the recipe here.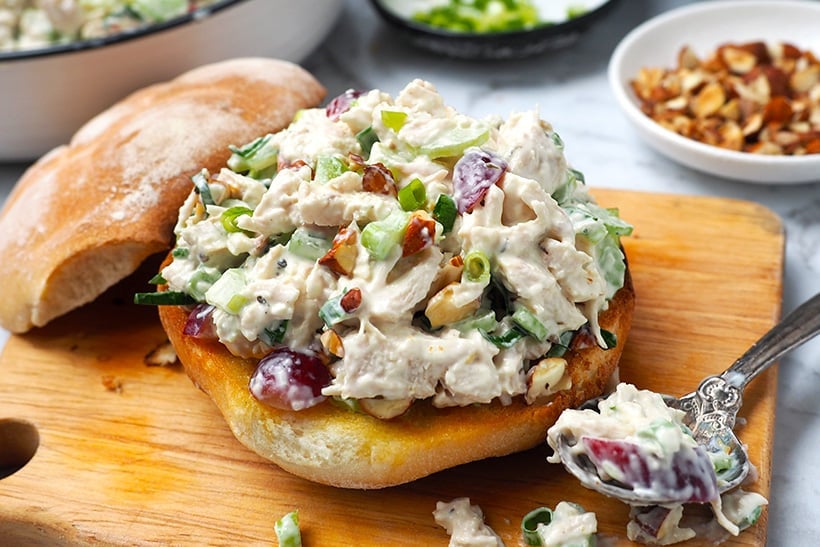 This is a simple, classic, American-style recipe made with creamy mayo, mustard and sour cream dressing, crunchy celery, sweet red grapes, green onions, and a topping of toasted nuts. Using the pressure cooker to prep the chicken breasts results in flavor-infused, tender meat that can be shredded for a quick, easy lunch option. Get the recipe here.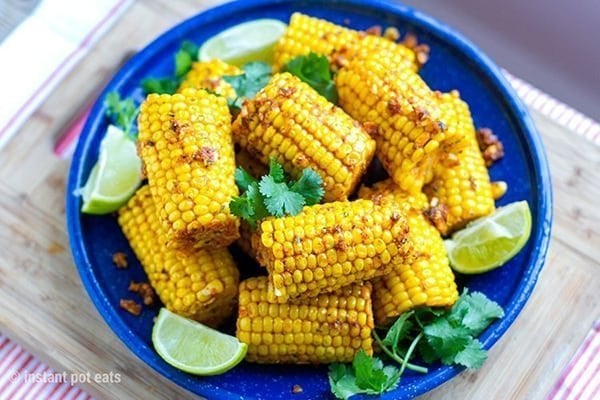 There is nothing like freshly cooked corn on the cob and smothered in butter and sea salt. This corn-on-the-cob recipe is extra special because of the Cajun butter, which is flavored with garlic, sea salt, and delicious herbs and spices. It has a little kick without being too spicy. Even kids will love it! Get the recipe here.
Juicy, tomato meatballs, squishy mozzarella, fresh tomato, and aromatic basil are sandwiched together for a perfect combination of two Italian classics. Get the recipe here.
SUNDAY ROAST
If you feel like a hearty Sunday roast for Father's Day, using the Instant Pot is perfect in the summer months as you don't need to turn on the oven. You can cook a whole chicken, beef pot roast and gravy, or prepare delicious pork main.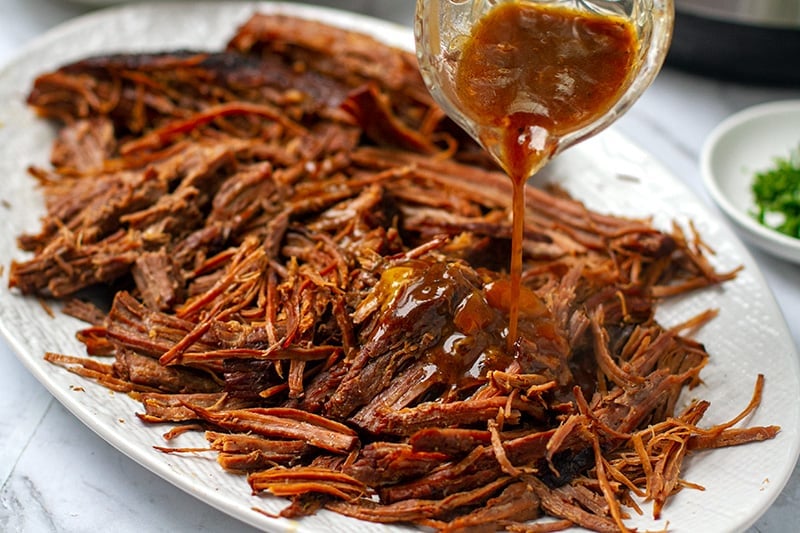 Chuck or topside beef is seared and pressure cooked pot-roast style in a delicious red wine brown gravy resulting in fall apart, tender meat. Served with a side of mashed potatoes and vegetables for a perfect dinner meal. Get the recipe here.
Fall in love with our juicy Instant Pot roast chicken and potatoes slathered with garlic-herb butter. Pressure cooked for speed, then roasted using the Air Fryer lid or in the oven to golden crispy perfection. Cooking broth and drippings are loaded with flavor and make the best gravy to pair with the finished chicken and potatoes. Get the recipe here.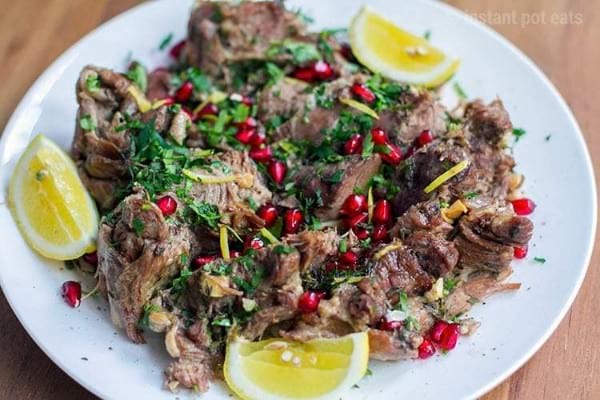 This succulent, melt-in-your-mouth lamb shoulder takes inspiration from Greek cuisine. The meat is flavored with fresh thyme, garlic, and honey and cooked for 40 minutes in the Instant Pot. Served with fresh parsley, lemon rind, and pomegranate to cut through the richness of the meat and to make it look a little more festive. Get the recipe here.
DAD'S FAVORITES
Isn't the whole point of having a day for DAD is to have all HIS favorite things? YES! When we think of things he would love, it's all about the comfort foods that bring the family to the table.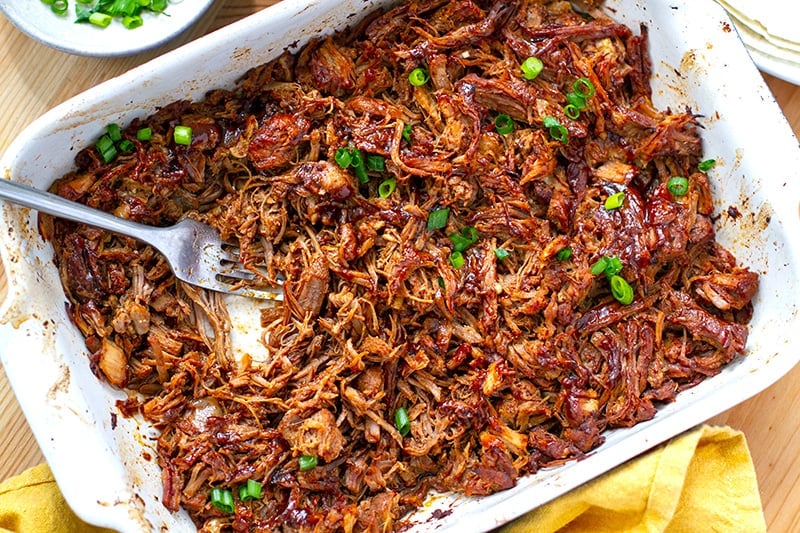 This firecracker Instant Pot pulled pork is cooked perfectly until meltingly tender and finished with a sweet, smoky sauce, with a gentle chili kick. Serve in warm wraps, tacos, sliders, or on baked potatoes or rice. Get the recipe here.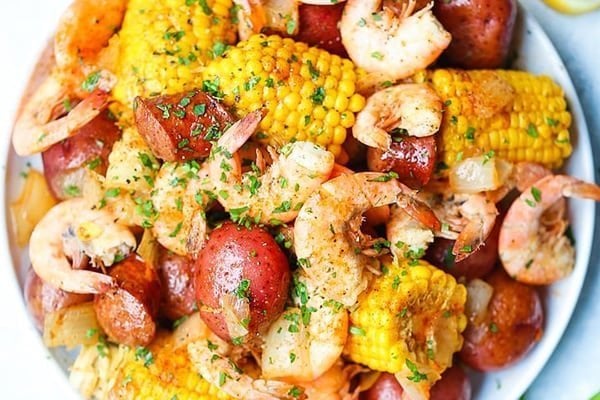 Everyone's favorite low country boil can be made so easily and effortlessly right in your pressure cooker in just 6 minutes! Recipe from Damn Delicious.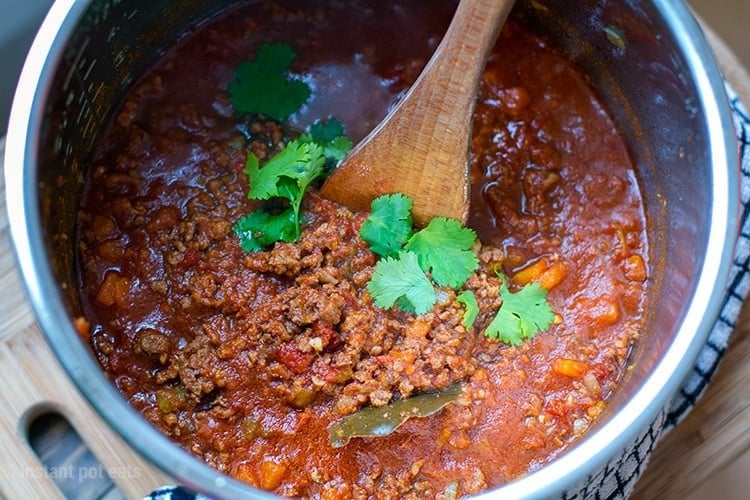 Making a Bolognese sauce in the Instant Pot pressure cooker not only saves time but also locks in all those gorgeous, hearty flavors and nutrients. Served over pasta is always a crowd-pleaser. The best part is it's super versatile and can be turned into many other dishes, such as Shepherd's Pie or spicy beef chili. Get the recipe here.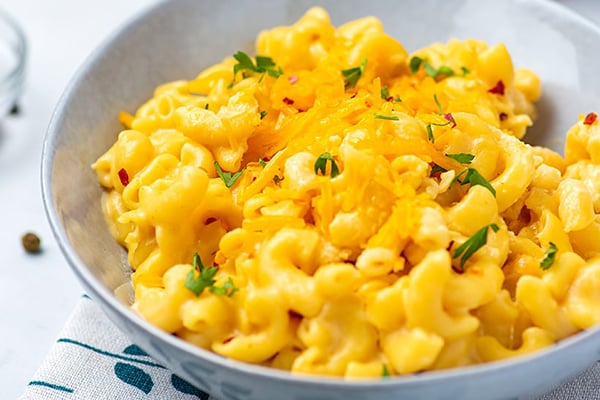 Who doesn't love a good, creamy, cheese pasta? Creamy macaroni and cheese is a great beginner-friendly recipe. Serve this dish as a main with vegetables or salad or as a side dish the whole family will love. Get the recipe here.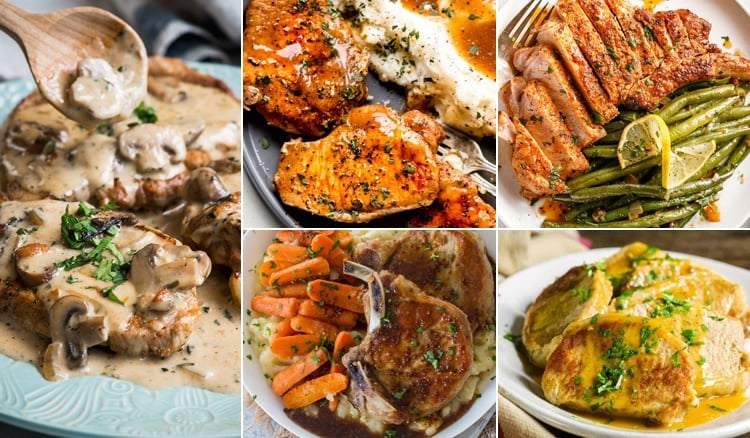 Check out these must-try pork chop recipes. Next to a side of mashed potatoes and green beans, they are a comfort meal that's packed with protein, nutrients and flavor. It's now easier than ever to have moist tender meat for dinner with the Instant Pot. Get recipe ideas here.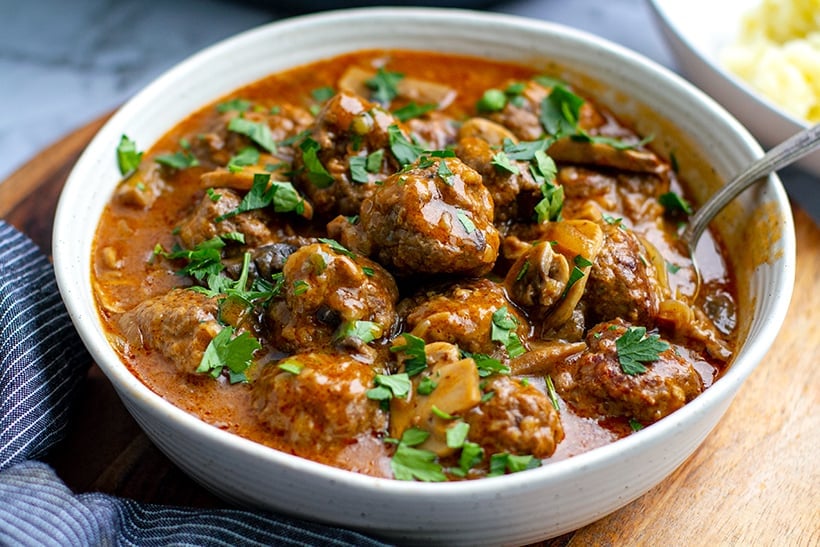 A comforting, family-favorite dinner meal classic with a twist. Made with ground beef, these juicy and saucy pressure cooker meatballs can be served over mashed potatoes, rice or pasta (or veggies). Get the recipe here.
INTERNATIONAL BIG & BOLD FLAVORS
Treat your dad to a virtual trip by dishing up an internationally-themed meal. Have fun with the decorations, drinks music, and recipes. It could be a trip to Greece, Morocco, Italy, or Japan.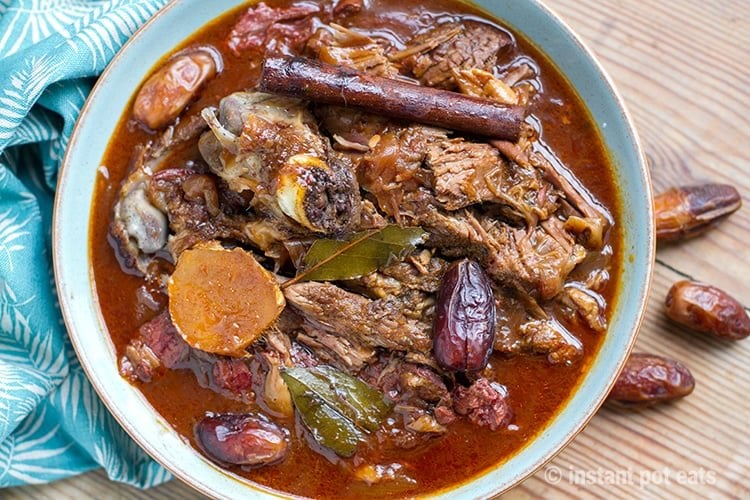 This Moroccan-inspired leg of lamb Instant Pot recipe is made with ginger, dates and cinnamon, it's hearty, warm and incredibly delicious. It's gluten-free and paleo-friendly. You can serve this dish with couscous, turmeric rice, or rice and chickpea pilaf, quinoa or over cauliflower rice for a low-carb version. Get the recipe here.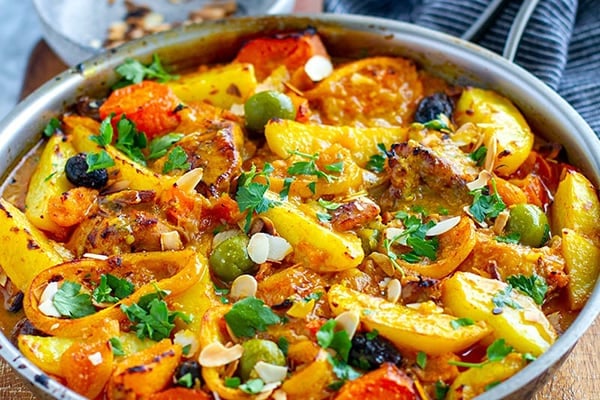 Try this chicken stew with olives, potatoes and apricots. It's beautifully spiced, a little sweet with citrusy, lemony notes. Perfect one-pot dish to serve with couscous, rice or cauliflower rice, or crusty bread on the side. It's gluten-free and Whole30-friendly. Get the recipe here.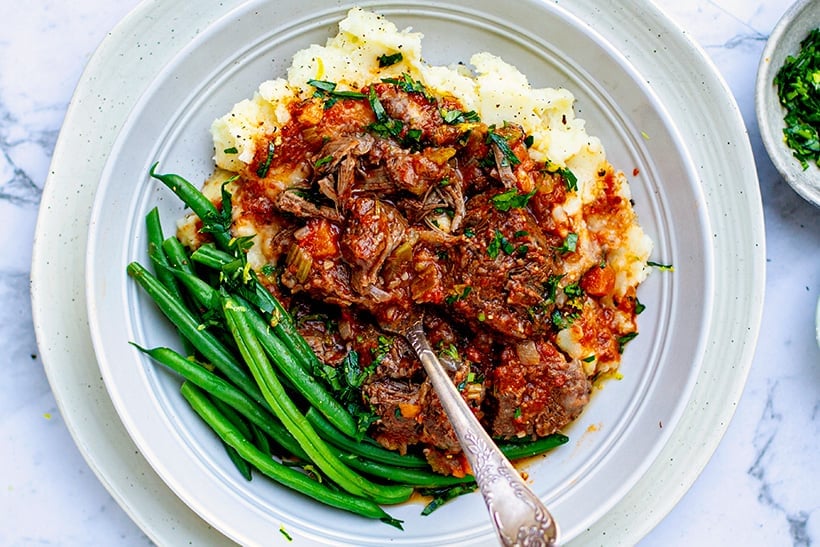 Delicious and hearty beef cheeks braised in tomato and red wine sauce until fall-apart tender. Enjoy them in 4 different ways: pasta ragu sauce, with mashed potatoes, as tacos or as a beef cheek pot pie. Get the recipe here.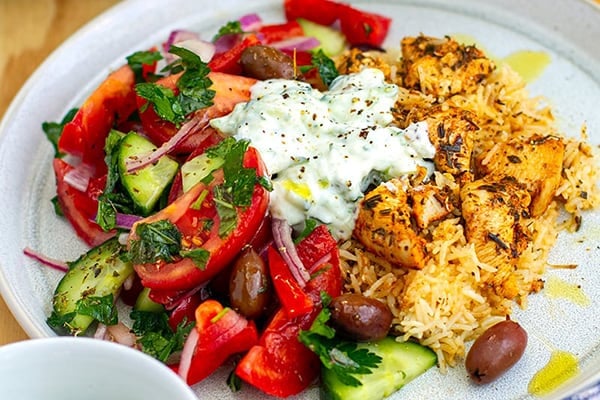 Greek souvlaki is essentially well-seasoned, often marinated meat grilled on skewers, similarly to kabobs, and served as a souvlaki pita wrap or on a platter with a side of cooling tzatziki sauce, rice or potatoes, and salad. As a pita wrap, it's popular street food in Greece but it can also be found one many trattorias and restaurant menus. Get the recipe here.
TACO NIGHT
Why wait for Taco Tuesday when making it in an Instant Pot makes it so easy you can have tacos any time of the week. There are so many variations to tacos today that go beyond the Taco Bell. Restaurants are specializing in gourmet flavors and mixing cultures and traditions, so why not try at home?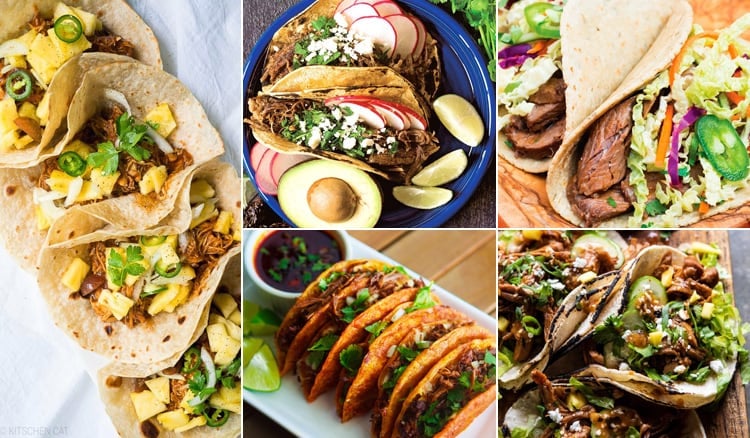 Let's get this party started with Instant Pot Taco Recipes that are delicious, fun and come with a creative culinary twist. We love the fusion of cultures and traditions, like mixing in some Korean bulgogi BBQ, Vietnamese brisket, or Hawaiian pineapple with the heat of jalapeños. Get recipe ideas here.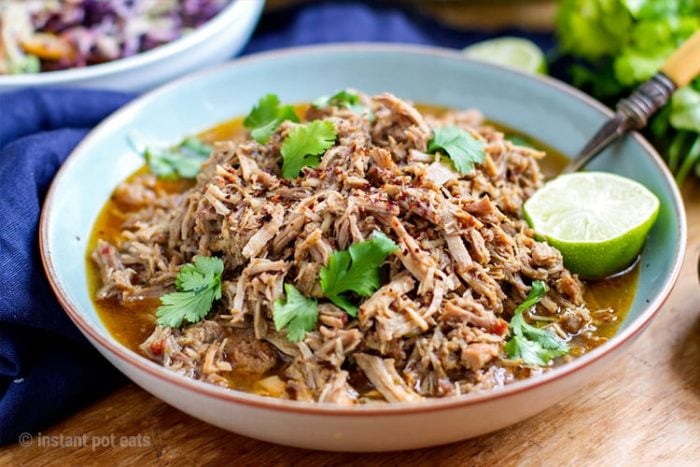 A delicious way to prepare shredded meat that can be made used in tacos, burritos, wraps, over rice, salads, and in casseroles. It's fuss-free and you can meal prep a big batch of moist, shredded pork to enjoy over a few days or to freeze for later. Get the recipe here.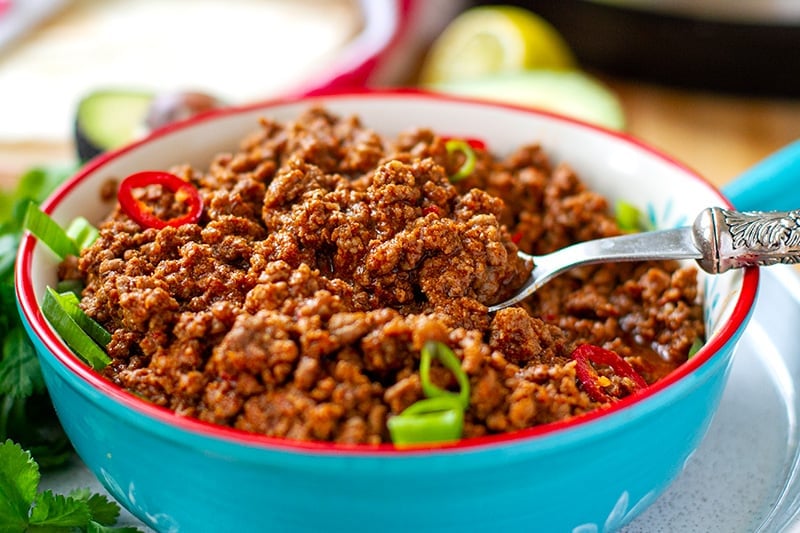 It's affordable, freezer-friendly, and super versatile with different ways you can use up the leftovers. Make a large batch for a taco party or use it up in nachos, casseroles, and salads. Get the recipe here.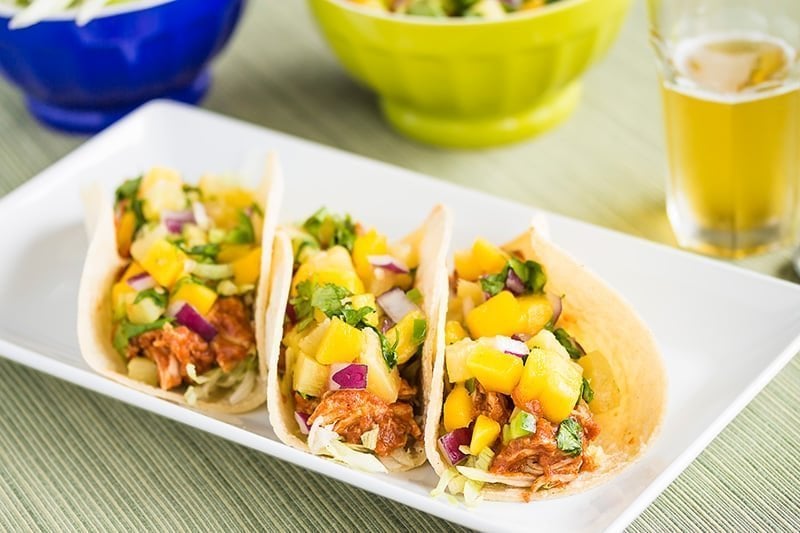 These BBQ Instant Pot chicken tacos are both healthy and delicious. Made with shredded, saucy BBQ meat and topped with zesty and sweet pineapple salsa for that unforgettable tropical twist. Get the recipe here.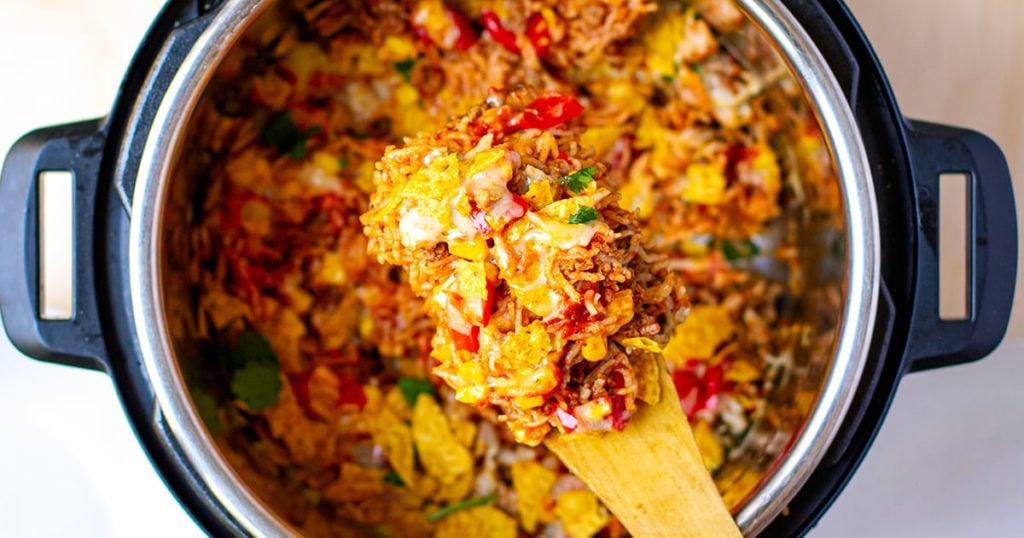 When you don't feel like assembling tacos, the next best thing is to throw everything into the pot. This nachos-inspired Mexican rice and beef casserole is topped with melted cheese and corn chips. Get the recipe here.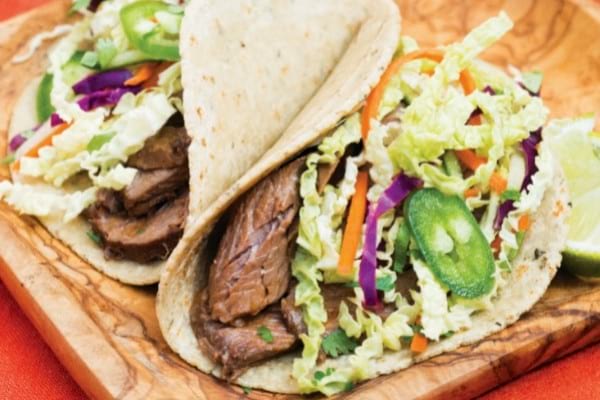 The meat is tender and slightly spicy, bursting with umami flavor. Shredded slaw, jalapeños, cilantro, and zingy lime make for the perfect crunchy toppings, bringing together that awesome Vietnamese street food vibe right to your dinner table. Get the recipe here.
FOR A VEGETARIAN DAD
Not every dad is all about the meat. More are becoming health conscious as an example to their family. When you feel good you can be active and spend long hours playing with the kids.
A heartwarming, thick soup, almost like a stew, that is perfect for a chilly or rainy day or when you need a hit of comfort food. It's super simple, vegetarian and vegan-friendly and is made with a little trick that makes it extra creamy. Get the recipe here.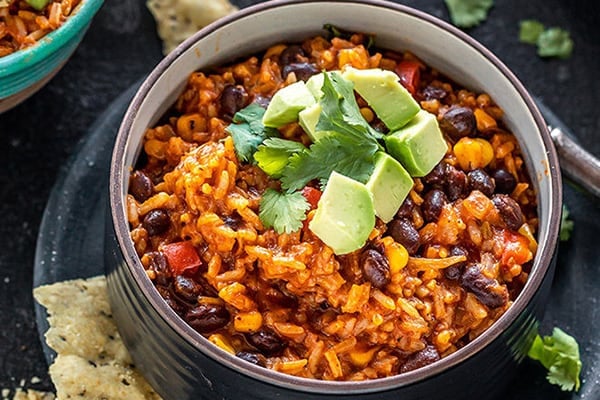 The most important ingredient to make this instant pot enchilada rice super good is using a good enchilada sauce. For this recipe, both red and green enchilada sauce is used. That makes this dish so much more flavorful! Recipe from Cook With Manali.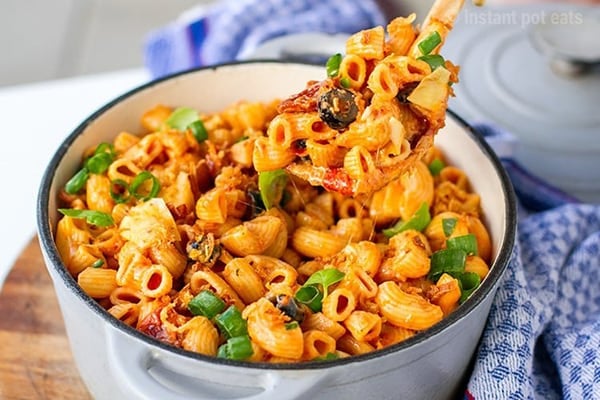 An Italian-inspired Instant Pot mac and cheese that comes with a few Mediterranian additions like olives, artichokes and sun-dried tomatoes. It's a more sophisticated, grown-up mac 'n' cheese recipe BUT the kids will love it just as much as the classic. It's hearty, delicious and perfect for those meat-free Mondays. Get the recipe here.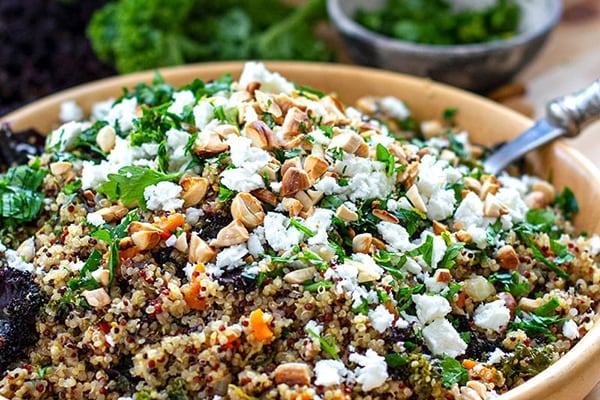 This delicious and healthy one-pot Instant Pot kale and quinoa pilaf is a fantastic vegetarian meal bursting with gorgeous flavors and textures. Cooked in a tasty broth and served with freshly chopped parsley, goat's feta cheese and toasted almonds. Get the recipe here.
DESSERT TO SHARE AROUND
You can't have a celebration without sweet treats to end the meal. Pressure cookers shine in this category when making the smoothest cheesecakes, moist cakes, or quick cobblers.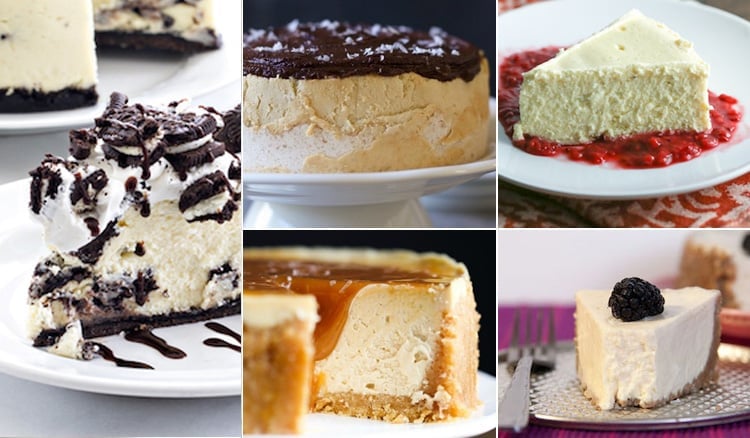 From vanilla and chocolate to salted caramel and light peach, we've got a collection of incredible Instant Pot cheesecake recipes for you to try at home. The pressure cooker is terrific for making cheesecakes and we even have gluten-free, vegan, and keto options. Get the recipe ideas here.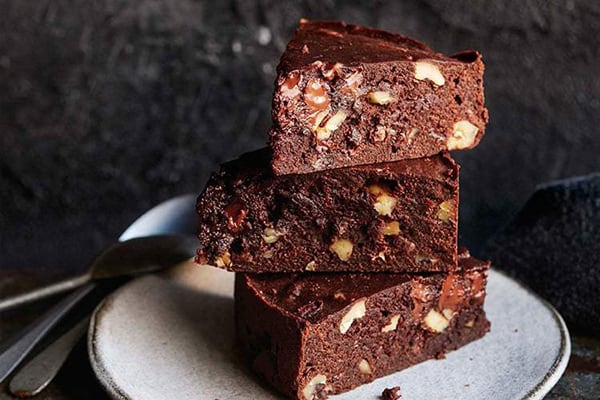 Are you ready for some chocolate?! This Chocolate fudge-inspired Instant Pot brownie cake with toasted walnuts will be a dessert that impresses everyone at the table and makes your chocolate lovers very happy. Get the recipe here.
The perfect simple dessert made with fresh apples, berries, and a few basic pantry ingredients, made quick and easy in the Instant Pot! Get the recipe here.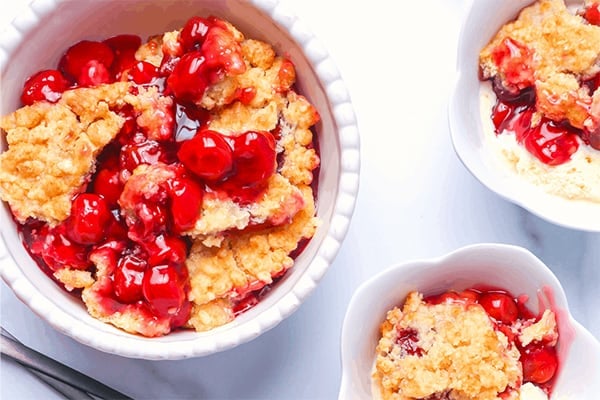 This cobbler is made with yellow cake mix, cherry filling, and a dash of amaretto to really bring out the cherry flavor. Recipe from The Country Cook.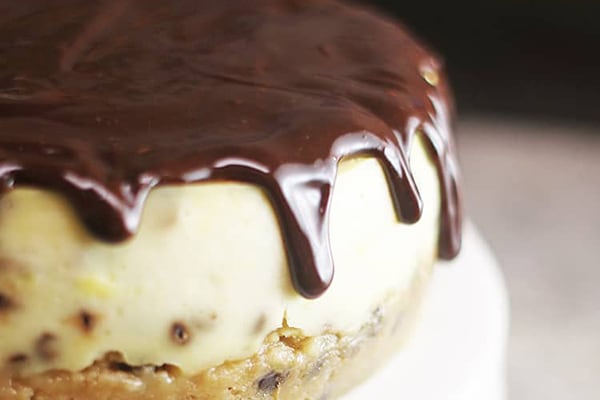 Everything wrapped up in one incredible dessert. It's simple and delicious and impressive! Recipe from Buttery Sweet.
This bread pudding stays moist and delicious and is topped with a sweet and nutty pecan caramel glaze. Recipe from My Forking Life.
---
Save These Father's Day Recipes to Pinterest