We are continuing our Instant Pot Meal Plan series with the 12th edition! This week we have a menu inspired by the Mediterranean diet with 5 wholesome dinners, 2 lunch-friendly dishes, and 1 breakfast. Downloadable PDF with shopping list included (at the bottom).
---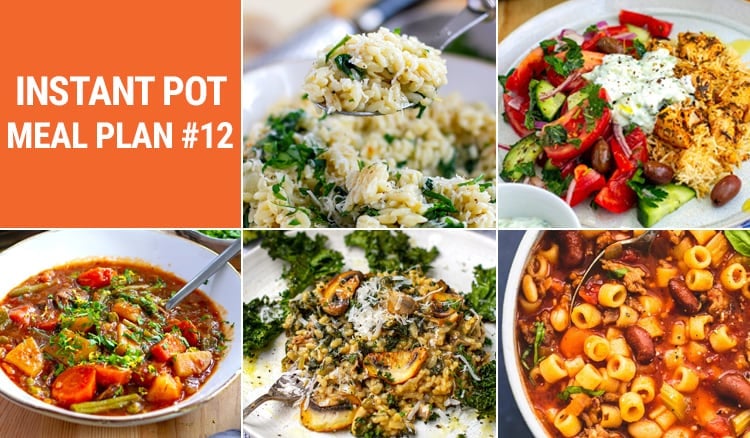 NEW TO MEDITERRANEAN DIET?
A Mediterranean diet is a way of eating that is inspired by the people of the Mediterranean region who focus on generous portions of fresh produce, whole grains, legumes, nuts and seeds, some healthful fats like olive oil, as well as fish and seafood. It's low in refined sugar and features very little meat, mostly chicken or pork.
Mediterranean diet is often recommended as one of the healthiest ways to eat. It's good for your heart and brain, helps to prevent heart attacks, strokes, type 2 diabetes and reduces the risk of Parkinson's disease, cancer, Alzheimer's, and premature death. Plus, it can help you shed a few pounds.
We have a full article on Mediterranean Diet & Instant Pot recipes here.
---
Instant Pot Mediterranean Meal Plan #12
Loaded with almost 10 veggies, this hearty stew is the perfect example of Mediterranean principles. Lots of vegetables, healthy fats, and a little plant-based protein. Serve with garlic bread, ideally made with sourdough bread as it's one of the healthiest options. Get the recipe here.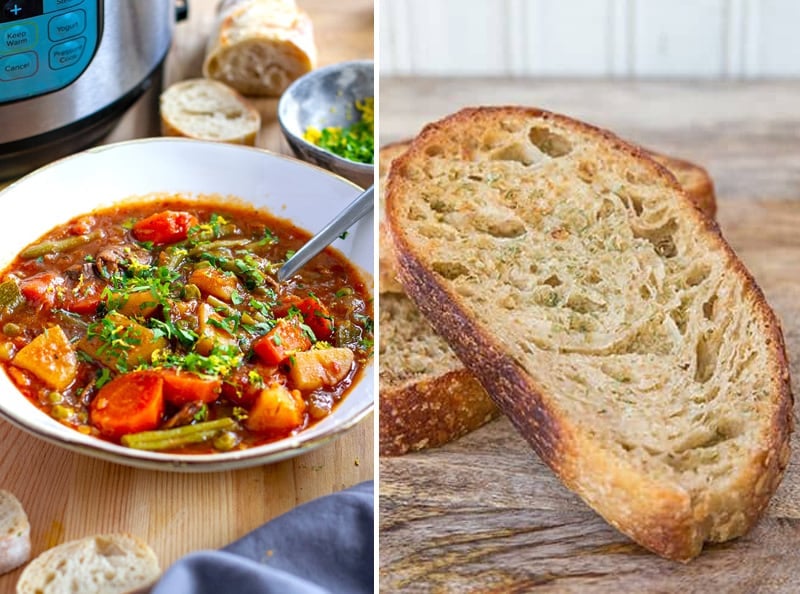 Side: Homemade Garlic Bread from The Kitchen Magpie.
Shopping list: 2 tablespoons olive oil, 1/2 cup salted butter,4 cloves garlic, 1 loaf sourdough bread, and parsley for garnish, 1 onion, 4 cloves garlic, 1oz / 25 g dried porcini mushrooms, 2 carrots, 1 celery stick, 3 potatoes (1.5 lb/700 g), 1/2 sweet potato, 1 zucchini, 4 oz /120 g fine green beans, 2/3 to 1 cup frozen baby peas, 1 tbsp ketchup (tomato paste for Whole30), 2 tbsp soy sauce or Tamari (coconut aminos for Whole30), 1 tsp dried thyme, 2 bay leaves, 1 tsp paprika powder, 1 tsp cumin powder, 1 cup tomato passata or chopped canned tomatoes, 500 ml / 2 cups vegetable stock, 1 vegetable stock cube, crushed (for extra flavor), a pinch of pepper or chili (optional), 3 tablespoons tapioca flour or other fine flour or starch, 1/4 cup parsley, and 1 lemon.
Prep tips/make-ahead: The broth in the stew will thicken with some of the potato starch that will dissolve during cooking, however, you will want to give it more body by adding a little flour right at the end.
Serving suggestions: Serve the stew topped with fresh parsley and lemon zest, also known as gremolata, and toasted garlic bread to soak up the liquid.
---
This lemony, cheesy orzo with nutritious spinach only takes 20-25 minutes from start to finish and is vegetarian-friendly. It would go fabulously well with a tomato salad. Get the pasta recipe here.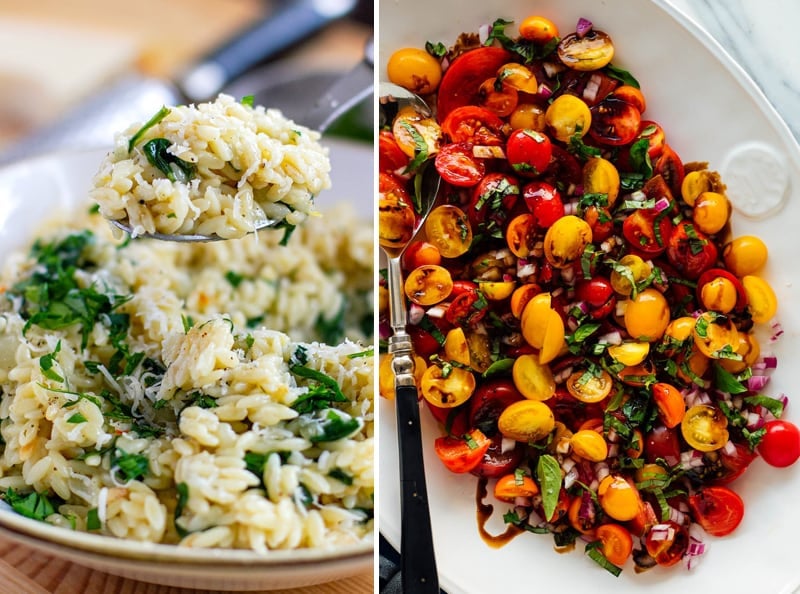 Side: Easy Tomato salad from Cookie & Kate
Shopping list: 1 oz / 25 g butter, 1 medium onion, 1 lemon, 1.5 cup orzo (we use this orzo pasta brand), 2.5 cups vegetable stock, 1 cup grated Parmesan cheese (90 g/3 oz), 2 tbsp lemon juice, 2 cups (2 handfuls) baby spinach, fresh parsley and extra grated cheese to garnish.
Prep tips/make-ahead: If you want to create this dish without orzo, you can use long-grain rice (same cooking time) or another type of short-cut pasta. You can add carrots, celery or mushrooms, or tinned tomatoes to cooking orzo; or, finish it with cherry tomatoes, capers, fresh herbs, feta, olives, or whatever you have on hand. Orzo is a great canvas for creating something unique and special.
Serving suggestions: Serve with tomato salad on the side to add color to your plate.
---
Easy and tasty Instant Pot Pasta E Fagioli Soup is full of comforting, savory flavors and ingredients — like garlic, Italian sausage (optional) and seasonings plus veggies and two kinds of beans — that will warm you all season long. Get the recipe here.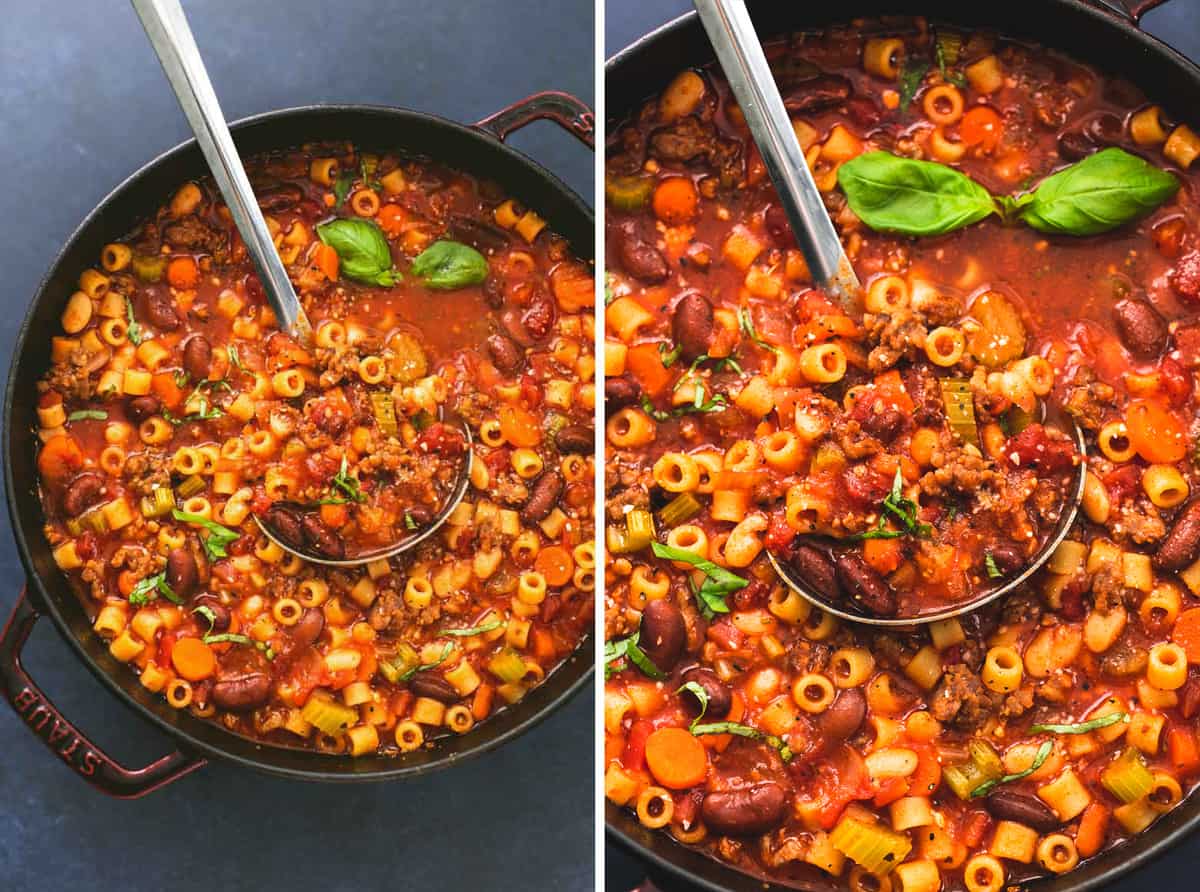 Shopping list: ⅔ cup dried white great northern or navy beans, ⅔ cup dried red kidney beans, 1 pound ground Italian sausage – (mild or spicy), ½ yellow or white onion, 3 tsp minced garlic, 4 cups chicken broth, 1 (15 oz) can tomato sauce, 1 15 oz can diced tomatoes, 2 celery ribs, ½ cup carrots, 1 cup ditalini pasta, 1 ½ tsp dried Italian blend seasoning – (OR substitute ½ teaspoon each dried basil, dried thyme, and dried oregano), ¼ tsp crushed red pepper flakes, fresh basil, cracked black pepper, grated parmesan cheese (for topping).
Prep tips/make-ahead: Before you put the beans in the Instant Pot, you'll need to soak them a bit by covering them with cold water and letting them soak the night before (or at least 6-8 hours). Then, after they have soaked, you should drain and rinse that water, add them to a large stockpot, and cover with fresh water. Bring them to a boil, then reduce heat and let them simmer for about an hour, stirring occasionally until the beans are tender and cooked all the way through. Drain again.
Serving suggestions: Garnish with cracked black pepper, fresh basil, and grated parmesan cheese if desired and serve!
---
This vegetarian risotto is rich in nutrients and very flavorful. You can use kale or any other leafy greens and your favorite mushrooms. Leftovers can be turned into easy pan-fried risotto patties and served with salad for lunch. Enjoy this main on its own or with a side of green salad. Get the recipe here.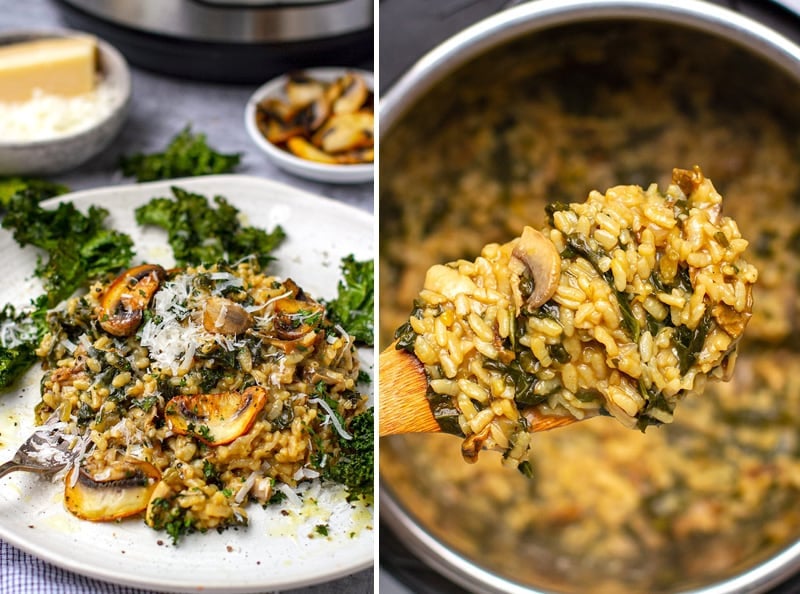 Shopping list: 1.5 tbsp olive oil, 2 tablespoons butter, 5 kale leaves (3 leaves if not making kale chips), 10 medium mushrooms (Cremini, Swiss Brown, Bella), 1 onion, 1 celery rib, 3 garlic cloves, 1/2 cup dried Porcini mushrooms, 1 tbsp soy sauce or Tamari (GF) sauce, 1.5 cups Arborio risotto rice, 4 cups vegetable stock, 1 tablespoon lemon juice, and 1 cup shredded Parmesan cheese.
Prep tips/make-ahead: Unlike regular rice, Arborio rice doesn't and shouldn't be rinsed prior to cooking because we want to keep all that lovely starch intact.
Recommended sides: Served this mushroom risotto with extra pan-fried mushrooms and roasted kale chips for texture and presentation but they are not essential if all you have the energy for is a one-pot Instant Pot dish.
---
If you fancy a little chicken on the menu, this Greek-inspired souvlaki dish is just the ticket. Mediterranean-flavored chicken and rice served with a delicious Greek salad. Both dishes are in the same recipe. Get the recipe here.
Shopping list: 5 tbsp olive oil, 2 skinless chicken breast (about 1 lb of meat), 5 garlic cloves, 1 tbsp dried oregano, 1 tsp dried rosemary, 1 tsp sweet paprika, 1 lemon,
1.3 cups long-grain rice, 1.5 cups vegetable stock or chicken stock, 2 tomatoes, 1 bell pepper, 1 cucumber, 1 red onion, parsley, mint, 1.5 tbsp red wine vinegar, 1/3 cup Kalamata olives, 1/2 tsp dried oregano, 1/2 cup Greek yogurt or plain, unsweetened, 1 cucumber, and 2 garlic cloves.
Prep tips/make-ahead: You can use regular long-grain rice such as Basmati or Jasmine but medium-grain will also work. Make sure to rinse the rice really well under cold water (4-5 times), which will keep it nice and fluffy . We use diced chicken breast but you could use turkey, chicken thighs, diced pork, lamb or beef for this recipe. If using low-sodium stock, add a little salt to the rice when cooking.
Recommended sides: While it's lovely to keep with the whole Greek theme here, you can make any kind of salad you like. No time to cut up the vegetables and herbs? Pick up a pre-made salad in a bag! As with the salad above, if you're short on time or energy, feel free to pick up ready-made tzatziki sauce or dip from the supermarket.
---
This Instant Pot fish recipe is so ridiculously easy and delicious that it will quickly become your weekly staple. Helped by the fact that it's healthy and nutritious and you can make it with budget-friendly frozen fish (white or salmon), it's worth trying even if you don't often cook fish at home. Serve with rice, quinoa, or pasta. Get the recipe here.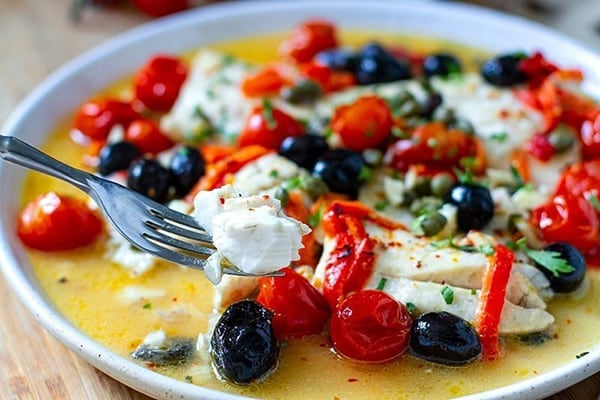 Shopping list:4 frozen white fish fillets, about 3-4 oz. each (we used 2 whole sea bass fillets cut in halves), 12 cherry tomatoes, 12-14 black olives (we used these), 2 tbsp marinated baby capers, 1/3 cup sliced roasted red peppers (like this brand), 2 tbsp olive oil, a pinch of chili flakes and chopped fresh parsley or basil for garnish.
Note: Since this is an optional recipe, it is not included in the downloadable shopping list.
Prep tips/make-ahead: Cooking fresh fish: Add 1/2 cup water and set to LOW PRESSURE for 5 minutes with 7-8 minutes release. Cooking larger fish fillets: Increase time to 6 minutes on HIGH.
Recommended sides: You can serve this fish and broth over some al dente cooked pasta, boiled potatoes, rice, or with a side of crusty bread. Cooked quinoa or lentils would also work well as a side dish. For a low-carb/Whole30/paleo version, serve over cauliflower rice, cooked sweet potatoes or white potatoes, or with zucchini noodles.
---
These Moroccan Instant Pot lentils are perfect for meal prep! They are vegan, gluten-free, freezer-friendly and delicious. Serve with rice, quinoa, pasta or some wraps. Get the recipe here.
Shopping list: 1 cup whole brown lentils or green lentils, 19 oz can of diced tomatoes,2 carrots,1 onion,2 ribs celery, sweet potatoes, 1 tsp paprika,1 tsp cumin, ½ tsp cinnamon, ¼ tsp ground cloves, ¼ tsp ground ginger, 1 tsp onion powder, 1 tsp garlic powder, ¼ tsp cayenne, 1 tbsp maple syrup (brown sugar or honey work as well), and2 cups vegetable stock.
Prep tips/make-ahead: This recipe was tested with both whole brown lentils and green lentils. Either one works great! Red lentils may overcook and become very mushy in this recipe. You can add other vegetables, but after cooking, 15 minutes will disintegrate most veggies.
Serving suggestions: Try stirring a few handfuls of spinach in after cooking. Try adding in some steamed cauliflower, green beans, or zucchini before serving or adding in some frozen peas, kale, spinach, or even cauliflower rice before serving.
Creamy tuna pasta salad is a super budget-friendly pantry recipe that's easily adaptable with the ingredients you already have at home! Perfect for lunch meal prep or an easy weeknight dinner. Get the recipe here.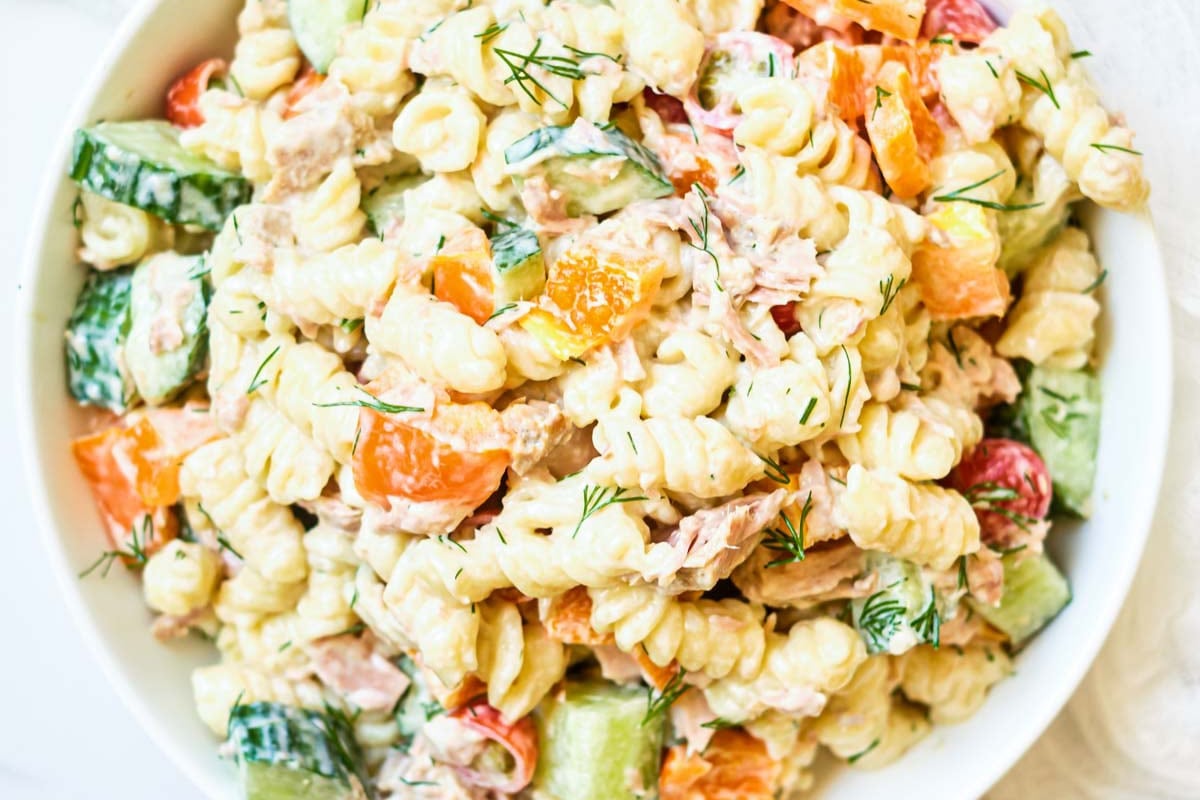 Shopping list: 1 pound (450g) pasta, 2 bell peppers, 2 cucumbers, 2 cups (300g) grape or cherry tomatoes, 1 pound (224g) canned tuna, 1 cup (230g) mayonnaise, 1 cup (285g) greek yogurt, and 3 tbsp fresh chopped dill.
Prep tips/make-ahead: Make sure to rinse the pasta quickly after cooking and before combining it with the rest of the ingredients – this cools it down quickly and avoids overcooking. Drain the pasta well before adding in the rest of the ingredients so the creamy dressing does not get diluted down. For the Instant Pot version – you really do want to keep the time under pressure to 4 minutes, any longer will likely turn the pasta to mush.
Serving suggestions: If not serving straight away keep it chilled and mix every so often for the flavors to infuse.
---
This quinoa breakfast porridge bowl is an easy make-ahead breakfast that is loaded with plant-based protein. The perfect alternative to store-bought breakfast cereal and you can use your favorite toppings like berries, nuts, seeds, toasted coconut, and a drizzle of honey. Get the recipe here.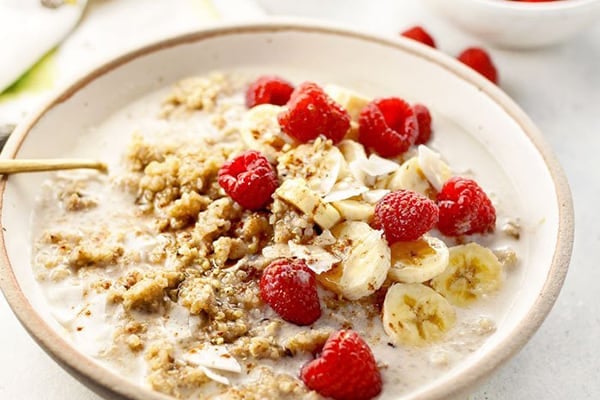 Shopping list: 1 1/2 cups quinoa , 1 (15 ounce) can coconut milk, or milk of choice, 1 tsp ground cinnamon, 1/4 cup pure maple syrup, 2 tsp vanilla extract, fresh fruit, coconut flakes, Hemp hearts, and non-dairy milk.
Prep tips/make-ahead: This recipe makes a big batch for the week, so you can store it as single servings in the fridge for a quick breakfast on the go.
Serving suggestions: Pack it up for work or school, along with some fresh fruit to put on top, or eat it at home as a quick no-fuss breakfast with almond milk as a healthier cereal replacement.
---
---
SAVE INSTANT POT MEAL PLAN #12 TO PINTEREST