Creamy, earthy and packed with umami flavor, this Instant Pot mushroom risotto with added kale delivers on both the taste and the nutrition. It's a restaurant-quality meal made at home and is vegetarian-friendly and gluten-free. Leave a rating or comment at the bottom of this post if you've made this recipe or have any questions!
---
INSTANT POT MUSHROOM RISOTTO
Instant Pot is fantastic for cooking rice, including the Italian family favorite – risotto. We have a beginner-friendly recipe for how to cook a simple vegetable, lemon and Parmesan risotto here but the idea is once you know the template Instant Pot risotto recipe, you can create so many variations with different vegetables, protein, and flavors. In this recipe, we are making the classic mushroom risotto with kale.
Kale is a nutrient-dense leafy green that works well with rice and mushrooms. Its hardy leaves can be well-cooked so you can add them at the same time as rice and mushrooms, plus all the nutrients remain in the dish as nothing gets discarded. If you don't have kale, you could use collard greens, Swiss chard or rainbow chard, or English spinach. Check out this Kale & Quinoa Pilaf for another dinner idea.
We served this mushroom risotto with extra pan-fried mushrooms and roasted kale chips for texture and presentation but they are not essential if all you have the energy for is a one-pot Instant Pot dish.
Instant Pot risotto is easier and quicker to make than a stovetop version, so even if you've always been intimidated by cooking risotto before, do give this recipe a try!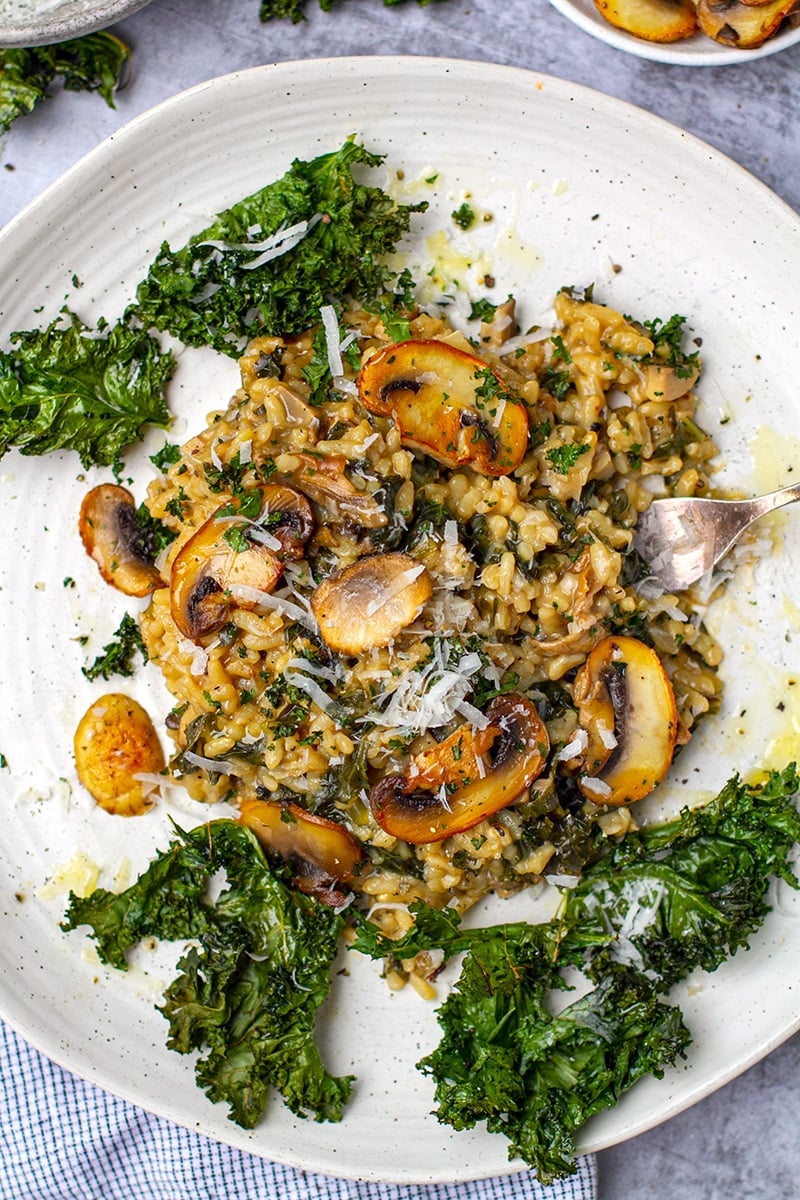 ---
MORE INSTANT POT RISOTTO RECIPES
---
INGREDIENTS FOR MUSHROOM RISOTTO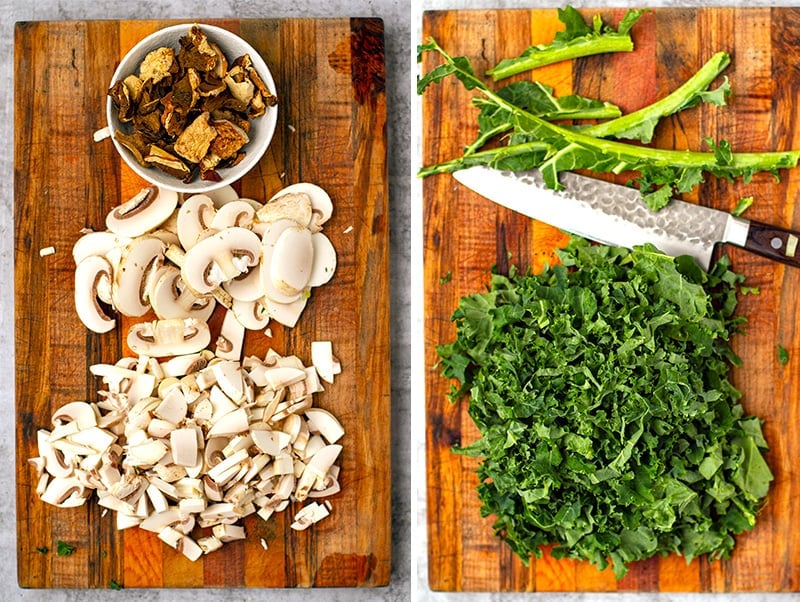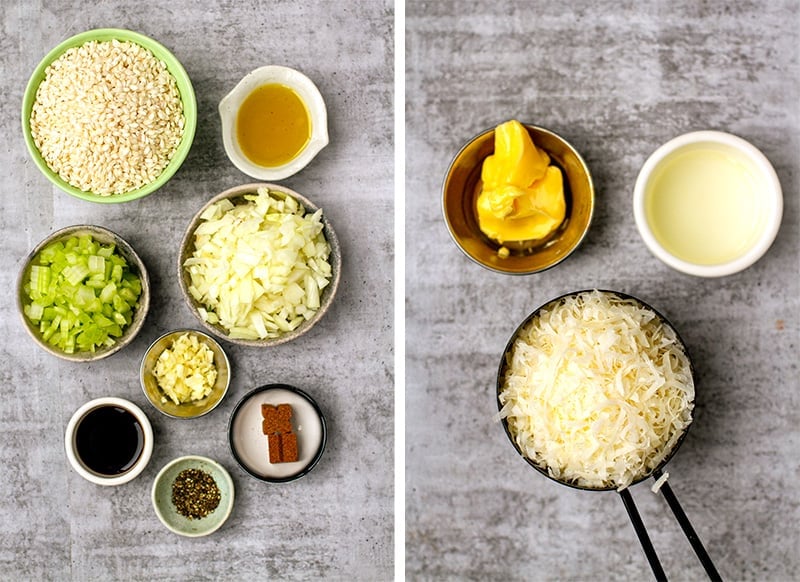 Risotto Rice: The most essential ingredient for a proper risotto is Arborio rice. This rice is short-grain and is high in starch, which is released during cooking giving the dish that creamy, thick consistency. Unlike regular rice, Arborio rice doesn't and shouldn't be rinsed prior to cooking because we want to keep all that lovely starch intact.
Vegetables: Onions, garlic, and celery build a base of most risotto dishes. You could also add diced carrot, zucchini or green peas to this particular risotto. Kale is a fantastic leafy green that's hardy enough to be cooked for as long as the rice. It's also highly nutritious and works well with mushrooms.
Mushrooms: We use a combination of fresh mushrooms such as regular white button cremini, Swiss brown or Portabella, and some dry porcini or other wild mushrooms, which add an extra mushroom-y, forest-y, earthy flavor.
Stock: A lot of the flavor in the risotto comes from the stock it cooks in. You can use pre-made vegetable or chicken stock or water and stock cubes. In either case, try to get good quality, tasty stock. If you like to control the salt yourself, using low-sodium stock allows you to add more or less salt yourself. We also added a little soy sauce for extra umami flavor.
Finishing touches: A risotto wouldn't be what it is without the addition of butter and generous amounts of Parmesan cheese. Both add creaminess and lots of rich flavor. A little lemon adds a touch of acidity that cuts through the richness.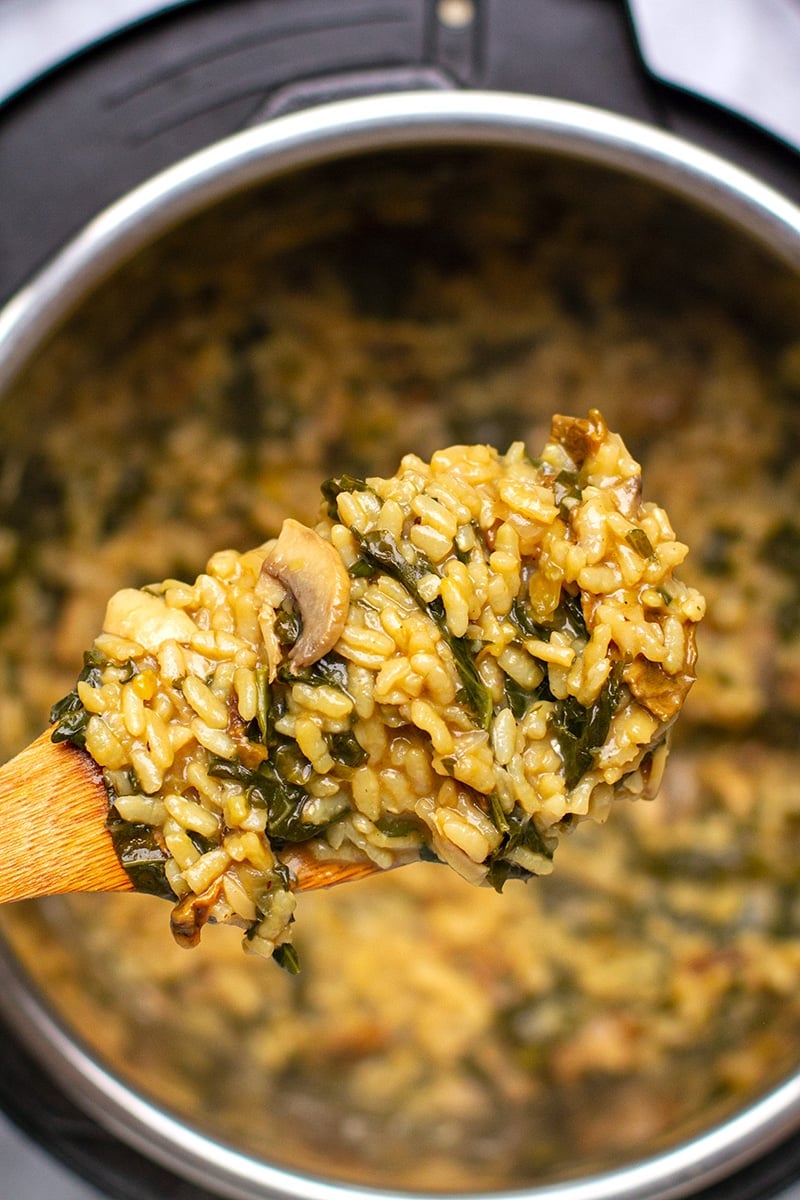 Print
Instant Pot Mushroom & Kale Risotto
Author:

Prep Time:

20 minutes

Cook Time:

20 minutes

Total Time:

40 minutes

Yield:

4

-6

1

x

Category:

Main

Method:

Instant Pot

Cuisine:

Italian-inspired

Diet:

Vegetarian
---
Description
Learn how to make a delicious and nutritious Instant Pot mushroom and kale risotto. This vegetarian-friendly, gluten-free dish is great for a family dinner and is of restaurant quality but made in your kitchen. Find step-by-step photos for how to make this mushroom risotto and kale chips below this recipe card.
---
5 kale leaves (3 leaves if not making kale chips)

10 medium mushrooms (Cremini, Swiss Brown, Bella)

Olive oil (plus, oil spray is handy)

Salt 

For cooking the risotto:
1.5 tablespoons olive oil

1 medium onion, finely diced

1 celery rib, diced small

3 garlic cloves, finely diced

1/2 cup dried Porcini mushrooms, roughly cut 

1/2 teaspoon black pepper

1/2 teaspoon salt

1 tablespoon soy sauce or Tamari (GF) sauce

1.5 cups Arborio rissoto rice

4 cups vegetable stock (we used water and stock cubes) 

To finish the risotto once cooked:
2 tablespoons butter

1 tablespoon lemon juice

1 cup shredded Parmesan cheese
---
Instructions
For kale chips (optional).

 Preheat the oven to 345 F / 175 C. Remove the stems from two kale leaves and tear them into pieces. Wash and thoroughly dry kale with a salad spinner or kitchen towel. Drizzle kale with olive oil and sprinkle with seasoning salt. You can use oil spray for this step. Place on a flat baking tray/sheet and spray with olive oil. Bake until the edges brown but are not burnt – 10 to 15 minutes – and check halfway through to see if any leaves need to be turned or moved around. 

Prep for risotto. 

Remove the remaining kale leaves from the stems and wash them. Chop them roughly and set them aside. Slice 4-5 mushrooms for pan-frying and set aside. Dice the remaining mushrooms for cooking the risotto, about 1 cup. Dice the onion, celery, garlic and roughly chop the dried porcini mushrooms. 

Saute. 

Press the Saute button on the Instant Pot and once hot, add the olive oil, onions and celery and cook for 2-3 minutes, stirring a couple of times. Add diced mushrooms, dried porcini mushrooms and garlic and stir through for a minute. Cancel the Saute. 

Add the salt, pepper and stock cubes, if using. Pour in the 4 cups of water or stock, and 1 tablespoon soy sauce. Stir through, scraping the bottom of the pot with a spatula. 

Add the unrinsed Arborio rice and stir through. Finish with the chopped kale and use the spatula to press it down into the liquid. 

Set & Cook: 

Set to Pressure Cook on HIGH for 5 minutes. After a few beeps/seconds, the ON sign will come on indicating the pot is heating up and the pressure is building; pressurizing will take about 

7 minutes

 and then the 5-minute timer will begin. 

Once the timer is done, allow the pressure to release naturally for about 3-5 minutes. Then use the quick release to let off the remaining pressure.

Prepare other bits. 

While the rice is cooking, prepare butter, Parmesan and lemon juice. Pan-fry the sliced mushrooms in a little olive oil for 5-6 minutes on medium-high heat, until browned. Stir a few times and season with a little salt. Set aside.  

Finish the dish. 

Remove the Instant Pot lid. Most of the liquid should be absorbed into the rice but not all. Add butter, Parmesan cheese and lemon juice and stir through until melted and creamy. 

IF the rice has absorbed all stock, you can add a little extra stock or water to thin it out.

 Taste for salt and pepper. 

Serve: 

Serve with pan-fried mushrooms and kale chips on top.
---
Notes
Storing leftovers: Risotto is best eaten served right away as it will get firmer and thicker once it's cold; having said that, it will keep for 1-2 days in the fridge and can be reheat with a little stock or water to thin back out.
Leftover risotto can be used to make risotto balls or fritters. Simply add more grated cheese, some flour and an optional egg and mould into round patties. You can dip them into breadcrumbs or dust with extra flour. Pan-fry in a thin layer of oil until crispy and lightly golden brown on each side. 
Freezer: If you want to freeze the risotto for later, do it before adding butter or cheese as dairy doesn't freeze well. Once the risotto is pressure-cooked, cool it down and store it in a freezer-friendly container. Defrost overnight or in a microwave, then reheat together with some water or stock on the stove or Saute setting in the Instant Pot. Once hot, add the butter and Parmesan cheese to finish the dish. 
Nutrition
Serving Size:

1.5 cups of cooked risotto

Calories:

325

Sugar:

5.4 g

Sodium:

1320.8 mg

Fat:

17.1 g

Carbohydrates:

32.1 g

Fiber:

2.2 g

Protein:

12.6 g

Cholesterol:

29.7 mg
Keywords: Instant Pot, Mushrooms, Kale, Rice, Risotto, Vegetarian, Gluten-Free
HOW TO MAKE INSTANT POT MUSHROOM RISOTTO
We used a 6-quart Instant Pot Duo model to make this risotto. If making the kale chips, start on them first so you can work on the risotto while they are baking. See how to make kale chips below.
Step 1. Saute onions and celery in a little olive oil.
Step 2. Add diced fresh mushrooms, dried Porcini and garlic and cook for another minute.
Step 3. Add seasoning and stock cubes if using. Then pour in the 4 cups of water or stock. Stir through.

Step 4. Add the rice (unrinsed, to keep all the starch in) and stir. Top with chopped kale leaves and fold them into the broth.
Step 5. Pressure Cook for 5 minutes on HIGH. Release pressure naturally for 4-5 minutes and then do the quick release.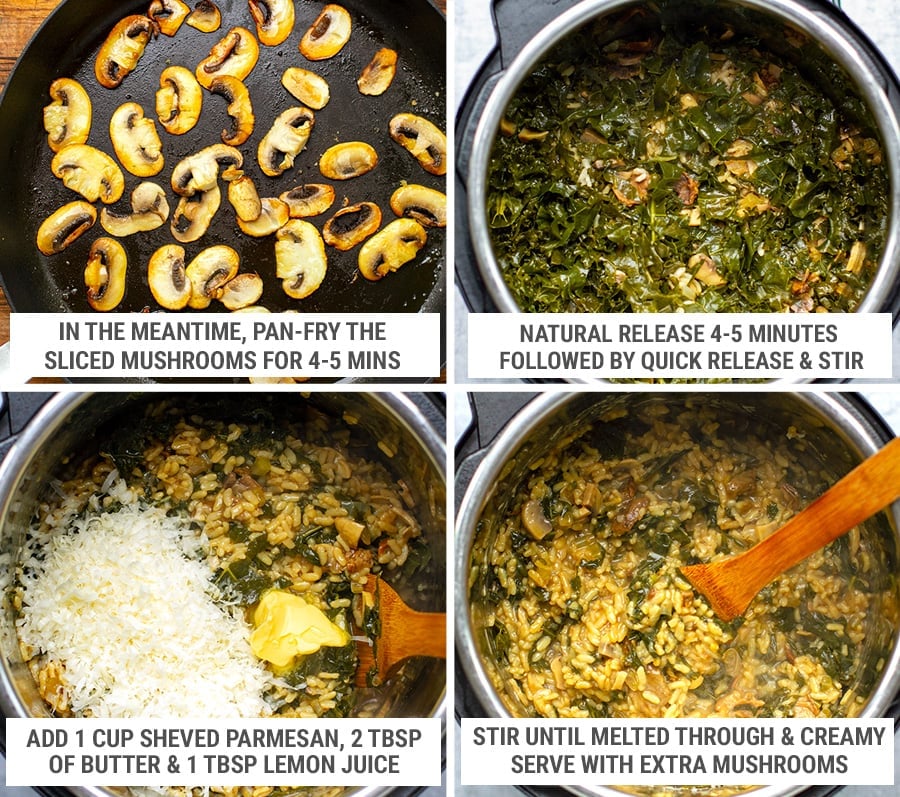 Step 6. Pan-fry mushrooms in a little oil or butter for 4-5 minutes until brown on each side, season with a little salt. Set aside.
Step 7. Stir the risotto, then add the butter, cheese and lemon juice. Stir until melted through and creamy. Serve with the extra mushrooms and kale chips (optional).
HOW TO MAKE KALE CHIPS IN THE OVEN
Remove kale leaves from the stems and tear them into pieces. Wash and dry with a salad spinner or kitchen towel.
Preheat the oven to 345 F / 175 C. Drizzle kale with olive oil or use an oil spray. Season with salt. Bake on a flat tray for 10 to 15 minutes until crispy and but don't let it get too brown. Check halfway through to see if any leaves need to be turned or moved around.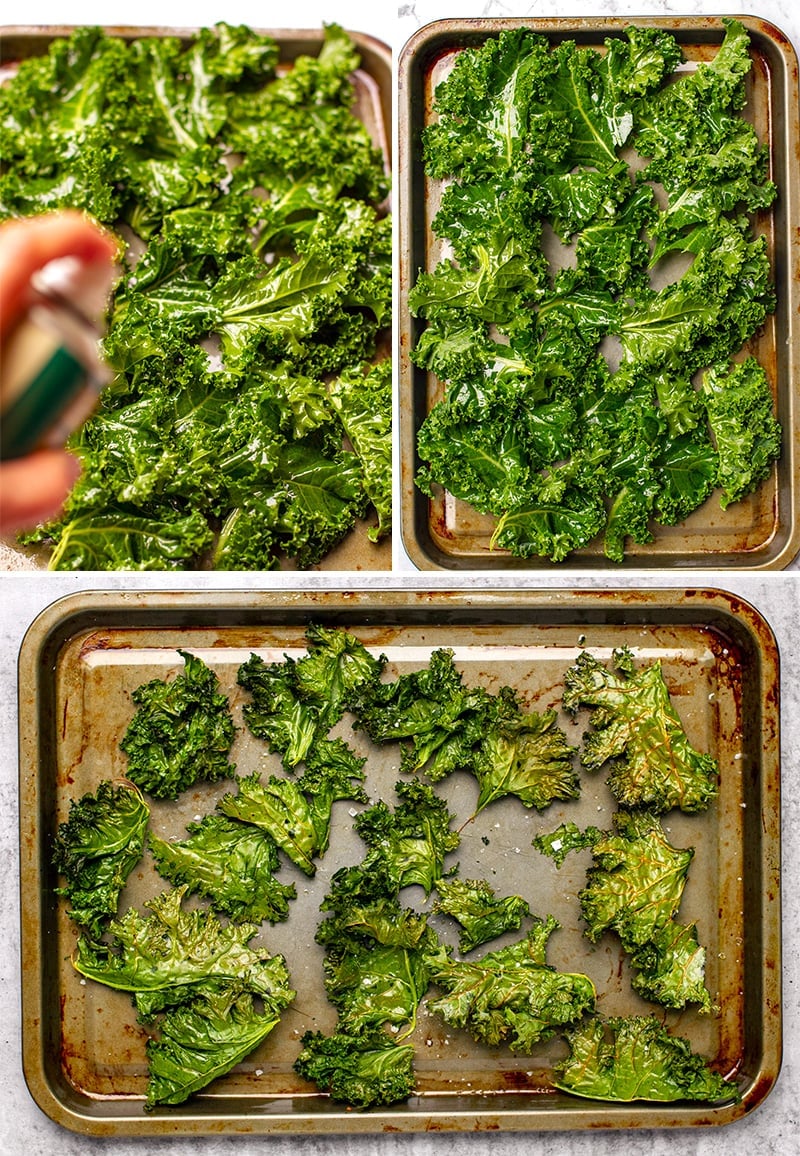 We hope you enjoy this Instant Pot mushroom risotto with a nutritious kale twist!