In this roundup article, we bring you the best Instant Pot dinner recipes that will make mealtime a breeze. Whether you're looking for a healthy and nourishing meal, a comforting classic, or a tasty vegetarian dish, you're sure to find a recipe to suit your taste and needs.
---
The Instant Pot is a versatile kitchen appliance that has revolutionized the way we cook. From quick and easy healthy dinners to delicious chicken, family-friendly, and vegetarian meals, the Instant Pot has made it possible to create mouth-watering dishes in a fraction of the time.
This collection presents an assortment of the best Instant Pot dinner recipes that will simplify your meal prep. From nutritious and wholesome meals, to comforting classics and yummy vegetarian options, there is a recipe for every taste and requirement.
So sit back, relax, and get ready to discover the best Instant Pot dinner recipes!
---
Easy Instant Pot Dinner Recipes
Easy dinners are the perfect solution for busy weeknights, offering delicious and hassle-free meals that can be prepared in under 30 minutes using an Instant Pot pressure cooker. Whether you're in the mood for a hearty stew, a flavorful pasta dish, or a healthy vegetable-packed meal, there's an Instant Pot recipe to suit everyone's taste.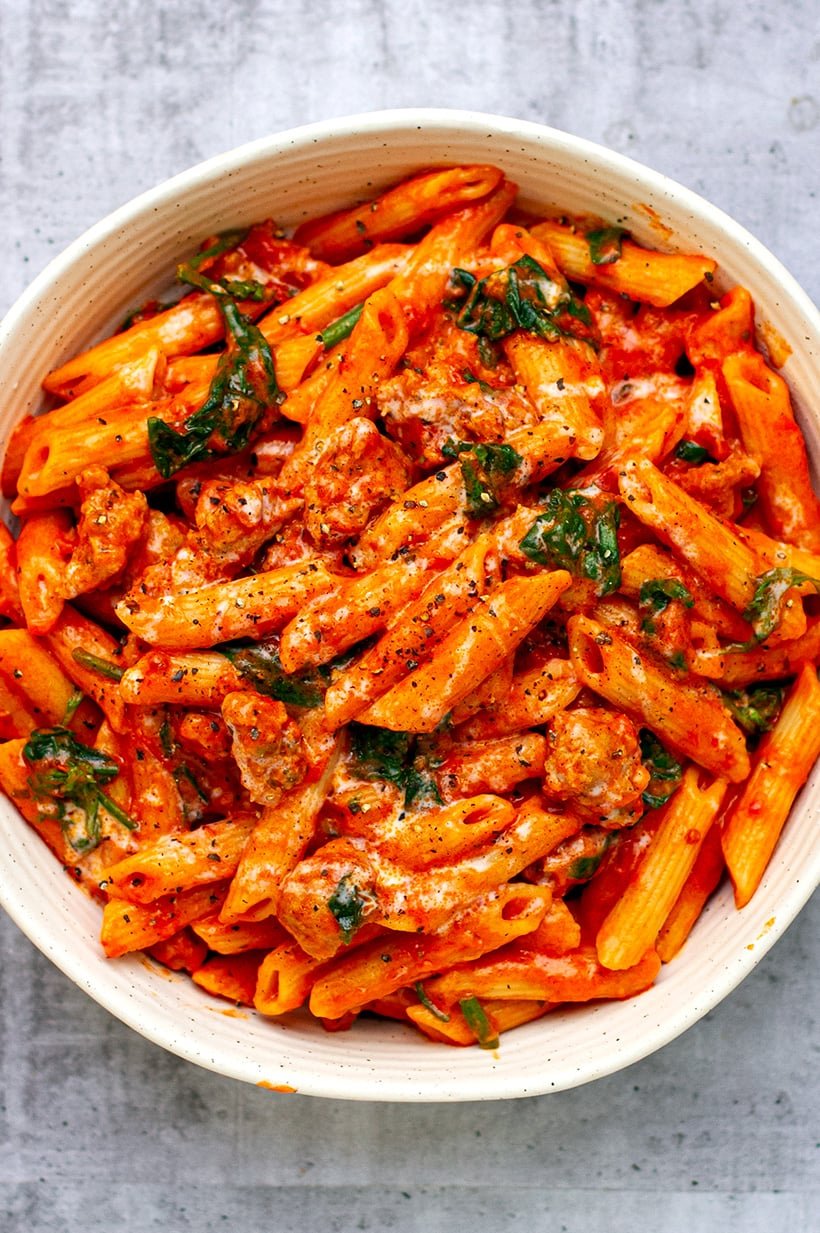 This 5-ingredient recipe is perfect for speedy dinners, when on the budget, while travelling with your Instant Pot or making a last-minute meal for friends. Get The Recipe Here.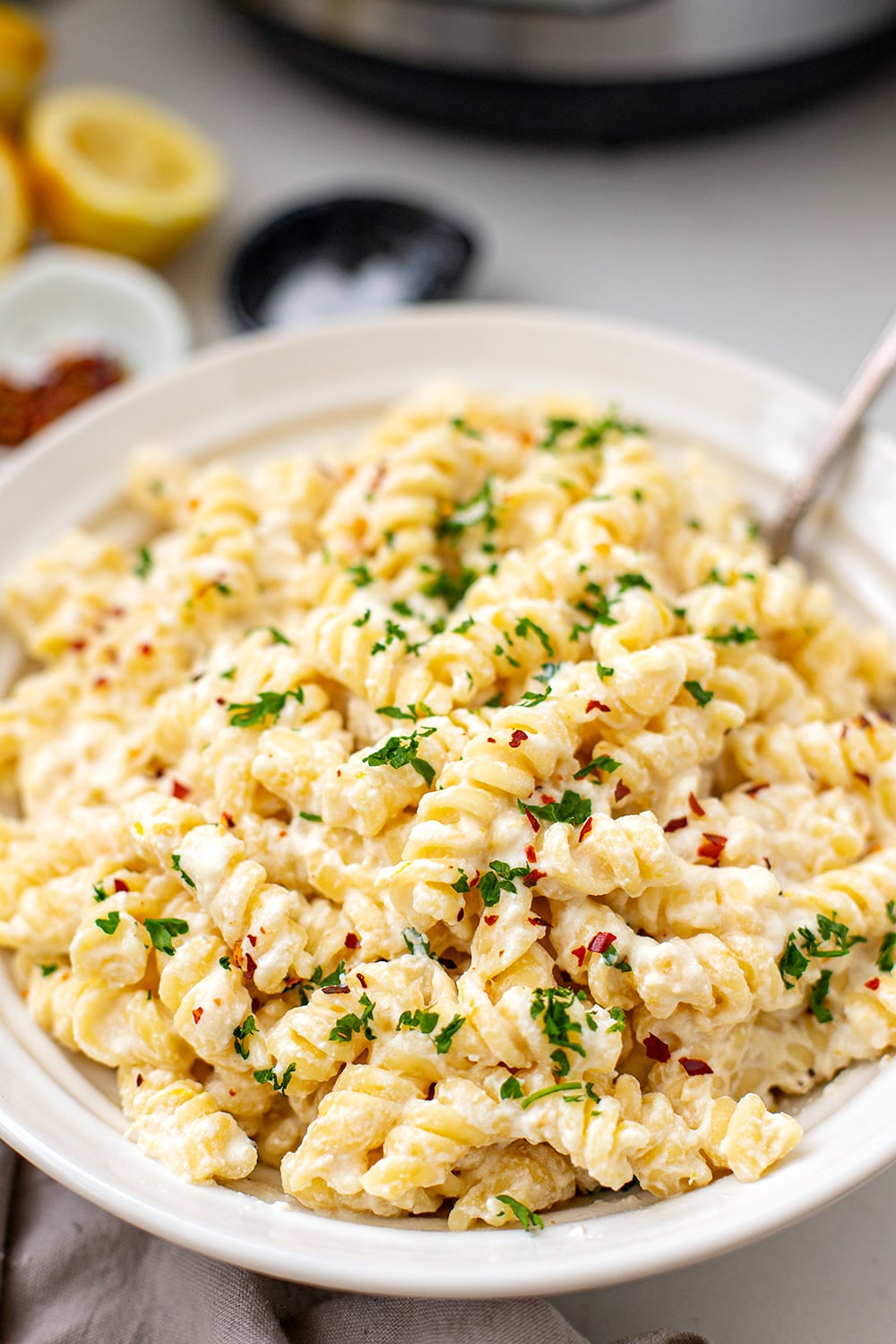 This dish is made with fusilli pasta and a creamy sauce made with buttery garlic, lemon zest and juice, plus equal parts ricotta and Parmesan cheese for an absolutely delicious midweek meal. Get The Recipe Here./instant-pot-dinner-recipes/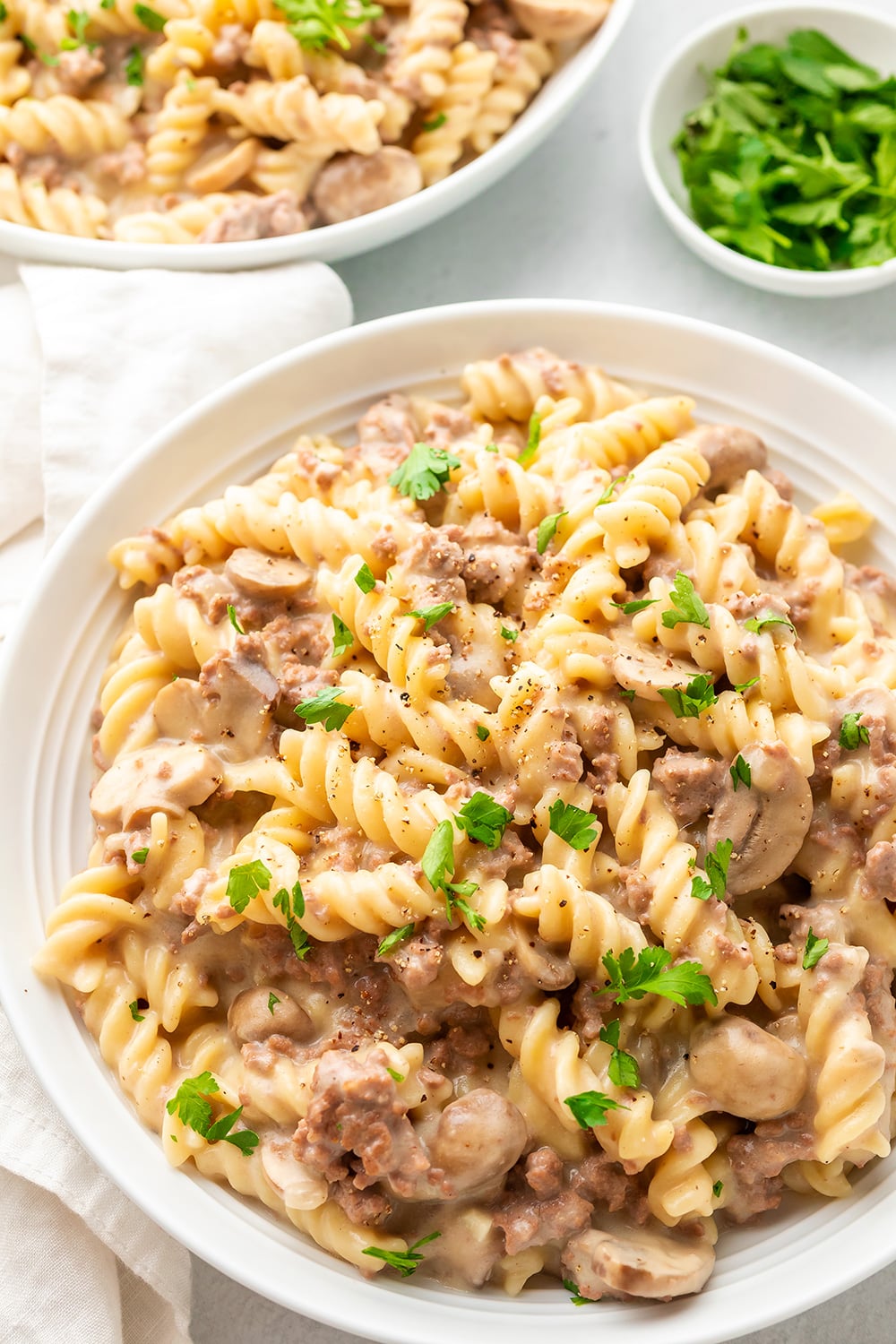 In this recipe, the ground beef is cooked with onions, garlic and mushrooms, then the dry pasta noodles are added and everything is pressure cooked with a few delicious seasonings. When sour cream is added, it gives it that distinct Stroganoff creaminess and richness. Get The Recipe Here.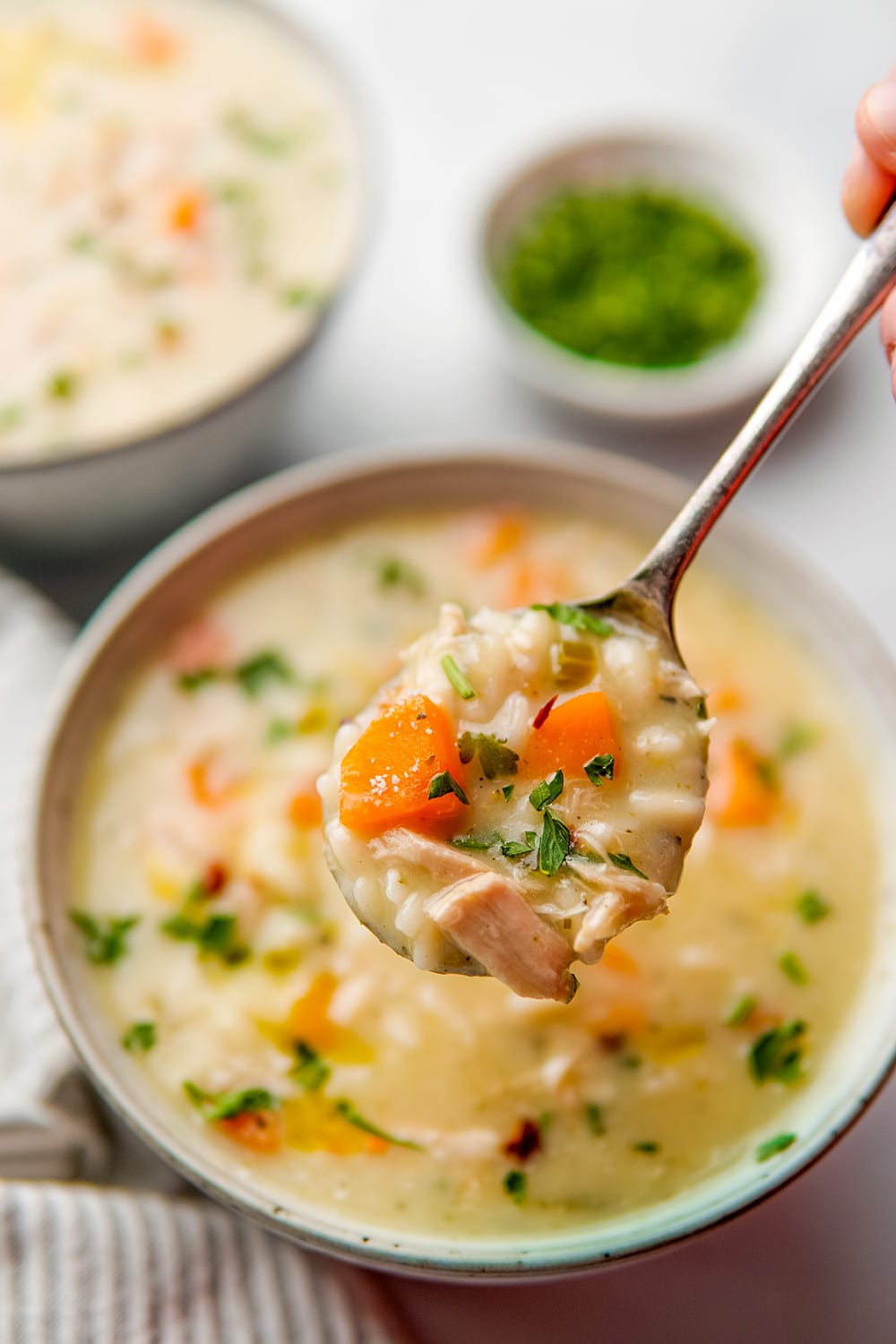 This Instant Pot Lemon Chicken Orzo Soup is comforting and cozy without being too heavy. With bright lemony broth, shredded chicken, and hearty orzo, this soup is simple to make and is perfect for a midweek cozy pick-me-up. Get The Recipe Here.
Takes minutes to prep and you end up with juicy pork chops smothered in a creamy sauce. Recipe from Wholesome Recipe Box.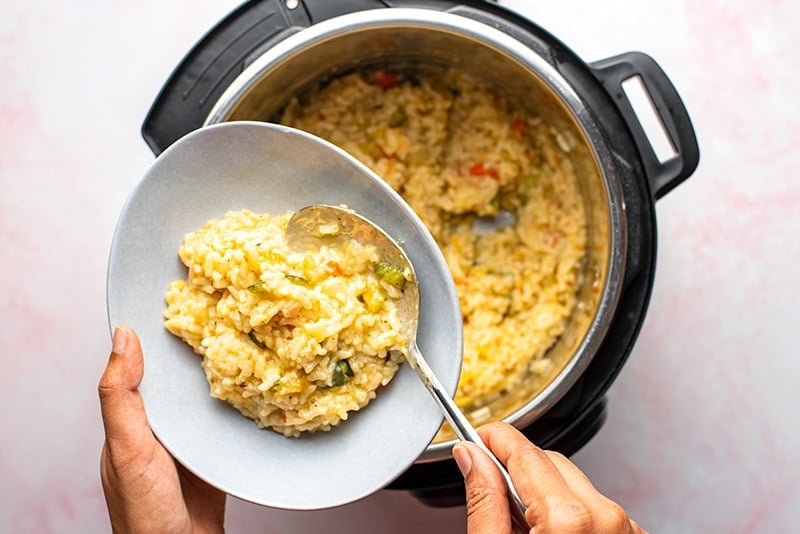 A quick, easy, and nutritious meal for the whole family. This beginner-friendly recipe is great to master if you've never tried making a pressure cooker risotto before. Get The Recipe Here.
It has creamy texture without too much fat, tender chicken, hearty cannellini beans, is tangy and perfectly spiced for kids and adults. Then topped with diced avocado, lots of cilantro, green onion and tortilla chips. Recipe from iFood Real.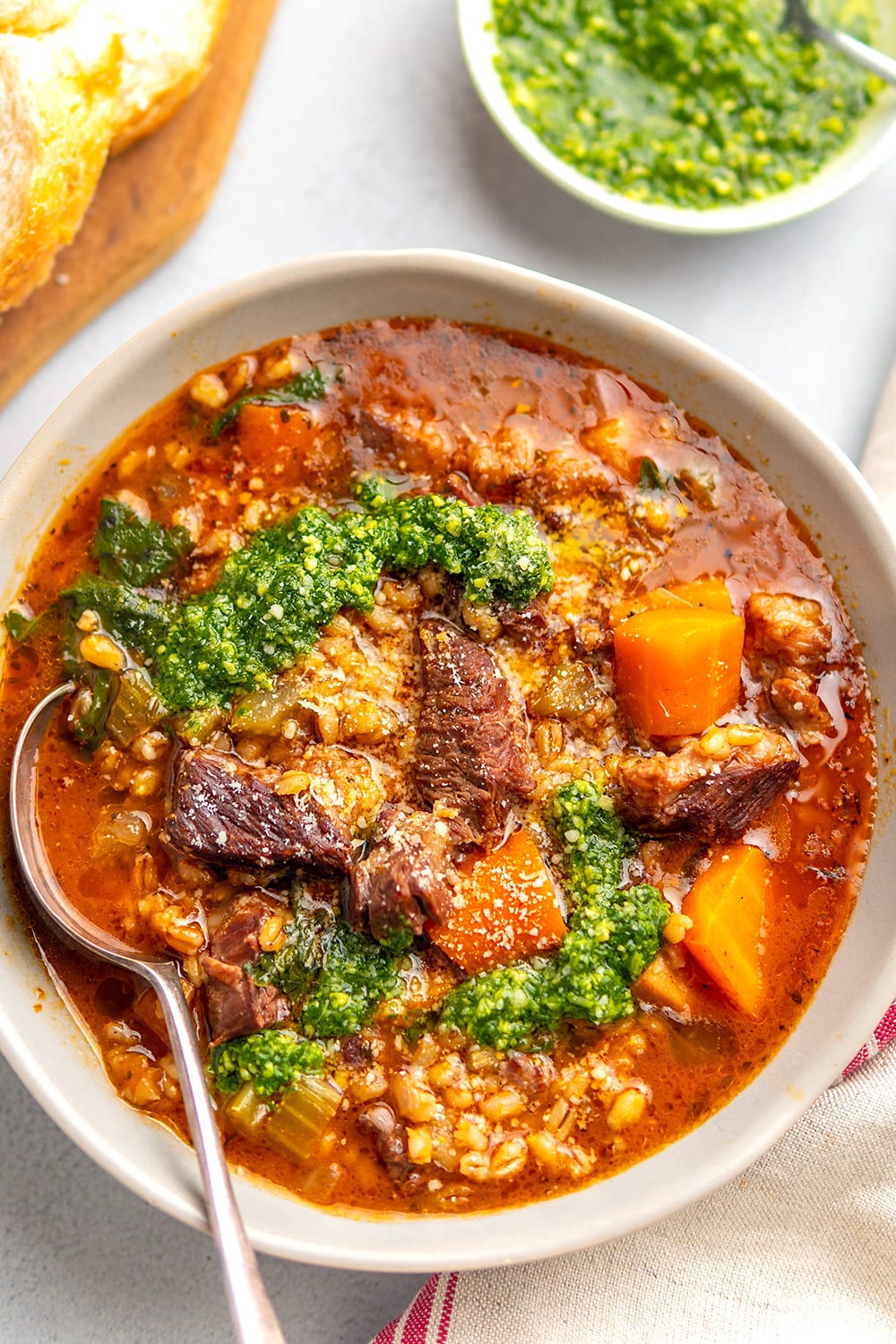 If you're looking for a hearty and flavorful soup that's easy to make this delicious recipe combines tender beef, nutritious barley, and a variety of savory herbs and vegetables to create a comforting and filling meal. Get The Recipe Here.
---
Healthy Instant Pot Dinner Recipes
These healthy recipes are the perfect way to enjoy nutritious, home-cooked meals without sacrificing time or taste. Whether you're looking to add more veggies to your diet, cut down on processed ingredients or carbohydrates, or simply eat more mindfully, these healthy dinners are for you.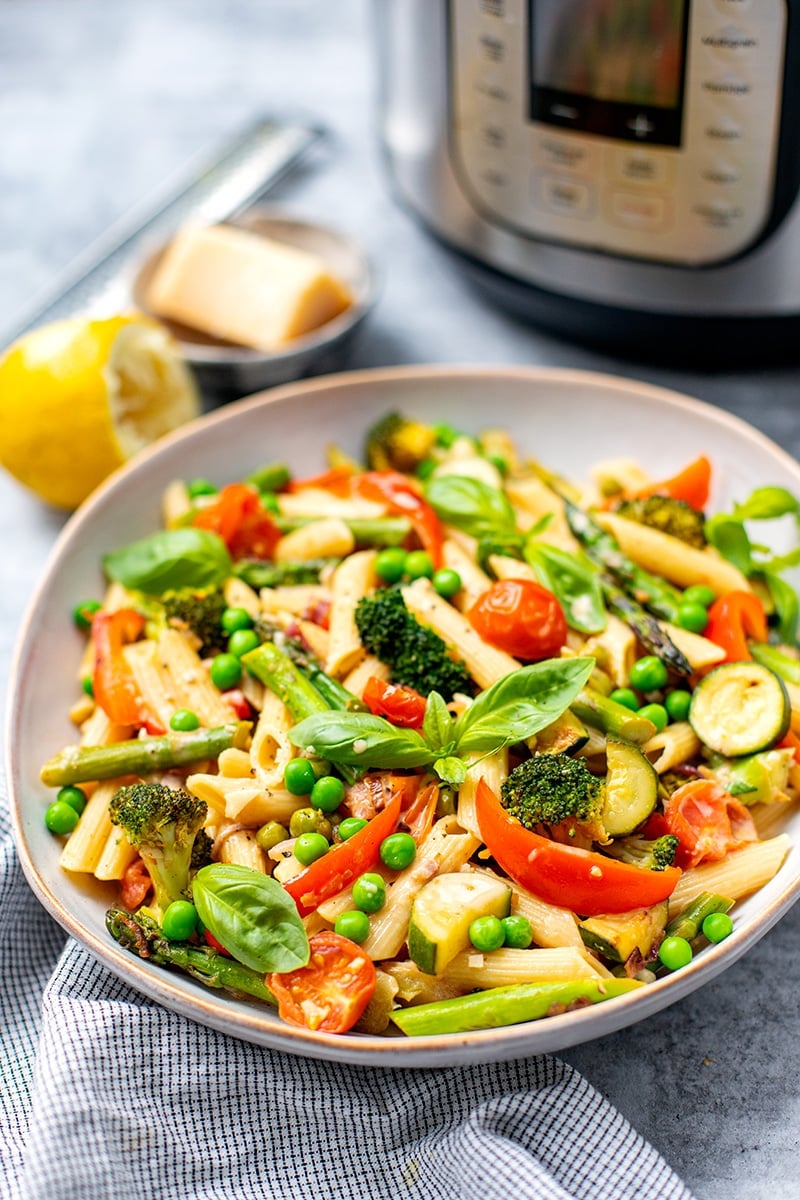 A classic, veggie-packed pasta finished in a lemony, cream sauce. While it refers to spring, this pasta dish is great any time of the year. Get The Recipe Here.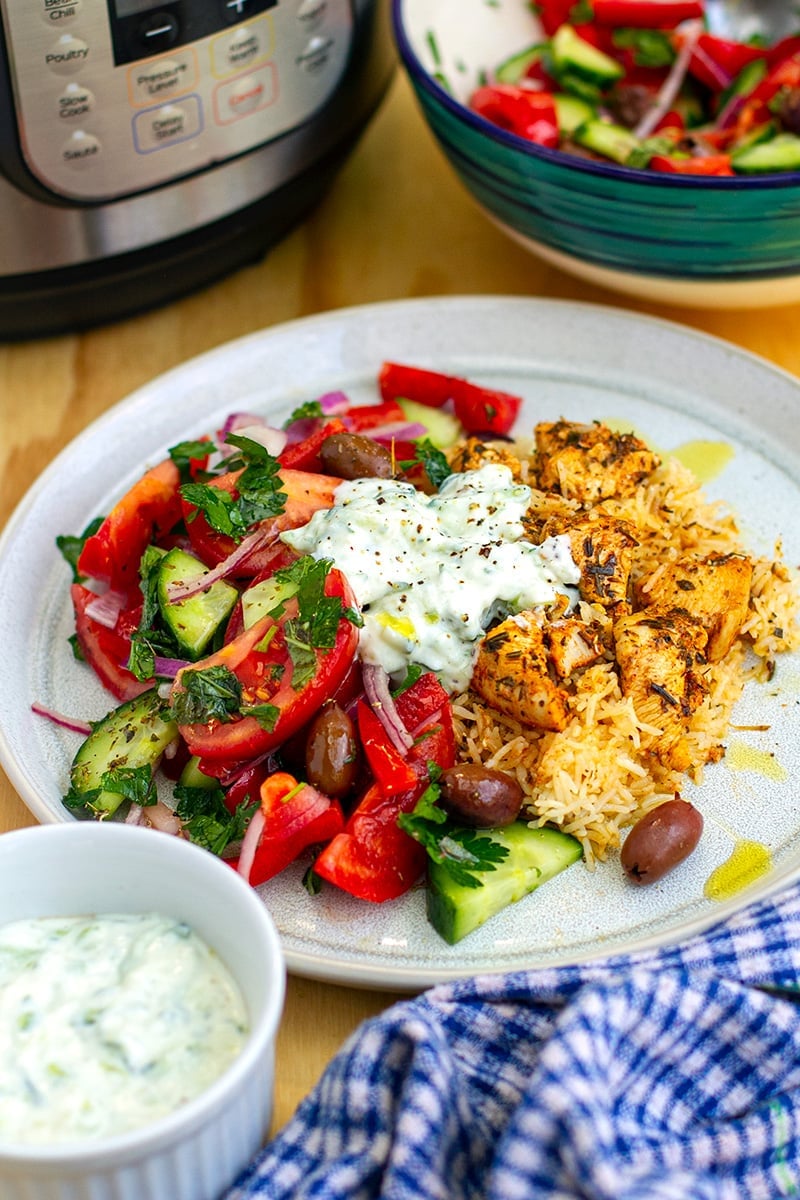 Served with Greek salad and yummy tzatziki yogurt sauce. Marinated chicken and rice are cooked as a one-pot dish, freeing up your hands to make the salad and the sauce. Get The Recipe Here.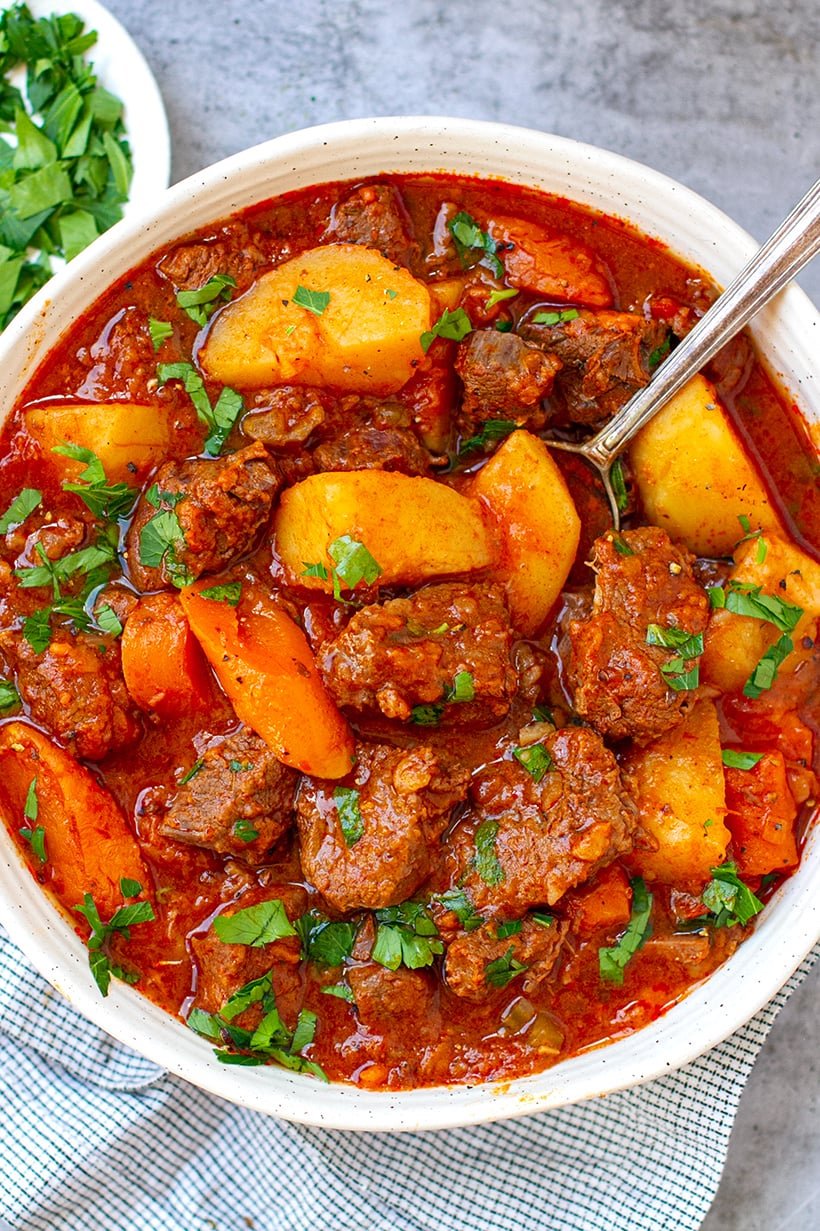 Made with a few special flavor twists for that extra umami hit, this stew is great on its own or with a side of cauliflower rice, vegetables or any other sides you like with a stew. Get The Recipe Here.
5 minutes of prep time is all you need for this delicious and flaky Instant Pot Lemon Pepper Salmon! It's also Keto-friendly and pairs well with cauliflower rice. Recipe from Wholesomelicious.
---
Instant Pot Chicken Dinner Recipes
These Instant Pot dinner recipes are a quick and easy way to enjoy tender and juicy chicken dishes in a fraction of the time. Whether you're in the mood for a classic comfort food, a spicy and exotic meal, or a light and healthy dinner, these Instant Pot chicken recipes have got you covered.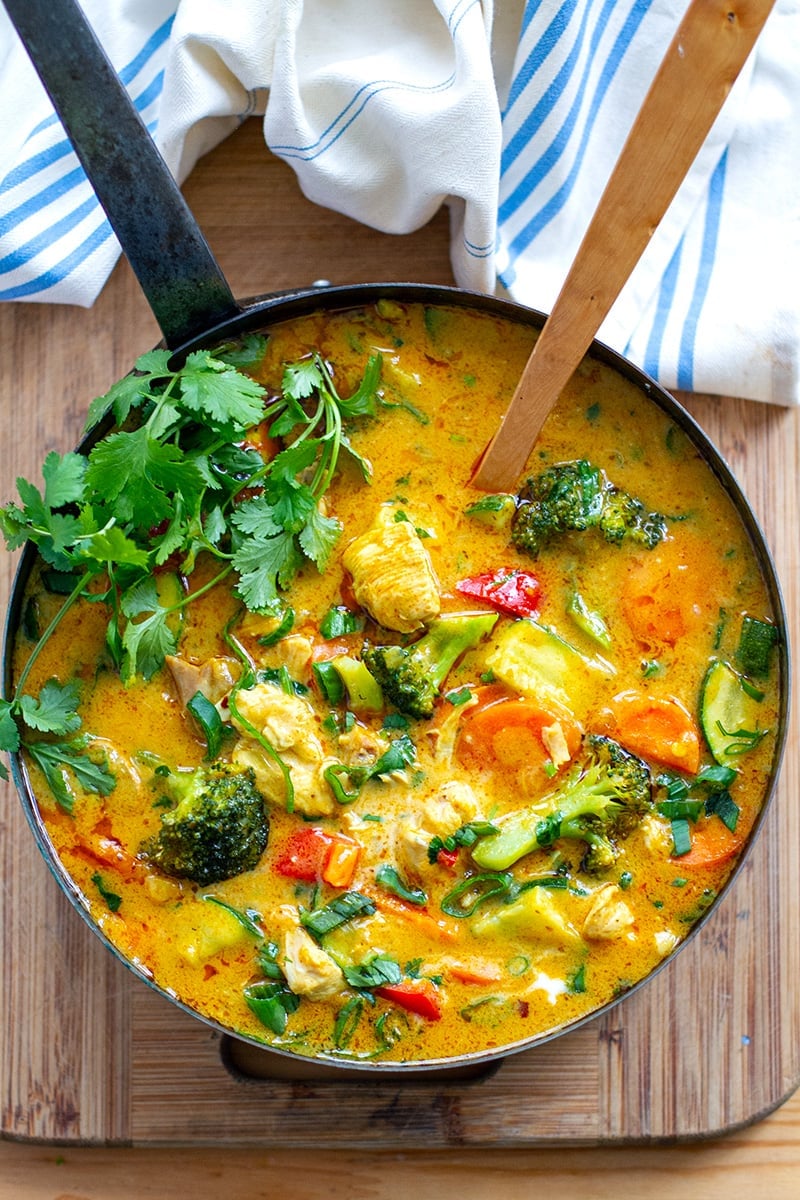 Making an authentic Thai curry can be a labour of love, especially if you make your own curry paste, but there is a much simpler and quicker way. This Instant Pot Thai curry is made in under 30 minutes using ingredients you can find in most grocery stores. Get The Recipe Here.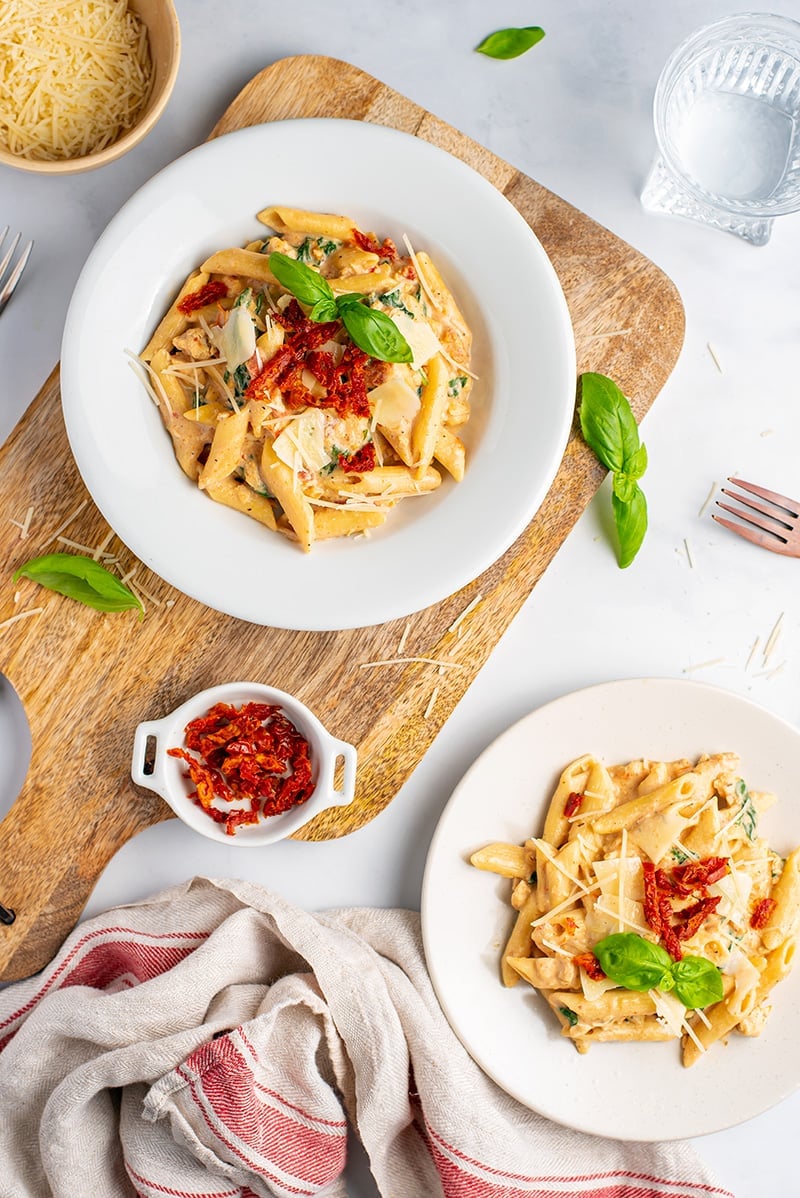 An indulgent and lip-smackingly tasty meal cooked in a garlicky, sun-dried tomato sauce and thickened with cream. Get The Recipe Here.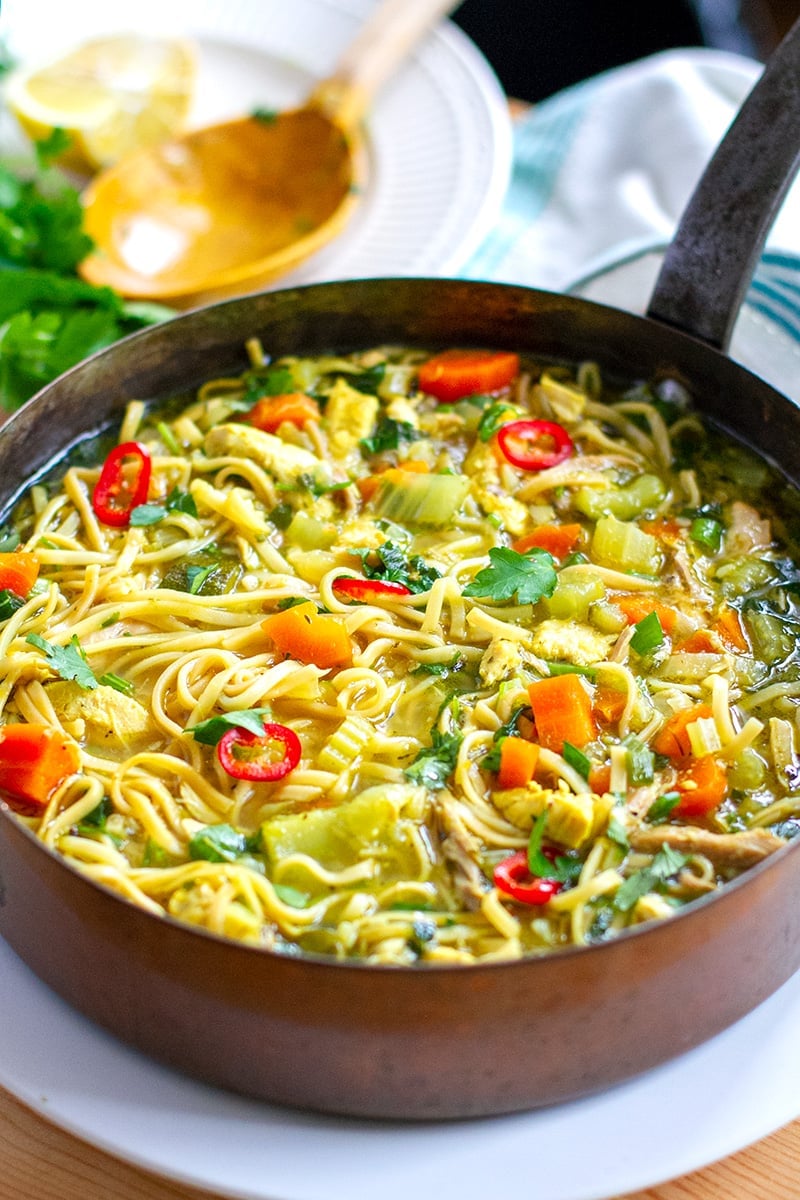 Who doesn't love a good chicken noodle soup? It's a family-friendly dish loved by kids and grownups and it's one of those classic comfort meals that make even the coldest, rainiest of days seem a little warmer and brighter. Get The Recipe Here.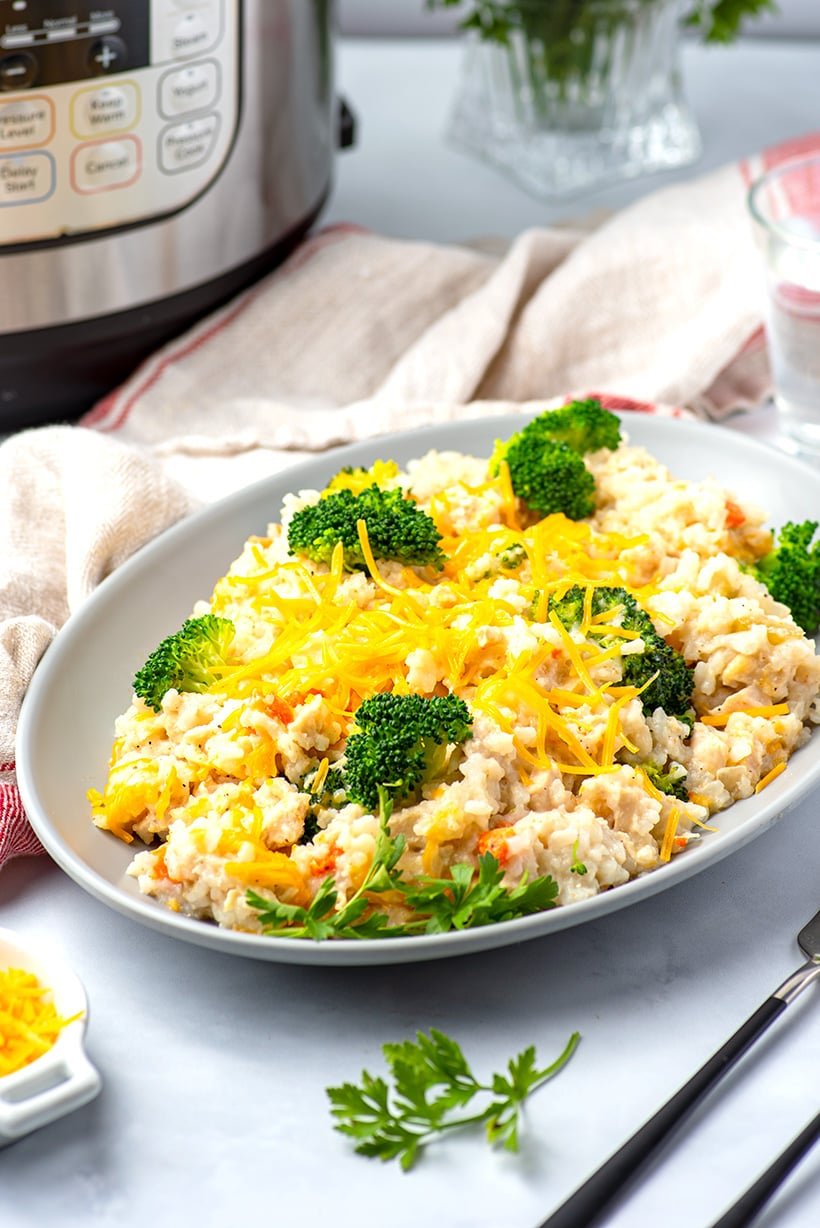 This deliciously easy casserole-like, one-pot comfort meal requires simple, wholesome ingredients, and is beginner-friendly for those of you new to pressure cooking or kitchen in general. Get The Recipe Here.
This Instant Pot Honey Garlic Chicken Recipe is a Chinese-style dish bursting with honey-garlic flavor and is really quick to make. Recipe from Family Fresh Meals.
Super easy dump and start Instant Pot chicken and broccoli dinner made in 20 minutes from start to finish. Recipe from Little Sunny Kitchen.
---
Instant Pot Vegetarian Dinner Recipes
These vegetarian dinner recipes offer a delicious and convenient way to enjoy healthy, plant-based meals at home. From hearty stews and casseroles to flavorful pasta dishes and delicious soups, these dishes are both satisfying and nourishing, making them the perfect choice for a quick and easy weeknight dinner.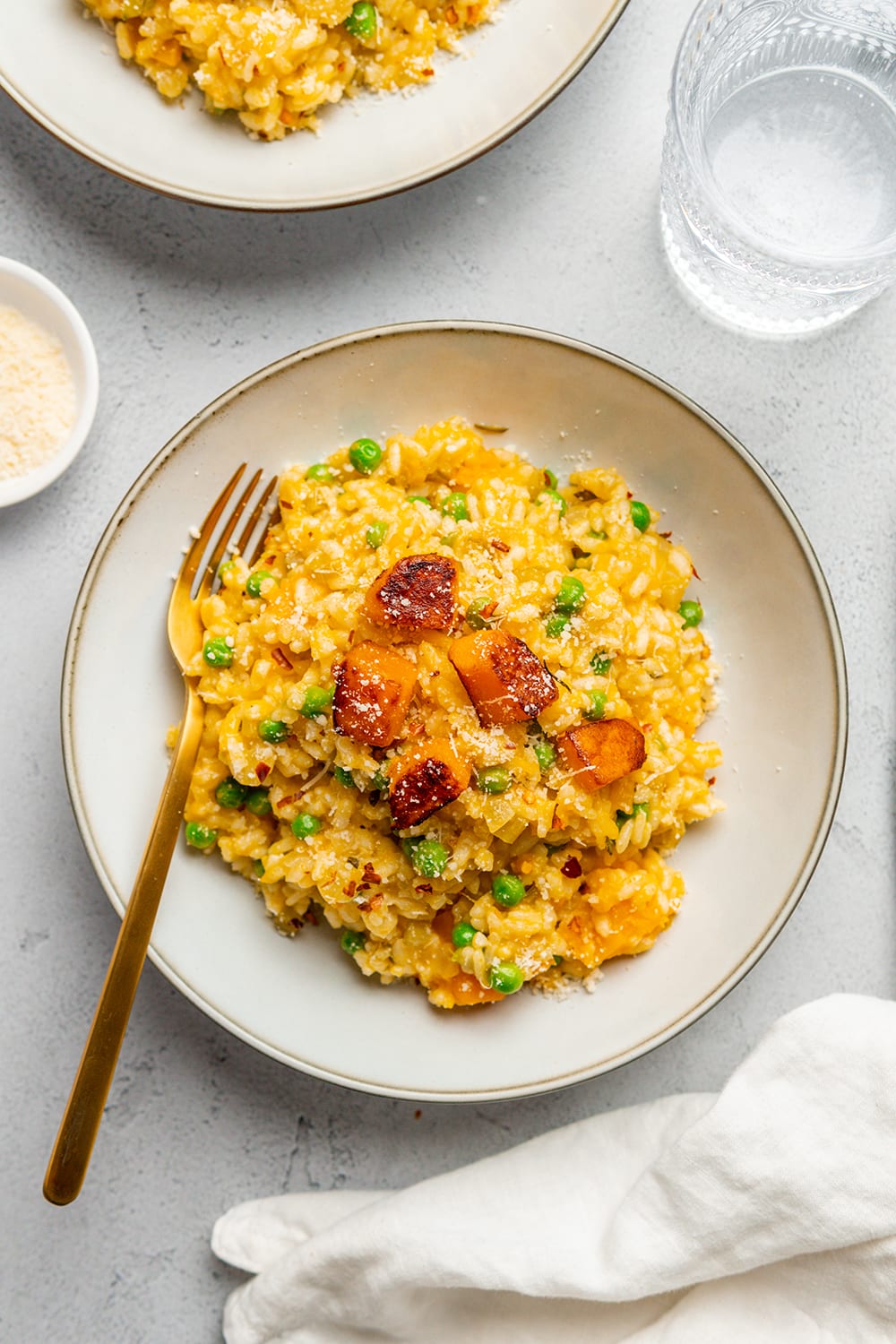 Incredibly aromatic and delicious with sweet flavors of winter squash and earthy peas. Rosemary gives it a unique touch but is not overpowering. And, with plenty of garlic, onion, and celery, plus white wine and stock, this dish has lots of lovely savory, umami flavors. Get The Recipe Here.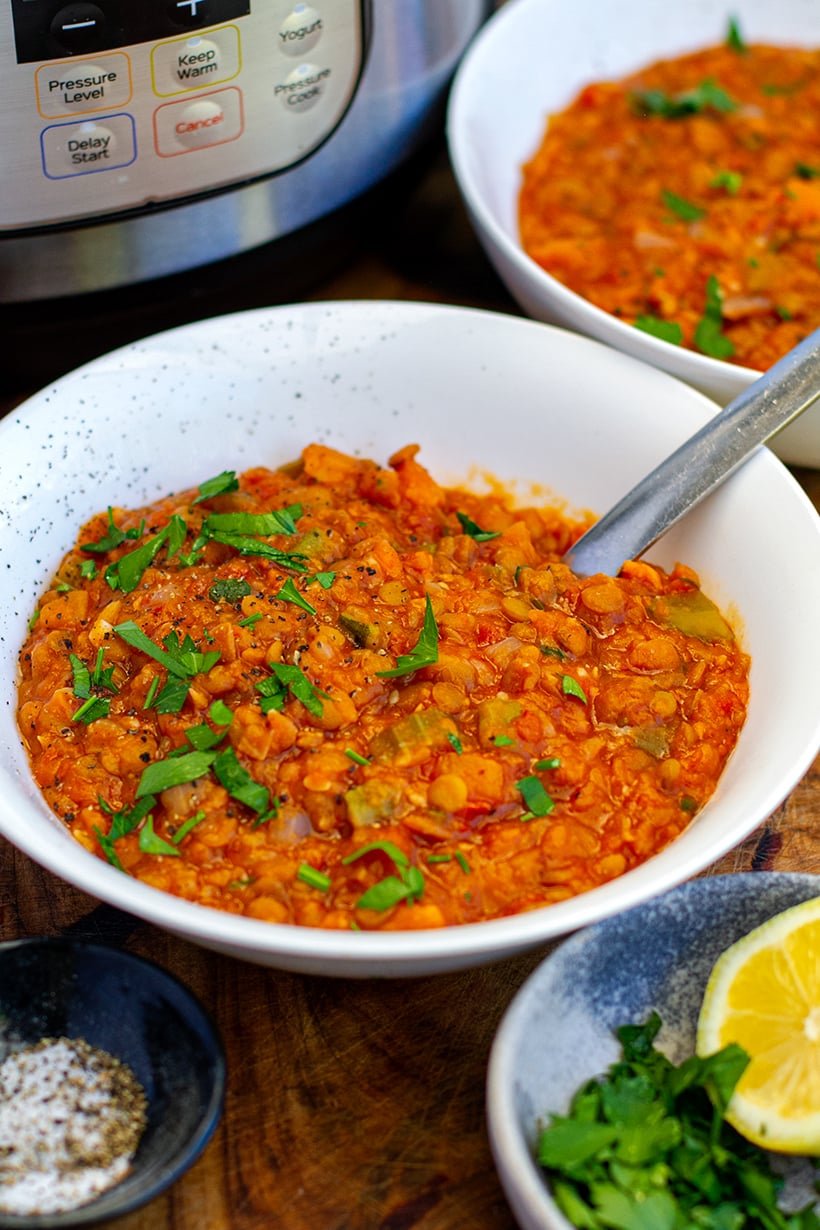 This tasty Instant pot stew features protein-rich lentils, vitamin-loaded sweet potatoes, and yummy mushrooms. It showcases just how satiating and hearty plant-based meals can be. Get The Recipe Here.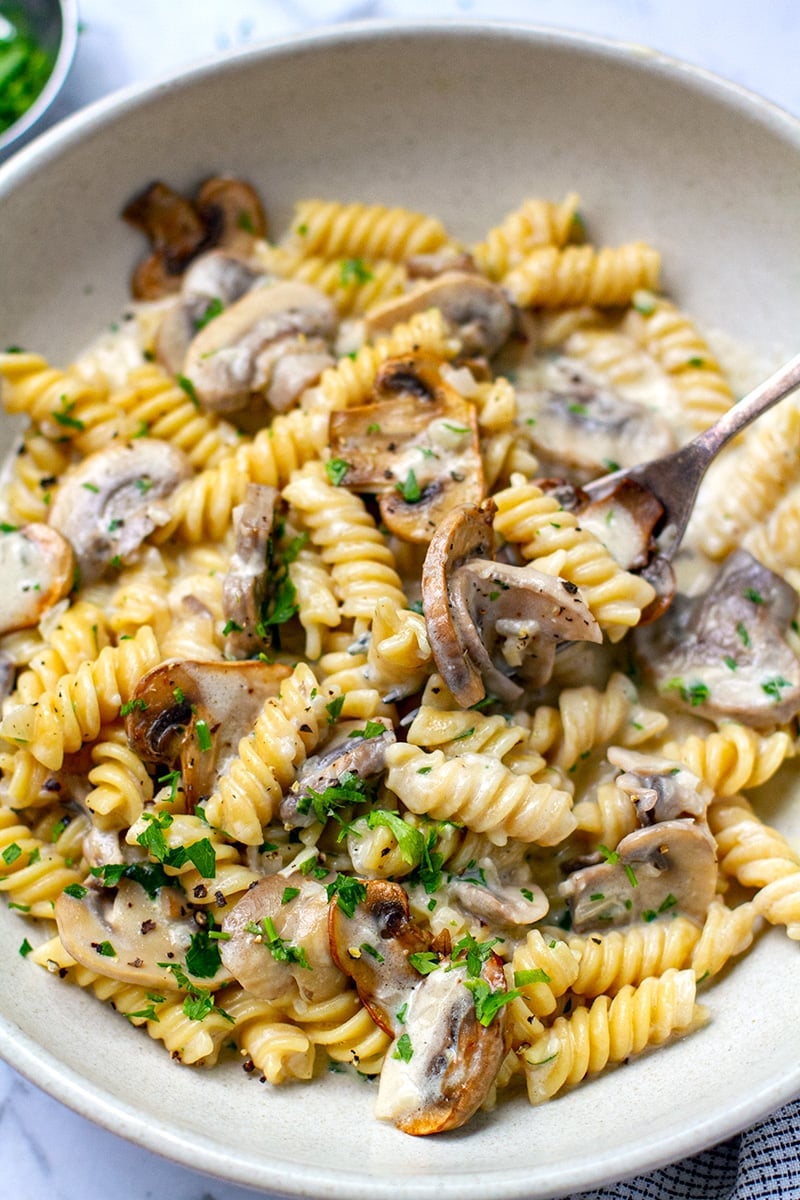 Made with fusilli, mushrooms, garlic, cheese, and sour cream. Enjoy this creamy mushroom pasta with a glass of white wine and a side of green salad. Get The Recipe Here.
Classic Tex-Mex flavors paired with grilled sweet red peppers, fresh tomatoes, and delicious cilantro avocado crema. Get The Recipe Here.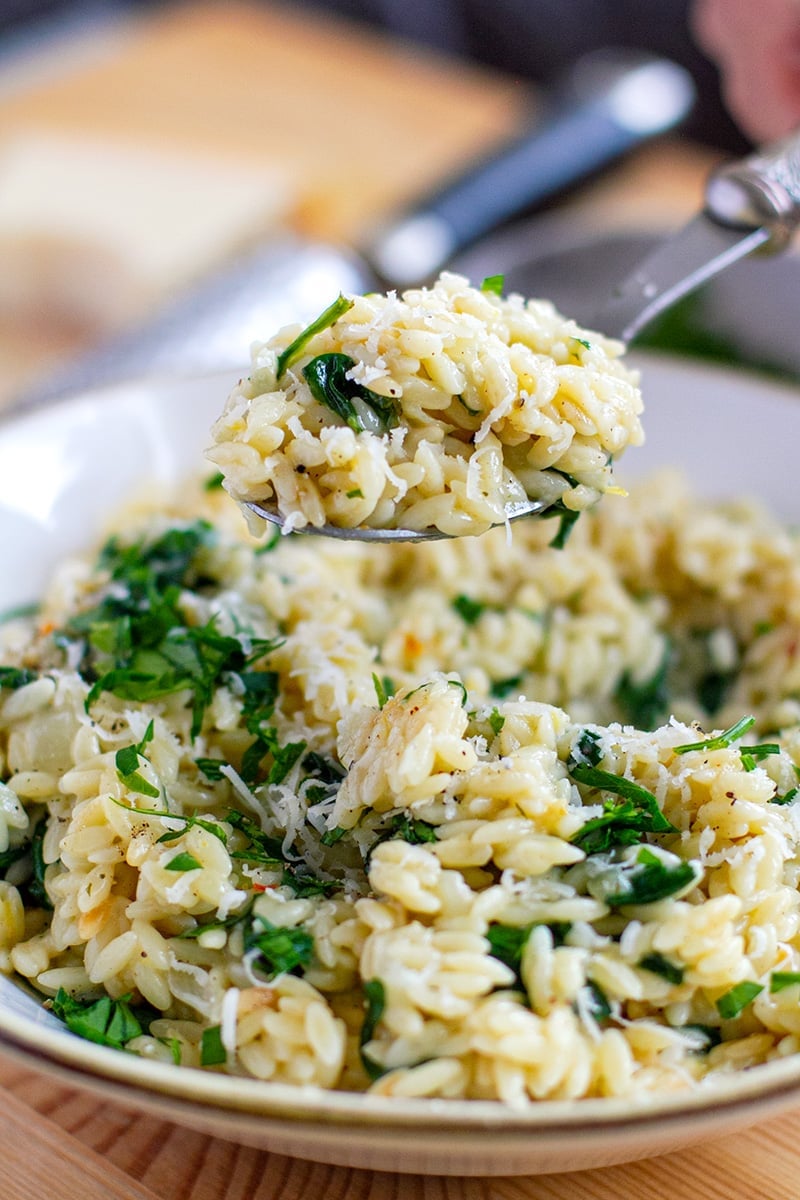 This lemony, cheesy orzo recipe only takes 20-25 minutes from start to finish and is vegetarian-friendly. Get The Recipe Here.
---
Instant Pot Family Dinner Recipes
These family dinners are designed to be easy, delicious, and satisfying for the whole family. Whether you're looking for a quick and simple meal, a comfort food classic, or a healthy and nutritious dinner, these Instant Pot family recipes are sure to please everyone at the table, including the kids.
A crossover between pasta Bolognese, goulash and mac'n'cheese. Three family favorites in one dish homemade with simple pantry ingredients, ground beef and elbow macaroni pasta. Get The Recipe Here.
Succulent, tender chicken coated in sticky-sweet honey soy sauce served over rice, noodles or vegetables is always a big hit with the kids and grownups. Get The Recipe Here.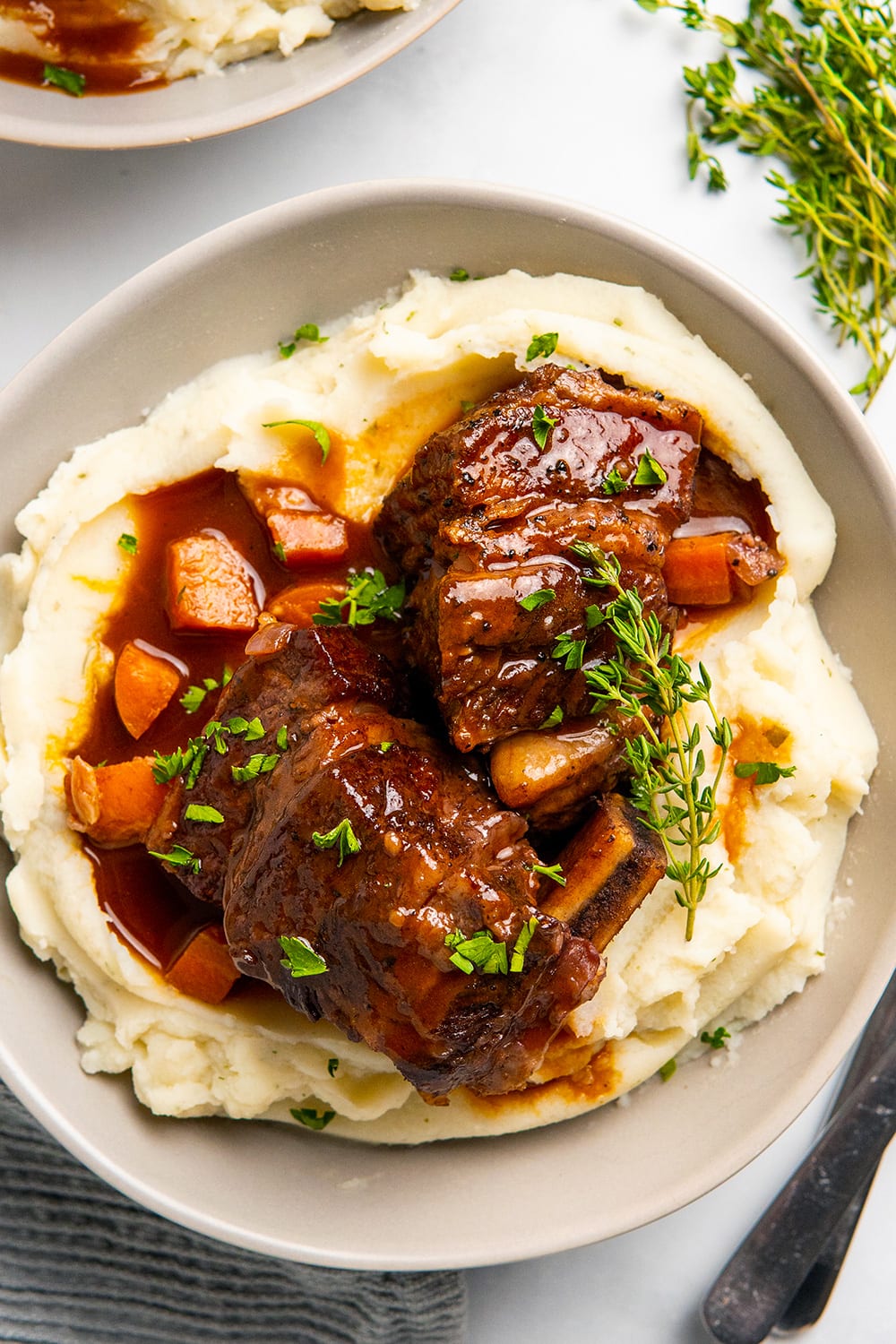 These short ribs are cooked in a rich garlic wine broth and are fall-off-the-bone tender. The ultimate hands-off, make-ahead dinner. Get The Recipe Here.
A comforting, family-favorite dinner meal. Made with ground beef, these juicy and saucy pressure cooker meatballs can be served over mashed potatoes, rice or pasta (or veggies). Get The Recipe Here.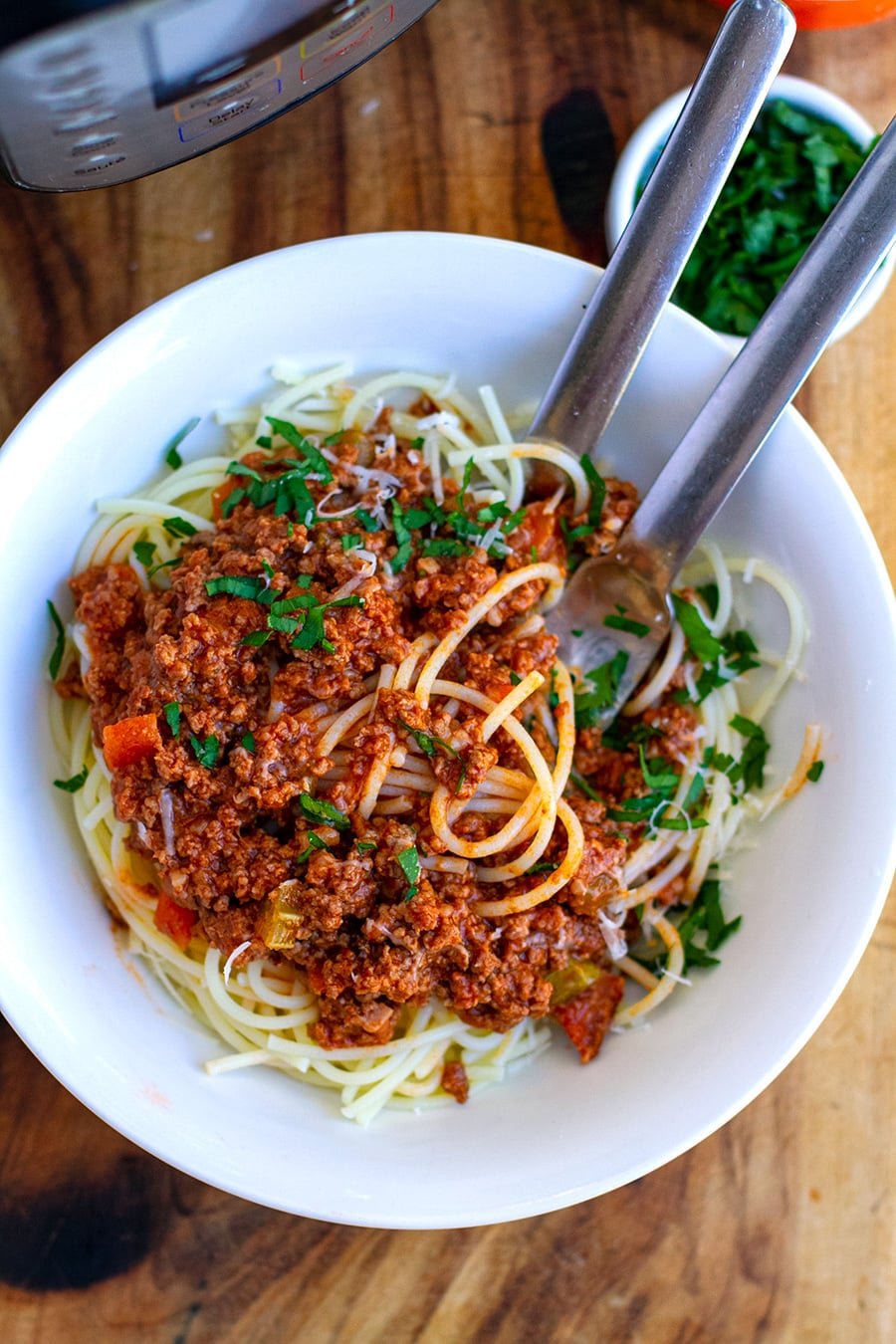 If you're going to master only a handful of pressure cooker recipes, one of them should definitely be a good, hearty Instant Pot Bolognese sauce. Served over pasta or zucchini noodles, this nourishing beef ragu sauce is always a crowd-pleaser. Get The Recipe Here.
All you need is about 45 minutes to have this amazing, tender, juicy Instant Pot whole rotisserie chicken that is so much better than the store-bought kind. Crisp up the skin in the oven or Air Fryer Lid. Recipe from A Pinch Of Healthy.
The noodles soak up the rich flavor from the vegetable broth and tomatoes while the mushrooms bring a meaty quality, and the fresh spinach just brightens it all up. Recipe from Family Food On The Table.
---
Instant Pot Budget-Friendly Meals
Whether you're cooking for a family, feeding a large group, or simply looking to stretch your food budget, these cost-effective Instant Pot recipes are both tasty and affordable, making them an ideal choice for any home cook.
Hearty and delicious using inexpensive ingredients that will feed the whole family. This one-pot dish is super easy and quick to make, so it's great for those busy weekdays. Get The Recipe Here.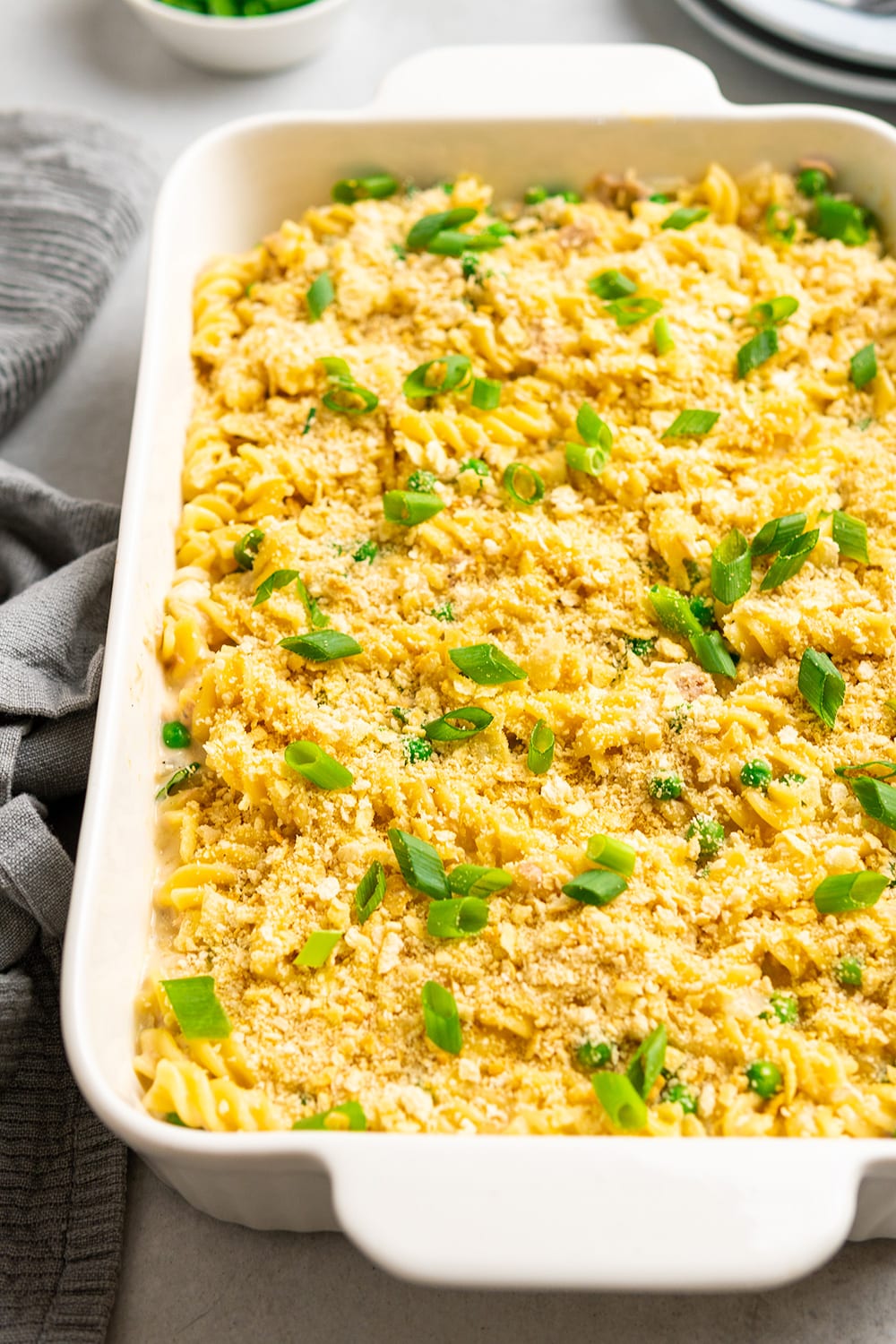 Creamy, delicious, and made from scratch using no canned soups. Featuring pasta noodles, creamy cheesy sauce, and crunchy topping, this casserole is perfect for a family dinner that is quick, easy, and budget-friendly. Get The Recipe Here.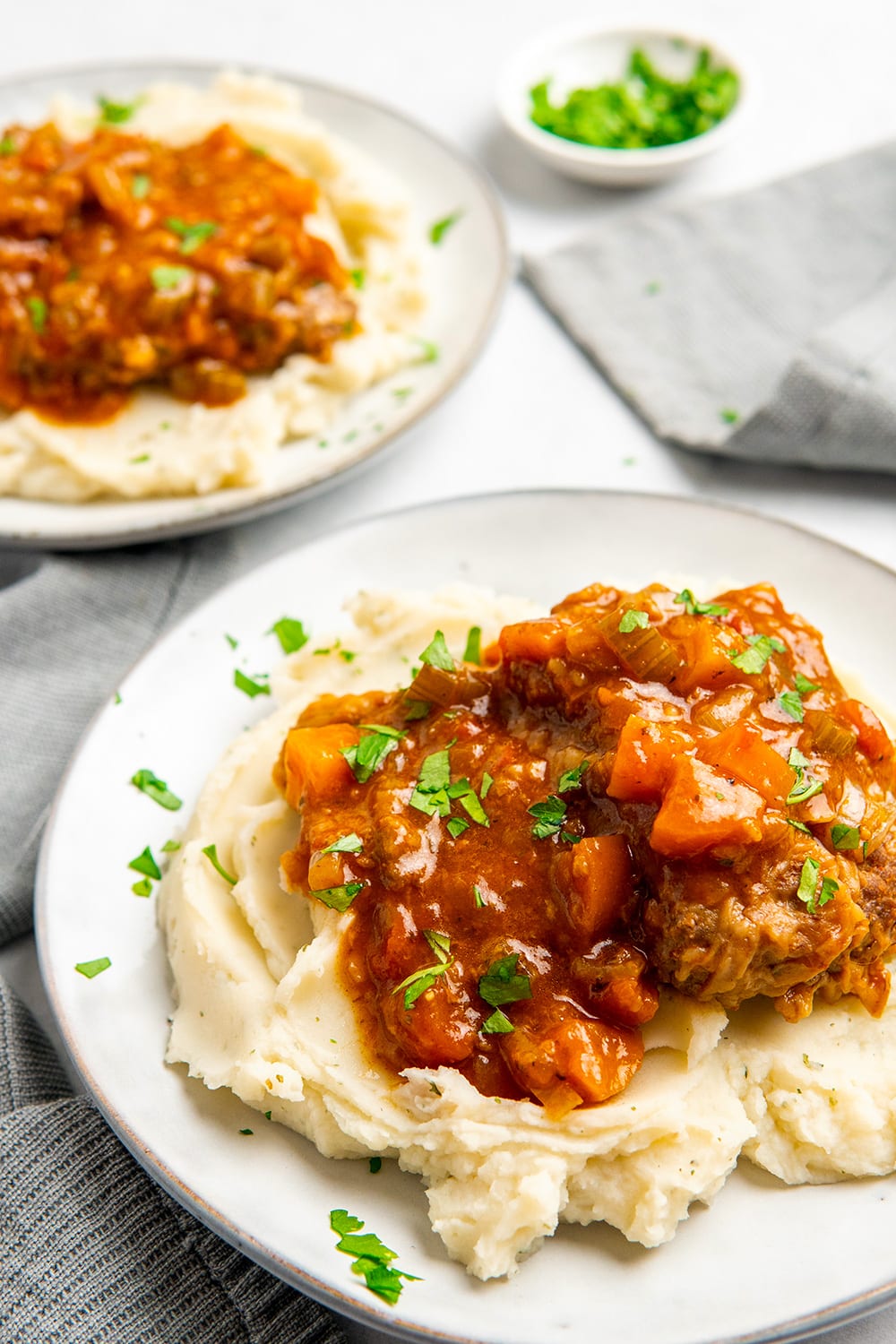 Enjoy this fall-apart, melt-in-your-mouth tender braised beef over mashed potatoes, noodles, or rice. Get The Recipe Here.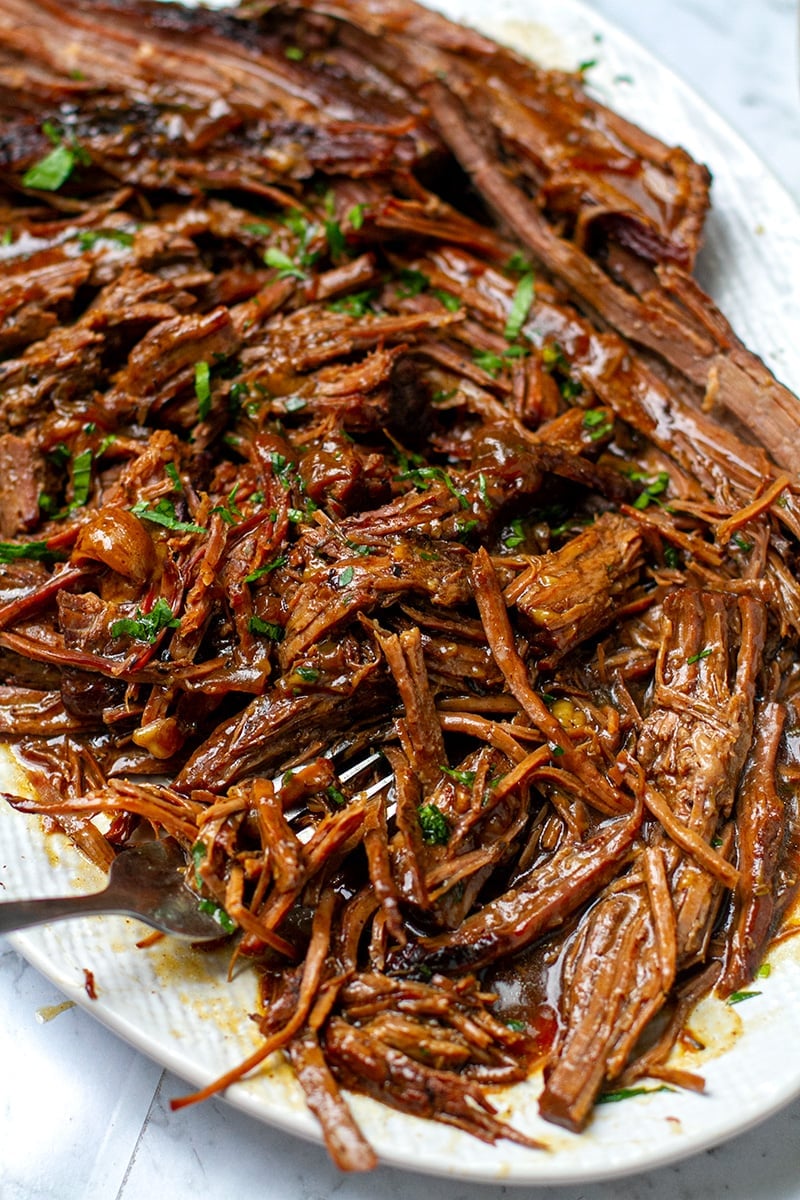 Warm, hearty, and full of flavor. Chuck or topside beef is seared and pressure-cooked pot-roast style in a delicious red wine brown gravy resulting in fall-apart, tender meat. Served with a side of mashed potatoes and vegetables for a perfect dinner meal. Get The Recipe Here.
Mac and cheese is definitely an indulgent dish, but this recipe is a bit healthier. Plus you're sneaking some green vegetables in there, which is always good for the family. Get The Recipe Here.
---
SAVE INSTANT POT CHICKEN SOUP RECIPES TO PINTEREST