Risotto can be quite a labour of love if done on the stove top. If you've mastered the art, you know there is a method to the careful stirring and tending to your rice dish that will yield the perfect risotto every single time. The thing about the Instant Pot? Well, it's the lazy person's way out. Even better is that nobody will ever know you took the "short cut."
While the work load is far less, the flavour and flair of the dish will remain the same. We're willing to bet the quality could even skyrocket with these gorgeous Instant Pot risotto recipes.
---
A splash of green graces this bowl from creamy peas – a risotto staple – while bacon lends its smoky goodness to the overall flavour and texture of the dish. The salmon comes in to mellow things out and add a boost of protein, and you've got a full-on meal here you're going to want to dig into all week. It's also worth noting this takes only 5 minutes to make. Wow!
This risotto recipe is a fantastic vegetarian dish, bringing loads of unique ingredients to the mix. There are fresh ribbons of nutrient-rich Swiss chard tossed throughout, a pop of texture from the pinto beans, and a creamy layer woven in with the addition of pepper jack cheese – plus a little spice! It's all topped off with crunchy pumpkin seeds. We love this healthy rendition of risotto!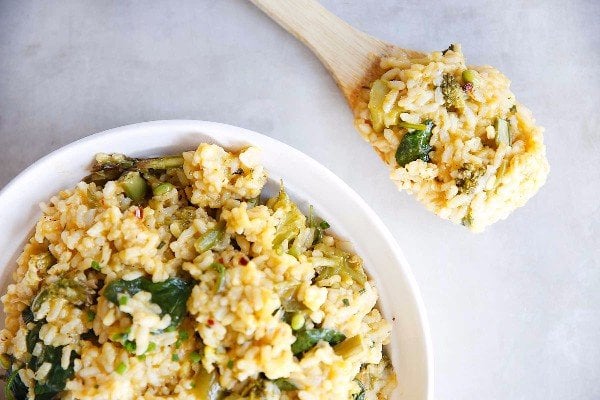 This springtime masterpiece deserves to be enjoyed al fresco alongside a glass of your favourite wine. Fresh lemon flavour makes it ideal for warm weather indulgence. It's packed with greens from broccoli, asparagus, and peas although you could add in any other of your favourite veggies. Either way, it's meat-free, gluten-free, and dairy-free, so everyone can dig in.
Mushroom risotto is probably the first thing you think of when you recall recipes you've made in the past. It's a fantastic template to work with, after all. Mushrooms work well with a creamy texture, adding a layer of umami flavour. Plus, you can mix and match your favourite mushrooms, or even experiment with dried mushrooms!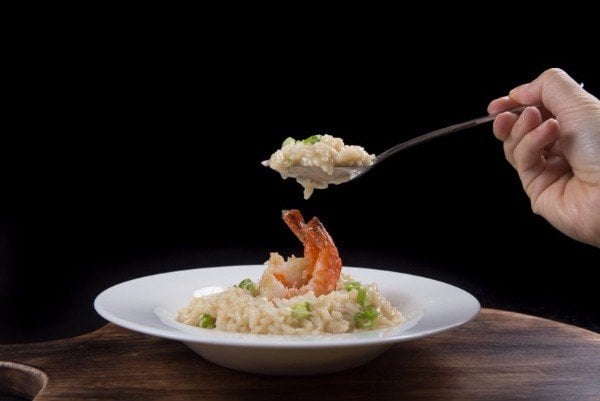 This dish is Japanese-Italian fusion which might feel a little weird initially, but you're bound to fall in love with it! These two cuisines share a desire for excellence, and that's exactly what you get with this risotto recipe. The blend of garlic butter, sake, soy sauce, miso, fish stock, and Parmesan are wildly delicious.
Parmesan is the chosen cheese for a solid risotto dish, and this recipe lets it do its thing. It stands out in this rich and creamy rice in a humble and simple recipe that will feel like something quite special. This is a fabulous, no-fuss dish you can easily add to with what you have on hand in the fridge, or just some extra fresh herb action.
Peas, carrots, and rice. It's a classic recipe template at the end of the day. You can make it Indian-style, or you can turn it into risotto. Either way, we know two things: it's a stellar combination, and it's super budget-friendly. Thus, it makes the cut in our books. Cute dish not included.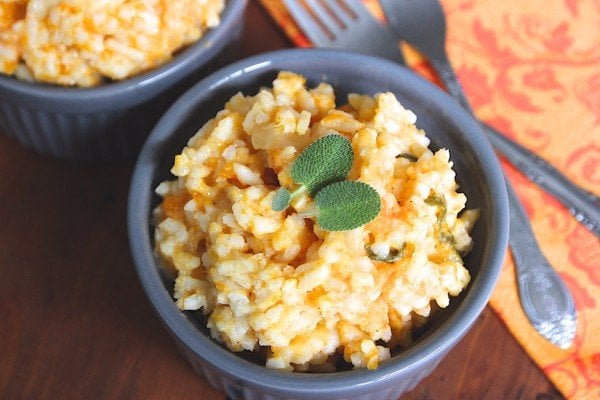 Another classic spin on risotto is the addition of butternut squash. This autumnal feature adds depth, richness, a tad bit of sweetness, and some extra creaminess to the mix. Paired with fresh sage, the flavour is simply off the charts. Oh, and did we mention there's goat's cheese in it? Yep. It's the dynamic trio, and it works every time – especially with butter, wine, and rice!
Wait, what? It's fun to mix things up. These two Italian dishes fuse together surprisingly well in this risotto bolognese. It's bulked up with a hearty combo of sausage and bacon (yes – seriously! Yum!) plus some Parmesan and Marsala. No doubt, this is absolutely decadent, and it will be perfect to dip fresh, crusty bread into.
True story: duck fat makes EVERYTHING better. Risotto will soak up that rich, decadent flavour of the fat so brilliantly. Shallots, mushrooms, prosciutto, and orange zest bring in their own amazing qualities to this dish, too, for something truly special and worthy of serving at special events! Plus, this one is dairy-free and gluten-free.
Bonus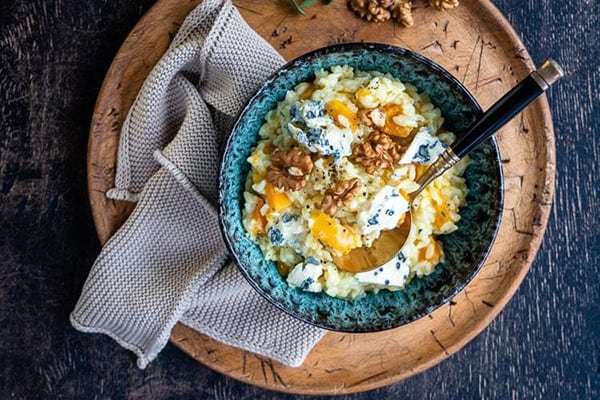 This creamy Instant Pot butternut squash risotto comes with a twist of blue cheese instead of the classic Parmesan cheese. It's perfect for a quick weeknight meal but fancy enough for company. This recipe is by Lucy Parissi of Supergolden Bakes blog.
So, what's the verdict? Which risotto recipe tops your pressure cooking bucket list? Let us know, and share this with fellow "lazy cooks" who could use the ultimate risotto hack!
Share this roundup on Pinterest!