Let's get this party started with Instant Pot Taco Recipes that are delicious, fun and come with a creative culinary twist. We love the fusion of cultures and traditions, like mixing in some Korean bulgogi BBQ, Vietnamese brisket, or Hawaiian pineapple with the heat of jalapeños. Experimenting with gourmet flavors can xpand the taco from humble working-class beginnings to trendy dinner-themed nights.
---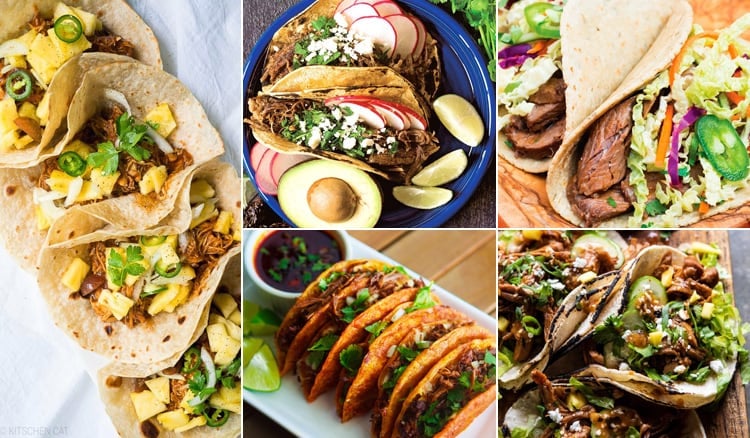 Is it Taco Tuesday yet? Why wait for till Tuesday when making it in an Instant Pot makes it so easy you can have tacos any time of the week.
There are so many variations to tacos today that go beyond the Taco Bell. Restaurants are specializing in gourmet flavors and mixing cultures and traditions. We love creative fusions that take the taco from humble working-class beginnings to trendy dinner-themed creations.
A LITTLE TACO HISTORY
"Taco" was a word that Mexicans would use toward Americans to identify the dish. They actually used other words to describe tacos that varied by region and local culture. It was introduced to the United States by Mexican migrants when they came into work and brought their food with them. Mexican food carts in Los Angeles were run by women called "chili queens". They sold delicious affordable soft corn tortilla tacos that were spicy and unfamiliar to the Americans.
Traditionally, freshly made, soft, flat corn tortillas were used with super simple fillings. Over time, ingredients such as cheese, lettuce, sour cream, and tomato were introduced to adapt to the American palette. Now you can tailor the taco fillings to your own style and experiment at home.
So what kind of taco eater are you? Are you torn between that crunch of a hard shell or the soft pillowy tortilla shell? Get inspired by our selection of Instant Pot taco recipes with a twist!
---
CHICKEN TACOS WITH PINEAPPLE SALSA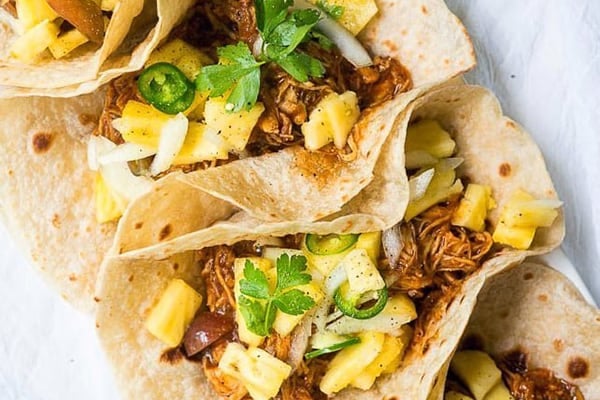 These BBQ Instant Pot chicken tacos are both healthy and delicious. Made with shredded, saucy BBQ meat and topped with zesty and sweet pineapple salsa for that unforgettable tropical twist. This is a guest recipe from Jessie Van Slyke of Kitschen Cat. Get the recipe from Instant Pot Eats.
Hawaiian Chicken Tacos with Jalapeño Ranch Slaw
Juicy pineapple and spiced chicken crisped under the broiler tucked into tortillas and rolled up with creamy jalapeño ranch slaw. What's not to love about this flavor fiesta in your mouth. Recipe from Pinch of Yum.
VIETNAMESE BEEF BRISKET TACOS
The meat is tender and slightly spicy, bursting with umami flavor. Shredded slaw, jalapeños, cilantro, and zingy lime make for the perfect crunchy toppings, bringing together that awesome Vietnamese street food vibe right to your dinner table. This scrumptious Vietnamese-inspired Instant Pot beef tacos recipe comes from Laurel Randolph's cookbook, The Instant Pot No-Pressure Cookbook. Get the recipe from Instant Pot Eats.
instant pot korean bulgogi bbq tacos
Shredded chicken in a sweet and spicy Korean-inspired Bulgogi BBQ sauce. Then topped with a quick roasted tomatillo sesame salsa, lettuce, and cheese. It's a fusion of Mexican and Korean flavors. These are some of the best tacos to really switch up your weekly taco night. Bonus, these tacos can be made and ready in less than 25 minutes. Making them the perfect dinner for any night of the week! Recipe from Half Baked Harvest.
BEEF TACOS WITH CHORIZO & CHIPOTLE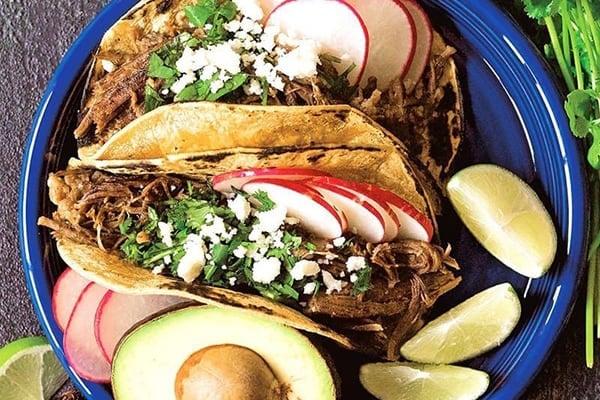 These shredded Instant Pot beef tacos are made with smoky chipotle chiles and Mexican chorizo for that unforgettable, rustic flavor. Perfect as a filling in tacos, wraps, salad bowls, and between soft brioche buns. This guest recipe is from the Amazing Mexican Favorites with Your Instant Pot by Emily Sunwell-Vidaurri and Rudy Vidaurri. Get the recipe from Instant Pot Eats.
Instant Pot Birria Tacos with Consomé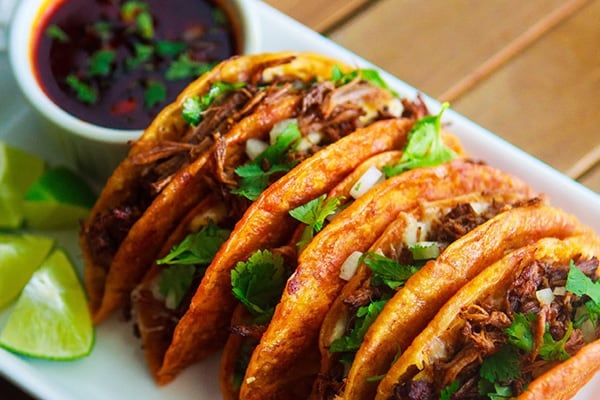 Birria Tacos are made from a Mexican Beef Stew (traditionally goat) – beef roast is cooked in a flavorful, spiced broth until it's fall apart tender. Then you dip the corn tortillas quickly in the broth, stuff it with Oaxaca Cheese and shredded beef and pan fry them until they are crispy. The tacos are served with a bowl of the amazing broth to use as a dip for the tacos. Recipe from Food Is A Four Letter Word.
INSTANT POT TACO MEAT
When it comes to recipes using ground beef, this Instant Pot taco meat should be every household's staple. It's affordable, freezer-friendly, and super versatile with different ways you can use up the leftovers. You can meal prep or enjoy tacos, burritos, nachos, enchiladas, pasta, and rice dishes. Recipe from Instant Pot Eats.
---
---
Instant Pot Buffalo Chicken Tacos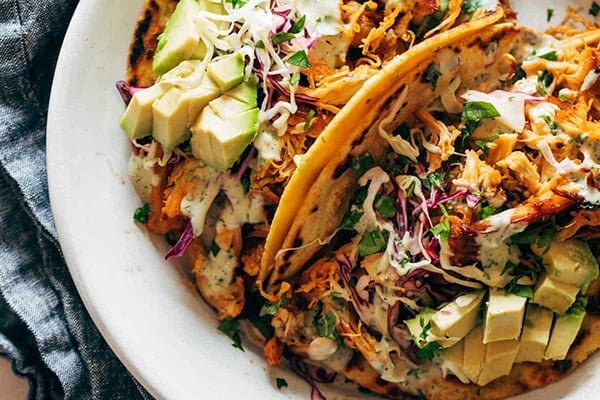 Buffalo broiled chicken covered with a limey slaw and a smothering of homemade ranch, all tucked into a charred tortilla.Tip: use boneless skinless chicken thighs even if you think you don't like chicken thighs. Chicken thighs roast into crispy bits AND stay nice and juicy because there's more fat in them. It's so good. Recipe from Pinch Of Yum.
FIRECRACKER PULLED PORK FOR TACOS
Cooked perfectly until meltingly tender and finished with a sweet, smoky sauce, with a gentle chili kick. Serve in warm wraps, tacos, sliders or baked potatoes or rice. Recipe from Instant Pot Eats.
Jamaican Jerk Jackfruit Tacos
Transport yourself to a Caribbean island without the expensive airfare by making these jackfruit tacos. Canned jackfruit is shredded until it has the consistency of pulled pork and is then quickly cooked in a blend of Jamaican jerk spices. Don't let the habanero pepper has a citrusy, floral heat that is well balanced by the juicy sweetness of mango and creaminess of avocado in the salsa. And a touch of liquid smoke adds a rich but subtle smokiness reminiscent of barbecue. Recipe from Recipes Instant Pot.
Instant Pot Breakfast Tacos
Taco Tuesdays can start early and first thing now with these breakfast tacos. Make your egg mixture and add your favorite ingredients. Squeeze some lime and add some heat. Recipe from A Mother Thing.
Ultimate Instant Pot Beef Barbacoa
The meat is literally melt-in-your-mouth tender. Rich and savory, with just enough spice to make your mouth wake up and say hello, but not so much that you're sweating and diving for the nearest glass of water. Beef barbacoa is not just amazing in tacos, but in quesadillas, taco salads, chimichangas/taquitos, or just eaten with a fork! Recipe from The Chunky Chef.
INSTANT POT TACO PIE
Instant Pot Taco pie is four layers of yum! A tasty and fun recipe to make in your electric pressure cooker. The layers of tortillas and taco meat filling are so easy to put together. This pressure cooker Taco Pie recipe is delicious and kid-approved! Recipe from Simply Happy Foodie.
HEALTHY Ground Turkey Tacos
Ground turkey goes into the Instant Pot with some chunky salsa and canned green chilies; after that, all you need is some shredded cheese, shredded lettuce, and juicy diced tomatoes! Of course, hot sauce and sour cream or plain Greek Yogurt are also fab options. Recipe from Killing Thyme.
Instant Pot Black Beans Taco Boats
Looking for a healthy and easy vegan and gluten-free dinner idea? Then this is it! If you love tacos this is a fun twist on taco night and it's easy to make. This vegan Instant Pot Black Beans Taco boat recipe is delicious, packed with flavor, and very filling. Recipe from Cookilicious.
INSTANT POT CRISPY CARNITAS
Instead of having to plan 5-8 hours in advance to make carnitas in the slow cooker, this pressure cooker carnitas recipe can be ready to go from start to finish in just over 1 hour. It's also seasoned with a zesty garlic-citrus mojo sauce, making each bite of pork extra flavorful even before any extra salsas or toppings are added. Recipe from Gimme Some Oven.
Mango BBQ Fish Tacos
Recipe from Instant Pot Official.
SALSA VERDE CHICKEN TACOS
Everyone is in need of another healthy, quick, and easy meal, right?! These Instant Pot Salsa Verde Chicken Tacos are just that and they are so versatile because you can top with whatever you desire. Recipe from The Recipe Critic.
EASY INSTANT POT CHICKEN TACOS
If you're looking for quick and easy Instant Pot recipes, these chicken avocado and salsa verde tacos tick all the boxes. Make them with just 5 main ingredients for a speedy, budget-friendly dinner you can serve up to your family or friends. Recipe from Instant Pot Eats.
---
You might also like:
---
SAVE Instant POT Taco REcipes TO PINTEREST