When it comes to versatile, make-ahead dishes, ground taco meat has to be up there in the top 5. Today, we will give you a few ideas for how to use up leftover taco meat, whether it's made with ground beef, turkey, chicken or pork. We've got gameday favorites, comforting family dinners and healthy lunches. Let's get started!
---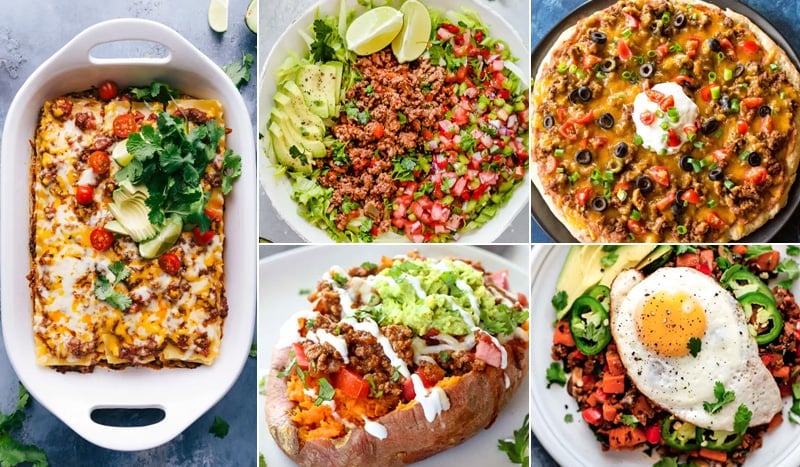 If you haven't yet made a batch of multi-purpose taco meat, make sure to check out our Instant Pot recipe here. We show you how to cook delicious, well-seasoned ground beef but you can also use this method for chicken, turkey or other meat of choice. Instant Pot makes it super easy and you can make a big batch to store in the fridge for a few days or the freezer for up to 3-4 months.
WHAT TO DO WITH LEFTOVER TACO MEAT
Now that you've made a batch of delicious, versatile and healthy taco meat, what do you do with it besides using it tacos. Well, there are SO many great ideas out there including healthy salads and burrito bowls and more indulging cheesy casseroles and pizza. We have put together a few ideas for you to get started. Let us know in the comments your favorite ways to use taco meat!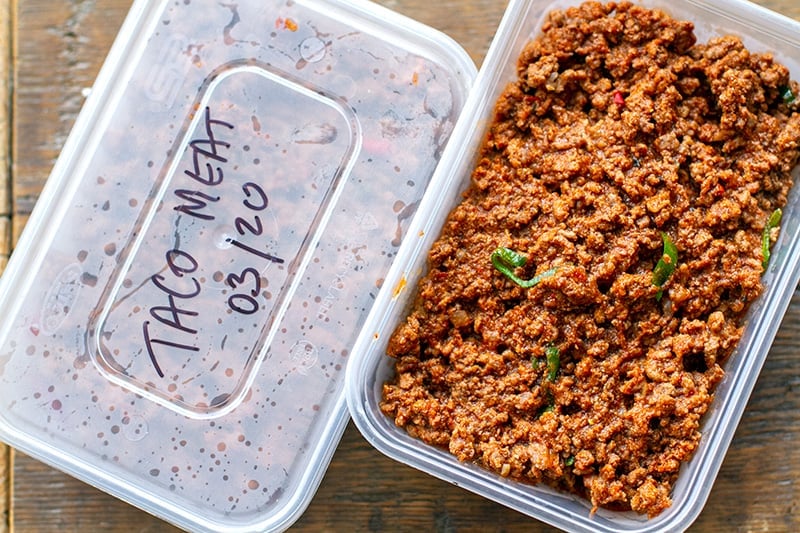 ---
1. Taco Nachos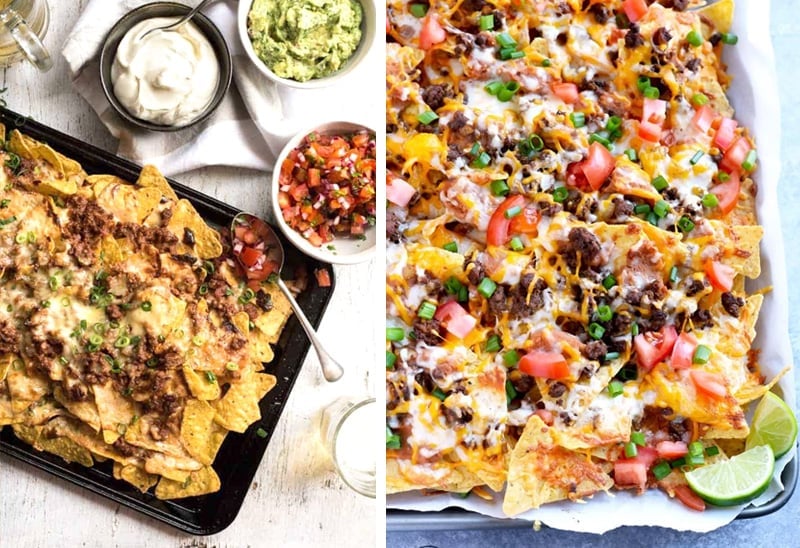 Gameday, movie night, beers with friends…whatever the occasion, nachos are the ultimate food to share around. Having ready-made taco meat in the fridge or freezer makes it super easy to whip up a tray of crispy beef nachos with melted cheese and guacamole on top. Simply top a tray of corn chips with taco meat and your favourite grated cheese. You can also add corn, beans, tomatoes, peppers, onions and whatever else you like. Fresh salsa and sour cream are great as toppings.
Try these recipes:
2. NAKED BURRITO BOWL
While we love good ground beef and rice burritos, sometimes you might want something a little less heavy like a naked burrito bowl. This is where taco meat really shines and shows you how valuable it is for meal prep.
You can use the Instant Pot to prep ahead the taco meat, lovely yellow corn and pea rice or simple quinoa, Mexican bean salad; then, meal prep some grated cheese and salsa. Everything can keep for 3-4 days and you can enjoy beautifully healthy and delicious taco meat burrito bowls for lunches or dinner.
Try these recipes:
3. TACO ENCHILADAS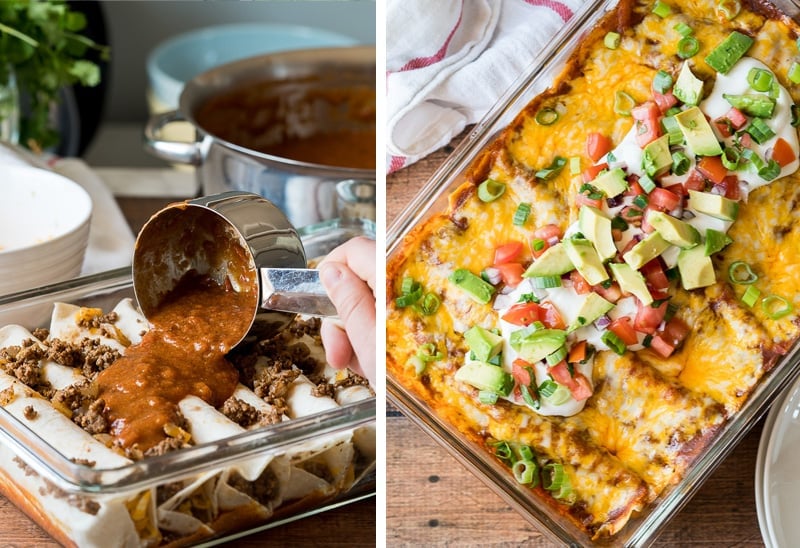 Take ground beef tacos to the next level by turning them into enchiladas. Enchiladas are rolled tacos with salsa sauce and melted cheese on top. It looks a little like a cheese bake or a casserole (maybe even lasagna). It's comforting and perfect with a little fresh salsa and avocado or a salad on the side. Check out this recipe with detailed step-by-step instructions from I Wash To Dry.
4. TACO MEAT PASTA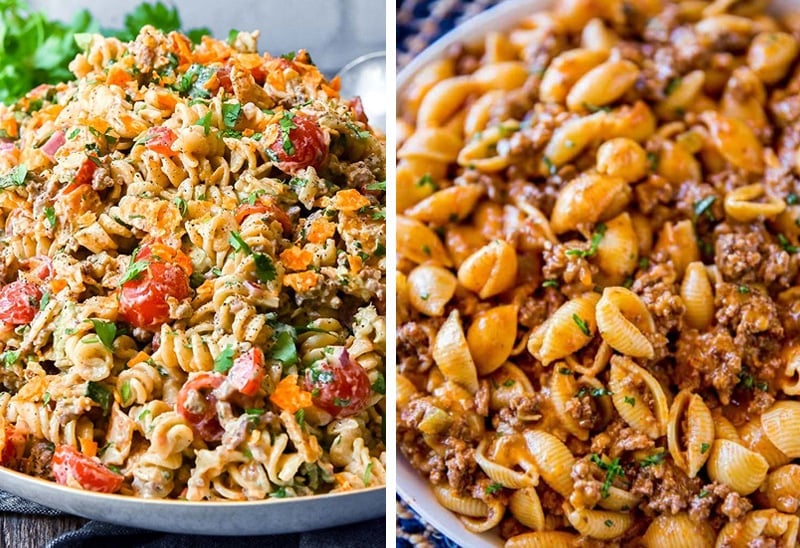 Put a Mexican spin in your pasta night with a taco meat sauce. You can make this cheesy, hearty and warm taco pasta from Dinner Then Dessert (right) or try more summer-friendly taco pasta salad from Gonna Want Seconds (left), which comes with cool creamy base, rich savory flavors and enough of a refreshing kick to wake up the senses! Or, why not try taco mac'n'cheese from Yellow Bliss Road.
5. TACO LASAGNA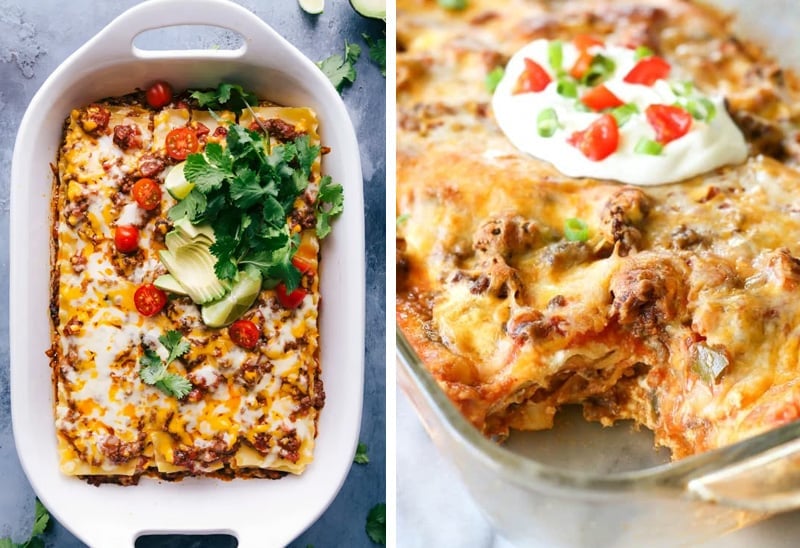 Continuing with the pasta theme, let's talk about Taco Lasagna. It's a delicious and simple family-friendly meal, in which saucy taco meat is smothered in cheese, layered with lasagna pasta, and baked to gooey perfection. You can pair it with a corn and tomato salad, leafy greens, or steamed veggies.
Try these recipes:
6. TACO MEAT & RICE
There are many ways to use taco meat with rice from the delicious, one-pan rice and ground beef skillet from Slimming Eats (left) to the cheesy Mexican beef & rice casserole from Flavor Mosaic (right). For a low-carb version, try this taco meat and cauliflower rice skillet from One Lovely Life.
7. TACO SALAD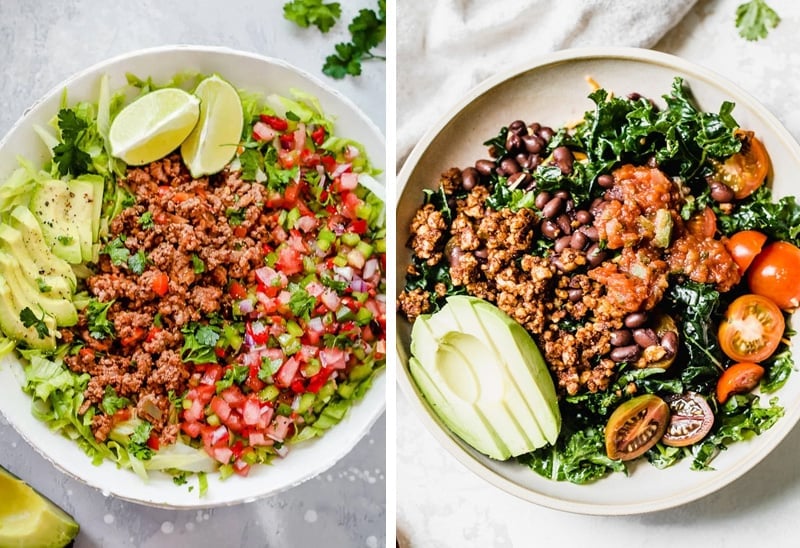 For something a little lighter, you can use taco meat in a salad. Think of it as a cobb salad with layers of protein, vegetables, healthy fats. It can be a simple Tex Mex salad with added beans and corn or you could get creative and add roasted vegetables, cauliflower rice, tortilla chips and a yummy avocado cilantro dressing.
Try these recipes:
8. STUFFED SWEET POTATOES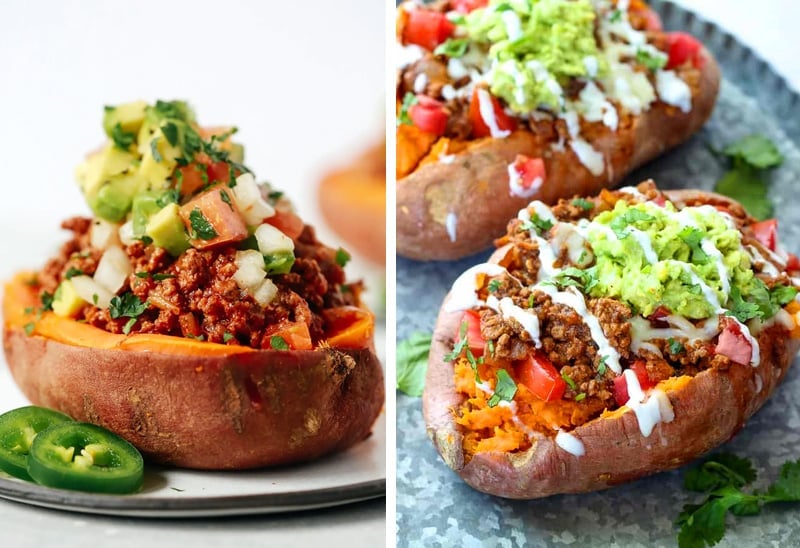 If you're looking for a healthy and family-friendly dinner recipe using taco meat, why not try stuffed potatoes. You can use sweet potatoes or regular white potatoes, which can be baked to fluffy soft in 25-30 minutes. Stuff them with ground beef taco meat, turkey or chicken as well as your favorite sauces, cheese, salsa and so on.
Try these recipes:
Whole30 & Paleo taco meat stuffed potatoes from Primavera Kitchen (left)
Taco stuffed sweet potatoes with guacamole and sour cream from Bell Of The Kitchen (right)
9. TACO DIP
Another fun way to use up taco meat is in a layered dip. This can be as mixing cream cheese and sour cream with a few spices, making guacamole and grating cheese. Assemble in layers with taco meat being one of them and serve with corn tortilla chips or lettuce cups for a low-carb version.
Check out this layered taco salad dip from Low Carb Yum (video below) or try this 7-layer taco meat dip from Lexi's Clean Kitchen.
10. TACO HASH OR SKILLET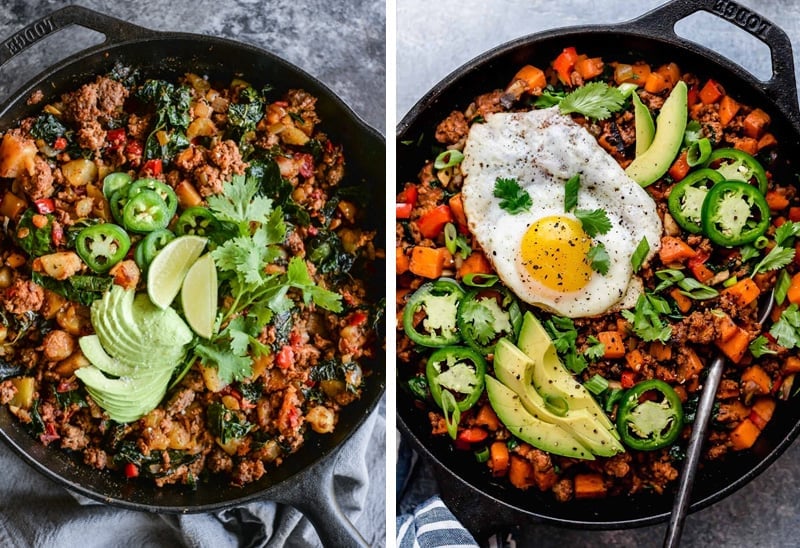 You can make good use of leftover taco meat by turning it into an easy breakfast hash, which can also be a weeknight dinner option. You can use diced sweet or white potatoes, pumpkin, leafy greens like kale or spinach, peppers, onions. Fry it all up, add the taco meat and serve with or without an egg on top, some salsa and avocado.
Try these healthy recipes:
Taco breakfast hash from Fed & Fit (left)
Tex-Mex sweet potato hash from Real Food RDs (right).
11. TACO MEAT SLIDERS & TACO PIZZA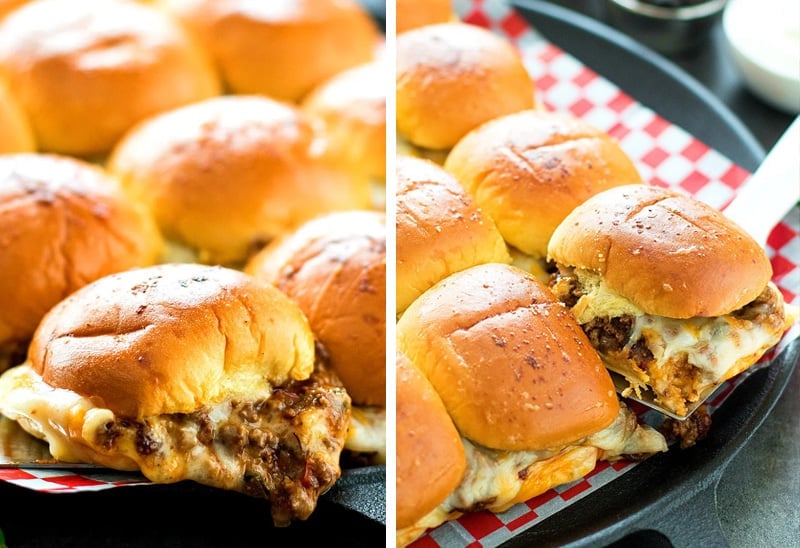 Are you salivating yet? We sure are! Here are few more ideas of using up leftover taco meat. How about these moreish taco sliders with melted cheese from Melissa's Southern Style Kitchen? You can bake a whole tray for game night or a party with friends.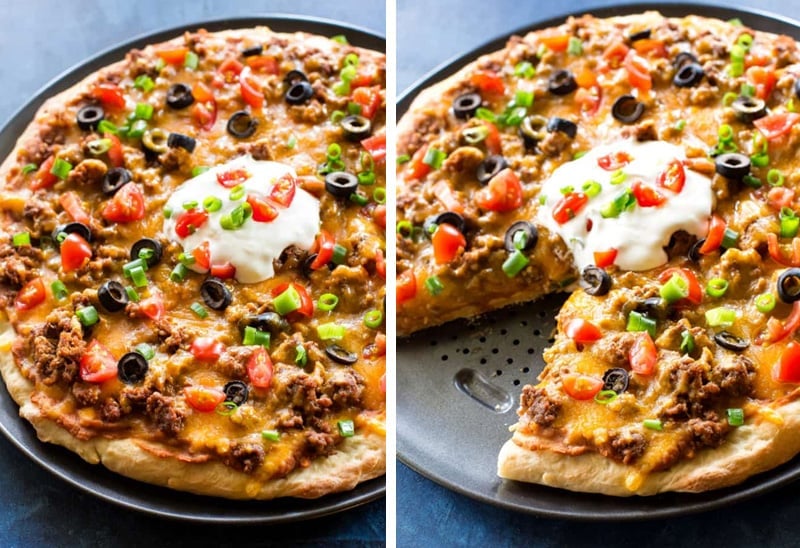 Or how about a taco pizza with salsa and sour cream on top? Check out this recipe from The Girl Who At Everything.
---