Learn how to make Instant Pot pork chops with our selection of must-try recipes. Next to a side of mashed potatoes and green beans, they are a comfort meal that's packed with protein, nutrients and flavor. It's now easier than ever to have moist tender meat for dinner with the Instant Pot. 
---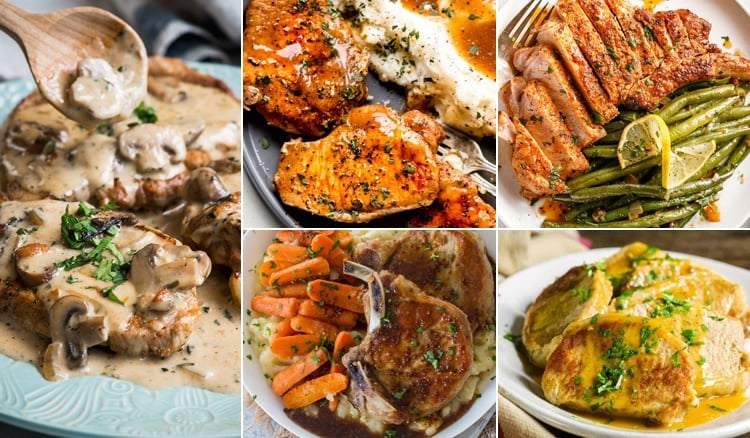 Pork chops are a quick, hearty, and rustic meal that's packed with protein. Pork is often intimidating because there's a fear of tough dry meat ruining a meal. But it can be tender, extremely flavorful, and easy to cook in the Instant Pot.
A pork chop is a loin cut taken perpendicular to the spine of a pig, which runs from the hip to the shoulder and contains the small strip of meat called the tenderloin. In the grocery store, you may read a generic label pork chop, this can be confusing when there's more than one type of pork chop cut.
Knowing which cut can influence the method of cooking you choose to avoid tough, dry, or bland pork. Complete your dinner menu with a side of mashed potatoes and green beans. 
Four major sections where pork chops come from
Shoulder chops
Rib chops
Loin chops
Sirloin chops
When purchasing pork chops, thicker is better to avoid overcooking since it is more forgiving.
Try to get double-cut or at least 1 1/2 inches thick, pending on the recipe of course. The goal is to avoid dry overcooked meat for the best pork chop experience. Food safety is naturally everyone's concern and why overcooking pork occurs.
The USDA says to cook the chops to an internal temperature of 145 F/65 C. and let them rest a few minutes before serving. That's why we love Instant Pot to enable chops to be tender while having peace of mind that it is fully cooked.
Pork chops are leaner than other cuts of meat. It's considered red meat, so it has a reputation for being unhealthy. However, in moderation like anything else, it can be a good source of certain nutrients, as well as high-quality protein which is beneficial for creating new muscle. It has vitamin B6 and B12 and minerals like phosphorus, selenium, and thiamine. Essential for blood cell formation and brain function.
---
---
Best Instant Pot Pork Chop Recipes
Here are some of our favorite Instant Pot pork chop recipes for you try.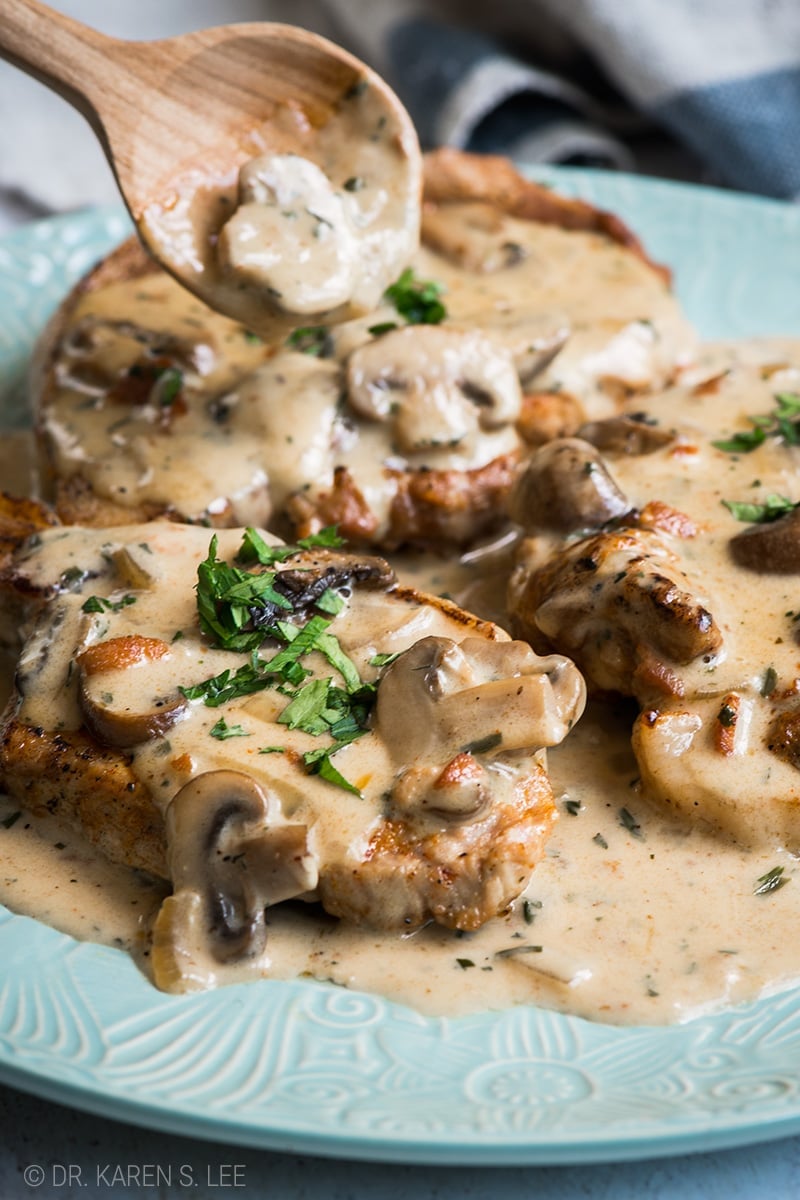 These Instant Pot pork chops cooked in a mouthwatering creamy mushroom sauce will make you wonder why you ever made pork chops the old-fashioned way all these years! Get The Recipe Here.
Well seasoned from the get-go. Rub these chops with brown sugar, paprika, onion powder, and salt and pepper then brown them on both sides. The brown sugar caramelizes a bit as they cook and the paprika gives the pork chops that amazing color. Recipe from Platings and Pairings.
Tender, fall-off-the-bone pork chops in Instant Pot with creamy garlic Parmesan sauce. Serve with rice or spaghetti. Recipe from Rasa Malaysia.
How often have you wondered what to make for dinner at the last minute? This Instant Pot sour cream pork chops recipe solves that dilemma. These deliciously creamy pork steaks are so good that you'll keep them in the freezer just for moments like that since you can use them frozen! Recipe from The Feathered Nester
Easily made into a full meal with mashed potatoes and carrots cooked at the same time in the pressure cooker. Once everything is done, a flavorful and super easy apple cider sauce is made. This delicious homemade recipe is another great combo of sweet and savory, the apple cider mustard sauce has just the right amount of sweetness and slight tanginess to tie this meal together. Recipe from Sweet and Savory Meals.
Tender pork chops and cornbread stuffing come together for a delicious quick meal. Start with boneless loin chops cut extra thick. Recipe from Little House Big Alaska.
These pressure cooker pork chops are rich and warm tasting with a hint of cinnamon and nutmeg in an incredible apple gravy. The sweet of the apple and brown sugar pairs well with the savory flavors of the pork, salt, and the onion. Recipe from Simple Happy Foodie.
Moist, fork-tender, and flavorful pork chops smothered in creamy wine herb sauce! Recipe from What's In The Pan.
This Instant Pot Pork Chops recipe has potatoes and carrots that are infused with pork flavoring, making the perfect one-pot meal. Recipe from Family Fresh Meals.
Bone-in cuts of pork chops are preferred for this recipe. These porterhouse cuts turn out tender and juicy when cooked in my pressure cooker full of bbq flavor. Recipe from Dear Crissy.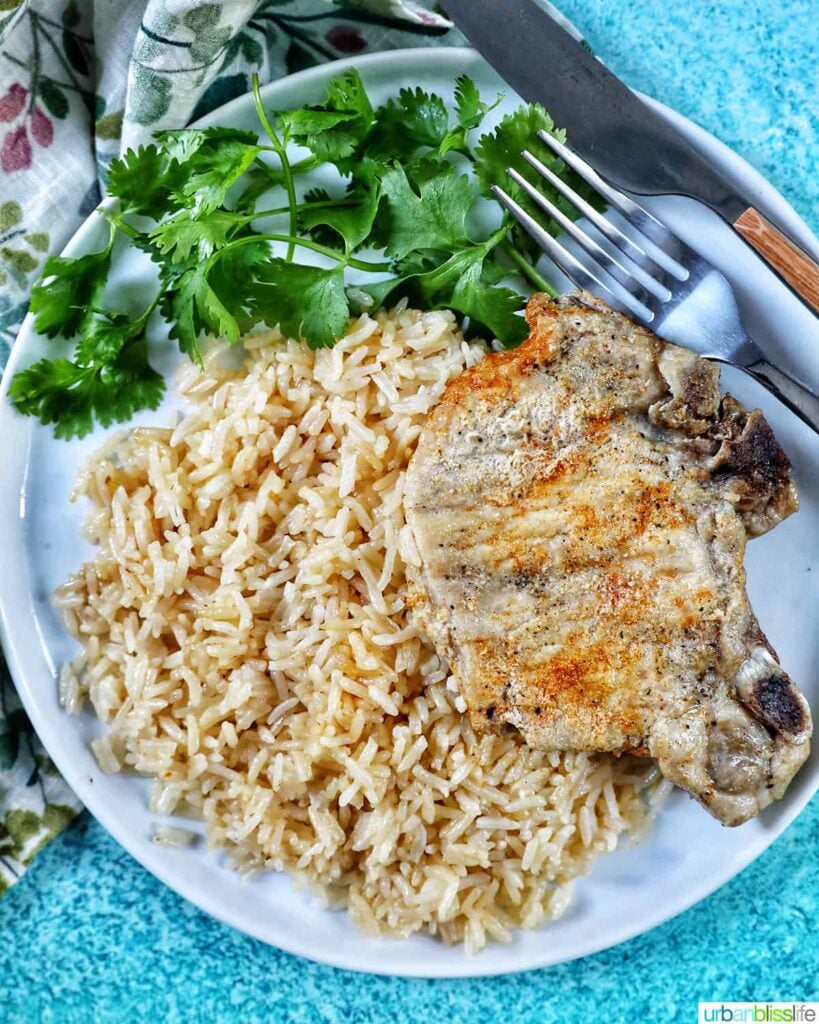 A dinner of pork and rice is comforting and classic. This recipe helps you get dinner on the table faster without sacrificing flavor. Recipe from Urban Bliss Life.
Smothered with amazing honey garlic sauce, these pork chops are tender, saucy and satisfying. Cook from fresh or frozen, using bone-in or boneless pork chops, your choice. Recipe from Kristine's Kitchen Blog.
Deliciously tender pork chops smothered with a creamy ranch sauce. This easy recipe is a perfect one-pot meal for busy weeknights. It's low-carb and keto-friendly. Recipe from Diethood.
Sear your pork chops as normal, deglaze, add wine or cooking broth and pressure-cook. Finish up by making the sauce with just a couple of ingredients, and you'll have a restaurant-worthy dish. Recipe from The Wicked Noodle.
Protein is a crucial macronutrient for muscle growth and maintenance, but not all protein sources are created equally. Getting your protein from a source like pork ensures that you're getting a all the essential amino acids in the amounts that your body needs. Pork is a great source of B vitamins, which are vital for energy production, and play a number of different roles in keeping your metabolism strong. Recipe from Perfect Keto.

An easy and delicious dinner recipe with juicy pork chops smothered in a flavorful sauce and green beans cooked straight in the same pot. Recipe from Eat Well 101.
Spice-rubbed and air-fried to juicy perfection then smothered in a delicious maple mustard glaze. Enjoy these pork chops with a side of vegetables, mashed potatoes or salad for a satisfying and healthy weeknight dinner. Get the recipe here.
---
SAVE These Instant Pot PORK CHOP Recipes TO PINTEREST