We're sharing a few tips for how to reheat leftovers with the Instant Pot. Why use your pressure cooker for reheating leftovers? It's a great alternative to the microwave, faster than the stovetop, no need to babysit a pot, gives you space to cook other items, and keeps things warm until you are ready to eat.
---
The Instant Pot is a great method for heating up leftovers from the fridge or freezer when you don't have or want to use a microwave. True, you can heat things up on the stovetop but that takes longer and you have to babysit the pot. Heating things in the oven can heat things up in the kitchen yet cool off quickly if you don't get to your plate in time. Here are a few reasons and tips for using your pressure cooker to do more for you.
Reasons for using the Instant Pot to reheat
Speed – Bringing a pot of soup to a hot temperature is quicker in Instant Pot than in a regular pot on the stove.
Freedom – You don't have to "babysit" a pot of boiling pot.
Keep Warm – You can reheat in advance and eat it when you are ready.
Space – You can cook something else on those stove burners
Are microwaves safe?
When used correctly, according to the World Health Organization, it is harmless in terms of a microwave's radiation. When you put food inside a microwave, it absorbs these microwaves, which makes water molecules in the food vibrate, causing friction that heats up the food. This is low-frequency electromagnetic radiation that we are exposed to daily– the same kind used in lightbulbs and radios.
The real concern is what you are heating your food on or in. The plastic containers have been found to release carcinogens along with other harmful toxic chemicals such as BPA, polyethylene terephthalate (PET), benzene, toluene, and xylene into your food which is then absorbed by your body. There are some case studies that have found non-ionizing radiation of the microwave can affect changes in your blood and your heart rate while causing a loss of nutrients. Which has led some individuals to look into alternatives for reheating their meals.
When to use the Instant Pot to reheat food
Container Tips
Use containers in the Instant Pot, known as the "pot in pot" method for easy cleanup.
Make sure you're using heatproof containers.
Before freezing a meal, make sure your frozen shape will fit inside your Instant Pot.
Cover the container with a piece of foil. This helps to ensure that condensation from the steam doesn't drip into your food.
You may be able to stack more than one container for reheating multiple dishes.
How to reheat refrigerated food using
Steam – The steam function is a method that works really well for foods that already have moisture inside such as noodles, rice, or pasta. Just make sure to add water to the pot to create steam when you place the food inside. Press the steam button for 5 minutes is generally a good amount of time. But some items like noodles less time and will only need 2 minutes.
Slow Cook – This method takes the longest amount of time to warm up the food but it is ideal for reheating stews, casseroles, and bread when you are able to plan ahead and do other tasks in the meantime. You can put food either in the insert pot itself or in a container inside (PIP). You can use the regular lid or glass lid to cover the dish while it's reheating. Timing is equal to what you'd normally do in a slow cooker.
Saute – This is the most intuitive method as it is similar to heating up something on the stovetop. When using this feature add at least 2 tablespoons of water/ liquid or fat/oil/butter if the food is sticky. Next, add your food inside and close the pot with a lid. Press the sauté button and let the food reheat for a few minutes. When reheating soups, stir so that it reheats evenly.
Keep Warm – The keep-warm function typically is used to ensure your food stays warm. The same reason why it is good for reheating. It is ideal for casseroles or baked dishes. Simply place the food inside the instant pot then cover it with a regular lid or glass lid to cover the dish while it slowly re-heats. What's nice is that you can take your time doing other things without rushing to get to the dish worrying that it will cool down.
---
MealS THAT ARE GREAT TO REHEAT IN THE INSTANT POT
Greek Chicken Lemon Soup
Creamy and hearty yet healthy and light. Thickened with fragrant and tangy lemony egg sauce, this luxurious soup with shredded chicken and orzo is silky and rich with no cream or dairy in sight. Recipe from Instant Pot Eats.
Check this out:
Instant Pot Stocks & Broths (Meat, Fish, Mushroom, Veggie)
Miso quinoa with mushrooms and peppers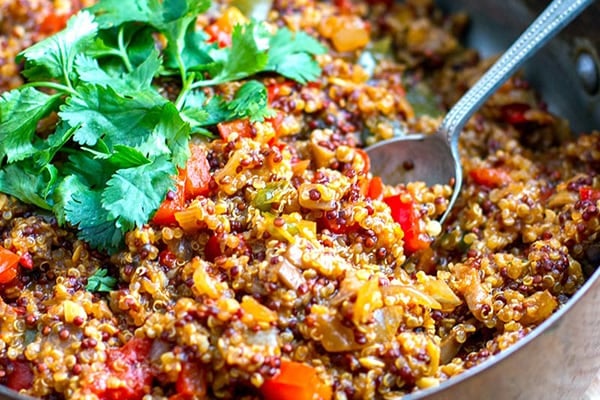 This easy Instant Pot miso quinoa with mushrooms and peppers is a healthy, tasty dinner meal. It's gluten-free, vegetarian and vegan-friendly. Recipe from Instant Pot Eats.
Also, try this:
Instant Pot Jerk Chicken & Quinoa
Instant Pot shredded beef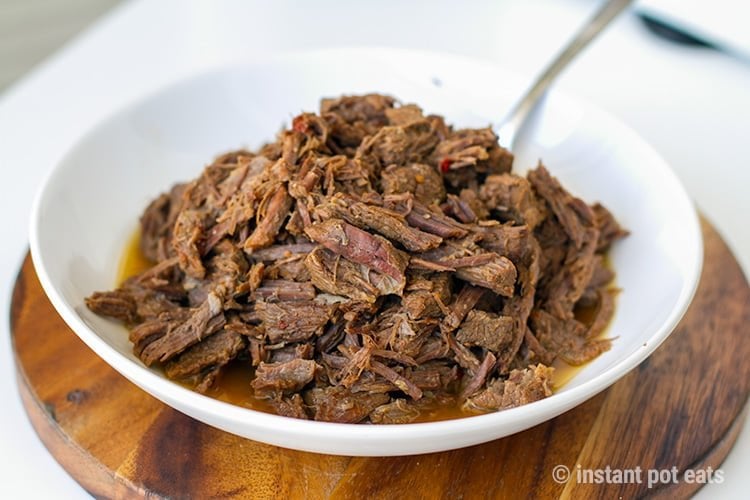 What we love about shredded beef is that it's one of those recipes that you can make once and use up multiple times in different dishes. It's the ultimate batch cooking food that freezes well and allows you to use cheaper cuts of beef. Thus, it's budget-friendly and great for large families or meal prepping. Recipe from Instant Pot Eats.
Or try this:
15+ Delicious Leftover Brisket Recipes
Salisbury steak meatballs in mushroom gravy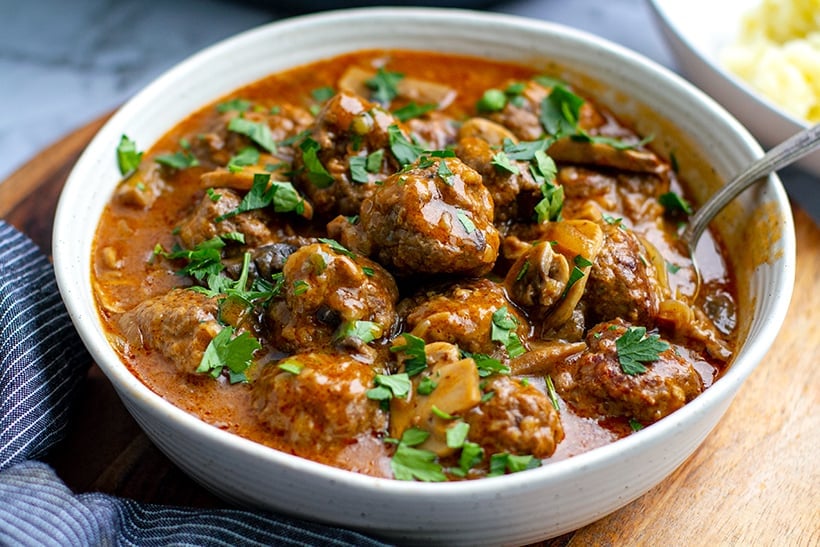 A comforting, family-favorite dinner meal. Made with ground beef, these juicy and saucy pressure cooker meatballs can be served over mashed potatoes, rice, or pasta (or veggies). Recipe from Instant Pot Eats.
Here's another yummy one:
Instant Pot Pork Tenderloin and Potatoes
Instant Pot orange chicken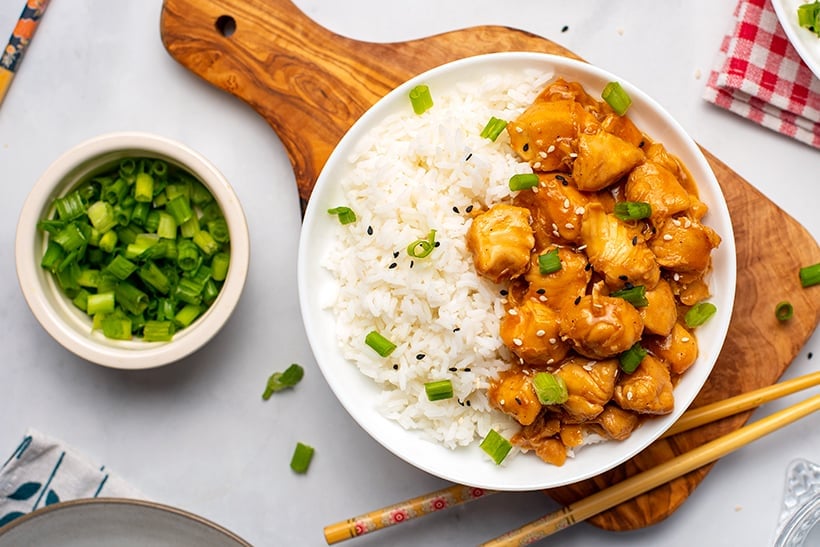 Chicken cooked in the orange, soy, garlic, and ginger sauce and then thickened and sweetened on Saute once it is cooked. Served over rice, noodles, or vegetables, this sweet, salty and sour chicken dish is a must for family dinners. Recipe from Instant Pot Eats.
Check this out:
Instant Pot Chicken Broccoli & Rice Casserole
pasta with tomato meatballs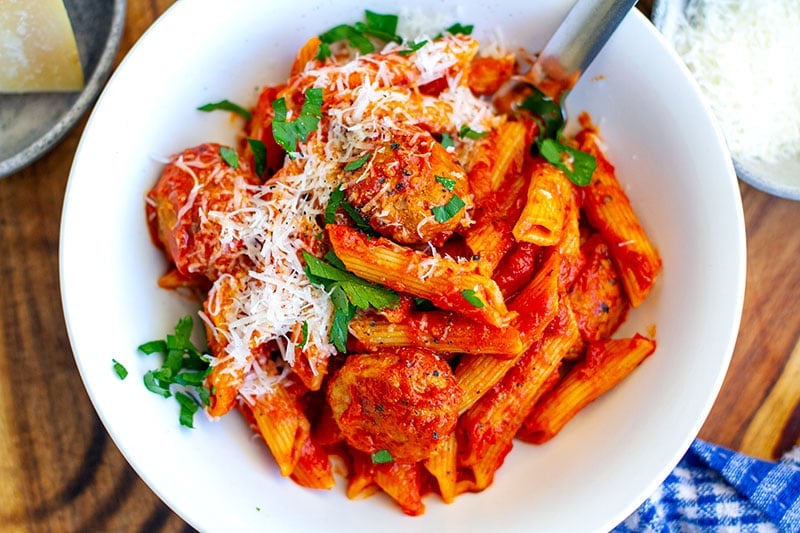 This Instant Pot tomato meatball pasta is delicious and easy to make and is perfect for any time of the year. This is a one-pot recipe, meaning that you cook the pasta and meatballs in a little stock and tomato sauce at the same time, giving you a super quick, fuss-free dinner in no time. Recipe from Instant Pot Eats.
Also, try these:
Creamy Instant Pot Mushroom & Chickpea Pasta
20+ Clever Instant Pot Meal Prep Ideas
---
SAVE ThIS INSTANT POT ARTICLE TO PINTEREST