Ever wondered what to do with leftover brisket? Don't let that succulent meat go to waste and instead refrigerate or freeze it to use up in one of these delicious brisket recipes. PS. We have provided a basic Instant Pot brisket recipe and other cooking methods below!
---
For us Instant Pot users, brisket is a cut that is cooked beautifully in the pressure cooker. We often make a big batch and sometimes are faced with a few leftovers. While having the same brisket meal might not excite you the day after, creating something completely new might just be the ticket.
Before we begin, here is a recap of a few ways you can make brisket in the first place.
FIVE WAYS TO COOK BRISKET
INSTANT POT: Pre-heat the 6 qt IP using Sauté setting. When the Instant Pot is hot, add the oil. Place the brisket in the IP. After the meat sears on one side, flip it over and repeat. Remove the brisket then sauté the onions and add any remaining ingredients, make sure you add at least 1 cup of liquid. Return the meat to the IP, submerging it in liquid. Lock the lid and set to cook on high pressure for 1 hour and 15 minutes with a natural release (takes about another 30 minutes).
Remove brisket and save the juices to make a sauce. Slice brisket against the grain or shred with two forks. Pour sauce over brisket. You can use this as a template and add your own rub seasoning and sauce.
Check out these Instant Pot brisket recipes from:
SLOW COOKER: Rub your spice mixture all over the top of the brisket. Pour 1 cup water into the bottom of slow cooker then place the spice-covered brisket over water. Pour the liquid smoke and Worcestershire sauce over top of the brisket. Cover with lid and cook on Low heat for 12 hours. Remove brisket to a large platter to shred. Then return the brisket back to the slow cooker and pour your choice of barbecue sauce all over the top and stir. Cover with lid and cook another 30 minutes then serve. Full recipe from Life In The Lofthouse.
OVEN: Preheat oven to 300°, create your seasoning and rub on brisket then place the brisket, fat cap up in roasting pan with aluminum foil covering loosely. Bake for about 1 hour and 15 minutes per pound, until the brisket reaches about 180°. (etc. 4.5 lb brisket takes approximately 5 1/2 hours.) Open up the foil and place it back in the oven for another 45 minutes to an hour. Full recipe from Will Cook For Smiles.
BBQ: Grilling and Smoking brisket is the most popular method. First, create your seasoning mixture and rub it on the brisket. To get s smokey flavor without a smoker, pour wood chips in a foil pan and add enough water to cover the chips. Cover with foil and cut slits in the foil to allow smoke to escape. Light your grill. Turn the burners on one-half of the grill off. Keep the burners on the other half set to LOW heat. Place the brisket directly on the lit side of the grill, fatty side up, and grill for about 5 minutes. Turn the brisket over and grill for 5 minutes more. Next, place the brisket into a clean foil pan and move it to the unlit side of the grill. Place the covered foil pan with the wood chips in it on the lit side of the grill and close the grill. Allow the brisket to cook for approximately 3 hours. You want your grill temperature to remain at about 300 degrees. Full recipe from Foodtastic Mom.
STOVETOP: Sear the brisket at high heat on all sides in a very large pan to lock in the flavor, moisture, and color. Then saute veggies and seasoning with the brisket followed by adding broth to simmer at a braising temperature of 185°. Reduce until the brisket falls apart. Check out this Youtube video of how to make Stovetop Brisket With Beer & Tomato Sauce: Cooking With Beer
---
15+ LEFTOVER BRISKET RECIPES
So, you've cooked up a bunch of delicious brisket? If your family hasn't devoured the whole lot, get inspired with our collection of leftover brisket ideas below.
INSTANT POT BRUNSWICK STEW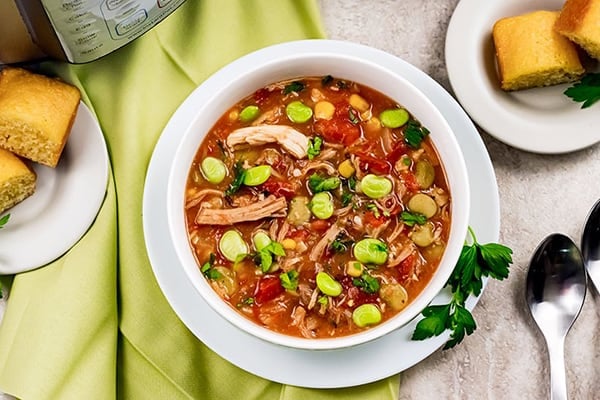 This stew is a Southern dish made with beans, vegetables, and meat cooked in a tomato base. The stew is usually finished with barbecue sauce and has a touch of cayenne pepper or chili to give it a rich flavor and sweetness. It's a great recipe for using up leftover meat and vegetables, as well as some ingredients in your pantry. Recipe from Instant Pot Eats.
Brisket Baked Beans
Baked beans are inextricably woven into the fabric of American barbecue and they're about to get a lot better. With brisket. Lots of brisket. This is a great place to use up all those burnt ends and brisket trimmings. Sweet, salty, smoky, and, above all, meaty, these are everything you hunger for in baked beans—and more. Recipe from Barbecue Bible.
Also, try this recipe:
Brisket Grilled Cheese
A buttery, crispy grilled cheese sandwich with gooey melted cheddar and Monterey Jack cheese and pieces of tender slow-cooked brisket, this is a delicious, drool-worthy sandwich. It's a stick-to-your-ribs kind of lunch. Recipe from Spicy Southern Kitchen.
Also, try this recipe:
Brisket Loaded Fries
A favorite go-to meal or game-day snack. These brisket-loaded fries are piled high and are perfect for feeding a hungry crowd. Recipe from Cowboy's Life Blog.
Also, try this recipe:
VIETNAMESE INSTANT POT BEEF BRISKET TACOS
This meat is tender and slightly spicy, bursting with umami flavor. Shredded slaw, jalapeños, cilantro, and zingy lime make for the perfect crunchy toppings, bringing together that awesome Vietnamese street food vibe right to your dinner table. This scrumptious Vietnamese-inspired Instant Pot beef tacos recipe comes from Laurel Randolph's cookbook, The Instant Pot No-Pressure Cookbook. Get the recipe from Instant Pot Eats.
Leftover Smoked Brisket Taquitos
Making the brisket taquitos is pretty simple, but the most work goes into the prep. Prepping all the ingredients is important because when you are in the thick of making everything, you don't want to need something and it hasn't been chopped or heated! Recipe from System Of A Brown.
Also, try this recipe:
TAMALE (LEFTOVER BRISKET) PIE
Ever heard of a tamale pie or a cornbread pie? A cornbread crust is cooked on top of tamale fillings creating a pie. Comfort food using leftover brisket is a huge bonus that is balanced with the fresh sweet cornbread. Recipe from Smella Que.
Texas Brisket Queso
The queso is a real, authentic, Tex Mex queso made with American cheese, so it's Velveeta free. It is so easy to whip up a batch of real queso on your own with your leftover brisket after a barbecue. Recipe from Urban Cowgirl Life.
BBQ Brisket Nachos
Crunchy tortilla chips covered with shredded beef brisket and cheese plus all kinds of toppings. These nachos are totally customizable so that the whole family will enjoy them. Recipe from Spicy Southern Kitchen.
BEEF EMPANADAS (WITH LEFTOVER BRISKET)
Tender smoked beef brisket, mixed with some savory vegetables, herbs, and just a hint of spice, sandwiched in puff pastry, and baked into the most flavorful Beef Empanadas! Recipe from Vindulge.
Leftover Brisket Pasta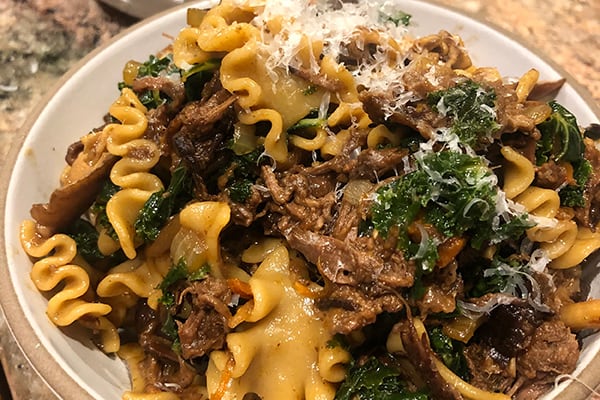 Sometimes tossing together what is seemingly random ingredients turns into one of the best-loved pasta recipes you will ever have. You just need some mushrooms, kale, onion, lemon, some Parmesan, and brisket. Recipe from Nosh With Tash.
Also, try this recipe:
LEFTOVER BBQ BRISKET PIZZA
Kick your pizza night up a notch with BBQ sauce, gooey jack cheese, some fresh veggies, and leftover BRISKET. Recipe from Our Tasty Adventure.
Leftover Brisket Fried Rice
Avoid brisket burnout with this fried rice recipe. Veggies and spicy green hot sauce adds some freshness and bring the smoky, meaty brisket back to life. Recipe from With The Woodruffs.
Smoked Brisket Shepherd's Pie with Jalapeno Cheddar Mashed Potatoes
Take the best part of your BBQ get-together and continue to enjoy it a little longer with this shepherd's pie with a twist. Recipe from Country Cleaver.
CHOPPED SALAD WITH BRISKET LEFTOVERS
This is a great appetizer or side to repurpose your leftovers. You can make this salad with any veg, but it is best to use a hearty leaf like kale or Romaine that can be chopped up with another crunchy veg before being topped with meat. Recipe from Jamie Geller.
Also, try this recipe:
Leftover Brisket Breakfast Skillet
You can have brisket for BREAKFAST, lunch, and dinner. Do you have plans to go camping? Bring your leftover brisket with you and have a gourmet meal over a fire with this breakfast skillet.Brisket goes perfect with potatoes and a runny sunny-side-up egg. Recipe from Over The Fire Cooking.
Also, try this recipe:
---
SAVE Instant Pot Brisket Recipes TO PINTEREST