We're sharing a few tips for how to travel with the Instant Pot. Why bring your pressure cooker with you on vacation? It's a great way to stay on budget when feeding a family or large group whether you are in a hotel, Airbnb, or glamping.
---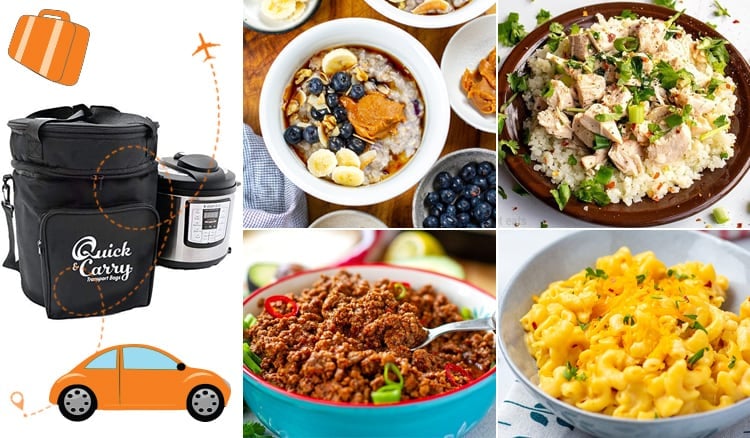 A much-needed vacation doesn't have to break the bank. Choose your destination and bring your Instant Pot. What? YES! Why would you bring a pressure cooker with you on a trip? It's a great way to stay on budget when feeding a family or large group. Restaurants are fun, but spending money on every meal adds up after a week.
When you stay at an Airbnb or Vrbo, you can't be too sure about what to expect in the kitchen nor the quality or standards of the equipment. So bringing your trusted Instant Pot will give you peace of mind that everyone will stay fed and happy. Even if you are in a hotel with limited space, the Instant Pot is very compact and there's plenty of recipes that call for 5 ingredients or less.
Whether you are in a hotel or even glamping, the Instant Pot is also an easy hands-free way to have more variety and options for your meals. Because it is multi-functional, it works as a rice cooker, slow cooker and you can saute and steam. You can even make dessert in case you are tired of s'mores over the fire. Clean up is also easy when you make one-pot dump and go meals. You can also use it to reheat leftovers from a restaurant in case you don't have access to a microwave. All you need is power!
When to travel with the instant pot
When staying in an Airbnb or holiday rental and cooking for a family.
When staying in a rental with a limited kitchen or unsure what kitchen facilities you will have.
When you want to save money eating out and cook some meals at home.
When staying in camping sites with power.
Going to visit a relative and you might be required to cook for a group.
How to travel with Instant Pot on a plane
True, with all the airport regulations it is not advisable to take your IP on a plane because it can complicate things. However, if you decide that you MUST bring your IP with you then remember to first check with your airlines to see their guidelines of what is allowed in checked or carry-on luggage.
If you place it in your carry-on then you will have to take it out for TSA security. If you check it in, TSA will probably open your bag and investigate the contents. Since it is a pressure cooker, they will ask you questions as it can be used as a weapon.
In both cases, make sure the IP meets the luggage size and weight limits and that it is securely packed so it won't get damaged. This will be difficult to prevent with checking luggage since you are not in control of the bags. Consider shipping your IP to your destination or buying a new one and gifting it to someone when you are done.
How to pack the Instant Pot for trips
If you plan on putting the pot in your luggage, after carefully disassembling it, wrap it up in bubble wrap and clothes and utilize the pot itself by stuffing it with your belongings to make up for space it is taking up. Take special care when wrapping the lid because you need to safety-proof the gauge to protect it from being broken accidentally. If possible, use a "fragile" sticker to label the luggage you have the pot inside. Note that after all your efforts, you may find that TSA will need to open up your bag and investigate.
Will the power plug work in other countries?
It all depends on where you are travelling from and where you are travelling to. Check with the voltage and the style of the power plug of your destination. In most cases, it will not work. From the official Instant Pot website: The US/Canada version of Instant Pot models are designed to work only with 110~120v. It doesn't work with 220v without a voltage converter. A few users have tried it and reported that the cooker works well, in UK, Italy, Australia, and Malaysia with a proper voltage converter that is able to accommodate up to 1500 Watts. We also produce 220~240v model for sale in the UK. Please see www.instantpot.co.uk or on amazon.co.uk."
So you can not use a plug-in adaptor alone. You would need a voltage converter that weighs and cost as much as buying another IP. That being said, you do not want to cause a power outage for your hotel.
How to travel with Instant Pot in a car
If you are traveling short distances with a simple A to B destination, you don't have to really stress about packing. You can simply place it on the floor of the back seat of the vehicle. However, adding passengers and luggage makes things more interesting like a Tetris game. Avoid placing it on top of luggage only to open the back door hatch and it falls out crashing onto the pavement (this happened to me). The original box is great to pack it in if you kept it. Or a basic cardboard box from Amazon delivery or Aldi shopping trip, stuff the sides with towels just to keep it secure from moving around. Don't stack any weight on top of it so you won't damage the handle or gauge.
There are travel bags for the sole purpose of carrying instant pots. There are even sizes to ensure that the pot is securely snug inside the travel bag so that you can carry it around without worrying about any accidents.
Amazon: Quick & Carry, 6qt Travel Tote Bag for"Instant Pot" and Electric Pressure Cookers, 3 Case Sizes, Padded Sides, Zippered Accessory Storage, Carrying Strap (6 Quart)
Can you travel with cooked food in the Instant Pot?
Yes, for short excursions, you can treat it like a crockpot going to a picnic. Make sure you fully depressurize it before you depart. When the lid is locked you shouldn't have to worry about any spills on the journey. However, still take caution as your drive to not tip or shift the contents around when hitting the breaks or taking sharp turns as you drive.
Pack inside the Instant Pot
The steamer shelf (trivet)
Steamer Basket
Pot'N'Pot containers (you can cook more than one item at a time)
The plugin cord
Plastic ladle spoon that came with the Instant Pot
Tips FOR INSTANT POT TRAVEL COOKING
Choose easy recipes with few ingredients
Buy ingredients that you can just open and dump in the pot
Pre-measure basics and bring with you such as spices, herbs, seasoning, olive oil
Plan your menu
Avoid buying things that melt easily during transit.
Make sure you have access to a fridge if you buy ingredients that will have leftovers
Bring an extension cable just in case
Extras you may need:
A good knife
Herbs & Spices
Chopping Board
Ladle, serving spoon and tongs
Oven Gloves
A kitchen towel
Aluminum Foil
Tupperware for leftovers
Cleaning supplies
---
INSTANT POT TRAVE RECIPE Ideas
Below are dishes and recipes you can whip up in the Instant Pot while travelLing. From breakfast to dinner, they are easy and great for feeding a crowd.
BLUEBERRY OATMEAL WITH MAPLE PEANUT BUTTER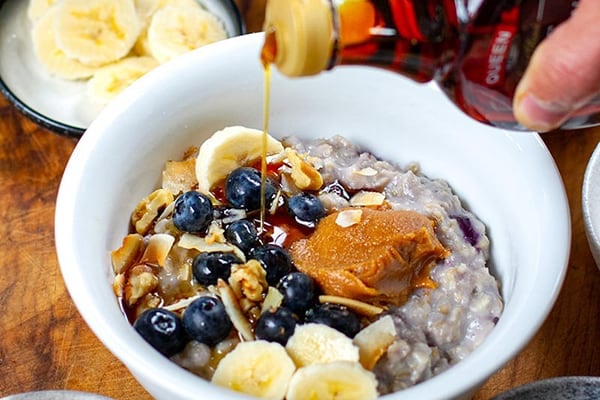 Using rolled oats, an oven-proof round dish, and a trivet, this is a simple nourishing oatmeal breakfast that is kid-approved and fuss-free. It's a hands-off breakfast that is nutritious and affordable. Unlike cooking it on the stove, the pressure-cooked porridge requires not attention! You pop everything in the pot, set the timer, and get on with the morning preparations. Recipe from Instant Pot Eats.
Check out these recipes:
Instant Pot Breakfast Casseroles
Instant Pot Egg Bite Mold Recipes
BATCH-COOKED SHREDDED savory CHICKEN
This dump and cook Instant Pot savory chicken recipe is super simple and delicious. Using boneless chicken breast meat or thighs, this dish is great for meal prep and batch cooking, it's Whole30, gluten-free, and paleo-friendly and you can serve it in a variety of ways. Recipe from Instant Pot Eats.
Check out these Shredded Chicken Meal Ideas
Versatile TACO MEAT
Well-seasoned taco meat makes the perfect protein base for many dishes such as tacos, burritos, nachos, quesadillas, enchiladas, rice casseroles, salads, and wraps. By adding more broth and tomatoes to taco meat, you can turn it into a pasta sauce. Recipe from Instant Pot Eats. Check out these ideas for using up leftover taco meat.
5-INGREDIENT INSTANT POT CHICKEN TACOS
If you're looking for quick and easy Instant Pot recipes, these chicken avocado and salsa verde tacos tick all the boxes. Make them with just 5 main ingredients for a speedy, budget-friendly dinner you can serve up to your family or friends. Recipe from Instant Pot Eats.
EASY INSTANT POT RICE

Rice is the most widely consumed staple food on the planet, so naturally, it is one of the first Instant Pot recipes one should learn how to make. Another reason is that the pressure cooker is perfect for making fluffy, well-cooked rice quickly and easily. Recipe from Instant Pot Eats.
Try this Instant Pot Brown Rice Salad With Peanut Butter Dressing
5-INGREDIENT CREAMY SAUSAGE PASTA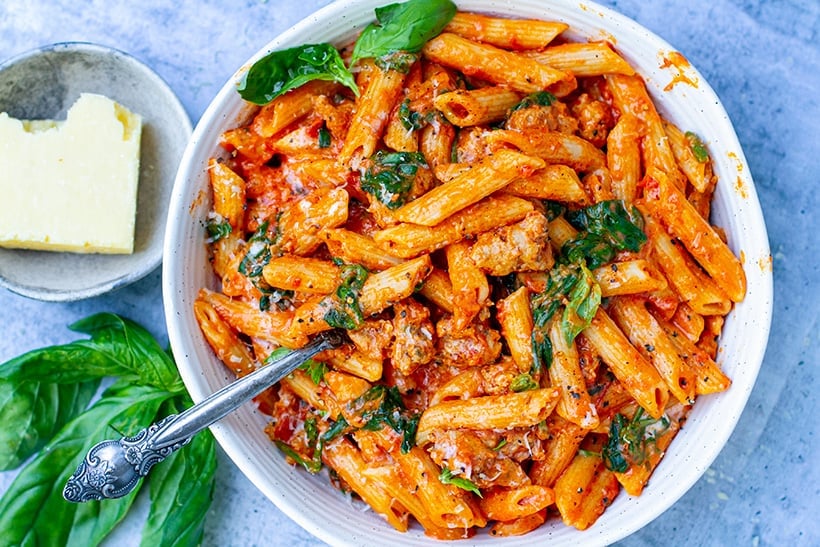 Super easy Instant Pot creamy sausage pasta using only 5 ingredients. Featuring Italian sausage, your favorite tomato sauce, leafy greens, and cream, this pasta dish comes together in about 20-25 minutes from start to finish. Get the recipe here.
EASY INSTANT POT MACARONI & CHEESE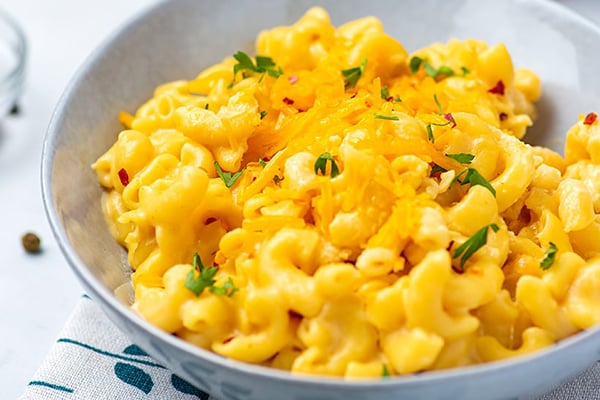 Creamy macaroni and cheese is a dish that everyone should master. Who doesn't love a good, creamy, cheese pasta? Right? Recipe from Instant Pot Eats.
Instant Pot Fettuccine Alfredo from Simply Happy Foodie
Instant Pot Spaghetti and Meatballs from Simply Happy Foodie
SOUR CREAM MASHED POTATOES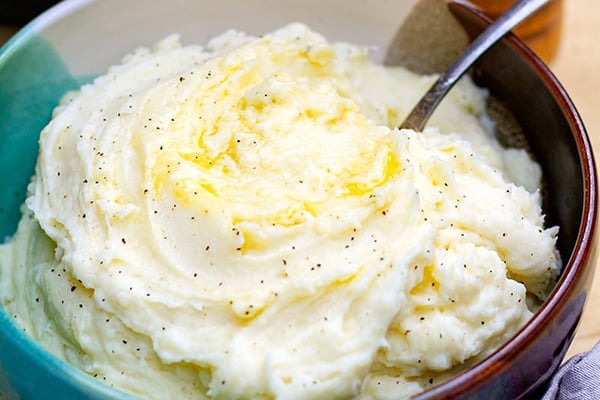 There are many reasons to love potatoes: they are nutritious, affordable, and easily accessible in most parts of the world. While there are many ways to cook potatoes, a good creamy mash has got to be one of the most popular dishes. Recipe from Instant Pot Eats.
Check out the Perfect Instant Pot Baked Potatoes from Kristine's Kitchen Blog.
CHICKEN NOODLE SOUP IN 30 MINUTES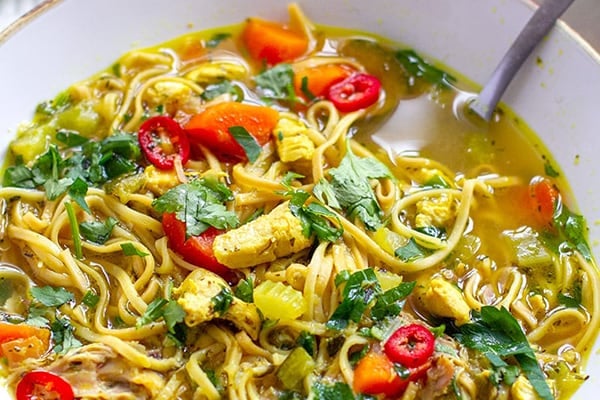 The lasting you would ever want is getting sick on vacation. Chicken noodle soup is great for boosting immunity and fighting colds and flu, even if some of those effects are placebo-based. If you need to take a day of rest, a good chicken soup just makes everything better. Recipe from Instant Pot Eats.
Check this out:
Instant Pot Chili Recipes With A Twist
Instant Pot Chowder Recipes That Are Creamy & Delicious
EASY QUINOA WITH BROCCOLI & CHEESE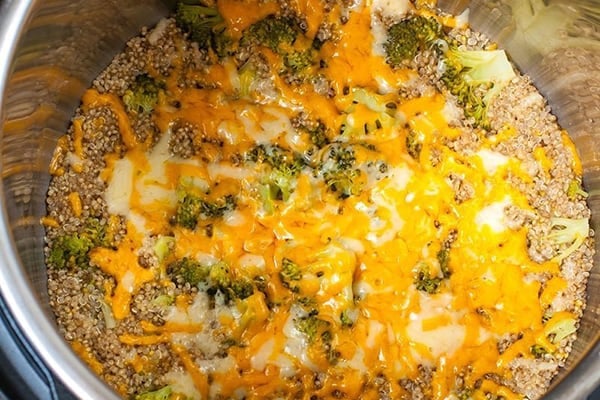 This casserole-inspired Instant Pot quinoa with broccoli and melted cheese is a one-pot, dump-it-all, vegetarian, and gluten-free dinner recipe you can make in 10-15 minutes with your pressure cooker. This is a guest recipe from Chhavi of Yellow Thyme food blog. Get the recipe at Instant Pot Eats.
Check out these:
15+ Instant Pot Dump Recipes That Are Easy
Quick & Easy Instant Pot Beef Stroganoff
INSTANT POT CHOCOLATE BROWNIE CAKE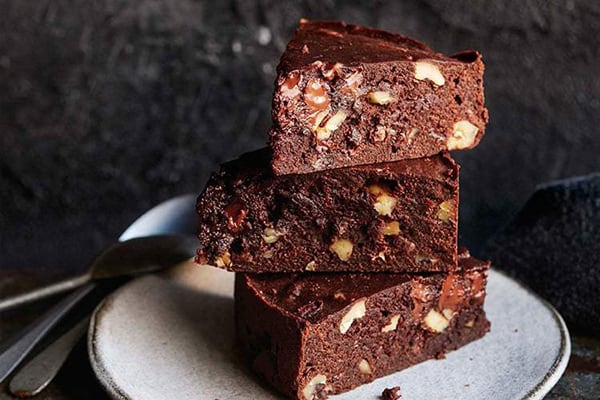 Instant Pot chocolate fudge brownie cake with walnuts will be a dessert that impresses everyone and makes your chocolate lovers very happy. Coco Morante, the author of The Ultimate Instant Pot Cookbook, has mastered the balance of a fudge brownie and calling it a cake. Recipe from Instant Pot Eats.
Or whip up an easy fruit or berry cobbler in the Instant Pot.
---
SAVE These TrAVEL RECIPE Ideas TO PINTEREST